What to Eat With Your Coffee: 30+ Amazing Pairings
This article may contain affiliate links. See our disclosure link for more information.
Coffee and sweet treats have always been the perfect match. Whether it's your morning pick-me-up or an afternoon indulgence, finding the ideal companion for your coffee can truly elevate your experience.
But with so many options out there, it's hard to choose the perfect pairing. Whether you're a casual coffee drinker or a coffee connoisseur, we've got you covered. Here is a list of the best things to pair with your coffee that will both satisfy your taste buds and make every sip of coffee even more delightful.
Tip: if you happen to be looking for the best decaf coffee to go with your sweet treats, be sure to check out our guide on where to buy the best organic decaf coffee espresso beans.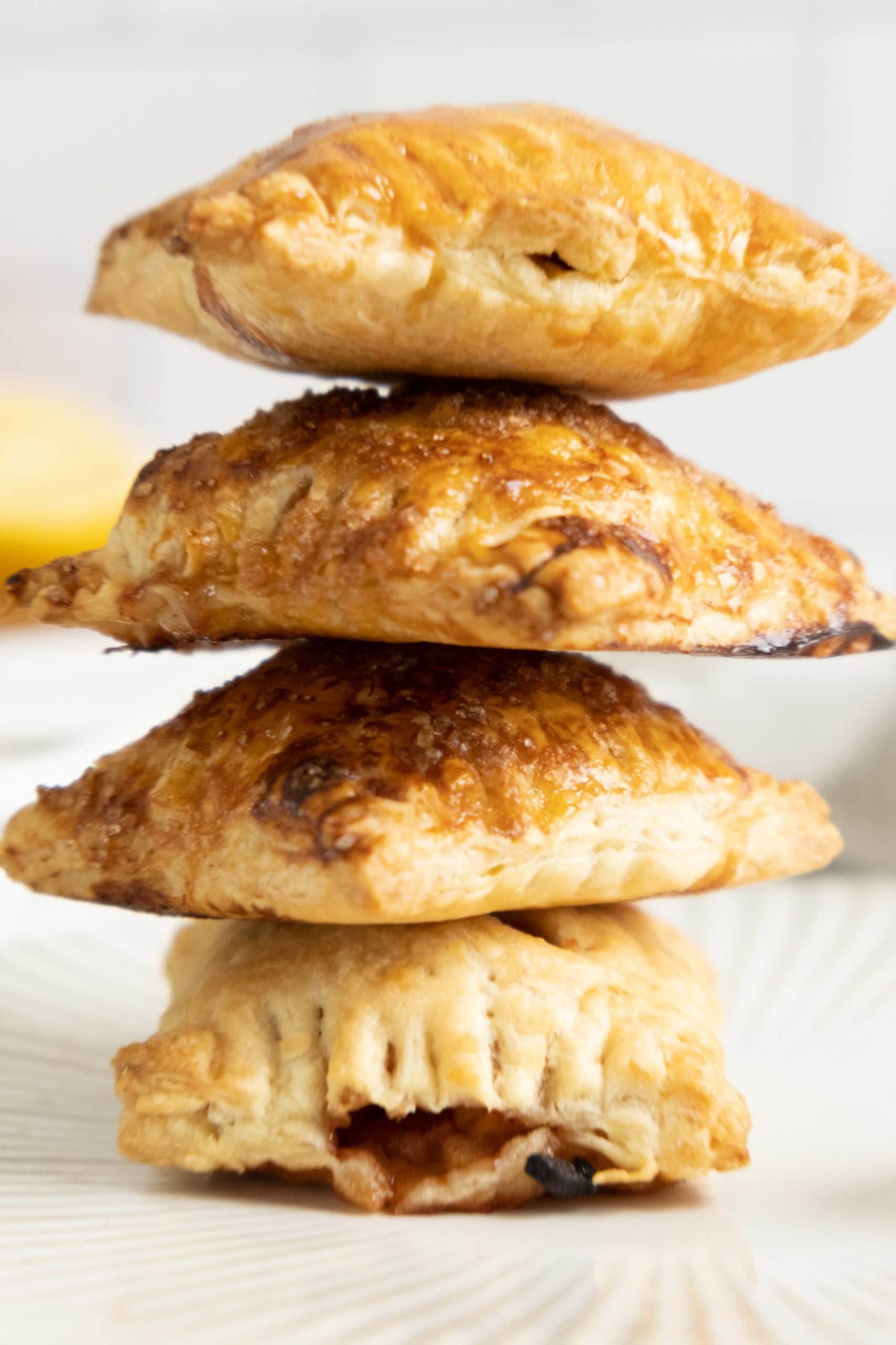 Apple Turnovers
Apple turnovers are a great choice if you're looking for a flaky and fruity pastry to pair with your hot cup of coffee. The combination of the soft and warm apple filling with the buttery, crispy shell contrast well with the strong flavor of coffee.
Not only are apple turnovers delicious but they're also quite easy to make! Follow our super easy apple turnover recipe to make these pastries filled with fresh apples, sugar, and cinnamon.
Belgian Waffles
Belgian waffles are a great breakfast or brunch staple to enjoy with hot coffee. These soft and fluffy treats are super versatile as well. You can enjoy them with fresh fruit, whipped cream, powdered sugar, or chocolate syrup. To balance the sweetness of the toppings, pair it with nice, robust dark roasts.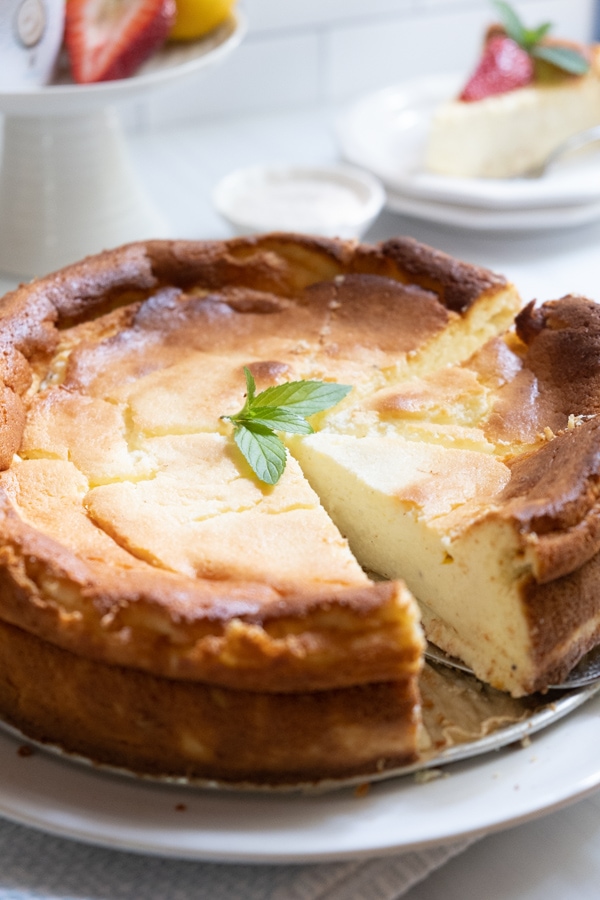 Cheesecake
Cheesecake is a perfect match for light or medium roast coffee. The smooth, creamy texture of cheesecake goes well with coffee that's not too overpowering. The best thing is that this dessert comes in a wide range of flavors, from classic New York style to Oreo cheesecake, or fruit versions like strawberry or blueberry cheesecake.
My personal favorite is the German cheesecake! It's made with Quark cheese and has a hint of lemon. Check out our authentic recipe here. We also have a gluten-free version that doesn't include butter. And if you're looking for a denser, crust-free version check out our easy crustless German cheesecake recipe.
Chocolate Cake
Speaking of cakes, there's no better classic coffee pairing than chocolate cake! The rich, indulgent flavor of a moist chocolate cake complements the strong, bitterness of a cup of joe. Whether you treat yourself to a slice from your favorite coffee shops or you enjoy a homemade cake, you can't go wrong with this coffee pairing.
Making a homemade chocolate cake doesn't have to be hard! Our easy chocolate cake mix mug cake recipe only has two ingredients and is sure to satisfy your sweet tooth. If you want to try a chocolate cake with a twist, then check out our chocolate strawberry Estonian cookie cake! This no-bake cake is also super easy and perfect for hot summer days with iced coffee.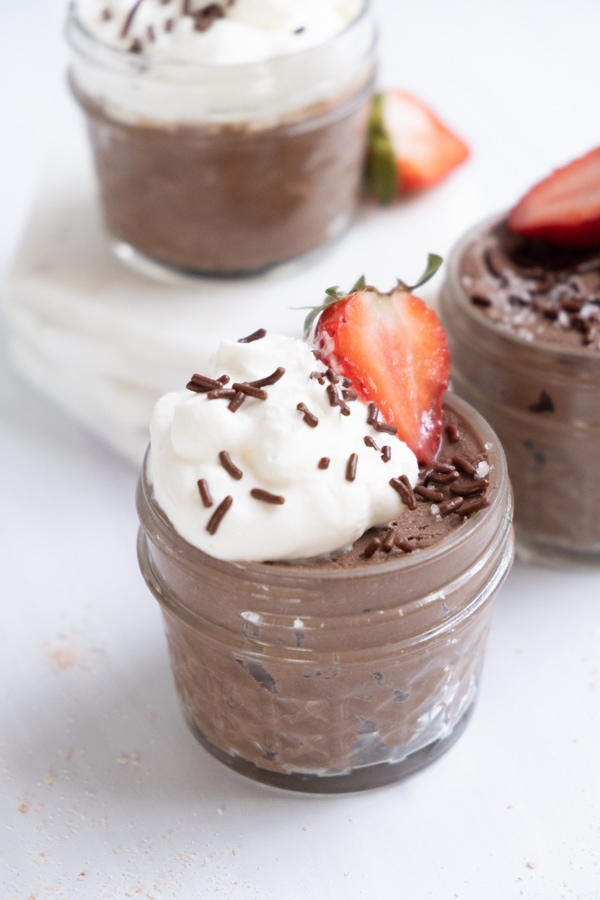 Chocolate
As a general rule, chocolate and coffee make for the best pairings. Each different kind of chocolate would pair well with a different type of coffee. For example, dark chocolate would go well with the bold, strong flavor profiles of dark roasts. Our recipe for a rich and creamy salted dark chocolate mousse is perfect for this.
For those who love milk chocolate, a good option would be Colombian coffee or Guatemalan coffees that have a hint of chocolate or caramel. Similarly, white chocolate would be delicious with lighter roasts or a milky coffee like a latte or cappuccino to balance out the sweetness of the chocolate.
For a fun twist on your classic chocolate bars, check out our super easy French chocolate mendiants recipe.
Cinnamon Buns
Freshly baked cinnamon buns make for perfect coffee snacks. The soft, fluffy dough covered with cinnamon and sugar creates a delightful sweetness that pairs perfectly with the bold flavor of coffee. Plus the spice of the cinnamon will be sure to awaken your taste buds and enhance the richness of your afternoon coffee.
Coffee Cake
This is one of the most classic food pairings that you can't go wrong with. After all, coffee cake was made to be enjoyed with coffee! Some would even argue that it's the best way to enjoy coffee. This cake is light and fluffy with a crumbly streusel topping and typically flavored with cinnamon.
If you're looking for something similar to coffee cake but want to try out something new and fruity, check out our recipe for German plum cake! This popular German dessert is made with fresh plums and topped with streusel, like the typical coffee cake. This is one of my favorite cakes.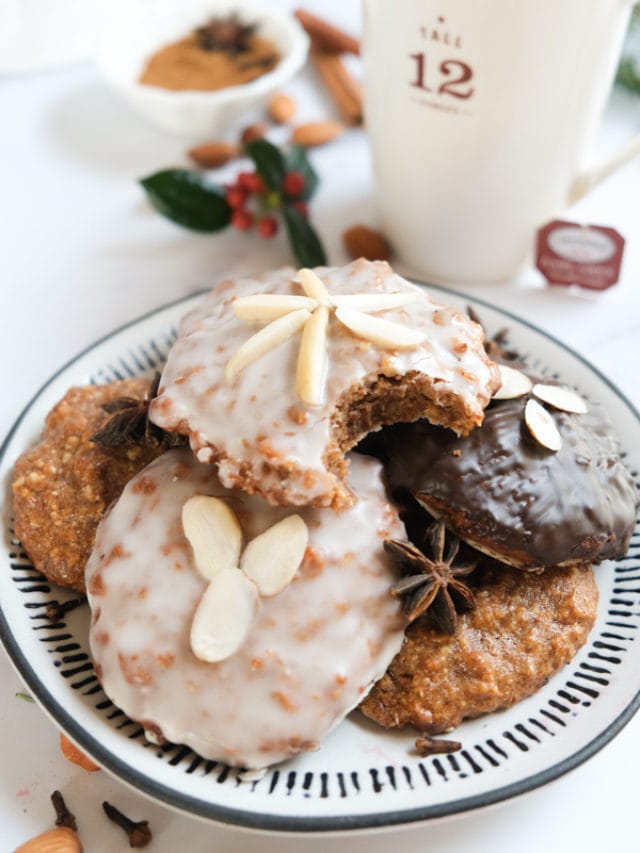 Cookies
Cookies are classic tasty treats that go hand in hand with your typical cup of coffee. Whether you're in the mood for chocolate chip cookies or oatmeal cookies or you prefer chewy over crunchy cookies, there's something for everyone.
Here are some of our personal favorites. If you like buttery, crumbly cookies then our classic Scottish shortbread cookies are for you. And the good thing is you only need three ingredients to make them.
If you're looking for the best cookie base to add your own toppings to, then check out our recipe for golden syrup cookies made in 3 ways. These cookies are easy and seriously delicious.
If you're getting into the holiday spirit or looking for delicious and thoughtful gifts for the holiday season, look into our German iced gingerbread Christmas cookies or our Dutch Speculaas Spice cookies!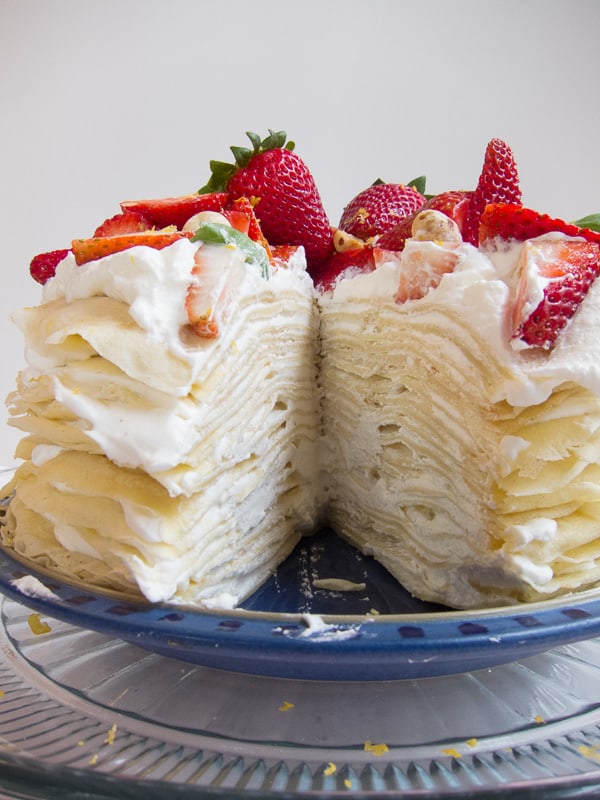 Crepes and Crepes Cake
If you want an easy snack to enjoy while you drink coffee, crepes are a great option. Crepes are very versatile and can be made in a ton of different ways. If you prefer more salty foods, savory crepes are worth trying. But nothing pairs better with coffee than sweet toppings and fillings like Nutella, brown sugar, fresh fruit, and cream.
For those looking for a more elevated version of this dessert, try out our recipe for lemon strawberry French mille crepes cake! This cake is made with layers of crepes filled with lemon whipped cream and fresh strawberries.
Donuts
Another versatile afternoon snack are donuts. This sweet treat is perfect for those who enjoy their coffee to go, since donuts make for great small bites to take out and about.
While you can easily find them at your local bakery or grocery store, we recommend whipping up your own batch at home. Our Nutella donuts recipe is super easy to follow and you'll only need three ingredients! You can also customize the filling to whatever you want like peanut butter or fruit jam instead of chocolate hazelnut spread.
Another doughnut-like option are our cinnamon sugar German Quarkbällchen. They look like doughnut holes but taste so much better.
Fresh Fruits
If you're looking for something healthier to enjoy with coffee, fresh fruit is the way to go. You can choose from a wide variety of fruit but we especially recommend berries like strawberries, blueberries, raspberries, and blackberries. The tartness of these fruits will complement the strong flavor of coffee.
You can enjoy fruit can as a snack by themselves or mixed with yogurt, homemade Quark or homemade Icelandic Skyr. Whichever you prefer, pairing coffee with fruit is a refreshing and balanced choice.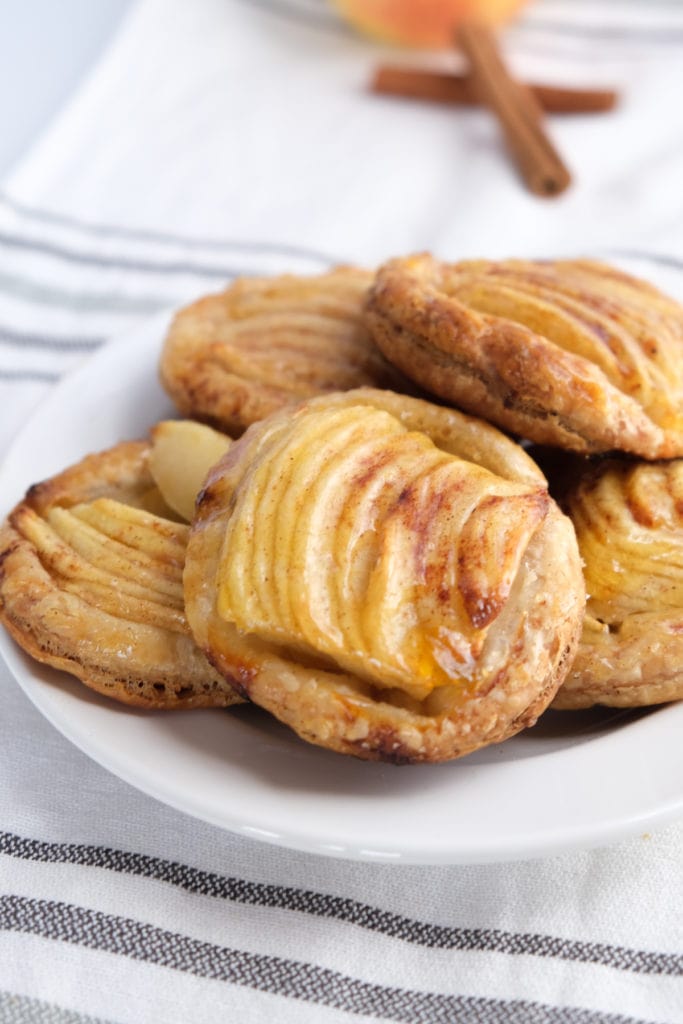 Fruit Tart
Another amazing way to enjoy fruit is through fruit tarts. These delicious tarts are made of a crisp, buttery crust, often filled with creamy custard, and topped with an array of fresh fruits like blueberries, strawberries, kiwis, apples, and raspberries.
These types of delicious fruit tarts can take quite a bit of time to make but fortunately, there's an easy way! Our French apple tarts recipe uses simple, staple pantry ingredients to make quick tarts that are as good as the ones I've enjoyed in France.
And, while not exactly a tart, we also recommend our fruit custard cake recipe that also features apples…just because it's easy and tasty and pairs very well with a hot cup of coffee.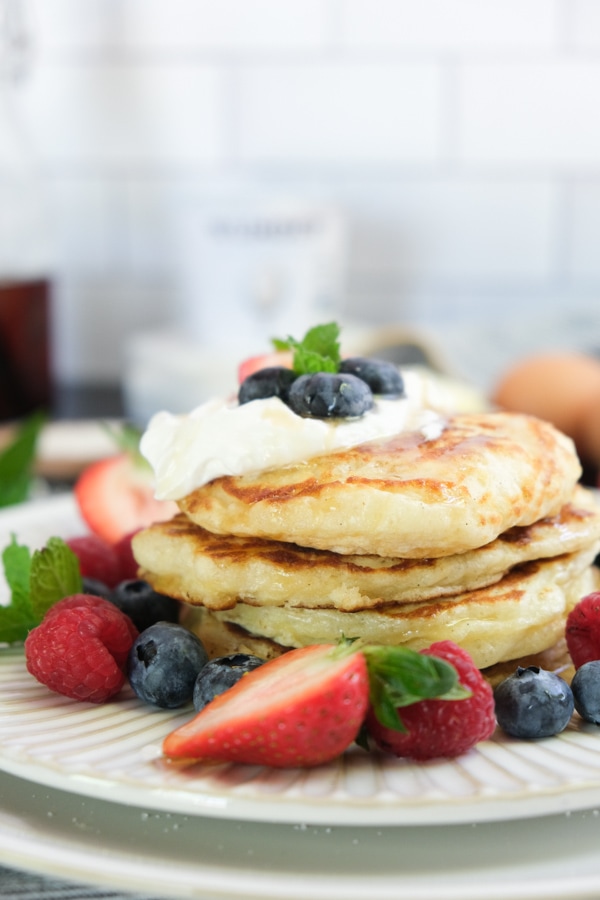 Pancakes
Nothing pairs better with your morning coffee than a warm, fluffy stack of pancakes. Even though they're made of the most simple ingredients, pancakes can be customized to your heart's desire to include anything from butter, maple syrup, whipped cream, chocolate syrup, fruits, or nuts.
Our favorite recipe to make pancakes features Quark, a healthy staple in German baking and cooking that adds more protein and makes these pancakes more filling!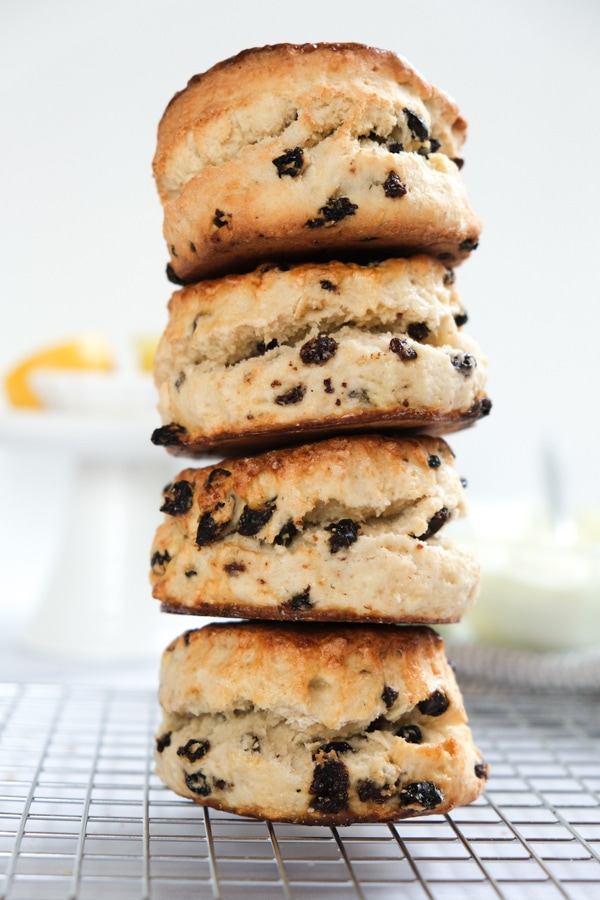 Scones
Scones may be more commonly enjoyed with tea, but they also pair quite well with coffee. These tender and flaky treats are lightly sweetened and come in a variety of flavors, from classic plain to fruity and nutty variations. They can also be enjoyed with different toppings like clotted cream, fruit jam, or lemon curd.
If you're having a hard time finding authentic scones, follow our recipe for British currant scones and make your own at home – they're easy and so good.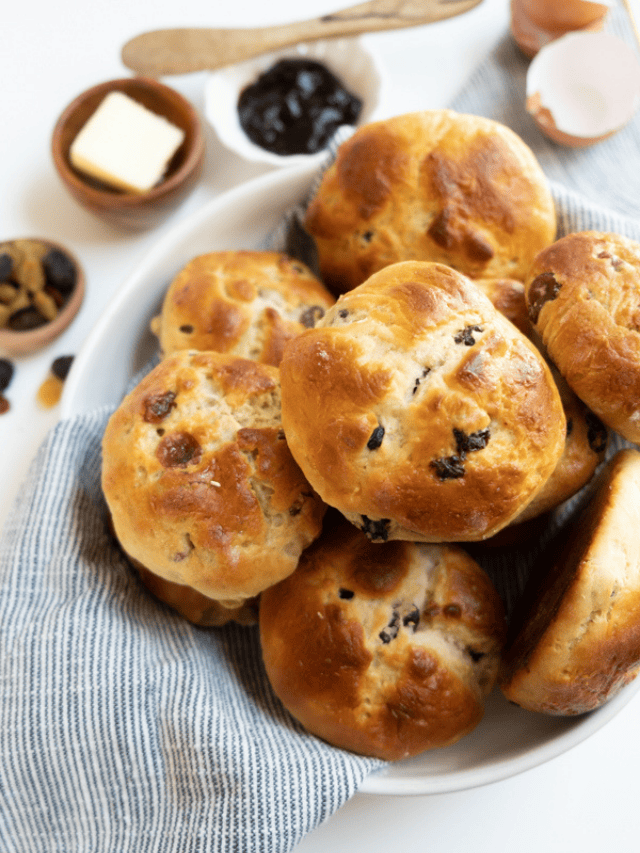 Sweet Bread
For more classic baked goods to pair with your warm cup of coffee, a sweet bread is your best bet. Bonus points if it's freshly baked from your oven — or your local bakery!
For an easy recipe you can make at home, try out our soft and tender Quarkbrötchen (German sweet rolls or buns) made with raisins. And if you're looking for something a bit more unique, you have to try our easy Irish soda bread or Irish soda bread pudding with currants, apple, and pecans.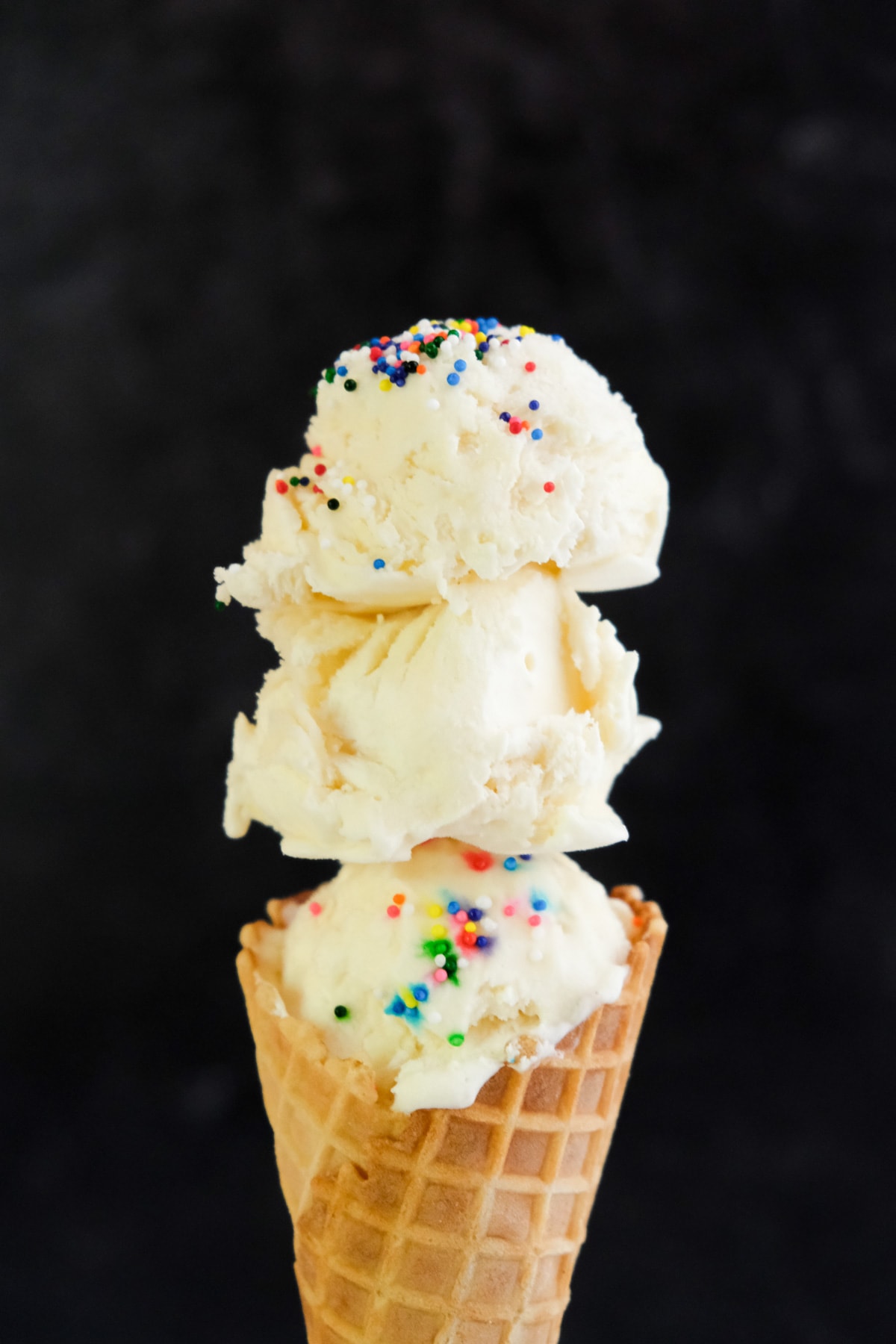 Vanilla Ice Cream
Vanilla ice cream is perfect for hot summer days when you want a cold treat to go with your coffee. It's a simple but sweet treat that balances out the richness of coffee, especially if you pair it with an iced latte or frappuccino.
If you like vanilla flavor but are looking for something especially creamy, try making Clotted Cream Ice Cream. I had this in the UK and have made it at home, too.
Looking for something to spice up your plain scoop of vanilla ice cream? Then check out our fun recipe to make German "Spaghetti" Ice Cream! This popular German ice cream sundae looks just like spaghetti and features strawberries and whipped cream. It's delicious, fun to make, and even more fun to eat.
Here's another pairing: German Eiskaffee (German Iced Coffee). It's super easy to make at home. All you need is fresh cold coffee, vanilla ice cream, and whipped cream to enjoy this popular German summertime treat.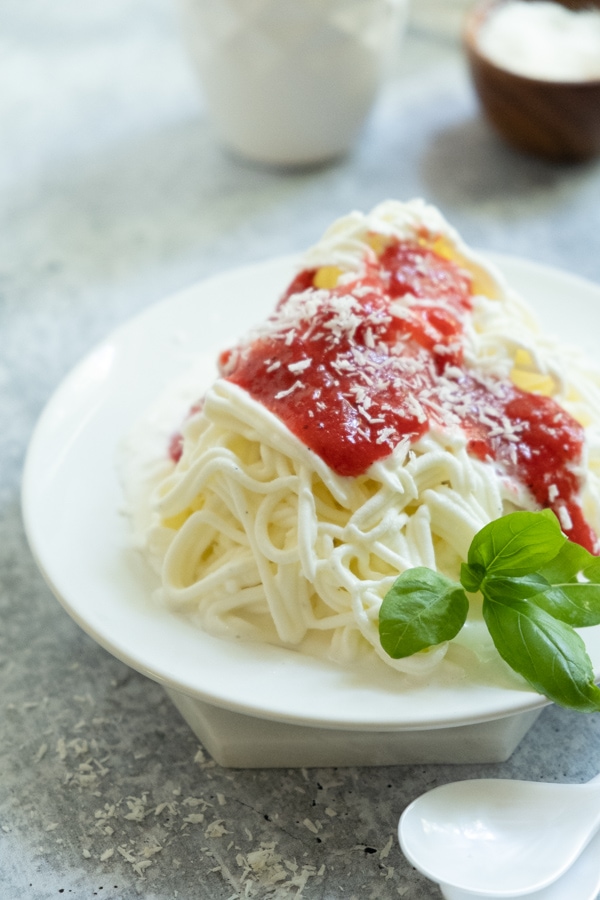 Complete Breakfast
And, of course, one of the best ways to start the morning is by brewing a pot of coffee and enjoying a complete breakfast. Can you imagine anything better than a busy morning with great food like scrambled eggs, crispy bacon, french toast, and fresh fruit plus cups of coffee as an energy boost to kickstart your day?
To make it more special, why not add homemade vanilla sugar to your coffee! You can use vanilla sugar in so many ways and it also makes for an easy and thoughtful gift for anyone else who loves to add a little flavor and sweetness to their cup of joe.