Quarkbällchen (German Quark Balls with Cinnamon & Sugar)
This article may contain affiliate links. See our disclosure link for more information.
Served warm and rolled in cinnamon sugar, these German Quark Balls (called Quarkbällchen in German) are lightly crunchy on the outside and soft and tender on the inside.
They might look like doughnut holes but their taste and texture is different due to the Quark cheese. Perfect for a special holiday breakfast, afternoon snack or dessert!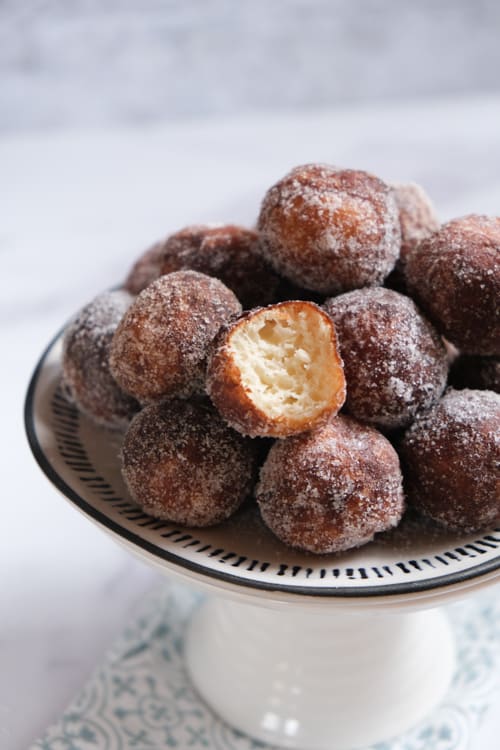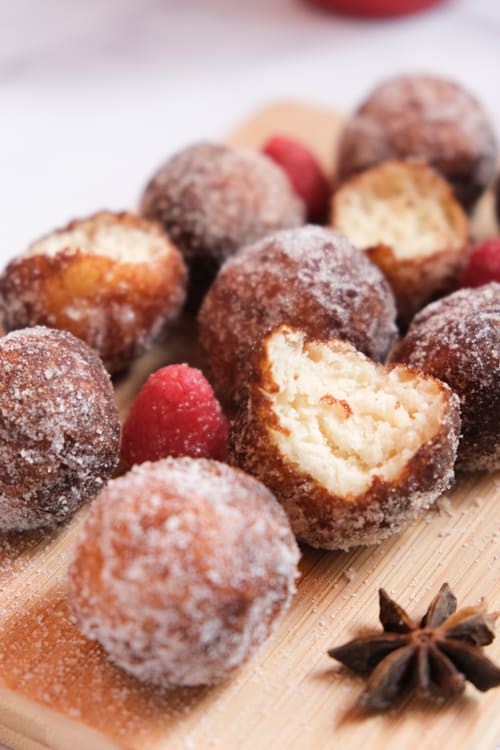 What are Quarkbällchen?
These German Quark Balls are simple to make and so delicious. Made with Quark cheese, they don't taste like doughnut holes!
These fluffy little German dough balls are so tender and flavorful, especially when rolled in cinnamon sugar.
Warning: you won't be able to eat just one.
And they're so easy to make. All you do is mix the ingredients together (it's easiest in a stand mixer), let the dough rise, and then cook in oil until golden brown.
I rolled my Quark Balls in cinnamon sugar but you could use just plain sugar, vanilla sugar or even sugar and speculaas spice mix for a delicious a holiday twist.
Even better? Serve with dipping sauces!
Melted chocolate (like my French hot chocolate)
Jam
Caramel sauce
Apple sauce
Pflaumenmus (German Plum Butter)
Flavored Quark (the healthiest option and SO good)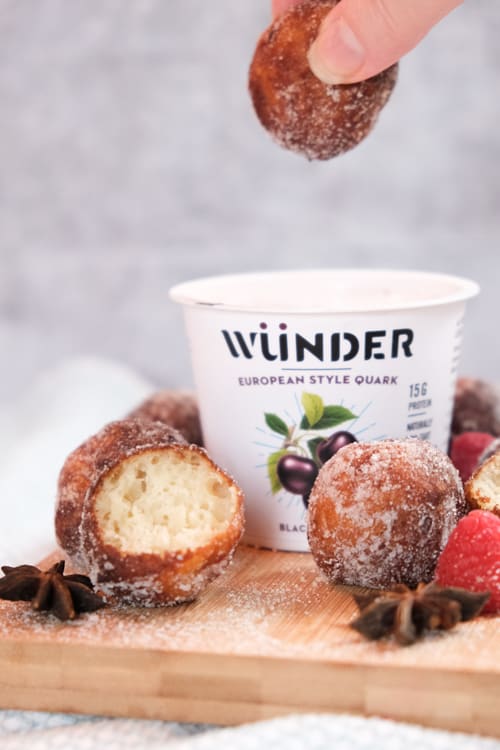 What's Quark Cheese and Where Can I Find It?
Quark is a soft, fresh, un-aged cheese that is thick, super creamy, full of protein, low in lactose, and a baking staple in Germany and other parts of Europe.
I first fell in love with Quark back when I was living in Germany in high school. I adored the creamy texture and how even plain Quark isn't tart like yogurt. I ate it every chance I got…for breakfast, as an after-school snack or a quick and easy dessert.
I also loved that Quark showed up frequently in cakes (like cheesecake!), cookies, and pastries.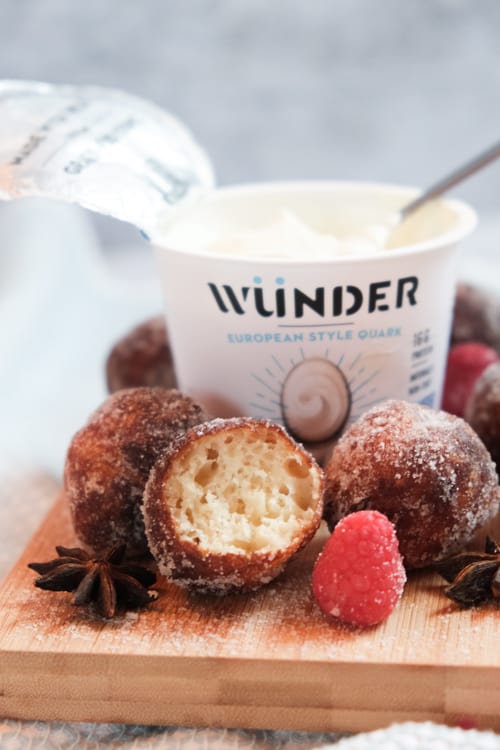 For decades I only enjoyed Quark in Europe because I couldn't find it anywhere in the US.
And when I baked my favorite German desserts, I used Greek yogurt as a substitute…which worked ok but things never turned out quite right. Nor were they as authentic as I wanted.
So I started making Quark at home from scratch…but that process took a couple days, and sometimes I didn't have enough time to make it in advance of the dessert I wanted to make.
Then I found Wünder Quark! They make authentic European-style Quark, in both plain (perfect for baking) and flavored varieties (perfect for breakfast, snacking or a healthier dessert).
I was so excited to find them because their Quark tastes just like what I ate in Germany!
UPDATE: unfortunately, Wünder is no longer selling Quark so I have removed links to their online store.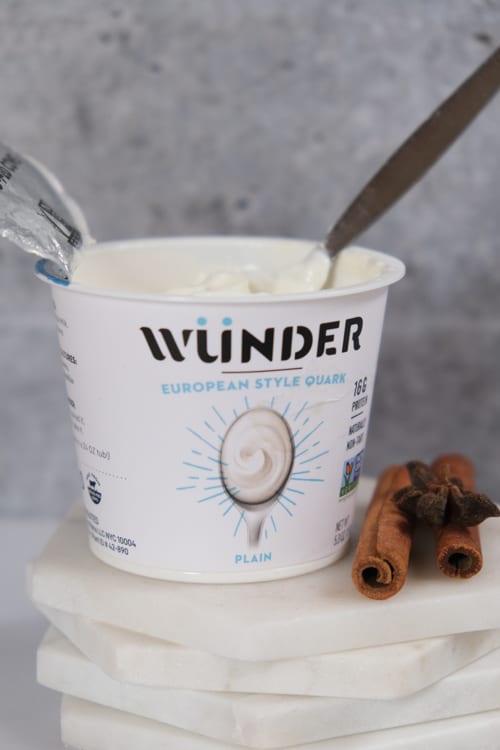 Nowadays I keep Wünder Quark in the fridge so I can make authentic Quark desserts anytime I want (Wünder Quark has a shelf-life of 1.5 months). I reached out to Wünder to see if we could partner so I can help you make your recipes more authentic.
I bought some Quark at my local Lowes food store (click here to use Wünder's store locator to find a store close to you) but you can also order Wünder online!
You can buy both the plain (in large containers and small individual sized cups) and flavored Quark varieties and they'll send it right to your house. You can even reuse (or recycle) the packaging that keeps your Quark safe and cold. Can't get any more convenient than that!
Click here to order Wünder Quark online — and use my coupon code IDB15 to get 15% off your first order!
UPDATE: unfortunately, Wünder is no longer selling Quark so I have removed links to their online store.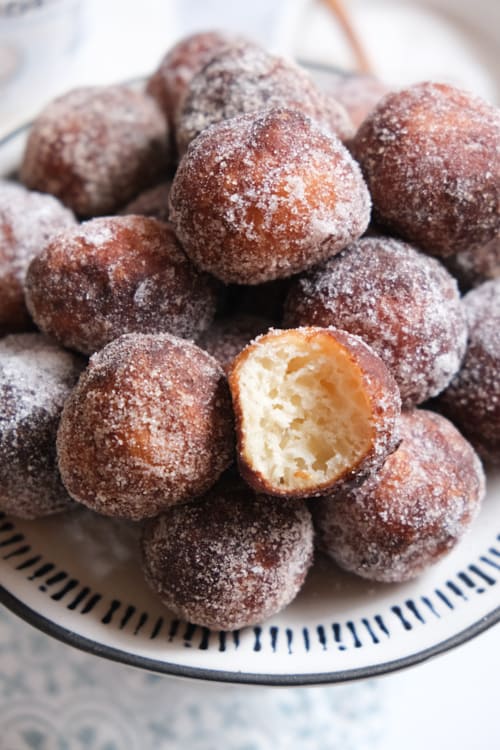 Can I Make Quark Balls without Quark?
I typically recommend substituting Greek yogurt for Quark. That said, Greek yogurt isn't Quark and so the recipe might not turn out quite right.
I haven't tried making them with Greek yogurt…but if that's what you have, give it a try and let me know how they turn out! I do, however, highly recommend making or buying authentic Quark for this recipe.
What You Need to Make Quarkbällchen (Quark Balls)
Ingredients:
Flour
Yeast
Sugar
Vanilla sugar (or vanilla extract)
Salt
Egg
Butter (room temp)
Quark
Oil (vegetable or canola)
Cinnamon, vanilla sugar or speculaas spice mix (optional)
Equipment:
Stand mixer with hook attachment
Scale or measuring cups/spoons
Spatula
Saucepan
Thermometer
Plate
Paper towel
Small bowl
How to Make German Quark Cheese Balls
A few notes before we get started:
You need to let the dough rise for a couple hours so be sure to start making this recipe at least a few hours before you want to serve them.
These Quark Balls are best served warm, so start frying them just before you plan to serve them.
It's easiest to make the dough with a stand mixer and hook attachment (for kneading). That said, if you don't have one, you can knead the dough by hand.
Ok, let's make Quark Balls!
First, add flour and yeast to the bowl of a stand mixer and whisk until combined.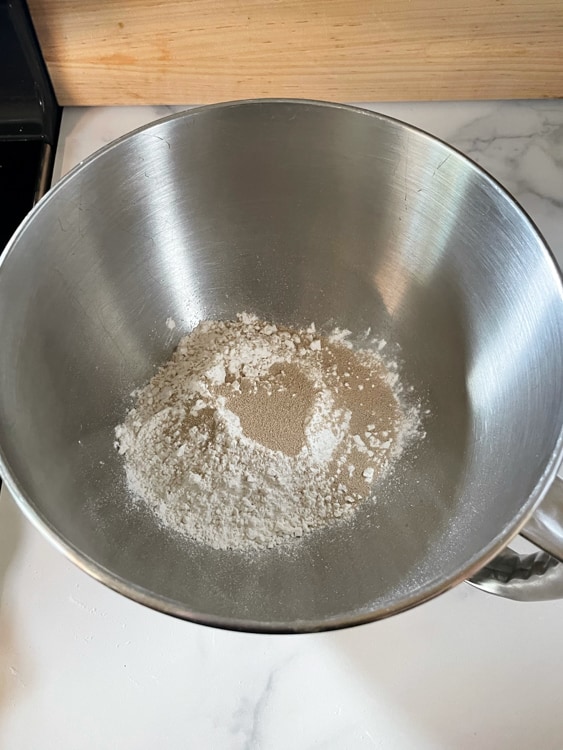 Then, add sugar, vanilla sugar, salt, egg, room temperature butter, and Quark.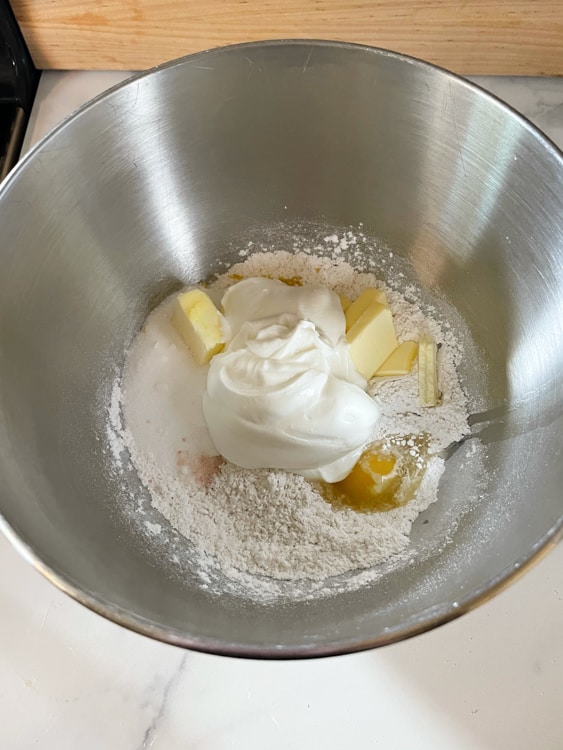 Using the bread hook attachment, mix on low until a dough forms. Then mix on high for 5 minutes until the dough is smooth.
If you don't have a stand mixer with a hook attachment, mix ingredients until a dough forms. Then turn it out onto a floured surface and knead by hand for at about 5 minutes or until dough is smooth.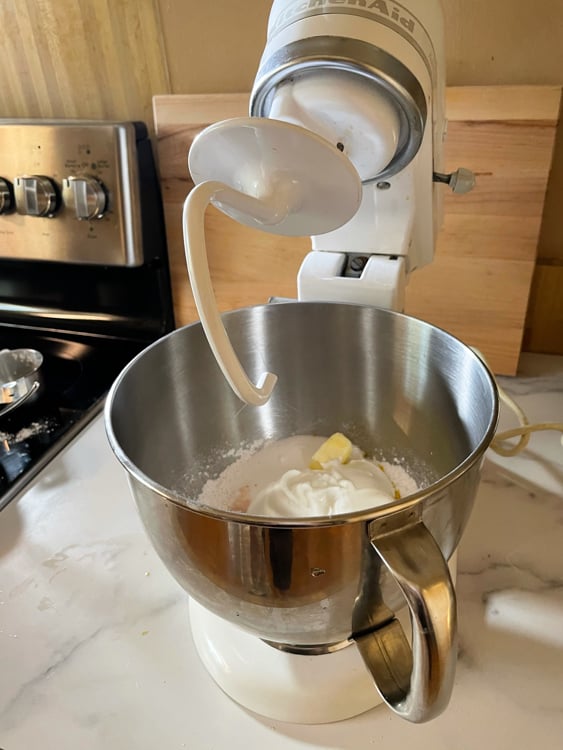 Cover the mixing bowl with a towel and leave in a warm place to rise until it has doubled in size. (On a somewhat chilly day it took about 3 hours for my dough to double in size. If your kitchen is warmer it might rise more quickly for you. Likewise, if your kitchen is cold, it could take longer.)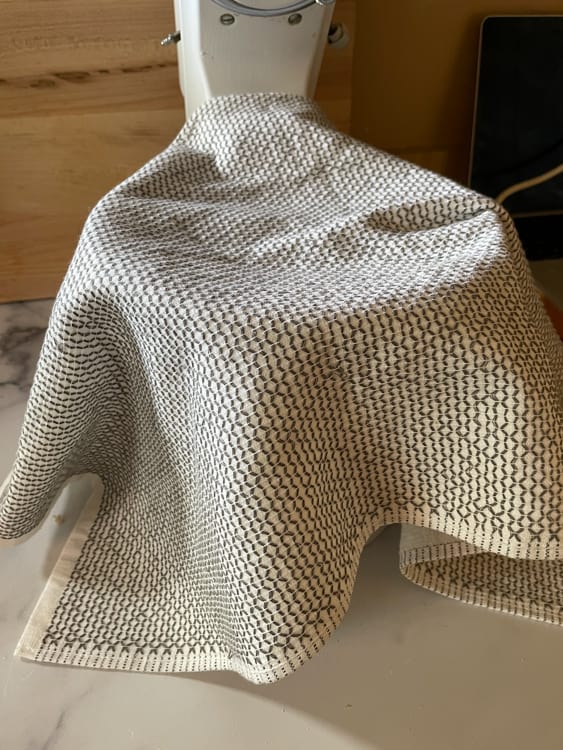 Once your dough has doubled in size, briefly mix the dough once more using the dough hook on low for about 30 seconds.
Then, add 3-4 fingers of oil to a saucepan and heat to 350F/175C. Tip: use a thermometer for this! You need the oil to be hot enough to cook your Quark Balls but not so hot they overcook the outside (or even burn) without fully cooking the inside.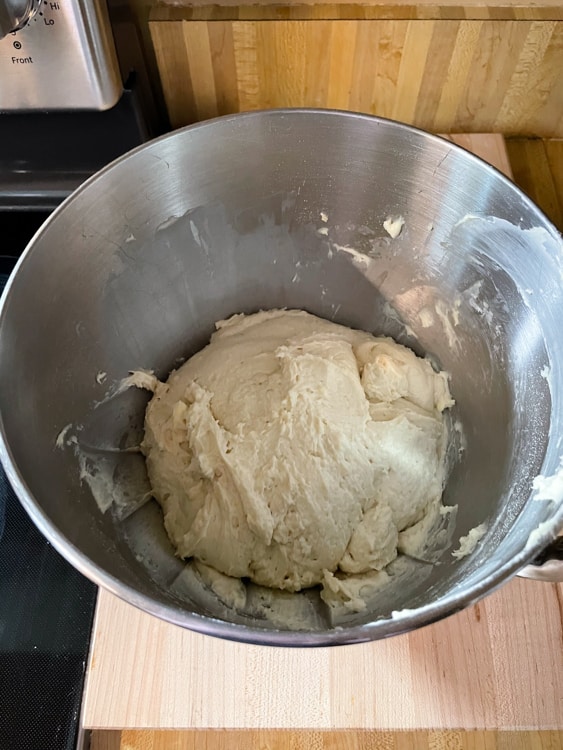 Portion the dough into 25-ish balls (or use a cookie scoop). I had the best luck cooking the balls when I used about a 1/2 TBSP of dough. Wet your hands and then roll dough into a ball (wet hands will prevent the dough from sticking).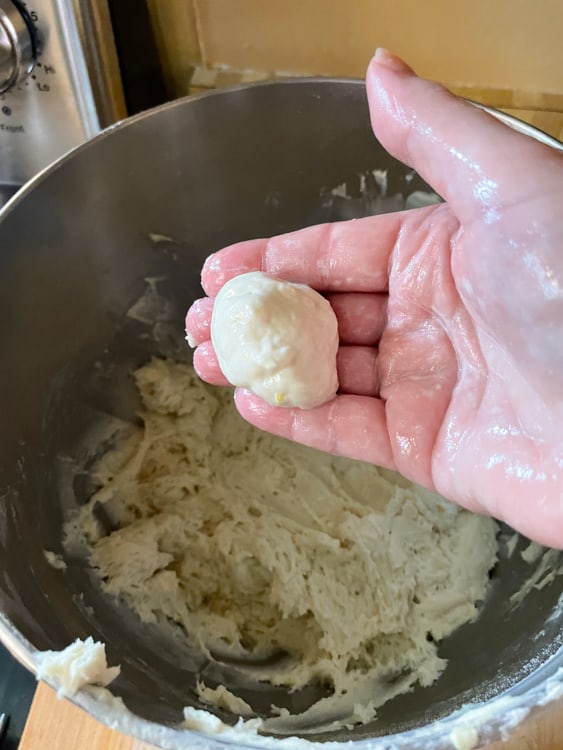 Carefully drop 2 or 3 dough balls into the hot oil. Watch the balls carefully! Use a knife or spoon to flip them over once one side is golden brown.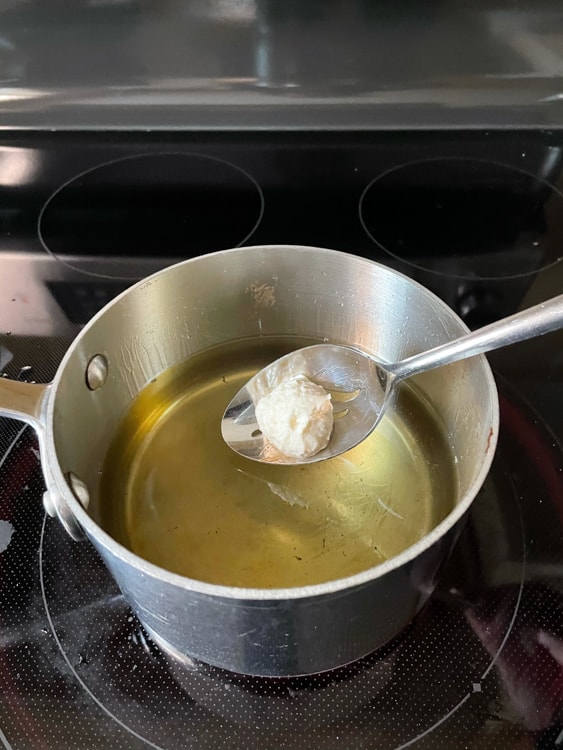 Tip: The first time you make Quark Balls, cook a couple while timing how long it takes for them to turn golden brown. Take them out of the oil and check that the middle is fully cooked. If they are, cook the rest of your Quark Balls for that amount of time. If they're not, cook another ball a little longer and check the middle. If the balls get too dark before the middle is fully cooked, make the balls a little smaller. It took me a few tries to get it right but after that it was smooth sailing!
Also — check the oil periodically so you ensure it stays right at 350F/175C. You might need to adjust your stove temp here and there. I found that my oil quickly rose above 350F/175C and I needed to turn the heat down a few times.
When the Quark Balls are golden brown, take them out of the oil and place on a paper towel. When you can comfortably touch the Quark Balls with your fingers, roll them in sugar (or cinnamon sugar, vanilla sugar or speculaas spice sugar).
Serve warm with or without without dipping sauce. Enjoy!
?Looking For More German Christmas Recipes?
Big thanks to Wünder Quark for sponsoring this recipe! I'm a huge fan of their Quark and I'm thrilled to work with them so I can better help you make your recipes more authentic.