Chocolate Strawberry Estonian Cookie Cake
This article may contain affiliate links. See our disclosure link for more information.
This Estonian Cookie Cake cake is easy, delicious, and perfect for summer! It's a no bake cake (maybe you call it a refrigerator cake or icebox cake?) so you don't need to turn on a hot oven and heat up your kitchen.
Of course, it tastes great any time of year and is the perfect dessert when you want cake but don't have the time or desire to go to the trouble of baking, cooling, and then frosting a cake.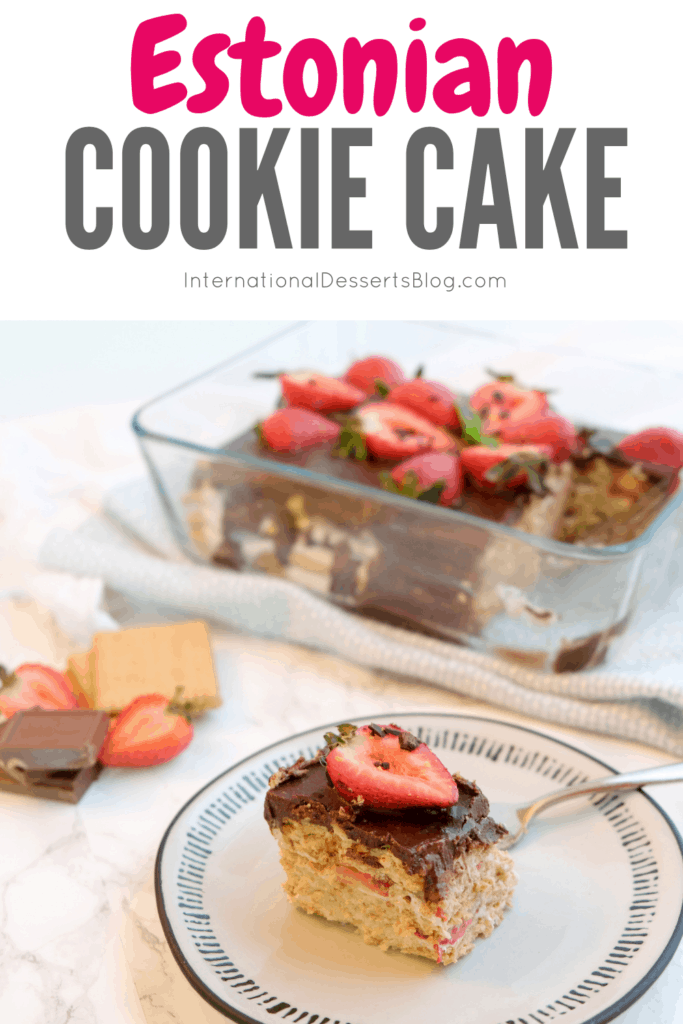 It's a cinch to prepare this delicious cold dessert cake – just layer the cookies, sour cream, and strawberries, and then top with a rich chocolate sauce and more juicy strawberries.
The sour cream softens the cookies and all of the flavors combine into a heavenly dessert. Keep these simple ingredients in your pantry so you can whip up this traditional Estonian dessert anytime!
I have a goal to visit every country in Europe, and I'm about 3/4 of the way there. One of the regions of Europe I am eager to visit next? The Baltics!
I've had so many friends and colleagues visit Estonia and rave about it, so I'm hoping to plan a trip to that area in the near future. In the meantime, I'm exploring the country by researching Estonian food recipes, learning about traditional Estonian food, especially Estonian desserts.
Have you been to Estonia? What do you know about Estonian cuisine? I'd love to hear if you have any travel tips. And, of course, suggestions for which Estonian sweets to eat!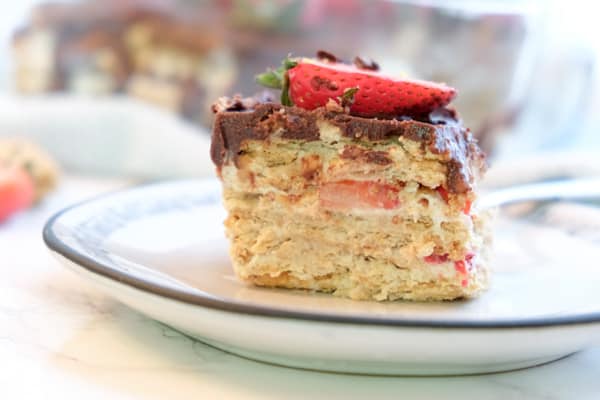 This Chocolate Strawberry Estonian Cookie Cake is like an old fashioned strawberry icebox cake (or chocolate icebox cake, depending on how you look at it).
Except that most icebox cake recipes I've seen use whipped cream, Cool Whip, cream cheese, and graham crackers, Oreos or biscoff cookies.
This cake is deliciously different.
Instead of whipped cream, this cake calls for sour cream. And instead of graham crackers? Butter cookies. So good!
What You Need to Make this Cake:
Sour cream
Brown sugar
Vanilla extract
Sliced strawberries
Lemon zest (optional)
Vanilla sugar (optional)
Chocolate (I used a mix of light and dark)
Heavy cream
Rectangular dish (I used this 3-cup Pyrex dish)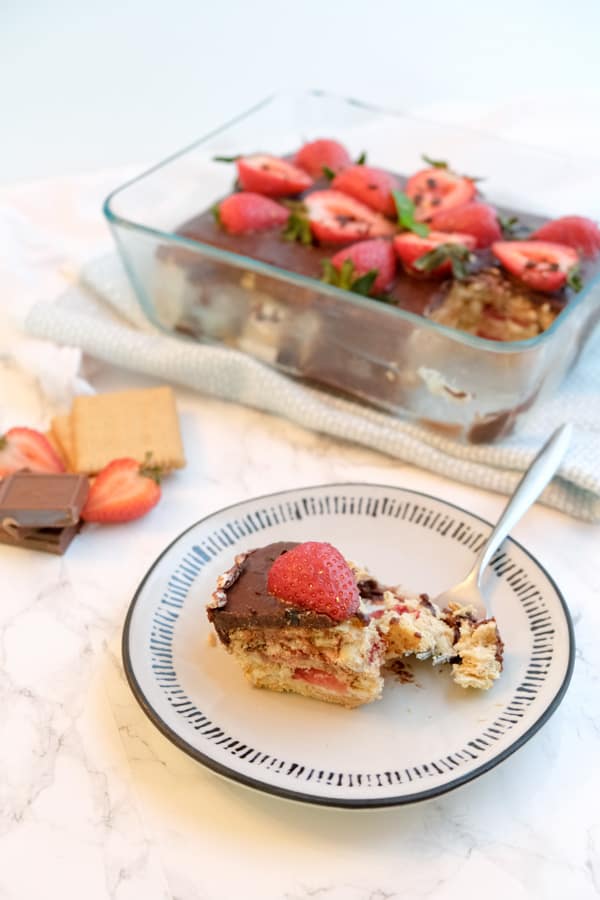 Sour Cream
Don't be scared off by the sour cream!
The first time I made this cake I used all sour cream.
Then I tried making it with half Greek yogurt and half sour cream and it wasn't as good. The yogurt gave the cake a sour taste that detracted from the cake.
Finally, I went back to using all sour cream for the next iteration and found plain old sour cream provides the best flavor and texture in this cake.
I added brown sugar and vanilla extract to the sour cream and found that added just enough sweetness and flavor. Plain sour cream was a bit too plain for my tastes. You could also use homemade golden syrup or another sweetener.
Butter Cookies
I used Leibniz butter cookies, just like the kind I used to buy in Germany. I found mine at my local Harris Teeter but you can also order them here on Amazon. You might also be able to find them at World Market.
I bought two packages of cookies so I'd have extra in case some of them were broken, and so I'd have a few to nibble on. 🙂 If you find that some of your cookies have broken in the package, don't worry, you can still use them. Broken cookies do make it a little harder to spread the sour cream, though.
Some recipes call for dipping the cookies in milk or coffee but I don't do this because it made my cake soggy and didn't add any noticeable flavor.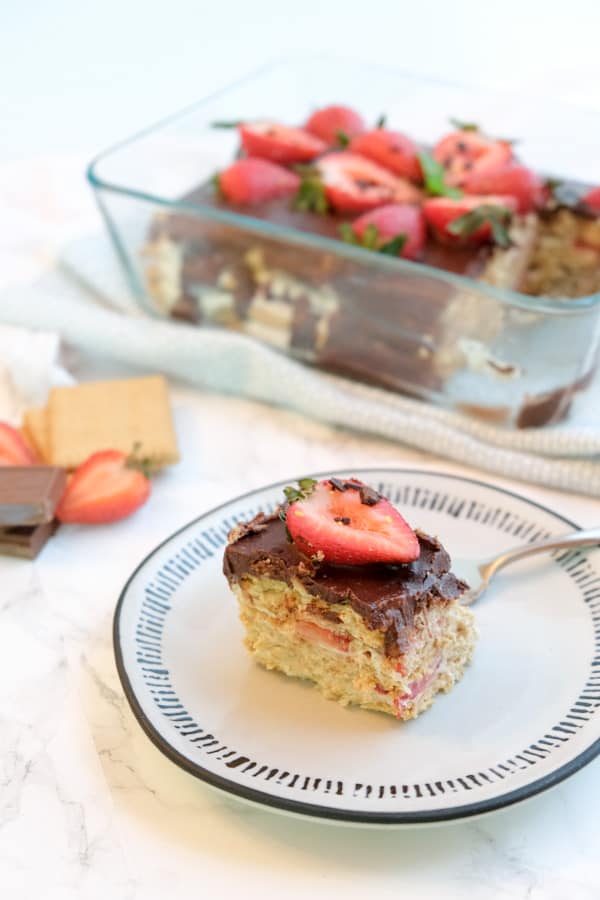 Strawberries & Lemon Zest
I added sliced strawberries to two layers and on top of the cake. You can, of course, add strawberries to all of the layers if you'd prefer.
I also added lemon zest between the layers in one version of the cake…and then I completely forgot to do so when I made the video. Oops! A little lemon zest adds to the flavor but it's optional. If you want the cake to be a bit sweeter, sprinkle a little vanilla sugar on the strawberries. Vanilla sugar adds such a lovely flavor to everything.
Chocolate Sauce Topping
I tried all dark chocolate but preferred a mix of dark and milk chocolate.
I placed strawberries on top of the cake for decoration, but you could also use coconut flakes, sprinkles, chocolate curls or chopped nuts.
The chocolate sauce needs time to set, so be sure to factor in time for the cake to chill in the fridge before serving.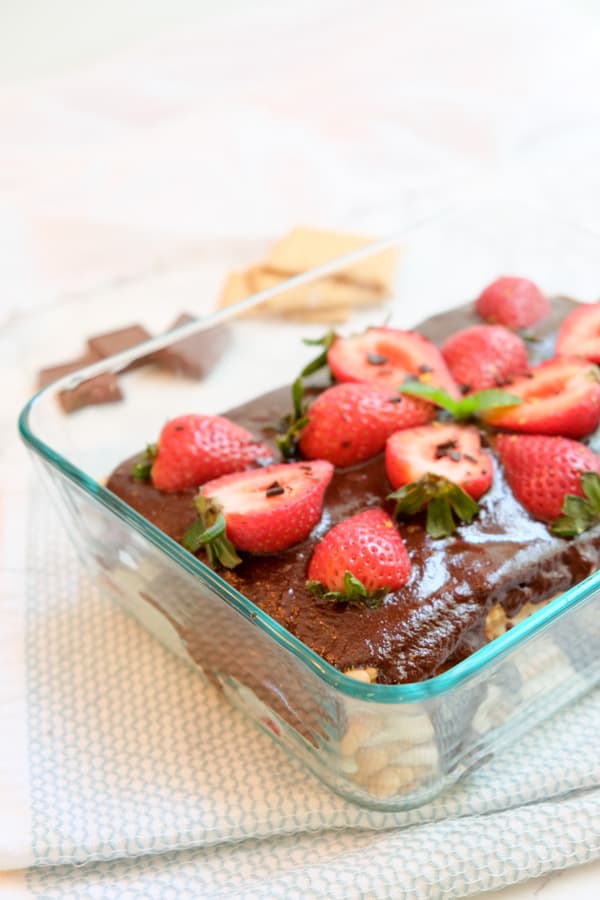 Clear Pyrex Dish
I made this no bake cake in a clear 3-cup Pyrex dish. You don't have to use a clear dish but it is nice to be able to see the layers.
One of the advantages of this cake is that the measurements don't need to be exact for it to be delicious! You can make it in a smaller or larger dish with as few or as many layers as you'd like. You may need to adjust the ingredient amounts a bit but you really can't go wrong.
How to Make Strawberry Chocolate Estonian Cookie Cake
Mix sour cream, brown sugar, and vanilla extract in a small bowl until sugar has dissolved.
Then slice the strawberries. Reserve some for decorating the top of the cake.
Place eight cookies in the bottom of the dish (or more or less, depending on the size of your dish). Spread the sour cream mixture evenly over the cookies.
Add another layer of cookies, another layer of sour cream, and a layer of sliced strawberries. Sprinkle lemon zest and/or vanilla sugar on the strawberries, if using.
Keep adding layers of cookies, sour cream, and strawberries. My cookie cake had five layers but your can have more or fewer — your choice. The top layer of the cake (before you add the chocolate sauce) should be all cookies.
Cover your cake with foil and place in fridge for four hours.
Then melt butter, heavy cream, and chocolate in small saucepan over medium low heat, ideally one with a spout for pouring (I used a butter warmer like this one – I love it and use it all the time).
Take the chocolate sauce off the heat and let cool for a minute before slowly pouring it over the top of the cake.
Top the cake with sliced strawberries (or whatever toppings you choose).
Cover cake with foil and place in fridge until set.
Slice and enjoy!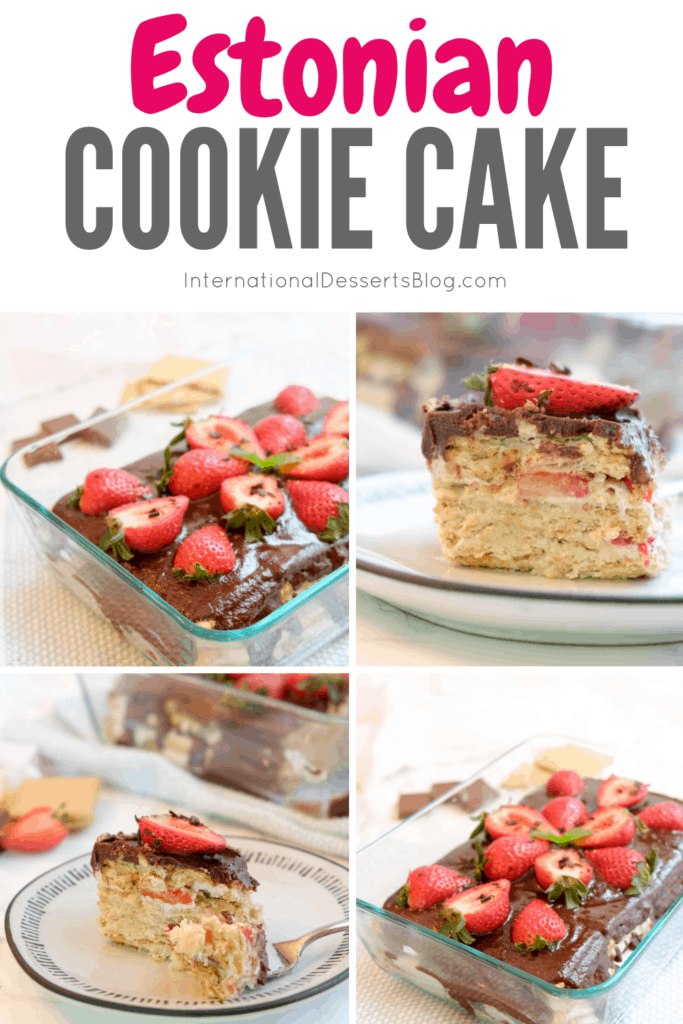 Make More Easy No-Bake Recipes