Best Authentic German Cheesecake (Käsekuchen)
This article may contain affiliate links. See our disclosure link for more information.
This German Käsekuchen (German Cheesecake) is made with Quark cheese (homemade or store bought) and has a hint of lemon. One bite and you'll swear you're in Germany!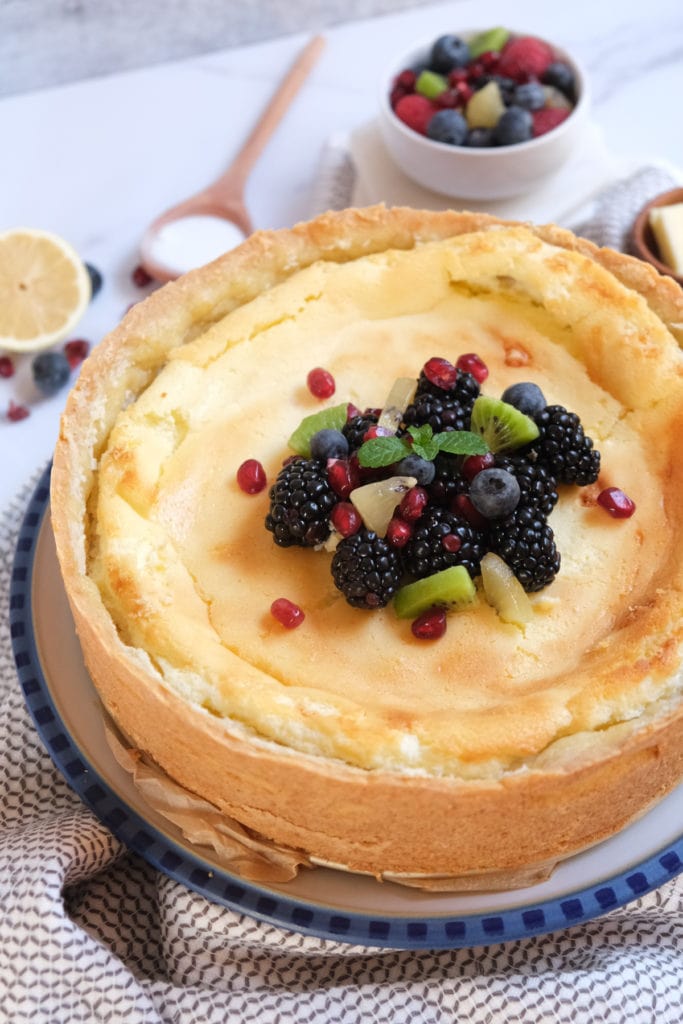 Thanks to Wünder Creamery for sponsoring this recipe!
There are many variations of German cheesecake. This version of traditional German cheesecake is light, fluffy, uses simple ingredients, and has a crust.
If you're looking for a simple, classic German cheesecake (or a gluten-free option that doesn't include butter), try my Classic German Cheese with Quark.
If you're looking for a denser, crustless cheesecake check out my easy Crustless German Cheesecake recipe.
German vs. US American Cheesecake
Ready to make German cheesecake? Great! But don't get out the cream cheese! This cheesecake is made with Quark.
Huh? What's Quark?!
Quark is super popular in Germany and other parts of Europe but much less so in the US. It's starting to catch on here in the US, though, and I'm so excited about that because I LOVE Quark!
I use it all the time in my baking, cooking, for breakfast, healthy snacks, as an easy dessert…so many things.
So what is Quark? It's is a fresh, soft, un-aged cheese. Quark has a texture similar to a thick Greek yogurt but tastes less tart.
It's also high in protein and is delicious spread on toast, combined with fresh berries (both make an excellent breakfast) or in lots of German desserts and baked items.
Using Quark in recipes that call for it (rather than using a substitute) will make your recipes more authentic and often healthier!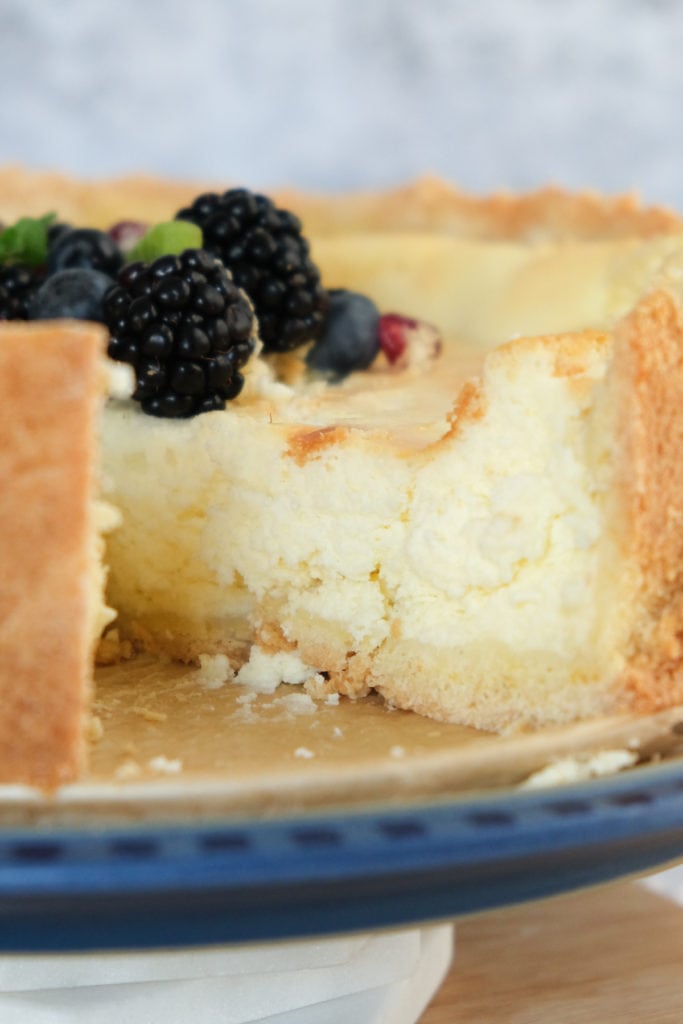 Where Can I Buy Quark?
It used to be SO hard to buy Quark in the United States even North America. Like, almost impossible. But now there's Wünder Quark!
They make authentic European-style Quark in both plain (great for baking) and several delicious flavors (perfect for everything else).
I stumbled across Wünder Quark at my local grocery store a few months ago and jumped for joy when I tried their strawberry Quark because it tasted just like what I used to eat in Germany.
When I saw that they also made plain Quark, I reached out to them to see if we could work together. I'm excited to partner with them so I can help you make your recipes more authentic and even more delicious!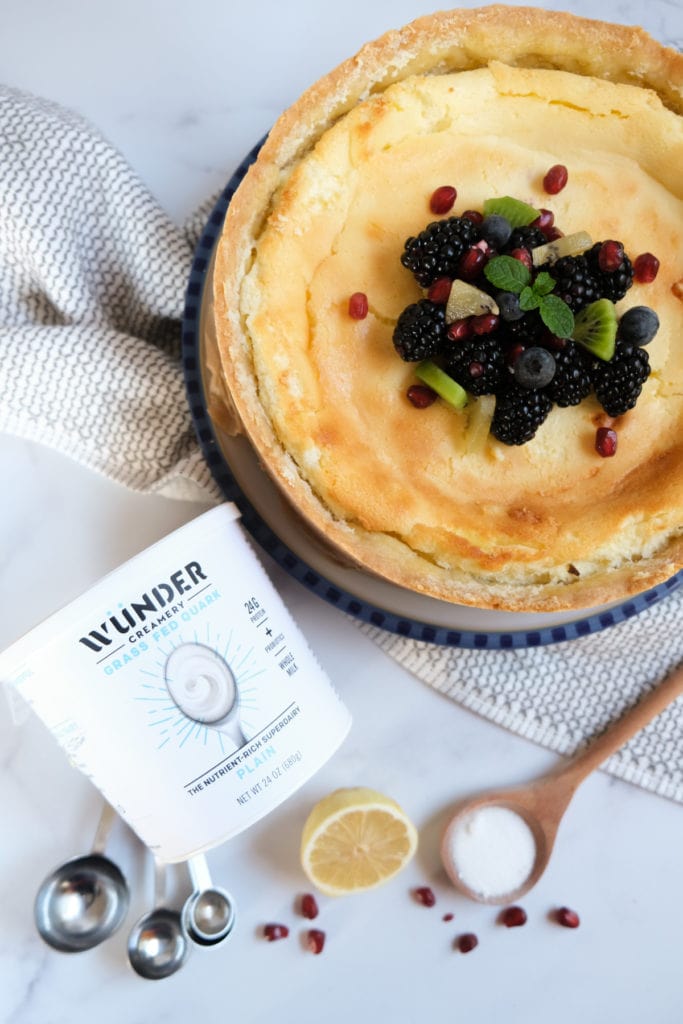 You can find Wünder Quark at grocery stores around the US (use their store locator to find one near you) and you can now order it online! It's super easy to order both plain and flavored Quark and then have it shipped right to your house.
UPDATE: unfortunately, Wünder is no longer selling Quark so I have removed links to their online store.
My Quark arrived cold and in perfect condition. It shipped quickly, and love that you can reuse the ice packs and packing material or recycle it. (My husband took the plastic off to recycle the packing material and decided to use some to make his office chair more comfy!)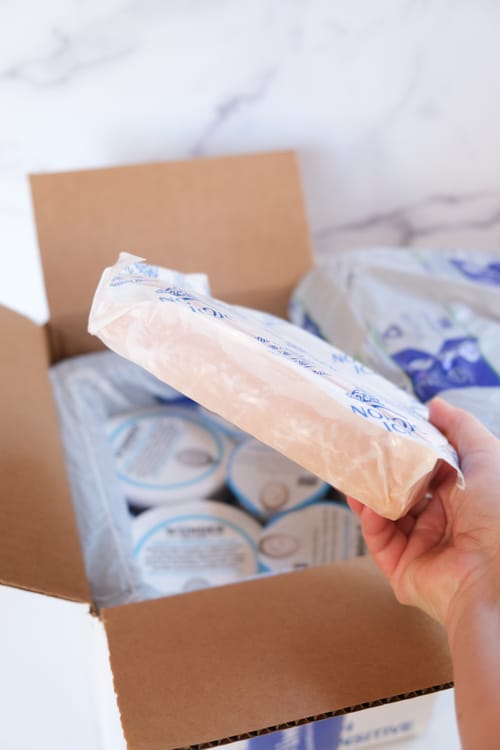 You can order both large (24oz) and small (5oz) plain Quark or 5oz cups in several flavors. All of the flavors I've tried so far have been delicious but my favorite is coffee. OMG, it's amazing.
Wünder Quark has a shelf-life of 1.5 months in the fridge so you can stock up and have Quark at the ready when you want to do some baking or just enjoy a healthier breakfast, snack or dessert!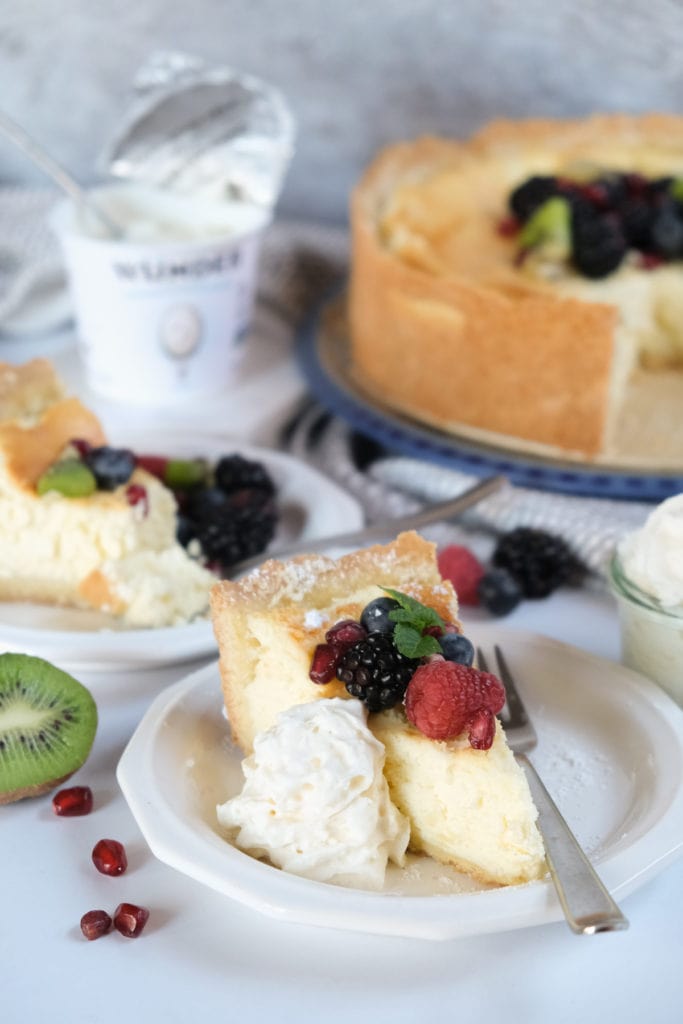 Can I Make German Quark at Home?
Yes, you can (here are my step-by-step homemade Quark directions)! I've my own Quark loads of times. It's pretty easy but you do need to allow 2-3 days for it to set and drain, and it can be kinda messy.
So you definitely need to plan ahead and make sure you have the tools you need and room in your fridge. What I do now is keep a couple tubs of Wünder in my fridge so I can bake at a moment's notice!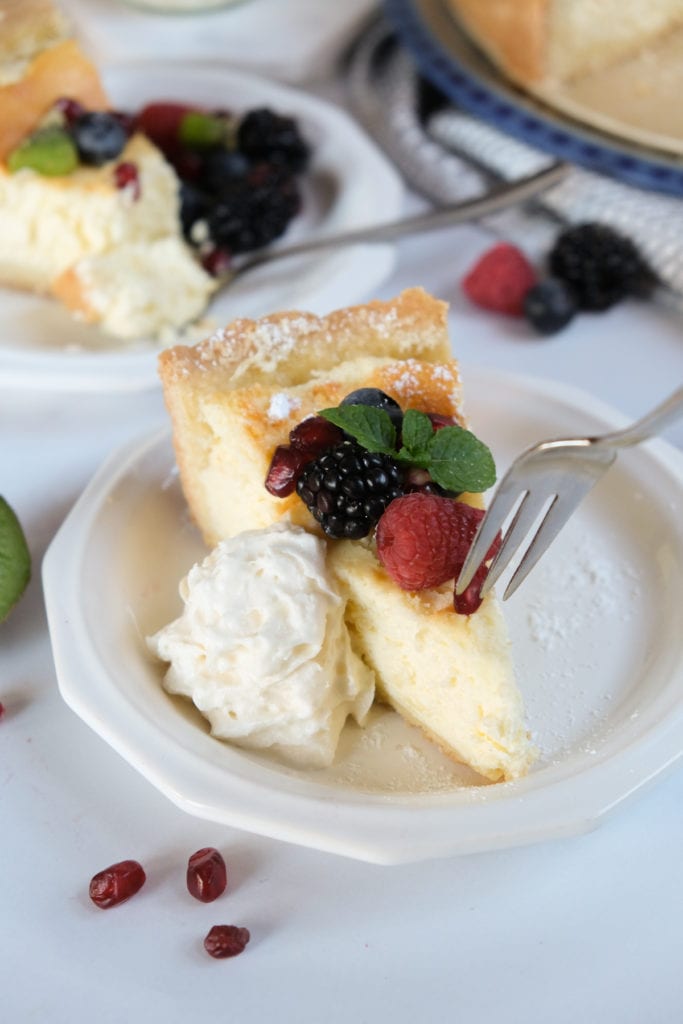 Are There Any Substitutes for Quark?
I always recommend using Greek yogurt or pureed cottage cheese. I've used both. That said, if you use real Quark you'll get better results, so I recommend making or buying authentic European Quark cheese if at all possible.
Tell Me About the Crust for This Quark Cheesecake
Put the graham crackes back in the cupboard! Unlike most cheesecakes in the US, most authentic German cheesecake recipes use a short crust instead of graham cracker or cookie crumbs. The crust in this recipe is so tender, lightly sweet, and has a slight lemon flavor due to the lemon zest. It's delicious!
How Should I Serve this Cheesecake?
I serve it with fresh whipped cream and sometimes also fresh berries on the side. It also tastes great with a dusting of powdered sugar — or just by itself!
For next time I'm thinking about making a berry topping using my Rote Grütze recipe, which is another amazing German dessert.
I'll have to make a whole new cheesecake to try that, though, because this cheesecake didn't last but a couple days.
It's not a German thing to top cheesecake with Rote Grütze but I think it could make a good topping!
If you're looking for a new cheesecake to try or are just hungry for a taste of Germany, try this authentic German cheesecake!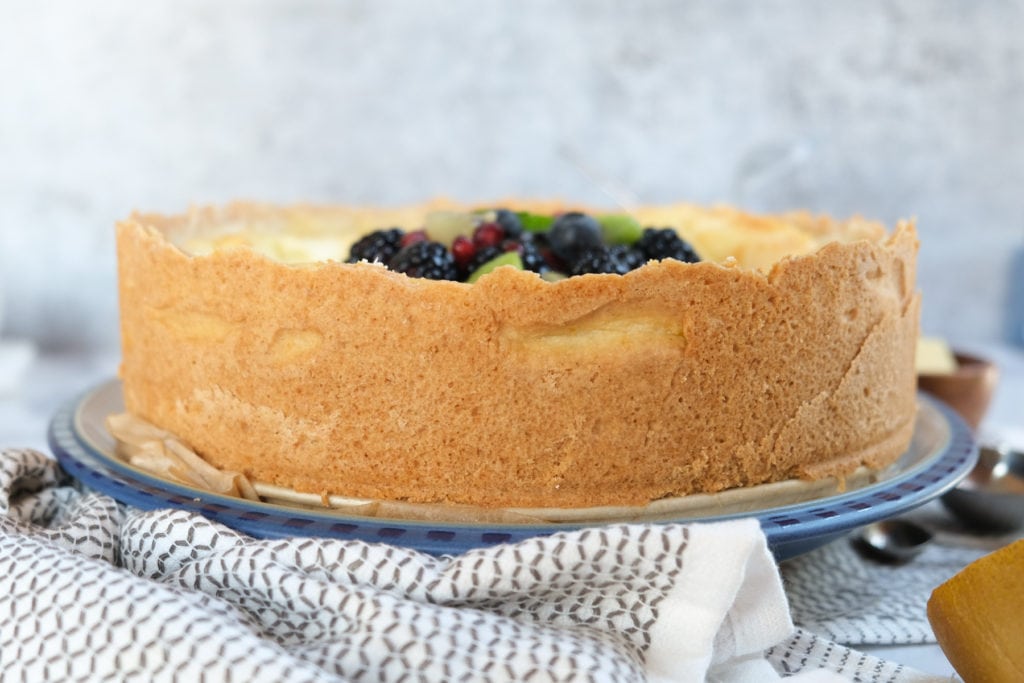 What You Need for this German Cheesecake Recipe
Ingredients:
Flour
Baking powder
Salt
Vanilla sugar (click here to make your own vanilla sugar!)
Lemon zest
Butter (cold and room temperature)
Egg + egg yolks
Butter
Heavy whipping cream
Quark (or alternative, such as strained Greek yogurt or pureed cottage cheese)
Corn starch
Egg whites (beaten to stiff peaks)
Equipment:
Mixing bowls
Electric mixer (hand mixer or stand mixer)
Spatula
Scale or measuring cups/spoons
Flour sifter
Zester/microplane
Whisk
Springform pan (and parchment paper or cooking spray for sides of the pan)
Aluminum foil (to cover the cheesecake if it starts to get too brown while baking)
Plastic wrap (to cover the cheesecake before serving)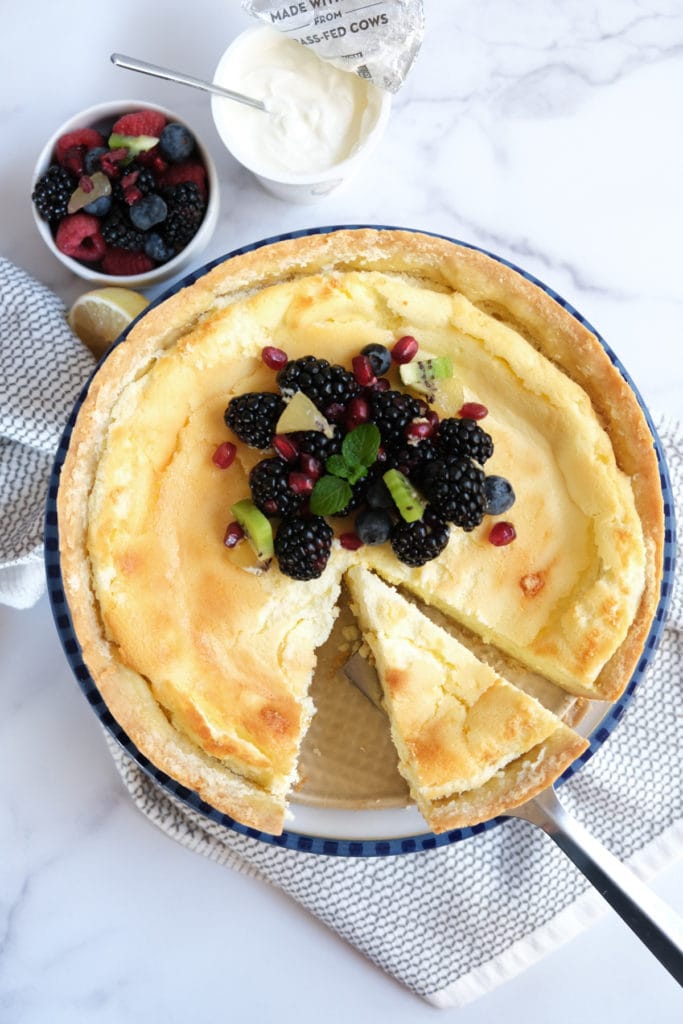 How to Make German Cheesecake with Quark
This recipe has 5 steps:
Make the crust
Make the filling
Bake the cheesecake
Chill the cheesecake
Eat cheesecake!
To make the crust, sift the flour into a large mixing bowl. Add the baking powder, salt, lemon zest, sugar, and vanilla sugar (or vanilla extract). Whisk to combine.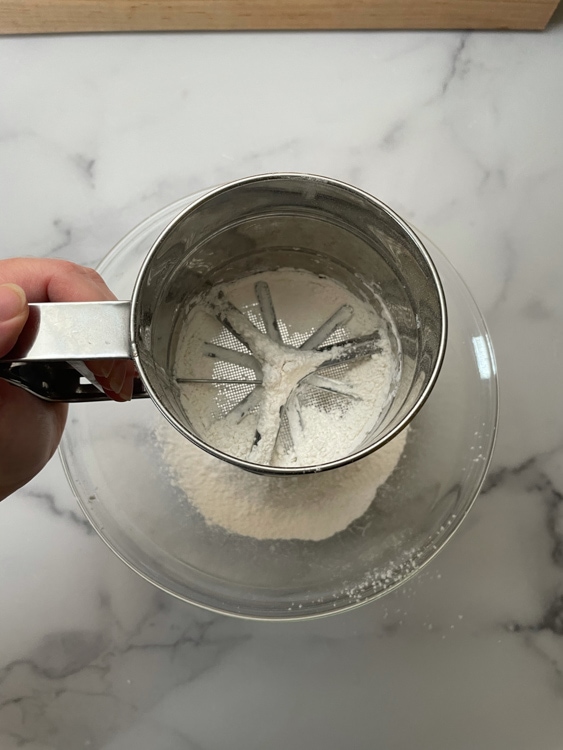 Then cut the cold butter into small pieces and add it to the flour. Use your fingers to work the butter into the flour until it resembles crumbs.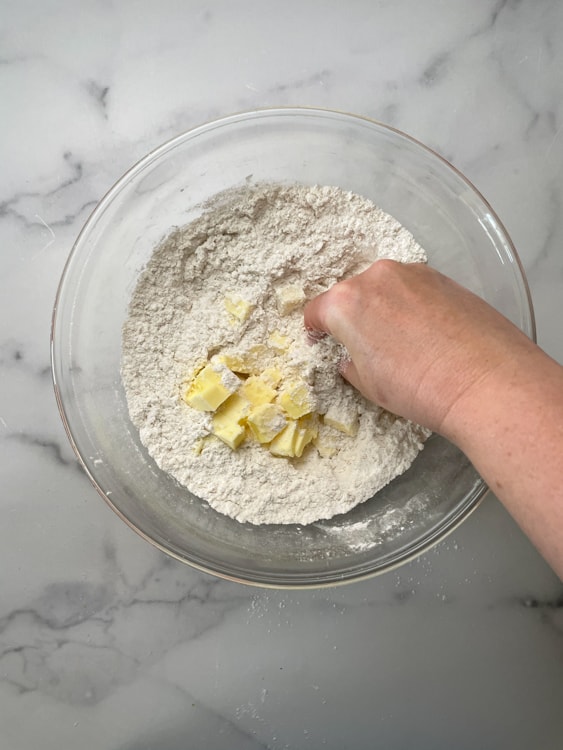 Add the beaten egg and form into a dough. Wrap dough in plastic and chill in the fridge for an hour.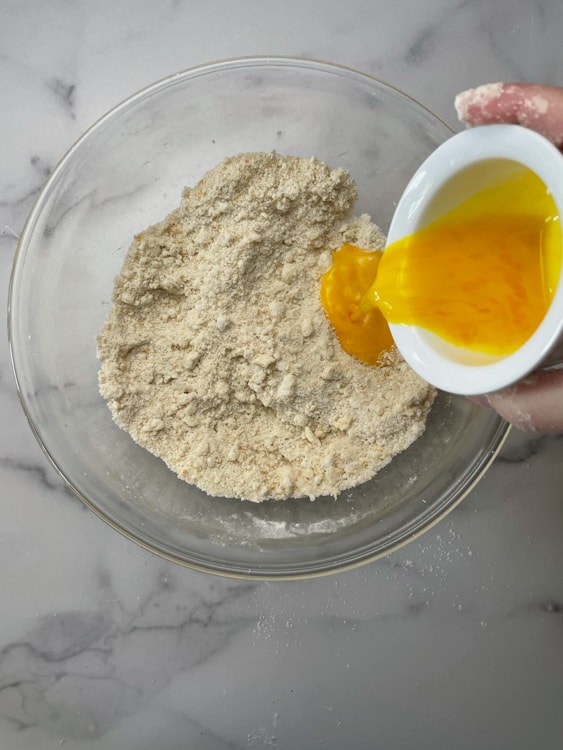 After the dough has chilled, form it into a disc, press down on it a few times with your rolling pin to flatten it out, and then gently roll it out on a floured surface. If the dough is very crumbly and hard to work with, form it back into a disk and gently roll it out again. Just don't overwork the dough.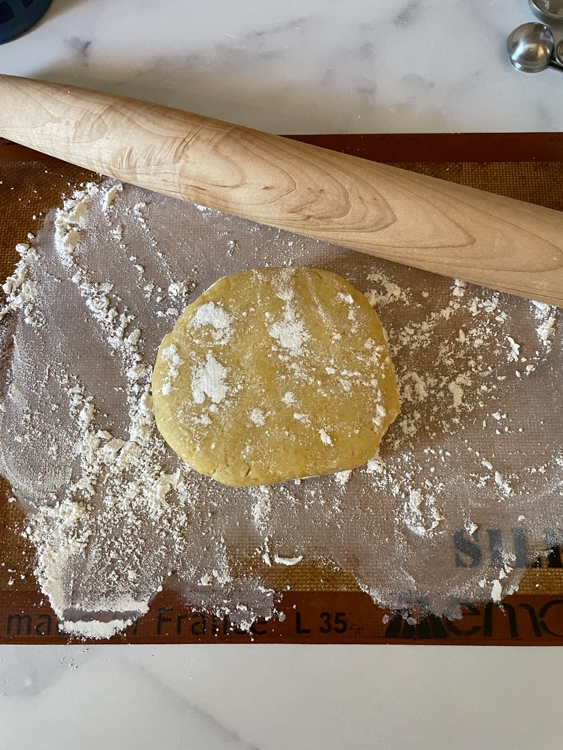 Transfer dough to a prepared 9-inch springform pan. (See photos above for how to fold and transfer the dough to the springform pan.) Use your fingers to press the dough so it evenly covers the bottom and goes half way up the sides of the pa. Store in the fridge while you make the filling.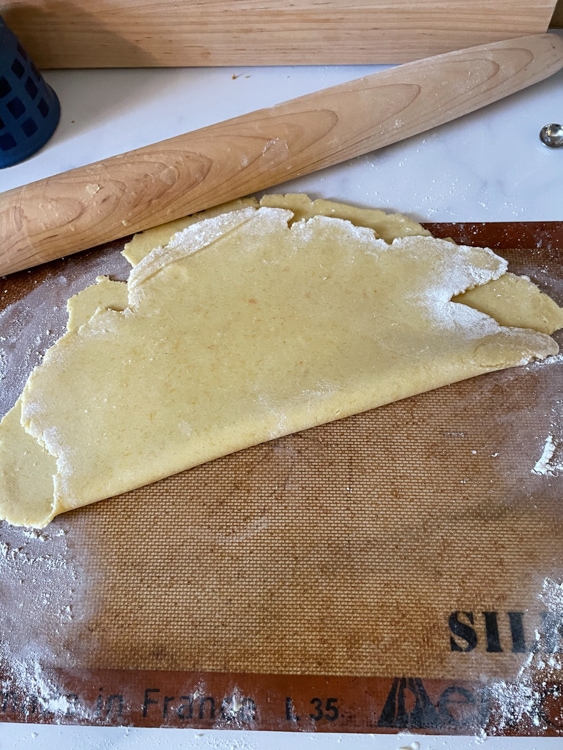 Make the Filling
First, beat the egg yolks, sugar, and vanilla sugar on a medium to high speed until pale. Add softened butter and continue beating until well combined. Add the heavy cream and beat again.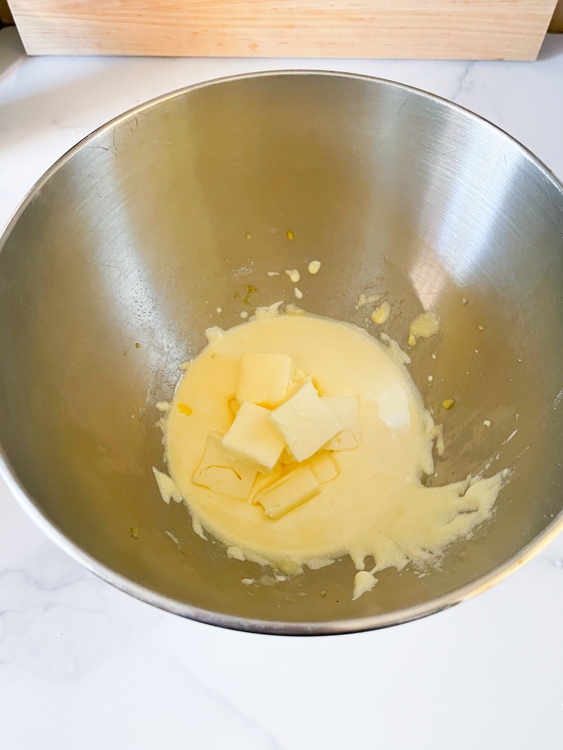 Add the Quark (or alternative) and beat one more time until everything is thoroughly combined.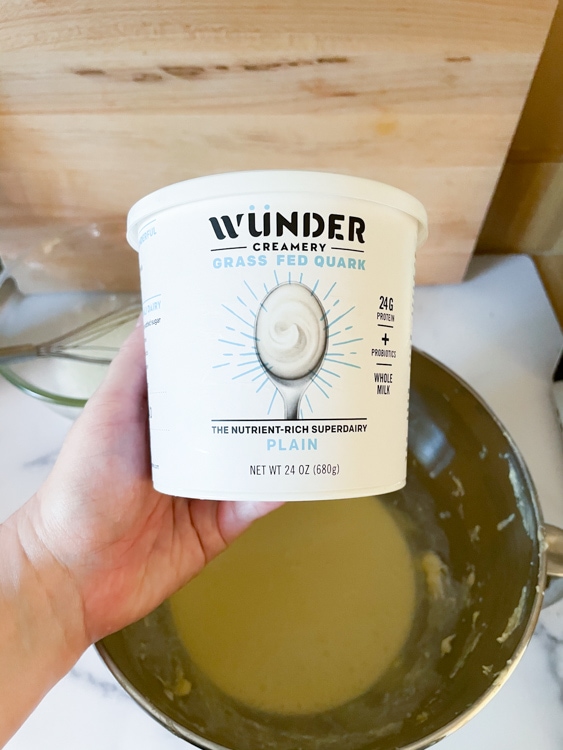 In a separate bowl beat egg whites and salt until stiff peaks form.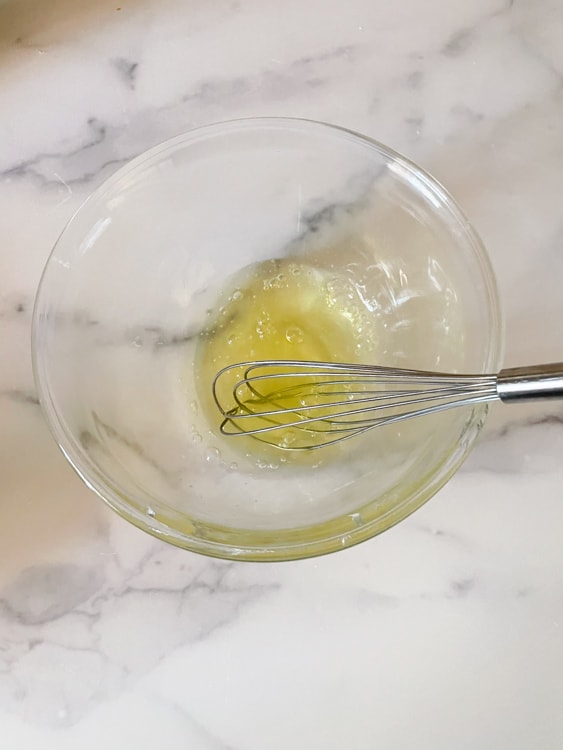 Fold egg whites and sifted cornstarch into cheesecake batter. Pour cheesecake batter into the springform pan.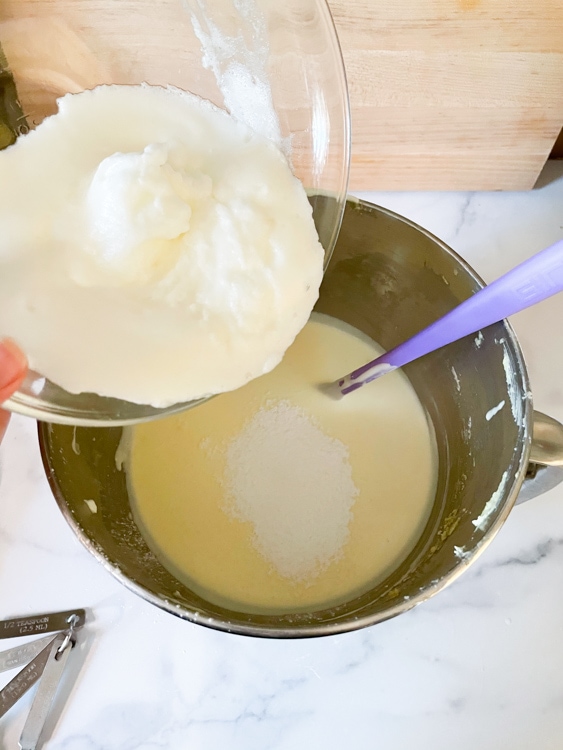 Bake in a prereheated oven at 300F/150C for 60-70 minutes. The cheesecake is done when the edges are browned and a toothpick comes out clean. I always check my cheesecake at 50 minutes and continue baking in 5 or 10 minute increments. The center of the cheesecake will be a bit wiggly and it will fall as it cools – that's normal.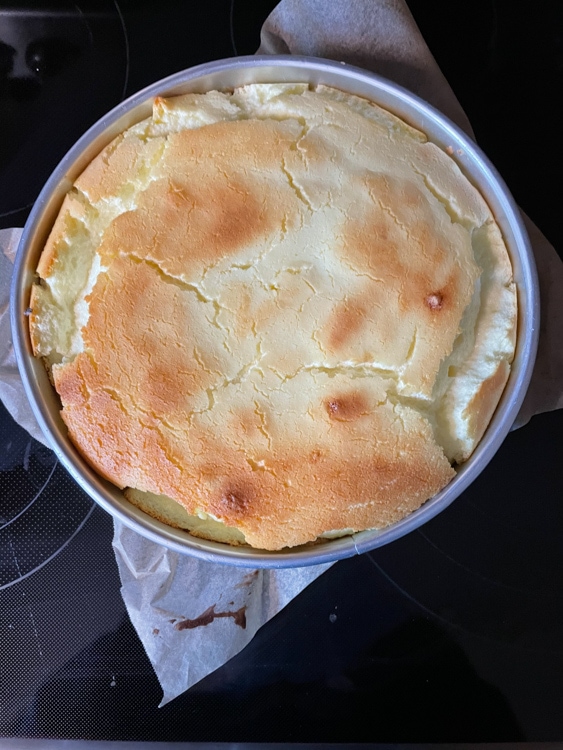 Remove cake from oven and let cool for a few minutes on a wire rack. Carefully run a knife around the edge to prevent the crust from sticking to the springform pan. Let the cheesecake cool on the counter for an hour and then several hours in the fridge. It's best to make this cheesecake the day before you plan to serve it.
Serve with freshly whipped cream and fresh fruit (optional). Enjoy!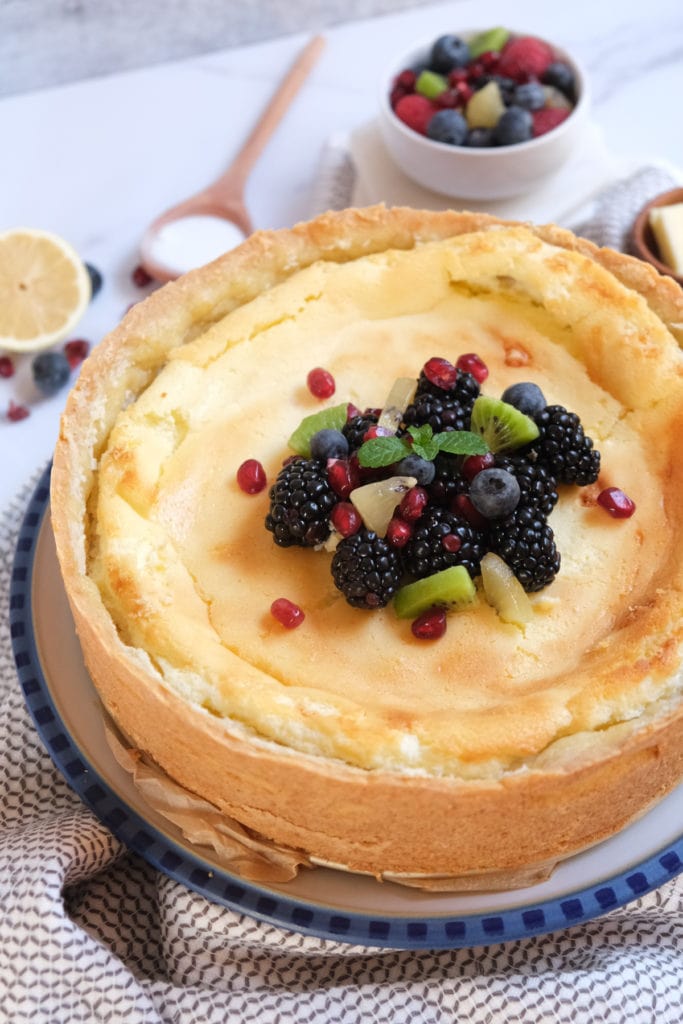 ?? Looking for More German Cake Recipes?
Readers Have Asked…
What's the difference between German cheesecake and regular cheesecake?
German cheesecake is made with Quark cheese, whereas a typical cheesecake you'd find in the US (like New York cheesecake) is made with cream cheese. Quark is healthier and has more protein than cream cheese, but it's hard to find outside of Europe. You can use full-fat Greek yogurt or pureed cottage cheese instead. Or use my easy recipe to make Quark at home!
Why is Quark so popular in Germany?
Good question! Quark can be found in several countries in Europe but it's especially popular in Germany. You'll not only find plain Quark but also thick and creamy flavored Quark (so good). They also have Quark with higher and lower fat contents, and sometimes recipes will call for 2 different types of Quark! Germans use Quark in lots of recipes, and it makes delicious desserts, but it's also so good just to eat by itself for breakfast or as a snack. If you eat plain Quark and maybe top with fresh fruit, it's really very healthy!