Eiskaffee: The Best Coffee in Germany
This article may contain affiliate links. See our disclosure link for more information.
All you need to make this favorite German summertime treat is coffee, a scoop or two of vanilla ice cream, and whipped cream.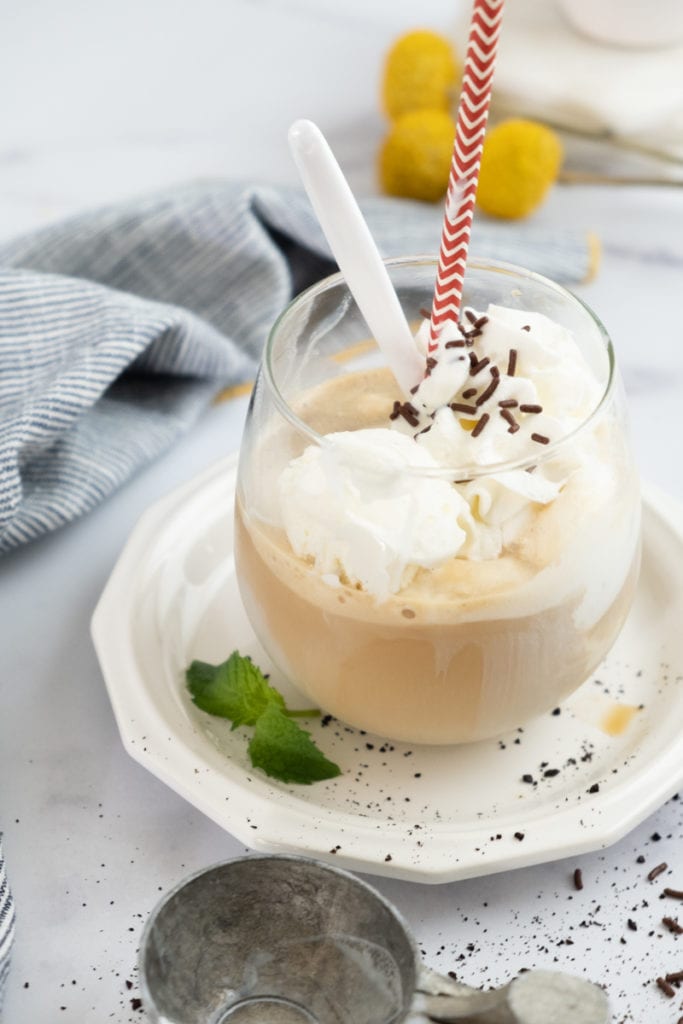 When I was an exchange student in Hamburg many years ago, my German host mom introduced me to one of my favorite summertime treats: Eiskaffee (German iced coffee or literally German ice cream coffee).
If I was around the house on a hot summer afternoon, she'd get a twinkle in her eye and ask if I'd like a "calorie bomb." She'd then make us each an Eiskaffee and we'd sip them while lounging in the backyard.
Even though Eiskaffee is a cold drink, I still feel all warm and fuzzy thinking about those summer afternoons hanging out with my German mom when I was 17!
Eiskaffee comes together in minutes and is absolutely delightful on a steamy summer day. As the ice cream melts it gives the coffee a smooth and silky texture and sweetens it up just a bit.
Eiskaffee is something you'll find at practically every German ice cream shop and cafe but for me it's best when it's homemade.
What Kind of Coffee Should I Use?
You can use your favorite coffee or espresso, just make sure it's cold when you make your Eiskaffee.
I mostly drink decaf coffee and espresso these days, especially if I'm enjoying an Eiskaffee in the afternoon or evening.
A friend told me about Savorista craft low-caf and decaf coffee beans and omg, I LOVE them!
I've had a subscription to Savorista's Yesso! Espresso for several months now, so I feel good about recommending them to you.
If you're looking for delicious low caf or decaf coffee or espresso beans, I highly recommend Savorista. You can order one bag of beans (and you can choose your preferred grind) or set up a subscription (mine is set for every 6 weeks).
Be sure to use CATE when you order and you'll get 25% off a one-time order or 30% off your first order in an ongoing subscription.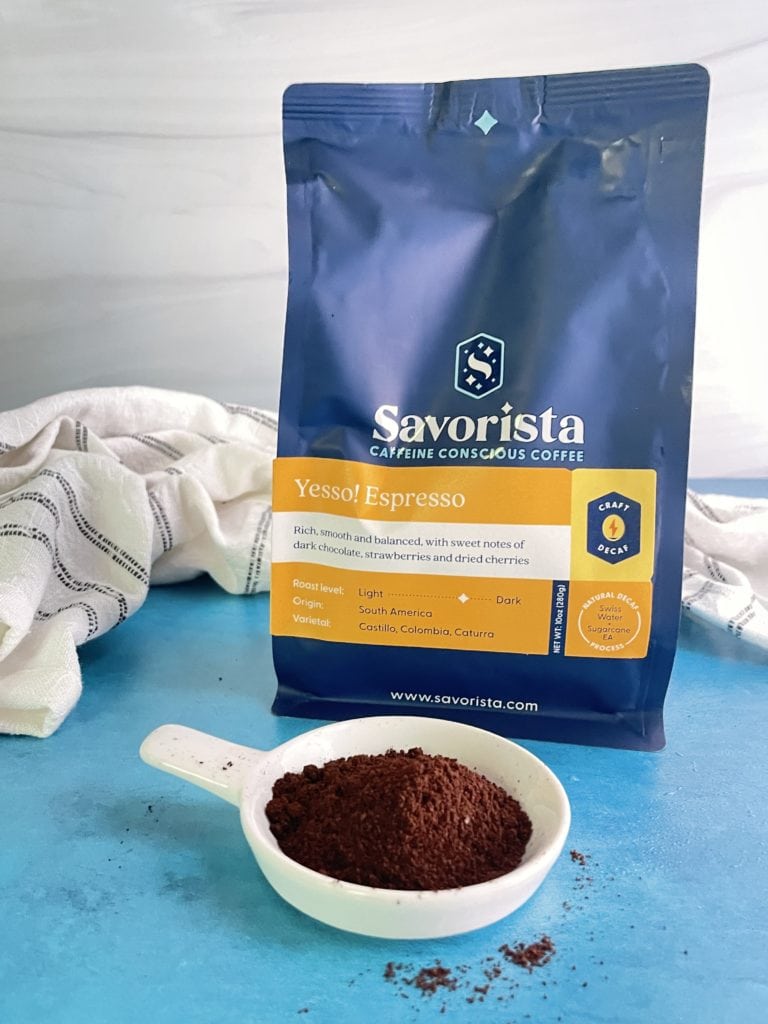 For the best taste, I recommend using a high quality vanilla bean ice cream and fresh whipped cream.
Be sure to enjoy your Eiskaffee right after assembling it because even with cold coffee the ice cream will melt quickly. Serve it German-style with a long spoon and a straw (like these cute paper straws or these colorful reusable straws).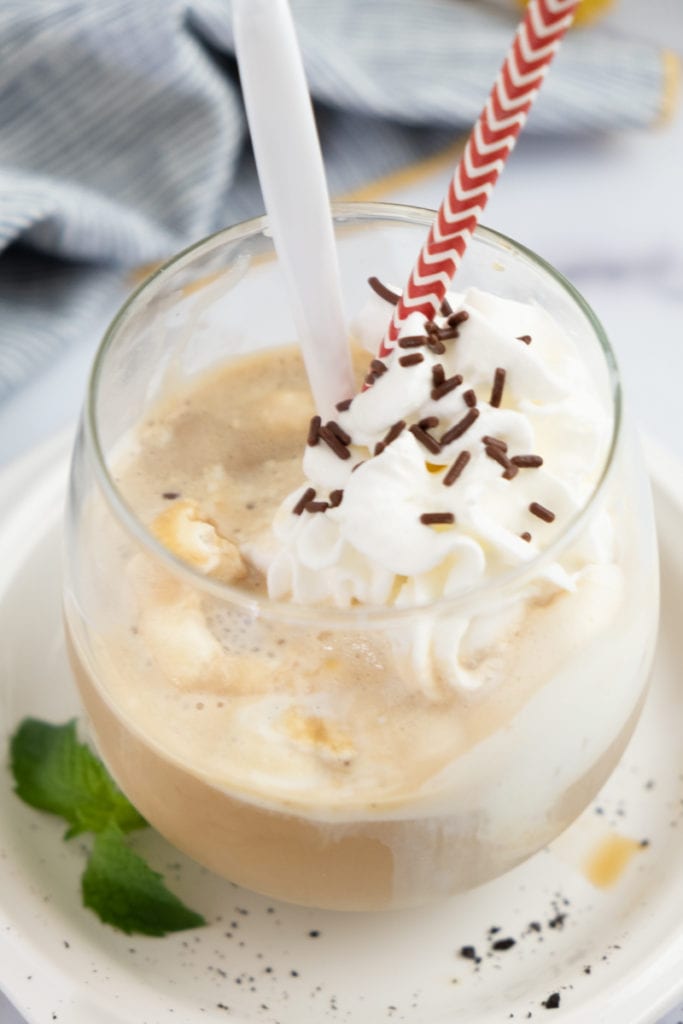 What You Need to Make German Eiskaffee
This is a super easy sweet treat and you don't need much in the way of food or kitchen tools in order to make it! Here's what you need food-wise:
Cold coffee (I drink regular Peets coffee and Savorista when I want decaf – see above for my Savorista discount code!)
Vanilla ice cream (or your favorite non-dairy equivalent)
Whipped cream (or your favorite non-dairy equivalent)
Sprinkles (I use these)
And here are the (very few) kitchen tools you need:
Something to brew coffee in
A glass
Straws (I use paper straws when I want something cute and reusable straws for everyday)
Long-handled spoon
Ice cream scoop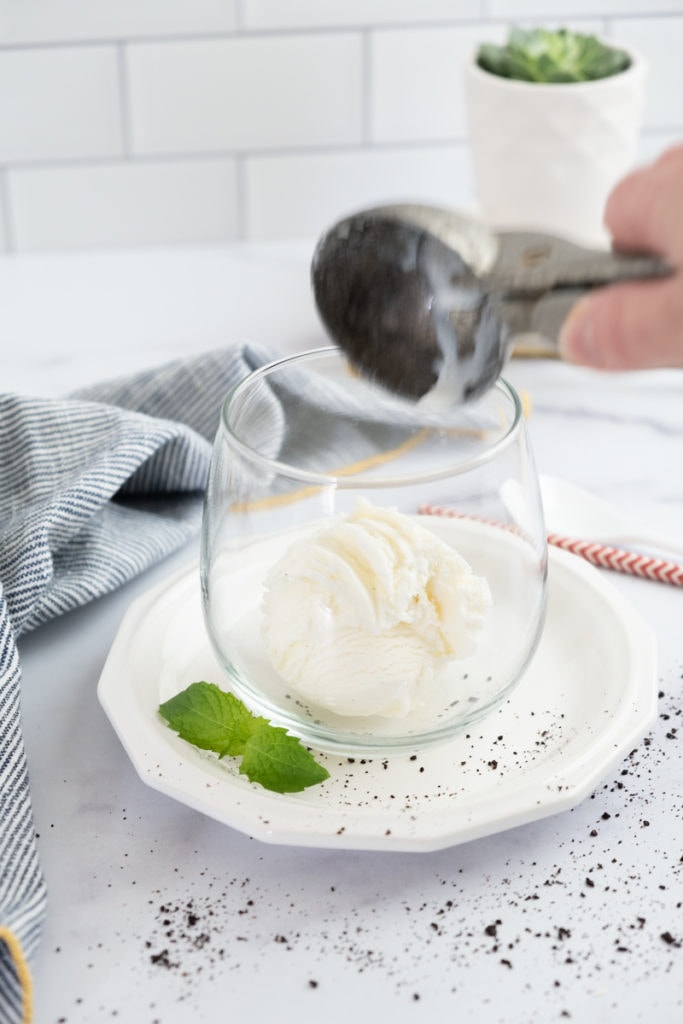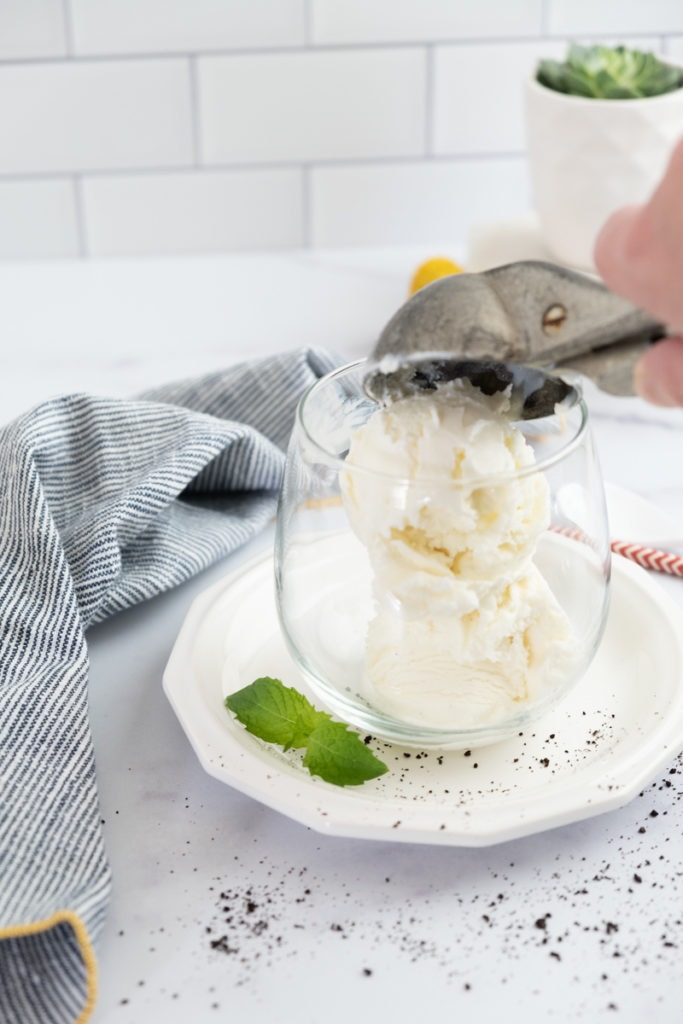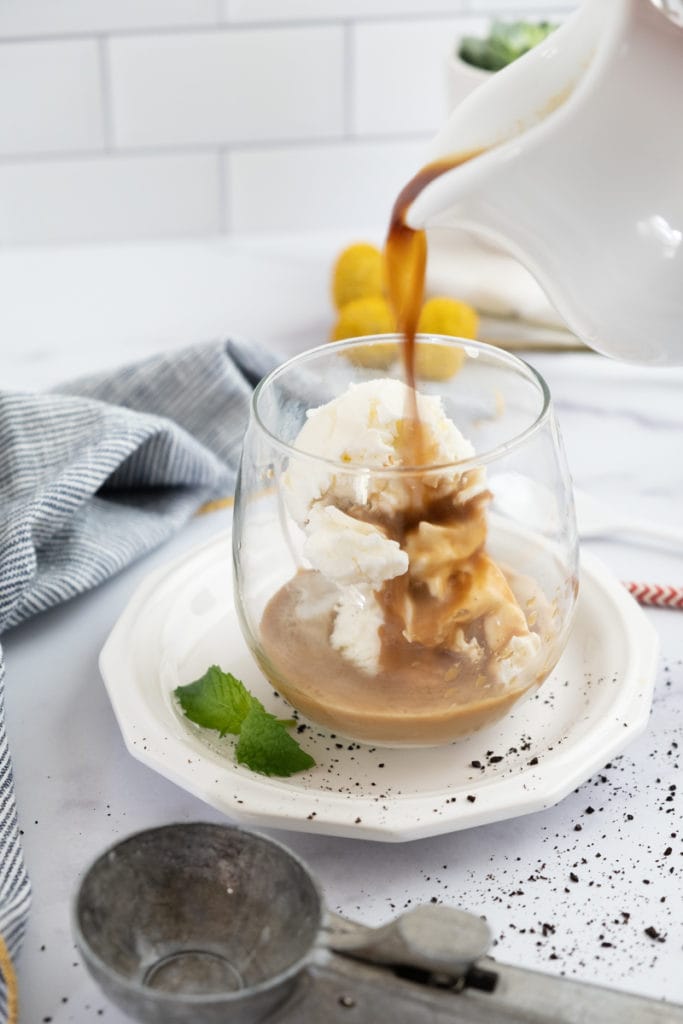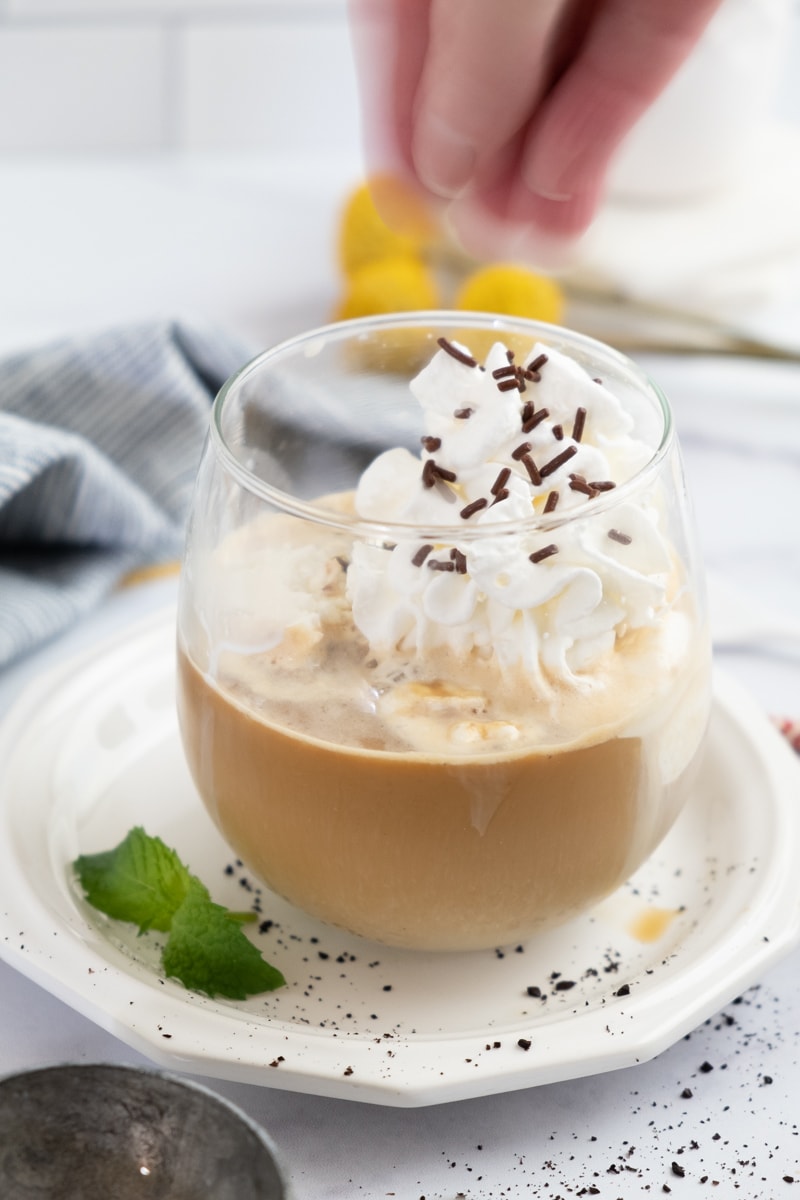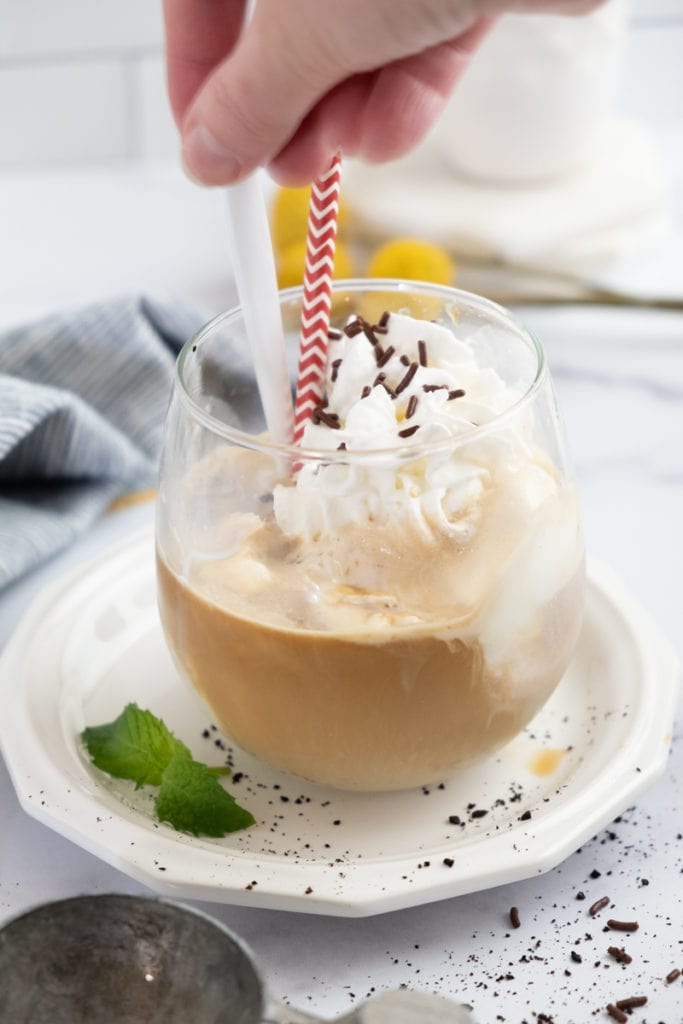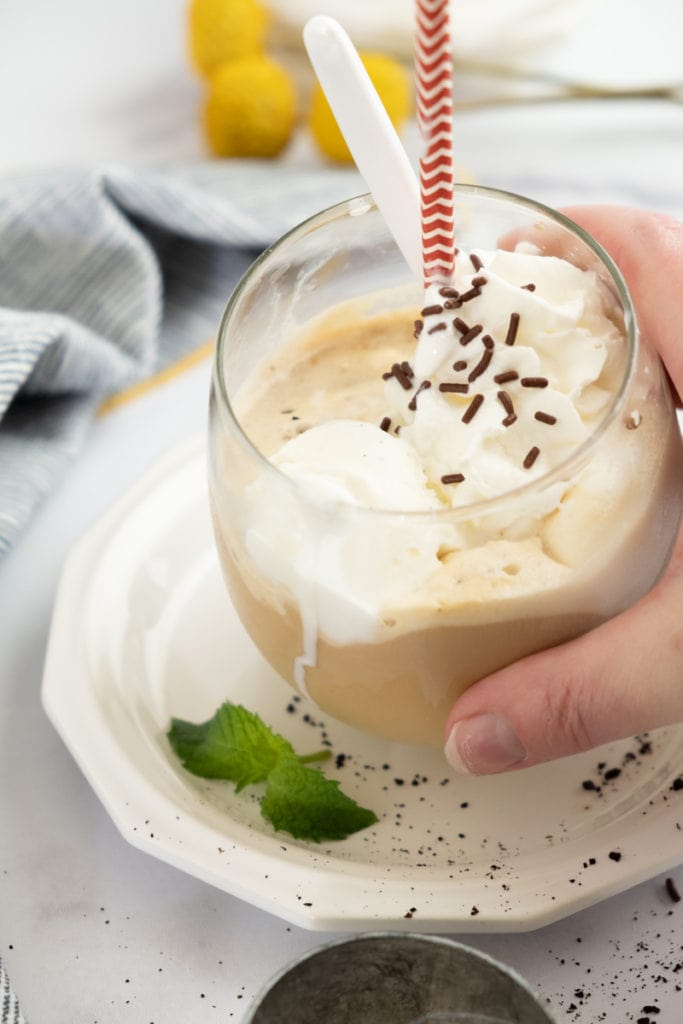 Eiskaffee Recipe: Easy Iced Coffee, German-style