As it begins to cool down outside I get so excited make my favorite hot drink and snuggle up in a cozy blanket inside!
You, too? Well then, you'll love these 20 warming winter drinks!
These cozy drinks range from decadent to healthy and can be customized to suit your tastes and dietary needs. If you're looking for easy hot Christmas drinks, look no further – add these hot winter drinks to you holiday menu!
The hot winter drinks listed here are all non-alcoholic. But you can easily booze them up if you'd like!
#1 – Homemade Apple Cider
#2 – From Scratch Hot Chocolate with Cocoa
#3 – Warm Pumpkin Pie Creamy Drink
This is thick, rich, luxurious hot chocolate! No cocoa powder required. This French hot chocolate only takes a few minutes to prepare, uses only two ingredients, and tastes a thousand times better than anything out of a packet. It even tastes amazing cold. If you've got a dark chocolate craving (or a France craving), make this hot chocolate!
Click here to get my French Hot Chocolate recipe!
#5 – Maple Chai Tea Latte from Through Her Looking Glass
#6 – Blackberry Hot Chocolate from Little Sugar Snaps
#7 – Hot Caramel Apple Cider from Live Laugh Rowe
#8 – Chapmpurrado Hot Mexican Beverage from Thrift and Spice
#9 – Nutella Hot Chocolate from Cafe Delights
#10 – Almond Milk Chai Latte from Mother Thyme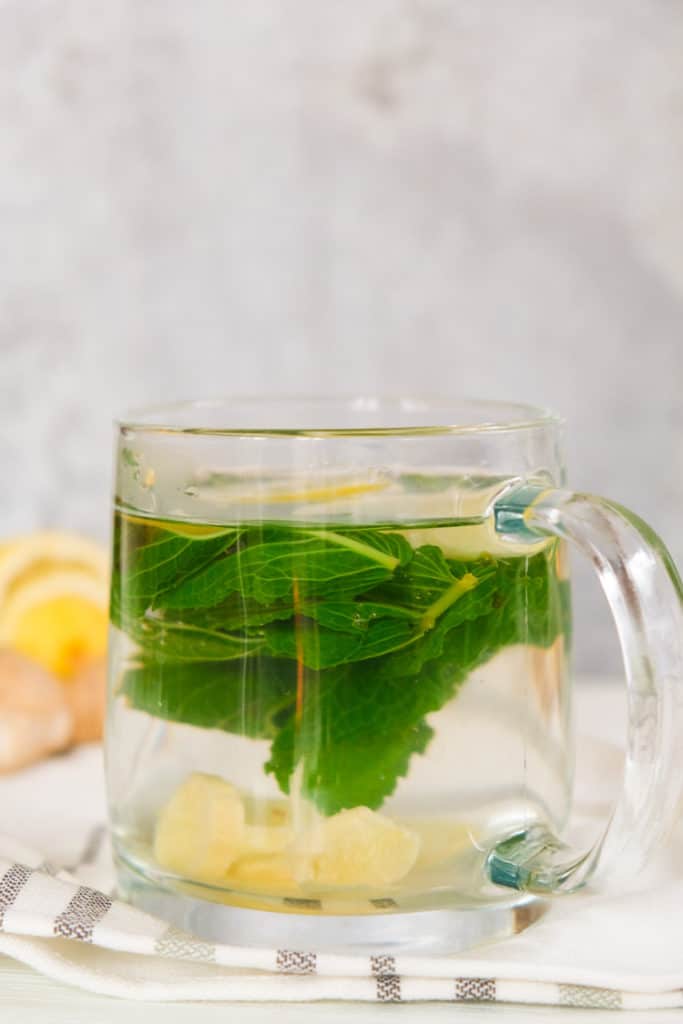 When I want a hot winter drink that doesn't negate my morning workout, I whip up this lemon, ginger and mint tea that I had in Germany last Christmas. It's SO good – and good for you! I now make this all the time at home. It's one of my favorite hot drinks for winter because it warms me up and it's refreshing. If you like lemon, ginger and mint, try this herbal tea drink.
Click here for my German ginger, lemon, and mint tea recipe
#12 – Cardamom Rose Hot Chocolate from Unicorns in the Kitchen
#13 – Spiced Cranberry Apple Cider from Tastes of Lizze T
#14 – Vegan Peppermint Hot Chocolate Lauren Caris Cooks
#15 – Spiced Mocha Orange Hot Chocolate from The Cupcake Confession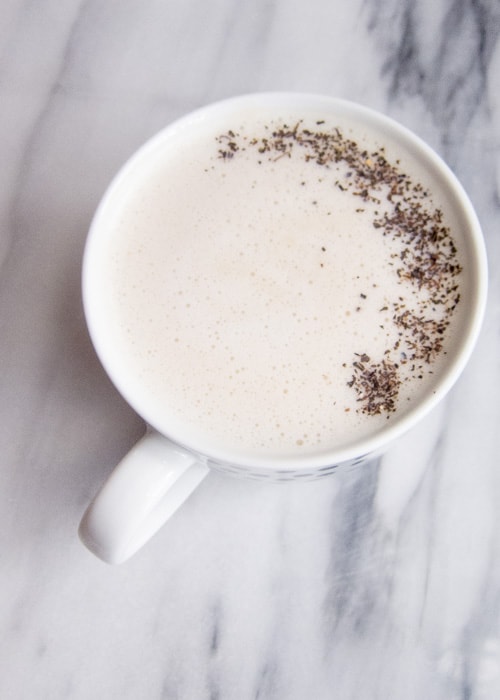 London Fog tea is another hot winter drink I enjoy on the regular. Actually, in my opinion, it's one of the best tea drinks around. London Fog is one of Starbucks' famous winter drinks but I think it's way better made at home (not to mention cheaper and healthier).
London Fog is a rich and luxurious winter warmer drink that can be made with or without sugar (when I do sprinkle in a little sugar I use homemade vanilla bean sugar — so good). I make my London Fog with cow's milk but you can use whatever type of "milk" you prefer. I've heard coconut milk is an especially good choice.
Click here for my London Fog recipe!
#17 – Banana Milk Coffee Inside the Rustic Kitchen
#18 – Creamy Coconut Hot Chocolate from Num's the Word
#19 – Salted Caramel Apple Cider from Our Family World
#20 – Hot Chocolate with Frozen Whipped Cream
This one had me at frozen whipped cream! What a great idea, right?