Golden Syrup Cookies (3 Ways!)
This article may contain affiliate links. See our disclosure link for more information.
Today I've got these super easy and super delicious Golden Syrup Cookies for you. Even better, I show you tasty 3 variations!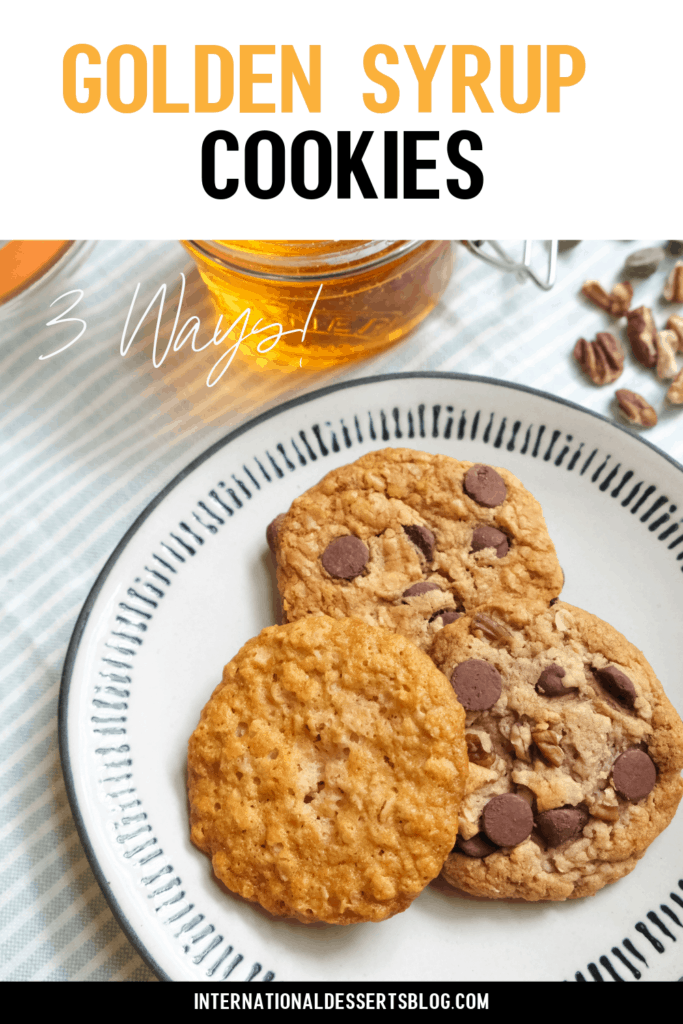 Since British Golden Syrup is one of the most popular recipes on the IDB (right up there with German "Bee Sting" Cake and German Cheesecake), I've been testing out recipes that use this popular buttery caramel flavored syrup.
If you're looking for a flavorful cookie that doesn't have eggs in them, this is the recipe for you. You don't even need a mixer to make these cookies. And they're quick and easy to make – in about 20 minutes you can enjoy these tender, flavorful cookies fresh out of the oven.
You'll love them!
Cookie Variation #1 – Original Golden Syrup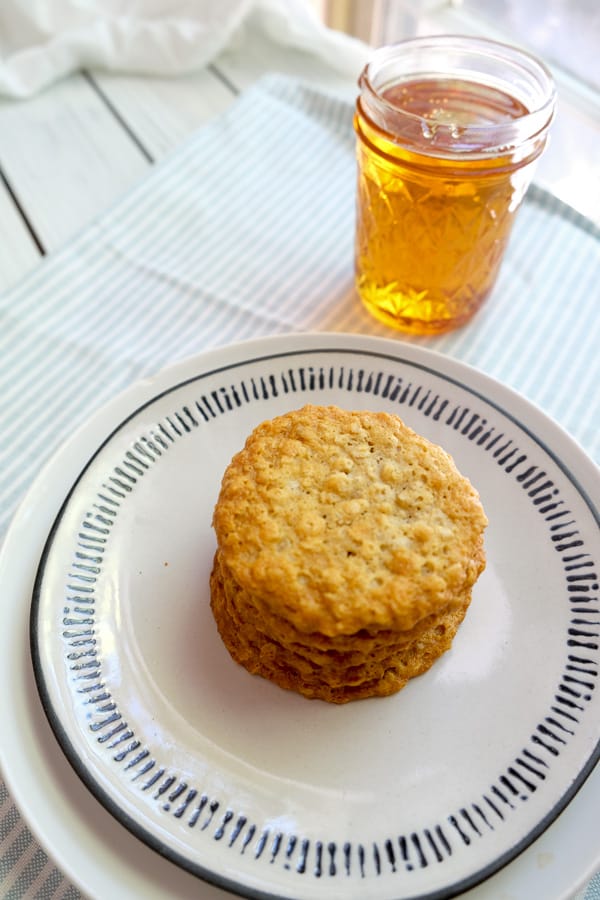 I love the color of these cookies! The oats pair so well with the golden syrup. The inside of the cookie is soft and moist and the edges are nice and crispy. These cookies taste great with a hot cup of tea.
Cookie Variation #2: Golden Syrup with Chocolate Chips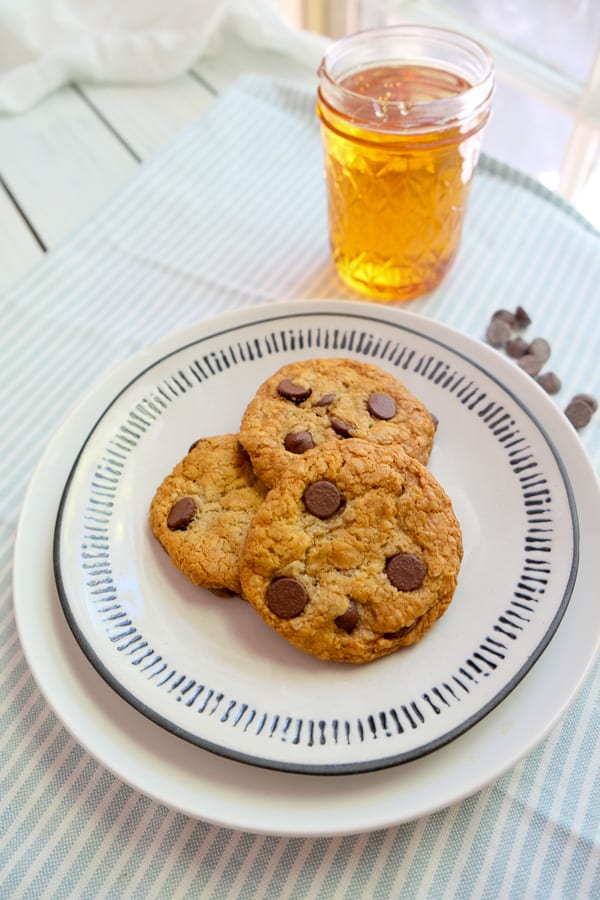 Everything is better with chocolate, right? Chocolate chips take these cookies up a very delicious notch.
Cookie Variation #3 – Golden Syrup with Chocolate Chips and Pecans
This is my favorite variation! The combo of golden syrup, oats, chocolate, and pecans are to die for, both in texture and flavor.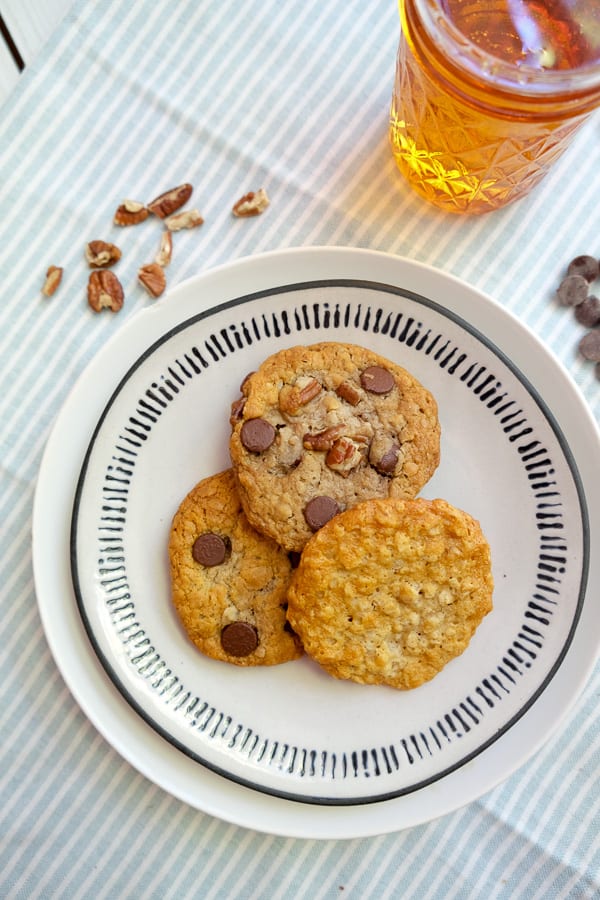 Why are These Cookies so Great?
They take less than 10 minutes to make the cookie dough and only 8-10 minutes to bake. You can have fresh-out-of-the-oven cookies in less than 20 minutes.
You don't need a mixer! A wooden spoon works great.
There are no eggs, so they're great cookies for people who don't like or can't eat eggs.
You can buy golden syrup or make it at home for pennies.
The oats make them a bit healthier and create a nice chewy texture and flavor.
You can get creative with your add-ins. I loved the chocolate chip and pecan variation but I think dried cranberries and white chocolate chips or butterscotch chips and almonds could be good, too.
While delicious straight out of the oven, these cookies taste even better after they've cooled.
They keep well in an airtight container in the fridge or freezer.
What's Golden Syrup?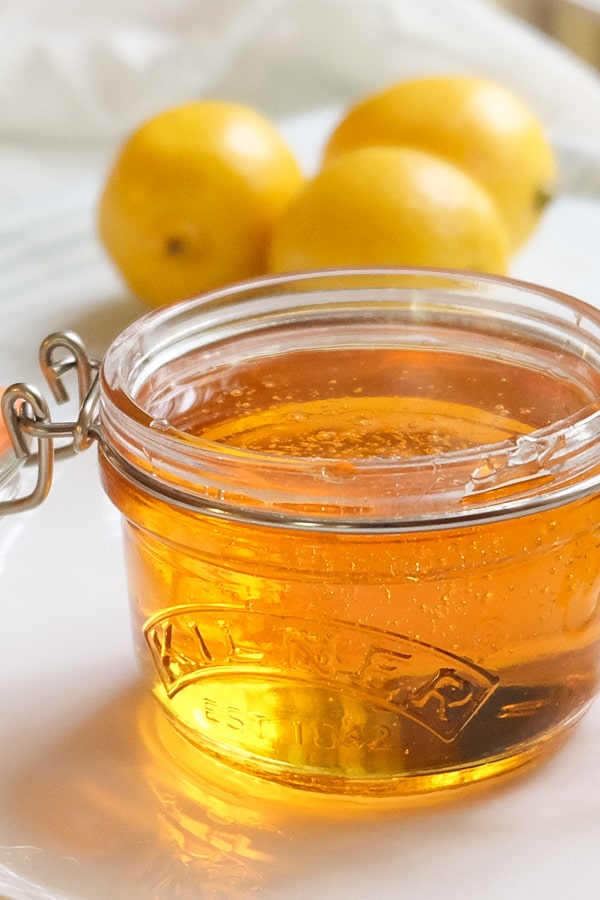 Golden syrup is a buttery caramel-flavored syrup made from sugar, water, and slice of lemon. It's so good! I always have a jar of homemade golden syrup in my cupboard for baking and for drizzling over waffles, yogurt, ice cream…pretty much anything.
Golden syrup is the key to this recipe because it gives the cookies a lovely flavor. You can buy Lyle's Golden Syrup or you can make it at home (click here to get my easy step-by-step recipe).
A Note About Oats
Instant oats or rolled oats?
When I was testing this recipe I made some batches with instant oats and some with rolled oats. I assumed I'd prefer the cookies with rolled oats but to my surprise both my husband and I liked the texture of the cookies with instant oats much better!
So, I recommend using instant oats in this recipe. That said, you can use rolled oats if you prefer, just be aware that the texture may vary.
Cookies + Ice Cream = OMG!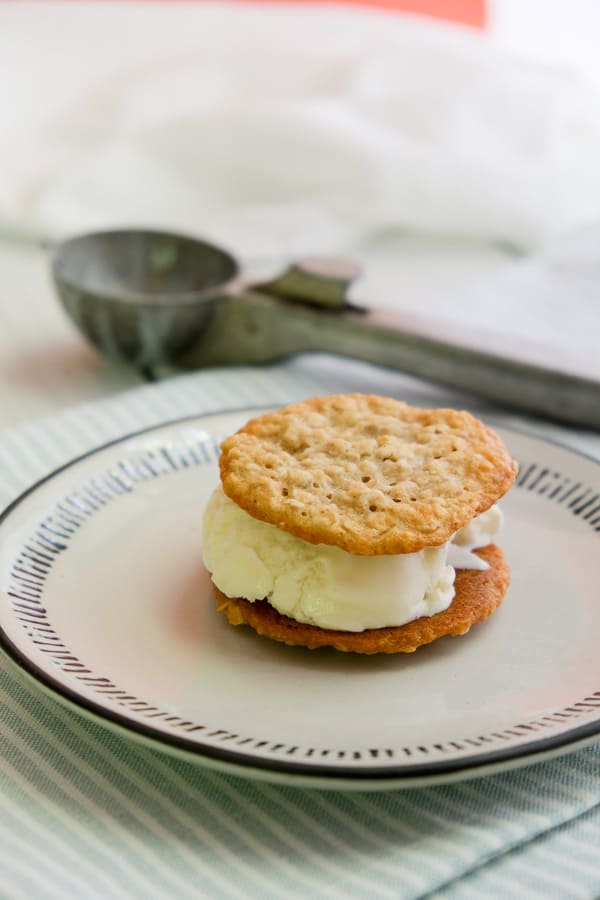 One more thing…I had a few golden syrup cookies and couple scoops of vanilla ice cream leftover a few days ago. So I made an ice cream sandwich and omg, it was delicious! I highly recommend this combo.
I'm not usually a huge fan of vanilla ice cream but the buttery caramel flavor of the golden syrup paired so well with the vanilla ice cream.
Tip: prepare and freeze the ice cream sandwiches a few hours before you want to serve them so the ice cream has time to harden. They're much easier to eat that way.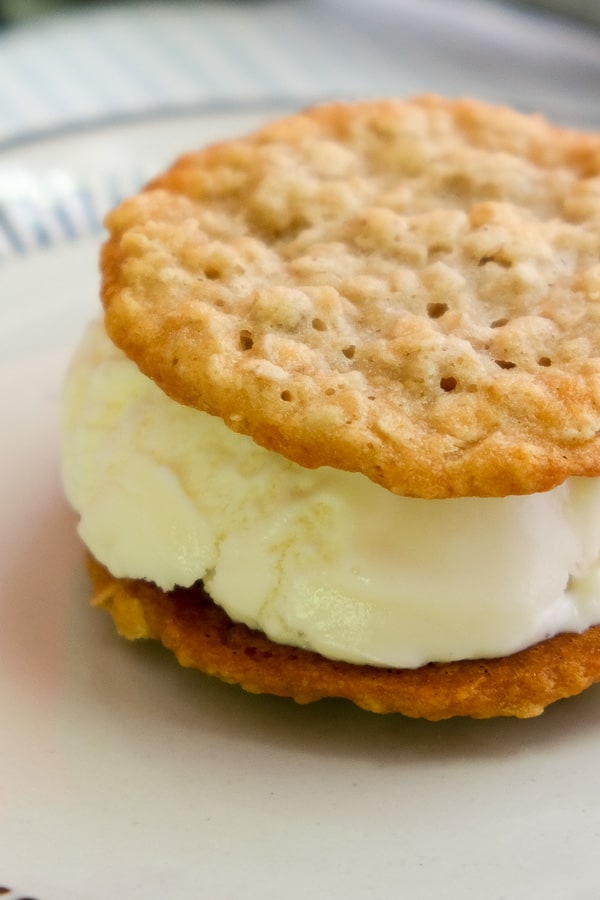 How to Make Golden Syrup Cookies – 3 Ways
If you're looking for an easy cookie recipe that's sure to be big hit, try these Golden Syrup Cookies! Scroll down to see the how-to video.
Note – you do need golden syrup to make these cookies. You can buy golden syrup or make it at home. If you make golden syrup at home, make it a day before you plan to make cookies so it has enough time to cool.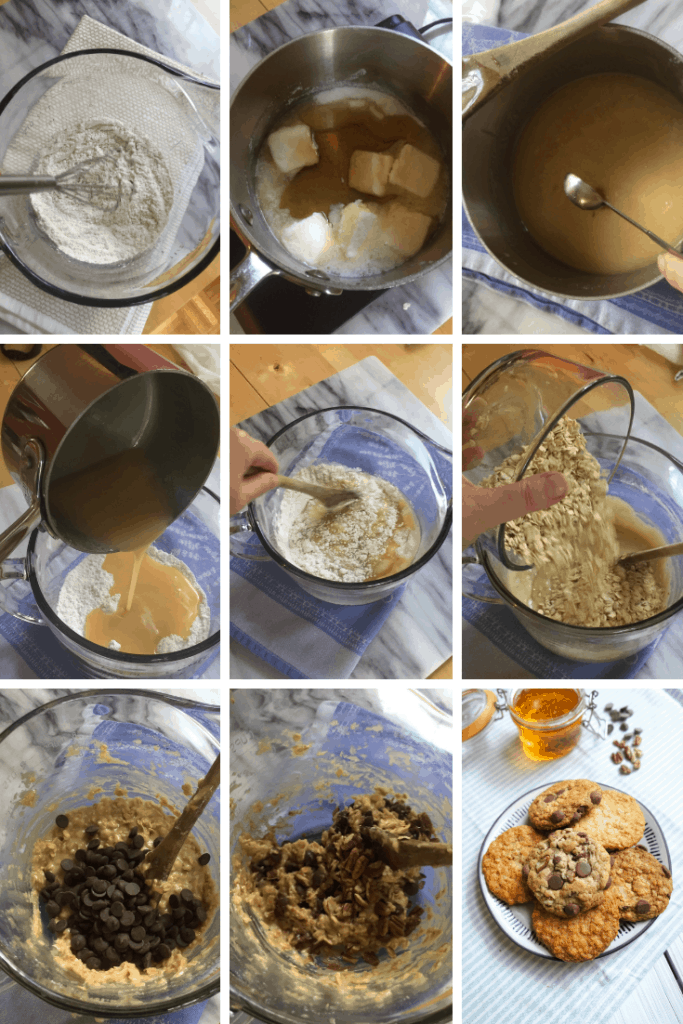 Preheat your oven to 325F / 160C.
The first step is to whisk together the flour, baking soda, baking powder, and salt in a medium sized bowl.
Then heat butter, sugar, and golden syrup over medium heat until sugar is dissolved. This only takes a few minutes. Be sure to stir it a few times to ensure the sugar dissolves.
Pour the melted butter into the flour and stir with a wooden spoon until well combined.
Add the instant oats and stir again until well combined. The cookie dough will be soft.
Cookie Variation #1: Golden Syrup Cookies
If you want to make the traditional golden syrup cookies, use a cookie scoop or roll the cookie dough into balls, place on a prepared cookie sheet (this Silpat baking mat always gives me great results) and bake for about 8 minutes or until the edges are golden brown.
Take the cookies out of the oven when the edges are brown. Let them rest on the baking tray for a minute or two so they firm up a bit, then transfer to a wire rack to cool.
Cookie Variation #2: Golden Syrup with Chocolate Chips
Once you've got your basic golden syrup cookie dough prepared, add chocolate chips, stir, and then follow the baking directions above.
Cookie Variation #3: Golden Syrup with Chocolate Chips and Pecans
Add chocolate chips and pecans to the basic golden syrup cookie dough, stir, and then follow the baking directions above.
Should I Chill the Dough Before Baking?
If you'd like, you can chill the dough for 15-30 minutes before baking. I made several batches of these cookies and tried both chilling and not chilling the dough. To be honest, I didn't see much difference between the cookies that had been chilled and those that hadn't. That said, it was a little easier to roll the chilled dough than it was to roll the room temperature dough.
TIP: If you want to make all three cookie variations from one batch of dough, and you also want to chill the dough, I highly recommend dividing the dough into three bowls and mixing in the chocolate chips and pecans before chilling the cookie dough. I found it much easier to mix the chocolate and nuts into the cookie dough while it was at room temperature.