Easy Irish Soda Bread Pudding with Currants, Apple & Pecans
This article may contain affiliate links. See our disclosure link for more information.
This quick and easy one-bowl Irish Soda Bread Pudding makes a delicious dessert, afternoon snack or even breakfast.
It's a great way to use up left-over soda bread. But don't hesitate to bake (or buy) a loaf just so you can make this quick bread pudding!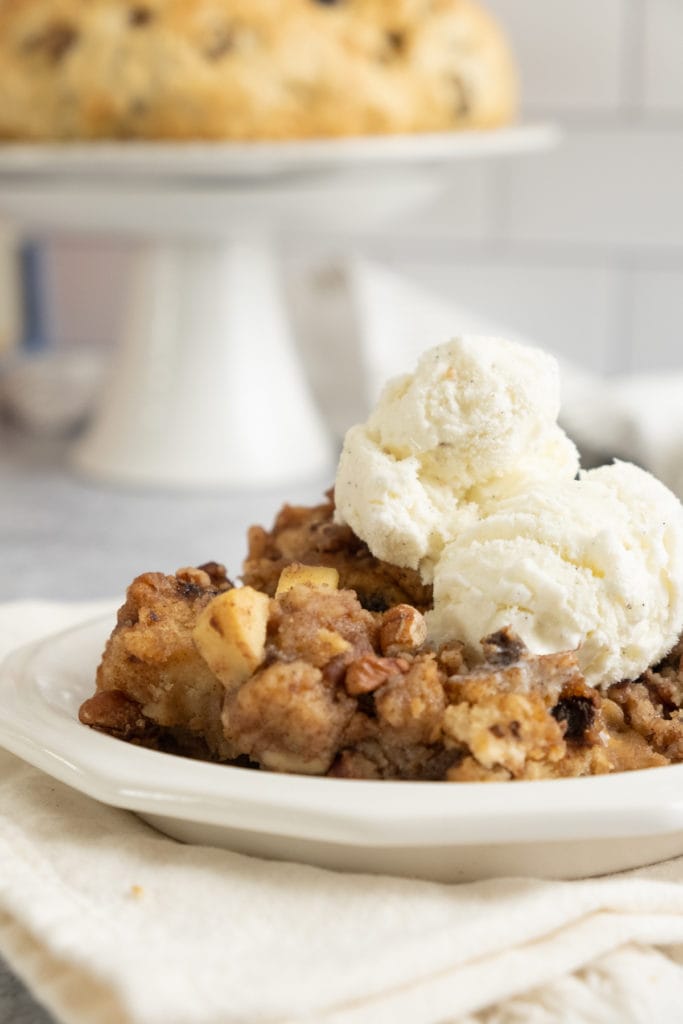 About This Recipe
Got leftover Irish Soda Bread? Looking for a quick dessert, snack or sweet breakfast? Make this super easy Irish Soda Bread Pudding!
I made this bread pudding when I wanted an easy dessert and realized I had half of a loaf of day old homemade Irish Soda Bread.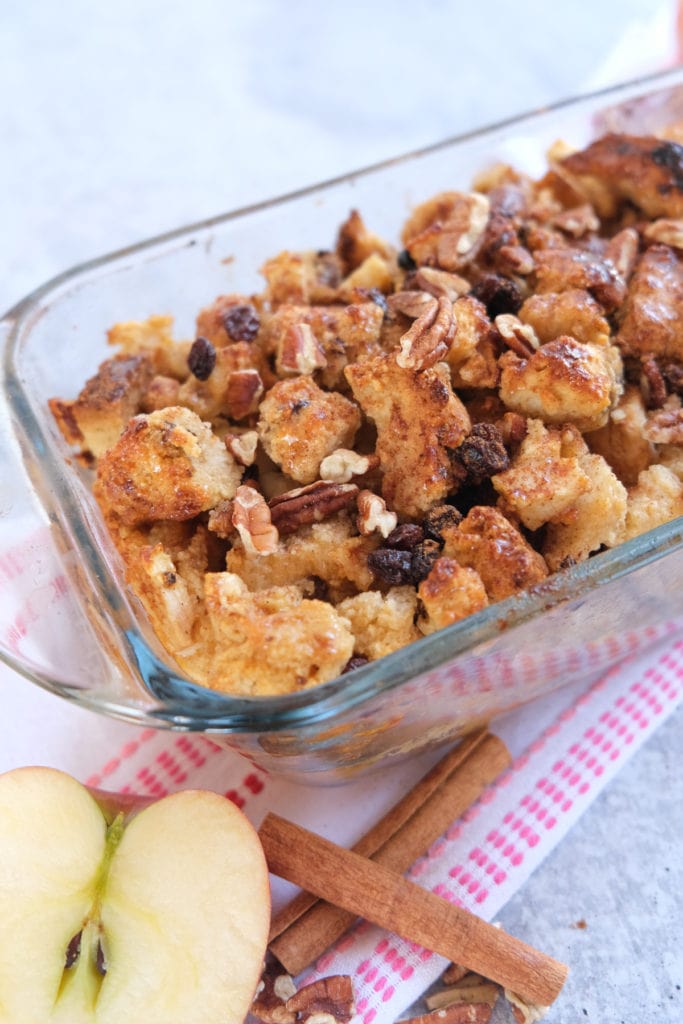 In general, I'm not even a huge fan of bread pudding but I love bread pudding made with Irish Soda Bread!
The top gets crunchy, the inside remains moist but not soggy, and the apples, pecans, and cinnamon give the bread pudding such a delicious flavor and texture.
I enjoy this Irish Soda Bread Pudding warm, at room temperature and even cold out of the fridge.
It's delicious all by itself, as well as served with a scoop of ice cream (especially when it's served warm) or fresh whipped cream. A drizzle of vanilla or caramel sauce would be lovely, too.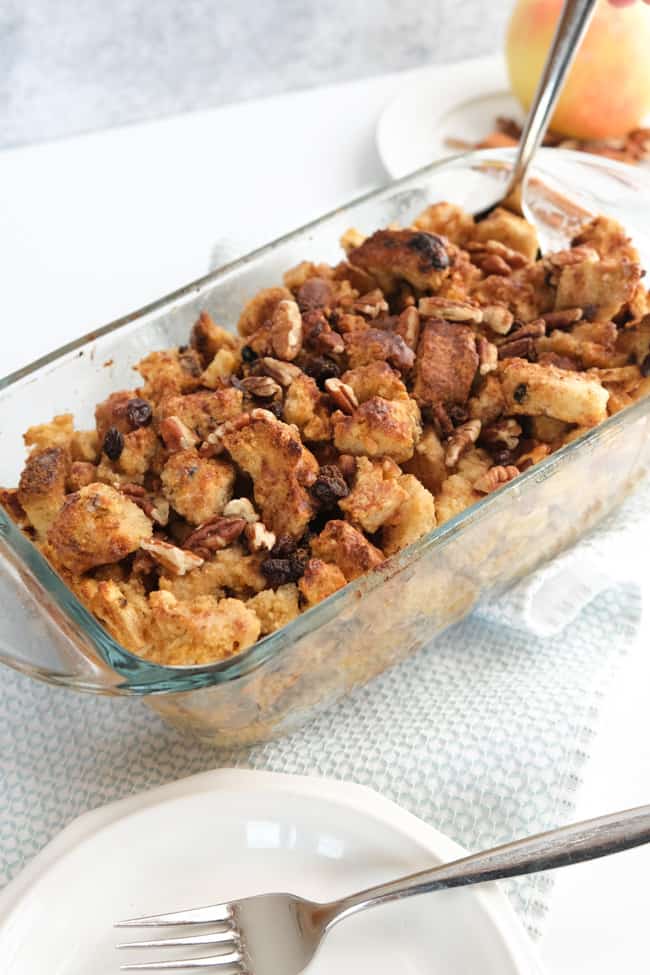 ❓FAQ
What kind of apples should I use for this bread pudding?
I'll be honest…I use whatever apples I have in my kitchen! Usually that's Honeycrisp or Pink Lady. I've also used Jonagold, Braeburn, Granny Smith, and a few other kinds I've found at my local grocery store.
What's the best bread for this bread pudding?
Irish Soda Bread! I always use left-over soda bread with dried currants (or raisins) but you can use whatever kind of soda bread you'd like. That said, I haven't used brown soda bread with this recipe so I can't yet speak to how that will work.
Do you have an Irish Soda Bread recipe I can use?
Yes! I use this easy recipe.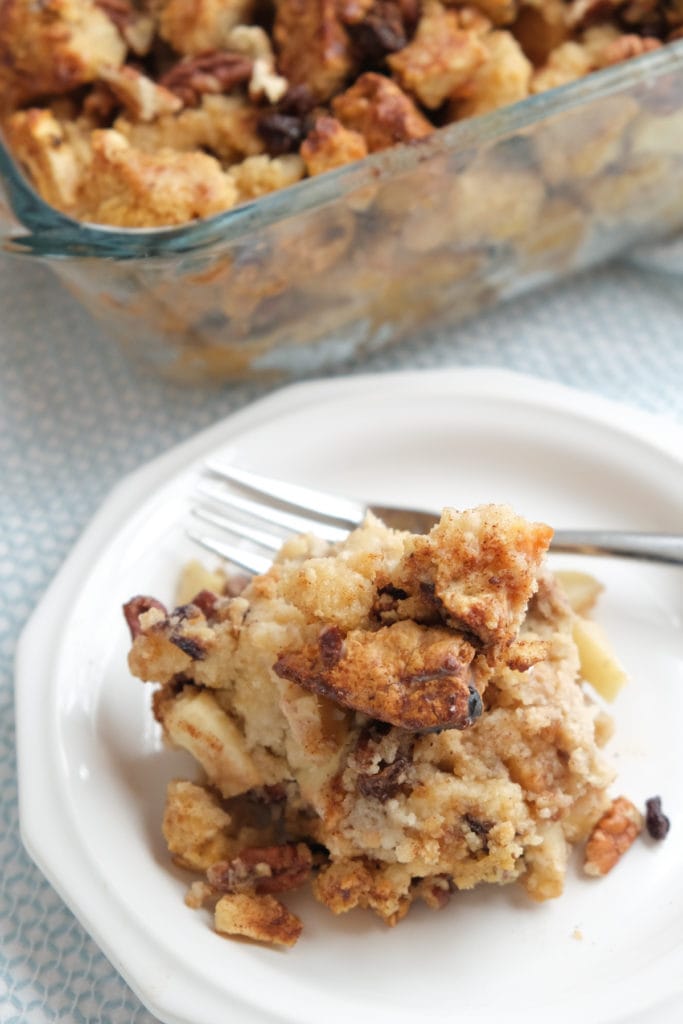 ? What You Need to Make This Recipe
Ingredients:
Kitchen Tools:
Serrated knife
Large mixing bowl
Wooden spoon
Measuring cups/spoons or scale
Loaf pan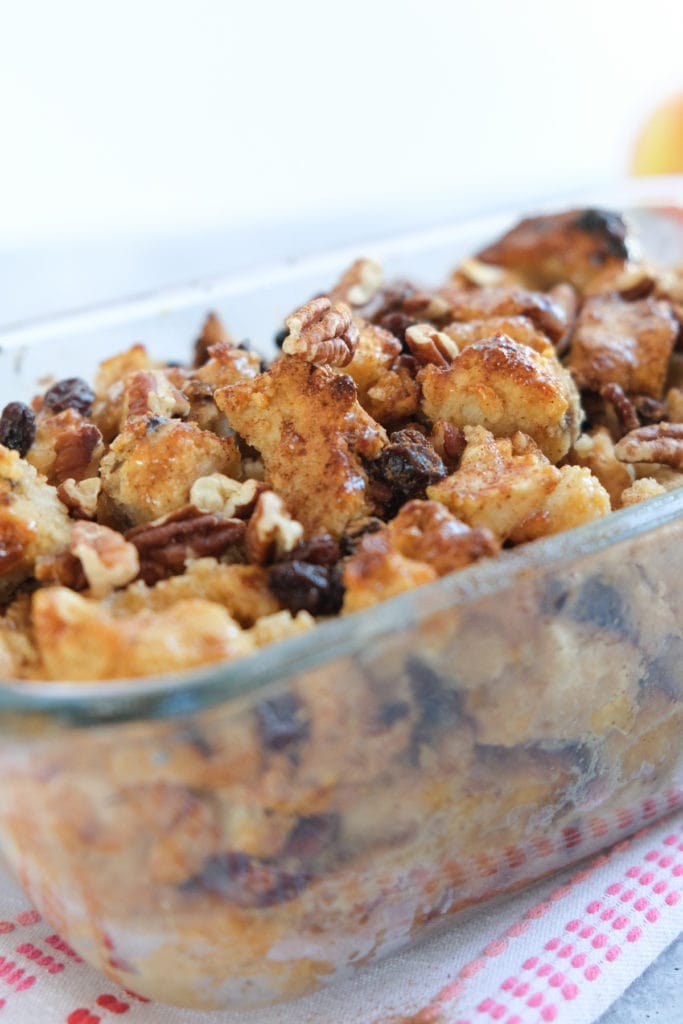 ? Recipe Variations, Notes & Tips
Use Irish Soda Bread with currants, raisins, dried cranberries, nuts or plain.
Make a larger batch by doubling the recipe (you'll need a whole loaf of bread).
Leave out the chopped pecans or swap for chopped walnuts.
Add more or less apple.
Use homemade Irish Soda Bread or store-bought.
Make Irish Soda Bread Pudding Muffins by dropping the batter into a muffin pan. Be sure to reduce the bake time and keep an eye on them so they don't burn.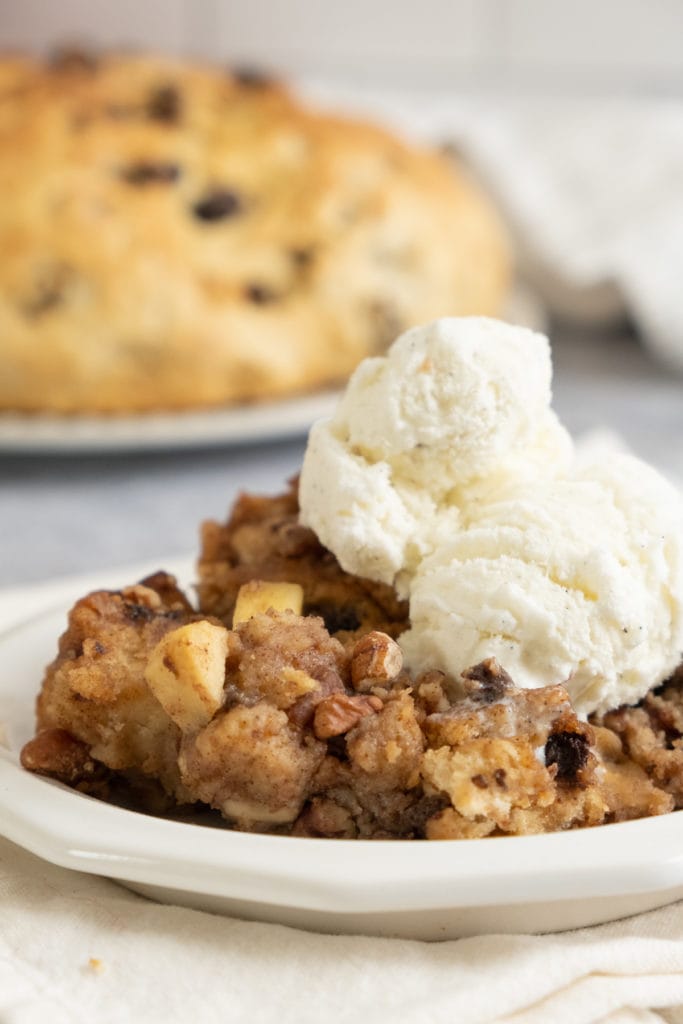 How to Make Easy Irish Soda Bread Pudding
Chop soda bread into small pieces. I used half of a loaf of soda bread with currants that I'd made the day before. You can use any type of soda bread in this recipe.
If you use a whole loaf, just double the rest of the recipe and use a larger baking dish.
Then, in a large mixing bowl, whisk together milk, brown sugar, eggs, vanilla, salt, and cinnamon.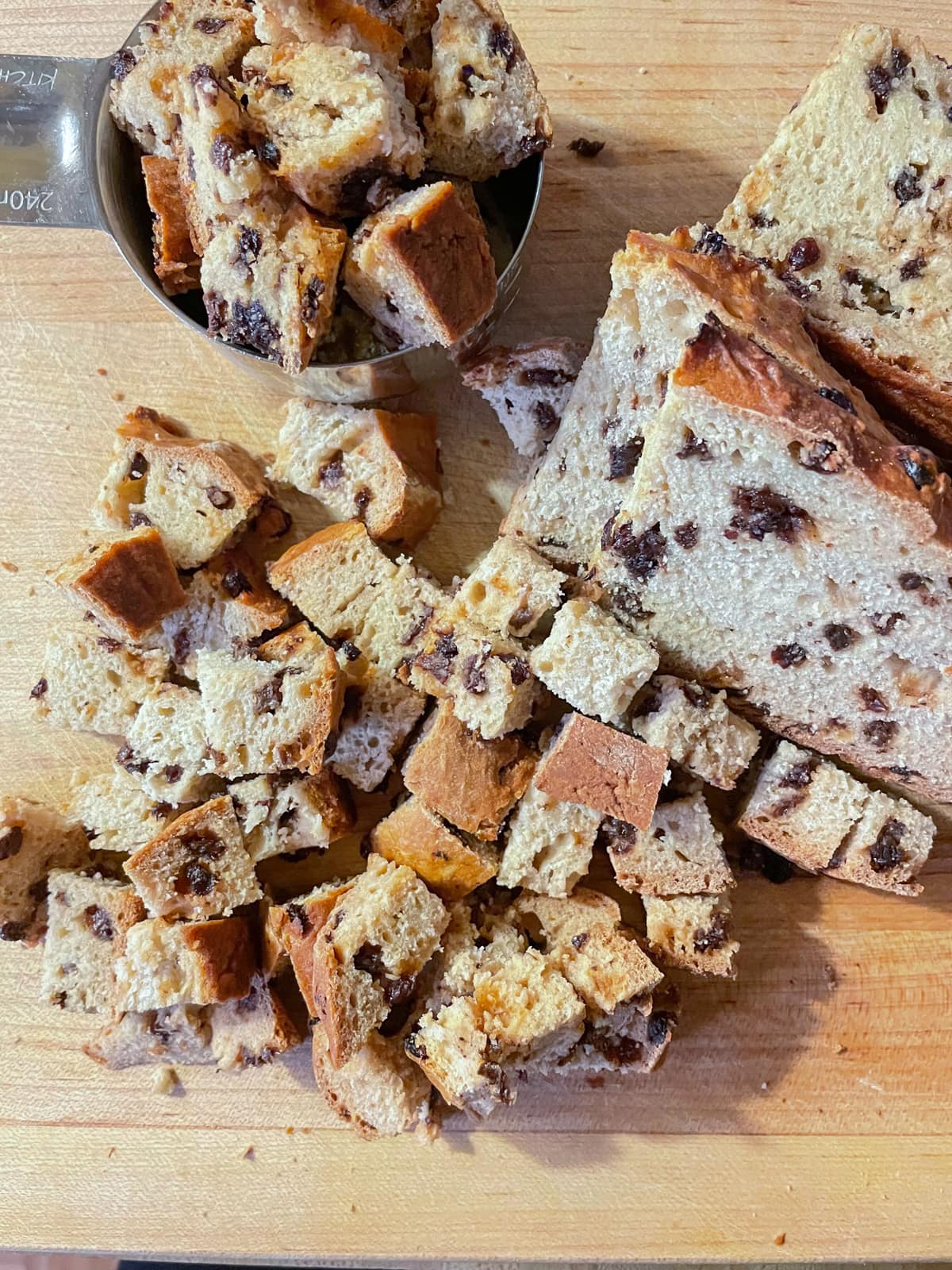 Add the cubed soda bread to the bowl, mix well with a wooden spoon, and let the mixture sit for about 10 minutes so the bread soaks up the custard.
Chop apples and pecans. Then add them to the bread mixture and stir well.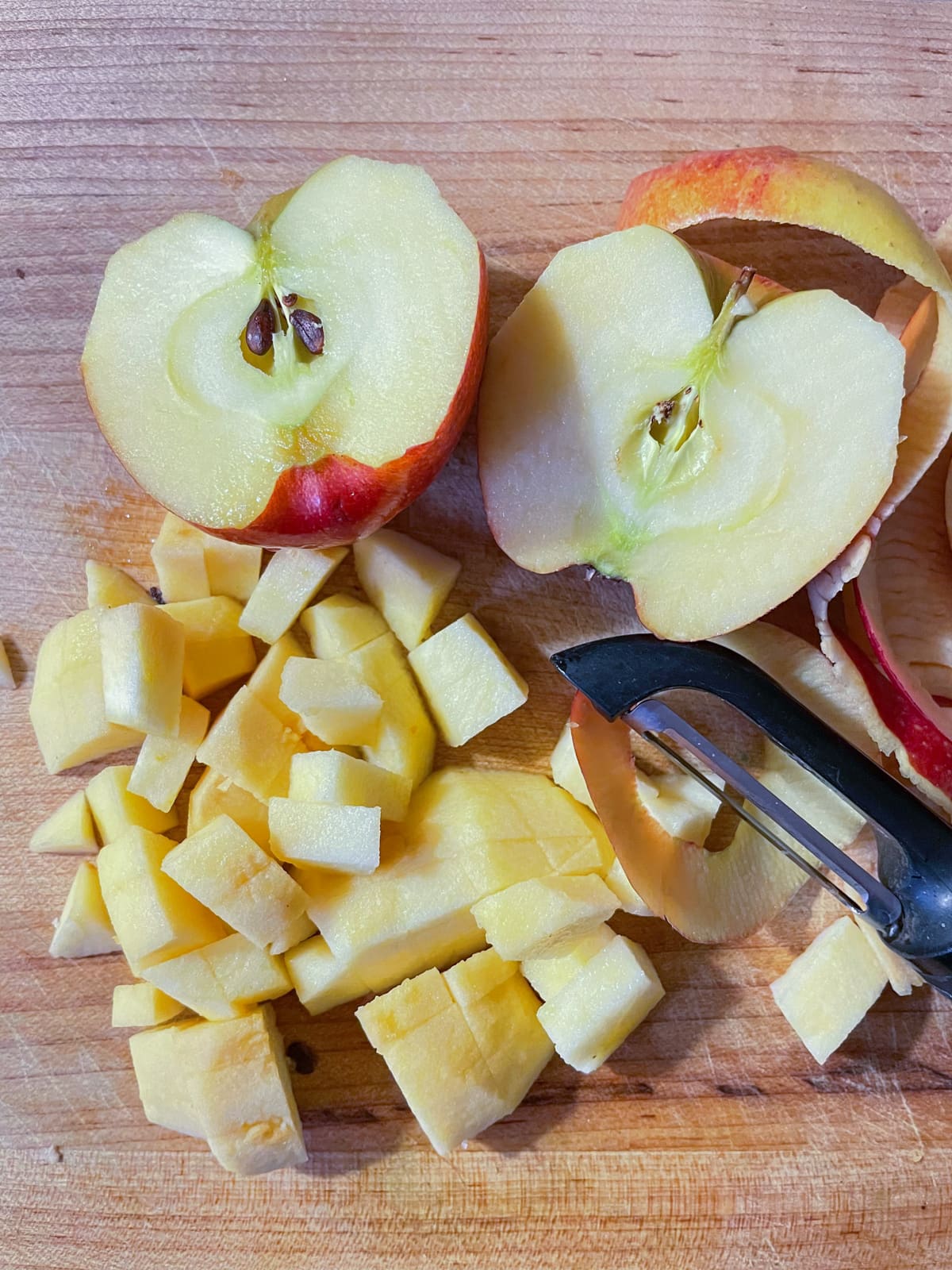 Note: I like that the apples are soft but not mushy in this bread pudding. If you prefer very soft apples, you could sauté them in a little butter in a skillet until just soft before adding them to the bread mixture.
Pour the bread pudding into a prepared loaf pan (including any custard the bread has not soaked up).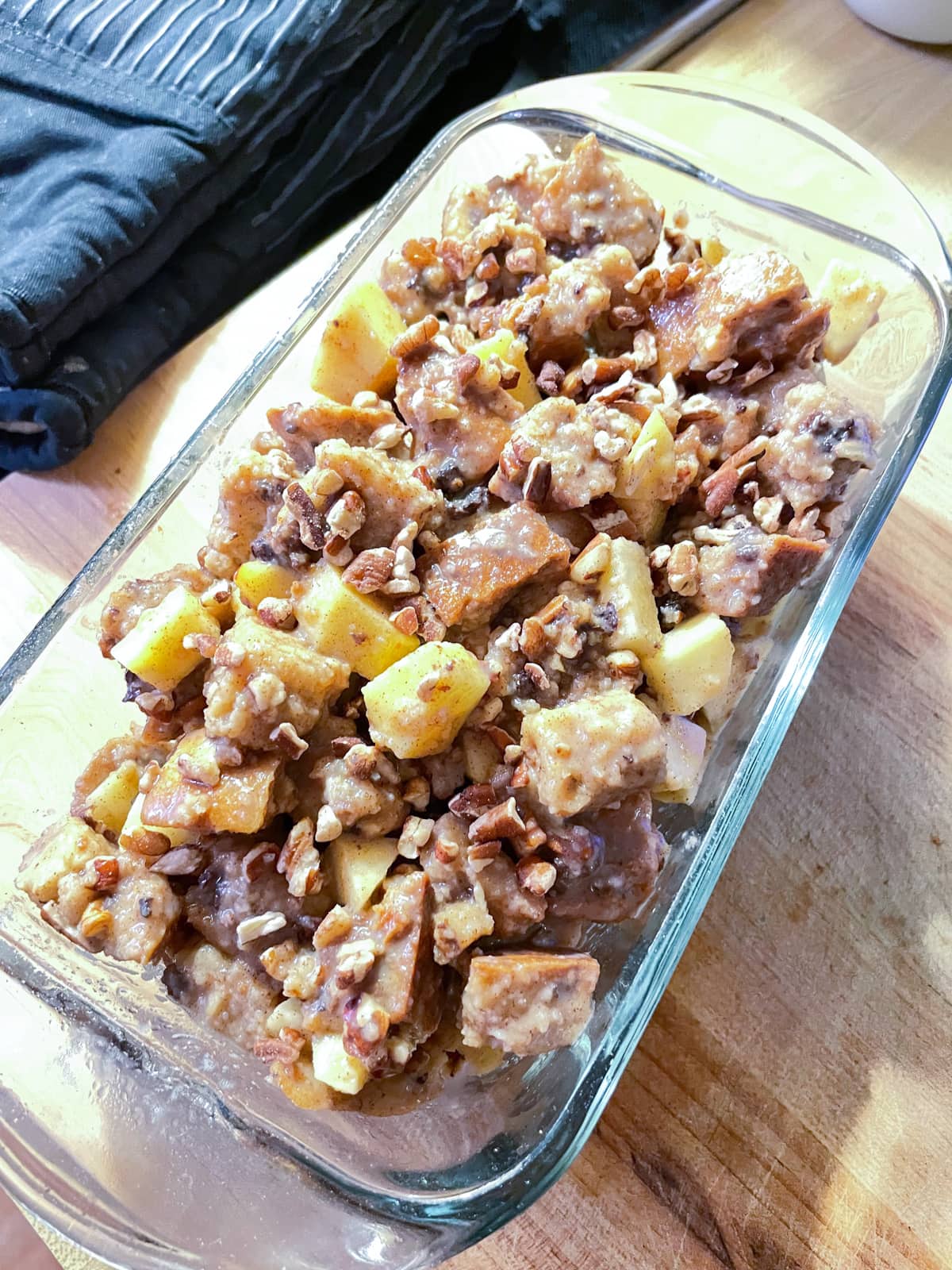 Cut butter into small pieces and scatter on the top of the bread pudding.
Bake at 350F/175C for 30-35 minutes.
Let cool for a couple minutes. Serve warm, at room temperature or cold. Enjoy plain or with whipped cream, ice cream, vanilla sauce or caramel sauce.
Looking for More British & Irish Recipes?