French Chocolate Mendiants Recipe (and 10 Tips for Traveling in Europe)
This article may contain affiliate links. See our disclosure link for more information.
I always travel with chocolate. Please tell me I'm not the only one who gets chocolate cravings in the middle of a long flight! I usually resort to buying (expensive and not that satisfying) peanut butter M & M's at the airport, something I only crave when I'm traveling. But for my recent trip to Europe I decided to make French chocolate mendiants ahead of time to take with me instead!
After enjoying these delicious chocolate mendiants on my trip, I've made them several times at home for a quick, healthier afternoon snack or after-dinner dessert.

Here's what's so great about mendiants:
You can customize the chocolate, toppings, even the shape (I'm making some heart-shaped mendiants for my husband for Valentine's Day).
There are endless combinations of chocolate and toppings.
No baking required!
You can make them exactly the way you like.
Making mendiants is a fun group activity.
Mendiants make lovely "thank you chocolates" for hostess, birthday, anniversary or holiday gifts.
Portion-controlled + healthier dessert option.
They taste so good!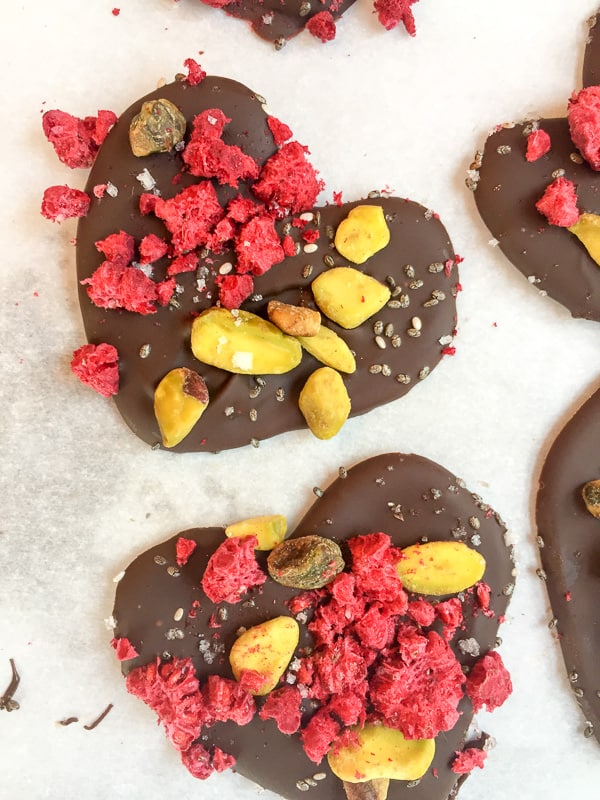 Chocolate mendiants were traditionally made during the Christmas season and featured nuts and dried fruits, such as raisins, hazelnuts, figs, and almonds. These days you'll find them year-round and may include seeds, fruit peels, and more.
Here are some traditional chocolate mendiants I found in Belgium…yum…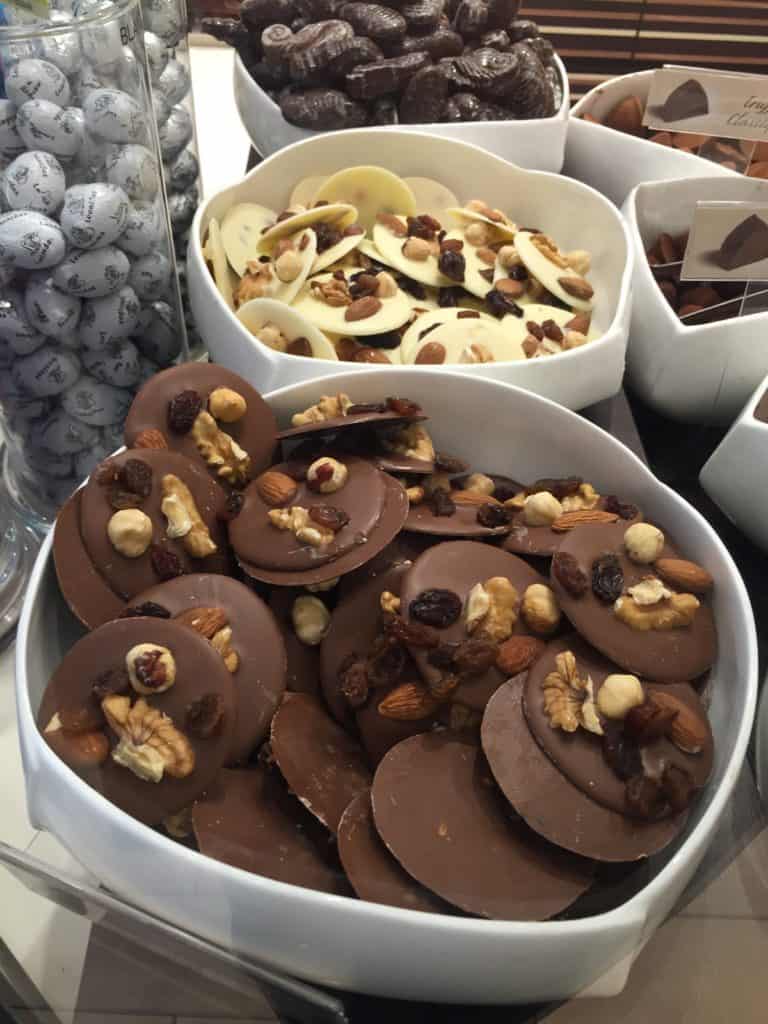 It only takes about 10 minutes to make chocolate mendiants and then 20-30 minutes for them to set in the fridge. Use your favorite chocolate and toppings – nuts, chia seeds, salt, dried fruit, pretzels, etc. The sky's the limit!
The first time I made mendiants I used the chocolate chips I had in the cupboard. Now I prefer to use a bar or two of high quality dark chocolate. My favorite toppings are flaked sea salt, chia seeds, hazelnuts, sliced almonds, chopped cashews, pecans, macadamia nuts, dried cranberries, dried blueberries, and freeze-dried raspberries. I really liked the raspberries because it gives the mendiants a tart flavor and a crunchy texture.
Even if you're not traveling, give these easy chocolates a try! They'd be really fun to make at a birthday party (pop them in the fridge to reduce the time they need to set) or as favors to take home. Or for an at-home date night or girl's night. I keep some in my fridge for a portion-controlled snack or after dinner dessert.
French Chocolate Mendiants Recipe
First, gather your ingredients:
— Chocolate – dark, milk or white.
— Toppings – nuts, seeds, dried or freeze-dried fruit, shredded coconut, chia seeds, flaked sea salt, crystalized ginger, mini chocolate chips (use a contrasting chocolate flavor) – or whatever sounds good to you!
Next, melt the chocolate in the microwave or on the stove.
Should you temper the chocolate? I've made mendiants by simply melting the chocolate and adding the toppings but I prefer to temper the chocolate because tempering gives the chocolate a nice glossy sheen and snap when you bite into it.
Here's an easy way to temper chocolate that I recently learned from Cooks Illustrated. Melt 3/4 of your chocolate until it's almost melted (you can melt your chocolate in the microwave on 50% power or in a double boiler on the stove). Take it off the heat and stir until melted. Add the remaining 1/4 of the chocolate and stir until all of the chocolate is melted.
Use a spoon to make chocolate rounds (or hearts for Valentine's Day!) on a Silpat mat or parchment paper. Then add your toppings. Press them into the chocolate a bit so they don't fall off when you pick them up.
Let the mendiants sit on your kitchen counter or in the fridge until set.
Enjoy!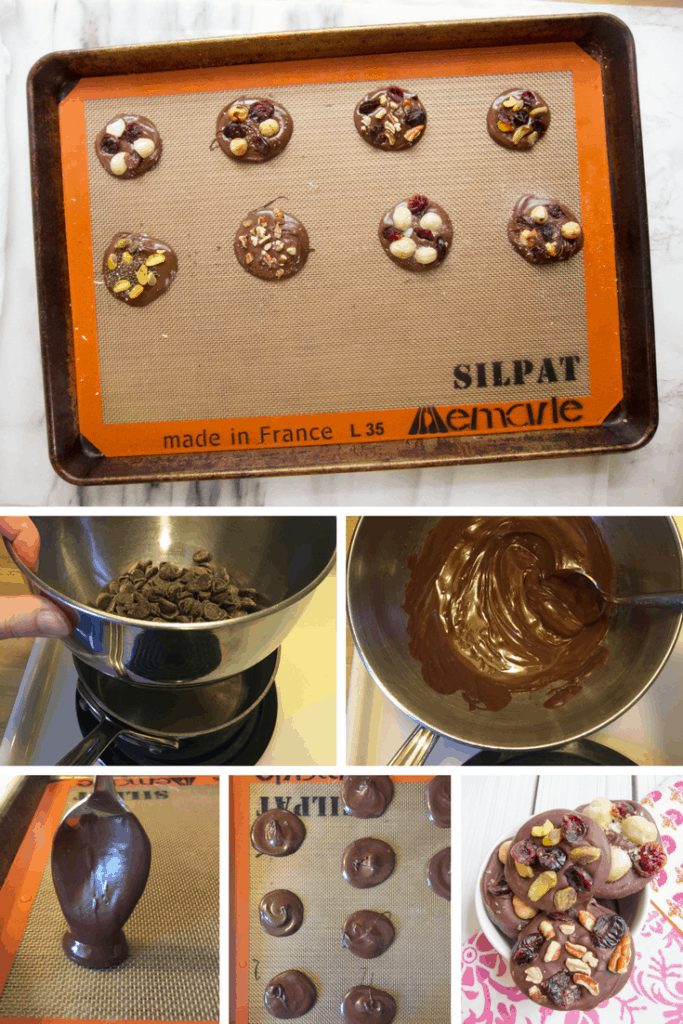 Europe Travel Tips
Thinking about traveling to Europe? Awesome! Here are a few of my top travel tips:
Unless you're staying in only one place, bring less than you think. A lot less! I usually pack light but on my recent trip I brought only a small backpack and a laptop bag. It was awesome! I had zero problems carrying my luggage up and down stairs, I could pack in 5 minutes, navigating trains and busses was super easy, and walking around cities during a couple short layovers was no problem. Remember, you can layer if it gets cold and borrow or buy if you need something unexpected (e.g., I bought a cheap umbrella, toothpaste, and lotion). Most of the time, you just don't need everything you want to pack and will be happier with less to lug around.
Keep several coins in your wallet. You have to pay to pee in most parts of Europe and it really sucks when you can't get in the bathroom because you don't have the right coin to feed the machine that lets you in. So be sure to keep a variety of coins available (10, 20, and 50 cent coins) in your day bag. Also, if you see a bathroom, use it, especially if it's free. It's not always easy to find one when you need it!
Stay in AirBnBs (or rental apartments in general). If I'm going to be in one place for more than a couple days, I usually rent an AirBnB-type apartment. I love being able to make a meal or two, even if it's just breakfast and snacks, because it's healthier and less expensive than eating every meal in a restaurant. Plus, you get a deeper look into a different aspect of the local culture than you do when staying in hotels only. I've stayed in apartments – both AirBnB and other companies – on 3 continents and my experience has been 100% positive.
Bring a lightweight shopping bag. Having a lightweight and packable shopping bag in your day bag can really come in handy (I have this one and LOVE it). I typically use mine at the grocery store but I've used it at the beach, the laundromat, etc.
Buy a day transit pass and ride random busses or trams around the city. This is a great way to get off the tourist trail! Simply hop on a bus, tram or subway, get off at a random stop, and walk around the neighborhood. Get back on a different bus, tram or subway and ride it to another part of the city, hop off, and continue exploring. If you want to explore beyond the typical tourist sights but don't have any specific locations in mind, this is fun way to spend a couple hours or even an entire day. If you're worried about getting lost, download offline transit and city maps to your phone, and then drop a pin in the location of your lodging. That way you'll always be able to always see where you are in the city and find your way back without using any data or needing wifi.
Use offline maps. I download an offline map for every city (and sometimes country) I plan to visit. Before I arrive, I drop a pin at my lodging so I can find my way there. Then, I drop pins for each places I want to visit during the day so I can easily navigate to them no matter where I am in the city without needing data or wifi.
Don't change money at a US airport! During my layover at the DC airport I overheard three people lament the terrible exchange rate and high fees at the airport currency exchange station. One guy had changed over $600 and paid a hefty fee. When traveling to Europe, I never change money before arriving. As soon as I clear customs I head to an ATM machine and withdraw what I need off my debit card.
Bring a rechargeable battery for your phone. I use my phone a lot when I travel (photos, videos, offline maps…) and need to charge it at some point during the day. So I always bring a rechargeable battery with me in my day bag (I have this one). It's been a life-saver on multiple occasions. I never travel without it!
If you want sunny weather, buy an umbrella. This one is a bit of an LOL. 🙂 I never bring an umbrella with me because I know I'll end up carrying it far more than actually using it. On my recent trip, however, it rained for the first 5 days. After getting drenched on day 3 and having to stay inside the rest of the day to dry out, I caved and bought a cheap umbrella on day 4. I kid you not, as soon as I walked out of the store with my umbrella, the rain stopped. I carried that umbrella around for 2 more weeks and used it 2 whole times!
If you're thinking about going to Europe, do it! Bring your lunch to work, put off buying a new car for a year or two, sign up for a mileage credit card…do whatever you have to do to make your travel dreams a reality. You won't regret it. Just one request – tell me about the awesome desserts you eat! 🙂