Best Ever Mini Mince Pies
This article may contain affiliate links. See our disclosure link for more information.
These mini mincemeat pies have a delicious flaky pastry crust and are the perfect size for Christmas Day dessert with family, for a holiday party or anytime Christmas season snacking.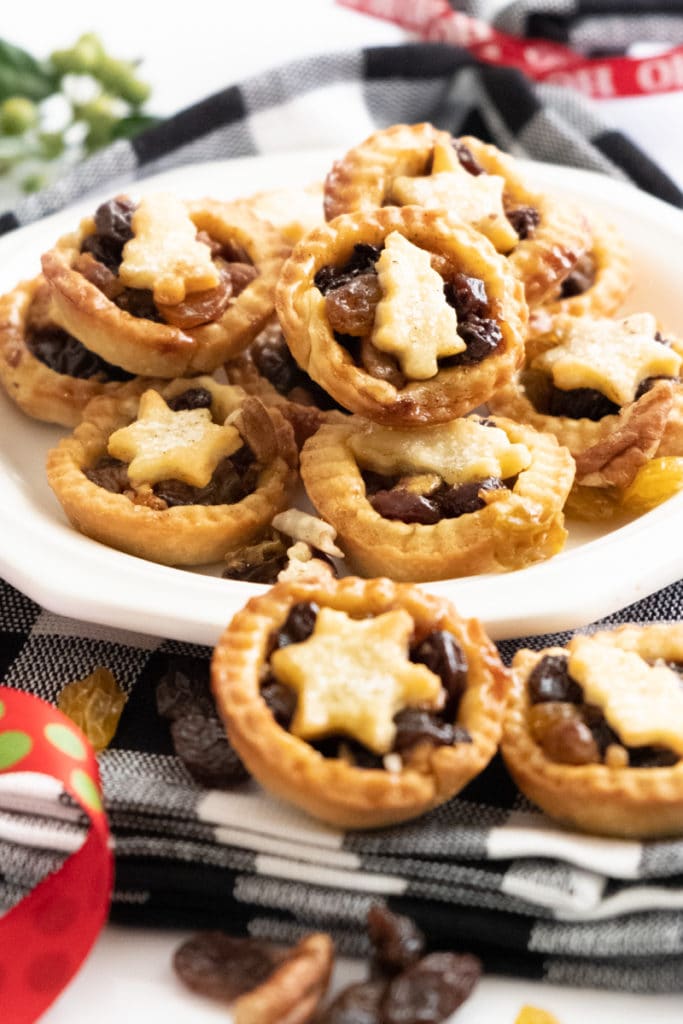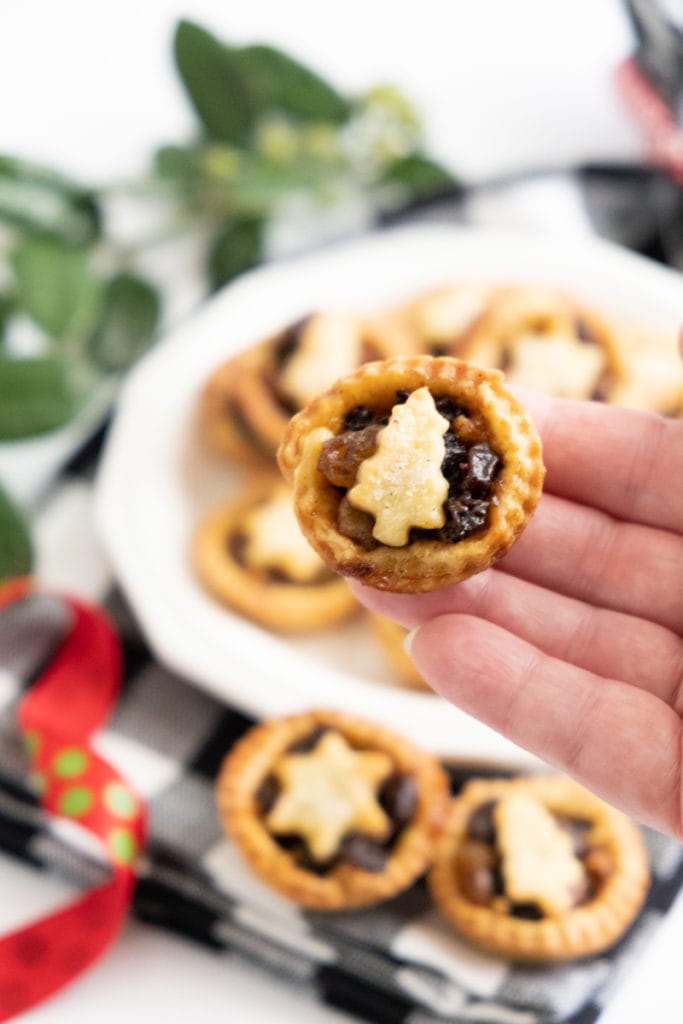 Mince pies are part of a traditional British Christmas and they can be part of yours, too!
Just thinking about making the first mince pie of the season makes me so happy.
Homemade mincemeat pie has always been my Mom's favorite holiday treat, and while I was growing up, she tried to convince me that it's delicious. It's a sweet mincemeat, not savory, she'd tell me.
I'd try a bite here and there but couldn't be swayed. I never thought I'd like anything mincemeat…until a few years ago when I spent Christmas in Ireland.
I bought a couple cute little mincemeat tarts one evening while at a Christmas market in Galway, and after a couple bites I finally understood why it's my Mom's favorite.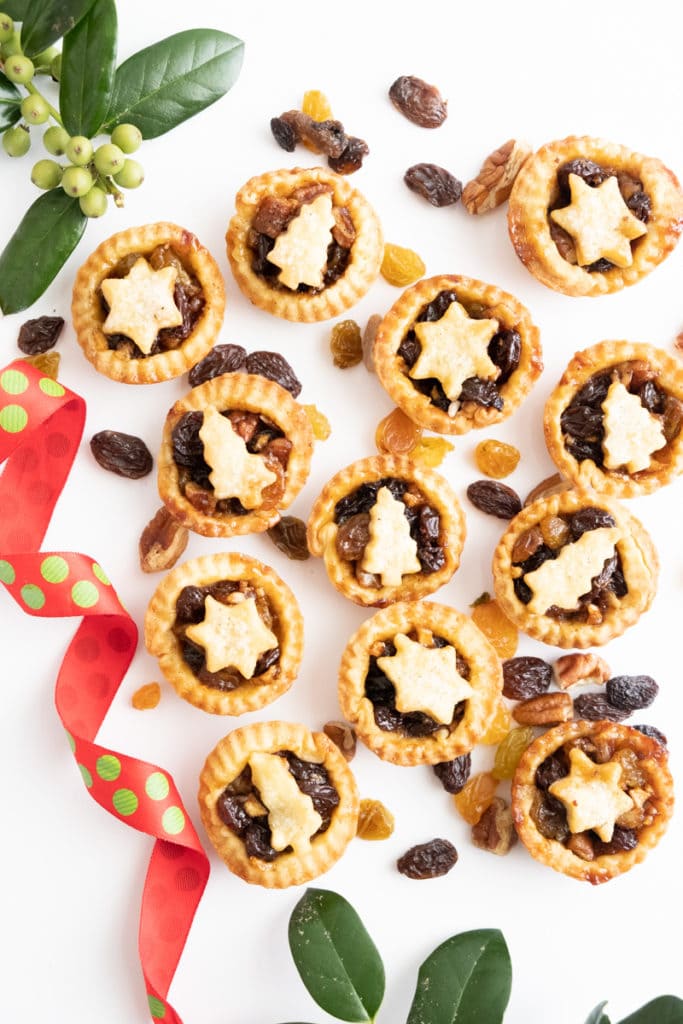 I think it was the mince in mince pies that turned me off because mince usually refers to meat, right? Even if a mince pie didn't actually have meat in it, just the idea of it made it sound less appetizing to me when I was a kid.
While you can make savory mince (along with savory pastry), these have zero meat.
Instead, these little Christmas mince pies have a rich fruit mince pie filling full of raisins, currants, apples, lemon and orange zest, candied lemon and orange peel, pecans, and spices like cinnamon and nutmeg.
The crust is buttery and flaky and the perfect complement to the sweet pie filling.
They are SO good and taste like Christmas. I think you'll love this easy and delicious holiday favorite.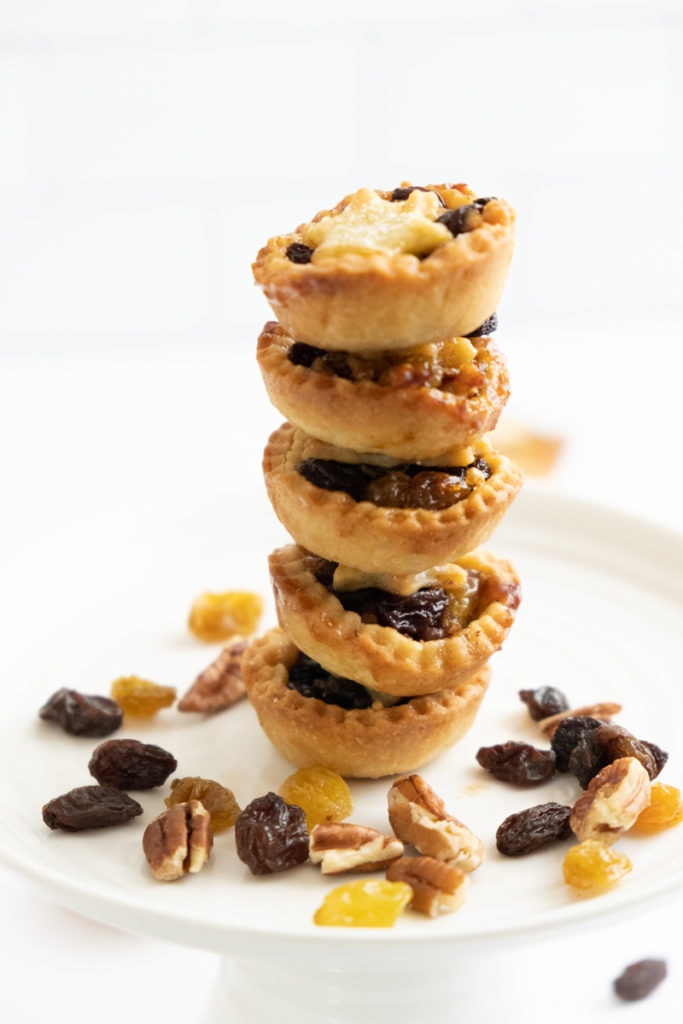 What You Need to Make Mini Mince Pies
Ingredients:
flour (all-purpose or plain flour)
salt
cubed butter (cold)
powdered sugar
egg yolks
vanilla extract
vanilla sugar
brandy or orange juice
raisins
golden raisins
dried currants
apple
lemon & orange zest
candied zest (here's how I make it)
brown sugar
cinnamon
nutmeg
allspice
pecans
brandy (optional)
melted butter
Kitchen Tools:
large mixing bowls
small bowl
peeler
knife
cutting board
spoon for mixing
scale or measuring cups/spoons
sifter
cling film / plastic wrap
rolling pin
parchment paper & scissors
round biscuit cutter / pastry cutter / round cookie cutter
mini muffin cups / mini muffin tray or tart tins
mini cookie cutters (I like to use tree or star shapes)
wire rack for cooling
serving plate or tray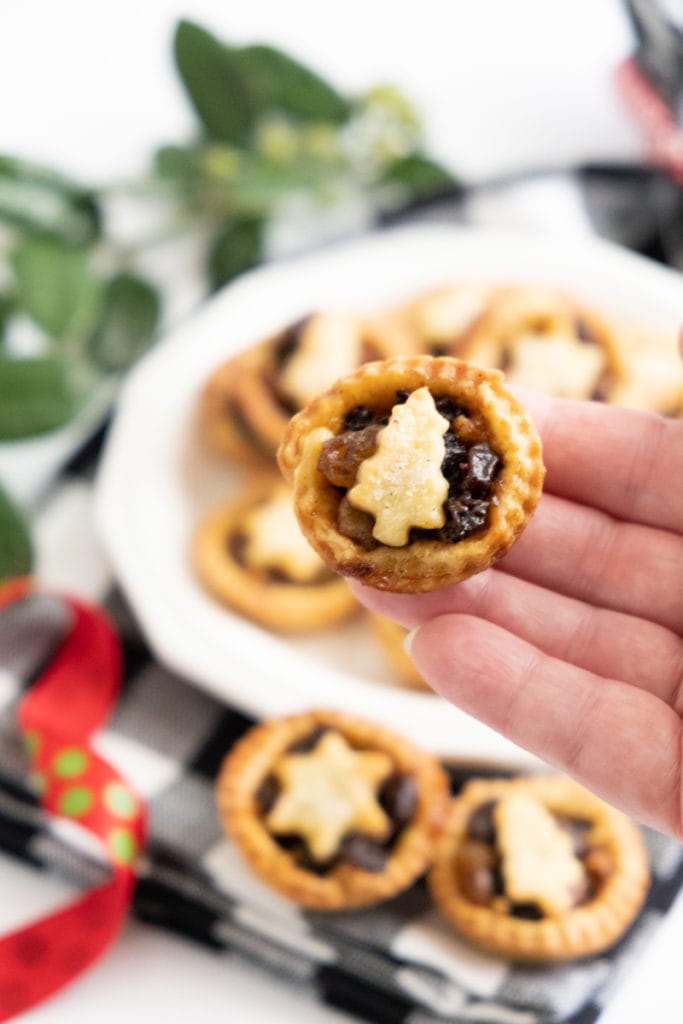 Baking for a Party? Try this Mini Mince Pie Recipe!
One year I decided to try my hand at making homemade mince pies from scratch for a holiday party.
The individual serving size makes these the best mince pies for get-togethers! The ones I made were all snatched up quickly.
What's great about these pies is that you can make the mince and the shortcrust ahead of time, and then assemble and bake the pies the day (or day before) you want to serve them.
These pies are delicious served both warm and at room temperature. If you want to level up the deliciousness, serve with ice cream, whipped cream or brandy butter.
Recipe Notes & Variations:
When I made these for a holiday party, I prepared the mince about a week ahead and let it sit in a jar in my fridge until I was ready to bake the pies.
You can sometimes buy prepared mince but making your own mincemeat is so easy that I recommend using homemade.
Mince pie recipes usually call for mixed candied peel, but I never use it because I can't find it at any grocery store in my area. Instead, I make candied zest! It's quick and easy to make. Click here for my easy candied citrus zest recipe (you'll need to scroll down a bit to find it).
If you don't want the added step of making homemade candied zest, and can't buy mixed candied peel, just use extra grated orange and lemon peel.
I just couldn't stomach the idea of using beef suet, with is traditional and authentic, so I left it out.
While I couldn't find mixed candied peel, the golden raisins and dried currants were easy to find at my local grocery store. Don't worry if you can't find all of the traditional ingredients! If you can't, substitute with more raisins or even dried cranberries.
Don't worry if your pies don't all come out perfect and uniform! That's how you know they're homemade — and made with lots of love. 🙂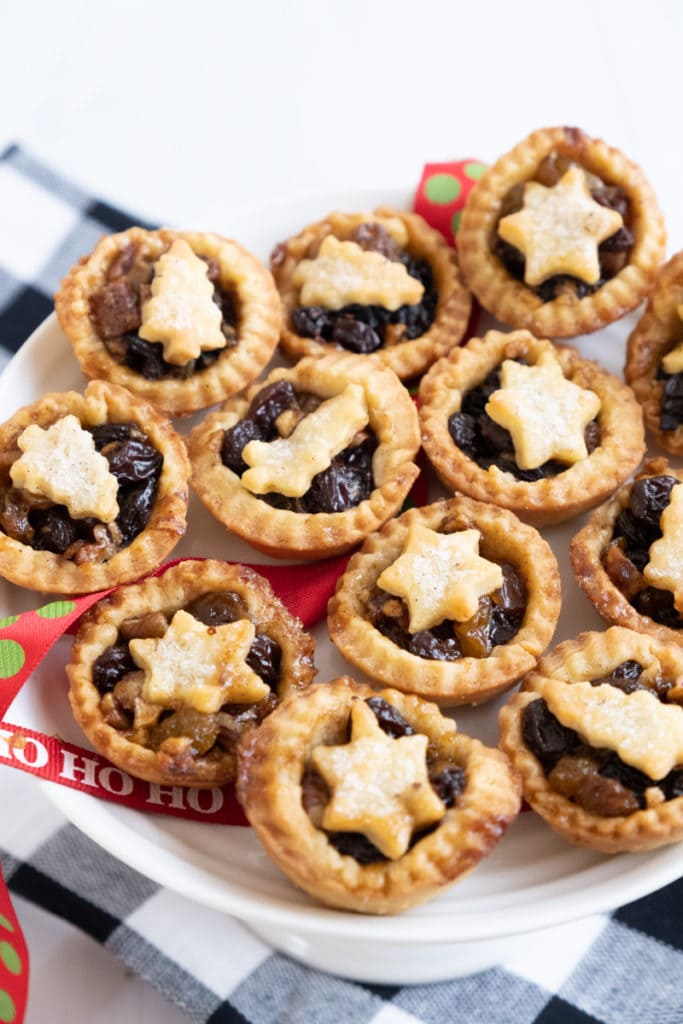 Shortcrust Pastry for Mince Pies
The mince pie pastry I use is from my friend Helen, who lives in the UK.
This shortcrust pastry is so good and so easy to make. If you prefer, you can use a shortbread pastry for mince pies or even puff pastry.
To make gluten free mince pies use your favorite gluten free flour mixture and pie crust recipe.
I used my mini muffin tin to make 24 of these two-bite pies. In the past I've used this recipe to make 12 mini pies and 3 larger pies (using my standard 12-cup muffin tin).
So you could make fewer larger mini pies – but you'll need to adjust the amount of filling you use for each pie and the baking time if you do that.
That said, I prefer the mini pies over the larger ones. I like the filling to crust ratio on the smaller pies better.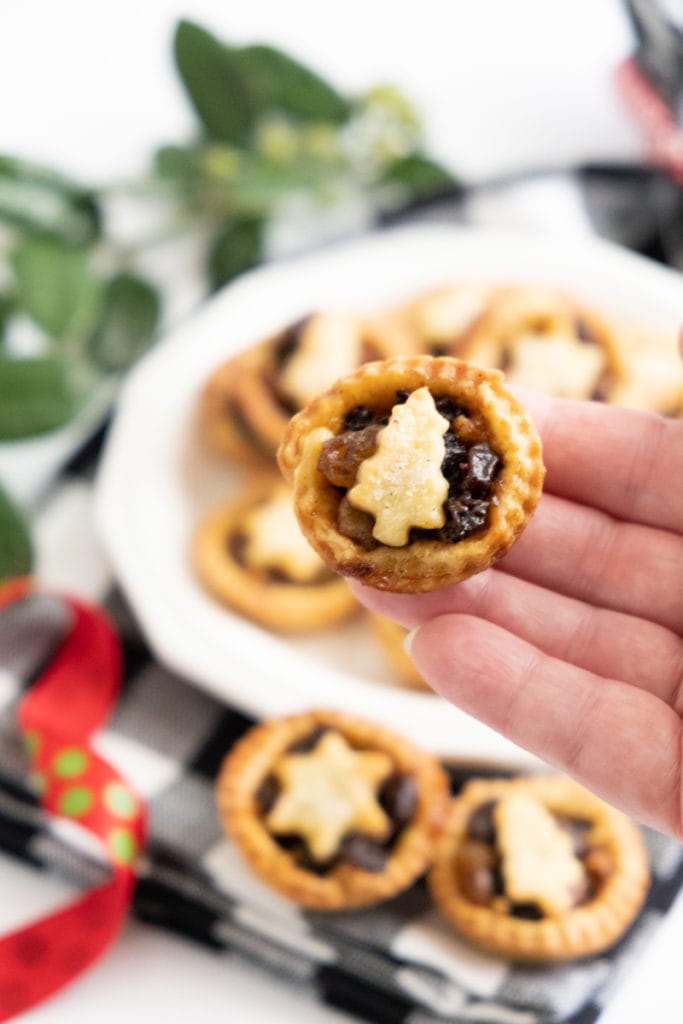 For the crust on the top of the pies, I tried different mini cookie cutters and liked the small stars and Christmas trees the best. I think stars are most traditional, but feel free to get creative.
You can also cut out small pastry circles for the top – just be sure to cut a small slit in the top of each pie to let steam out while baking.
I recommend filling these pies only 3/4 full (for my mini muffin tin that's less than a teaspoon of filling).
I've filled the pies to the top of the crust before but the filling just spilled over the sides as they baked. Those pies were not as pretty as they could be, but fortunately they still tasted great.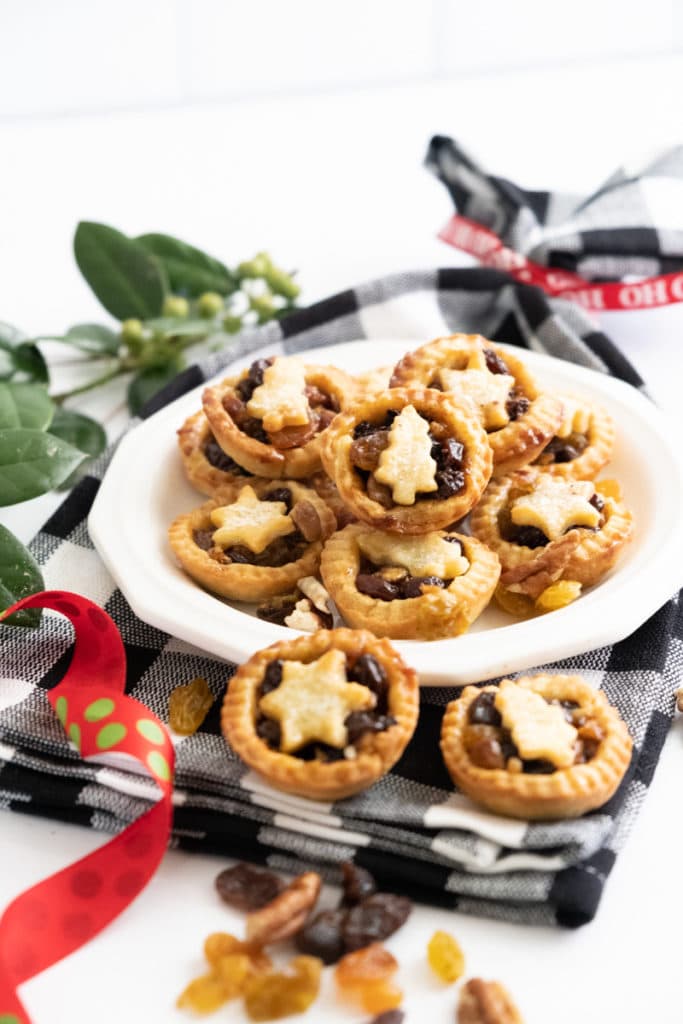 How to Make Mini Mince Pies
There are 3 steps for making these bite-sized pies:
Make the mince.
Make the pastry crust.
Assemble and bake the pies.
What's great about these pies is that you can prepare everything ahead of time and then pop them in the oven when you're ready to bake and serve them.
Ok, let's make pies!
First, let's make the mince filing.
Add raisins, golden raisins, currants, apples, orange and lemon zest, candied zest, brown sugar, spices, pecans, melted butter, and brandy in a mixing bowl.
Stir until well combined. Store in covered bowl or jar in the fridge until you're ready to bake your pies.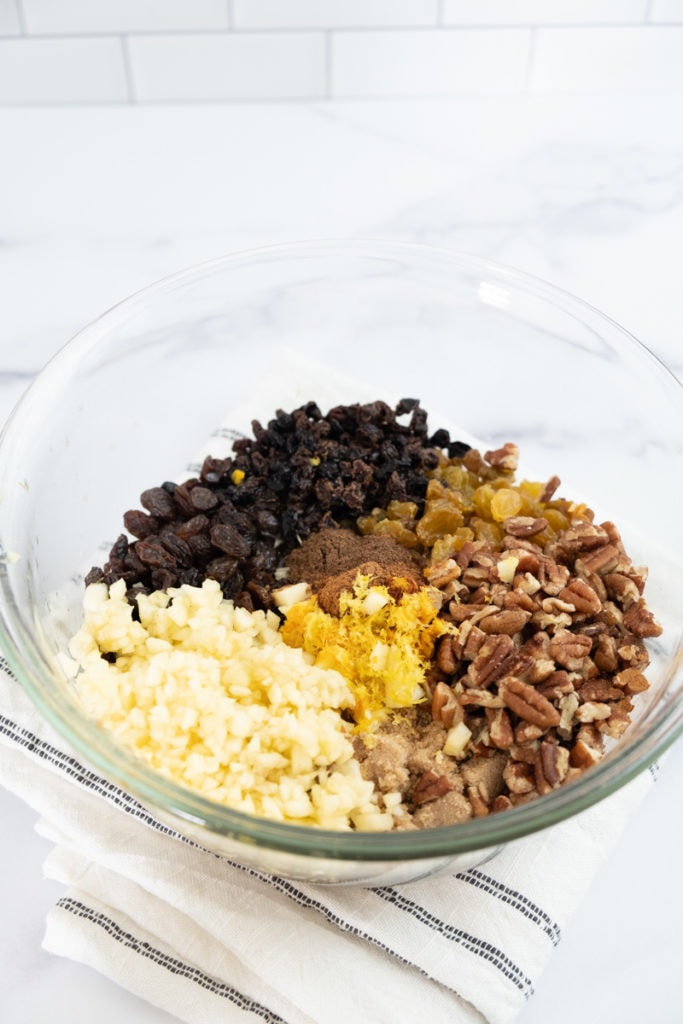 Next, let's make the shortcrust.
Sift flour and salt into a mixing bowl. Add the cold cubed butter. Rub butter into flour.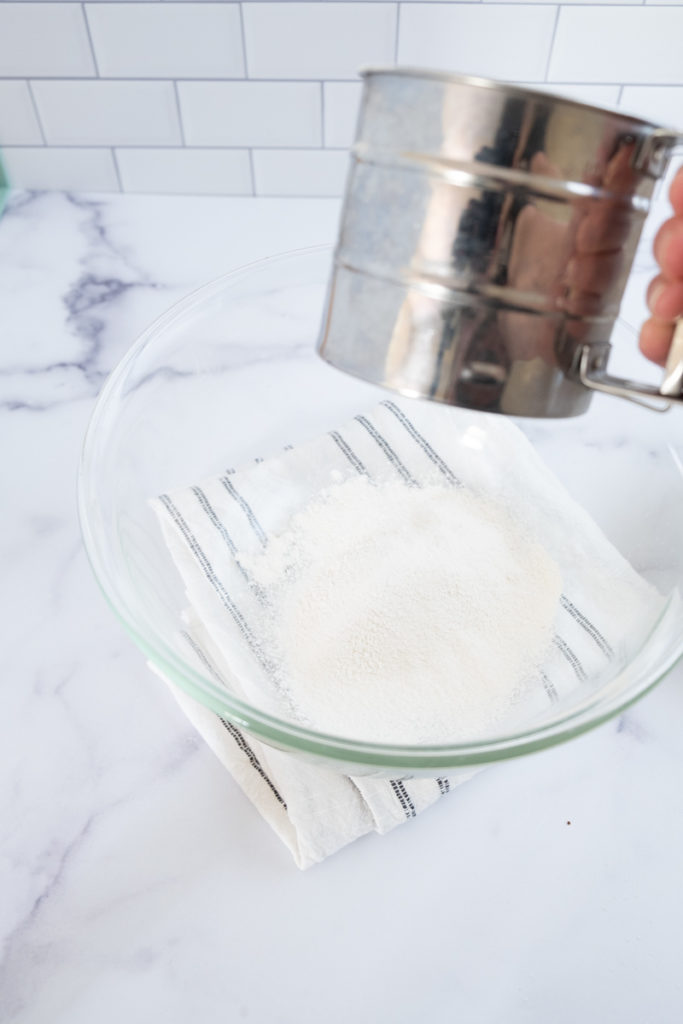 Add powdered sugar, vanilla extract, and egg yolks. Stir (or use your hands) to make a dough.
Shape dough into a ball, then flatten into a disk. Wrap dough in plastic wrap and chill in refrigerator for 30 minutes.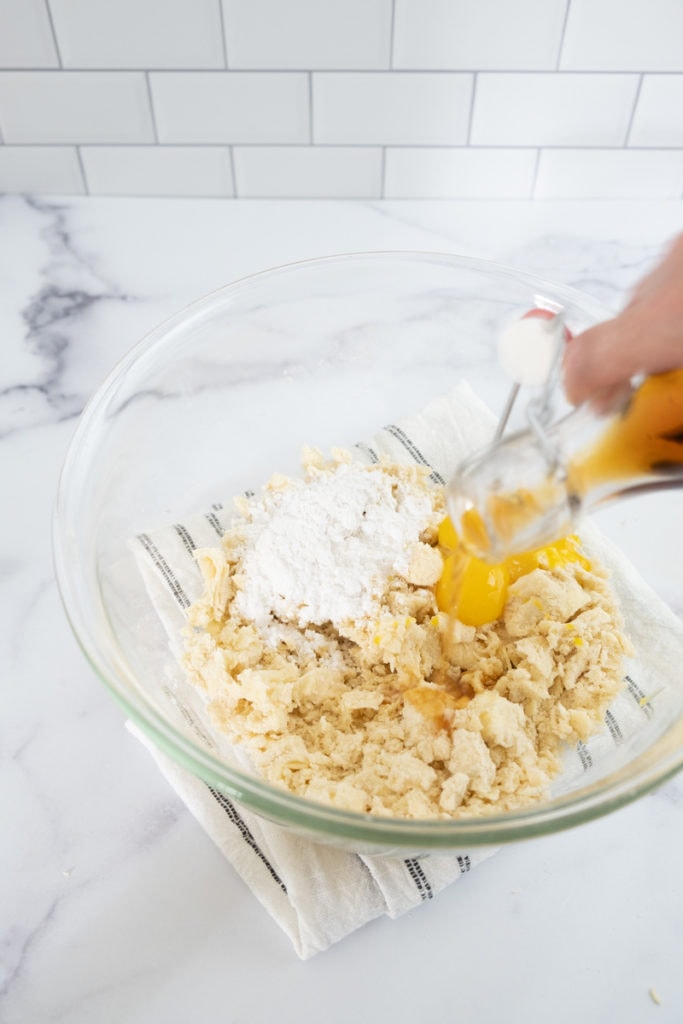 Now, let's make and bake the pies.
Preheat oven to 400F/200C.
Roll out dough on a floured surface to 1/8 inch(3mm) thick.
Use a cookie or biscuit cutter that's larger than your mini muffin tin to cut out pastry rounds.
I used a fluted scone cutter but you can also use a plain one.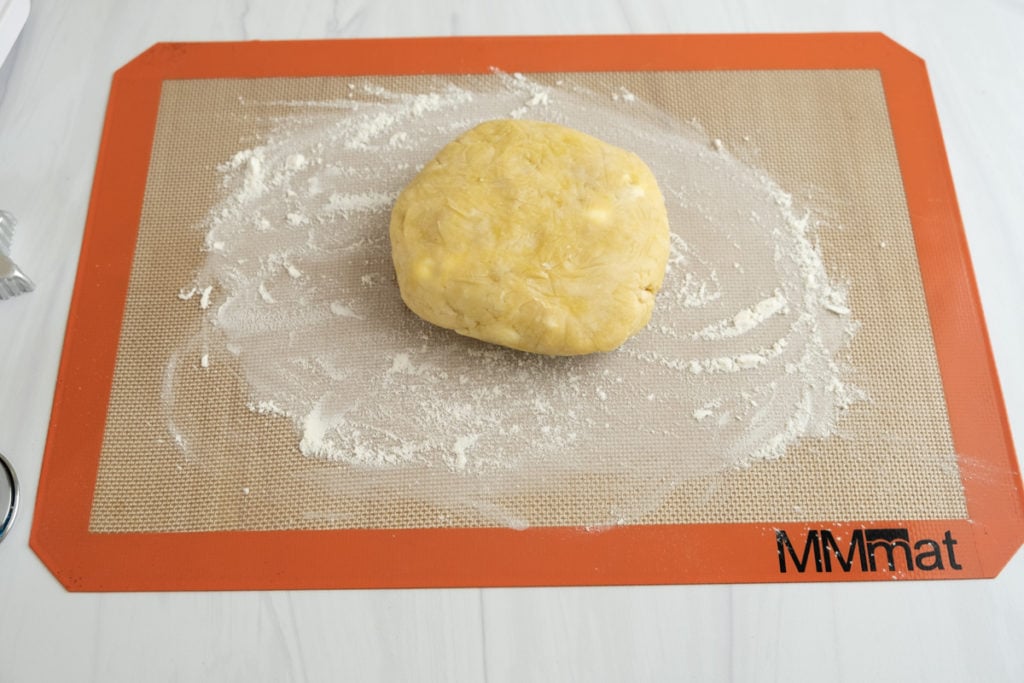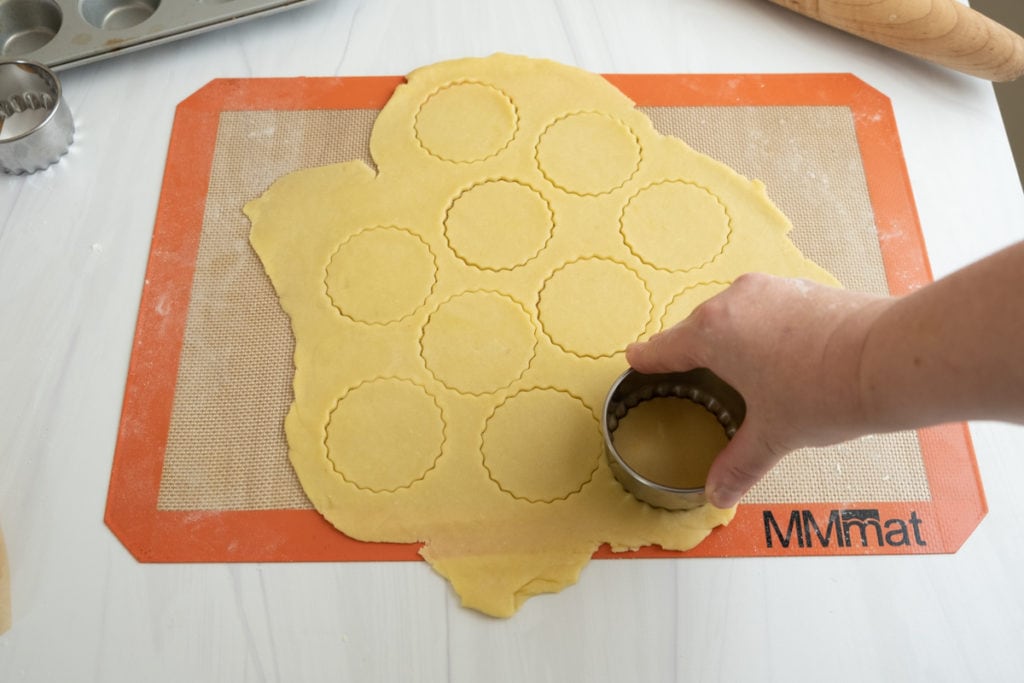 I've never had any problems popping my pies out of my muffin tin but if you think you might, here's what you can do.

Cut a piece of parchment into strips.
Place a strip on the tin and a pastry round on top of the parchment.
Then carefully press dough into muffin tin.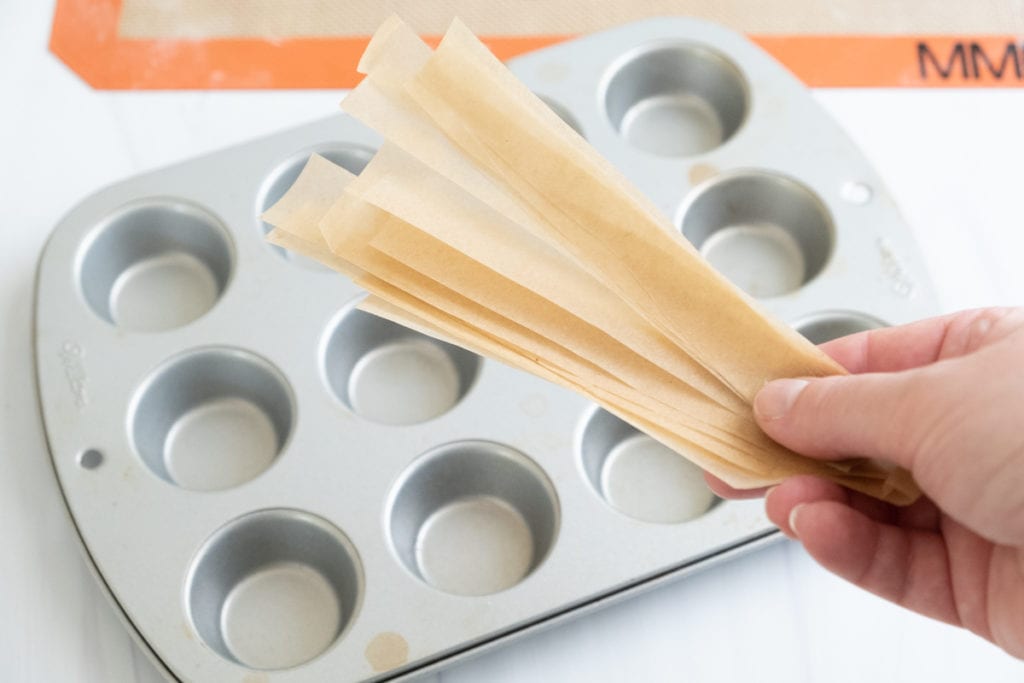 Use your fingers to press and shape the dough and then a fork to prick the dough a couple times. Fill each pie 3/4 of the way full (a little less than 1 teaspoon for each pie).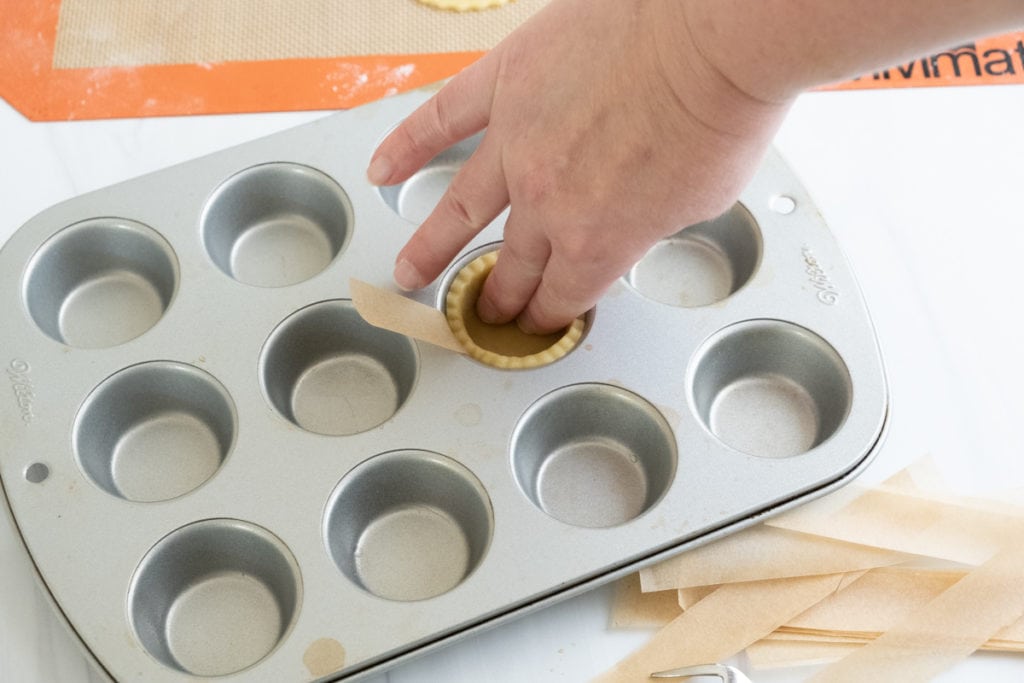 Re-roll the dough (thinner than before) and cut out shapes (I like to use little stars and trees) to place on the tops of your pies.
Then, sprinkle a little vanilla sugar over the top. Alternatively, you could use an egg wash.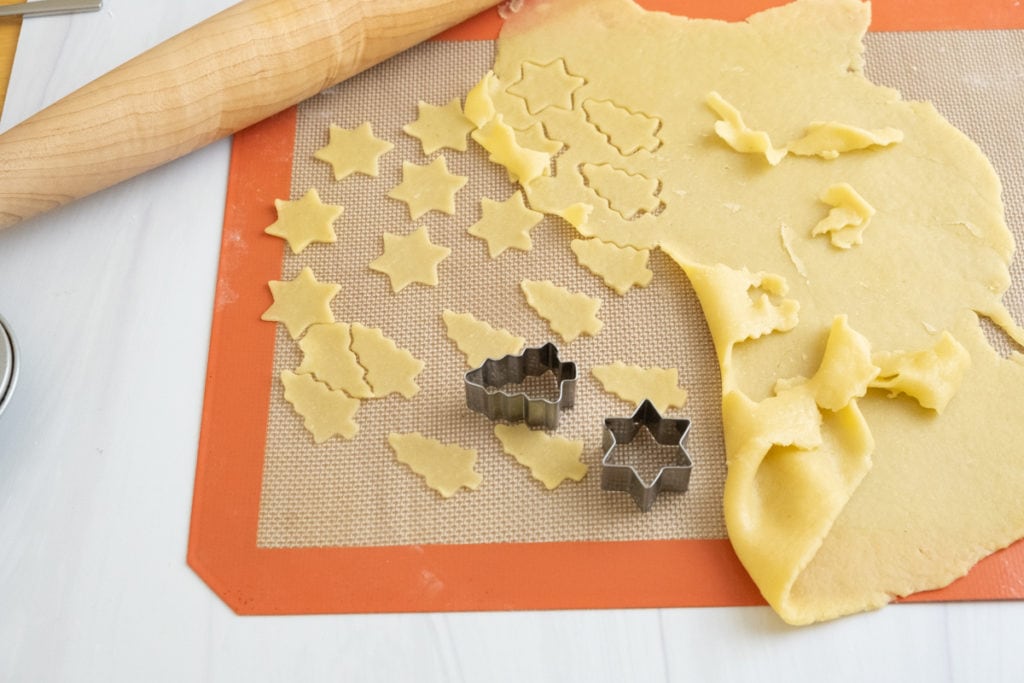 Bake at 400F/200C for 18-22 minutes or until golden brown (keep an eye on them so they don't get too browned).
Let cool on a wire rack.
Then use the parchment to life the pies out of the muffin tin.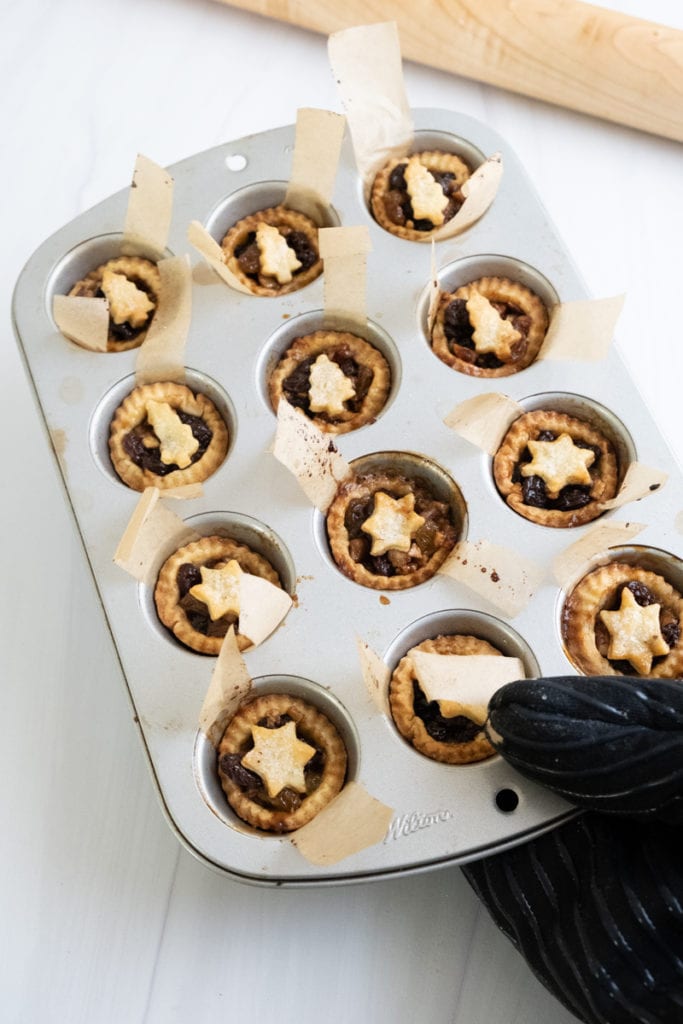 Looking for More British & Irish Recipes?
Easy Recipe for Mince Pies