Looking for a classic recipe for German Cheesecake (Käsekuchen), this one is for you!
A recipe in my German-style Cheesecake series, this version has just a few simple ingredients and couldn't be easier to make. A flavorful baked German cheesecake, it's perfect any time of year served with a side of whipped cream or topped.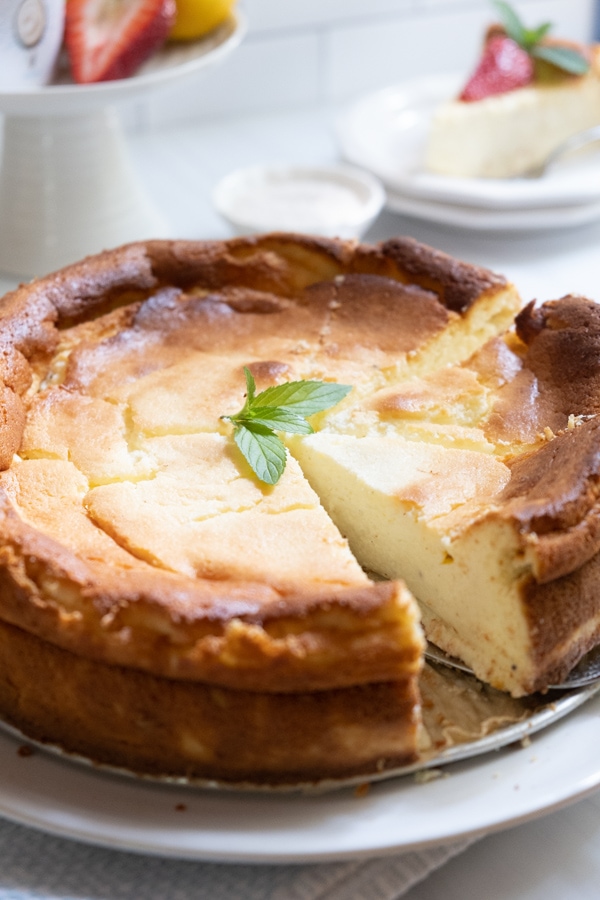 You are definitely going to want to add this Classic German Cheesecake recipe to your recipe organizer and upcoming meal plan!
What is Quark?
If you've ever eaten cheesecake in Germany, chances are it was made with Quark cheese. Quark is a staple component of traditional and authentic German cheesecake recipes.
Quark is a fresh, creamy, un-aged cheese popular in Germany and elsewhere in Europe. It has a texture and consistency similar to Greek yogurt but it's not tart like yogurt. I've been eating Quark since my teens when I first moved to Germany. I love that you can enjoy Quark in so many sweet and savory ways.
There are several ways to make German cheesecake, which is why I have other German cheesecake recipes. (At some point I plan to make all of them!)
This Classic German Cheesecake is super simple to make and oh so good. I prefer to make this cheesecake without a crust because it's so much easier and it really doesn't need one! If you want to add a crust, use the one in this recipe. Without a crust this is a great gluten-free cheesecake option.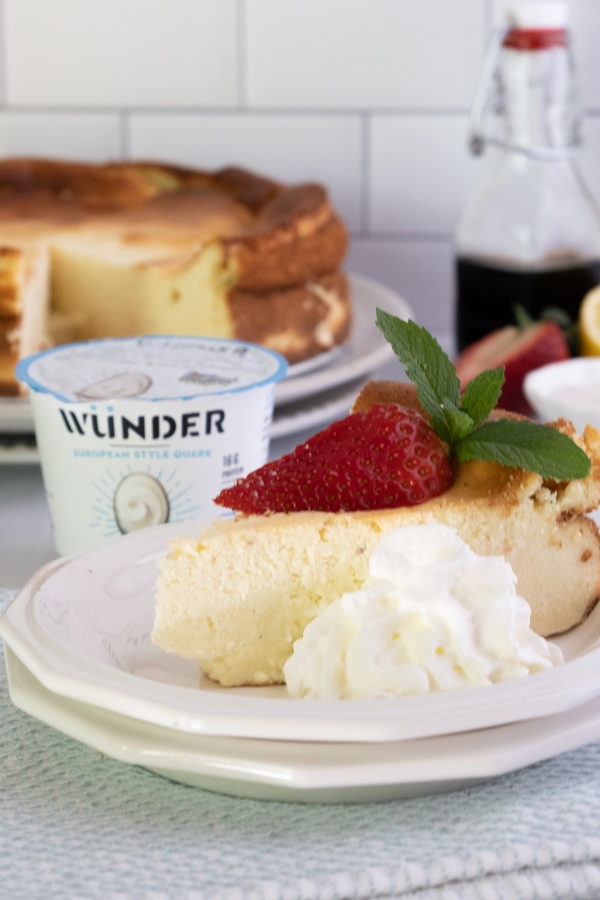 Do I Need Quark for This German Cheesecake Recipe?
Yes! For this particular recipe I do recommend using real Quark, since it's the star in this cheesecake. If you use a common alternative like Greek yogurt or pureed cottage cheese, you just won't get that fresh Quark flavor. If you don't have Quark and want to use a Quark alternative, I recommend trying one of my other German cheesecake recipes.
Where Can I Buy Quark?
While Quark is easy to find in Germany and other parts of Europe, it hasn't been easy to find in the US – until now!
In the past, whenever I made German cheesecake I always had to make my own Quark or experiment with Quark alternatives. But then I found Wünder Quark at my local grocery store!
I bought a few tubs of their Quark and was super excited that it actually tasted like the Quark I ate in Germany.
Because making authentic international recipes is important to my International Baking Club members, and I have several recipes on the IDB that use Quark, I reached out to Wünder to see if we could work together. I've been a HUGE Quark fan for nearly 3 decades and am thrilled to be able to help Wünder get their Quark into more baker's hands!
Wünder offers both flavored and plain Quark. I've been using Wünder's large tubs of plain Quark for baking but you can also buy plain (and flavored) Quark in the smaller 5oz tubs.
A few benefits of Wünder Quark? The 24oz [680g] Wünder Quark has 24 grams of protein per serving, no added sugar, and is made with whole milk from grass fed cows. It also contains probiotics from live active cultures, less than 5% lactose, and is Non-GMO product verified, gluten-free, Kosher certified, and vegetarian friendly.
If you don't find Wünder Quark at your local grocery store, you can now order it online and Wünder will deliver it right to your doorstep in just a couple days! They sent me a box of Quark and it arrived perfectly cold and ready to use. Wünder Quark will stay fresh in your fridge for 1.5 months so you can stock up.
Click here to order Wünder Quark for your German Käsekuchen recipe! Use my special code IDB15 to get 15% off your first order.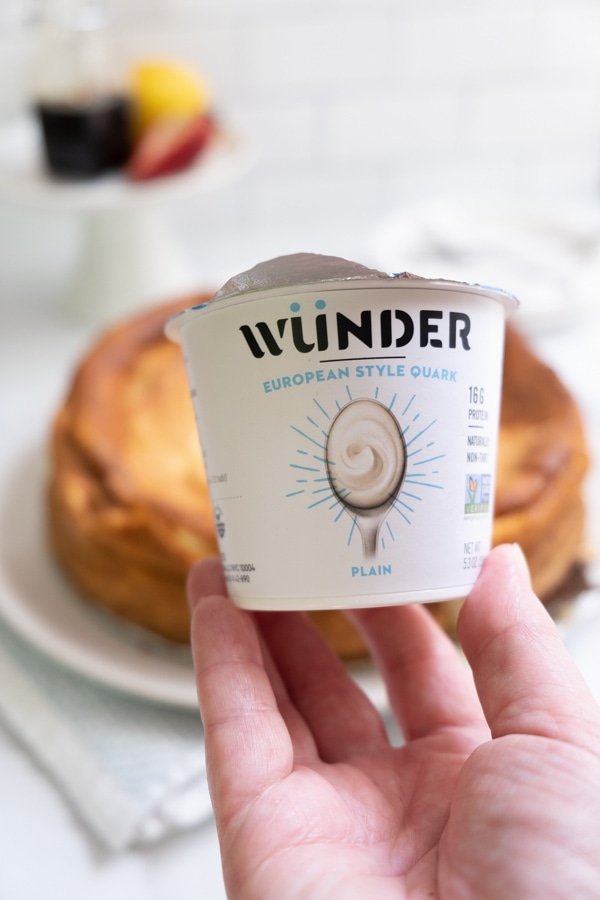 Can I Make Quark Cheese at Home?
Yes! You can make quick Quark from scratch at home. All you need is milk, buttermilk, and patience. Quark is easy to make but you do need to plan ahead so you have time to prepare it a couple days before you make your cheesecake. Click here to get my easy homemade Quark cheese recipe and tutorial.
Can I Use Quark in Other Recipes?
Yes! One of the things I love about Quark is that you can use it in so many sweet and savory ways like Quarkbrötchen, Salted Dark Chocolate Quark Mousse, and Quark Pancakes! I also like to eat plain Quark with fresh berries for breakfast or spread it on toast or crisp bread and topped with veggies for lunch.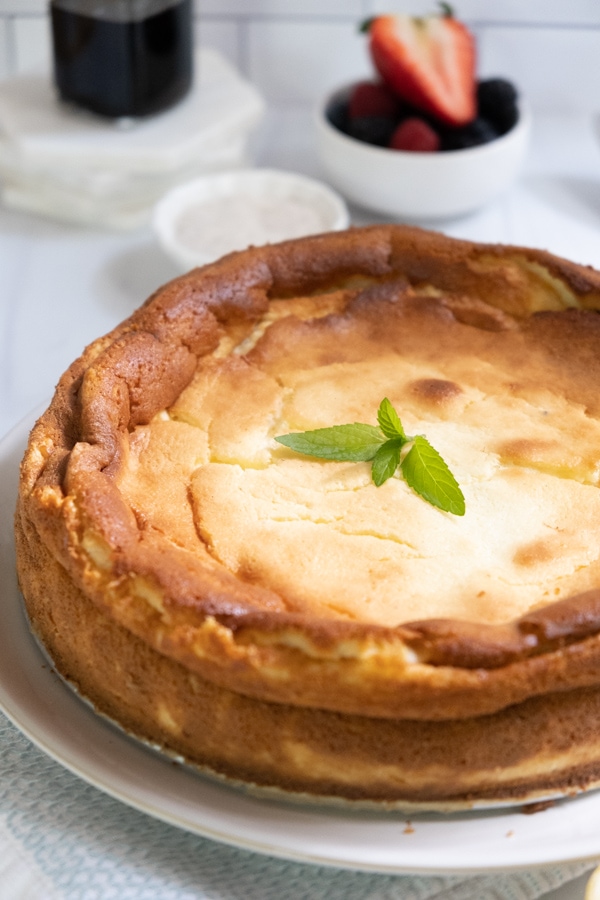 What You Need to Make this Classic German Quark Cheesecake
Ingredients:
Eggs (separated)
Quark (plain)
Sugar
Vanilla sugar
Lemon juice
Corn starch
Kitchen Tools:
Mixing bowls
Spatula
Hand mixer or stand mixer with whisk attachment
Springform pan (and parchment)
Foil (to cover the cheesecake if it starts getting too brown in the oven)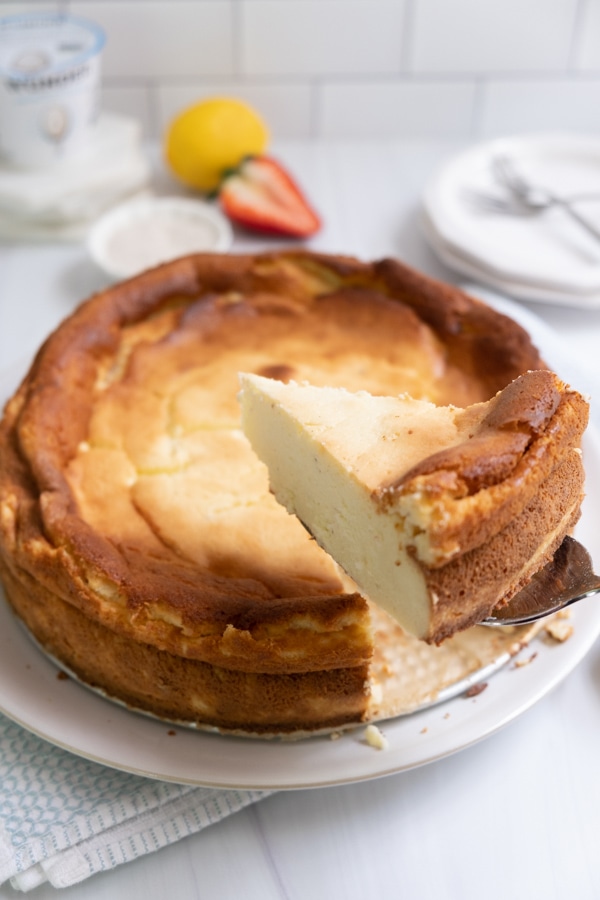 How to Make Classic German Quark Cheesecake
First, separate the eggs and set the egg yolks aside. Then, whip the egg whites to stiff peaks and set aside.
I LOVE using my Breville hand mixer for this because it has 2 whisk attachments! This hand mixer whips things like egg whites and heavy cream super fast.
Then whip the heavy cream to stiff peaks and set aside.
In a medium mixing bowl add the Quark, egg yolks, sugar, vanilla sugar, lemon juice, and corn starch. Mix until well combined.
Then, carefully fold the heavy cream into the cheesecake batter.
Finally, carefully fold in the egg whites. Make sure everything is combined but don't over-mix.
Pour the cake batter into a prepared 9-inch (23 cm) springform pan. Bake on 350F/175C for 60-70 minutes. The top of the cheesecake should be golden brown. (If the top starts turning too brown, place a piece of foil over the top.) When the cheesecake is done, turn the oven off and crack the door open for 10-15 minutes.
Take the cheesecake out of the oven and let it cool to room temperature. Keep in the fridge until you're ready to serve it.
Big thanks to Wünder Creamery for sponsoring this recipe.