Classic Scottish Shortbread Cookies
This article may contain affiliate links. See our disclosure link for more information.
If you like crispy, crumbly, buttery Walker's shortbread cookies, you'll love this super easy traditional Scottish Shortbread recipe!
You only need 3-ingredients and you can whip up a batch of shortbread cookies or bars in no time.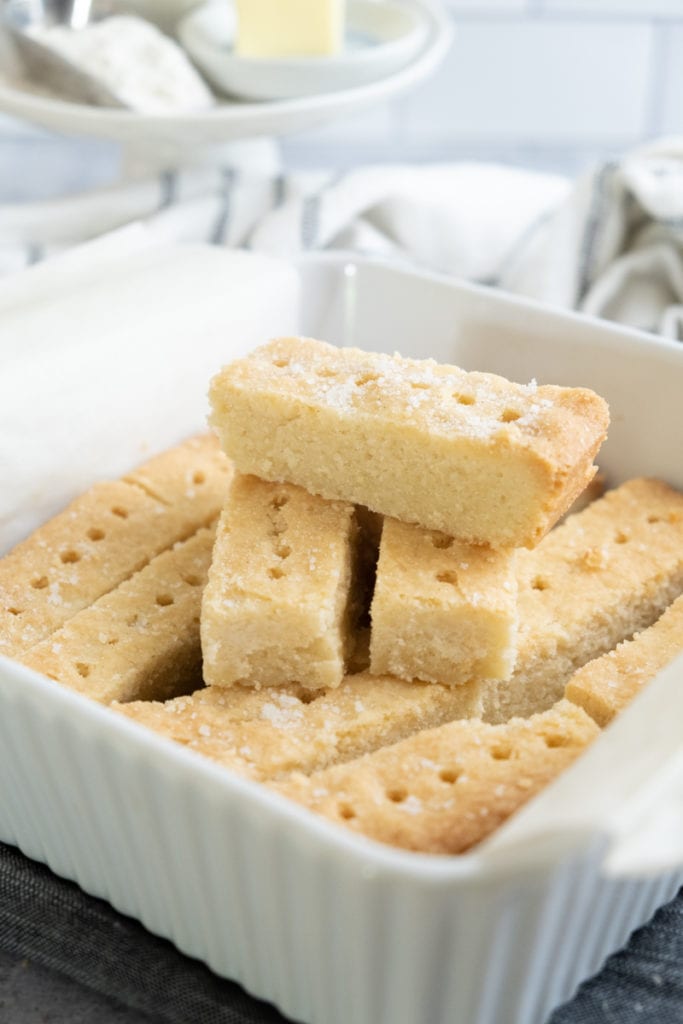 Butter, sugar, flour. That's all you need to make delicious traditional Scottish Shortbread cookies and bars!
Simple, high quality ingredients really can create amazing desserts. And if you're looking for a super easy cookie without eggs, this is the one for you.
In my opinion, shortbread is the perfect "cookie". Whether you make crumbly bars or thin and crispy round cookies, shortbread melts in your mouth and has the BEST flavor.
I've always been a fan of Walker's shortbread, especially the shortbread fingers. This recipe comes close…and is, dare I say, even better?
Over the years I've experimented with many different ways to make shortbread – yes, even with only 3 ingredients there are a multitude of variations to try – and this recipe is the best.
This shortbread recipe is perfect for special occasions like a shower or tea party, an easy after dinner dessert or the best way to enjoy a piece of short bread — with a cup of afternoon tea on National Shortbread Day (January 6th)!
? About This Recipe
This is my favorite easy, traditional shortbread recipe. A few years ago I included these shortbread bars in holiday cookie boxes for neighbors and they raved about them!
I've made this shortbread so many different ways over the years in order to find the best recipe. A few things I experimented with:
White granulated sugar vs brown sugar vs powdered sugar (confectioner's sugar)
Salted butter vs unsalted butter + salt
Irish butter vs US American butter
Chilling vs not chilling the dough
Baking temperature and time
Bars vs cookies
Thickness of shortbread
The only thing I haven't yet tried is replacing some of the flour with rice flour…I'll get to that at some point!
Sometimes I make this shortbread using just the 3 basic ingredients – butter, sugar, flour.
Other times I add vanilla extract to the dough – or even better, vanilla bean caviar (SO good!).
As I recommend in this recipe, I often sprinkle fleur de sel and vanilla sugar over the top for a little added flavor and a delightful crunch.
Most of the time I make shortbread bars because they're quick and easy but sometimes I like rolling out the dough and making thinner cookies because they bake faster and it's easier to get them super crispy.
The photos in this recipe show shortbread fingers but in the recipe I explain how to make crispy cookies.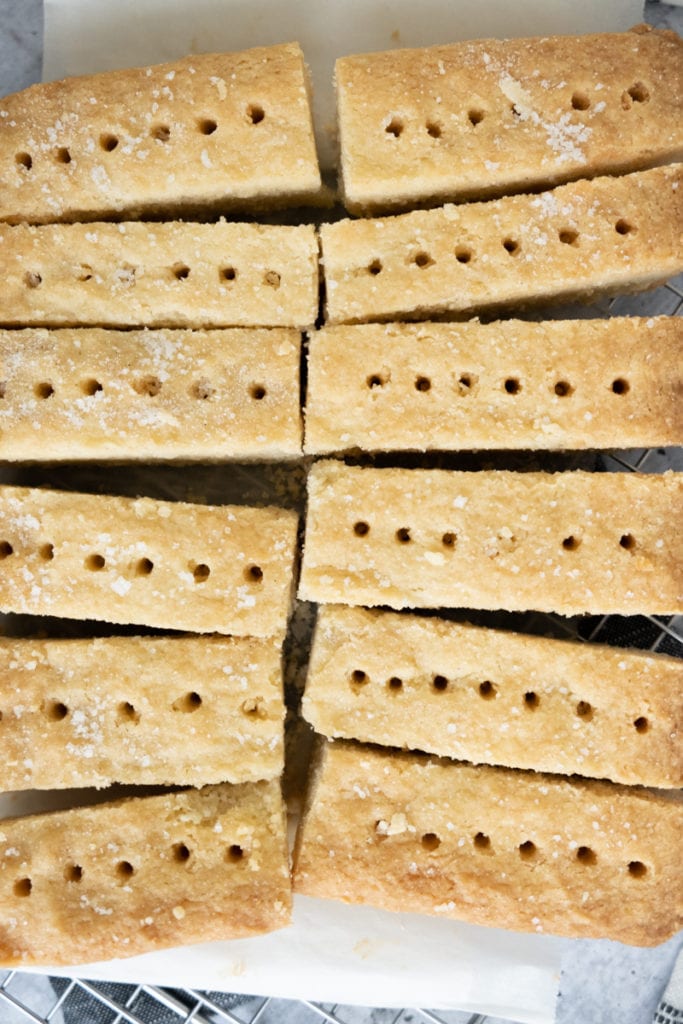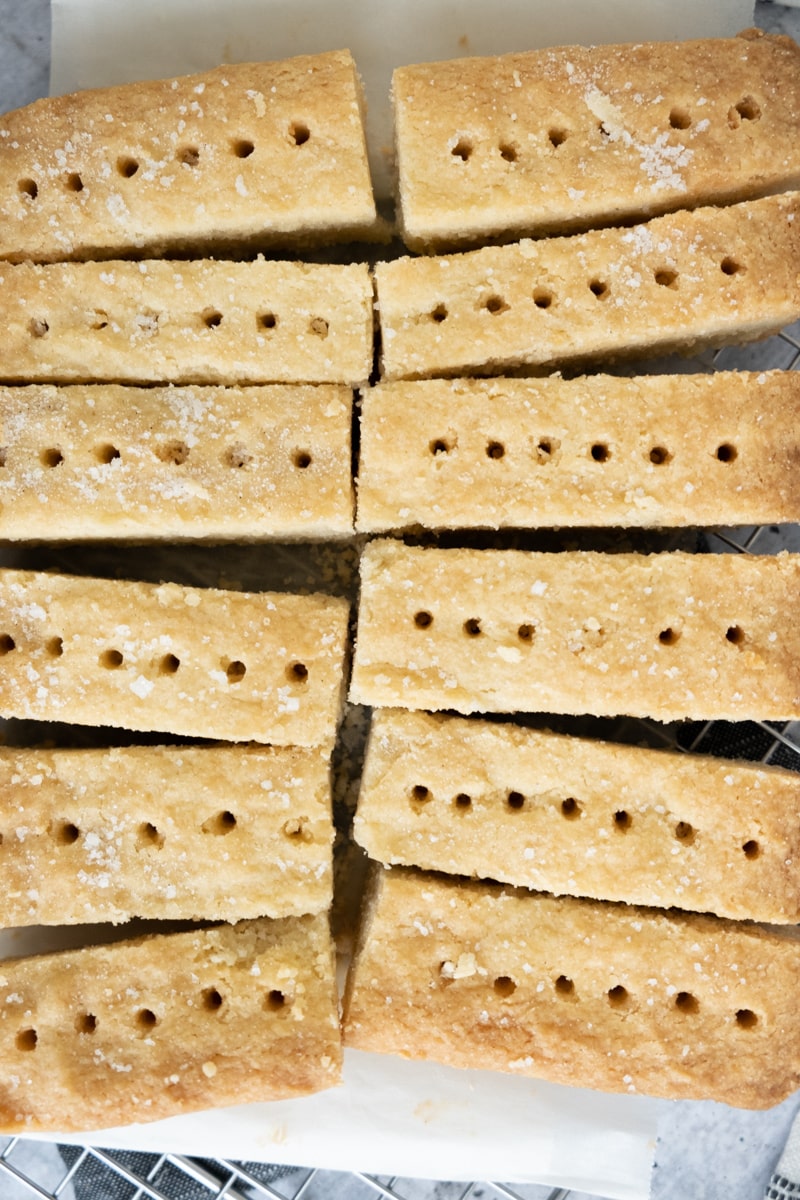 ❓FAQ
Do I need rice flour to make these shortbread cookies?
While you can use rice flour in place of some all-purpose flour, you don't have to. You can use all plain flour (AP flour).
Can I use unsalted butter?
It's better if you use salted butter. If you only have unsalted, add 1/4 to 1/2 tsp salt when creaming the butter and sugar.
I've made shortbread both ways and my taste-testers agreed that the cookies using the salted butter tasted the best.
Should I use Irish or European butter?
I've made shortbread using both Irish and typical US American butter. If you can, I recommend using Irish or European butter (you can find it at Aldi, Lidl, Whole Foods, etc). Irish and European butter have a lower water content and higher fat content, which provides a good flavor and helps make shortbread crispy.
In a side-by-side taste test I conducted, the shortbread with the Irish butter won over the shortbread with the US butter. That said, it was agreed that both batches of shortbread tasted great. The one with the Irish butter just tasted a little better.
Since there are so few ingredients in shortbread, use the best quality butter you can.
Should I use white sugar, brown sugar or powdered (confectioner's) sugar?
I've tried all three and my favorite is powdered sugar (confectioner's) sugar. My second choice would be white sugar and my third is brown sugar. You could also use castor sugar.
Do I need to use a food processor?
Nope! All you need is a bowl and a hand mixer. By the way, if you're looking for a sturdy, high quality hand mixer, I LOVE my Breville hand mixer! Since buying it a couple years ago I use it as much as – maybe even more – than my KitchenAid stand mixer.
Is shortbread the same as butter cookies?
While they use some of the same ingredients, they're not the same cookies.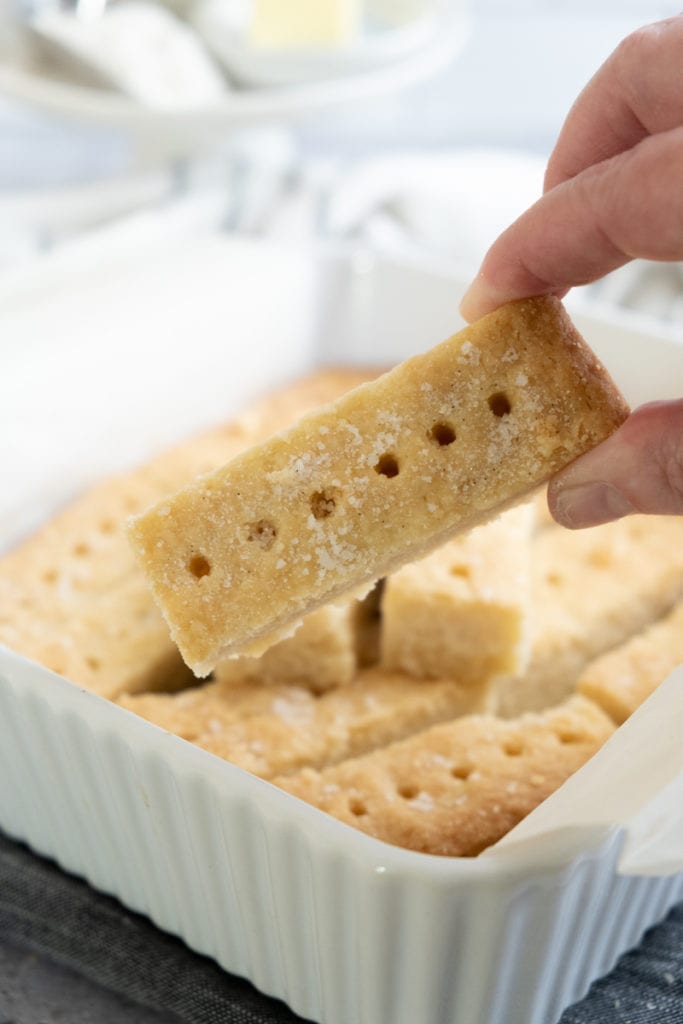 ? What You Need to Make This Recipe
Ingredients:
Salted butter – I recommend using salted Irish or European butter for the best flavor
Powdered sugar – I prefer this over white or brown sugar but you can use granulated or castor sugar if you prefer
All purpose flour – You can replace some of the flour with rice flour but I always just use AP flour
Fleur de sel and vanilla sugar – these are optional toppings that add delicious flavor and texture
Equipment:
Mixing bowl
Hand mixer (or a stand mixer)
Spatula
8×8 square baking pan lined with parchment (for the first bake)
Cooling rack
Small knife (for scoring the shortbread dough)
Large/long knife (for cutting the shortbread into bars)
Large baking pan or tray lined with a silicone mat or parchment (for the second bake)
Fork, toothpick or chopstick
Airtight container for storing
Bench scraper (if you roll out the dough to make round cookies, this can be helpful to scrape the dough off the counter)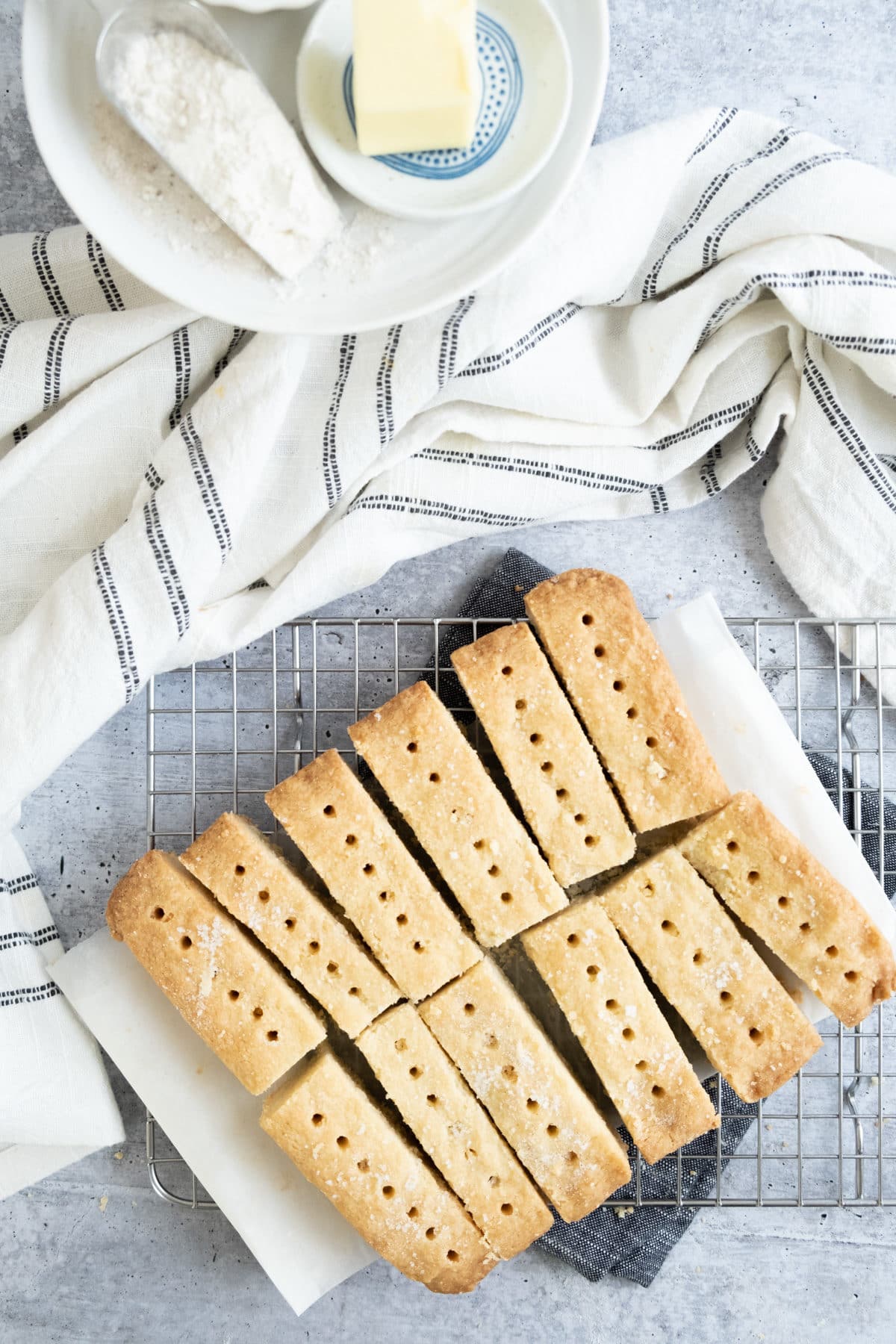 ? Recipe Variations, Notes & Tips
Use soft, room temperature butter. Cold butter doesn't cream very well so don't skip letting your butter warm to room temperature.
If you don't have time to let the butter warm to room temperature, warm it in the microwave in 5 second intervals until you can easily press your finger into it. Don't let the butter melt, though. Or chop cold butter into small pieces – they'll warm to room temperature much more quickly than a full stick will.
To measure the flour use a scale or spoon it into a measuring cup and then level it off. If you scoop the flour you're likely to add too much to the recipe.
Don't overmix or overwork the cookie dough.
To get crispier shortbread fingers: 1) Use Irish or European butter, 2) Chill the dough for at least 30 minutes, 3) Do a "second bake" as described in the recipe.
To make shortbread cookies…roll out the dough on a lightly floured work surface and use cookie cutters or a small jar to make homemade shortbread cookies. Perfect for making Christmas cookies!
For more decadence, dip shortbread in melted chocolate and top with chopped nuts, crumbled dried raspberries, or sprinkles of fleur de sel.
You could also add vanilla extract, vanilla bean caviar, lemon zest, herbs (like rosemary), chopped pecans or mini chocolate chips to the shortbread dough.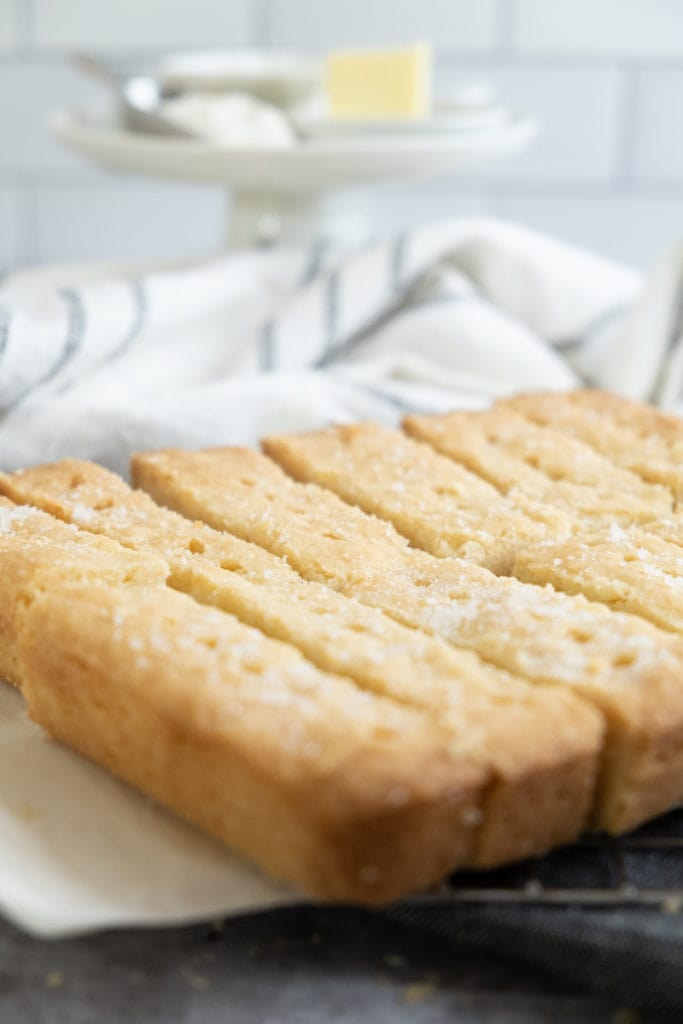 How to Make the Best Classic Shortbread
Pre-heat oven to 325F/162C.
Cream room temperature butter and sugar until light and fluffy. If using unsalted butter, add salt here. Use a spatula to scrape the sides of the bowl as needed.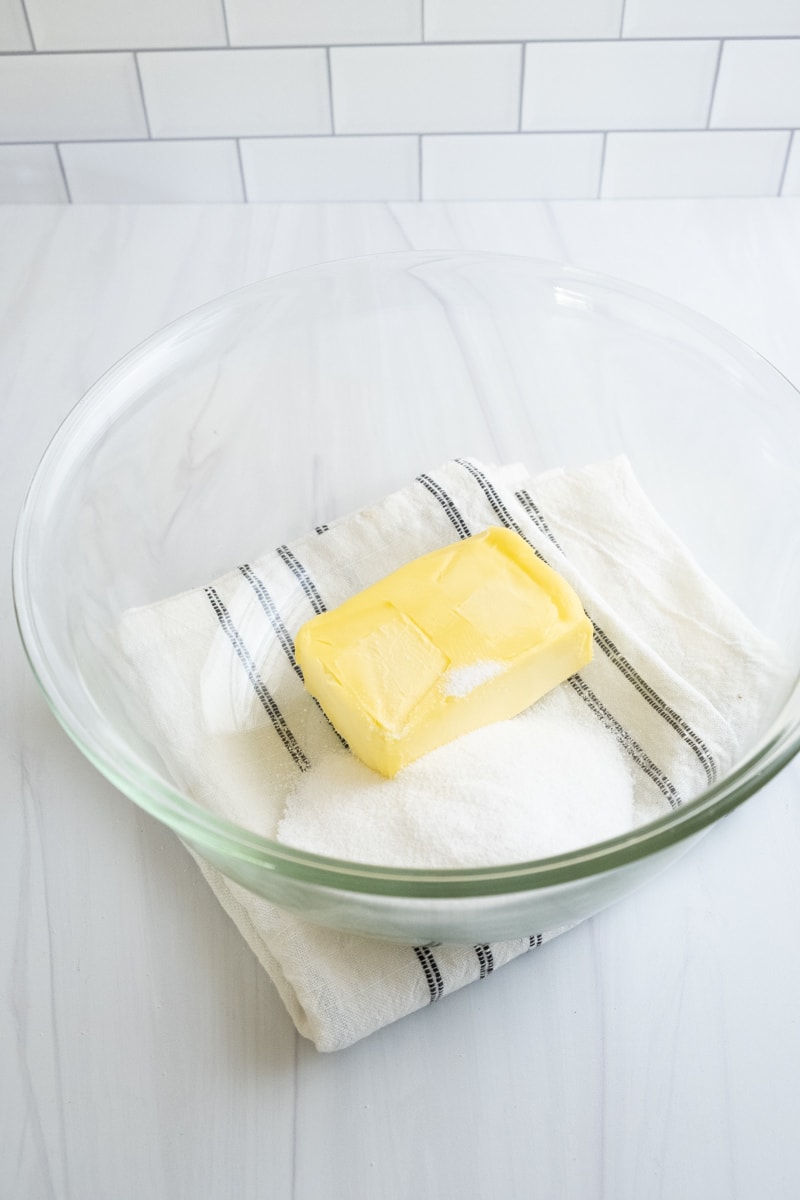 Add flour and continue mixing on low until just combined. The will be crumbly at first but will quickly form a soft dough.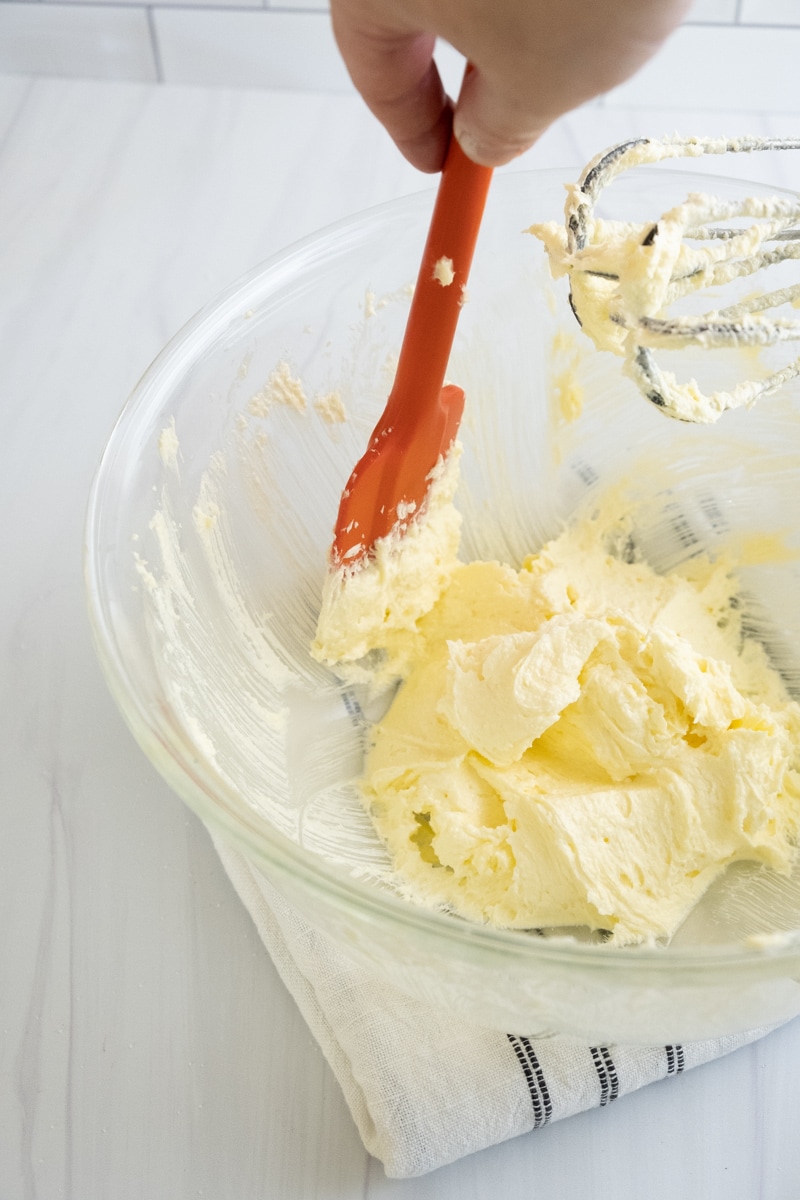 Press dough into a square 8×8 inch (20×20 cm) pan lined with parchment paper hanging over the sides. To smooth out the dough, you can fold the parchment paper onto the dough and then use your fingers to smooth it out.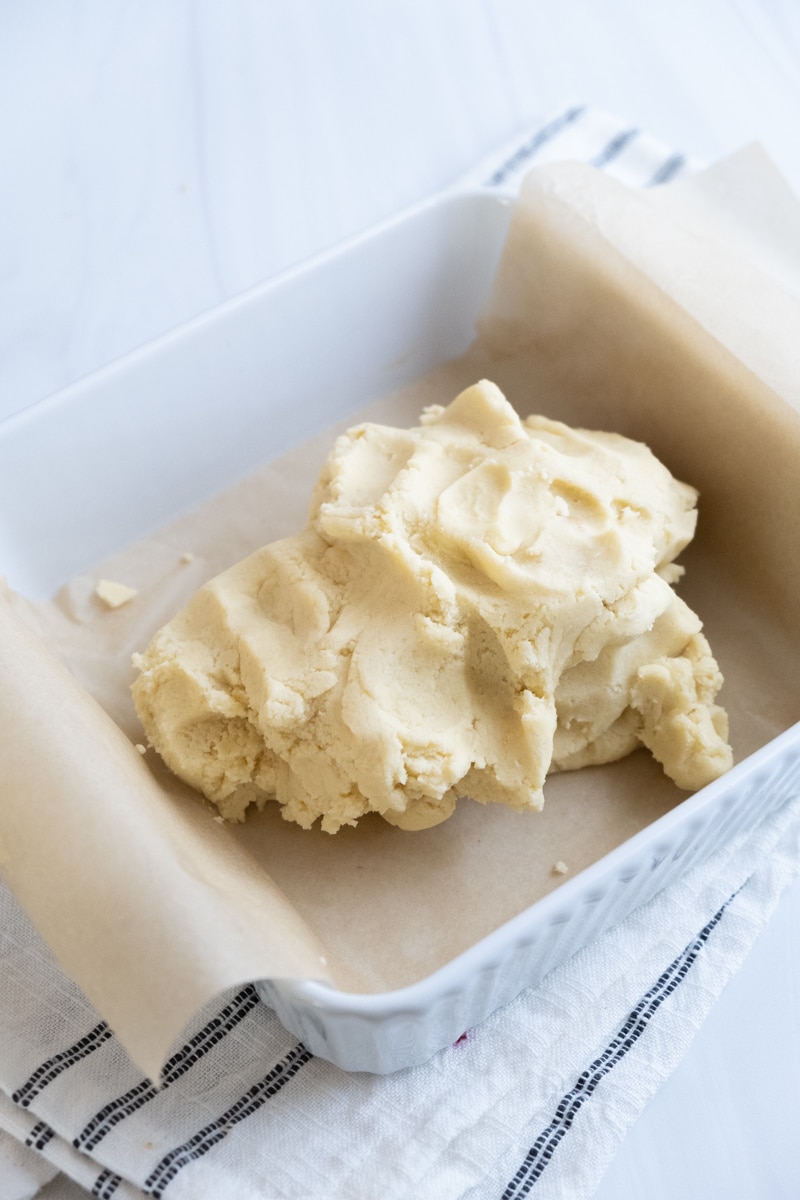 Cover with plastic wrap and chill in the fridge for 30 minutes (longer is ok). Chilling the dough helps create crispier shortbread.
Use a knife to create score marks in the dough so you have 12 bars. I find it easiest to cut across from side to side and then top to bottom so there are 4 equal squares. Cut the right squares into 3 equal slices and do the same with the squares on the left.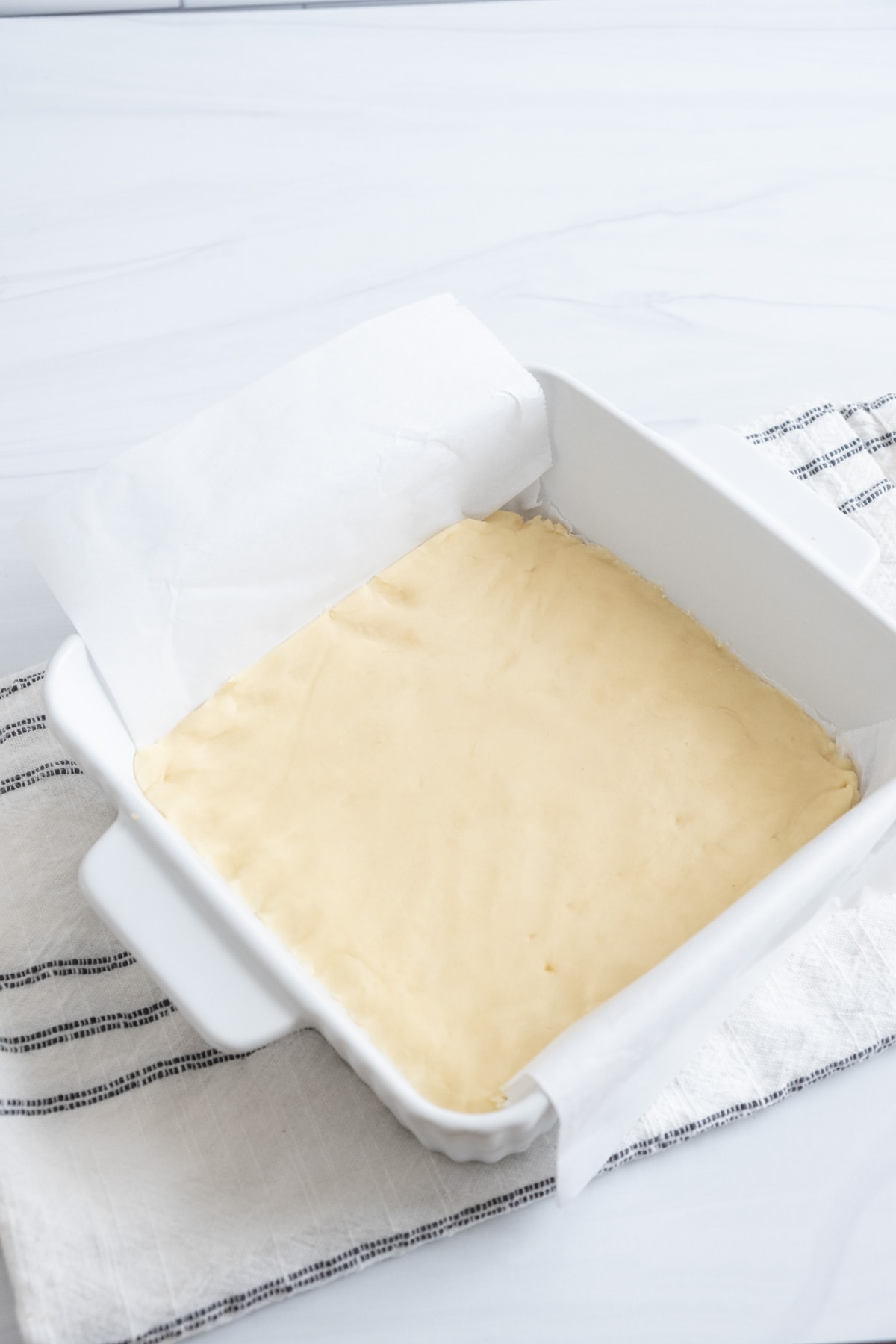 Press a chopstick, a toothpick or the tines of a fork (I use a small pickle fork if I'm not using a chopstick) into each bar. Doing so helps steam escape while baking, which prevents the dough from puffing up.
Then sprinkle vanilla sugar and fleur de sel over the top of the cookie dough (optional).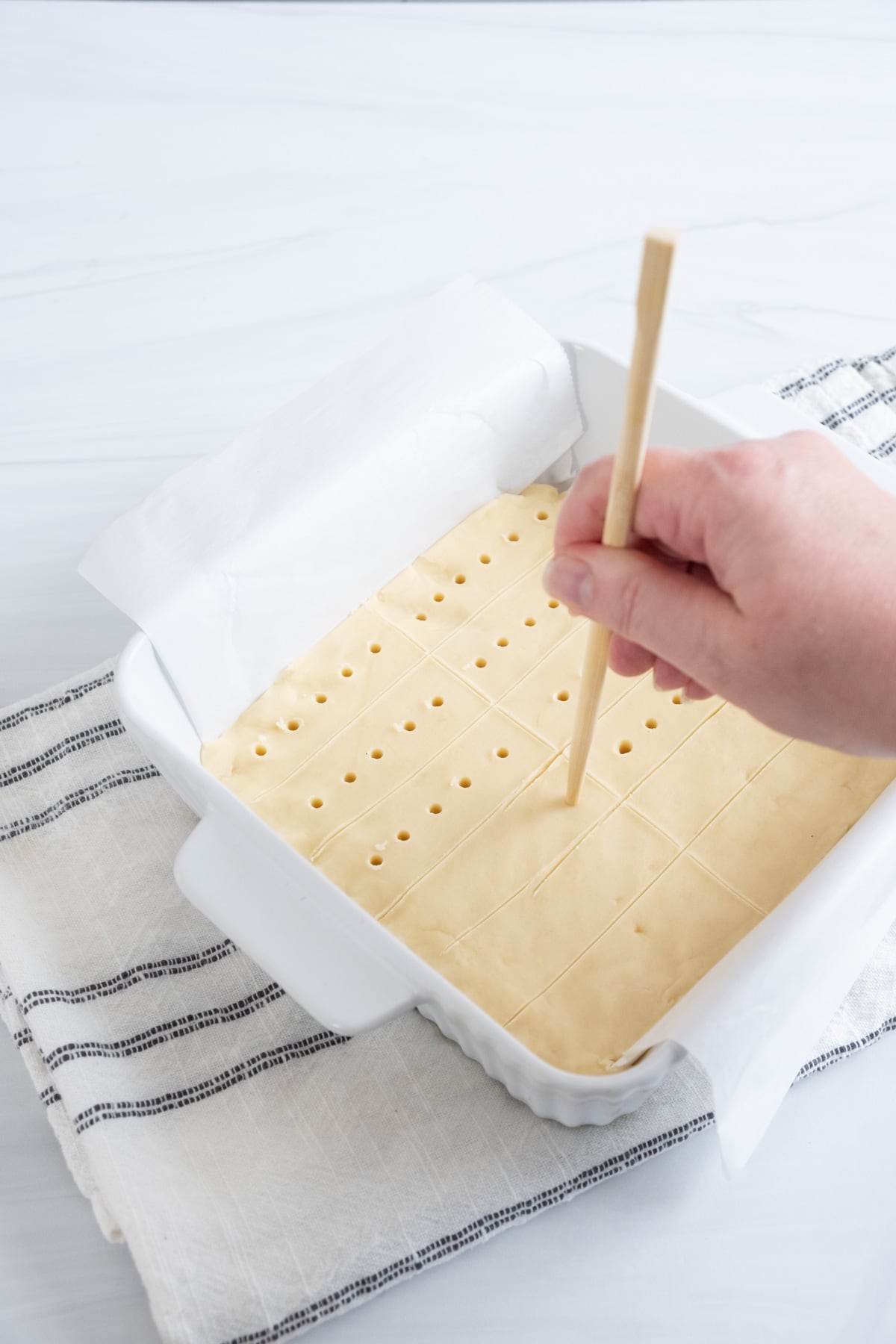 Bake shortbread at 325F/162C for 40-45 minutes. The shortbread should be a pale golden color and the edges will have started to brown.
When you take the shortbread out of the oven it will be soft to the touch and very delicate, so let it cool for a few minutes in the baking pan. Leave oven on.
Then carefully lift the shortbread out of the pan using the parchment and place on a wire rack. The shortbread will still be quite warm.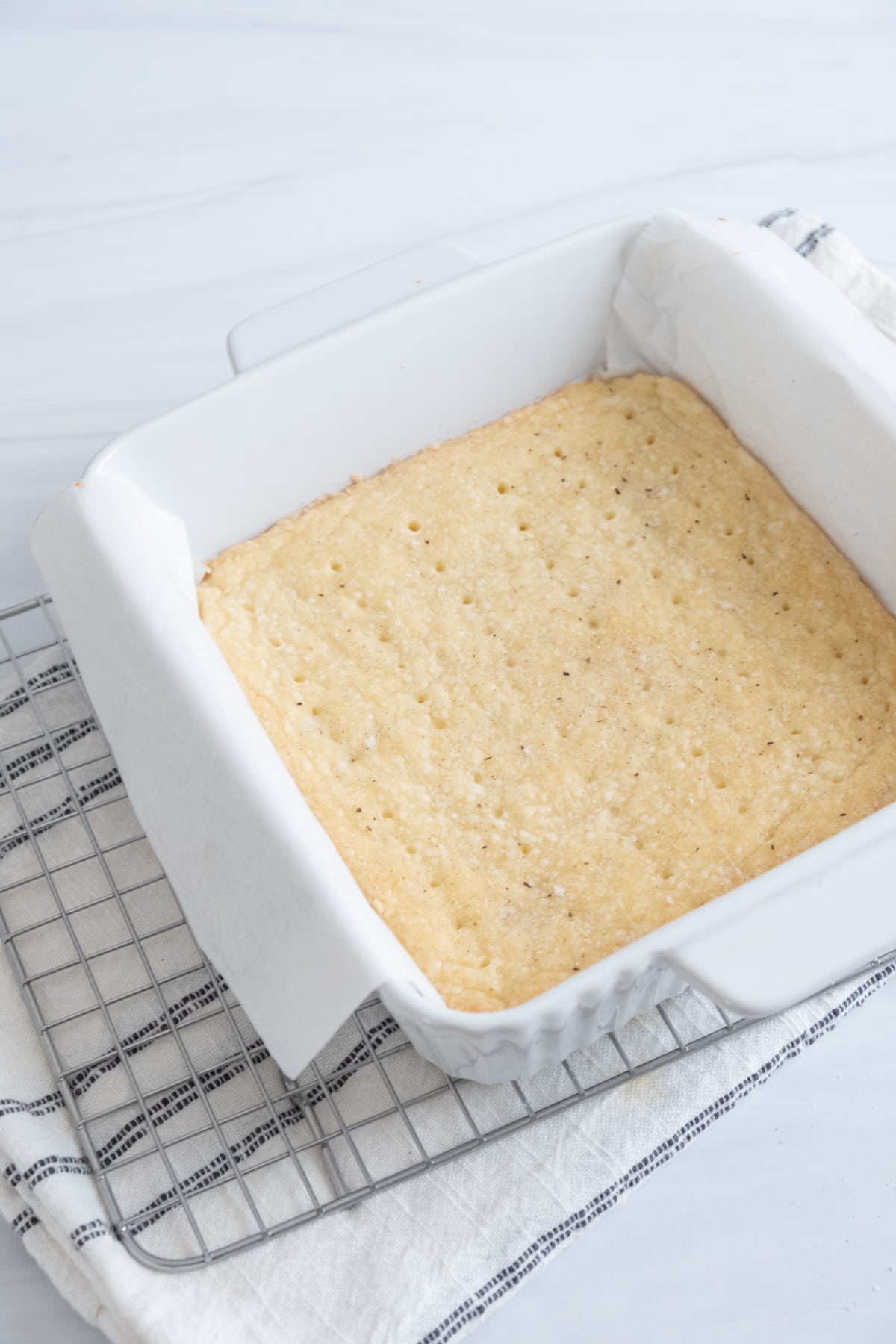 Use a long knife to cut the shortbread into 12 bars (or "fingers") using the score marks as a guide. It's easiest to cut the shortbread while still warm. Use the knife to separate the bars a bit so they can cool.
You can also cut the shortbread into pieces right in the baking dish. You might need to use the chopstick (or toothpick or fork) to redefine the holes you made before baking.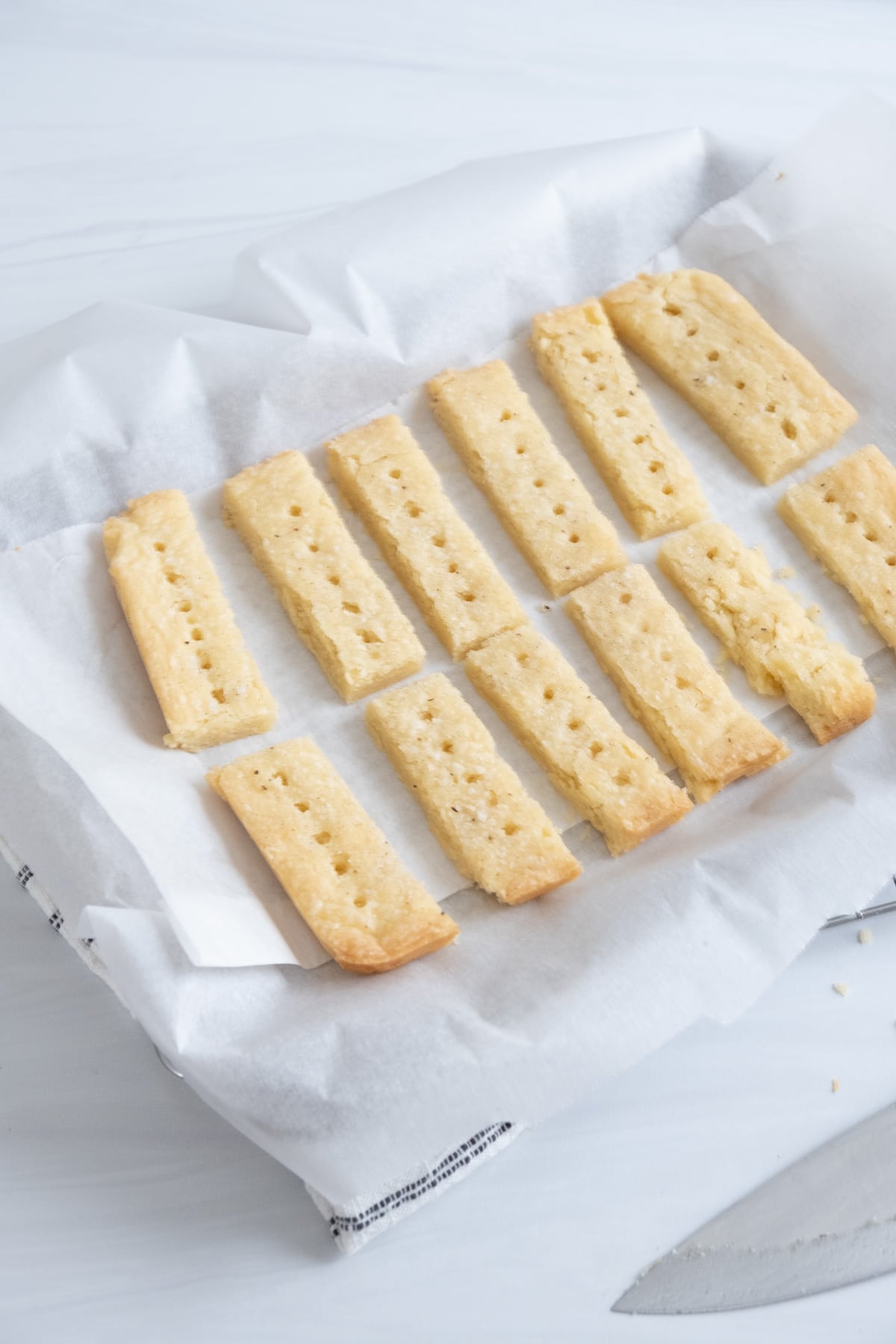 Let shortbread fingers cool on a wire rack for 15-20 minutes. To crisp the shortbread a bit more, transfer to a lined baking tray, leaving space between shortbread fingers.
Place baking pan in the oven and TURN OVEN OFF.
After 20 minutes, take shortbread out of the oven and let cool completely on a wire rack.
If you'd like, you can sprinkle a little more vanilla sugar and/or fleur de sel on the top of the shortbread.
Store shortbread in an airtight container at room temperature.
You can also store shortbread dough or bars (tightly wrapped in plastic wrap in an airtight container) in the freezer for a couple months.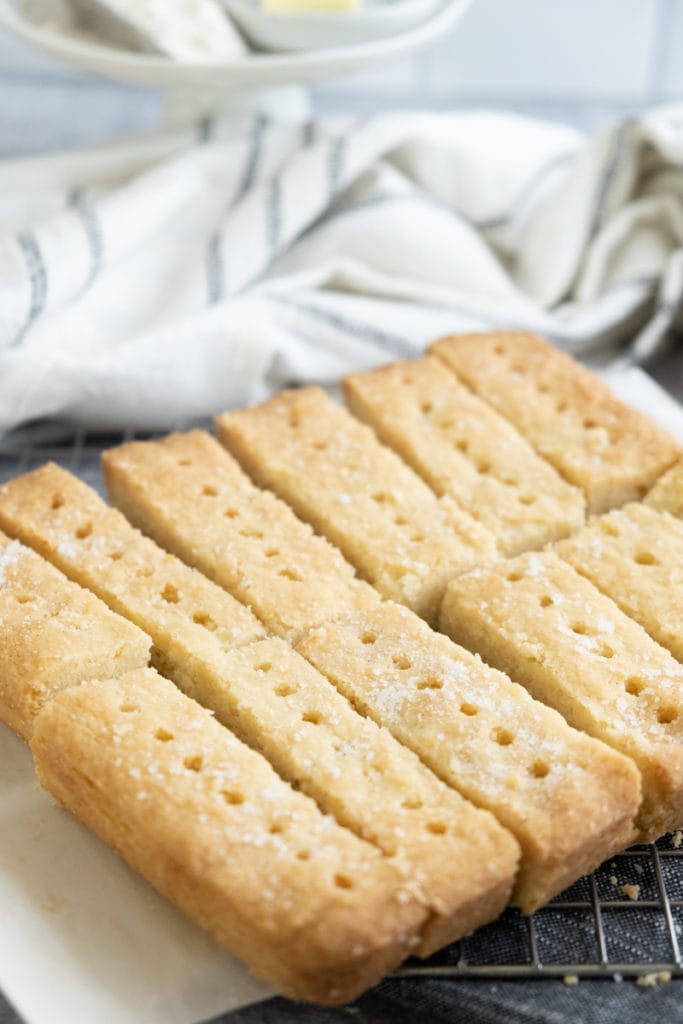 How to Make Crispy Shortbread Cookies:
Roll out dough on a lightly floured surface to 1/8 inch (.3 cm).
Use cookie cutters or a small glass jar to cut cookies into shapes or rounds.
Place cookies on a lined baking tray, cover with plastic wrap, and chill in the fridge for at least 30 minutes.
Bake cookies for 15 minutes at 325F/162C.
If you want the crispiest cookies, after taking them out of the oven, let cookies cool for 20 minutes. Keep oven ON.
Turn oven OFF and then place cookies back in the turned off oven for 20 minutes.
Take out of oven and let cool completely.
Looking for More British & Irish Recipes?