When I moved to Germany as a teen, I lived with a few different German families. Each family was delightfully different but one constant is that they all had little cups of rich and creamy fruit flavored "Quark" in their fridge.
I was already a yogurt fan (German yogurt is the best) but I become obsessed with Quark!
Quark is one of those foods that I loved eating in Germany but just never thought I could enjoy here in the US.
I was so wrong – making German Quark at home is super easy!
This post may contain affiliate links. Read our disclosure policy here.
I've got two Quark recipes for you today.
First I'm going to show you how to make a batch of plain German Quark.
Then I'll show you how to turn that into delicious blackberry German "dessert Quark."
Dessert quark is the perfect dessert for when you want something rich, creamy, and tasty that's high in protein and low on added sugar. It's SO good.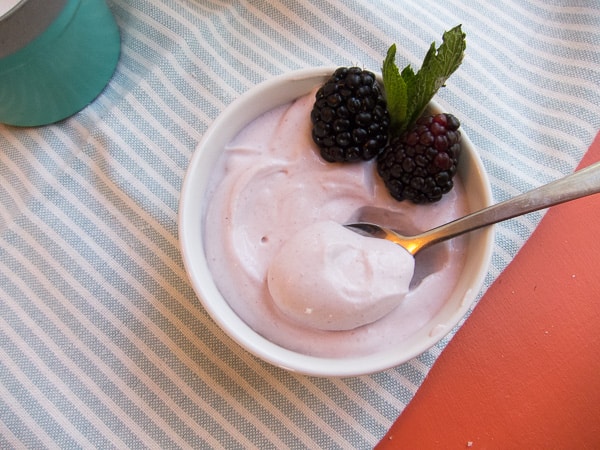 What's Quark? (Cheese!)
For years I thought Quark was a type of German yogurt.
But it's actually a fresh, soft, non-aged cheese!
That said, its texture and taste are more like Greek yogurt. German quark is high in protein (like Greek yogurt), low in fat, and you can eat it in both sweet and savory ways. Plain Quark is on the sour side so when I eat it for breakfast I like to add fresh fruit and a drizzle of honey (which is how I eat Greek yogurt).
How to Use Quark?
There are several uses for quark!
Plain Quark, for example, is delicious spread on toast and topped with sliced veggies or fruit. Or on baked potatoes. You can use it as a replacement for sour cream.
You can eat Quark plain or with honey and fresh berries for a healthy breakfast or snack, just as you would yogurt.
You can use it in German Quark cheesecake.
Or mix in heavy whipping cream and jam (or fresh fruit) and you've got an amazing dessert! If you prefer vanilla quark, as opposed to fruit quark, simply add whipped cream and vanilla sugar. So good!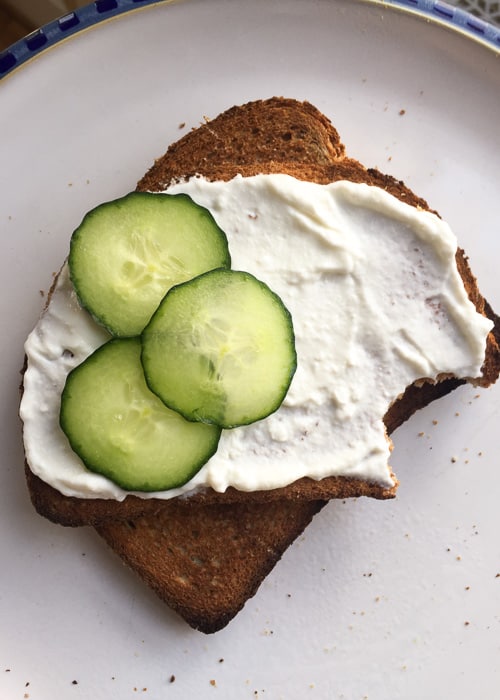 Where to Buy Quark Cheese?
Quark is super easy to find in Europe but much less so in the US. I've seen fresh quark at German delis, and fruit-flavored quark in yogurt sized containers at Whole Foods, and Target.
If you want to buy Quark online, you'll find it here on Amazon.
If you buy Quark in the US, it's often on the expensive side, like crème fraiche. And, to be honest, I've tried Elli Quark a few times and I didn't really like it. While they offer a variety of Quark flavors, it just didn't taste like the quark I like to eat in Germany.
That's why I highly recommend making Quark cheese at home! It's super easy, much cheaper than buying it, and you have complete control over the ingredients. Keep reading to find my easy Quark cheese recipe.
I Don't Have Time to Make Quark. What's a Good Quark Substitute?
It depends on how you were planning to use Quark. If you wanted to eat it for breakfast or as a snack, I'd substitute Greek yogurt or Icelandic skyr. If you want to use it in German cheesecake, you can use Greek yogurt.
How to Make Quark at Home
First I'm going to show you how to make plain homemade Quark cheese.
Then I'm going to show you how to whip up a batch of delicious blackberry dessert Quark. Yum!
First, the plain Quark. Start by bringing 6 cups of milk to a simmer over medium low heat. Take it off the heat and let it cool to room temperature.
Whisk in 1 1/2 cups of room temperature cultured buttermilk. Then pour into a container (I've used both glass and plastic jars and both worked fine) and cover with a clean tea towel. Leave in a warm place, like your kitchen counter, for 12-36 hours.
For this batch I used a clean yogurt container and a plastic storage container. Don't use the lids, though! Just cover with a tea towel.
On a warm day, it only takes about 12 hours for my quark to set. But other times it's taken as long as 36 hours.
So, if your quark hasn't thickened in 12 or even 24 hours, don't worry! Just let it sit out longer.
On cold days, I've found it helpful to set the jars on a warm stove after I've baked something in the oven.
The photo above shows you what the thickened quark looks like.
The next step is to drain off the whey. The easiest method is to place a clean tea towel over a strainer that's resting on a large bowl.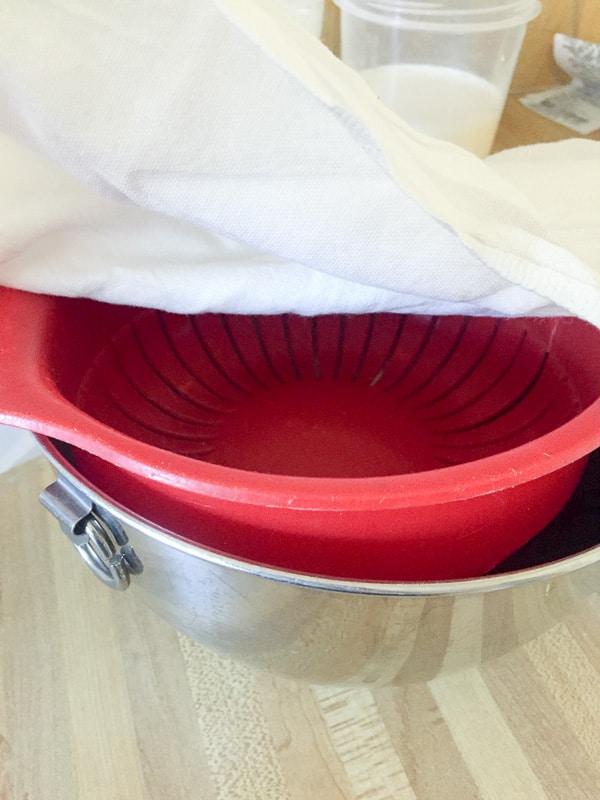 Pour the Quark onto the tea towel.
Then, gather the corners of the towel and use a rubber band to secure the towel. Place the bowl in the fridge for several hours (or overnight) so the whey can continue draining off the Quark.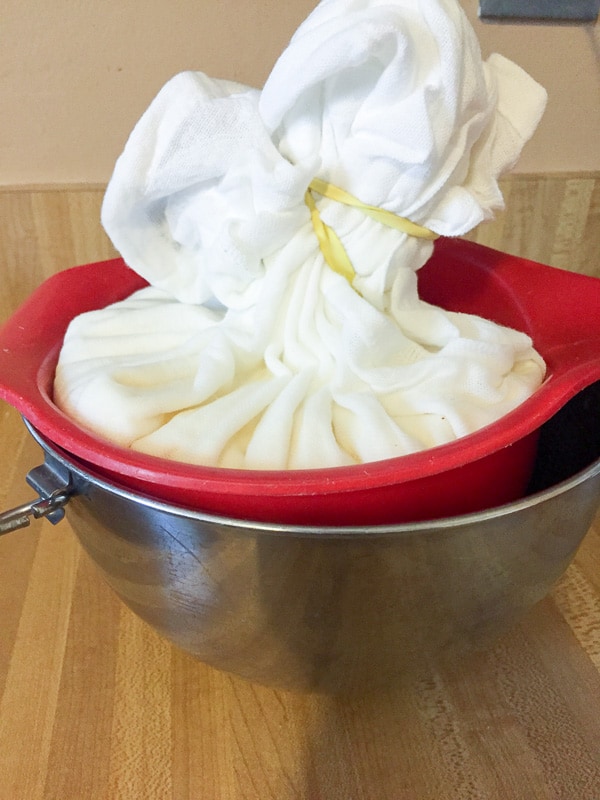 Once the whey has drained, you have Quark! When I made it, 6 cups of milk yielded 2 cups of Quark.
The Quark will be thick and it may be lumpy. If it's too thick for your liking, just mix a little whey back in. If you're going to make dessert Quark, I recommend keeping the plain Quark thick because it will thin out when you add the whipped cream.
Now that you have a fresh batch of plain Quark cheese! If you want to eat it plain, I recommend whipping it with a whisk to get some of the lumps out. Then, top with fruit, honey, nuts - whatever you like.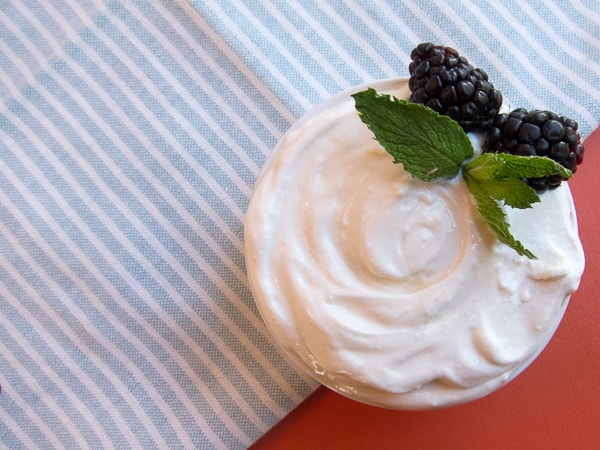 How to Make Blackberry Dessert Quark
To make 2 portions of dessert Quark, start with 1/2 cup thick plain Quark.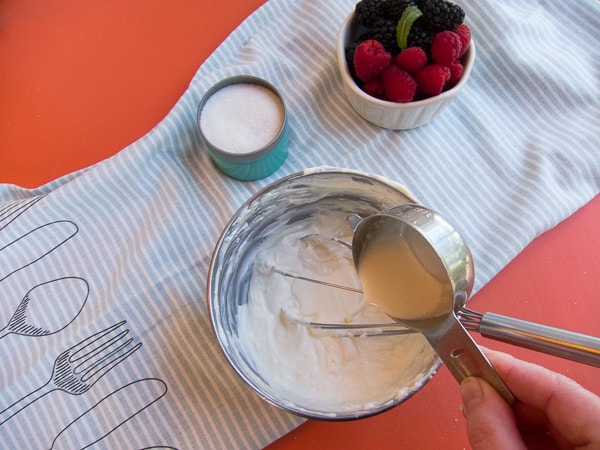 Whisk in 1/4 cup heavy cream and whip until thick. If you have cream that's already whipped, you can simply fold that into the Quark.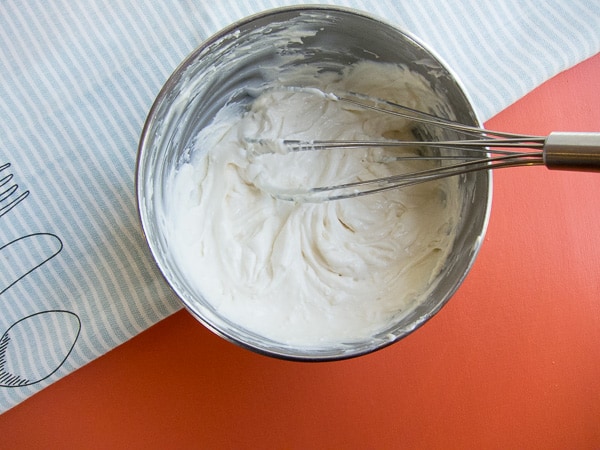 Then add 1 tablespoon of blackberry jam and whisk until blended. Of course, you can use whatever flavor jam you'd like! You could also mash up fresh berries instead of using jam.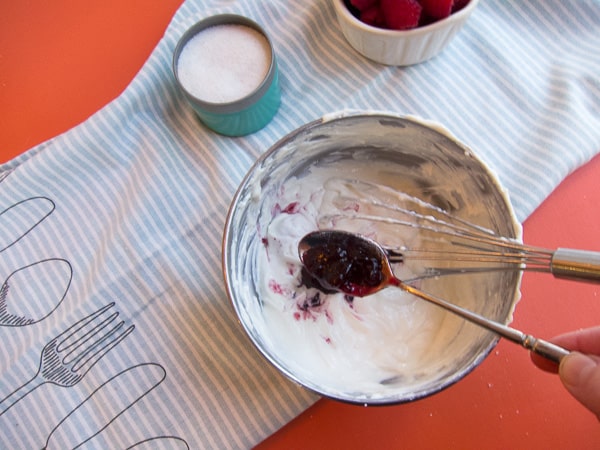 You can also add a little vanilla extract or vanilla sugar. Adjust everything to your preferred taste.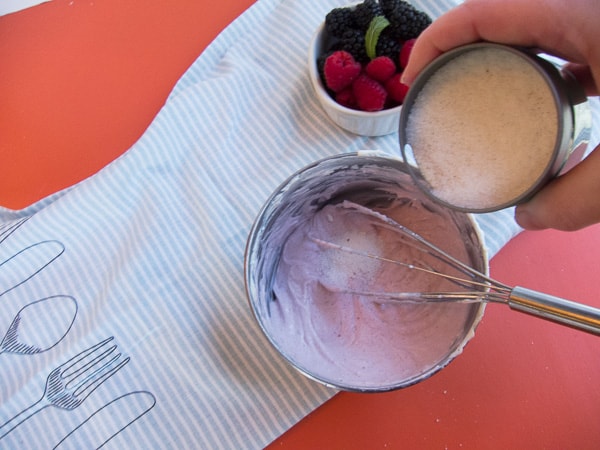 Chill the Quark in the fridge until you're ready to serve it. Place in serving bowls and garnish with fresh fruit.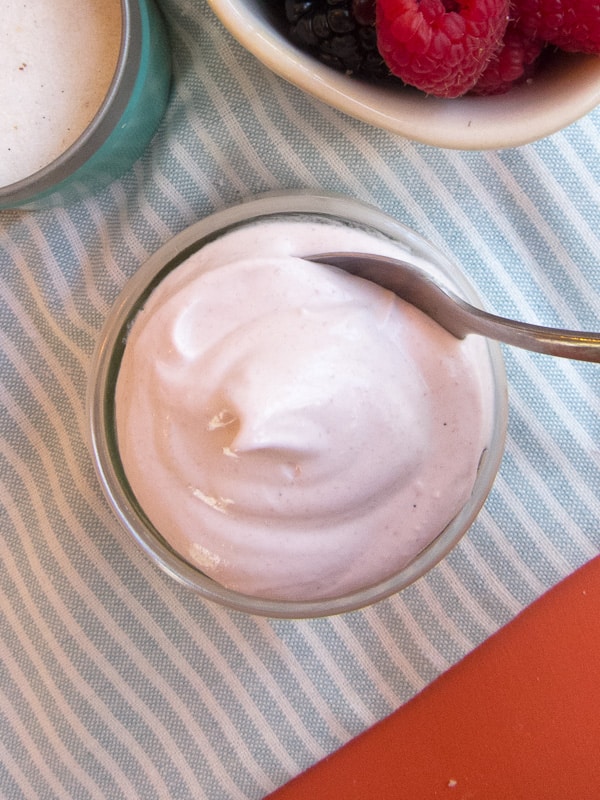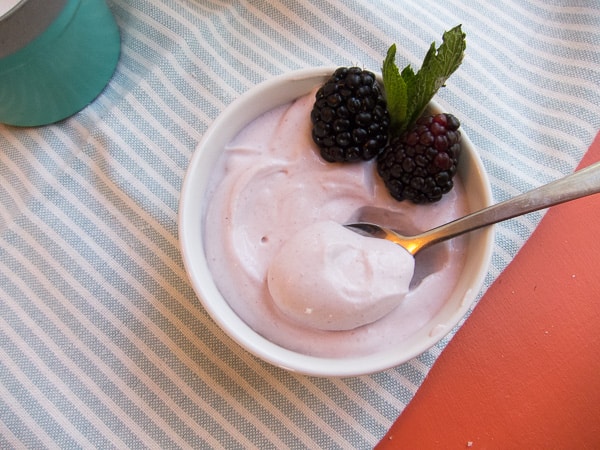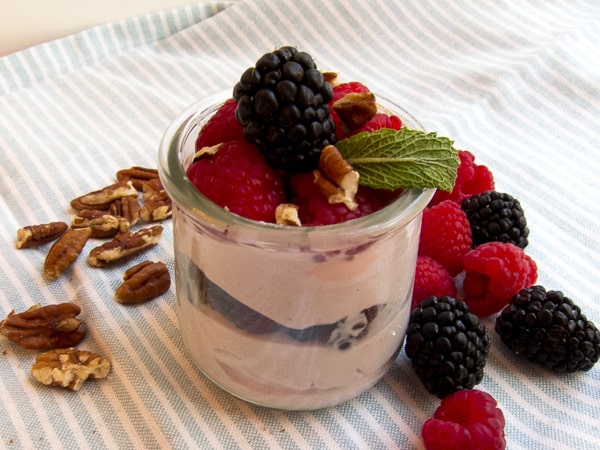 —
[sc name="Amazon - Bottom Text"]