German Quark Recipe, Tips for Making Homemade Quark & How to Make Blackberry Dessert Quark
This article may contain affiliate links. See our disclosure link for more information.
Quark is a healthy, versatile, and super delicious soft cheese popular in Germany and other parts of Europe.
Not only can you bake and cook with Quark (mmmm…German Cheesecake), you can eat it for breakfast, enjoy it as a healthy mid-day snack or turn it into a creamy dessert.
Keep reading for my quick and easy homemade plain Quark recipe and my heavenly Blackberry Quark Dessert recipe.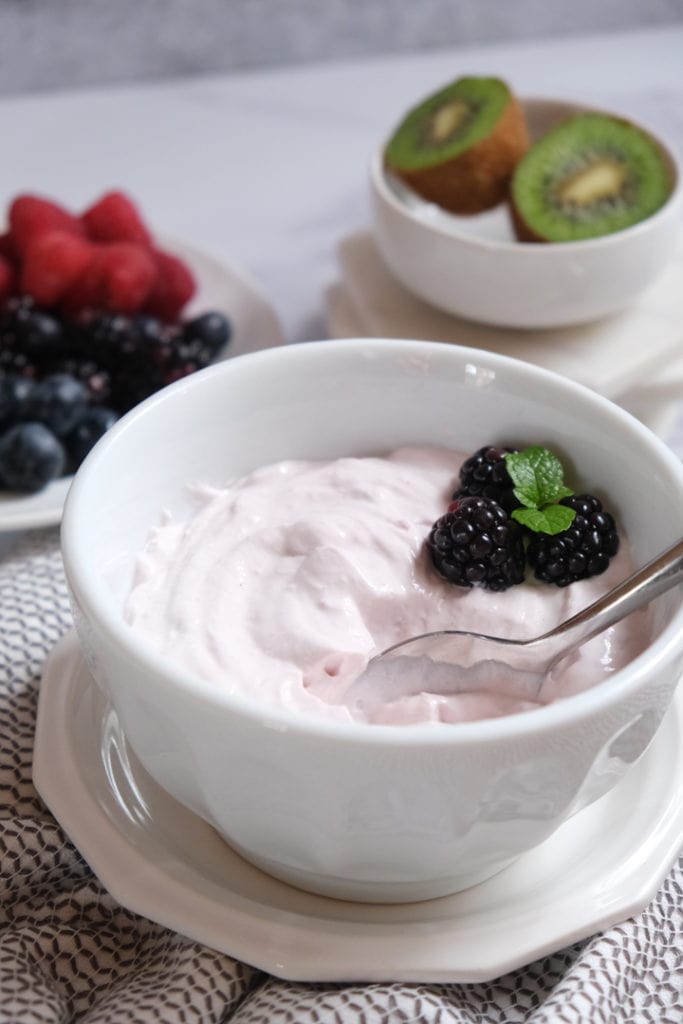 When I moved to Germany as a teen, I lived with a few different German families. Each family was delightfully different but one constant was the little cups of creamy Quark in their fridges.
I still remember being handed my first jar of fruit-flavored German Quark. I assumed it was just another kind of German yogurt…until I tasted it. And OMG — it was so rich, creamy, and smooth. Absolutely delicious.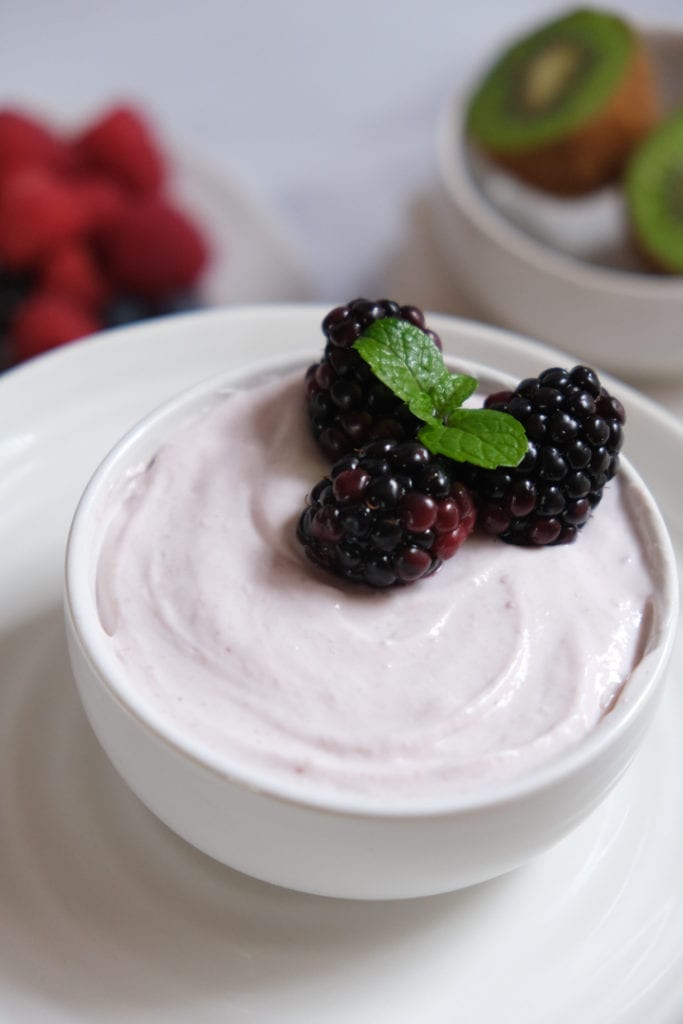 I became obsessed with Quark and was always thrilled to find it in our fridge. To this day, Quark is one of the first things I buy at the grocery store when I'm in Germany!
I always missed eating Quark when in the US and hoped it would make its way across the pond…someday.
Well, someday is TODAY because we can now enjoy Quark in the US (and elsewhere)!
If you also like Quark, keep reading…I'm going to show you how to make homemade Quark, where you can buy authentic European Quark in the US, and how to make an easy Blackberry Quark Cream Dessert!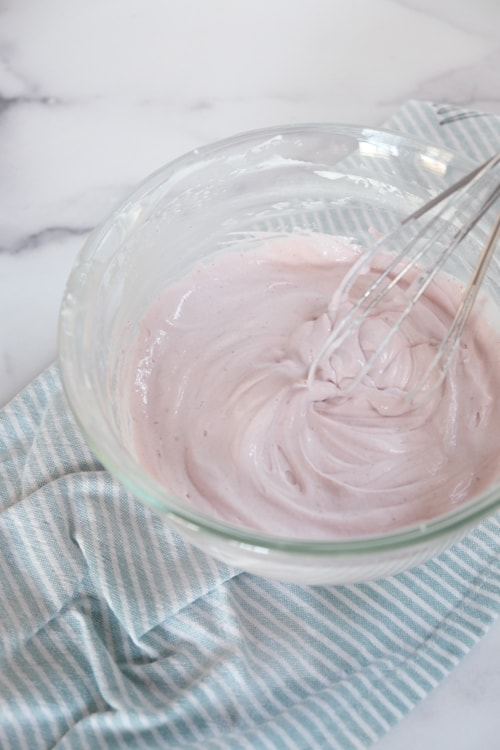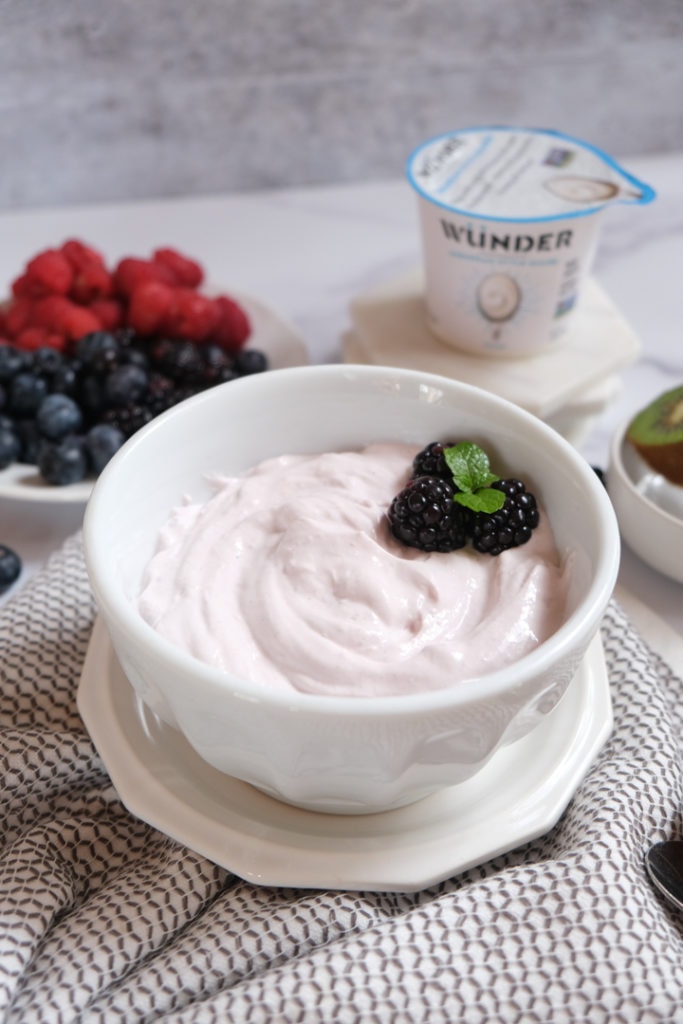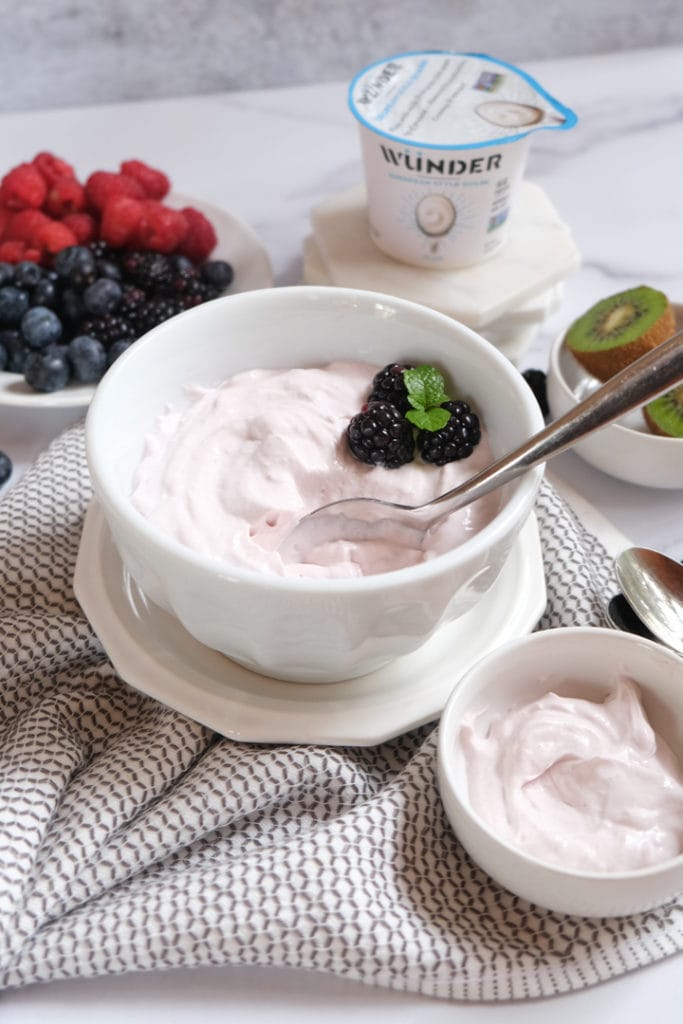 Um…Cate, What's Quark? (Cheese!)
For years I thought Quark was a type of German yogurt. I mean, you'll find Quark right next to the yogurt in the grocery store, and it's thick and creamy like Greek yogurt. Plus, you'll find it in both plain and flavored varieties.
But Quark isn't yogurt at all. It's actually a fresh, soft, non-aged cheese! Quark is high in protein like Greek yogurt but it's creamier and doesn't have that tart yogurt flavor.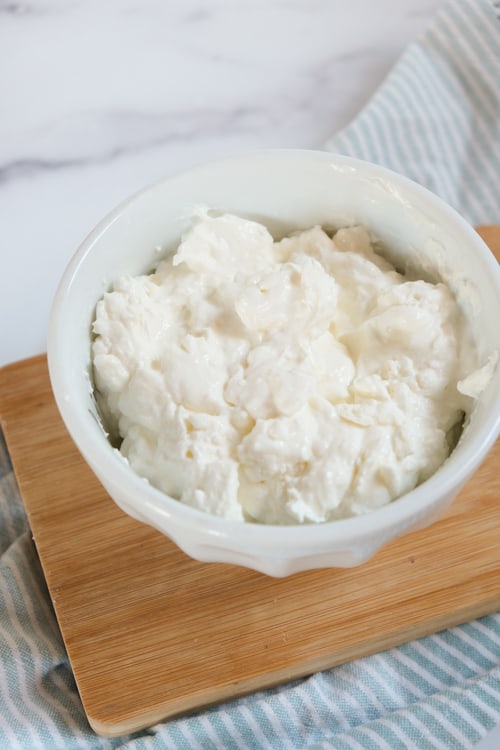 How to Use Quark?
Quark is super versatile, and you can can enjoy it in both sweet and savory ways:
Plain Quark, for example, is delicious spread on toast and topped with sliced veggies or fruit. Or add it to baked potatoes as an alternative to sour cream.
Use plain quark to make savory or sweet veggie or fruit dips.
Plain Quark also makes an easy and healthy breakfast or a mid-day snack. Eat it plain or top with fresh fruit and a drizzle of honey.
Mix in heavy cream and jam (or fresh fruit puree) and you've got a scrumptious dessert!
You can also use plain Quark in your cooking and baking recipes – like in German Quark Cheesecake or German Plum Cake.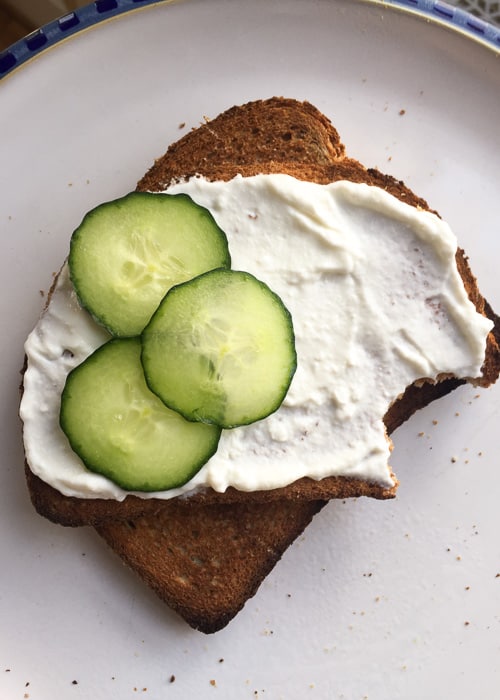 Where to Buy Quark Cheese?
While Quark is easy to find in Germany and elsewhere in Europe, it hasn't been easy to find in the US. Until now!

I recently came across Wünder Quark at my local grocery store here in North Carolina, and I swooned when I tried it because it tastes just like the Quark I ate in Germany. I reached out to Wünder to see if we could work together because I'm always looking for authentic ingredients you can use in the recipes here on the IDB.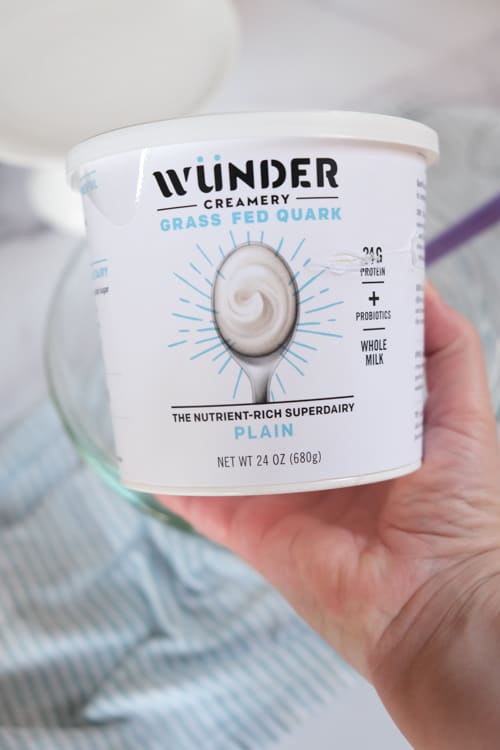 So I'm super excited to share Wünder Quark with you! They make both plain and flavored Quark. Their plain Quark comes in larger 24oz tubs (perfect for baking) and both the plain and flavored are available in the smaller 5oz cups.
I've mostly been using the plain Quark in my recipes but I have been sampling their flavored Quark…and OMG, it's heavenly. So far, my surprise favorite is coffee.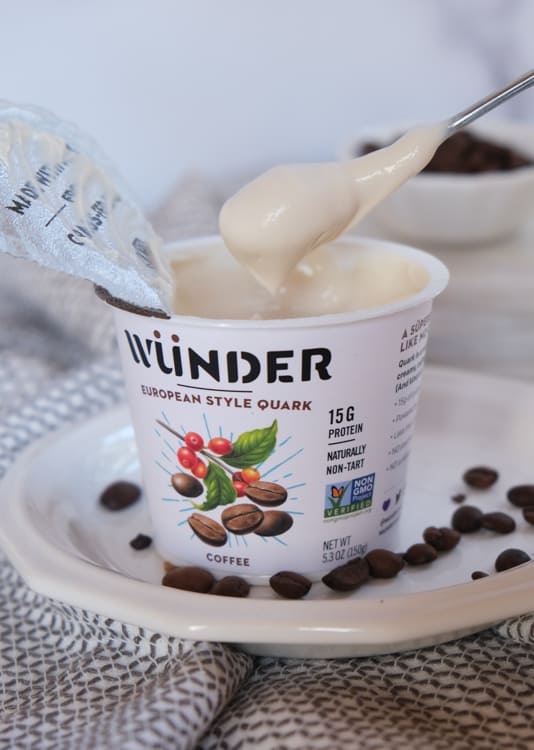 As I mentioned earlier, Quark is high in protein — and Wünder plain Quark also has no added sugar and is made with whole milk from grass fed cows. Wünder also contains probiotics from live active cultures, less than 5% lactose, and is Non-GMO product verified, gluten-free, Kosher certified, and vegetarian friendly.
Where can you buy Wünder? Look for it at your local grocery store (if you're in the US) — or use their store locator to find a store close to you.
UPDATE: unfortunately, Wünder is no longer selling Quark so I have removed links to their online store.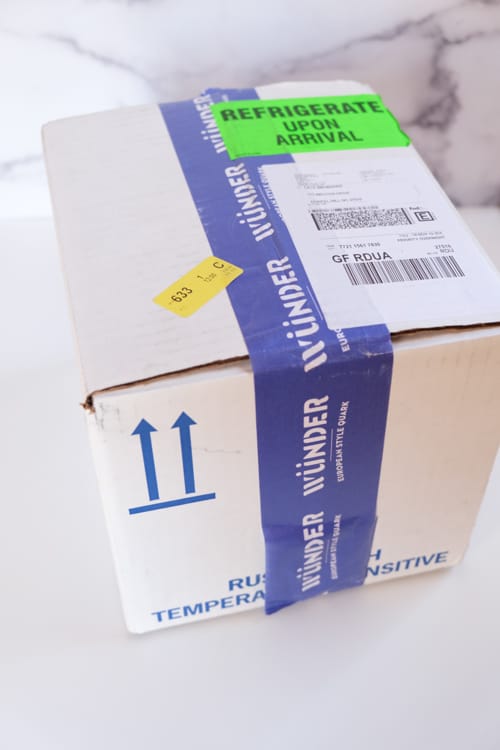 You can also now order Wünder Quark online! It's super easy and Wünder will deliver it right to your doorstep in just a couple days! They package the Quark well so it arrives cold and in perfect condition. You can even re-use the ice packs. Wünder Quark will stay fresh in your fridge for 1.5 months so you can stock up.
Click here to order Wünder Quark to make your German cheesecake and other recipes even more authentic and delicious! Use my special code IDB15 to get 15% off your first order.
UPDATE: unfortunately, Wünder is no longer selling Quark so I have removed links to their online store.
I Don't Have Time to Make Quark at Home. What's a Good Quark Substitute?
I highly recommend using authentic store-bought or homemade Quark when making recipes that call for Quark. That said, you can usually substitute Greek yogurt or pureed cottage cheese. I've used both, and while the desserts did turn out a little different, they were still tasty. But do use the authentic stuff if you can!
What You Need to Make Blackberry Quark Dessert
Ingredients:
Plain Quark (store-bought or homemade)
Heavy whipping cream
Blackberry jam (or whatever flavor jam or fruit puree you like)
Vanilla sugar (or vanilla extract + sugar)
Fresh fruit (optional for serving)
Kitchen Tools:
Small mixing bowl
Whisk
Spatula
Scale or measuring cups & spoons
Serving bowls & spoons
How to Make Quark at Home (Plain Quark & Blackberry Dessert Quark)
I'm going to show you how to make delicious homemade Blackberry Dessert Quark. The main ingredient that you need is plain Quark. If you have store-bough Quark you can skip this part of the recipe. If you're using homemade Quark, read on to see how to make Quark from scratch.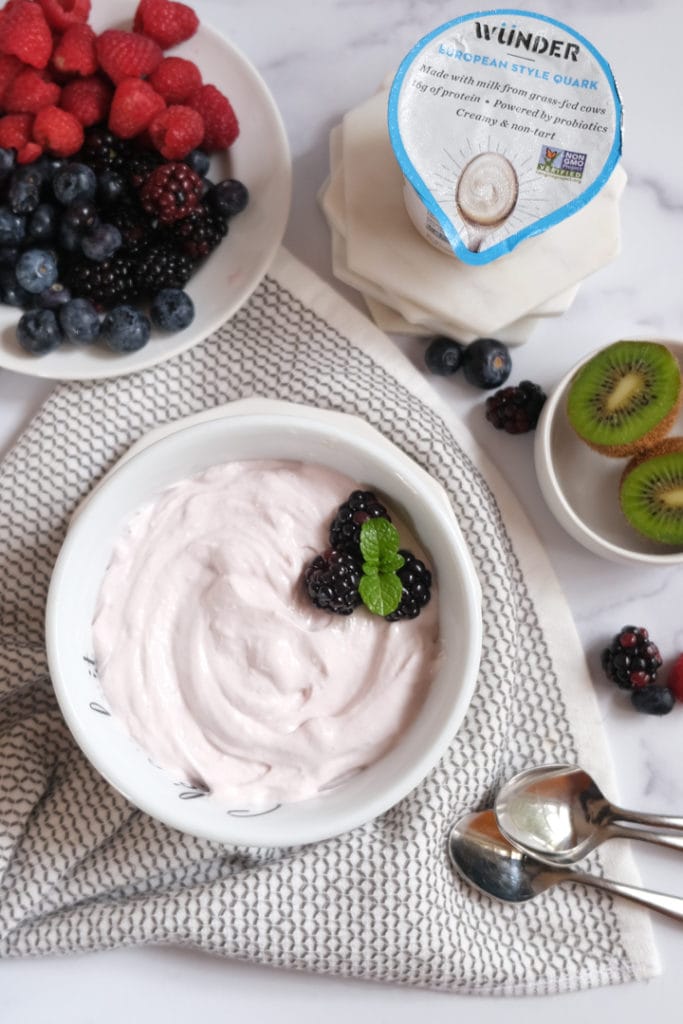 Here's how to make plain homemade Quark. First, heat the milk to a simmer over medium low heat. Once it's reached a simmer, take the saucepan off the heat and let it cool to room temperature.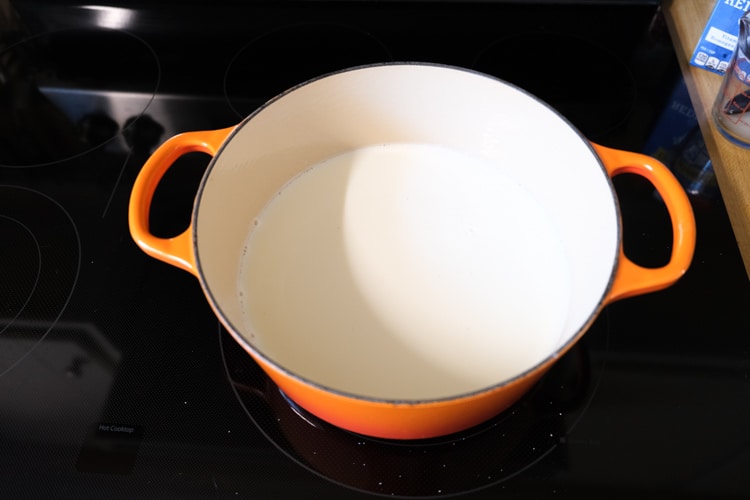 Add the room temperature cultured buttermilk and stir or whisk together.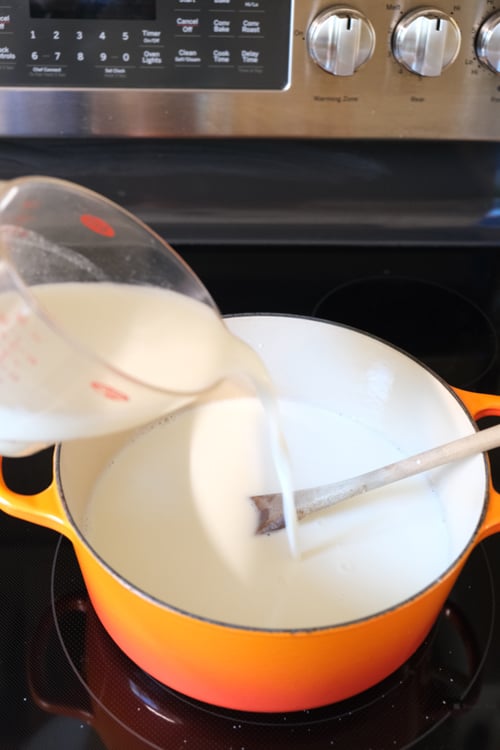 Pour the milk into a glass bowl or plastic container (I either use my glass batter bowl or a couple clean yogurt tubs) and cover loosely with a clean tea towel.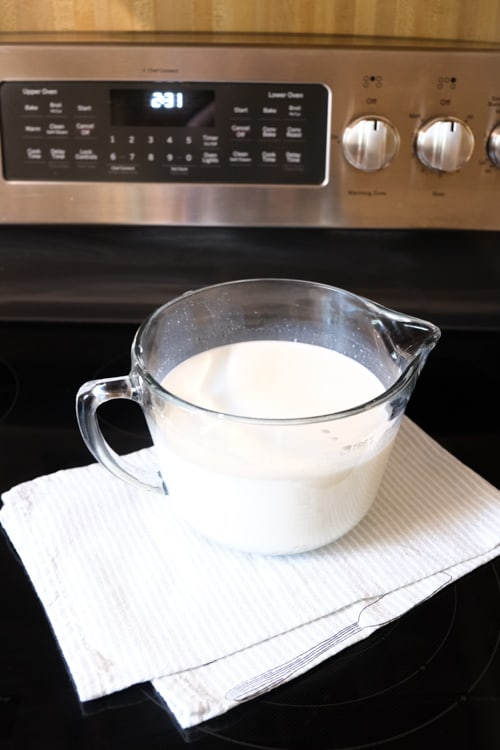 Leave in a warm place in your kitchen for 12-36 hours. I usually leave mine on the stove or countertop or in the oven with the door closed (just make sure you don't turn the oven on accidentally!).
On a warm day, it only takes about 12 hours for my Quark to set. In the winter, however, it's taken as long as 36 hours. So, if your Quark hasn't thickened in 12 or even 24 hours, don't worry! Just let it sit out longer. On cold days, I've found it helpful to set the Quark on a warm stove after I've baked something in the oven.
Once your Quark has thickened up, the next step is to drain off the whey. The easiest way to do this is to place a clean tea towel in a strainer that's resting on a bowl.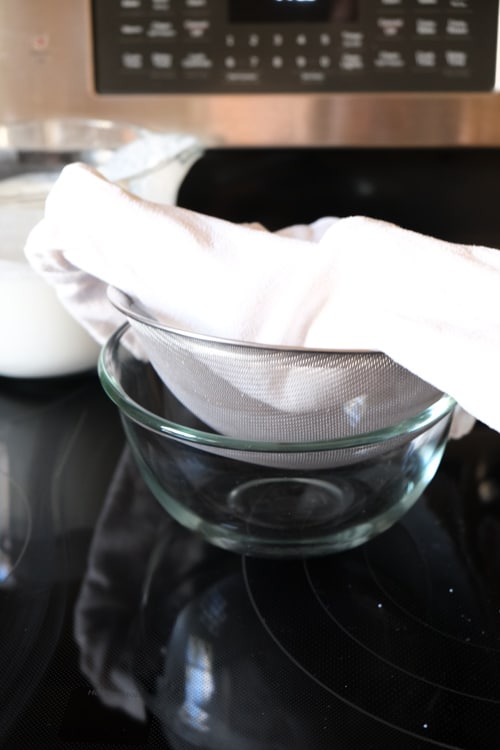 Pour the Quark onto the tea towel. Then, gather the corners of the towel and use a rubber band or twist-tie to secure the towel. Place the bowl in the fridge for several hours (or overnight) so the whey can continue draining off the Quark.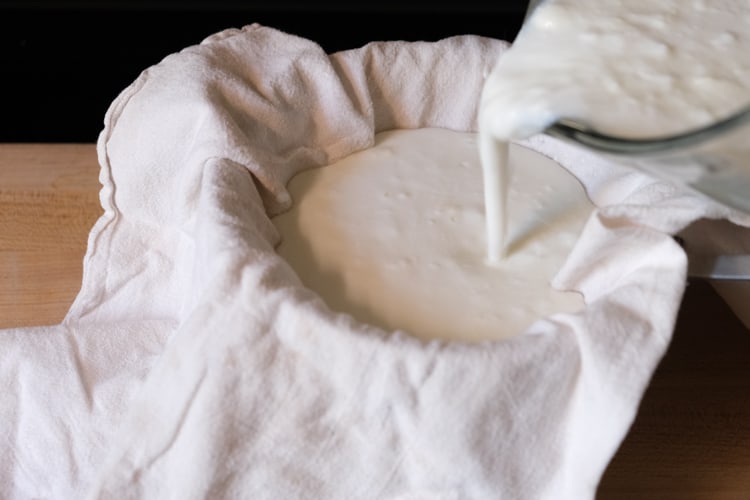 Once the whey has drained, you have Quark!
Take the strainer out of the bowl and pour the whey into a jar to use later (you can use it in smoothies, baking, soups, etc).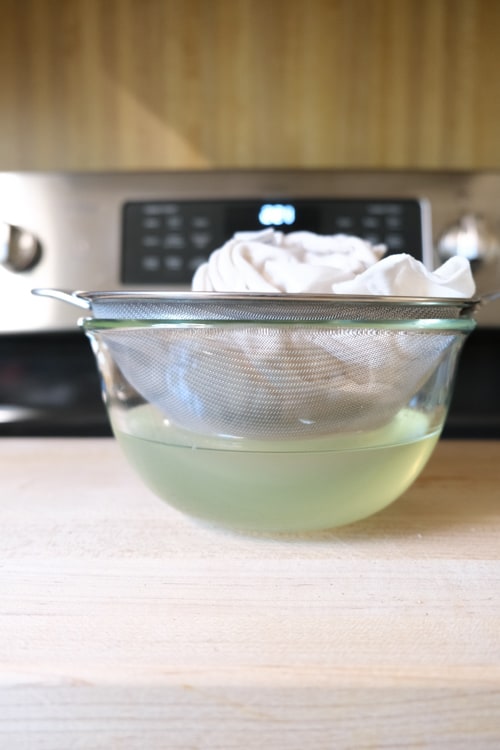 Pull back the towel (which will be soaking wet from the whey) and scoop the Quark into a bowl. The Quark should be pretty thick. If it isn't, let the Quark drain for a couple more hours.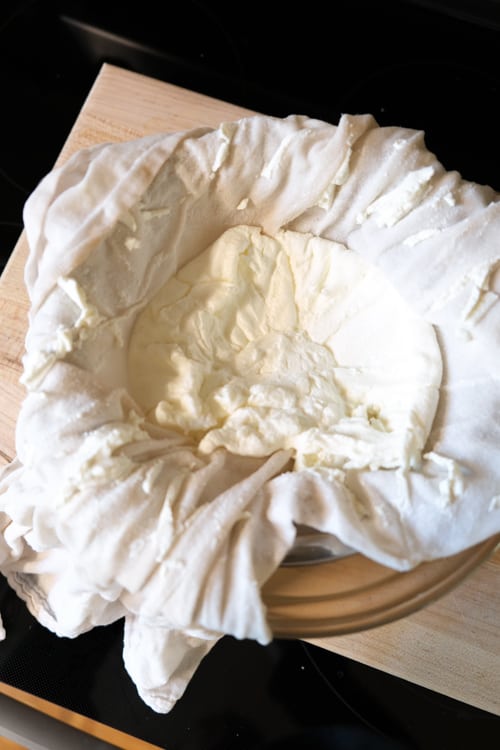 Now you have a fresh batch of delicious plain Quark cheese!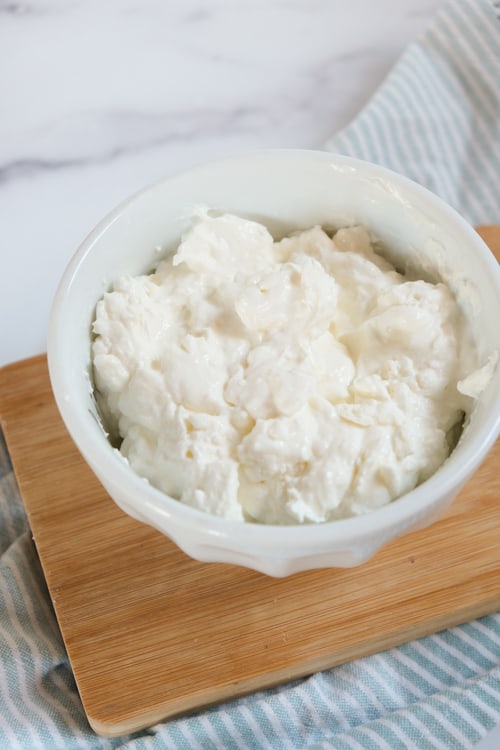 If your Quark is lumpy you can use a whisk to smooth it out. If you plan to eat it plain and it's too thick for your liking, just mix a little whey back in. If you're going to make dessert Quark, I recommend keeping the plain Quark thick because it will thin out when you add the whipped cream.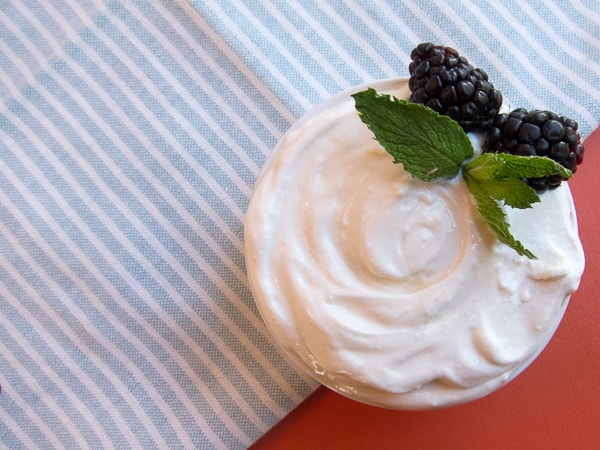 How to Make Homemade Blackberry Dessert Quark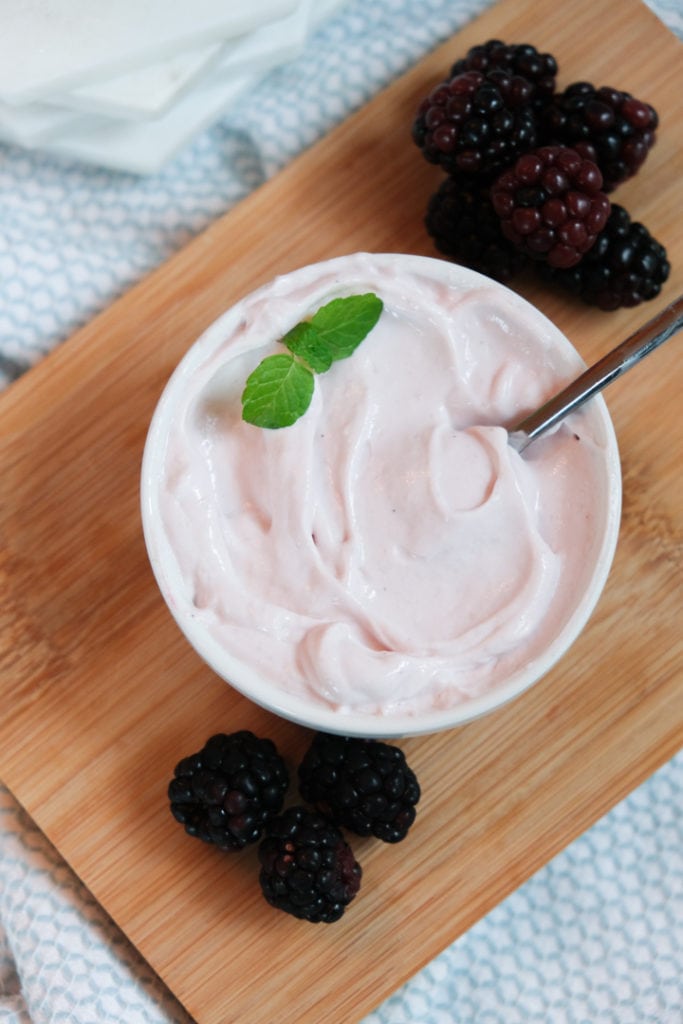 Add store-bought or homemade plain Quark to a small mixing bowl. Then add the heavy cream and whisk together until thick. If you have cream that's already whipped, you can simply fold that into the Quark.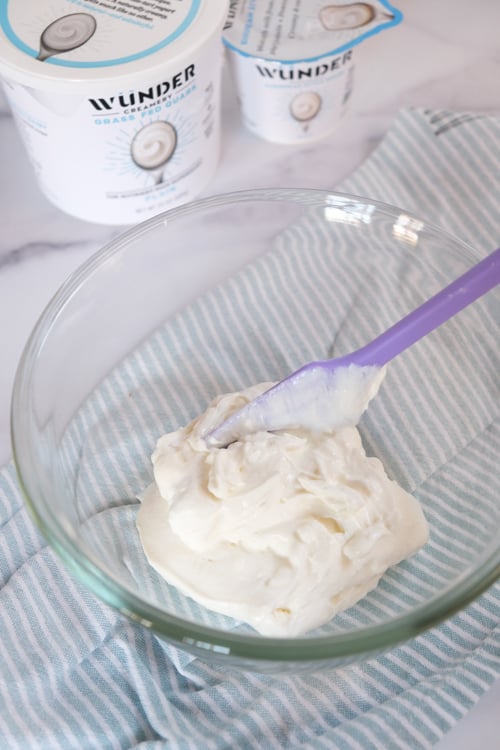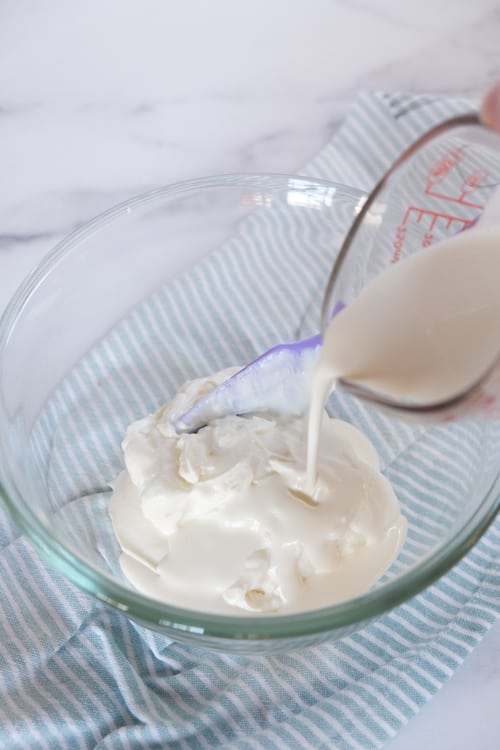 Add blackberry jam and whisk until blended. Of course, you can use whatever flavor jam you'd like! You could also mash up fresh berries or use fresh fruit puree instead of jam.
Then add vanilla sugar to taste (or vanilla extract + sugar).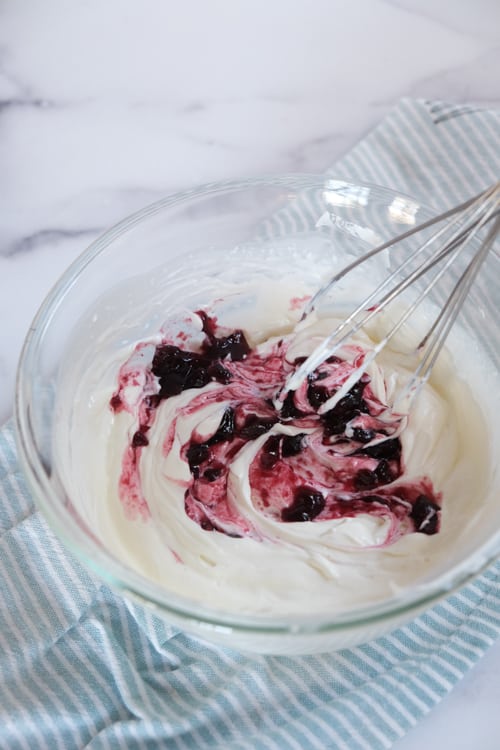 You can serve the Quark immediately or let it chill and firm up in the fridge for an hour or two. Serve with fresh fruit and enjoy!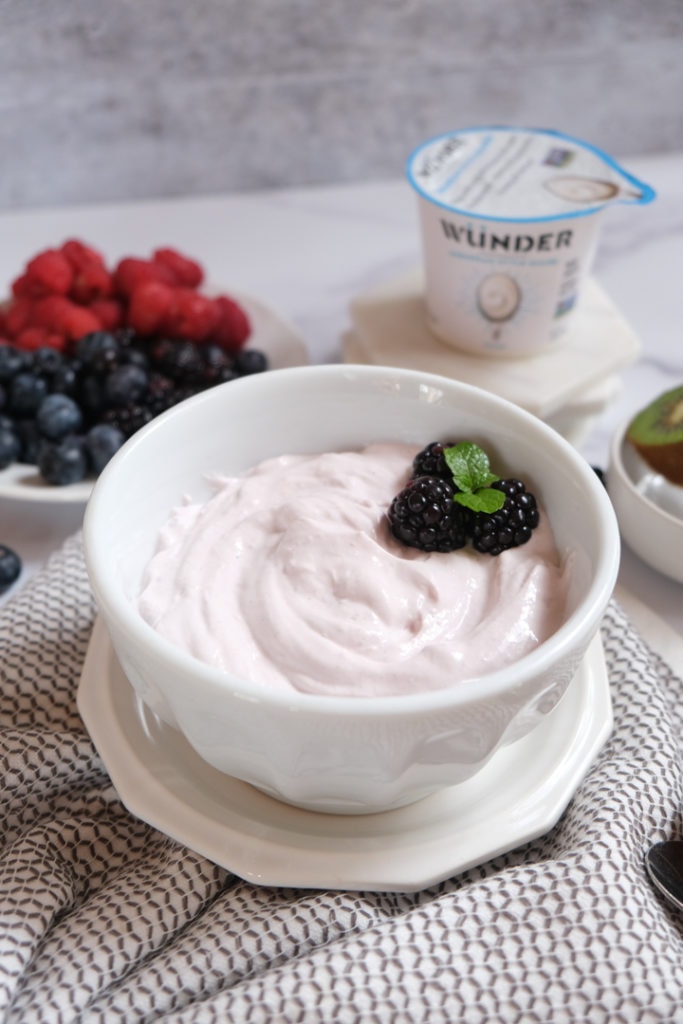 Big thanks to Wünder Quark for sponsoring the update I made to this recipe to make it even more authentic.