Easy French Apple Tarts Recipe
This article may contain affiliate links. See our disclosure link for more information.
Looking for a quick and easy apple tart recipe? Don't want to go to the trouble of making a shortcrust from scratch? Want a delicious dessert you can make using pantry ingredients?
You'll love these tasty little tarts!
Not only are they reminiscent of apple tarts and pastries I've enjoyed in France and elsewhere in Europe, they're super easy to make at home.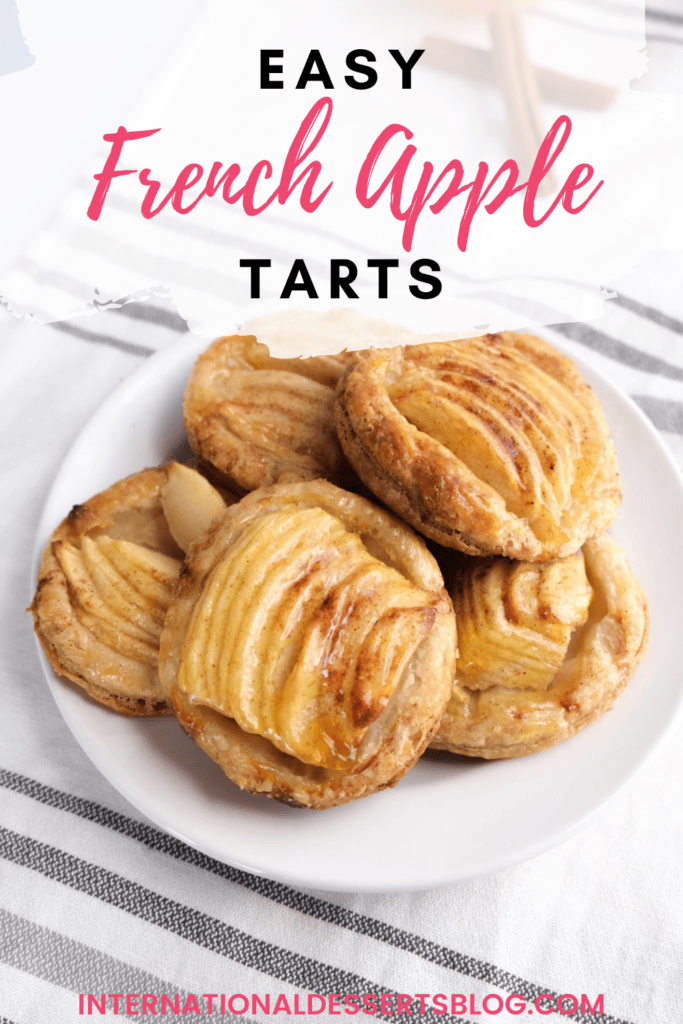 ? About This Recipe
This quick and easy dessert features fresh apples, a dash of cinnamon, and a flaky butter crust made from puff pastry.
You'll definitely want to add these apple tarts to your "pantry dessert" list!
If you keep the few simple ingredients needed to make them in your pantry (namely apples and puff pastry), you'll be ready to make a batch at a moment's notice.
What's so great about these simple apple tarts is that they're delicious AND super easy to make.
–> There's no need to pre-cook the apples before baking.
–> You don't have to mess with cutting up cold butter and using a pastry blender or food processor to make a crust.
–> And you don't need a special tart pan with a removable bottom to make these delights – just a regular baking sheet.
Instead of making a tart crust from scratch, I use frozen puff pastry (you can use homemade puff pastry if you prefer).
The puff pastry creates a beautiful tart shell for the fresh apple slices.
The fresh apples, topped with a sprinkle of cinnamon and sugar, really shine in these tartlettes.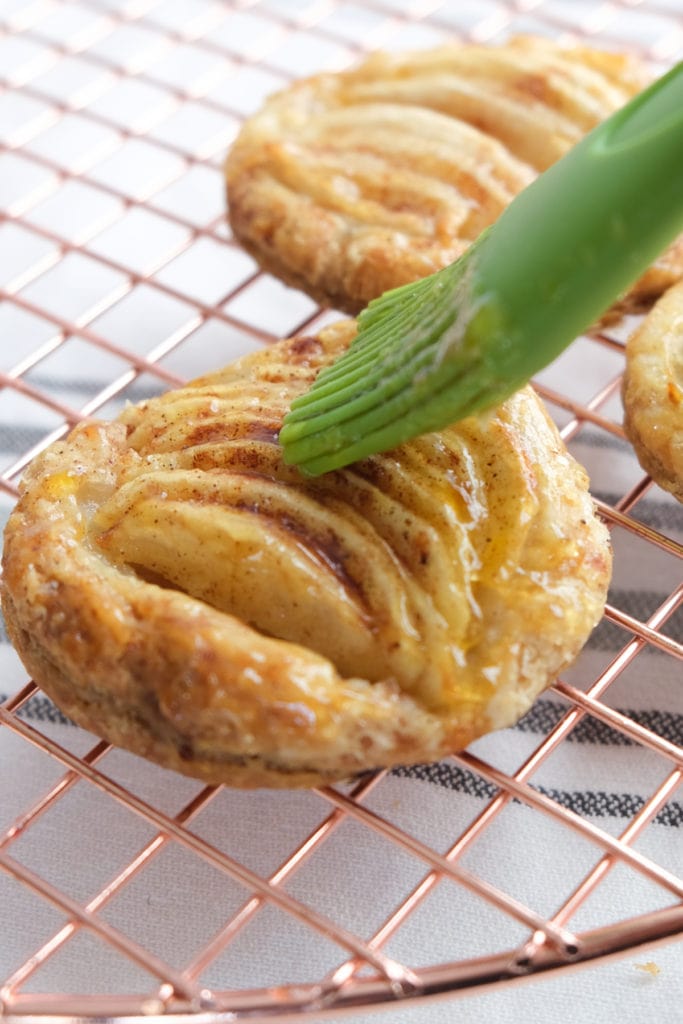 After baking, I like to brush the apples with apricot preserves for a little sweetness, flavor and glossy color (I keep a jar in my fridge for just baking purposes).
If you want to kick it up a notch you could add chopped pecans or walnuts.
These cheater French Apple Tarts are perfect for when guests stop by and you need a quick treat, to share with your favorite neighbors or when you want a warming afternoon pick-me-up with coffee or tea.
Get ready for lots of oohhss and aahhss!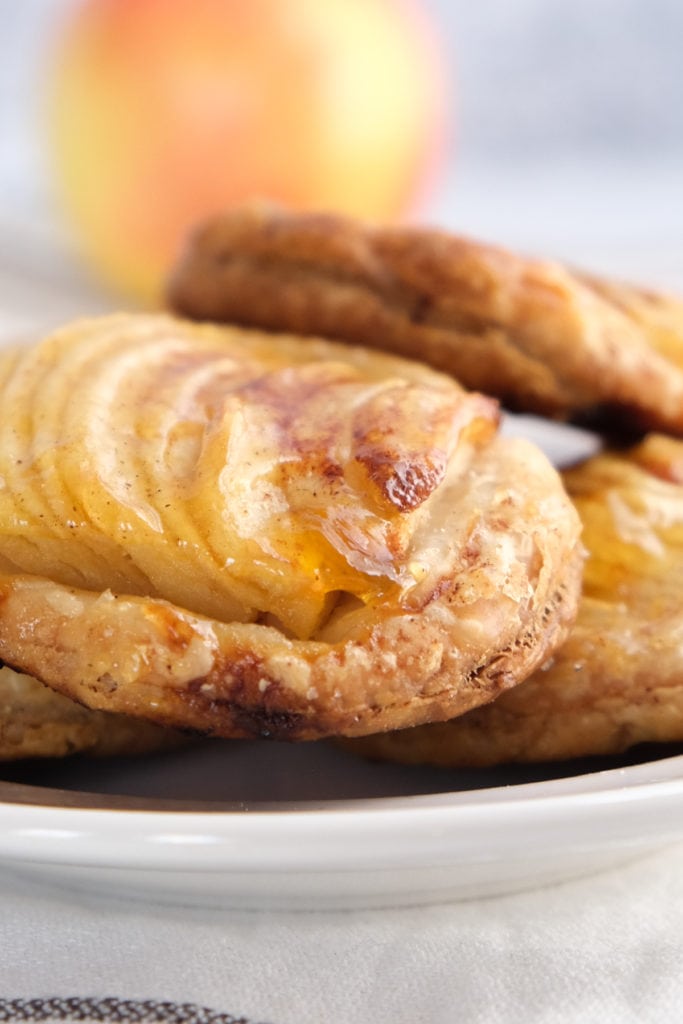 ❓FAQ
Can I use store-bought puff pastry?
Yes! I always have a box of grocery store puff pastry in my freezer. That said, you can use homemade puff pastry if you prefer.
Can I use refrigerated pie crust for this recipe?
No. I recommend using puff pastry because it makes the perfect crust for these tarts – light and flakey. Puff pastry gives these tarts a nice crunch and satisfying texture that combines well with the sliced baked apples.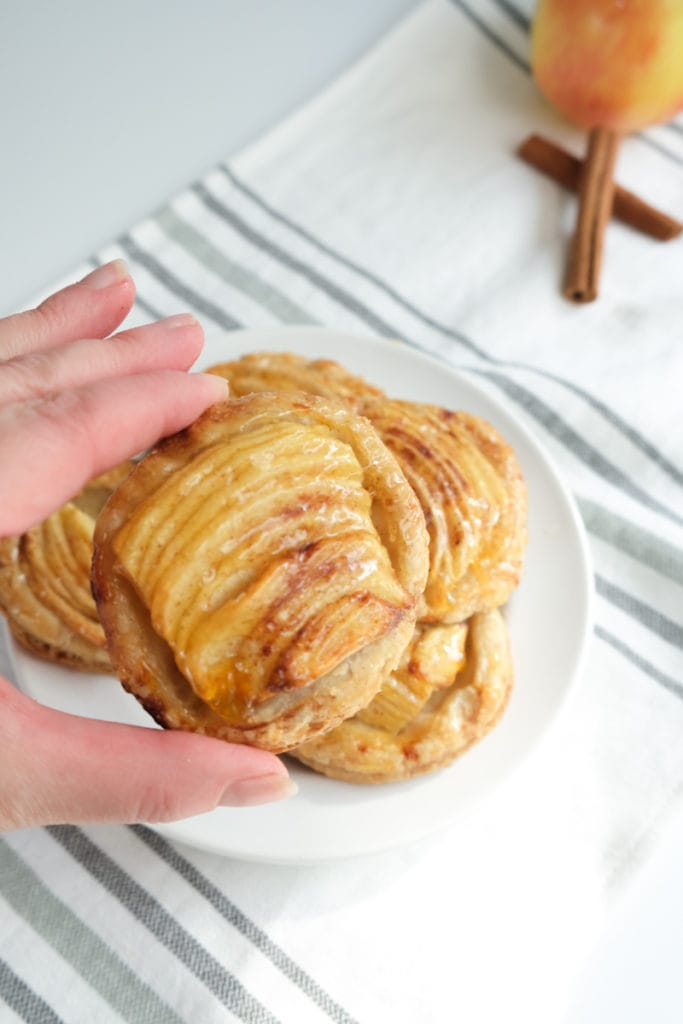 What kind of apple should I use?
The best apples are tart, crisp apples like Granny Smith apples or Pink Lady. That said, to be honest, I use whatever apples I happen to have on hand (Fuji, Gala, Golden Delicious apples, etc) and they're always delicious.
Can I use canned apple filling or apple sauce?
No. I recommend using fresh, peeled, and thinly sliced apples for these tarts.
Is puff pastry the same as phyllo dough?
No. Puff pasty is a laminated dough that uses butter and puffs when baked. Phyllo dough is lower in fat, doesn't use butter, and consists of very thin sheets of dough that are layered and used in desserts like baklava. I recommend using puff pastry for this recipe.
? What You Need to Make This Recipe
Ingredients:
Puff pastry (store bought or homemade)
Fresh apples (cored, peeled and thinly sliced)
Lemon juice
Apricot preserves or jam (or honey or maple syrup)
Sugar
Cinnamon
Butter
Optional toppings: chopped walnuts or pecans
Kitchen Tools:
Baking pan, baking sheet or cookie sheet
Parchment paper or Silpat baking mat
Rolling pin
Biscuit cutter, round cookie cutter or glass jar
Sharp knife (e.g. paring knife) & cutting board
Medium bowl
Pastry brush
Wooden spoon or plastic spatula
Wire rack for cooling
Plate for serving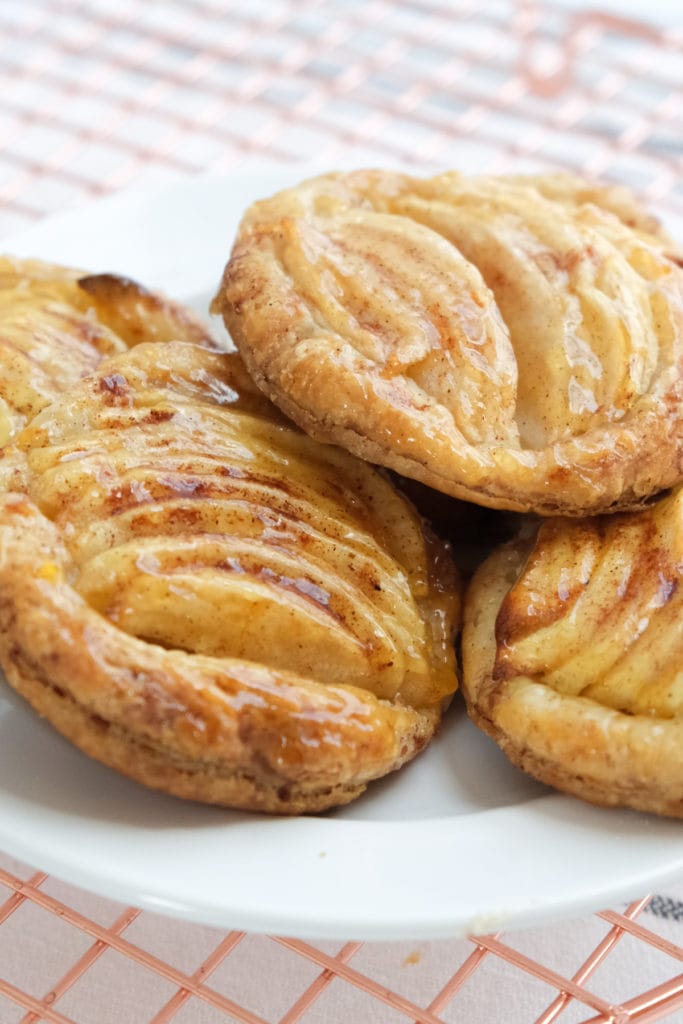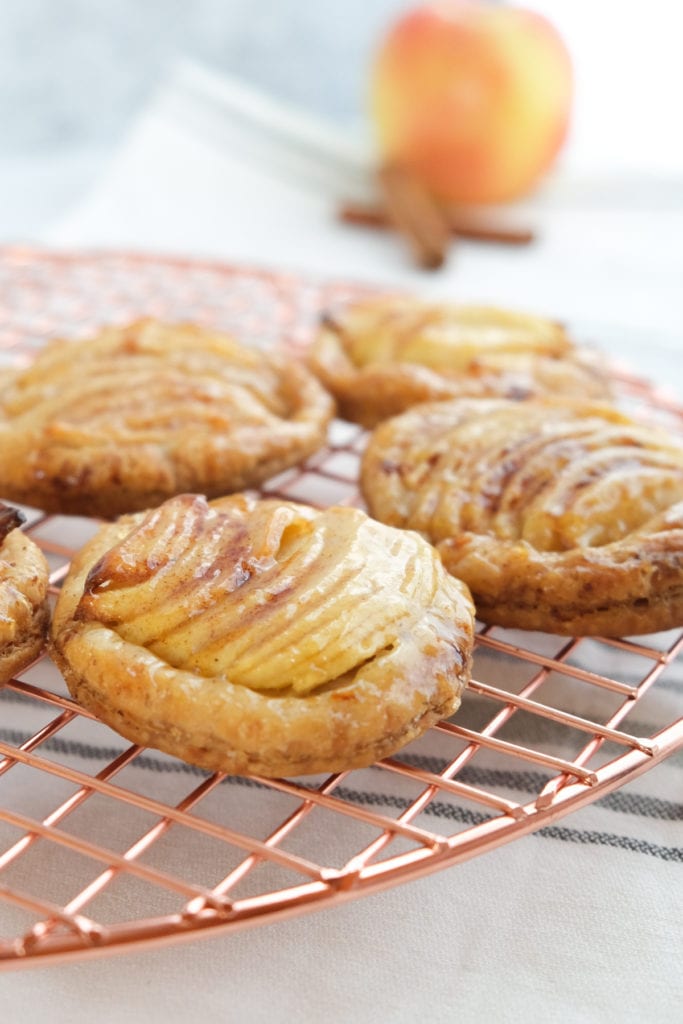 ? Recipe Variations, Notes & Tips
Slice apples thinly so they bake all of the way through.
Use more or less sugar and cinnamon to your taste.
Use brown sugar or vanilla sugar instead of white sugar.
Use a small biscuit cutter for more, smaller tarts or a larger cutter for fewer, larger tarts.
If puff pastry becomes sticky or hard to work with, cover with plastic wrap and place in the fridge for 5-10 minutes.
Top tarts with chopped pecans or walnuts before baking.
Serve plain or with vanilla ice cream or whipped cream.
How to make Easy French Apple Tarts
Note: This recipe is flexible and you really can't go wrong. In the recipe card I've listed basic measurements for ingredients and yield but you might need to adjust things a bit when you make the recipe — depending on how you roll out your puff pastry, how large your apples are, how thinly you slice them, and the size of your biscuit cutter, you might need to adjust the measurements a bit.
Fortunately, you don't need to be super exact with measurements to create delicious tarts!
Ok, let's bake some tarts!
First, pre-heat your oven to 400F/200C.
Then thaw 1 sheet puff pastry at room temperature for 25-40 minutes (or in the microwave according to the directions on the box).
When thawed, the pastry should be cold but unfold easily.
If you over-thaw the pastry, and it's too hard to work with, pop it back in the fridge for 5-10 minutes.
Meanwhile, peel, core, and slice apples into thin slices. Toss with lemon juice to prevent browning.
Carefully unfold and place thawed puff pastry on a floured work surface. Remove parchment paper.
Use a rolling pin to roll out the pastry a bit so it's a bit larger and there are no seams. Don't press too hard or roll too thin. Make sure the dough has a uniform thickness.
Cut 6-8 rounds out of the pastry using a biscuit cutter, cookie cutter or glass.
If you have excess dough you can roll it out again and cut out 1-2 more rounds.
Or roll dough into balls and press into a couple more tart rounds. They won't be perfectly round but they'll still taste good.
Place tarts on a lined baking sheet. Use a fork to prick the dough 3 or 4 times (that helps keep the dough from puffing up too much).
Melt butter over low heat or in the microwave. Brush pastry with melted butter.
Place thinly sliced apples in the center of the dough, fanning them out a bit. Brush apples with melted butter, then sprinkle with cinnamon and sugar.
Bake tarts for 15-18 minutes or until the edges are golden brown.
Place tarts on on a wire rack.
Heat apricot jam and water in a small saucepan over low heat. Brush apricot preserves on top of the apples and the outer edges of the crust.
Serve apple tarts while warm or at room temperature. These tarts are best the day they're made.