Easy Chocolate Cake Mix Mug Cake
This article may contain affiliate links. See our disclosure link for more information.
If you're looking for a quick and easy chocolate dessert to satisfy your sweet tooth craving, this Chocolate Cake Mix Mug Cake is for you. All you need are 2 simple ingredients and 1 minute.
? About This Recipe
Sometimes you want to make an entire cake, whether from scratch or with a cake mix, eggs, oil, and water.
Other times? You really just want a quick treat after dinner, with an afternoon cup of coffee or just because you're craving a sweet treat right now.
This easy Chocolate Cake Mix Mug Cake is a great recipe for those times.
Not only can you make this mug cake recipe in a flash, you only dirty one cup and one spoon. And you can eat it hot right out of the microwave or wait until after it has cooled.
You also only need a couple simple ingredients so don't worry about having to get out a bunch of cake ingredients just to make one little cake. The hardest part of making this mug cake is waiting the 1 minute it needs to bake.
Tip: keep a box of your favorite cake mix in a mason jar in the cupboard for your cake cravings! You can even use leftover cake mix – what a great way to use leftovers, right?
You can also turn cake mix into an easy yet thoughtful gift! Scroll all the way down to see how to do that.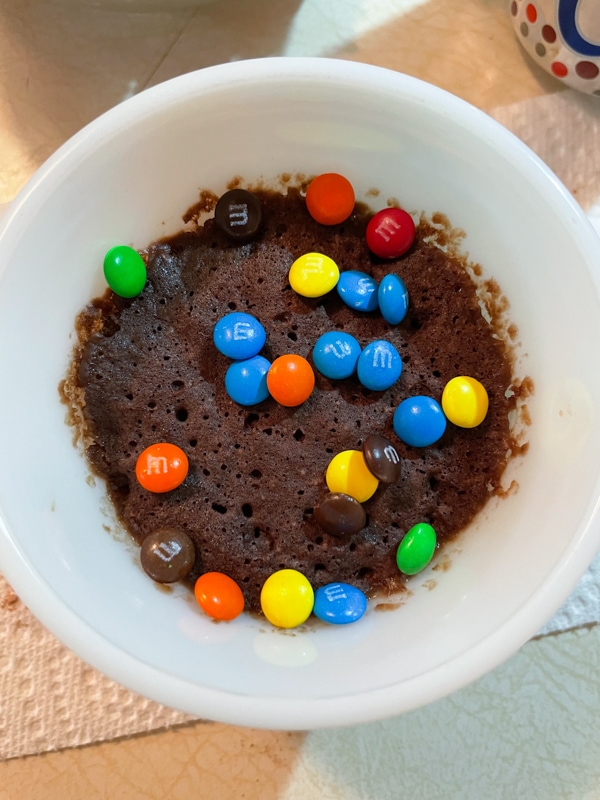 ❓FAQ
What kind of mug should I use?
Any microwave-safe mug or tea cup that is at least 8 oz. If you double this recipe, double your mug size. If you use a mug that's too small you could have a big mess because the cake mix rises significantly while it cooks. If in doubt, go bigger rather than smaller.
What kind of cake mix should I use?
I used Betty Crocker but this chocolate mug cake recipe should work with all kinds of boxed cake mixes.
Can I use an oven instead of a microwave?
Yes – but it will take longer. Use an oven safe mug or small dish and bake at 350 F/ 120 C for about 15 minutes (baking time will vary depending on how deep or shallow your dish is). You can also use a toaster oven.
Can I double this recipe?
You can use this recipe to make multiple single servings or double it to make a larger mug cake (just be sure to double the size of the mug). If you double the amount of cake in your mug, you may need to bake it a little longer.
Do I have to make a chocolate mug cake?
Nope. You can use any kind of cake mix flavor. Vanilla cake mix = vanilla mug cake. Funfetti cake mix = funfetti mug cake. Coconut cake = coconut mug cake. You can turn any cake mix flavor into a delicious and easy mug cake mix!
Try carrot cake and top with left-over cream cheese frosting. Yellow cake mix with chocolate chips. Or make a chocolate peppermint mug cake with chocolate cake mix and peppermint extract.

The sky's the limit with the cakes you can create with this easy mug cake recipe!
What if I want to make more than one mug cake?
No problem! Just double (or triple, quadruple, etc) the recipe. Use separate mugs for the individual servings.
Can I really make this easy chocolate mug cake in a mug?
Yes! You don't even need a small bowl or anything – just mix the cake batter right in a mug or tea cup. So easy, right?
? What You Need to Make This Recipe
Ingredients:
Boxed chocolate cake mix
Cola (regular or diet)
Mix-ins & toppings (optional): whipped cream, chocolate sauce, caramel sauce, a handful of chocolate chips, mini chocolate chips, peanut butter chips, mini M&Ms, chopped nuts, Nutella, heath bits, chocolate ganache, frosting, ice cream, fresh fruit (raspberries!), maraschino cherry, espresso powder, jam, etc.
Using my super simple recipe below you can create an infinite number of mini cake creations! Here are a few ideas:
Chocolate cake mix + cola + dash of cinnamon + whipped cream + mini chocolate chips
Strawberry cake mix + strawberry cola + ice cream + fresh chopped strawberries
Yellow or butter cake mix + 7-up + raspberry jam + fresh raspberries
Chocolate cake mix + coffee or espresso + whipped cream + caramel sauce
Carrot cake mix + Sprite + cream cheese icing + chopped pecans
Chocolate cake mix + cola + peppermint extract + peppermint ice cream
Optional: enjoy your mug cake with one of my super easy single-serve no churn ice cream recipes! My quick cinnamon ice cream would be a delicious addition to this chocolate cake.
Kitchen Tools:
Microwavable mug (coffee mug or a tea cup)
Spoon
Measuring spoon (tablespoon)
Microwave
? Recipe Variations, Notes & Tips
Cake Mix. I love chocolate so I used chocolate cake mix and topped it with mini M&Ms. But you can actually use any kind of cake mix and toppings you'd like for your little cake.
Cola. I had a can of Shasta diet cola in the fridge, so I used that. You can use regular or diet soda, Coke, Pepsi, Dr. Pepper, 7-Up, etc.
Cola Alternative. If you don't want to use cola, you can also use water, coffee, espresso, etc.
More Flavor. Add a few drops of vanilla extract (or any other extract, like coffee, almond, peppermint, etc) for more flavor.
Spice if up. Another way to flavor your cake is to add a dash of your favorite spice – cinnamon, pumpkin spice, etc.
Gooey or No? Since there are no eggs in this mug cake, you can undercook it a bit if you like it gooey.
Topping. You can enjoy your mug cake as-is or add your favorite topping – like whipped cream, ice cream, chocolate or caramel sauce, mini M&M's, frosting, chopped fresh fruit, jam, etc.
? How to Turn Cake Mix into a Delicious Mug Cake Gift
Know someone who might enjoy a mini cake here and there?
Maybe a friend who doesn't want to keep flour, sugar, and other cake ingredients around the house. Or perhaps a relative who doesn't bake but does have a microwave.
Or maybe you're just looking for a quick, easy, and thoughtful gift. This is a very simple gift that anyone would love for a birthday, dorm-warming, holiday, thank you or host/hostess gift.
Here's what you need:
Cake mix
Glass jar or reusable/sealable plastic bag
Cute microwave safe mug & spoon (optional)
Can or two of cola
Small bag or jar of a topping or two, like mini chocolate chips or mini M & Ms (optional)
Box or gift bag to wrap the gift
Gift tag & recipe instructions
Pour cake mix into glass jar or reusable bag.
Place cake mix, mug, spoon, cola, and recipe in box or gift bag.
? How to Make a Chocolate Cake Mix Mug Cake
Add 2 tablespoons cake mix to a mug.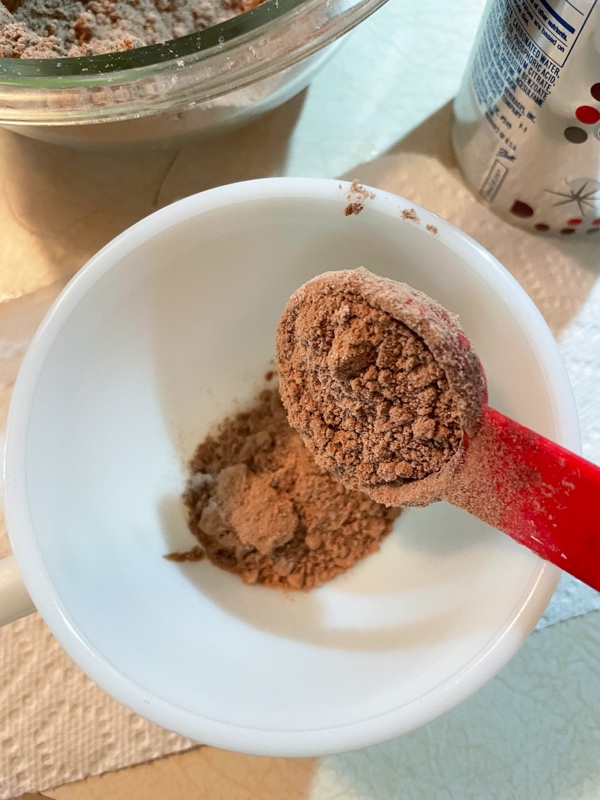 Then add 1 tablespoon cola (or other liquid).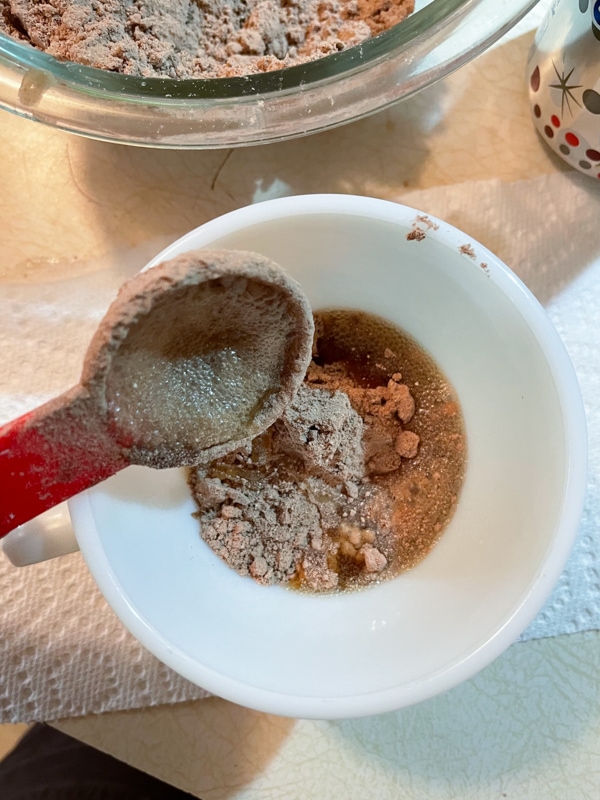 Use a spoon (or just your measuring spoon) to mix until well combined. I like to then use a damp paper towel to clean up the mug a bit.
Microwave for 1-1 ½ minutes. The top of the cake should be dry.
Top with your favorite toppings and enjoy!
? New to International Baking & Dessert Making?
Click here to download my FREE 9-Page Starter Kit so you can begin making delicious treats from Europe and beyond with confidence and ease! Or start with my 25 European Favorites cookbook. It's filled with easy and delicious recipes that are perfect for beginners.