German Apfelkuchen (German Apple Custard Cake Recipe)
This article may contain affiliate links. See our disclosure link for more information.
This authentic German Apfelkuchen (apple cake) recipe features a moist custard cake topped with tender fresh baked apples.
Using simple pantry ingredients, this cake is easy to whip up for a spontaneous afternoon Kaffee und Kuchen!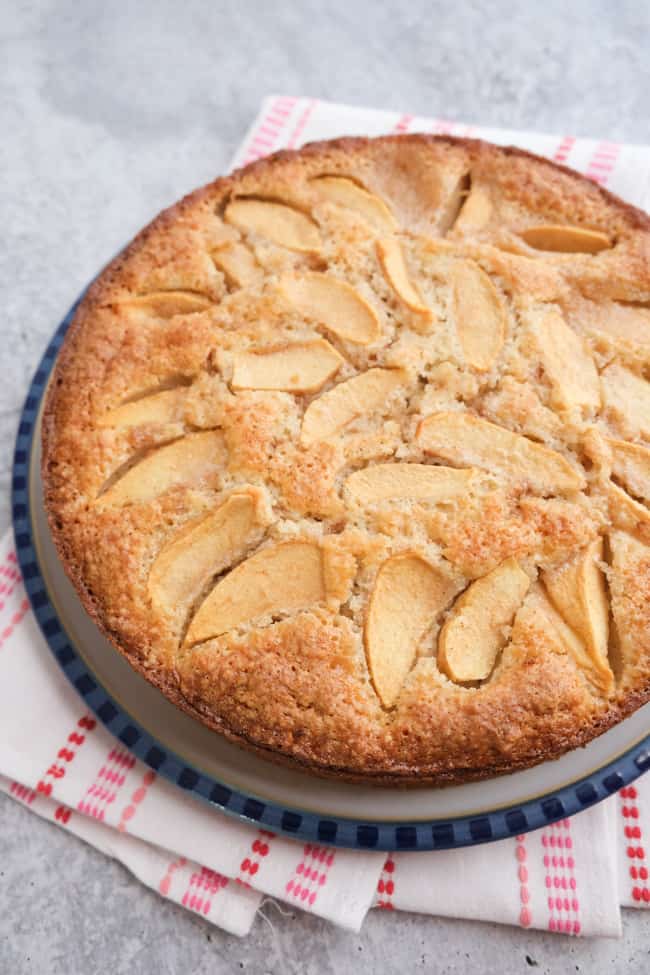 I've got another delicious German dessert recipe for you! A reader emailed me recently looking for a recipe for a German cake with peaches and custard.
I knew exactly what she was looking for, and had actually been thinking about making a German Peach Kuchen.
I've eaten that delicious cake many times in Germany, and was looking forward to making it…but I didn't have any fresh, canned or frozen peaches on hand. Womp womp, sad face.
I did, however, have an abundance of apples. So I decided to make Apfelkuchen. This German Apple Custard Cake is so good. It uses pantry staples and is super easy to make.
I actually made 2 variations of this cake – one is classic and the other is a more embellished take on a traditional German apple cake recipe. Both recipes create a moist cake that is amazing with a cup of coffee or tea.
About German Kuchen (German Cake)
If you've made my other German cakes – Bee Sting Cake, German Plum Cake or a German Cheesecake, for example – you already know that German cakes are different than US American cakes.
That took me a little while to get used to the first time I lived in Germany. I was so used fluffy layer cakes covered in sugary buttercream that the non-frosted, much less sweet, and often denser German cake varieties seemed far less satisfying…at first!
It only took a few weeks of sampling all different kinds of Kuchen (Kuchen means cake in German) during multiple rounds of afternoon Kaffee und Kuchen (coffee and cake) to plant myself firmly on the side of less sweet German desserts.
I still enjoy a fluffy layer cake with buttercream (like this apple spice cake with mascarpone Swiss meringue icing that I made for my birthday) but for afternoon Kaffee und Kuchen? German cake for sure!
There are so many different kinds of traditional German cakes…sometimes I think about making them all but that would take years. Hmmm…what do you think, should I do it? Ha!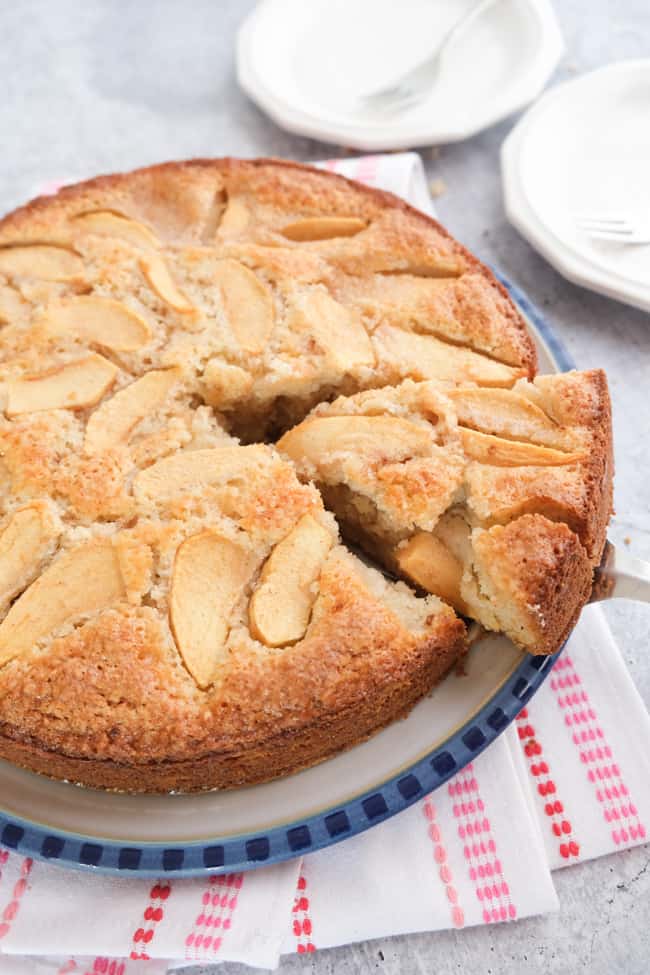 About German Apfelkuchen (and this German Apple Custard Cake)
There are lots of different kinds of German recipes for Apfelkuchen. Some feature a simple cake base with apple quarters sliced and fanned out on top (typically called Versunkener Apfelkuchen or sunken apple cake).
Others add a streusel topping like my German Apple Streusel Cake. And yet other versions like Gedeckter Apfelkuchen (covered apple cake) are more like apple pie.
I find some German apple cake recipes on the dry side, which is that's why I love this recipe. The custard layer on top combined with the apple slices makes this cake delightfully moist, not to mention tasty.
German Apple Cake 2 Ways
I've made this cake a few different ways, depending on my mood and the ingredients I have on hand.
Sometimes I simply peel and slice two medium-sized apples and place them on top of the cake. Other times I double the amount of apples.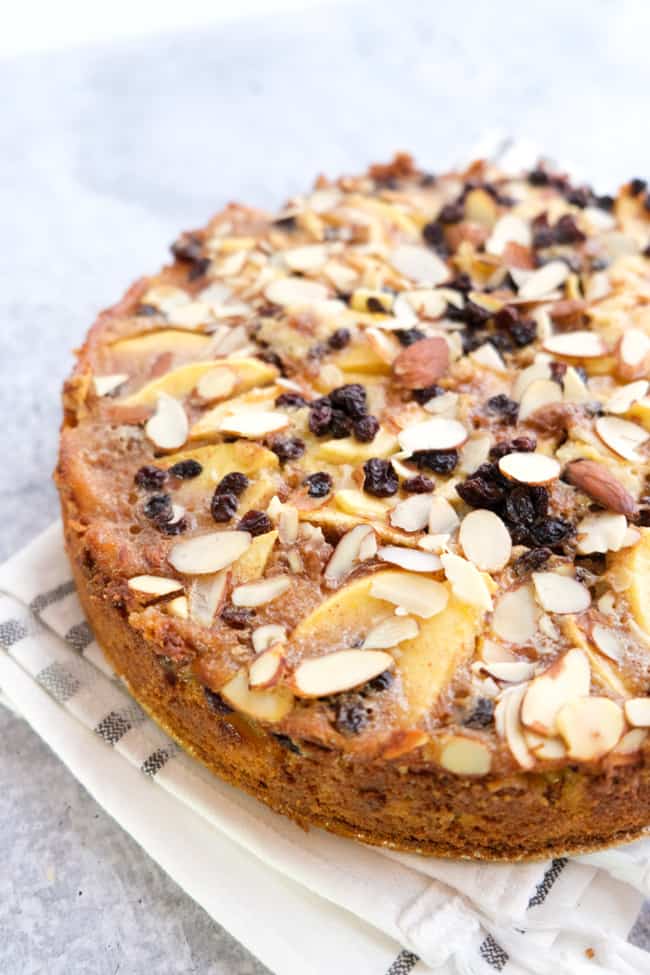 I also sometimes sprinkle sliced almonds and dried currants over the apples.
You could add pecans instead of sliced almonds or dried cranberries or raisins instead of the currants. Those additions aren't really traditional but I like to change things up once in a while. You really can't go wrong.
You could also swap out the apples for peaches or berries.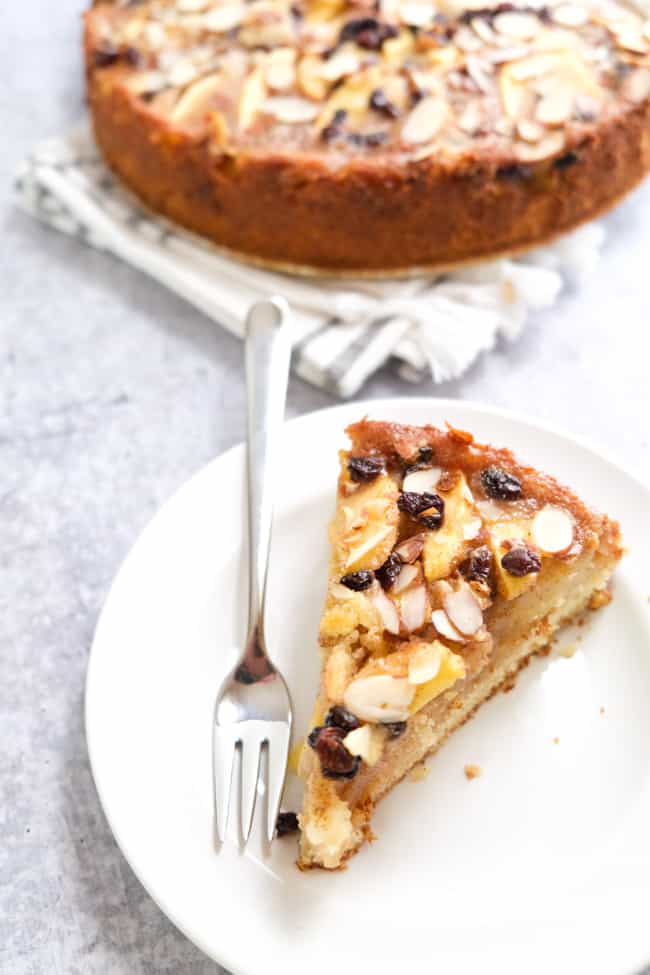 ? What You Need to Make This Recipe
Ingredients:
All purpose flour
White sugar
Baking powder
Salt
Nutmeg
Butter
Milk
Eggs
2-4 fresh apples cut into thin slices
Heavy cream
Vanilla extract (or vanilla sugar)
Cinnamon
Sliced almonds (optional)
Dried currants (optional)
Kitchen tools:
Mixing bowl
Wooden spoon
Whisk
Measuring cups or scale
Measuring spoons
Paring knife & cutting board
Springform pan (9 inch)
Round piece of parchment or round Silpat mat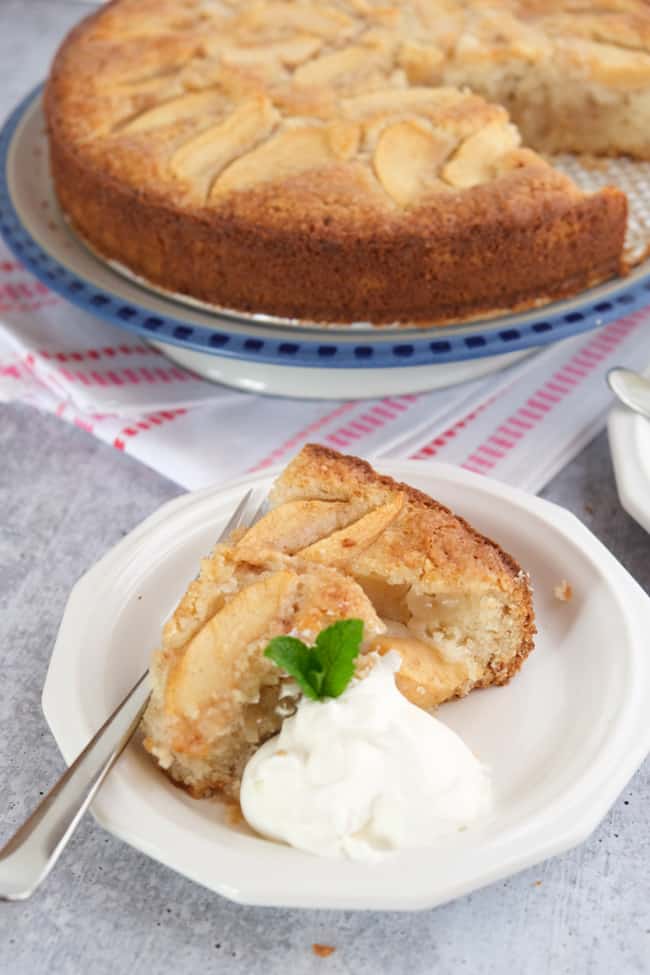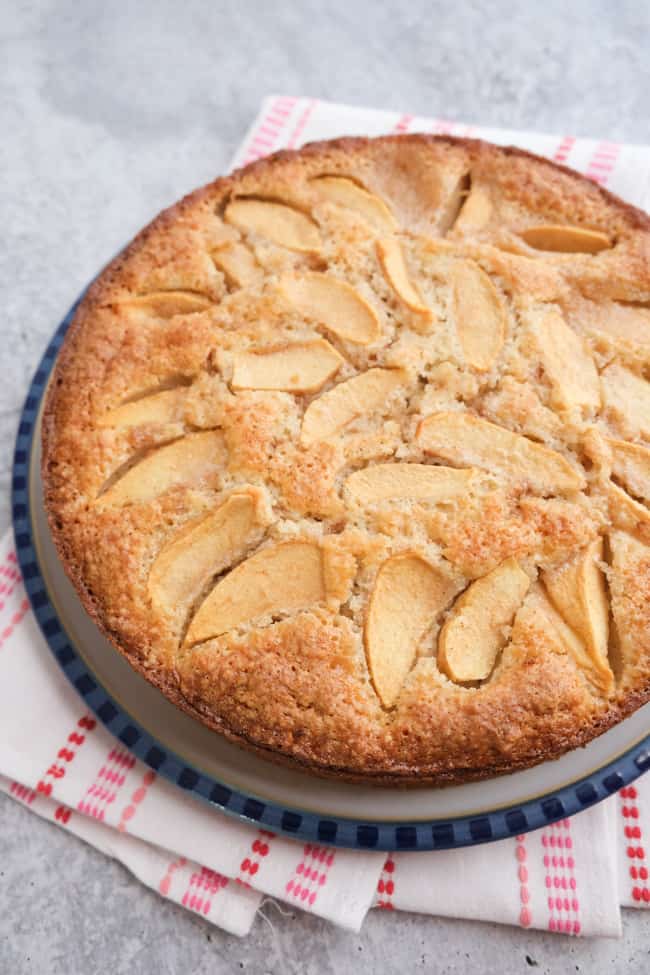 ? How to Make German Apple Custard Cake
First, preheat your oven to 400F/200C.
Then make the cake base. To do this you'll need a large bowl (I love this set – I use them every day in my cooking and baking). Add the flour, sugar, baking powder, salt, and nutmeg. Use a whisk to mix the dry ingredients together.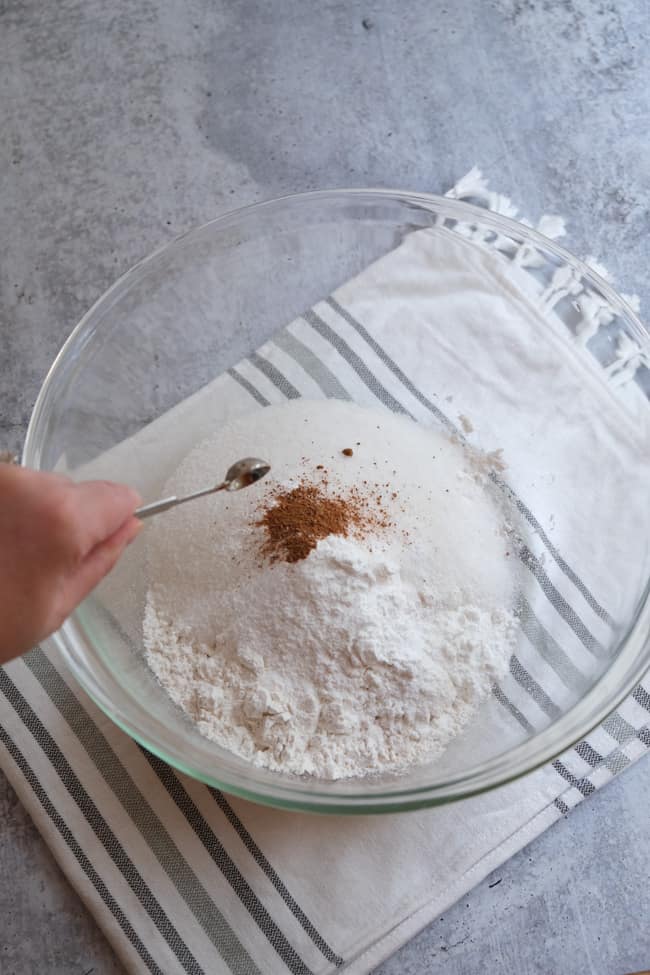 Then cut the cold butter into small pieces, add it to the flour, and use your fingers to work it into the flour to fine crumbs.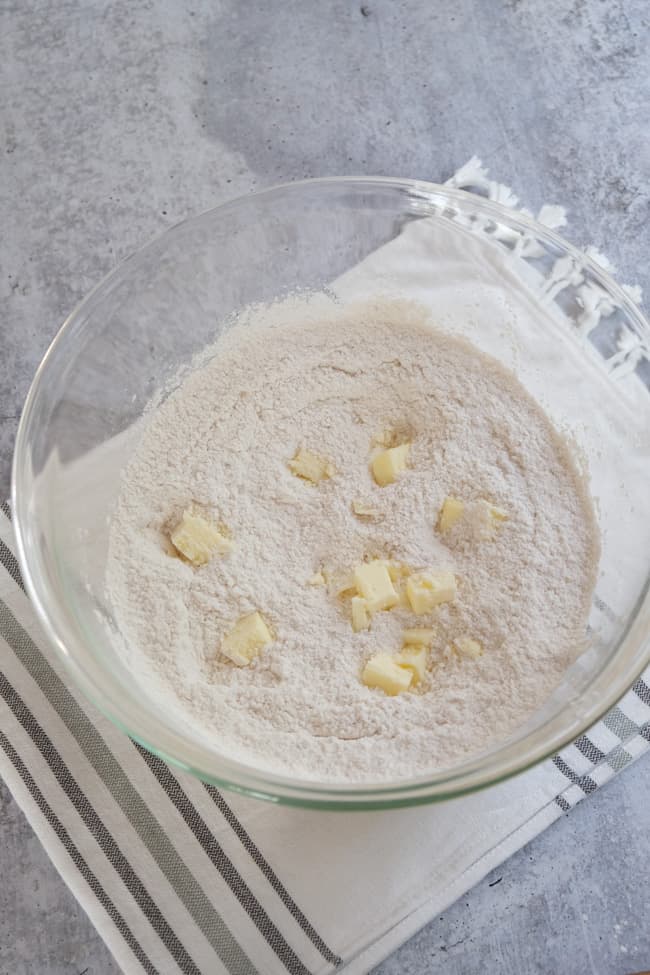 In a small bowl whisk the milk and egg together. I use the small bowl from my favorite glass bowl set.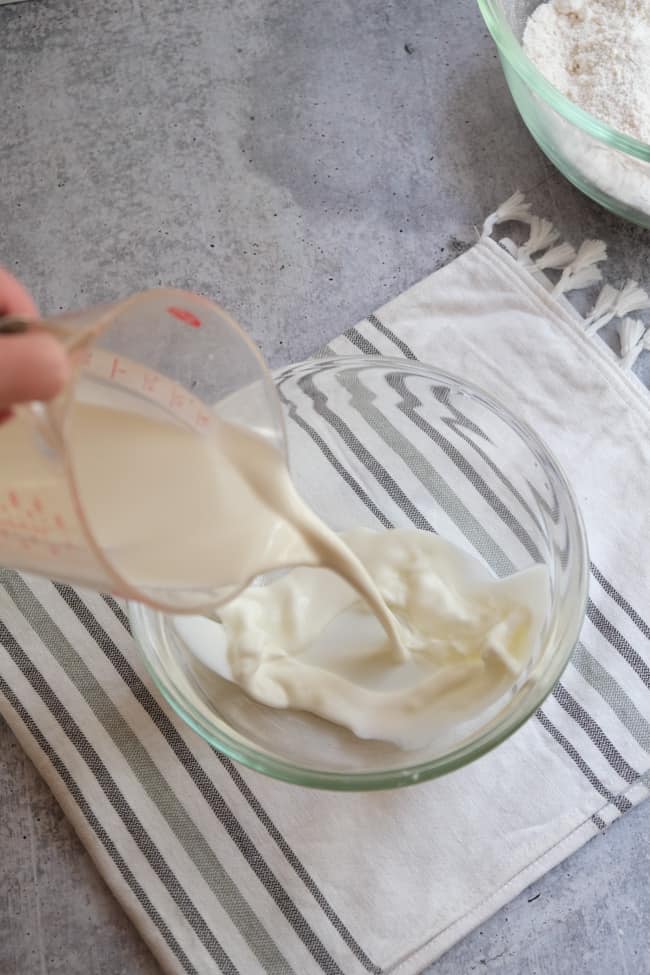 Then add the wet ingredients to the flour and mix with a spoon or a fork until just combined. The dough will be wet and sticky. Use a rubber spatula to scrape down the sides of the bowl.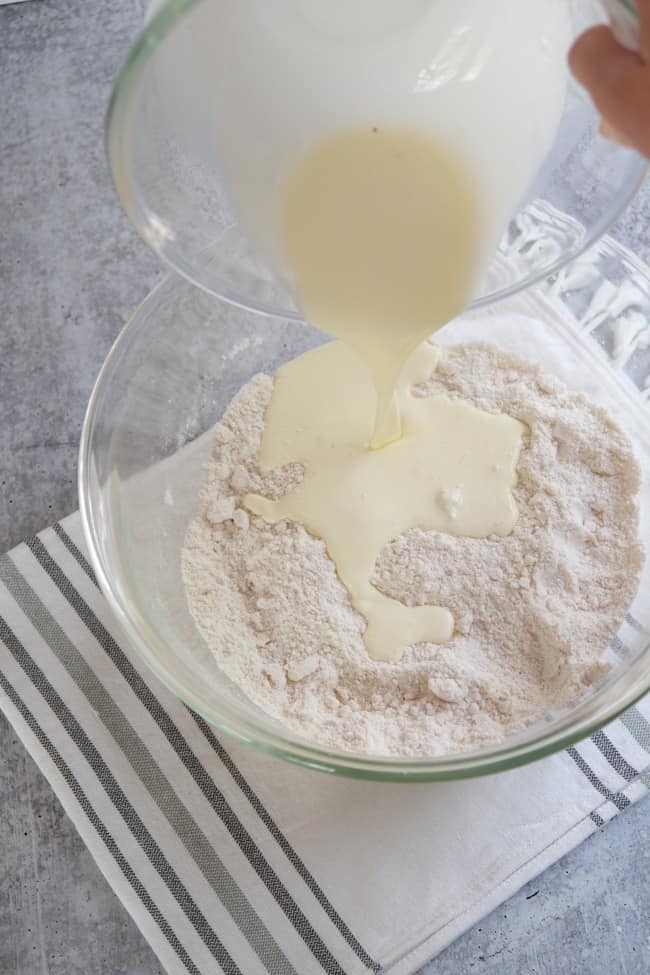 Spoon the dough into a prepared pan (I like to use a springform pan) and use your fingers or a spoon to spread evenly in the pan. I use a little butter to grease my springform pan.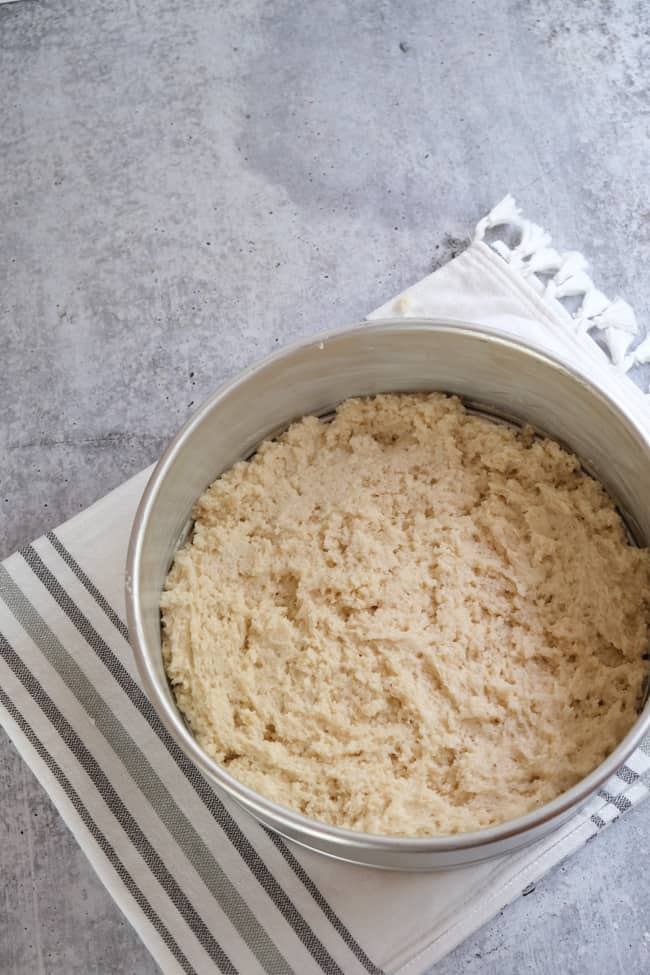 Peel, core, and slice apples, then place the apples on the dough.
You can arrange them in a nice pattern fanning the apple sliced from the center of the cake, place sets of slices together in the cake batter, or just place them in an even layer on the dough (which is what I did).
Then bake for 20 minutes.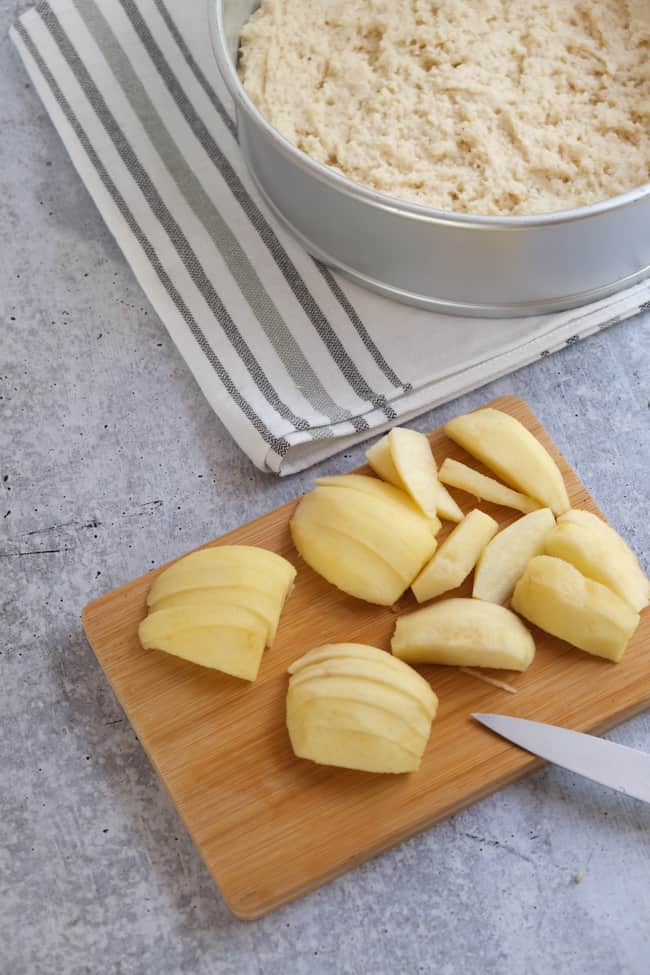 The next step is to prepare the custard. To do this, whisk 1/4 of the heavy cream with 2 teaspoons flour.
Then add the rest of the heavy cream, the egg, sugar, vanilla, cinnamon, and salt. Whisk until well combined.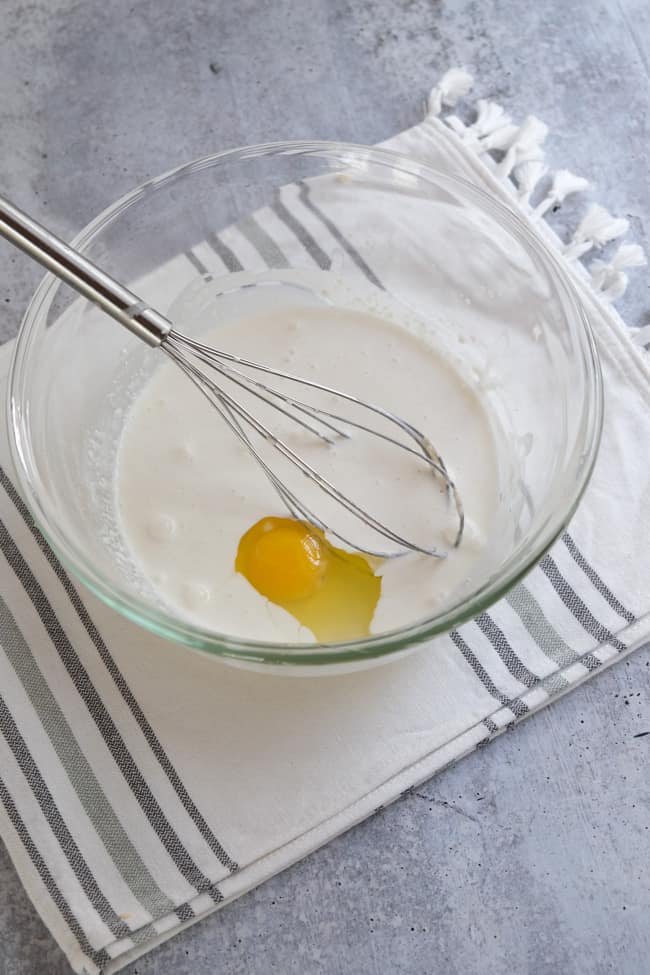 When the cake base has finished baking, take it out of the oven and pour the custard over the top. This is the time to sprinkle the sliced almonds and dried currants over the top of the cake, if using.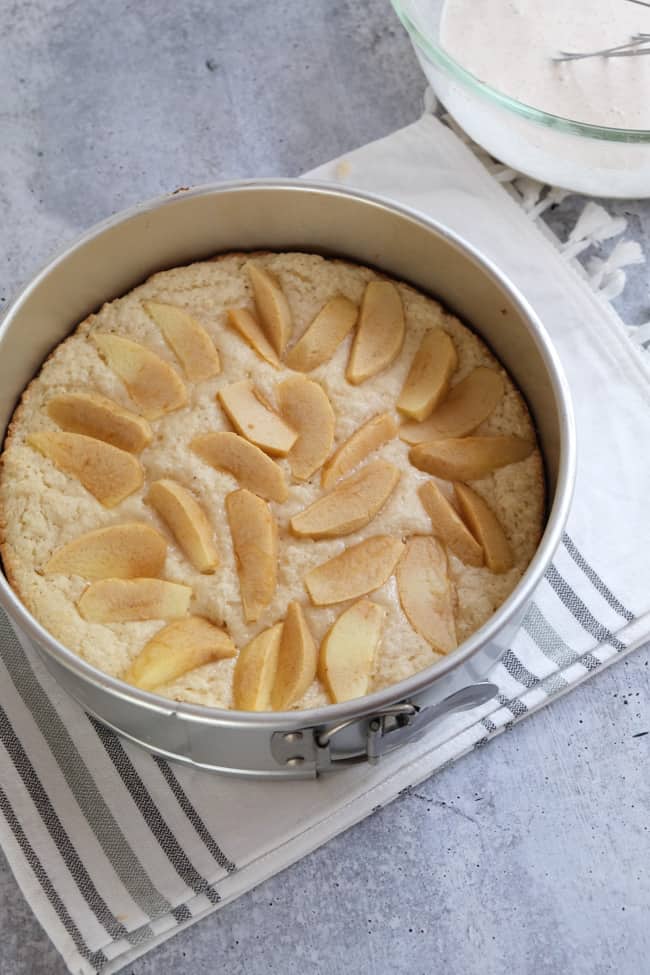 Turn the oven oven down to 350F/175C and bake the cake for another 30-35 minutes or until the top and edges of the cake are golden brown. The top of the cake should spring back when you touch it.
Don't over bake it! If you do, you'll lose that delicious soft custard layer.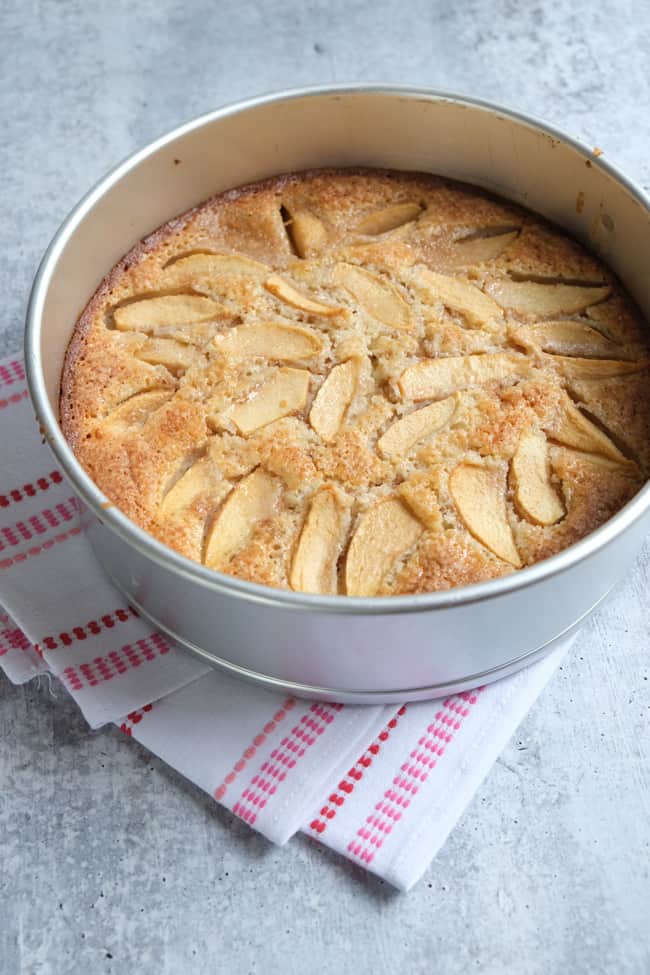 Let the cake cool on a wire rack. I like to run a knife around the edge of the cake before removing the side of the Let the cake cool on a wire rack.
I like to run an offset spatula or a butter knife around the outer edge of the cake before removing the side of the springform pan.
This cake is easiest to slice after it has cooled for 10-15 minutes.
It tastes delicious all by itself (especially while still warm), with fresh whipped cream (or even a scoop of vanilla ice cream).
This apple cake is best eaten on the day of baking but it will last another day or two if you wrap it well in plastic wrap.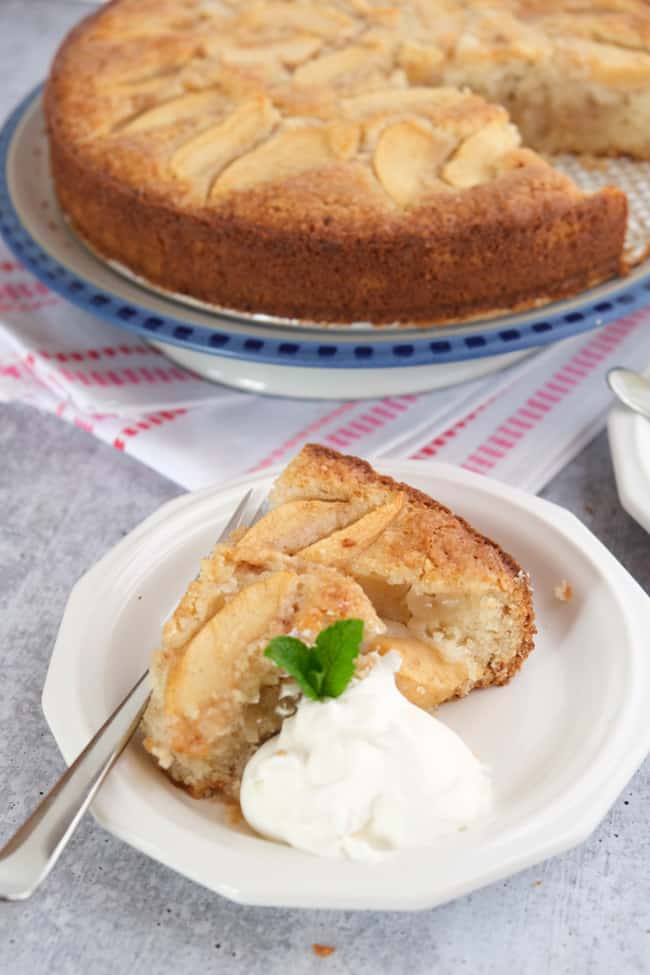 ❤️ Looking For More Apple Recipes?
?? Looking for More German Cake Recipes?
What to Serve With German Apple Cake?
After making this easy recipe for apple cake with fresh apples, serve it with fresh whipped cream sweetened with vanilla bean sugar. If you're creating a buffet of desserts, serve it with German Cheesecake, German Plum Cake or for something different, German Rote Grütze.
Coffee and tea are always perfect hot drinks to serve with apple cake. But you could also try Dutch Fresh Mint Tea (so good with apple cake!), a creamy London Fog, a cold German Iced Coffee (decadent!) or even a refreshing German Radler Beer. All are easy to prepare and delicious so it just depends on what you're craving.