Easy Irish Soda Bread with Currants (or Raisins)
This article may contain affiliate links. See our disclosure link for more information.
You only need five ingredients and one bowl to make this easy traditional Irish Soda Bread! Whether you make it with currants (my favorite), raisins (second favorite), dried cranberries or plain, I'm sure you'll love it.
Then, if you've got leftovers, make my one bowl Irish Soda Bread Pudding – it makes a delicious dessert, afternoon snack or breakfast.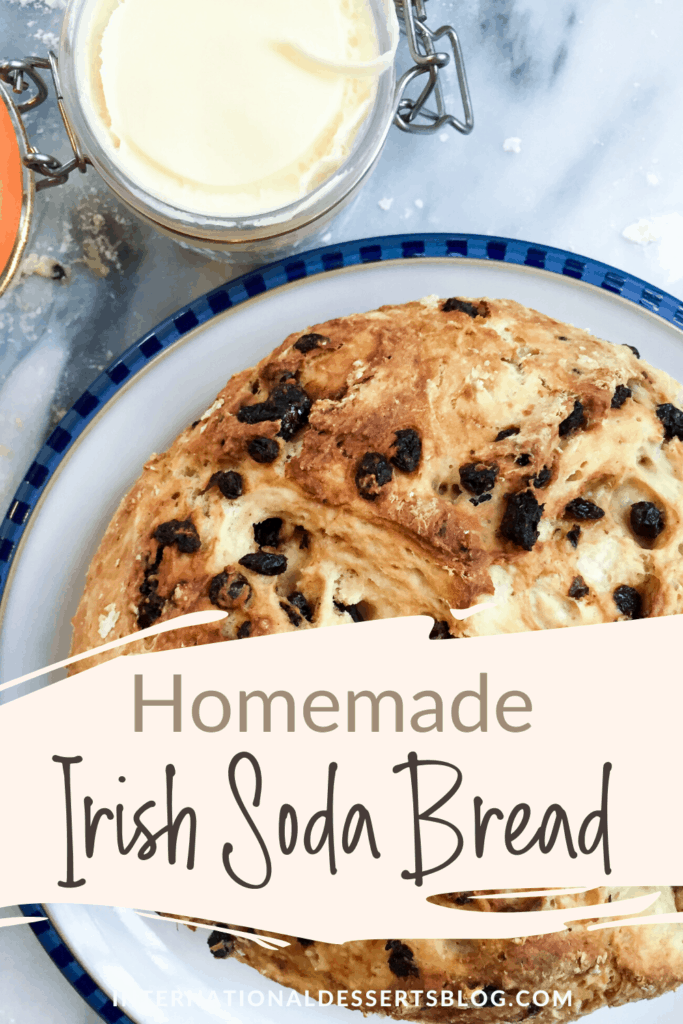 I used to buy fresh Irish soda bread every March at our local co-op. But the past few years I've been making it at home.
It's so easy – only 5 ingredients! – and SO delicious right out of the oven with a thick layer of homemade cultured European butter or even homemade clotted cream (hey, why not?).
My favorite way to make soda bread is with currants (I make my British scones with them, too) but I substitute raisins quite often. You could even dried cranberries! Or just make it plain if you don't want a sweet soda bread. It'll be delicious no matter what.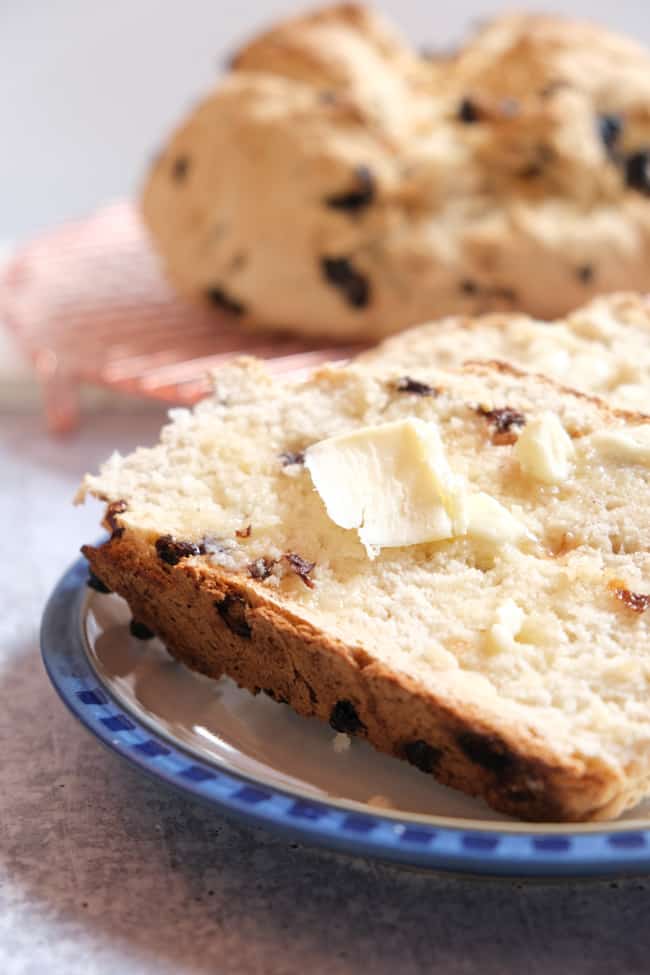 What You Need to Make Traditional Irish Soda Bread with Currants
You only need 5 simple ingredients:
Flour
Baking soda
Salt
Buttermilk (see below if you don't have any)
Currants, raisins, dried cranberries, etc (optional)
This bread requires no eggs or added sugar! The dried currants (or raisins, cranberries, etc) add a touch of sweetness to the bread.
All you do is mix everything in one bowl (I just got these glass mixing bowls and LOVE them) and then bake in a Dutch oven!
As far as kitchen tools…all you need is a large mixing bowl, measuring cups/spoons or a scale, a wooden spoon, parchment (optional) and a Dutch oven.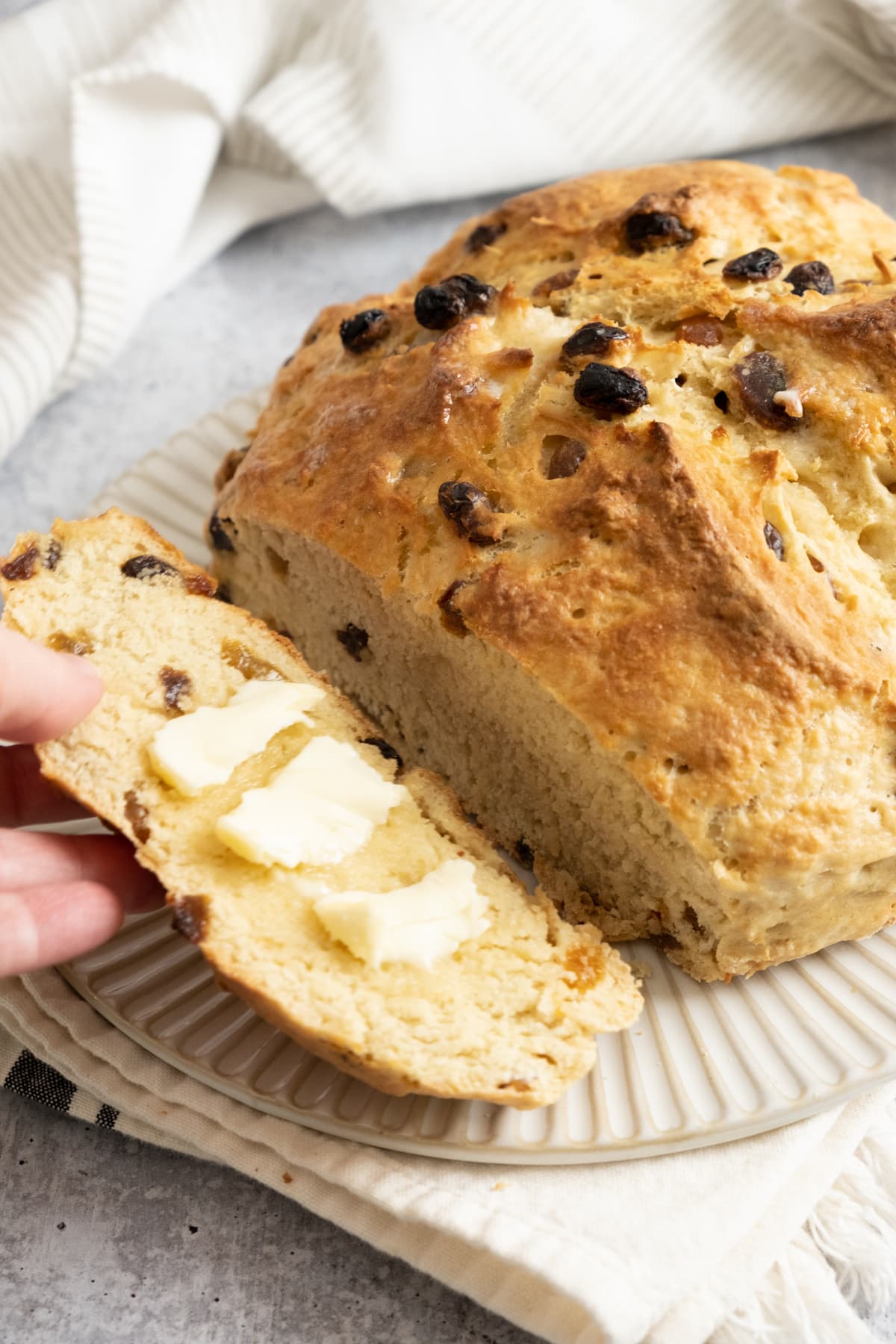 Buttermilk or No Buttermilk?
Irish soda bread is a quick bread, which means there's no yeast and you don't have to let it rise before baking. Instead, buttermilk and baking soda cause the bread to rise.
I've found that real buttermilk works the best in this recipe and with the amount of flour indicated.
If you don't want to buy buttermilk (or don't happen to have any on hand when you're itching to make Irish Soda bread right now), here's what you can do:
Mix 1 tablespoon distilled white vinegar with the 1 3/4 cup milk needed for this recipe. Let it sit for 5-15 minutes before using.
Mix 1 tablespoon lemon juice with the 1 3/4 cup milk needed for this recipe. Let it sit for about 5-15 minutes before using.
Thin yogurt or sour cream with some milk until you have 1 3/4 cup total.
Note: if you use a buttermilk alternative (e.g. milk + vinegar), you'll likely need less of it than if you were to use real buttermilk. Start with half of what's listed in the recipe and add more a little at a time. If you add too much milk and the dough is too sticky, add a little more flour.
I don't always have buttermilk in the fridge, so I use alternative #1 and #2 most frequently (I let the milk sour while the oven is pre-heating). I haven't yet tried alternative #3 but I will next time I make this recipe because I almost always have yogurt.
How to Bake Your Irish Soda Bread
I bake my bread in my very favorite kitchen tool – my round Le Creuset Dutch oven.
I invested in one several years ago (Christmas present from my husband) and I LOVE it. I use my Dutch oven nearly every single day. No joke!
I just leave it on my stove at all times because I use it so frequently. It cooks and bakes evenly, washes up easily, and lasts forever.
Even better? Le Creuset offers a lifetime warranty.
Several months ago, the inside of my Dutch oven started flaking off.
So I mailed it to them (they recommended using a flat rate box with insurance, which I think was about $20 US), and a couple weeks later they mailed me a replacement.
Turns out the reason for the flaking off was actually my fault (I'd used too high heat, they said), so I was super impressed (and SO grateful) that they sent me a replacement.
And I'm being super careful with my new Dutch oven! I'm a Le Creuset fan for life. I've since bought a non-stick skillet and a cast iron pan and use both several times a week.
Click here to read more reviews and check the price on Le Creuset's awesome Dutch oven!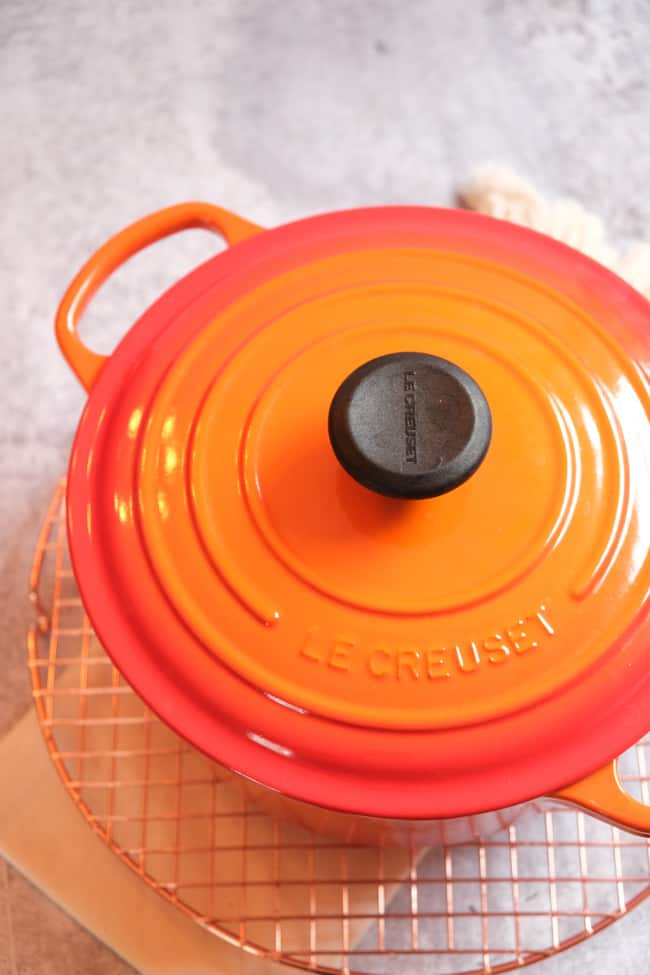 Tip: get the stainless steel knob instead of the plastic on your Dutch oven lid.
With the plastic handle you're limited as to how hot your oven can be. I wish I'd thought about that! Fortunately, it looks like you can order a stainless steel replacement knob! *BRB…off to put in my Amazon order…*
UPDATE: I bought the stainless steel knob and love it (see photo above). I now use my Dutch oven to make all kinds of bread!
And if you're looking for a great baking gift, check out this Celtic Irish Soda Bread baking dish. This baking dish with a jar of homemade soda bread mix would be a welcomed birthday, shower or holiday gift.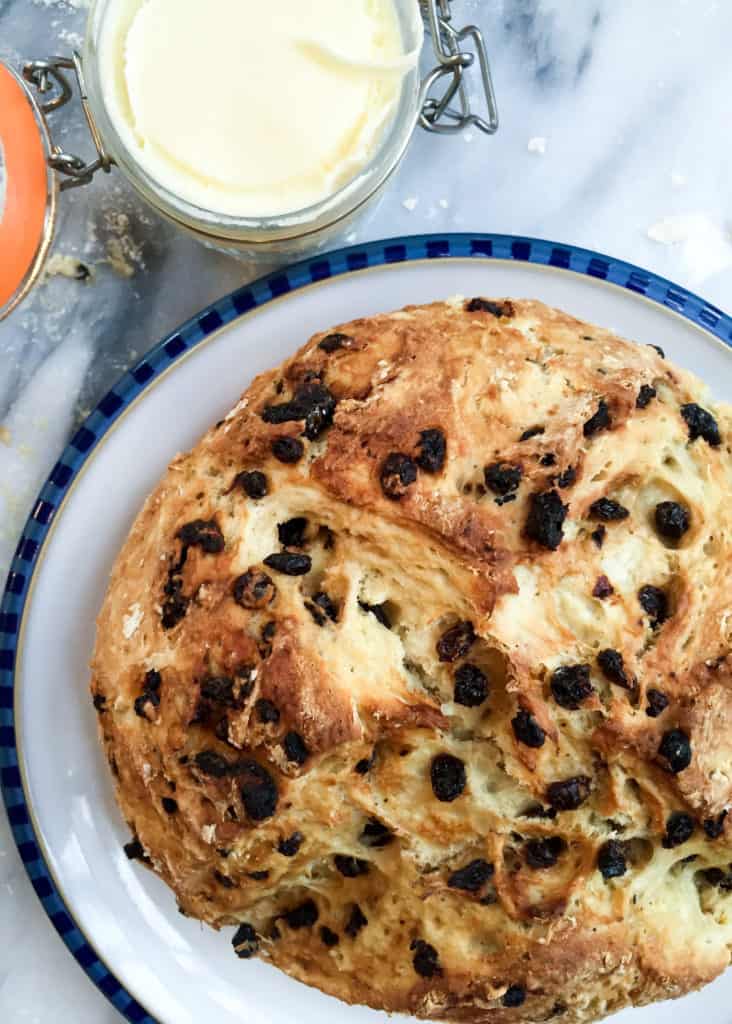 What to Eat with Irish Soda Bread
See the butter in the photo above? That's fresh, homemade European cultured butter. It pairs extremely well with this Irish soda bread.
Making homemade butter is super easy – just add buttermilk to heavy cream, let it culture in a jar for 12-36 hours, and then churn it using a mixer.
Be sure to make your homemade butter a few days before you want to eat your soda bread.
Bread and butter…so simple, so good!
If you don't inhale the entire Irish soda bread loaf the same day you make it, sprinkle a little water on the bread and cover with a tea towel to keep it fresh. Or store it in your Dutch oven (that's what I do).
Or use the leftovers to make Irish Soda Bread Pudding!
How to Make Irish Soda Bread with Currants
First, mix flour, baking soda, and salt in a large mixing bowl. (See note in recipe card if you weigh flour rather than measure with cups.)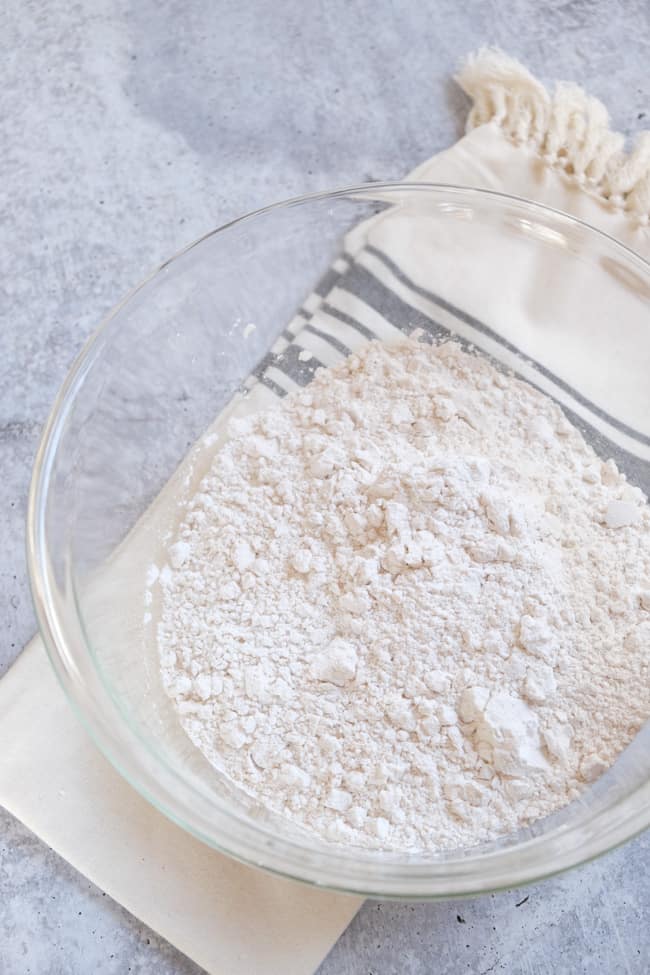 Then add the dried currants (or raisins, dried cranberries, etc) and mix with a wooden spoon.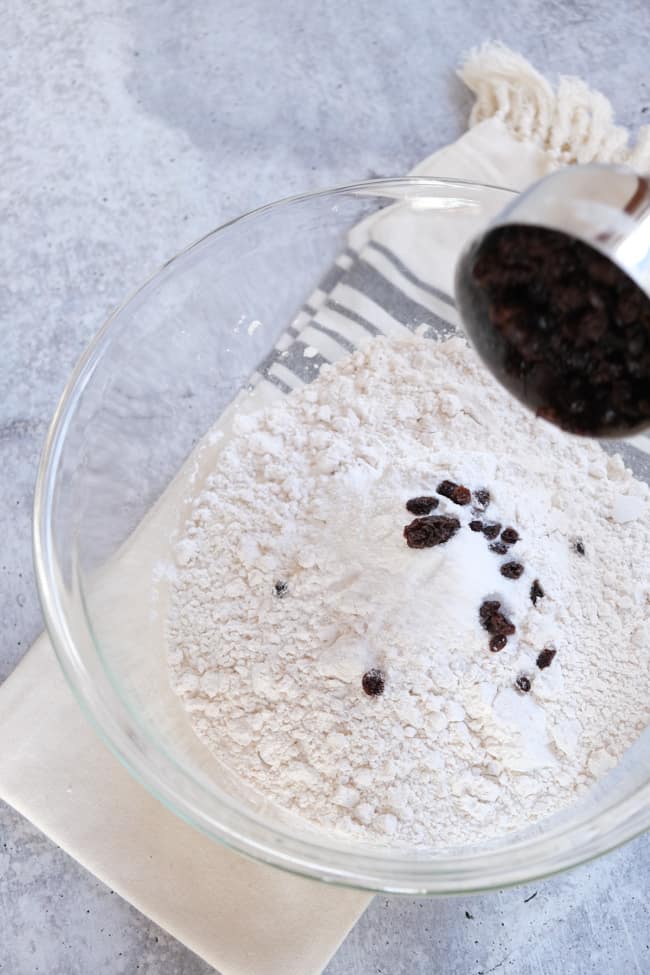 Pour buttermilk into the mixing bowl and stir until it starts to form a dough. The dough will be a bit sticky but if it's too sticky, add a little more flour. (See note in recipe card if you're using milk + vinegar/lemon juice instead of buttermilk.)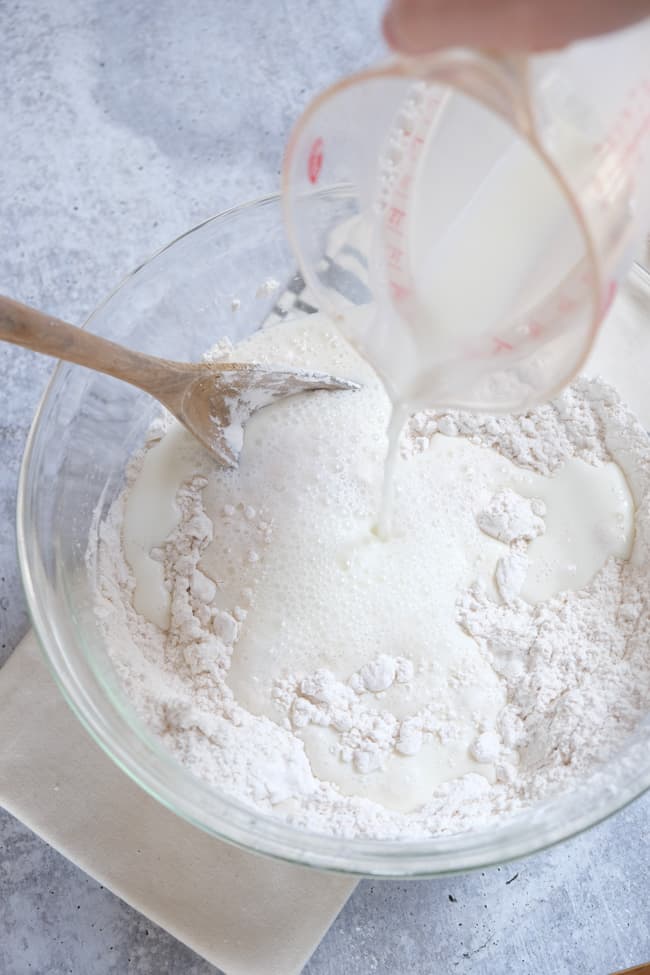 Then lightly knead the dough a few times (try 5-10 times). You can knead the dough on a lightly floured surface (I often use my marble pastry slab or my silpat baking mat). If your mixing bowl is big enough, you can knead it right in the bowl. Knead until the dough comes together and is smooth.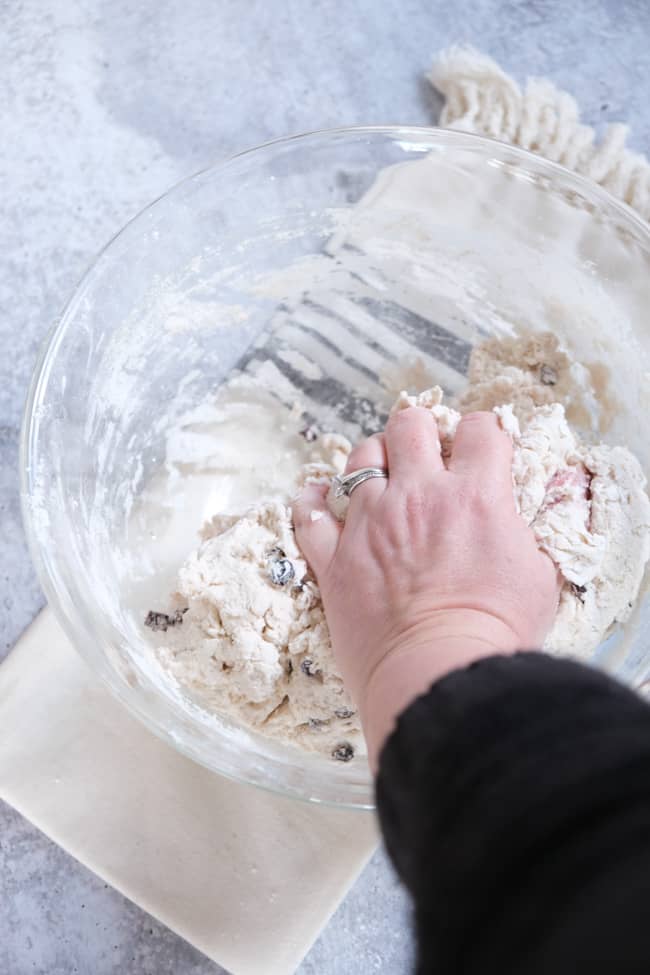 Form dough into a round and place in a Dutch oven. Use a sharp knife to make two slices in the dough as pictured below.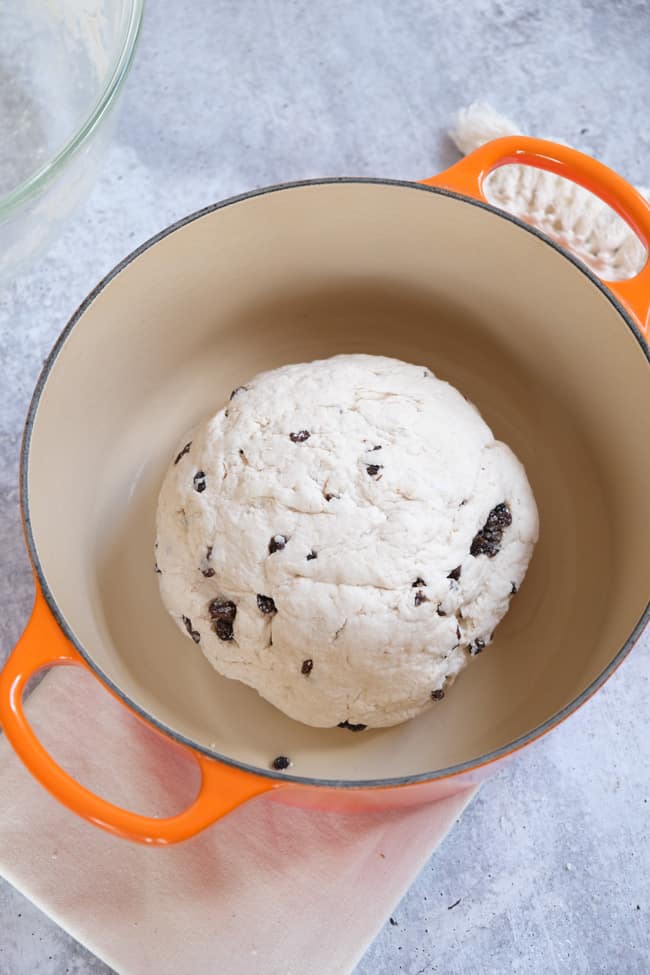 Use a pastry brush to brush the a little of the remaining buttermilk over the top of the dough.
Note: I haven't always done this, and you don't have to, but it does give the top a nice finish, as you see below. The loaf in the middle wasn't brushed with buttermilk, whereas the loaf on the right was brushed with buttermilk. Both loaves were delicious!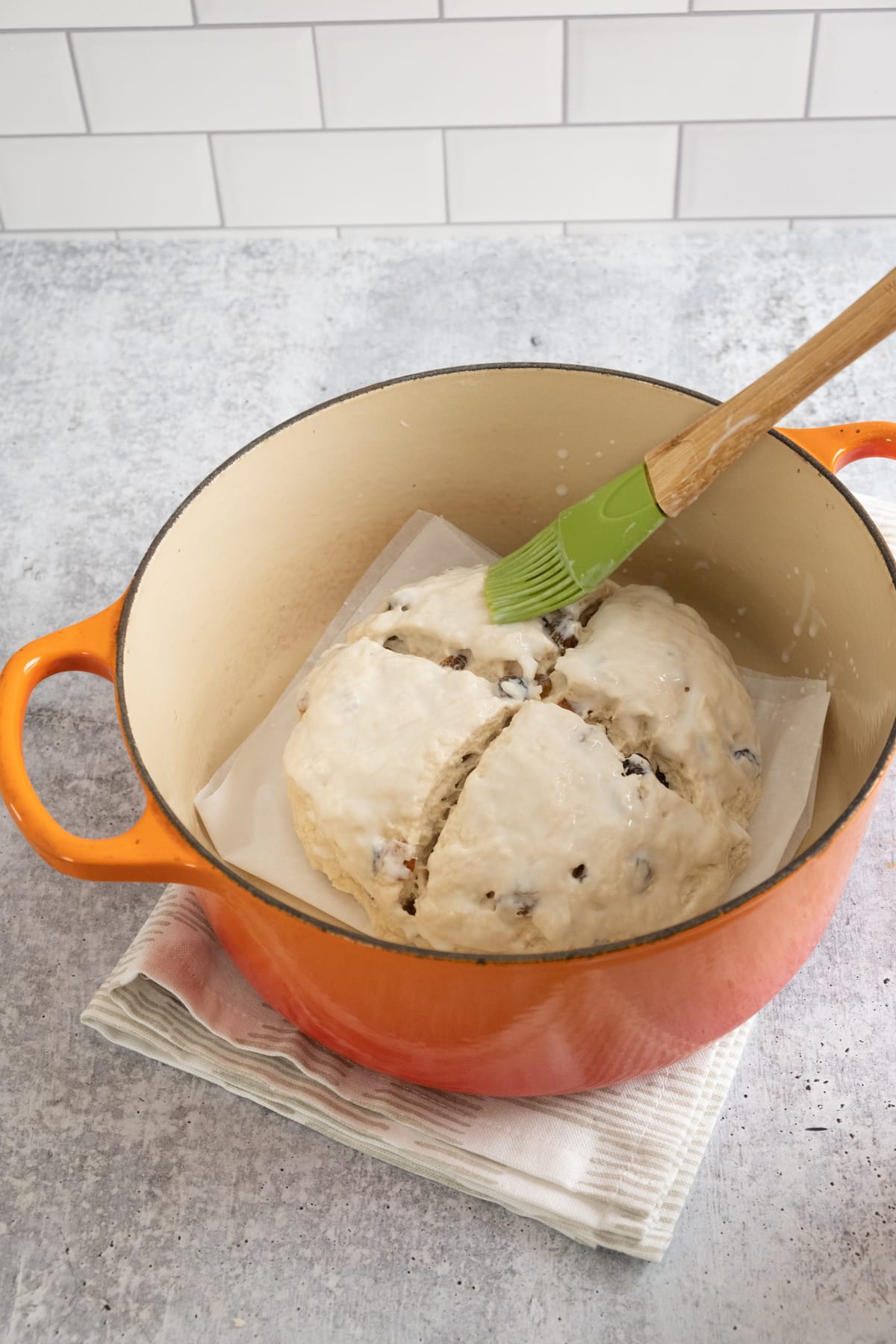 Bake covered at 425F / 215C for 30 minutes.
Take the lid off and bake uncovered for another 15-ish minutes.
Depending on your oven, you might need to bake your bread a less or little longer than that.
Once you take the lid off, keep an eye on it so it doesn't get too browned! I check my bread about every 5 minutes.
But don't worry…if your loaf isn't browned enough or gets a little too browned it will still taste good! I've experimented so many ways with this bread and even though some loaves weren't photogenic, they all tasted great.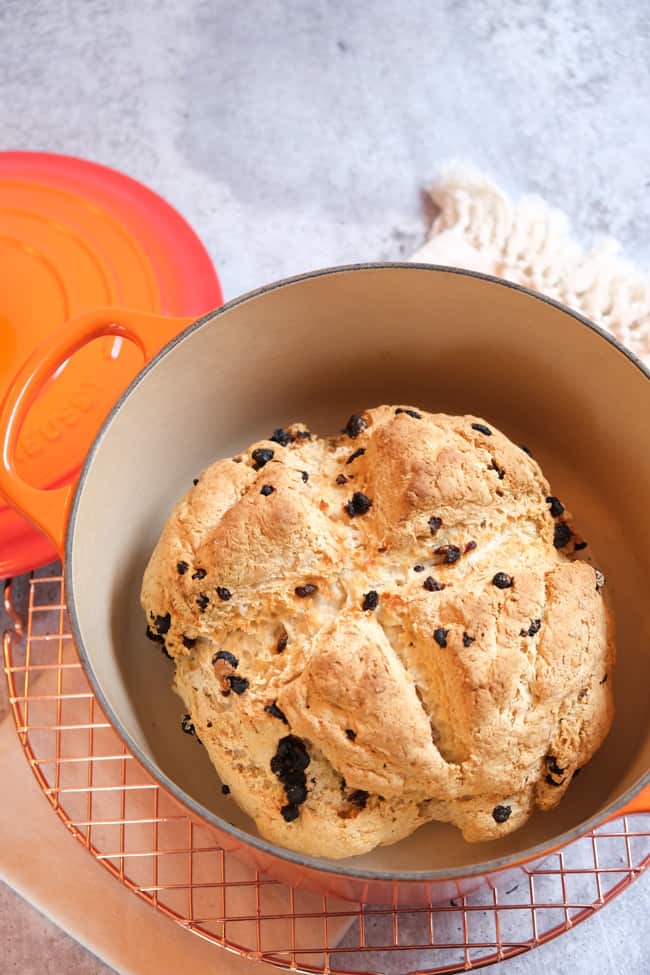 The internal temperature on an instant-read thermometer should be 180F/190F (82-87C) and the top should be golden brown. You can also give the bottom of the bread a thump and if it sounds hollow, it's done.
I like to brush the top of my bread with a little melted butter (or just place a few pats of butter on top of the fresh-out-of-the-oven bread and it will melt) but this is optional.
Tip: If you don't use parchment and find your bread stuck to the bottom of your Dutch oven (that happened to me once when I baked it uncovered longer than usual), place the lid back on the Dutch oven for a few minutes. The steam created from the hot bread should loosen it up enough to unstick the bread.
If your bread has already cooled a bit, turn the oven off and place the covered Dutch oven back in the oven for a few minutes.
Let your bread cool on a wire rack, then slice and enjoy.
What to do with left-over soda bread? Make my easy Irish Soda Bread Pudding! It's the perfect way to use up leftover soda bread and makes a delicious dessert, afternoon snack or breakfast. Yuuuuum!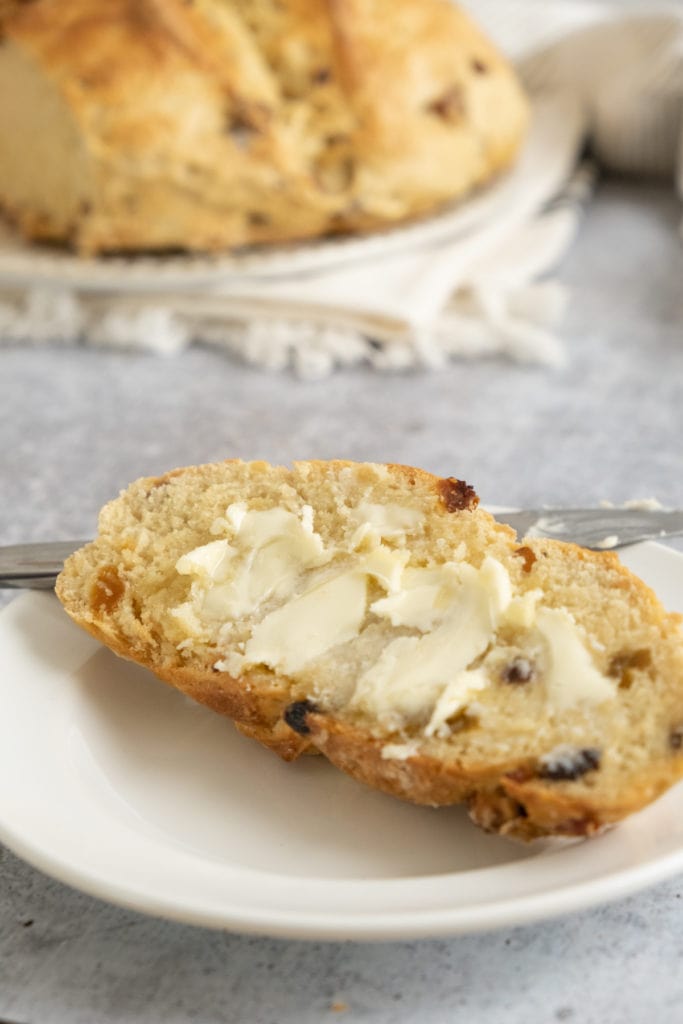 Looking for More British & Irish Recipes?