Lemon Strawberry French Mille Crepes Cake
This article may contain affiliate links. See our disclosure link for more information.
If you like crepes, you'll love this French mille crepes cake! This delicious cake is comprised of tender crepes, a luscious lemon whipped cream filling in-between each and every crepe, and fresh strawberries.
I drizzled golden syrup over the strawberries and added a few hazelnuts to give the cake a little something extra. This mille crepes cake is easy to make and assemble, looks impressive, and tastes like a dream!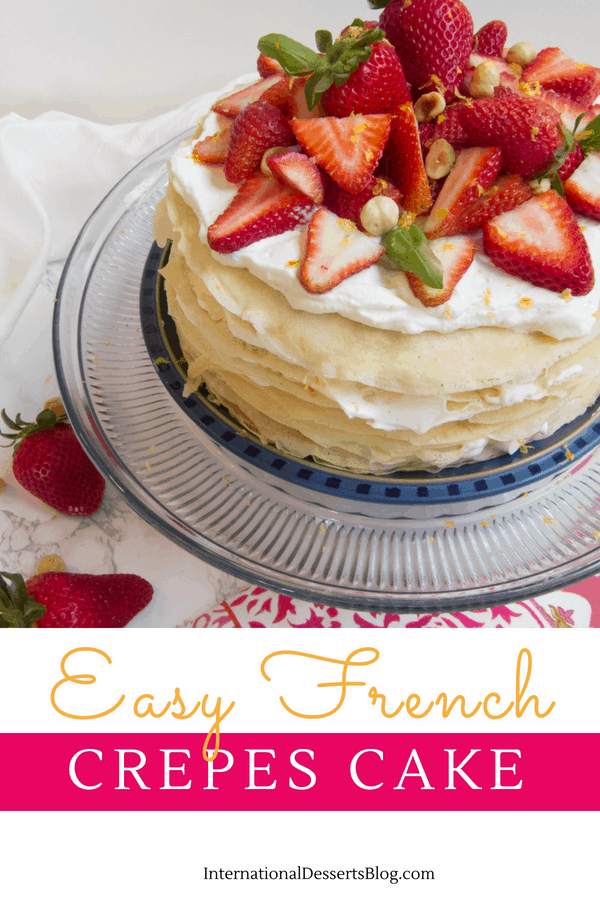 This classic French cake makes a spectacular birthday cake, anniversary cake (I made one for my 20th anniversary), office party or dinner party dessert. Honestly, it makes a great breakfast, too. 🙂 It's a simple cake so use the best ingredients you can.
The mille in Mille Crepes Cake — Gâteau Mille Crêpes in French — translastes as 1000, as in 1000 crepes. This version, however, has 20 layers (which is why I made it for my 20th anniversary). 20 layers is about the same height as a 2-layer cake but you can have as many layers as you'd like with your crepes cake!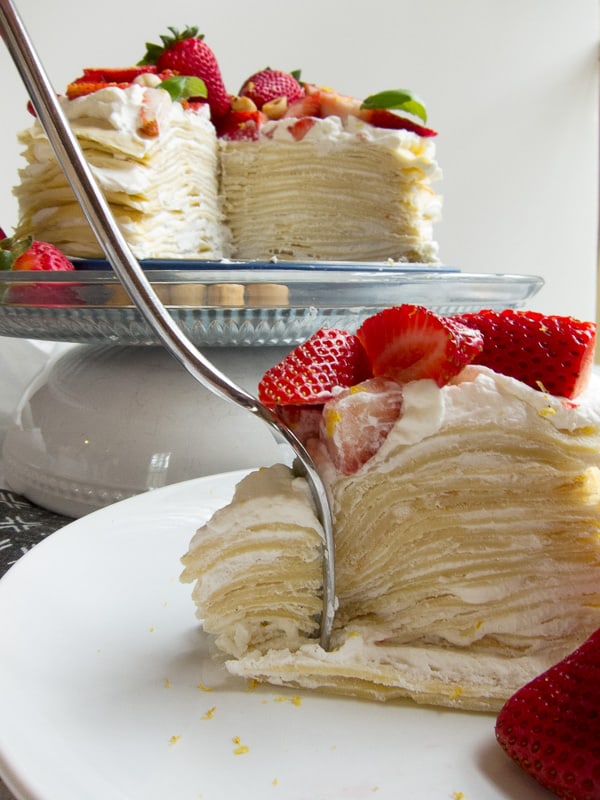 What are crepes and what are they made of?
Crepes are thin French pancakes that you can prepare in both sweet and savory ways (just like French palmiers) — and are a must-try when in Paris. The sky's the limit when it comes to crepe filling.
My favorite dessert crepe fillings are nutella, fresh lemon or berries with marscapone and whipped cream. You can roll or fold crepes or layer them into this beautiful cake!
Crepes are made from flour, eggs, milk, a pinch of salt. That's it! If you're making dessert crepes you can add a bit of sugar to the crepes batter – or you can skip it if the toppings are sweet.
Um, what's the correct crepes pronunciation?
Most English-speakers pronounce crepes as "crape" (rhymes with tape). The French pronunciation is "crep" (rhymes with pep). In French, crepe is singular and crepes is plural — but they're pronounced the same (don't pronounce the s in the plural).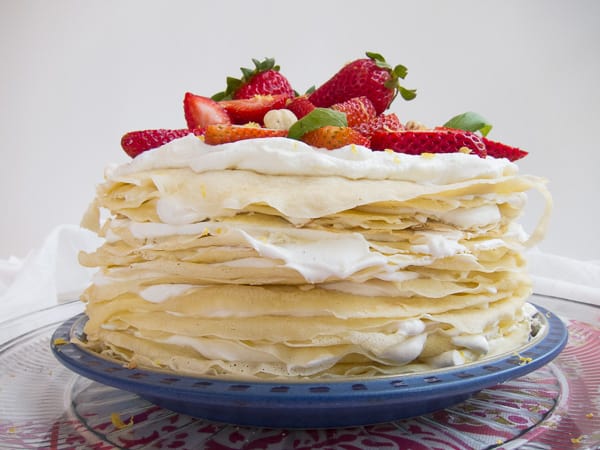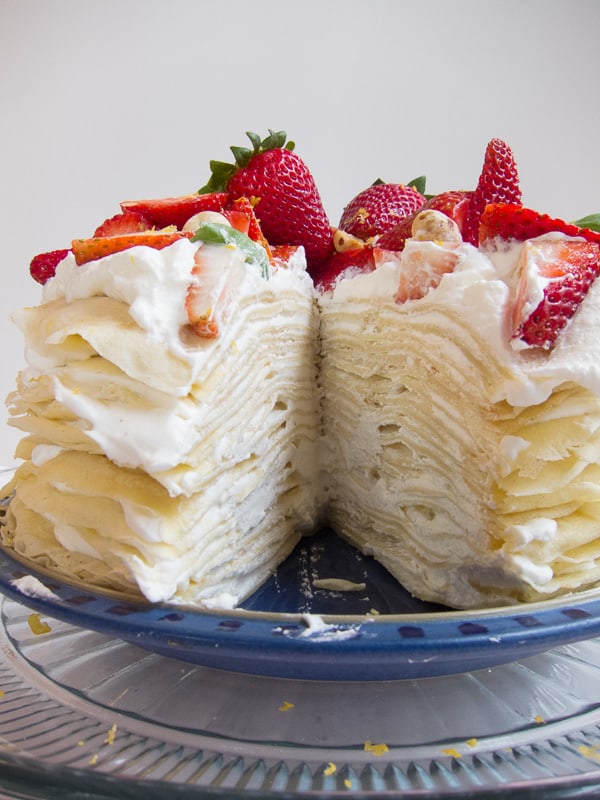 Do I need a special crepes pan? Is there a "best crepes pan"?
In my experience, the best pan for homemade crepes is a simple non-stick pan. You can buy an electric crepes maker (like this electric one on Amazon – which would be fun to use if you're making crepes for a crowd and don't want to be stuck in the kitchen hunched over a hot stove the whole time) or a special crepes pan (like this one) but, like I said, I've had good luck with my simple everyday non-stick pan. I don't recommend using a pan that's not non-stick.
Mille Crepes Cake Recipe
This recipe is simple but does require a bit of patience (mostly to not eat all of the crepes as soon as they're made). First, make 20 crepes and let them cool. Then, whip the cream and fold in lemon curd and zest. Finally, layer crepe-creme-crepe, and then top with fresh strawberries, lemon zest, golden syrup, and hazelnuts. That's it!
The crepes recipe below should make at least 20 crepes. The first crepe or two don't usually turn out, and a few usually tear (or get eaten), so I like to make at least 25. That said, if you end up with 22 crepes or 18 crepes, it doesn't really matter!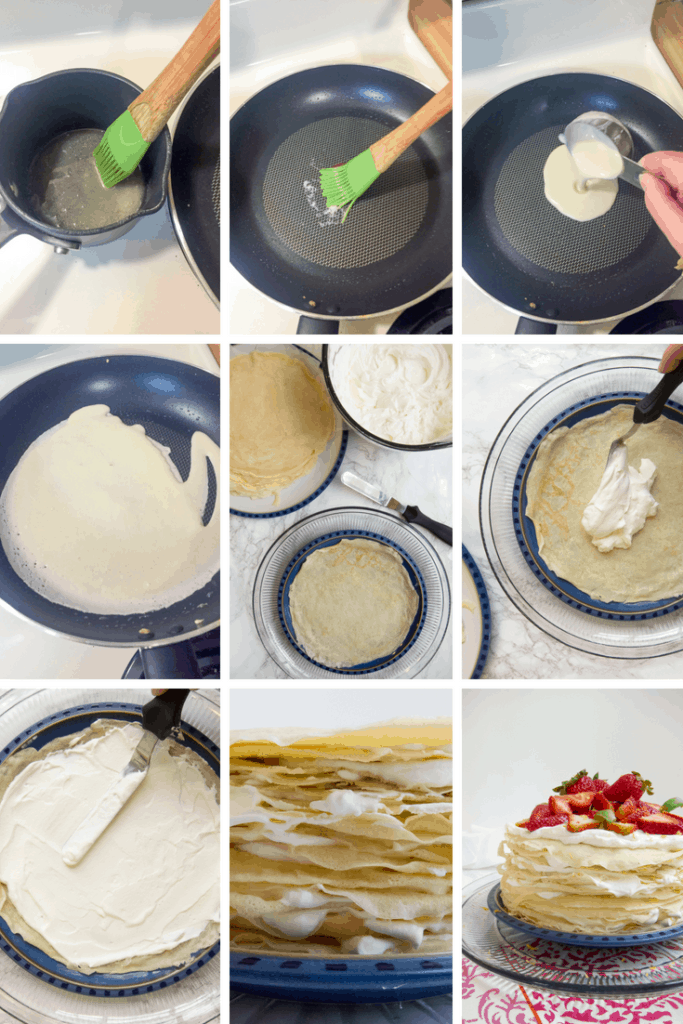 Crepes Cake Tips:
I use vanilla sugar in this recipe but you can use a vanilla bean or vanilla extract + sugar if you prefer. Vanilla sugar is super easy to make – here's my easy recipe – but you do need to make it a day or two before you make this crepe cake.
You can use homemade or store bought lemon curd. Here's my recipe for easy lemon curd.
Place a sheet of wax or parchment paper between each crepe as you make them. That way they won't stick to each other as they cool (before you assemble the cake).
You only need one nice-looking crepe for the very top so don't worry if each crepe doesn't turn out perfectly.
I like strawberries with this recipe but you can replace them with fresh raspberries, blackberries or blueberries.
If you'd like a little more fruit flavor try spreading a thin layer of berry jam on each crepe, in addition to the lemon cream.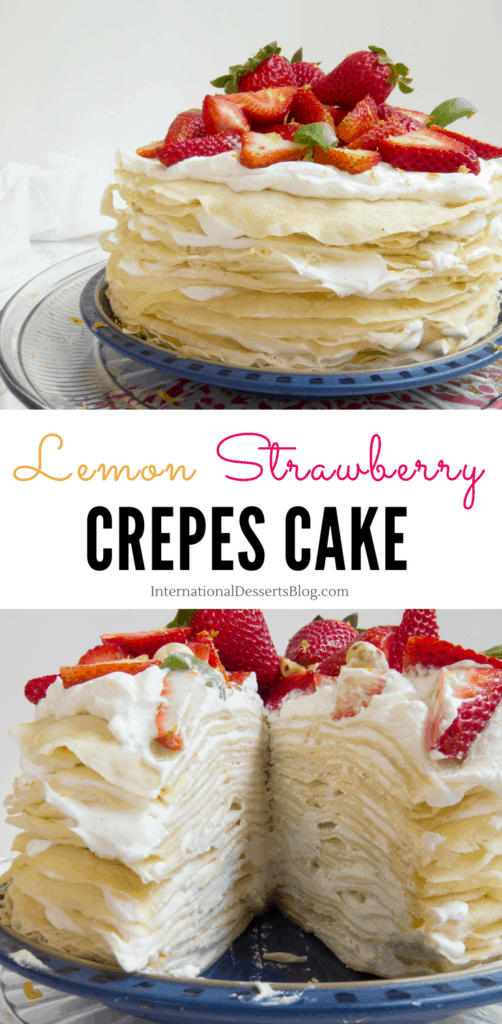 Looking for another easy and delicious French treat? Try making my 2-ingredient French Hot Chocolate. You'll love it!
Make More Easy No-Bake Recipes