Dutch Speculaas Spices Cookies (the Best Dutch Christmas Cookies)
This article may contain affiliate links. See our disclosure link for more information.
Made with fragrant Dutch Speculaas Spice, these delicious cookies deserve a spot on your holiday baking tray! Included in this recipe are two ways to make Speculaas Spice Cookies – thin and crispy or soft and chewy. Both are super easy. You'll love them!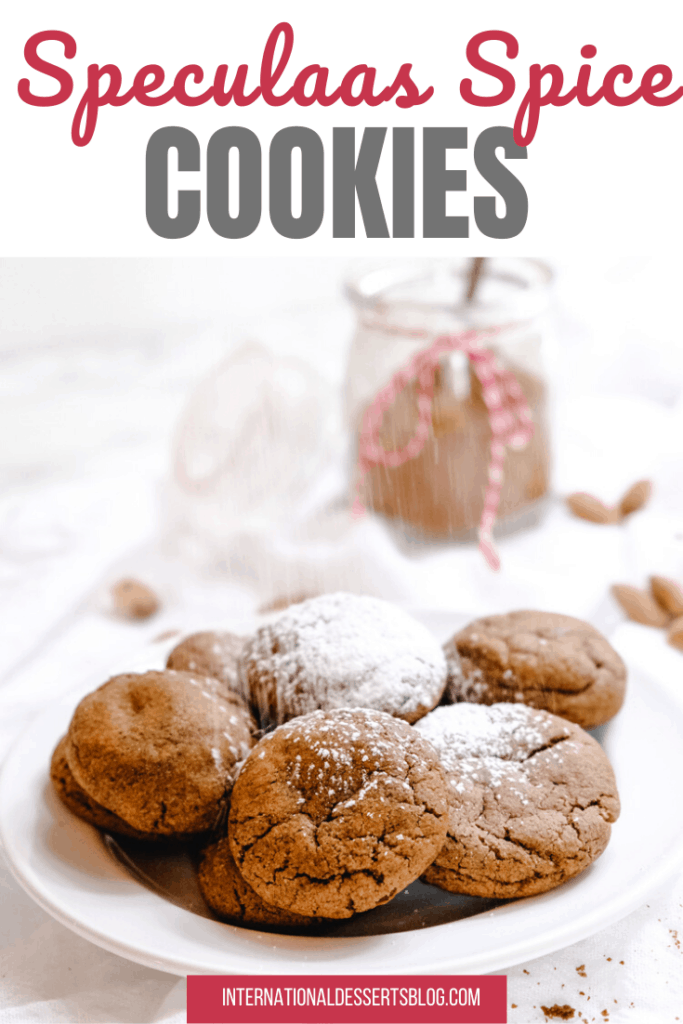 A while back I shared how to make Dutch Speculaas Spice Mix, as well as five ideas for how to use it in your holiday baking (like adding it to chocolate chip cookies, waffles, scones…omg, yum, so good!).
I also shared my recipe for Speculaas Spice Muddy Buddies, which gives an old favorite a tasty international twist.
Today I'm sharing Dutch Speculaas Spice Cookies!
I've been making these cookies for a few years now and they're my husband's favorite holiday cookie. As soon as he smells them baking he's in the kitchen asking when they'll be done. They've become one of my favorites, too.
You've probably seen Dutch Windmill cookies, Belgian Speculoos Cookies or German Spekulatius Cookies, whether in Europe or at stores like Trader Joe's, Aldi or World Market. While each cookie is a bit different, depending on the recipe, they're all pretty similar.
One traditional way to make these cookies is to use a cookie mould in a holiday or windmill shape like in the photo below. Those cookies are crispy and sometimes have almonds in them. Some are lighter in color, others are darker.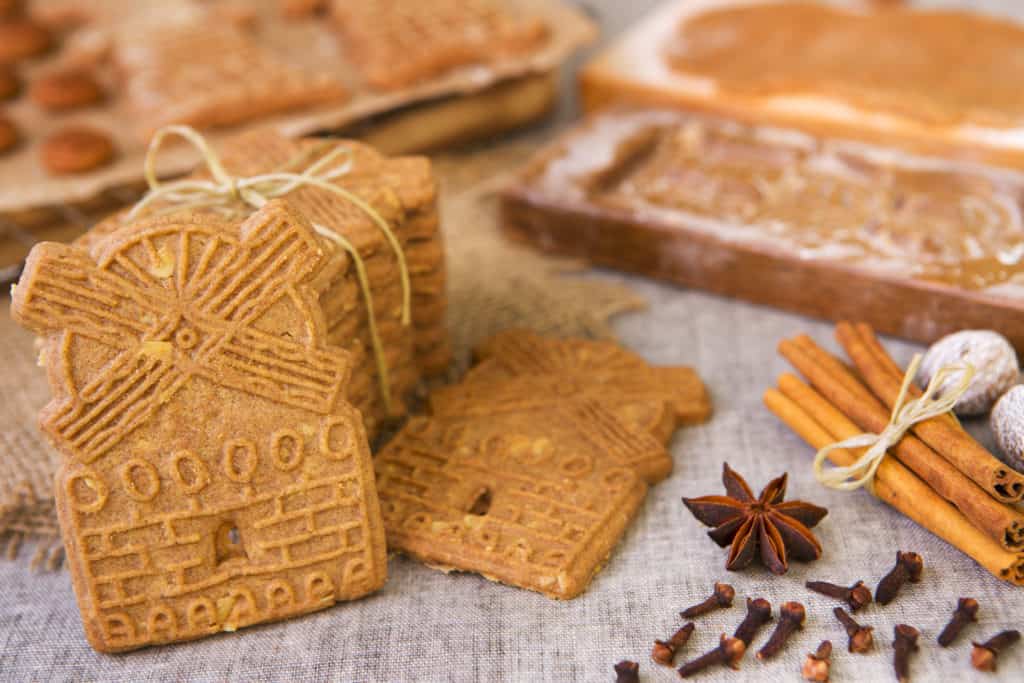 This Speculaas Spice Cookie recipe is a little different.
The cookies this recipe makes are all about the taste rather than forming them into specific shapes. That's what makes them easy and delicious!
You can, however, use holiday themed cookie cutters or top the cookies with powdered sugar, glaze or sliced or slivered almonds if you want to, um, spice them up (sorry)!
So, What's Speculaas Spice Mix?
It's a traditional blend of spices that smell like Christmas in several parts of Europe! (You'll see it as Speculoos in Belgium and Spekulatius in Germany.) This mix includes:
Cinnamon
Nutmeg
Cloves
Aniseed
White pepper
Coriander
Ginger
Cardamom
Mace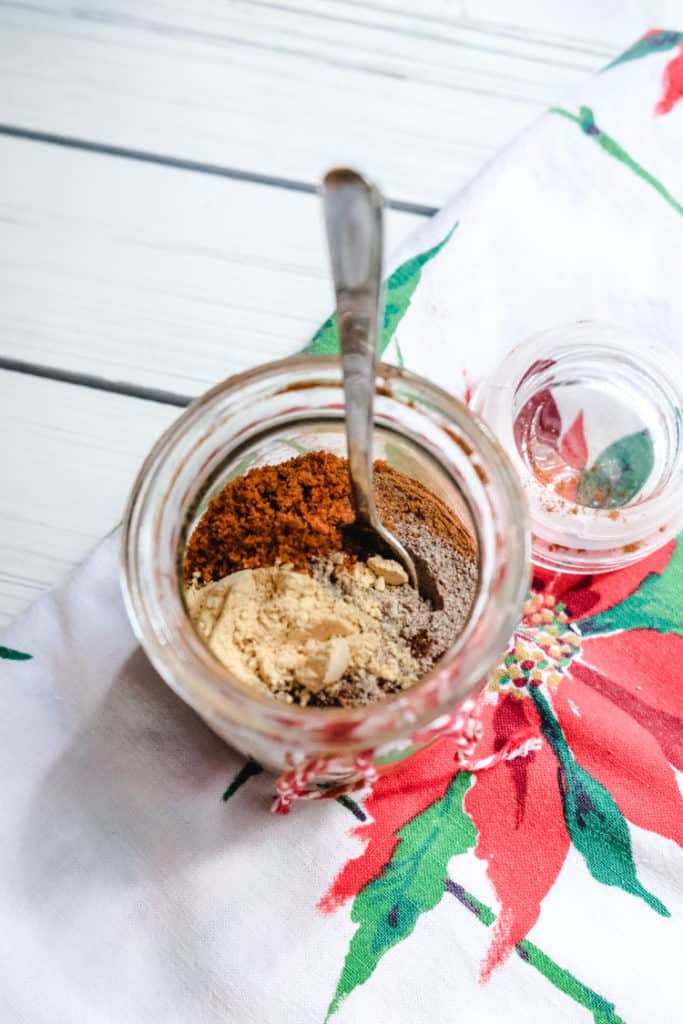 I make up a jar of this spice mix each year and keep it in my cupboard to use throughout the holiday season. Even though I add Speculaas Spice Mix to things like waffles and chocolate chip cookies (which is really good, by the way), one of my favorite ways to use this fragrant holiday spice mix is in these traditional Speculaas Spice Cookies. To me they taste like Christmas in Europe.
Two Ways To Make These Speculaas Spice Cookies
I'm going to show you how to make Dutch Speculaas Spice Cookies two ways. The first way is thin and crunchy, and the second is soft and chewy. Both are perfect for your holiday baking tray!

Many people enjoy these cookies at Christmas but they're tasty all winter long, especially with a cup of hot tea or coffee. And the fragrant spice mix will make your house smell so good and feel all nice and cozy while they're baking. Plus, they're egg free, can be made with or without almonds, and aren't too sweet.
Thin and Crispy Cookies
For the thin and crispy cookies I used cookie cutters to cut out rounds (I've used other holiday shapes, too). Then, I pressed almonds into the tops of the cookies for some decoration. Most of the time, though, I just cut them into rounds, bake them, and let the spice speak for itself!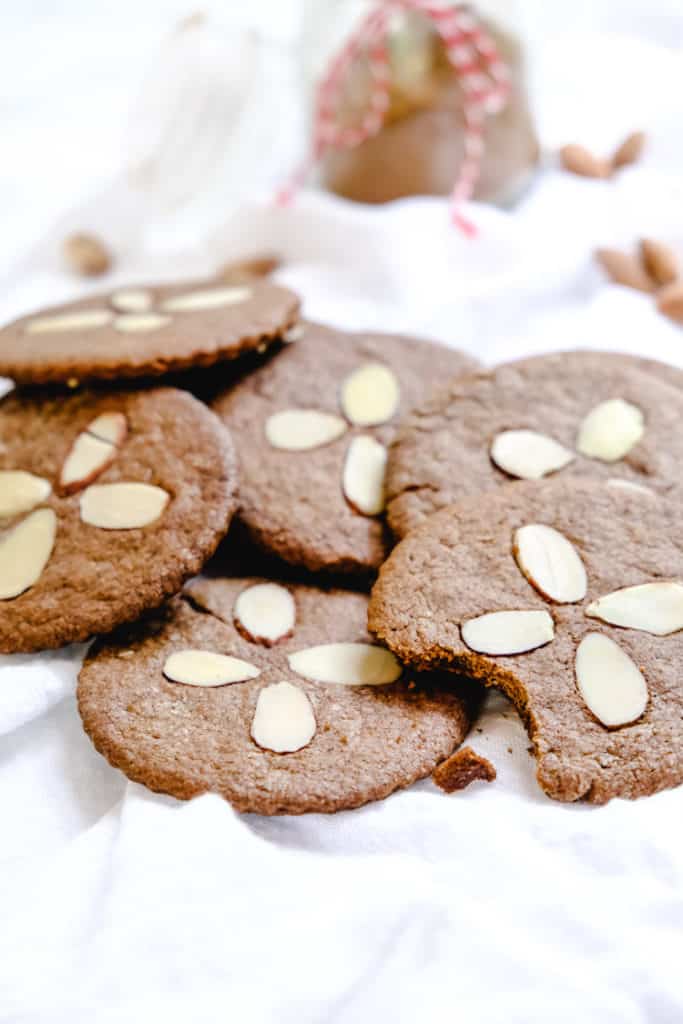 Soft and Chewy Version
To make this version I simply rolled the dough into balls and baked them. After letting the cookies cool for a few minutes, I then dusted the tops with powdered sugar. They don't need the powdered sugar but I did like the look on these softer cookies.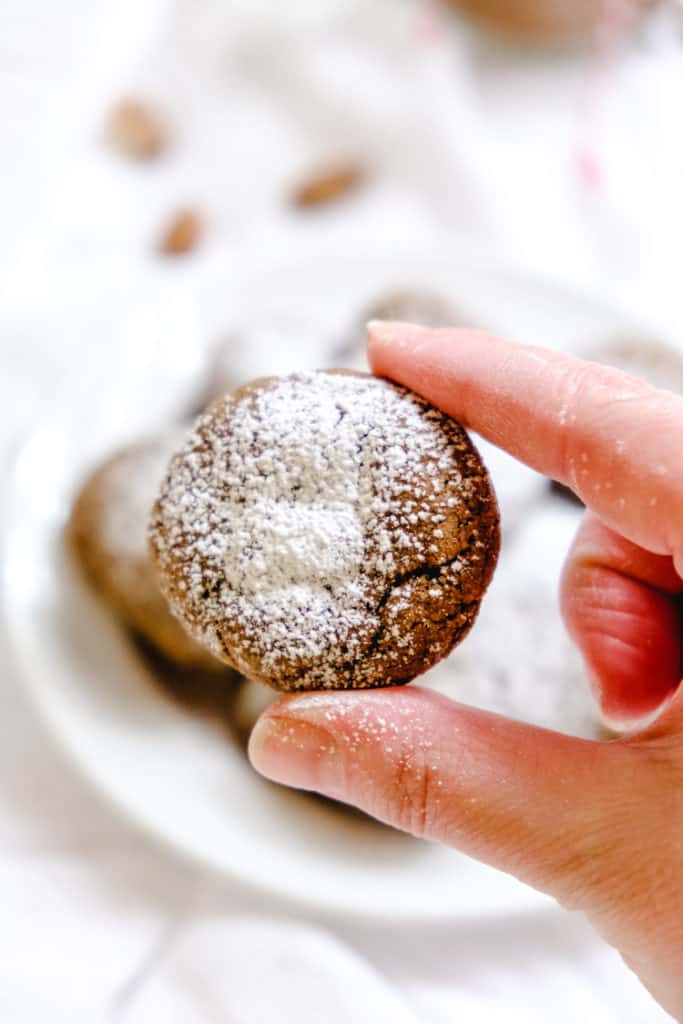 I thought I'd prefer one version over the other but I really can't decide which one I like better! I asked Aaron which one he preferred and he said the exact same thing. It's easy to make both – just divide the dough in half so you can try them both.
One thing I don't recommend is using a cookie mould or cookie stamps with this recipe. I've tried it and the cookies lose the pattern when baked. It's just not the right kind of cookie dough (in my experience, anyway).
The cookie stamp did work ok when I rolled cold dough in balls and then pressed the pattern into the cookie with the stamp…but the pattern still lost some defintion during baking. Fortunately, they still tasted amazing!
What You Need to Make Speculaas Spice Cookies
Ingredients:
Flour
Baking soda
Salt
Speculaas Spice Mix (click here for the recipe or buy it here on Amazon)
Brown sugar
Butter
Milk
Orange zest (optional)
Sliced almonds (optional)
Powdered sugar (optional)
Equipment:
Mixing bowl
Spoon or spatula
Stand or hand mixer
Cookie cutters
Cookie sheet (this one is my favorite)
Silpat mat (I use this one) or parchment
Cooling rack
How to Make Speculaas Spice Cookies
I'm going to show you how to make both cookie versions. First up is the thin and crunchy cookies.
First mix the flour, baking soda, salt, and Speculaas Spice Mix in a small mixing bowl.
(You can get the Speculaas Spice Mix recipe here or you can buy it here on Amazon.)
Cream the butter and brown sugar until light and fluffy. Sometimes I use my stand mixer to do this, other times I use my hand mixer and a large mixing bowl.
Mixing on low, slowly add the flour to the butter a little at a time. It will be dry and sand-like.
Add the orange zest (optional), then add 1 tablespoon of milk and mix on low. Add a second tablespoon and mix again it comes together into a dough. It might take a few minutes for the dough to come together. The dough will be thick.
Wrap the dough in plastic wrap and chill in the fridge for at least an hour. Overnight is optimal to the let the flavors meld.
When you're ready to make the cookies, roll out the dough on a floured surface using a rolling pin to 1/8 inch thick (I always do this on my trusty marble pastry slab).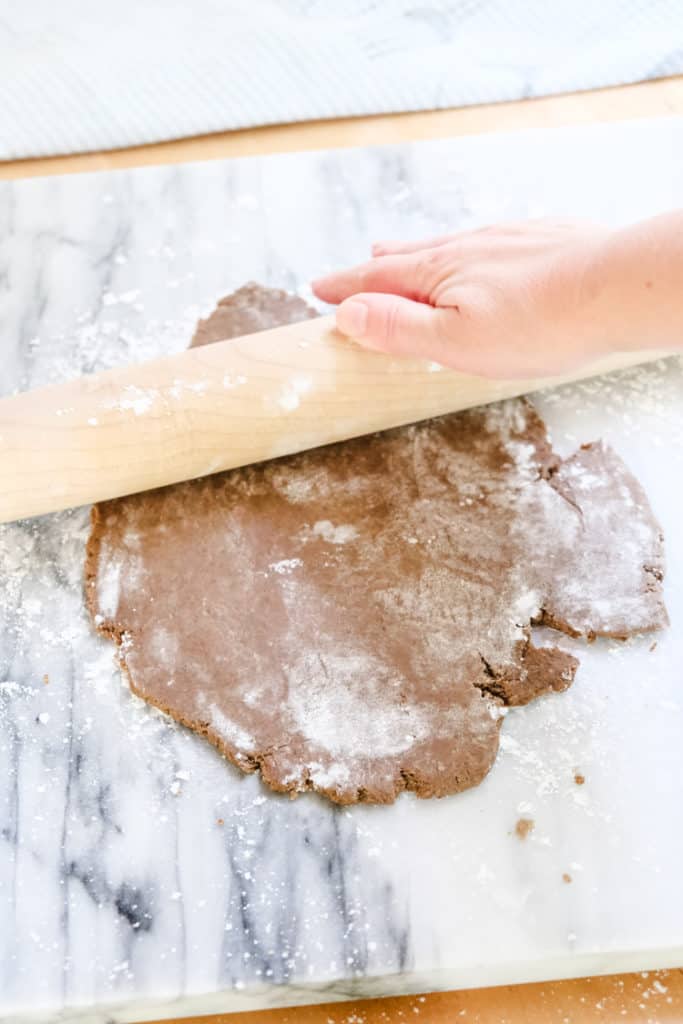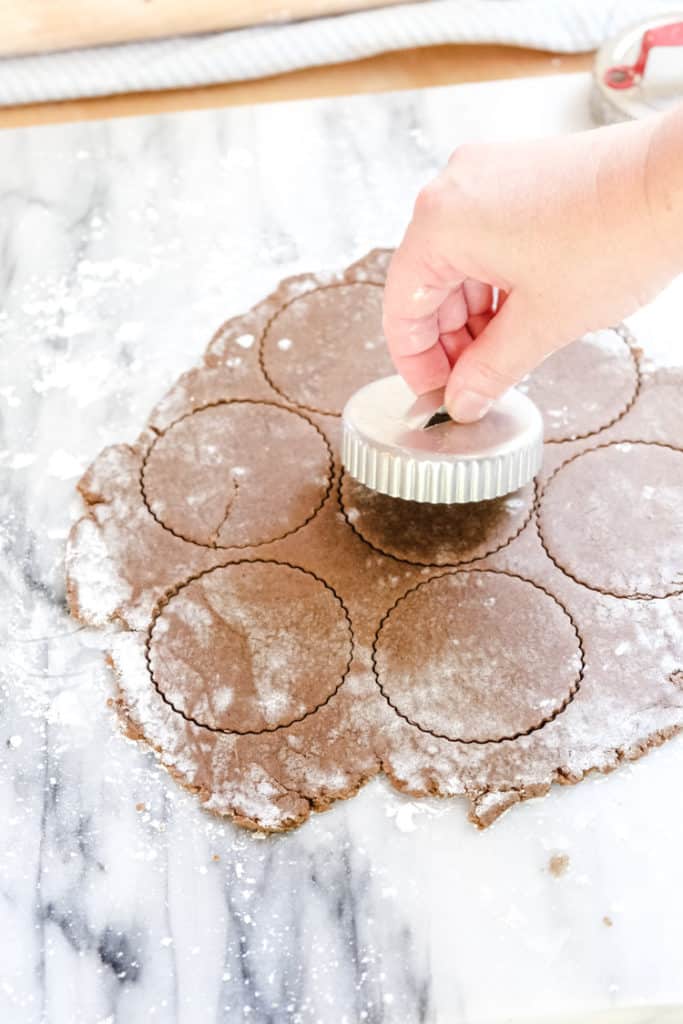 Using a round cookie cutter (or whatever shape you want to use, I also used a star shape), cut out your cookies. I used vintage cookie cutters passed down to me by my grandmother and mother-in-law. 🙂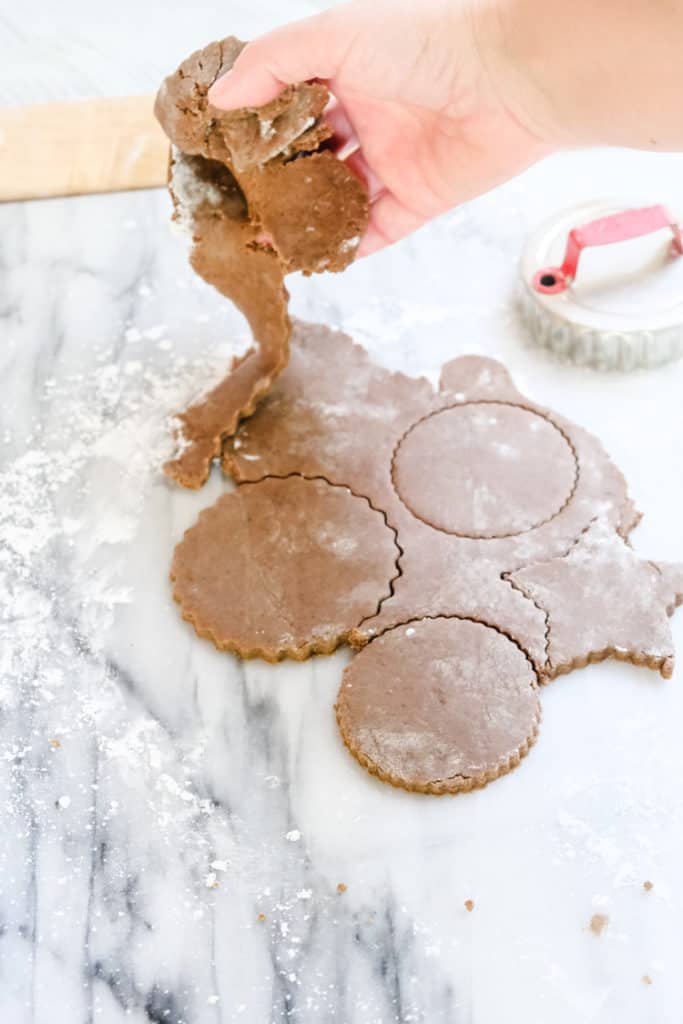 I found it easiest to pull the extra dough away from the cut cookies before transferring the cookie rounds to the baking tray.
Place cookies on a baking tray and then press sliced almonds onto the top of the cookies (if you want). If you want nut-free cookies, you could sprinkle raw sugar on top or colorful holiday sprinkles.
Bake cookies at 350F/175C for about 10-12 minutes or until edges are crispy. The cookies will get crispier and more flavorful as they cool.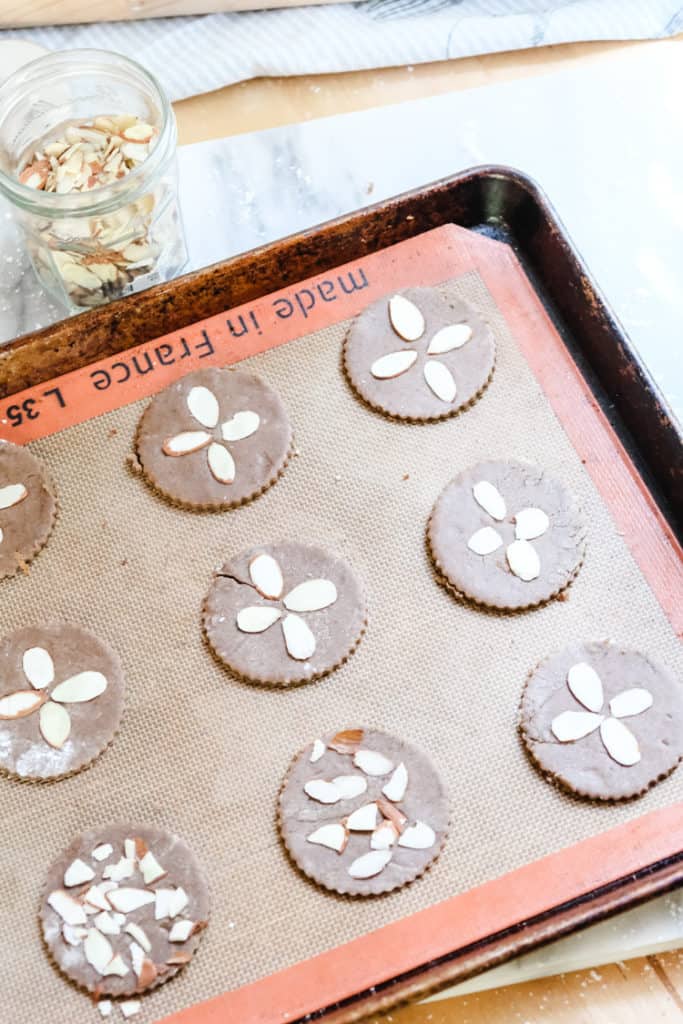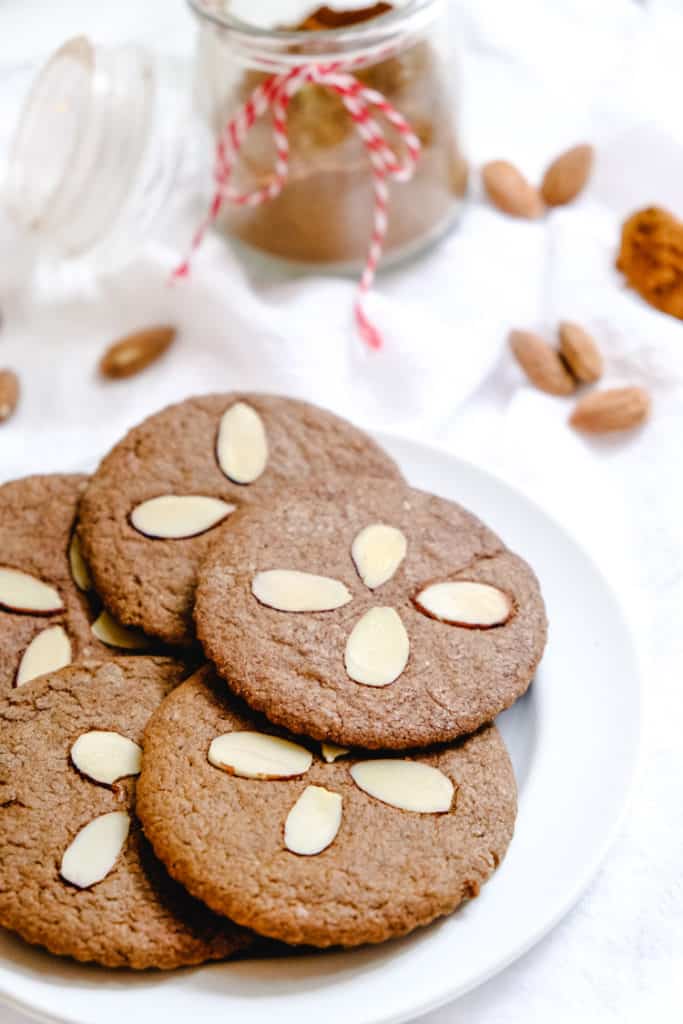 Ok, Now For the Soft and Chewy Version!
First, follow the steps I described above through chilling the dough in the fridge.
Then, when you're ready to make the cookies, take the dough out of the fridge, roll into balls (use about a Tbsp of dough for each), and place on a lined baking tray.
Bake for 8-10 minutes at 350F/175C. Let cookies cool on a wire rack, and then dust with powdered sugar (optional).