Cream Tea: What It Is And How To Serve It At Home
This article may contain affiliate links. See our disclosure link for more information.
Cream tea is a beloved British tradition consisting of freshly brewed tea served with scones, jam, and clotted cream. It's one of my favorite afternoon treats when I'm in the UK.
Cream tea is not just about enjoying delicious food and tea, but it's also a great way to gather with friends or family and enjoy a delightful afternoon treat.
Best of all, you can easily make and serve cream tea in your own home, no matter where you live. This guide shows you how.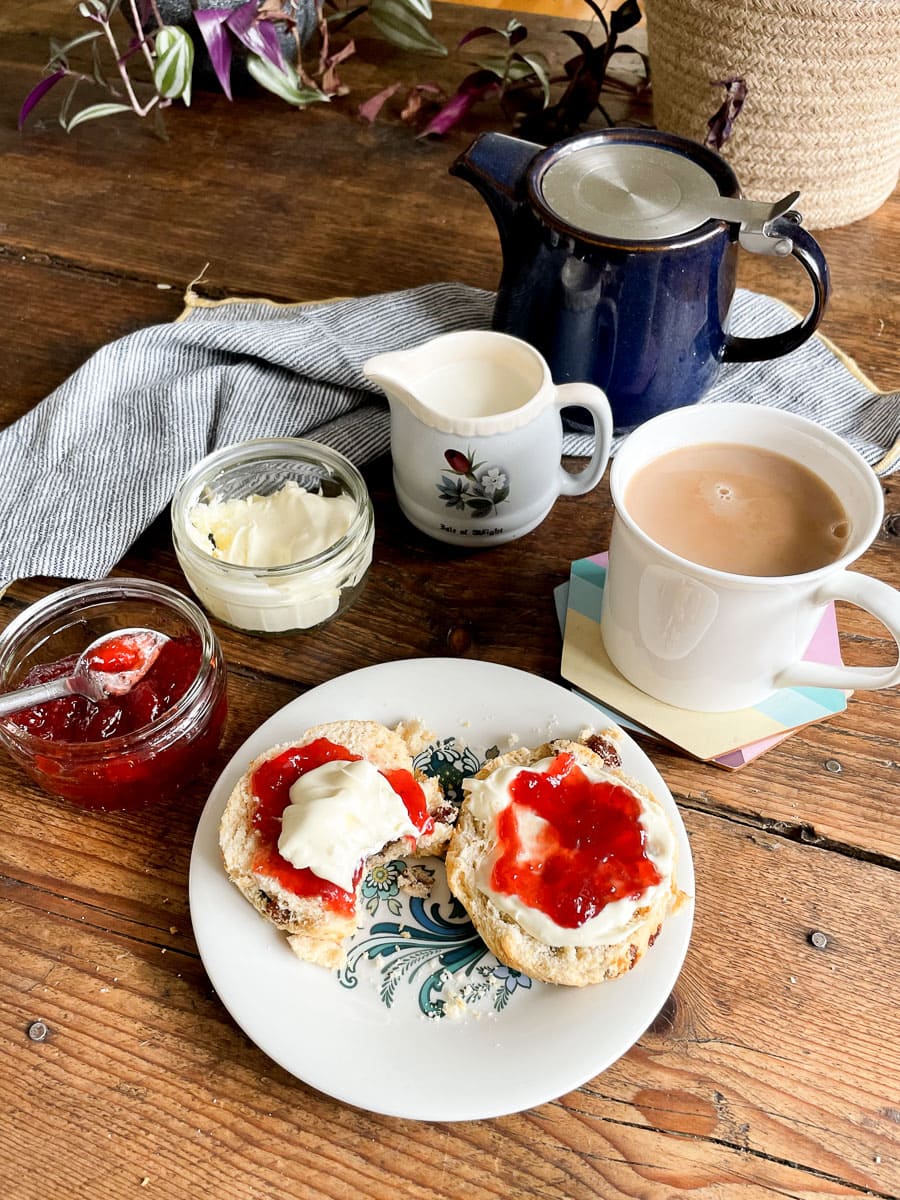 What Is Cream Tea?
Cream tea is a British afternoon tea tradition. A traditional cream tea usually consists of a pot of tea, and fresh scones served with clotted cream and a fruit jam. It's typically served in the afternoon around 3pm or 4pm, but really you can enjoy it anytime.
Even though it's served in the afternoon, keep in mind that cream tea is actually a little different from the traditional afternoon tea. Afternoon tea is a bit more elaborate and includes more elements like finger sandwiches, pastries, and cakes served on a 3-tier stand. If you're planning a trip to the UK, I highly recommend enjoying a full afternoon tea at least once.
If you're thinking about booking afternoon tea mostly for the scones, jam, and clotted cream, I recommend going for cream tea instead of the full afternoon tea. Cream tea is also a great option if you're not sure you'll be hungry enough for a full afternoon tea. You'll also save money, as cream tea are far less expensive than afternoon tea.
Cream tea is a simple and delicious British tradition and is actually a great way to host an easy social gathering with guests. If you're looking for a fun twist on the typical afternoon tea or coffee date with friends, hosting a cream tea would be a great option! Depending on your personal preference, you can make it as cozy or elegant and fancy as you want.
It's also super easy to put together and set up at home since there are only a few components that you need. This article shows you everything you need and gives you suggestions for both store-bought and homemade options for the perfect cream tea.
What's In A Cream Tea?
If you want to know what to expect when ordering cream tea in the UK or how to host a cream tea in your home, here's what you need to know.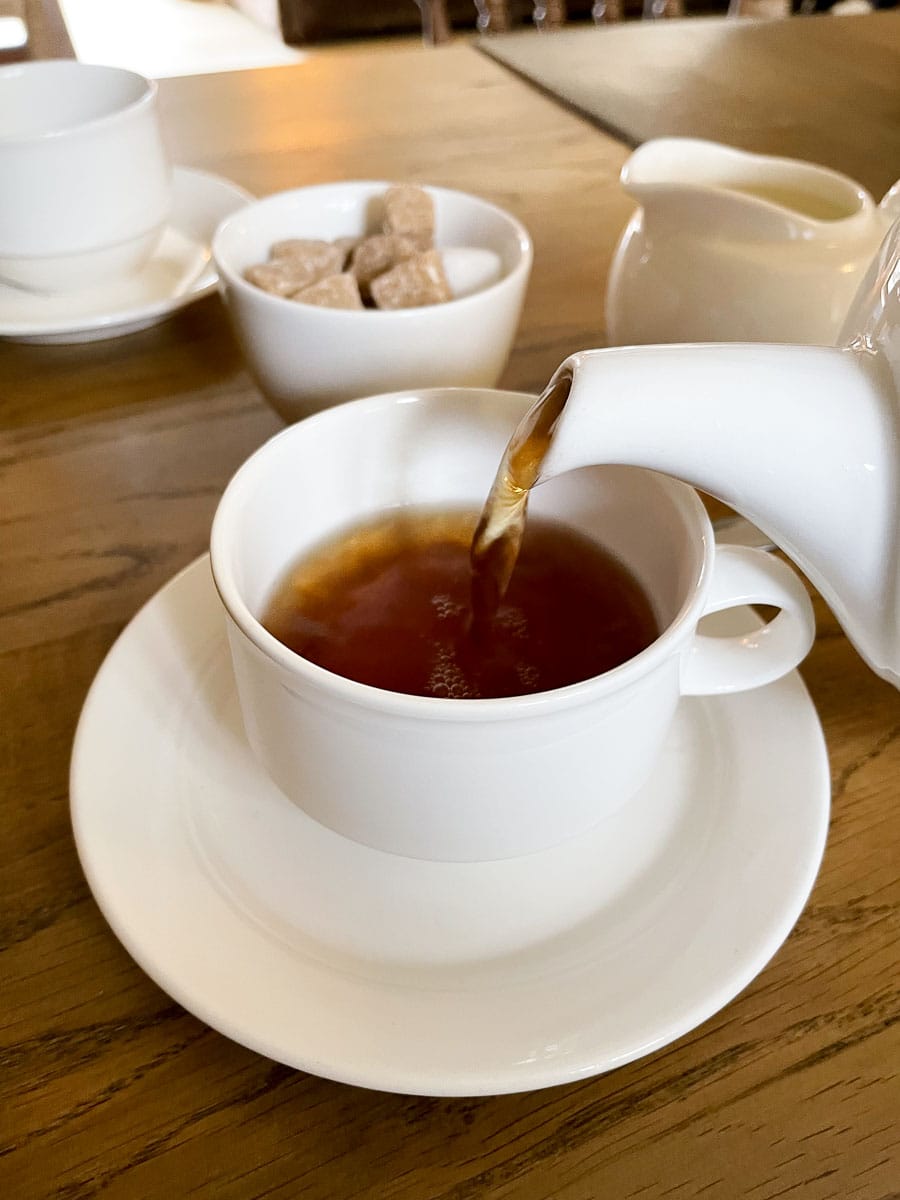 Tea
You can use any good quality tea but black tea is the most traditional choice. If you go for cream tea in a tea house, you'll likely be given a tea menu to choose from. I almost always choose Earl Grey but my husband usually orders green tea. Usually there are also herbal and other decaf teas on the menu, and I've also seen options for coffee instead of tea.
If you prefer tea bags for making cream tea at home, we recommend this brand from a well-known family tea business based in England. For loose tea, we recommend this brand, which is known for its light, refreshing flavor with real body.
For a social gathering, make sure to have a traditional English teapot and a cute tea cozy to go with it and keep your tea warm! And don't forget to set out a sugar bowl and small cup of cream for guests to add to their tea.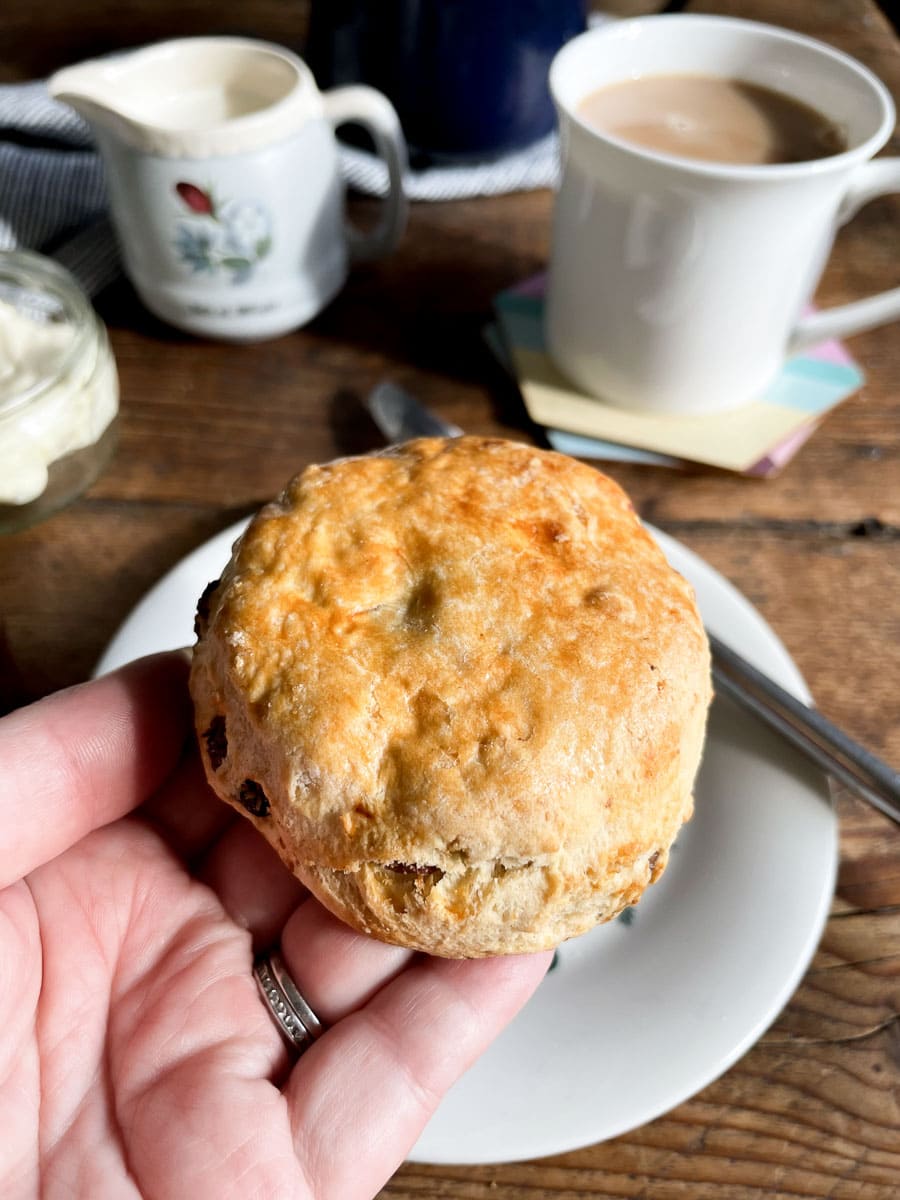 Scones
Traditionally, cream tea is served with warm scones, ideally freshly baked. If you can't get them from your local bakery, you can make your own following our recipe for the perfect light and fluffy scones! This version has currants for the proper cream tea experience but you can easily swap them out for raisins, nuts, cheese or make plain scones.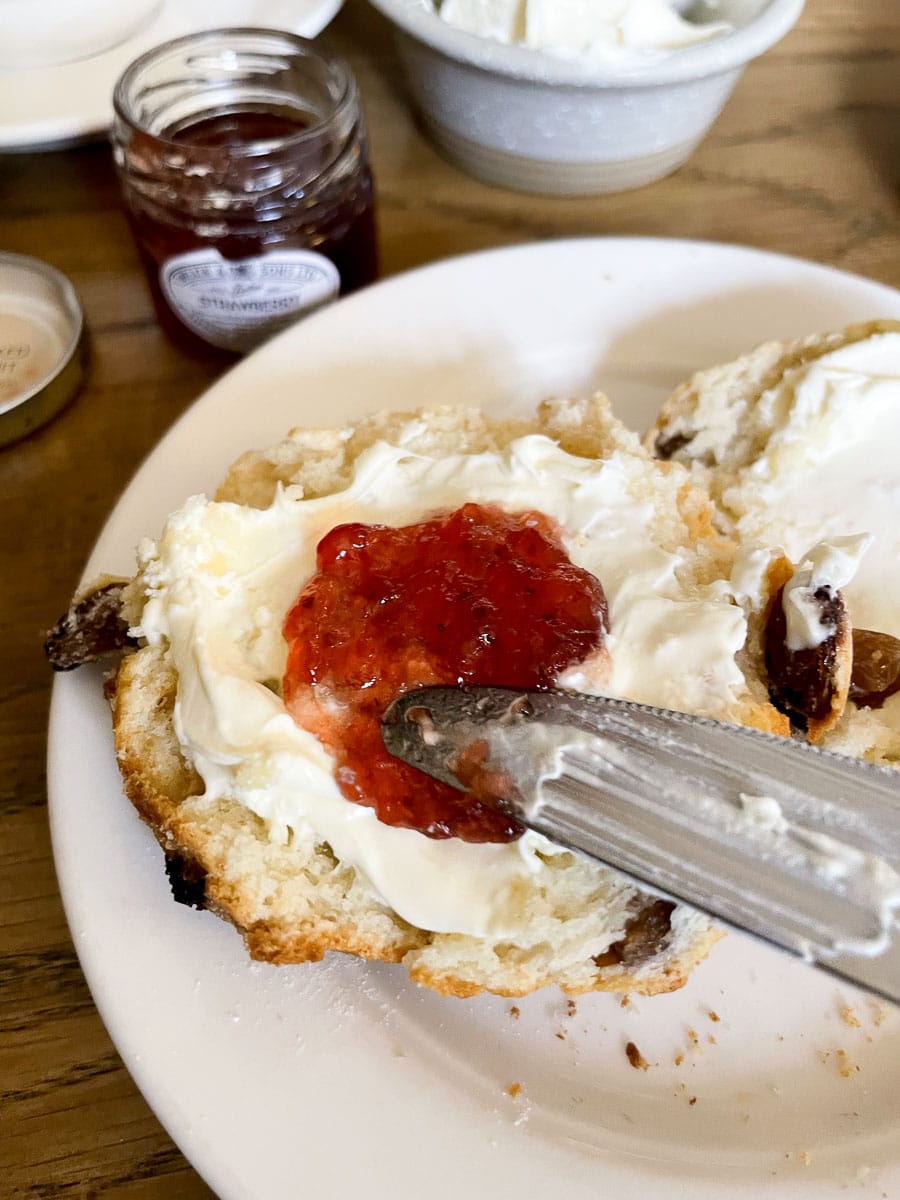 Strawberry Jam
A fruity jam is the next key element. Traditionally, you should stick to strawberry jam and not any other fruit. You can't go wrong with strawberry jam from Tiptree Jam, a British brand that has been making quality preserves and spreads with fruits grown on their own farm since 1885.
You can also buy mini jars of Tiptree strawberry jam so each of your guests can have their own to pair with single-serve jars of clotted cream.
Lemon Curd
If you want to put your own twist to the typical cream tea, then you can add delicious lemon curd to your scones. Tiptree also sells their own lemon curd but if you want to impress your guests, you can easily make homemade lemon curd following our recipe and use it for a variety of other treats as well.
Growing up I was under the impression that lemon curd was a key component in the tea and scone experience. So I was surprised that it wasn't served with my first scone while in the UK!
After pairing lemon curd with clotted cream and scones for so many years while growing up, I still count lemon curd as an important component in my cream tea experience…even if it's not totally authentic.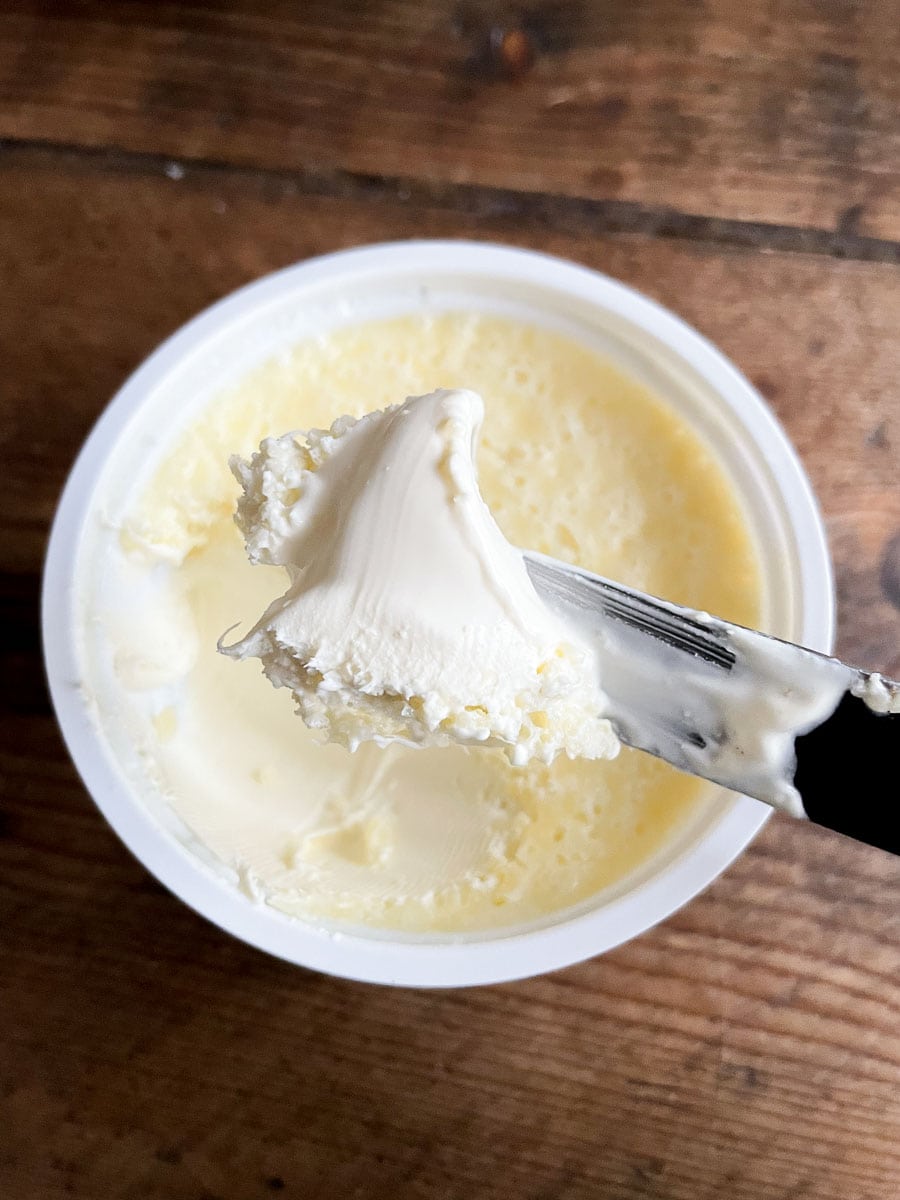 Clotted Cream
Of course, you can't have cream tea without clotted cream. If you don't know what it is, clotted cream is a thick cream made by heating heavy cream for several hours and then letting it cool until it forms "clots."
It's actually very easy to make at home! Follow our homemade clotted cream recipe for step by step instructions, as well as ideas for how else you can enjoy it besides on scones.
If you don't have time to prepare homemade clotted or would rather purchase it ready-made, we recommend this product made by Devon Cream Company for high quality clotted cream that will pair perfectly with your scones and jam.
You can also buy single-serve jars of clotted cream – perfect for cream tea for one or if you just want to give each guest their own clotted cream and jam. They can even take the jars home to reuse!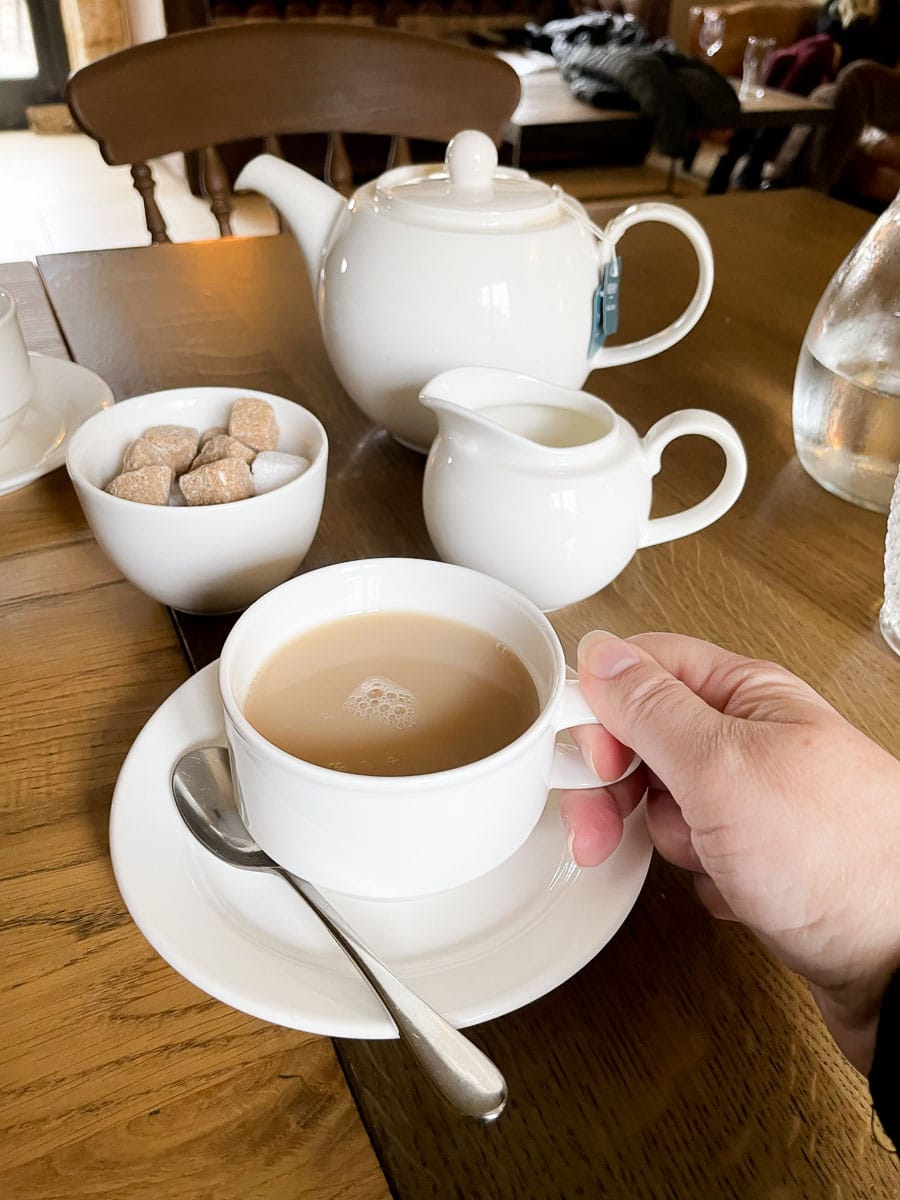 How to Serve Cream Tea At Home (For One or Many)
Prepare (or purchase) scones, clotted cream, and strawberry jam (or lemon curd, if you prefer). Place in nice serving bowls or on plates.
Set the table with a nice tablecloth, napkins, tea cups and saucers, small plates, knives and spoons, and a sugar bowl and creamer set.
Brew tea and place in tea pot (or tea pots, if each guest will choose their favorite tea).
Serve tea and scones and enjoy!
What's The Difference Between Cream Tea And Afternoon Tea?
The main difference between cream tea and afternoon tea is the food that is served with the tea.
Afternoon tea is a bit more elaborate and filling than cream tea since it has both sweet and savory options like substantial sandwiches (those yummy finger sandwiches with the crusts cut off), scones or crumpets, sweet treats like chocolate mousse or candies, pastries, tarts, and cakes.
It's also typically served late in the afternoon around 3:30pm to 5pm (although at many tea houses in the UK you can book afternoon tea starting around noon). If you want to enjoy afternoon tea while traveling, I highly recommend not eating lunch beforehand — or planning a light or late dinner. I'm always stuffed after a full afternoon tea!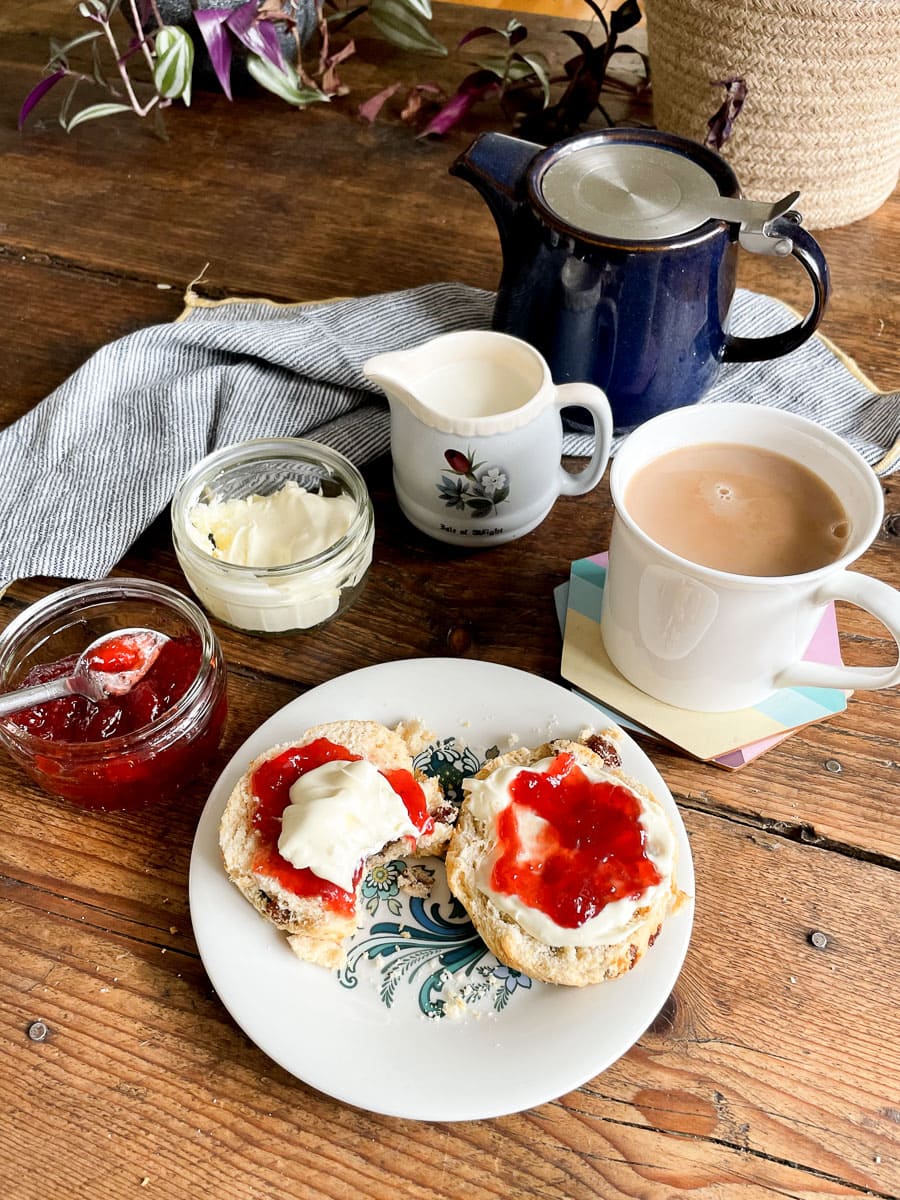 Afternoon tea is also fancier since it's usually served on a three-tiered stand and fine china. This is because the history of afternoon tea shows that it was a more formal affair, usually served in drawing rooms.
This version of afternoon tea is what's usually served in hotels and restaurants all over the world. You can also often add a glass of champagne to make it even more extravagant. And these days there are all kinds of themed afternoon teas — when we were recently in London we saw Harry Potter tea, tea on a double decker bus, Charlie and Chocolate Factory tea, just to name a few.
Afternoon tea is more expensive and takes longer to enjoy than cream tea because it's more substantial. If you want the tea and scone experience but are short on time or funds, opt for cream tea.
History of Cream Tea
Why is it called cream tea?
It's called cream tea because it typically involves serving tea with scones, jam, and clotted cream, which is a key element of the tradition. The name helps to distinguish this type of tea service from other varieties, such as afternoon tea or high tea.
Who invented cream tea?
The exact origins of cream tea are hard to pinpoint. There's evidence suggesting that the earliest form of cream tea goes all the way back to the 11th century in Tavistock Abbey in Devon where it was introduced by Catherine of Braganza, the Portuguese wife of King Charles II. It then became widely popular in the middle of the 19th century, mostly enjoyed by the wealthy inelegant tea rooms. But with tea being more accessible to everyone now, it has become an important cultural tradition enjoyed by all across the country.
Where did cream tea originate?
Cream tea is associated with the West Country. It originated from the counties of Cornwall and Devon in the southwest of England in the United Kingdom.
Are there different variations?
Yes, there are two different variations but they only differ in specifying how cream tea should be eaten. There is much debate on what's the correct way but really there is no "better way."
The Devonshire method or Devon way is done by splitting the scone in half and adding a layer of clotted cream first and then following it with a dollop of jam on top.
On the other hand, the Cornish method is done by first spreading the jam on the split scone and then adding the clotted cream on top. This method is the most common one, also used in London.
Try them both and see which one you prefer!