The BEST Desserts & Sweet Treats in Cuenca, Ecuador
This article may contain affiliate links. See our disclosure link for more information.
I'm so excited to introduce our brand new Sweet Tooth Travel Guides! These guides are perfect for travelers who want the inside scoop on the best sweet treats around the world. Let's dive in!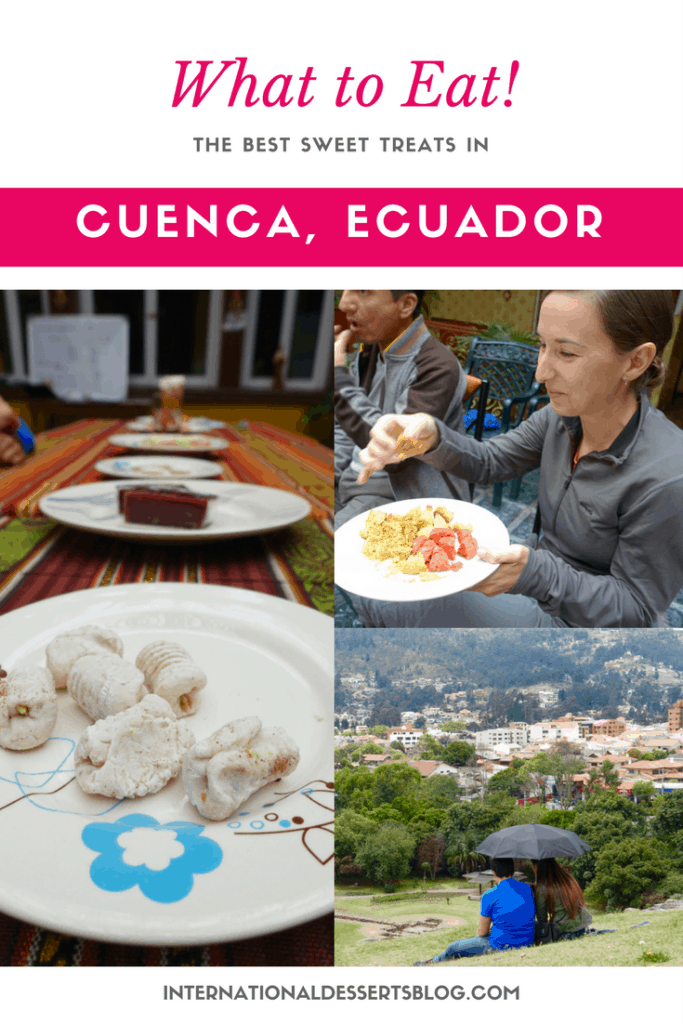 I'm super excited that our first Sweet Tooth Travel Guide features Cuenca, Ecuador and is contributed by my good friend Michelle Chang. Michelle and her husband quit their jobs to volunteer with the Peace Corps in Jamaica for two years. Ever since, they have run their own freelance web services business as "digital nomads," living and working as they travel. Michelle blogs at IntentionalTravelers.com.
Take it away, Michelle!
What to Eat in Cuenca, Ecuador
In 2016, my husband and I had the opportunity to spend six weeks in Cuenca, Ecuador; and it quickly became one of our favorite international cities. Cuenca boasts a colonial town center designated as a World Heritage site by UNESCO, a rich cultural life, diverse and affordable eateries, beautiful rivers and mountains, and interesting day trips. Thanks to Cuenca's safety, charm, mild climate, and low-key vibe, we can see why it has become one of the most desirable places to retire – for expats and Ecuadorians alike.
While Ecuador may not often get touted as one of the world's top gastronomical wonders, we were surprisingly delighted by the local dishes, not to mention the fresh, tropical fruits! Folks with a sweet tooth – like me – will find plenty of bakeries, ice cream shops, and a variety of local sweets available all around Cuenca.
6 Typical Ecuadorian Desserts to Try in Cuenca
When you're out on the town, or browsing a market, these are 6 of Ecuador's typical sweet foods to keep an eye out for:
#1 – Canelazo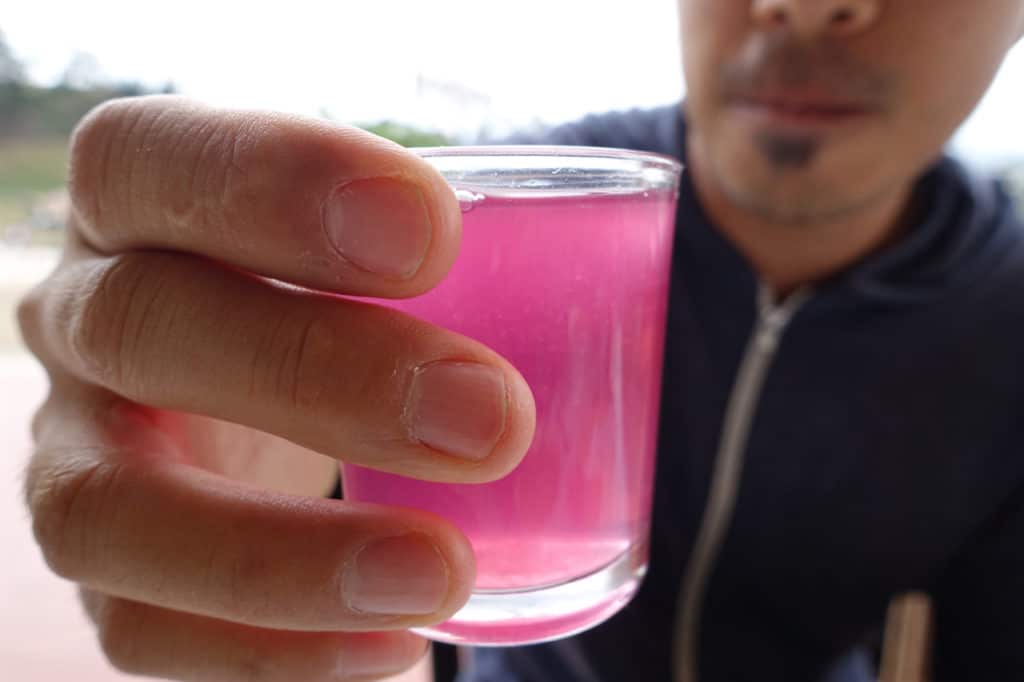 This hot, spiced alcoholic beverage is typical to the Andes. The base is panela (the natural sugar cane substance that you get between granular sugar and molasses, which is found widely in the Cuenca), cinnamon, sugar cane alcohol (aguardiente or punta), and sometimes cloves or star anise. It is often made flavored with naranjilla (citrus fruit) or other fruits (pictured here).
#2 – Espumilla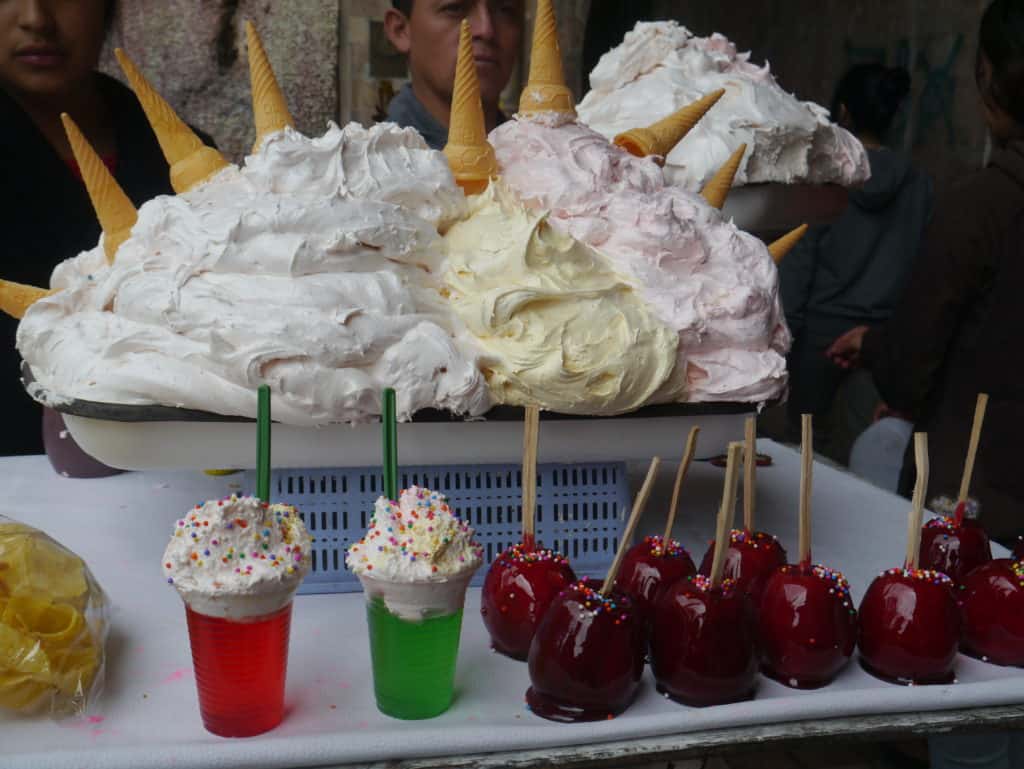 You'll see these being sold on the corners of the plaza or outside of churches. They look like ice cream that never melts, but don't be fooled! It's actually a soft meringue served in a cone. Guayaba (guava) and mora (blackberry) are the most popular flavors.
#3 – Dulce de guyaba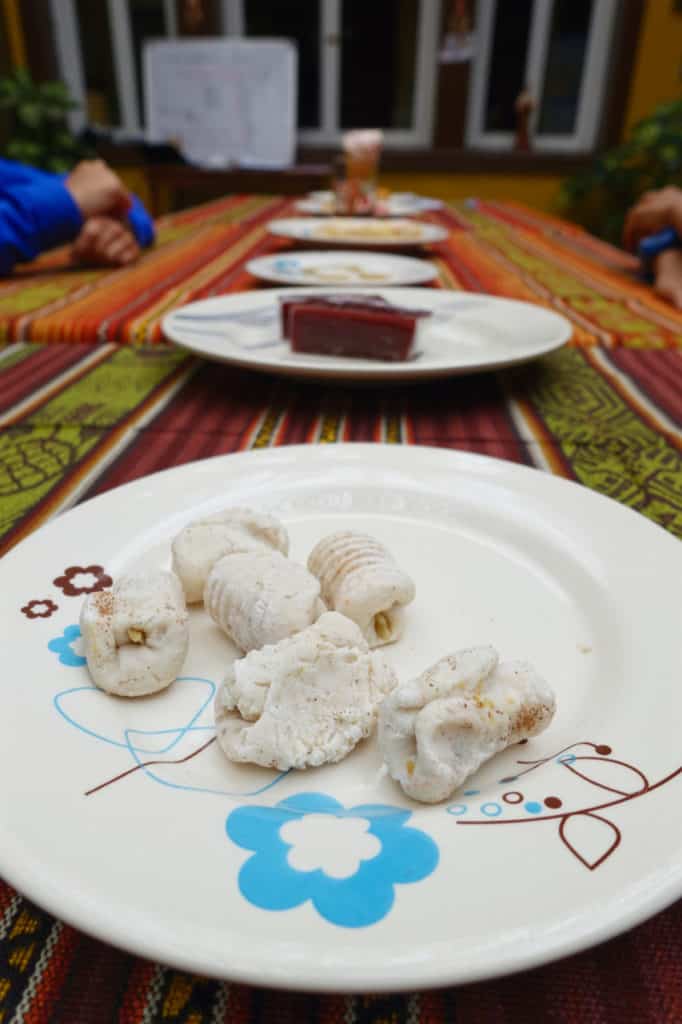 These rectangular candies are like extra-thick and gummy fruit leathers made with guava paste. Often sold in shops and markets.
#4 – Cocadas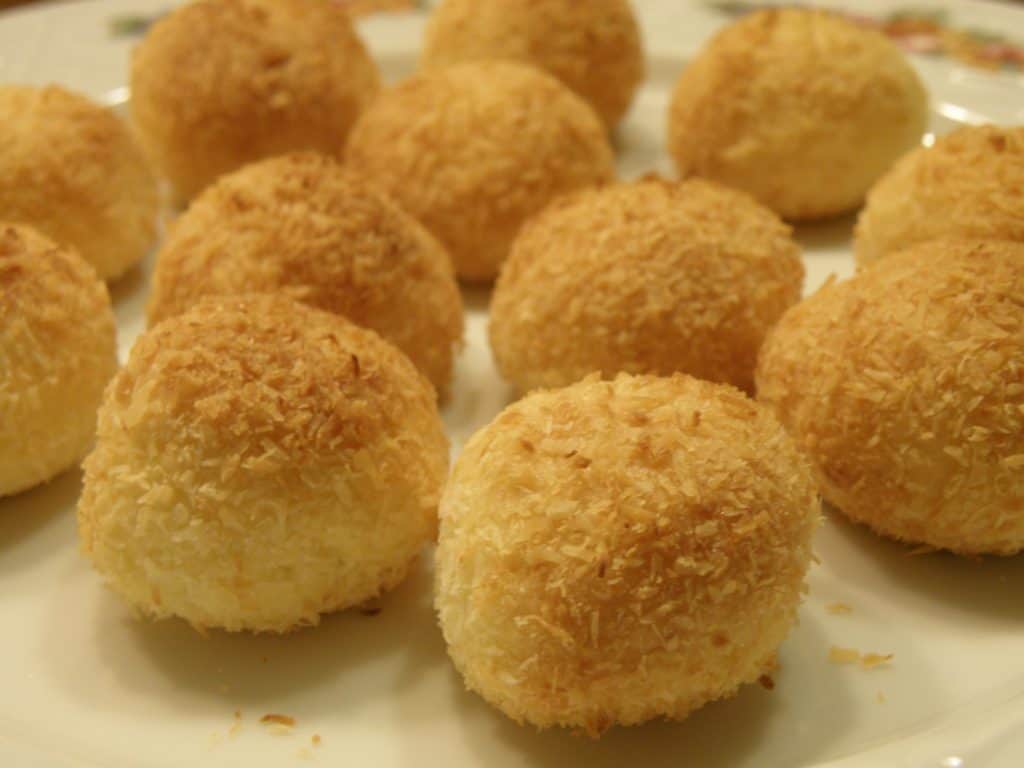 Caramelized coconut macaroon candy. You may see pedestrian vendors on the streets selling these out of baskets.
#5 – Bocadillos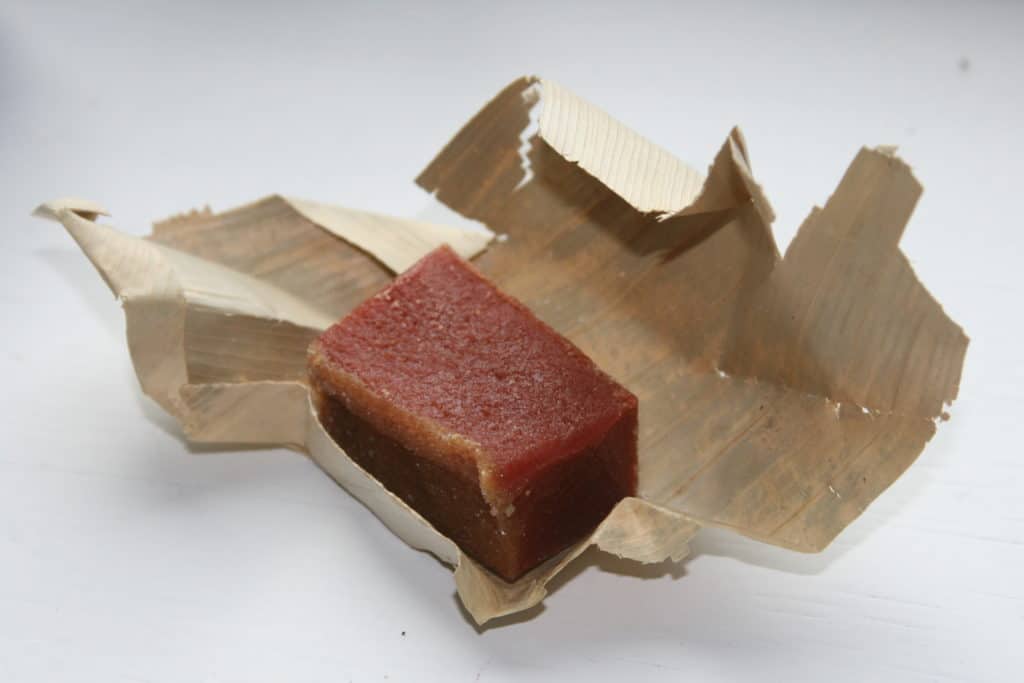 This candy is made from panela (processed sugar cane, described above) melted into square candies and often mixed with peanuts. The non-peanut kind have a sweeter, more caramel-like flavor but they were hard to find.
#6 – Morocho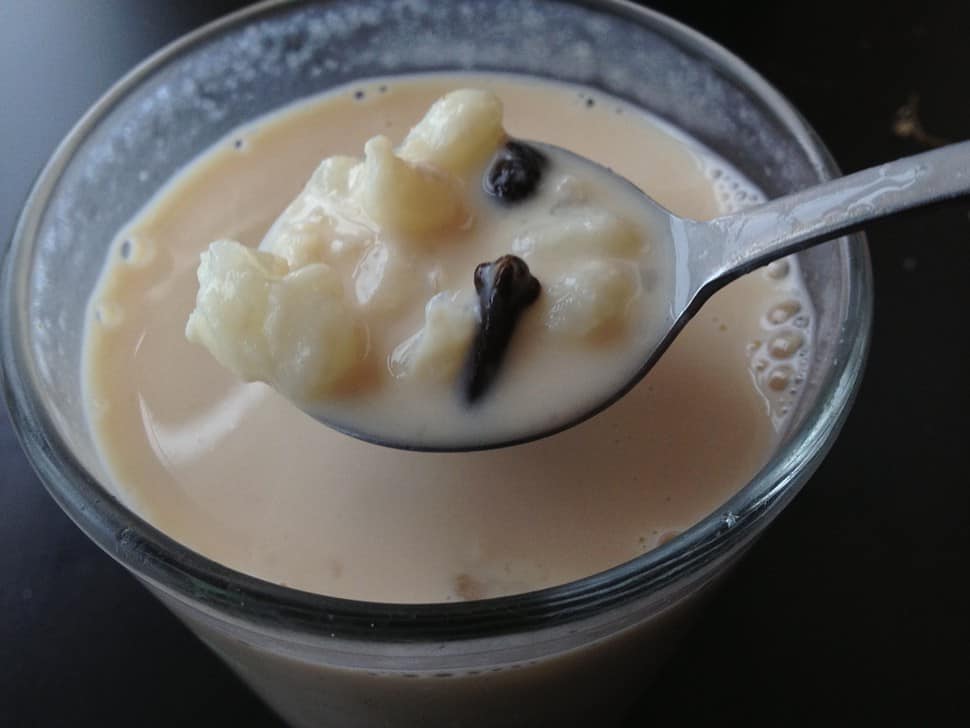 A thick, warm drink that's essentially a corn pudding. Made with corn, milk, cinnamon, sugar, and raisins. It's often sold in the market booths from a vat, alongside hot chocolate, coffee, etc.
Best Dessert Spots in Cuenca
These are some of our favorite eateries with top notch treats in Cuenca:
#1 – For Local life: Batidos
(smoothies) at Mercado 10 de Agosto or 9 de Julio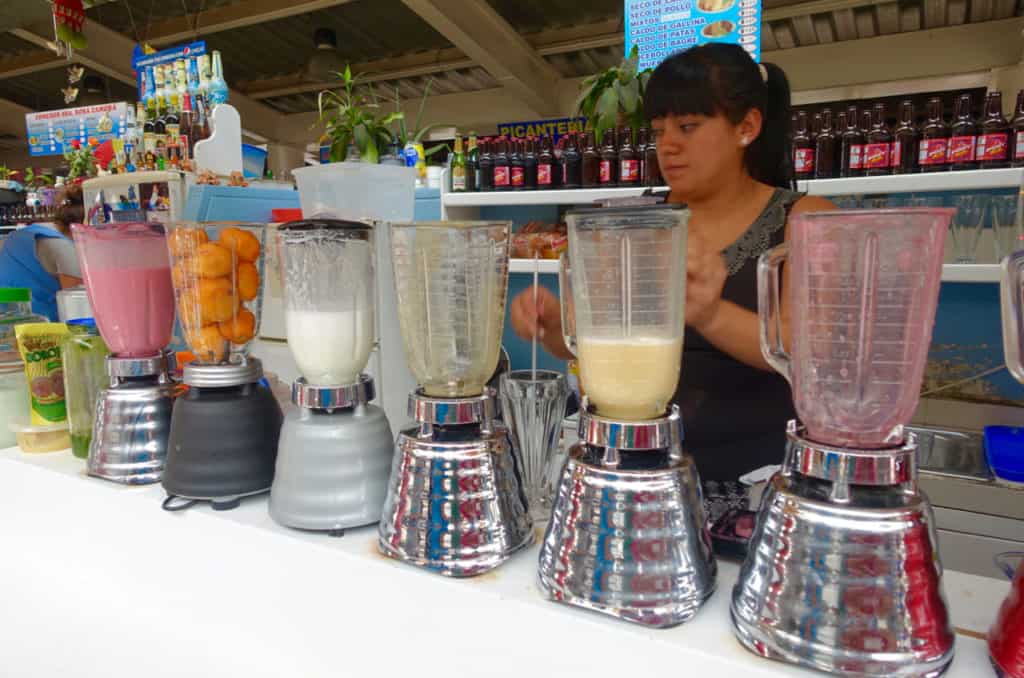 The two main produce markets in the heart of Cuenca both have a plethora of cook shops to choose from on the top floor. The smoothie ladies blend up fruits like mora berries, coconut milk, or mango for fifty cents per cup. (Best to ask what's available that day rather than rely on their signs.)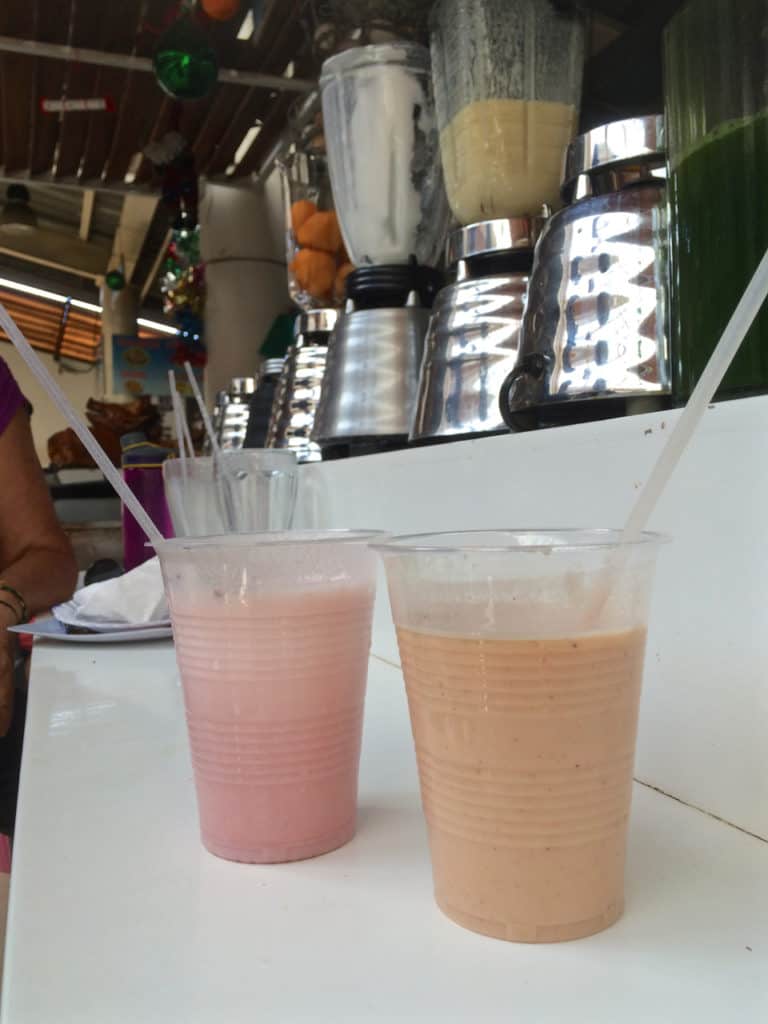 #2 – For a Splurge: Cafe Austria
on Benigno Malo and Simon Bolivar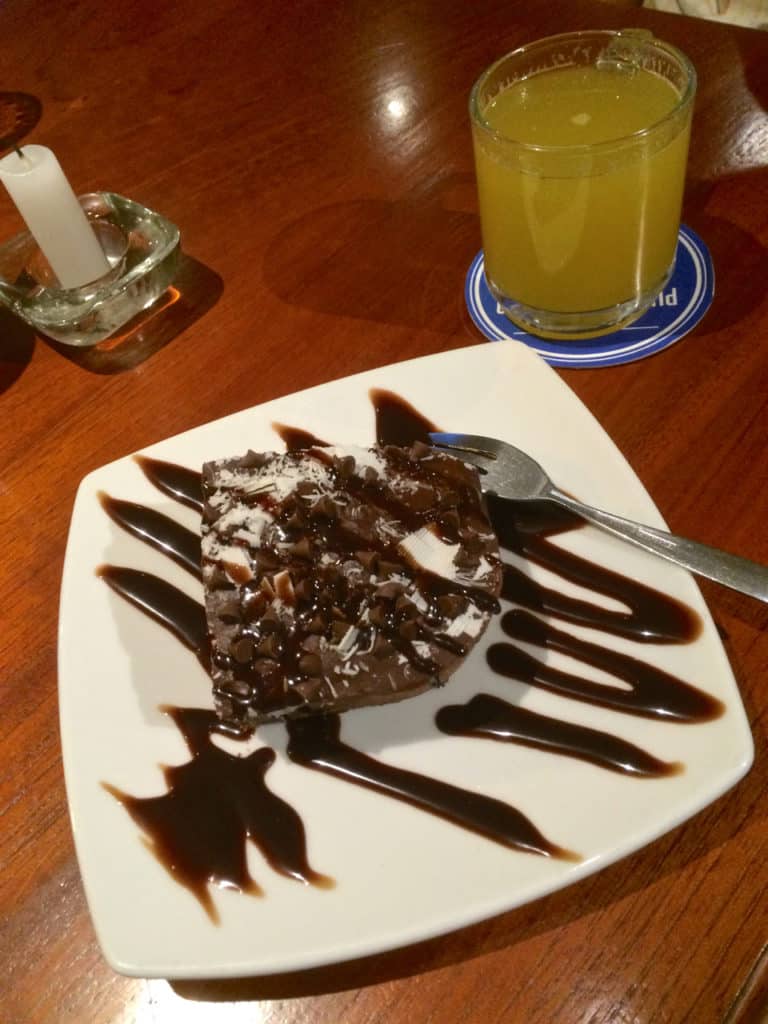 This modern, European-style cafe is popular with expats and travelers. It is on the spendier side. We had a nice, warm canelazo and a so-so brownie dessert.
#3 – For Every Day Take-away: Casa del Pan
on Mariscal Sucre and Taqui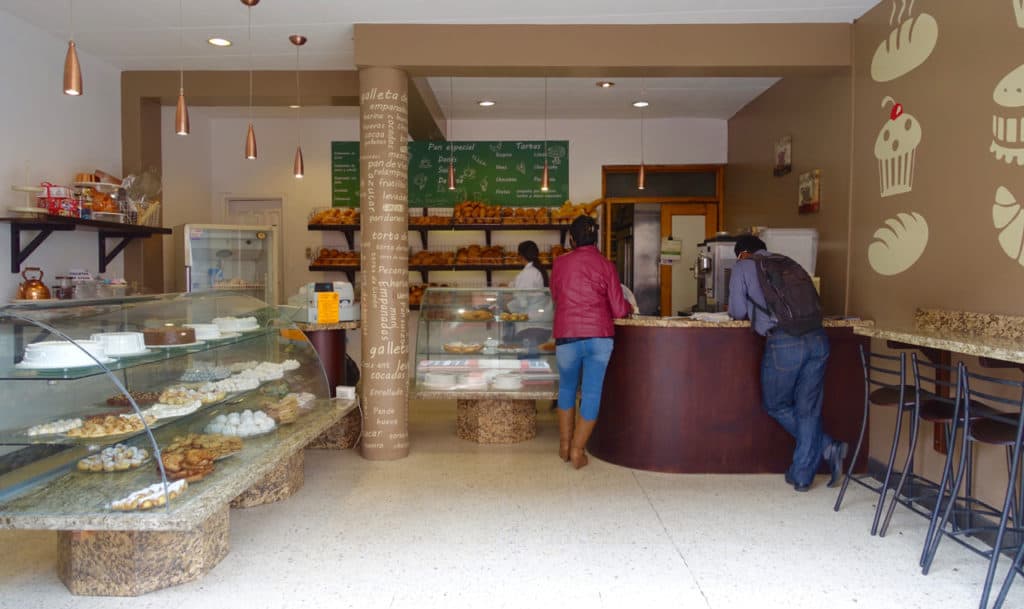 This quickly became our favorite bakery and we ended up getting bread for breakfast and pastries for dessert here almost every day! Rolls are 25 cents or less, and the amazing cream-filled pastries with caramel on top were 75 cents.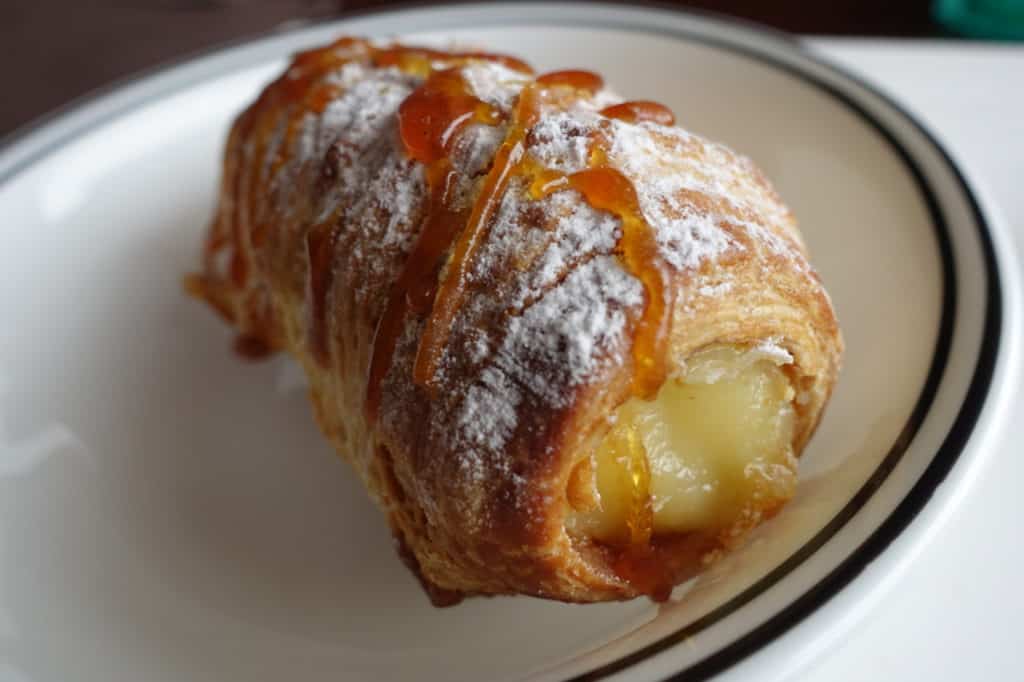 #4 – For Something Unexpected: Waffles de Belgica on Paseo 3 de Noviembre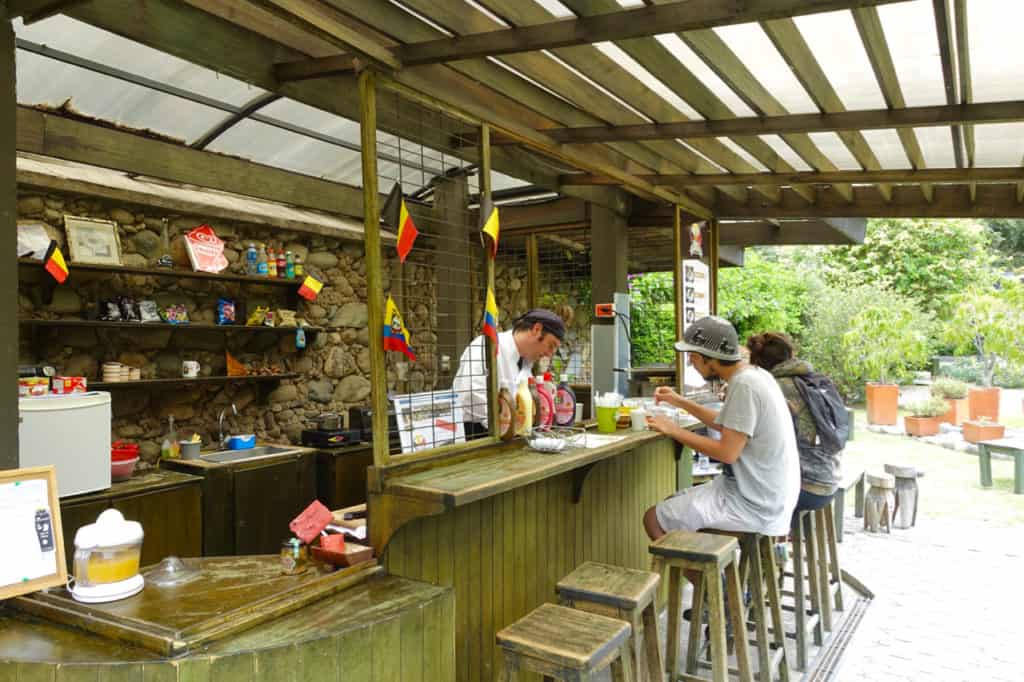 Run by a Belgian expat who knows his waffles, this outdoor cafe is situated in an idyllic spot not far from the river walk, within the gated compound of the bird sanctuary and the ancient Pumapungo ruins. Ask if he's doing a breakfast or lunch special, which usually includes fresh-squeezed orange juice and a waffle topping of your choice.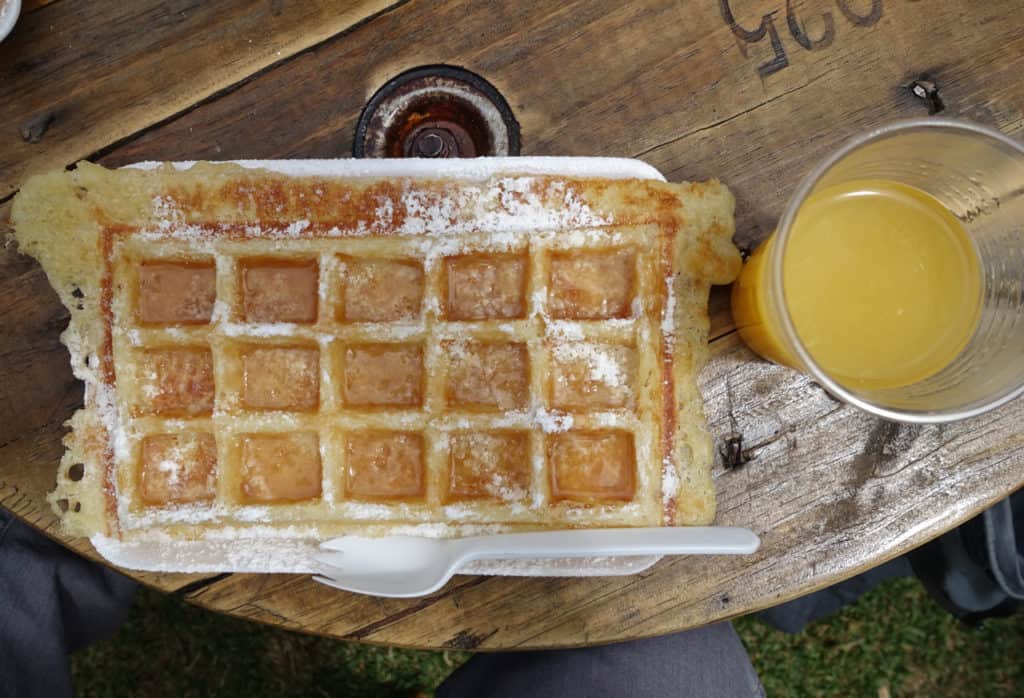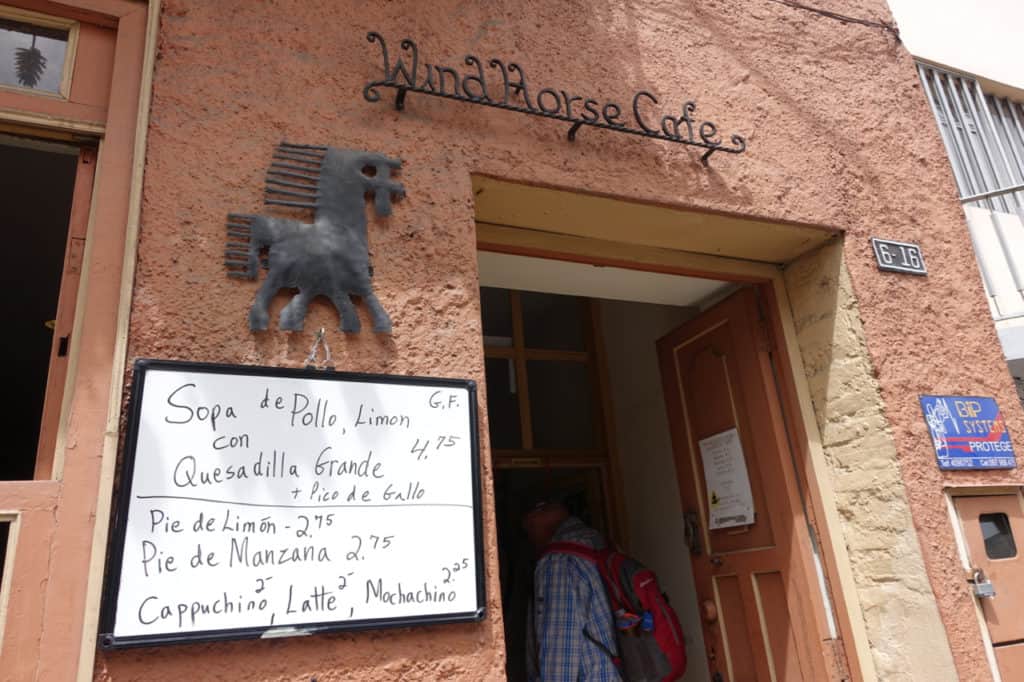 These two trendy cafes are only a block away from each other. Grab an espresso, mocha, breakfast pastry, and more in the heart of town.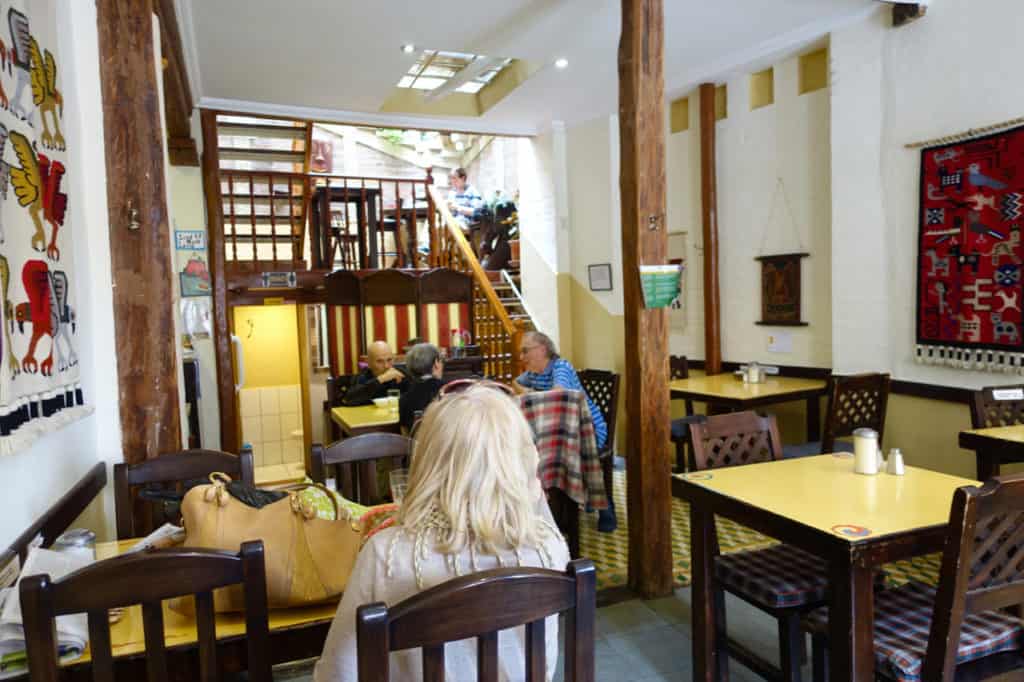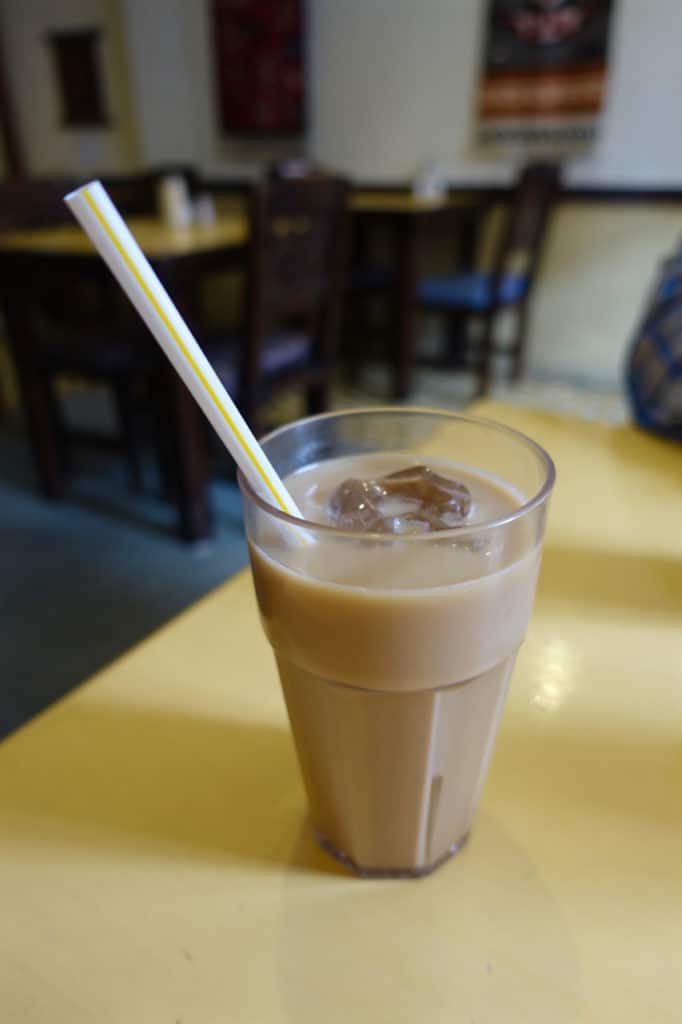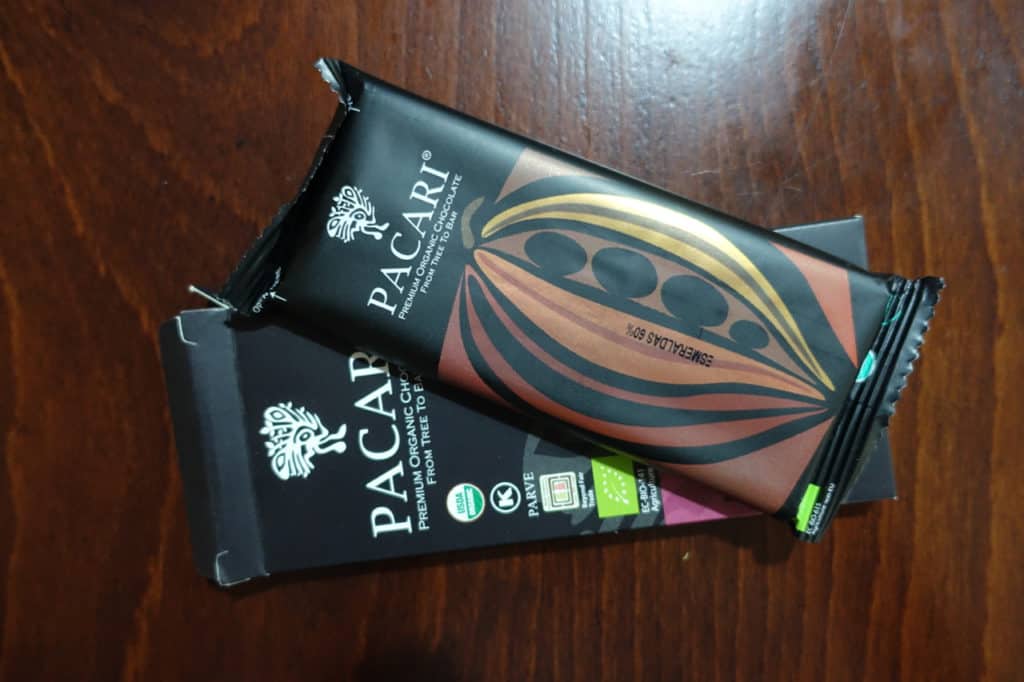 If you're looking for award-winning, sustainably made, local Ecuadorian chocolate, then you're looking for Pacari. You'll find their bars in the higher-end supermarkets in Cuenca. Selections include 100% cacao, or bars infused with Andean flavors. Try the Esmeraldas bar with an aroma of honey and flowers!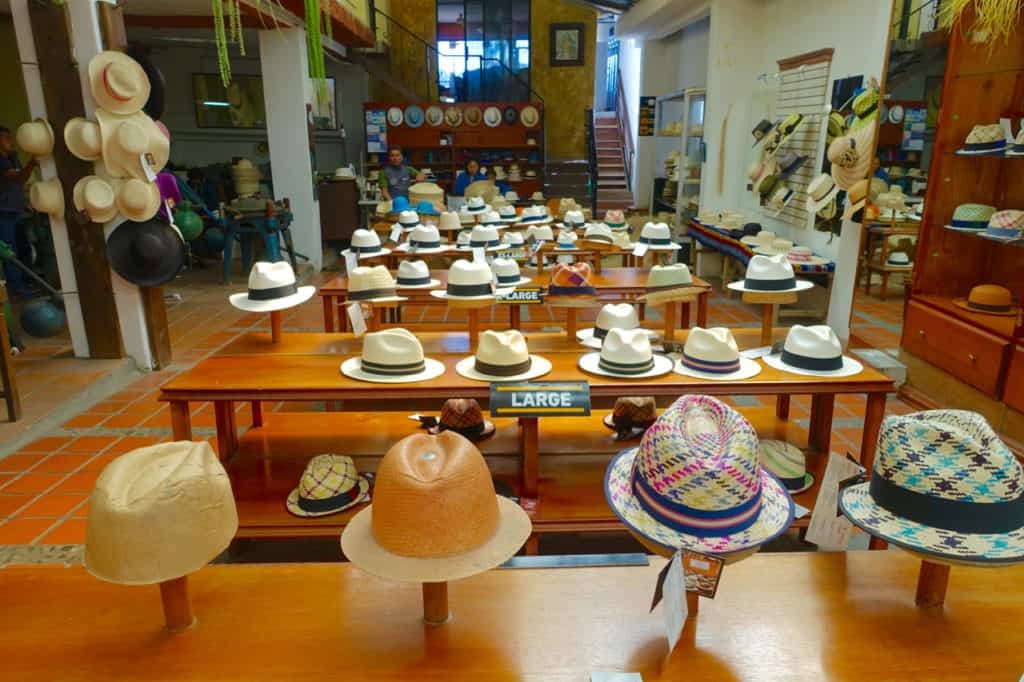 This hat museum, factory, and shop is all about the famous Panama hats, which have always been made in Ecuador. It's a great, central stop for any tourist. As an added bonus, you can go up the stairs in the back to their little cafe that has a very nice overlook along the river. The menu is not huge, but it's a beautiful place to sip a cappuccino!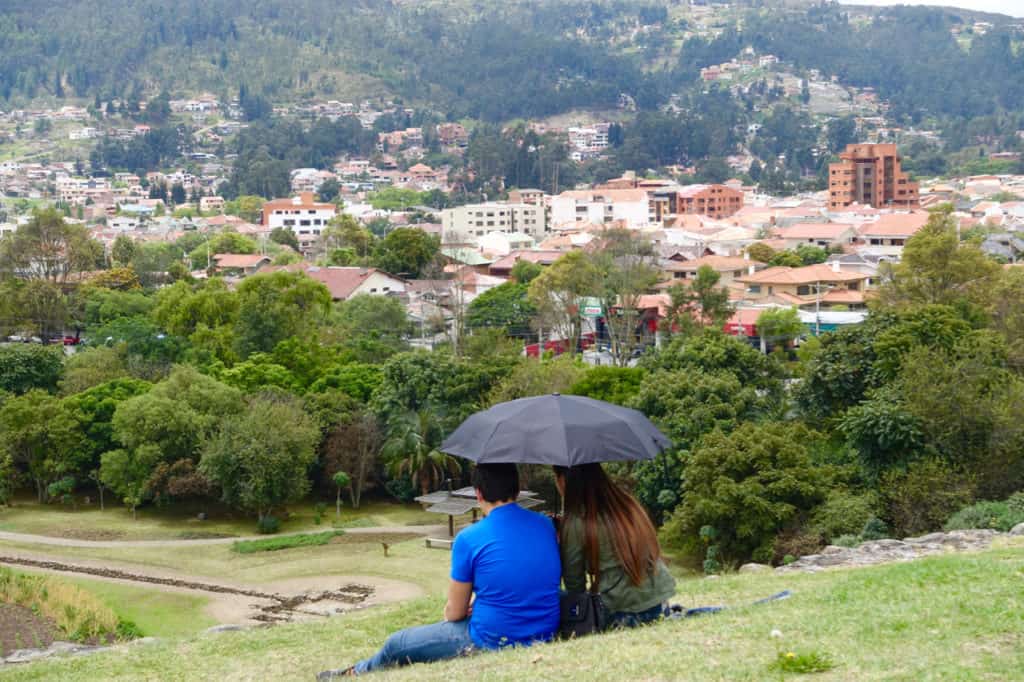 Looking for a Food Tour or Cooking School?
We were fortunate to get a market tour through our Spanish school and learned about cooking Ecuadorian dishes through a homestay, but if we didn't have that opportunity, this is the kind of cooking tour we would have enjoyed: Terra Diversa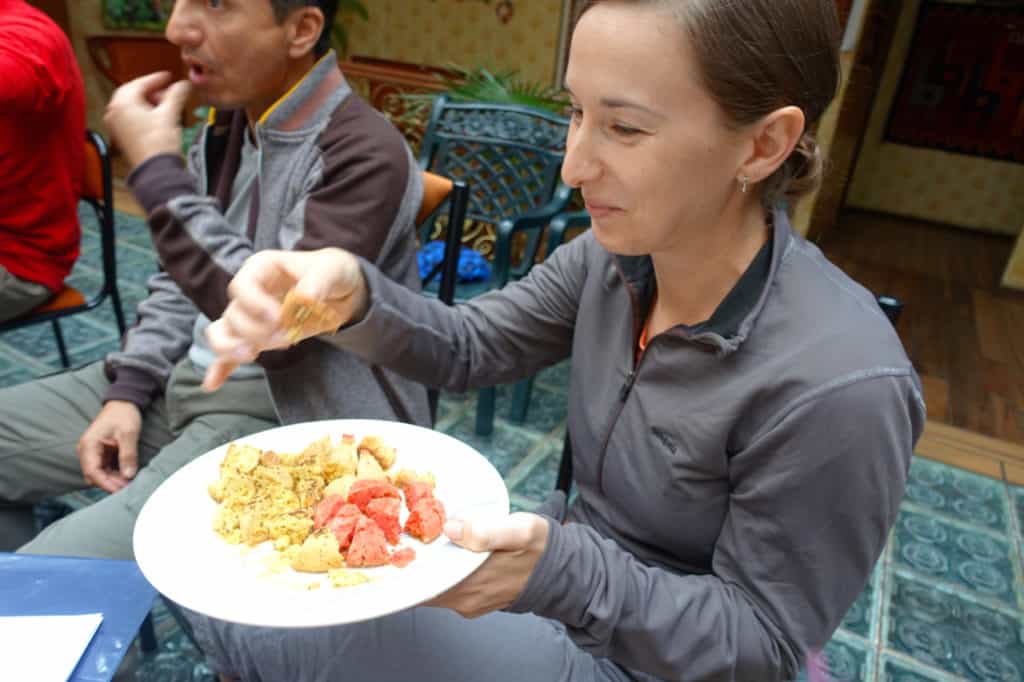 It's a private tour that takes you first to a local produce market and then provides cooking instruction for a menu of your choice by a professional chef.
When we walked around the main squares of Cuenca, we kept seeing vendors selling something that looked like a pile of ice-cream – except it wasn't melting! These colorful trays of pink and sprinkles and sugar cones were a mystery to us until our Spanish school did a special presentation on Cuenca's traditional streets. What appeared to be ice-cream was actually espumilla – a soft, foamy merengue, typically flavored with guava or blackberry. Out of all the sweets we tried that day, espumilla was one of my favorites, and it was really easy (and cheap) to find whenever we walked around in town!
Want to try your hand at a traditional Ecuadorian dessert? Click here to get step-by-step directions for making Espumilla!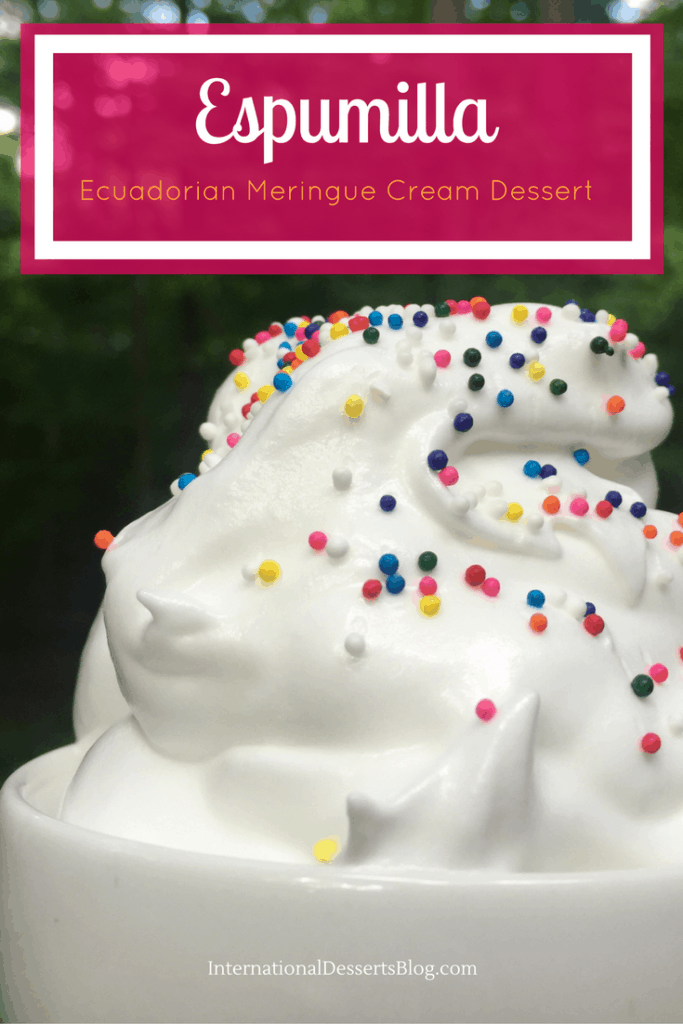 Check out my other travel articles here.
Click here to find the best travel purse for your upcoming trip!
Click Here to Save this for Later!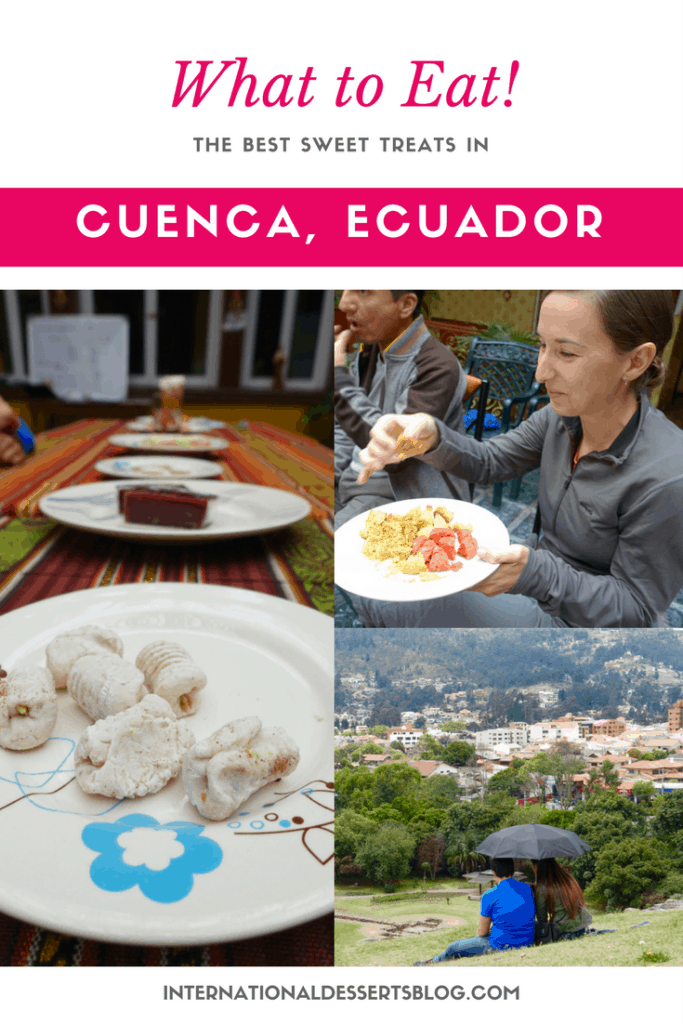 Thanks, Michelle for this awesome Dessert Travel Guide for Cuenca, Ecuador!