Best German Cheesecake with Quark (Crustless Cheesecake Version)
This article may contain affiliate links. See our disclosure link for more information.
This Crustless German Cheesecake is quick and easy to make and SO good.
Since there are several ways to make German cheesecake, I have this recipe, as well as a few other options.
If you want a a very simple, classic German cheesecake that's gluten and butter free, try my Classic German Cheesecake with Quark.
If you want a cheesecake with a crust, try this recipe right here.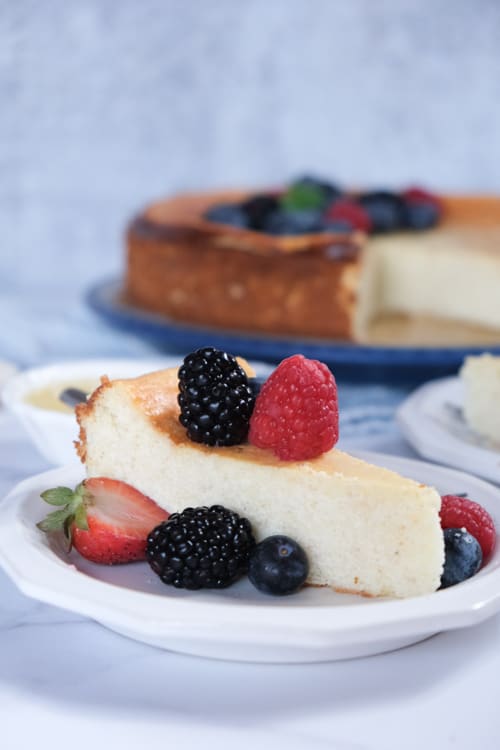 ? About This Recipe
Are you a cheesecake fan? Want to branch out beyond cream cheese cheesecake?

If so, give this super easy, super delicious authentic German cheesecake a try!
This crustless German cheesecake is a quick and easy dessert that's full of flavor. It's delicious on it's own (my husband and I devoured it) but you can also serve with fresh berries and side of whipped cream.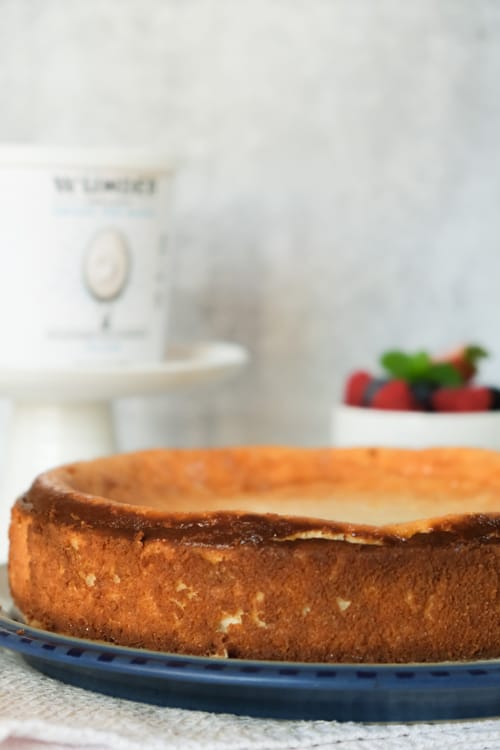 See this recipe in action in web stories!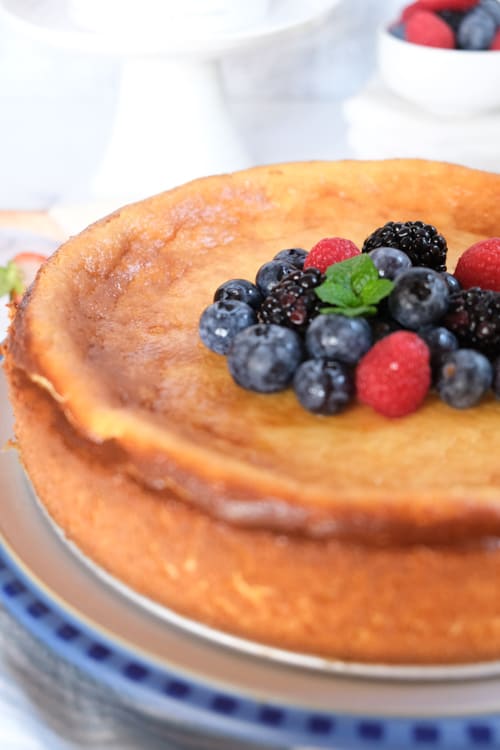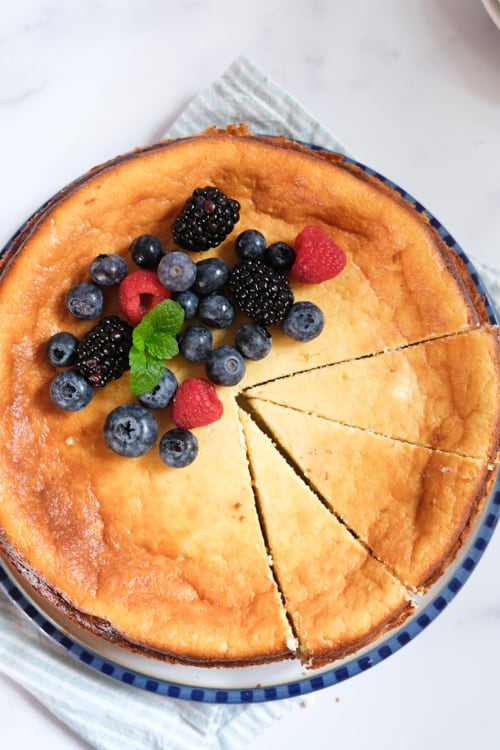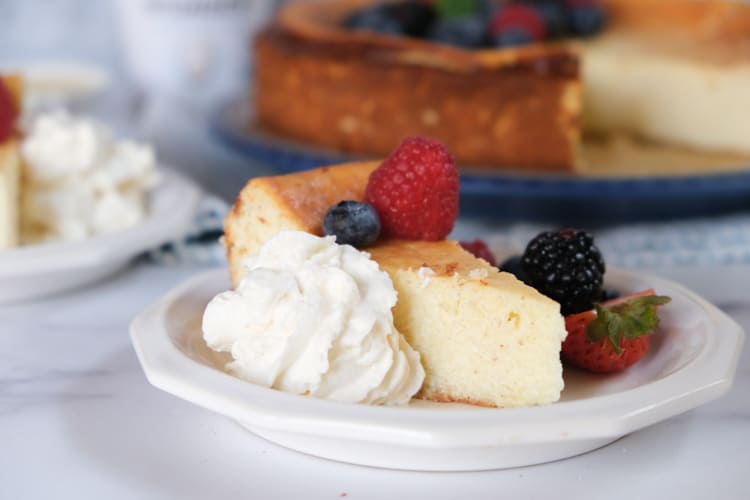 German Cheesecake vs. American Cheesecake
If you've never had German cheesecake, you might be wondering how it differs from cheesecake you typically find in the US.
Ok, so the main difference is that German cheesecake isn't made with cream cheese. Instead, it's made with Quark.
Um…Cate…what the heck is Quark?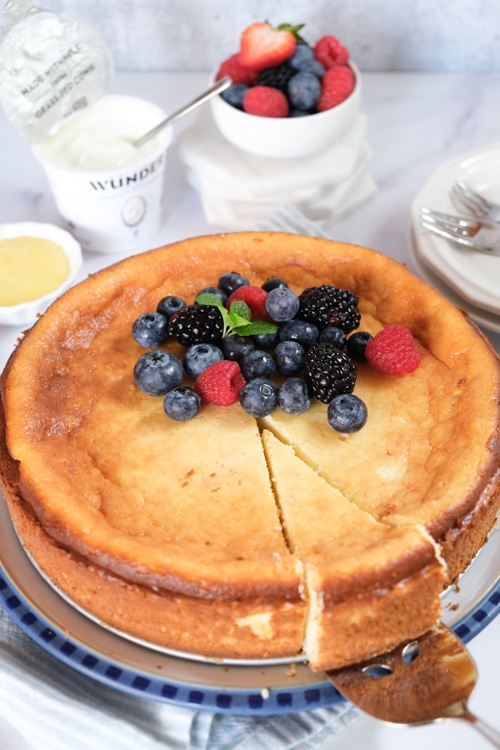 It's a German baking staple! Quark is a fresh, non-aged cheese similar in texture and thickness to Greek yogurt. You'll find Quark in the yogurt section but it's not yogurt. Quark is…well, Quark!
One of the benefits of Quark is that it's high in protein, low in sugar, super creamy, and not tart like yogurt. I fell in love with Quark the first time I ate it when I lived in Germany as a teen. It's still one of the first things I pick up at the grocery store whenever I arrive in Germany!
Where to Buy Quark Cheese?
While Quark is easy to find in Germany and other parts of Europe it's not in the US. Until now, that is!!
For years I either made Quark at home from scratch or I'd use Greek yogurt or pureed cottage cheese in my cheesecakes because I couldn't buy real Quark anywhere in the US.
And then I found Wünder Quark!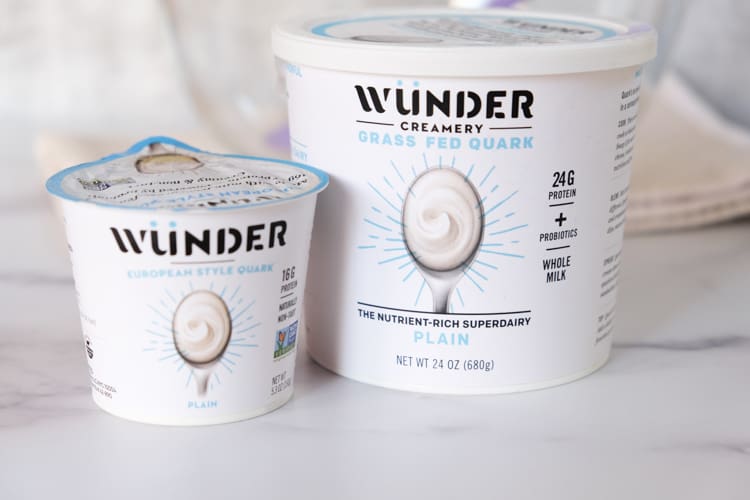 I bought a few tubs of Wünder Quark at my local Lowes grocery store and was super excited that it actually tasted like the Quark I ate in Germany. It's so good.
Since making authentic international recipes is important to my International Baking Club members, and I have several recipes on the IDB that use Quark, I reached out to Wünder to see if we could work together. I've been a HUGE Quark fan for nearly 3 decades and am thrilled to be able to help Wünder get their Quark into more baker's hands!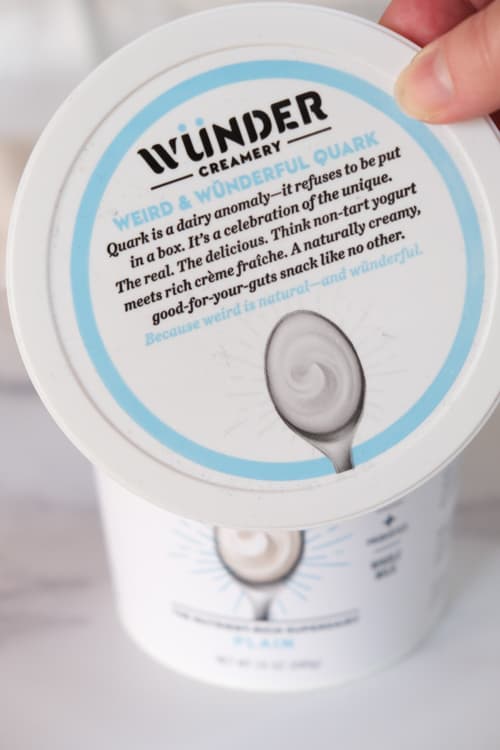 Wünder offers both flavored and plain Quark. I've been using Wünder's large tubs of plain Quark for baking but you can also buy plain Quark in the smaller 5oz tubs.
A few benefits of Wünder Quark? The 24oz [680g] Wünder Quark has 24 grams of protein per serving, no added sugar, and is made with whole milk from grass fed cows. It also contains probiotics from live active cultures, less than 5% lactose, and is Non-GMO product verified, gluten-free, Kosher certified, and vegetarian friendly.
If you don't find Wünder Quark at your local grocery store, you can now order it online and Wünder will deliver it right to your doorstep in just a couple days! They sent me a box of Quark and it arrived perfectly cold and ready to use. Wünder Quark will stay fresh in your fridge for 1.5 months so you can stock up.
Click here to order Wünder Quark for your German cheesecake! Use my special code IDB15 to get 15% off your first order.
UPDATE: unfortunately, Wünder is no longer selling Quark so I have removed links to their online store.
Can I Make Quark Cheese at Home?
Yes! You can make Quark from scratch at home. All you need is milk, buttermilk, and patience. Quark is easy to make but you do need to plan ahead so you have time to prepare it a couple days before you make your cheesecake. Click here to get my homemade Quark cheese recipe and tutorial.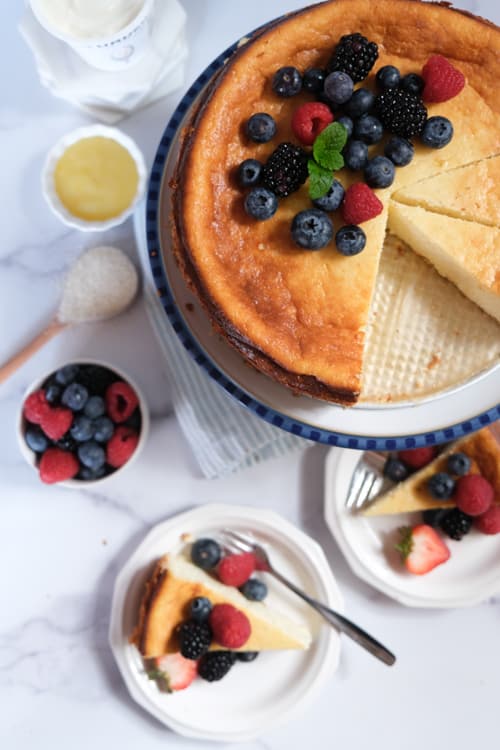 What's a Good Quark Cheese Substitute?
Don't have Quark in your fridge? No time to make a fresh batch or order from Wünder? Here are a couple alternatives. They're not as authentic as using Quark but they'll work in a pinch!
First, you can use full fat Greek yogurt. If you can strain off some of the whey to thicken it up, that will help. Second, you can puree cottage cheese. Or you can use a mixture of both.
I've made this cheesecake both ways and while the texture was a little different (a little softer), it still turned out fine. It might look a little different, too, but that's ok! The cheesecake on the left is one I made with Wünder Quark (it's supposed to sink in the middle). The one on the right was made with Greek yogurt. The texture of the cheesecake made with real Quark was more like what I ate in Germany but the Greek yogurt cheesecake was delicious, too.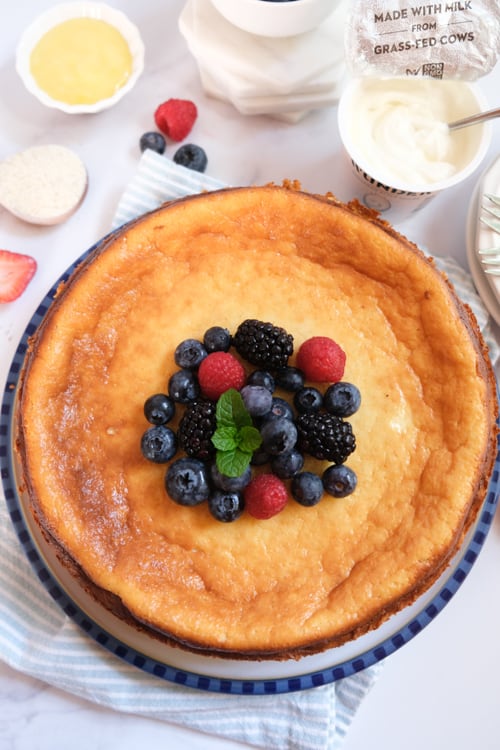 How Do You Cut Your Cheesecake in Such Even Slices?
Great question! I love how bakery cakes in Germany have perfectly even slices, so I started using a simple cake marker that I got on Amazon. The one I bought looks like this: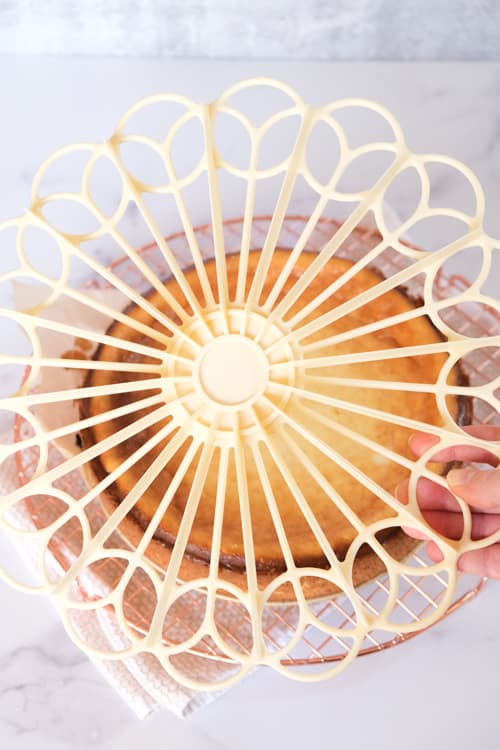 All you do is press the marker lightly on the cake. And then you have nice clean lines for cutting even slices!
I couldn't find the cake marker I bought on Amazon (I think it was an add-on item) but I found one that's even better! This cake marker is double-sided so you can slice your cake in either 14 or 18 portions. This one gives you 10 or 12 portions. There are a bunch of cake markers on Amazon – from plastic to metal, for cakes, brownies, and pies.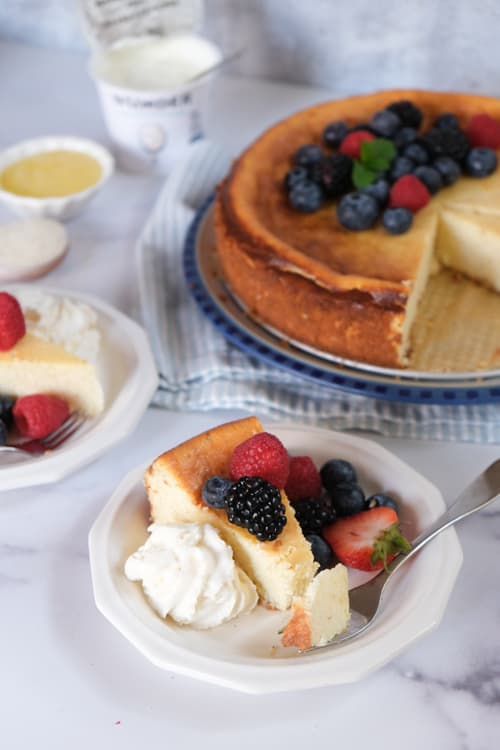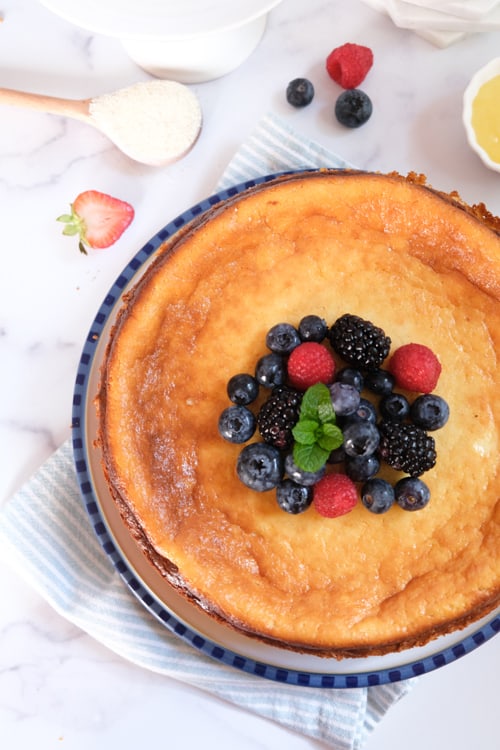 What You Need to Make Crustless German Cheesecake with Quark
Here are the ingredients you need:
Butter
Sugar
Vanilla sugar (or extract)
Eggs
Quark
Cream of wheat (optional)
Lemon juice
Here's the equipment you need:
Large mixing bowl
Spatula
Stand or hand mixer
Scale or measuring cups/spoons
Springform pan
Parchment (optional)
Cooking spray (optional)
Plastic wrap
Cake slice marker (optional)
Cake plate
How to Make German Quark Cheesecake
The first step is to pre-heat your oven to 325F/162C.
Using a stand mixer or a hand mixer beat the room temperature butter, sugar, and vanilla sugar (or extract) until light and fluffy. I recommend using a large mixing bowl for this recipe.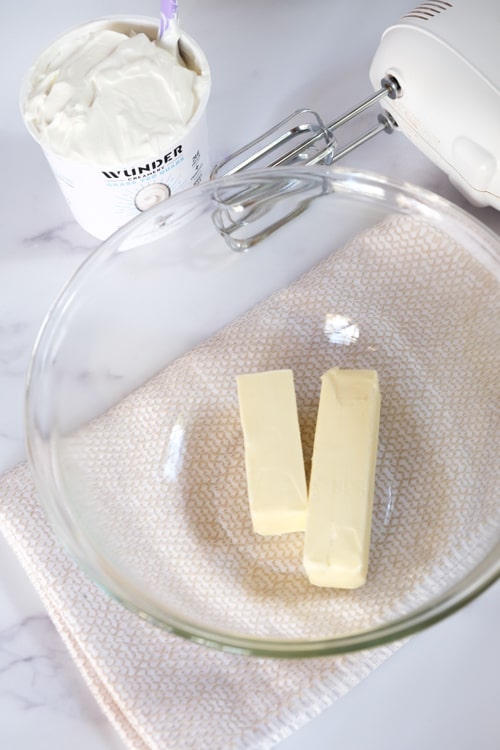 Add the eggs, 2 at a time, and beat on low until incorporated.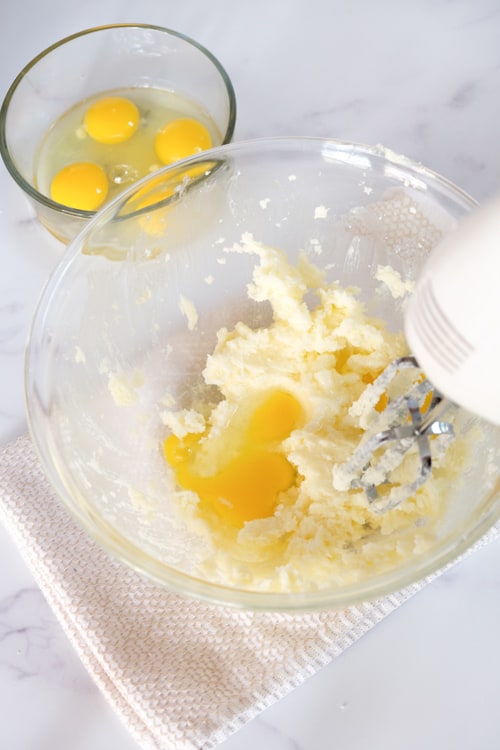 Then add the Quark. I recommend using Wünder Quark, of course! Beat on low until the Quark is well combined.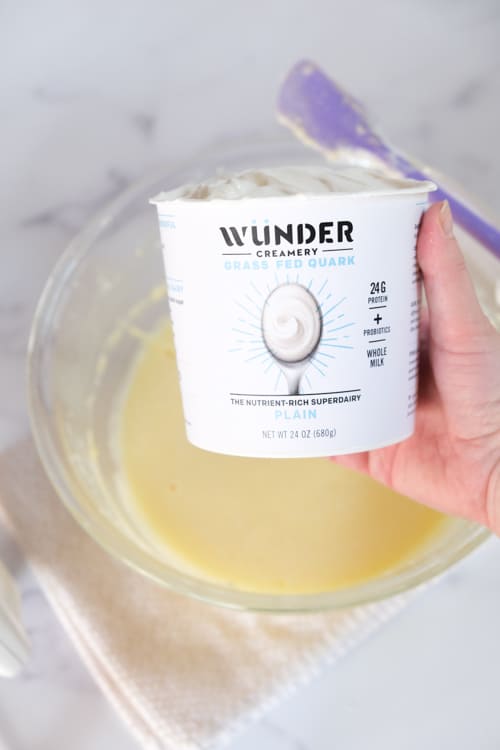 Add the cream of wheat and continue mixing on low.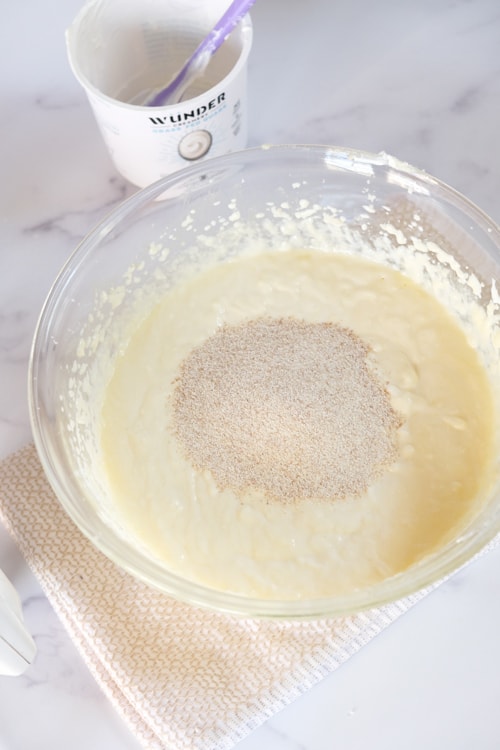 Finally, add the lemon juice and mix on low once more until everything is throughly combined.
Don't forget to scrape down the sides of the mixing bowl several times!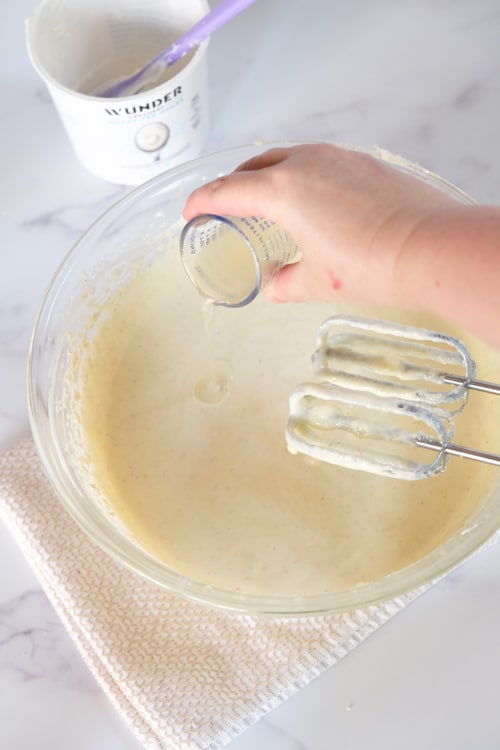 Take the ring off your springform pan, spray the bottom of the pan with cooking spray and then lay a piece of parchment on it. (Or use a round Silpat mat!)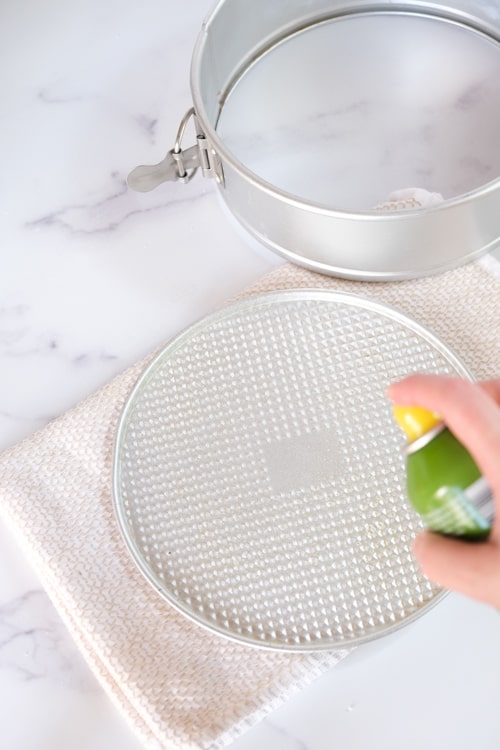 Secure the springform pan ring and then pour the cheesecake batter into the pan.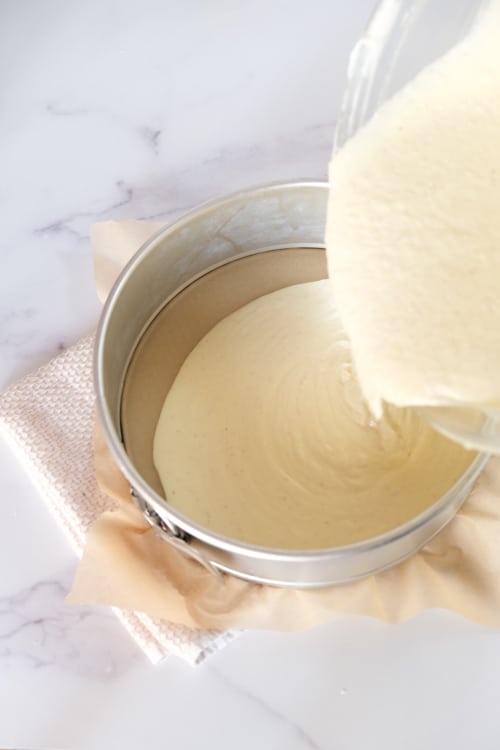 Bake for about 70 minutes or until golden brown. Check your cheesecake at 60 minutes and continue baking in 5 or 10 minute increments.
Let the cheesecake cook in the springform pan for a few minutes, then carefully run a knife around the edge to loosen it from the pan. Remove the springform pan and place the cheesecake on a plate.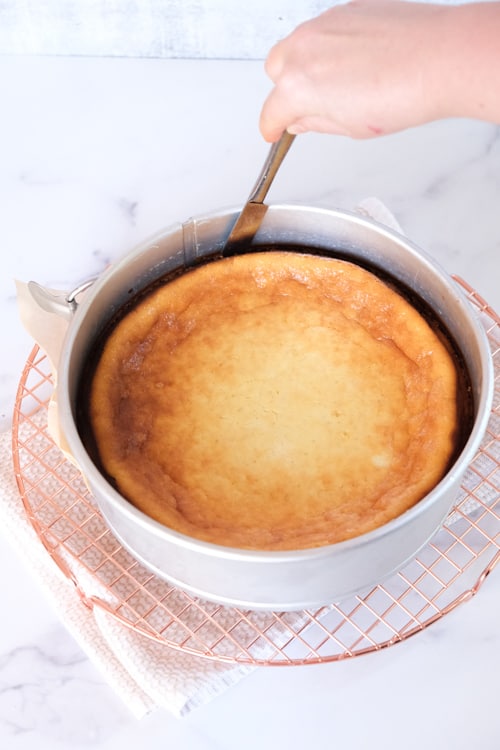 Cover with plastic wrap and chill the cheesecake in the fridge for several hours or overnight. It will firm up as it chills.
When you're ready to serve the cheesecake, let it warm to room temperature. Serve with fresh whipped cream on the side. Enjoy!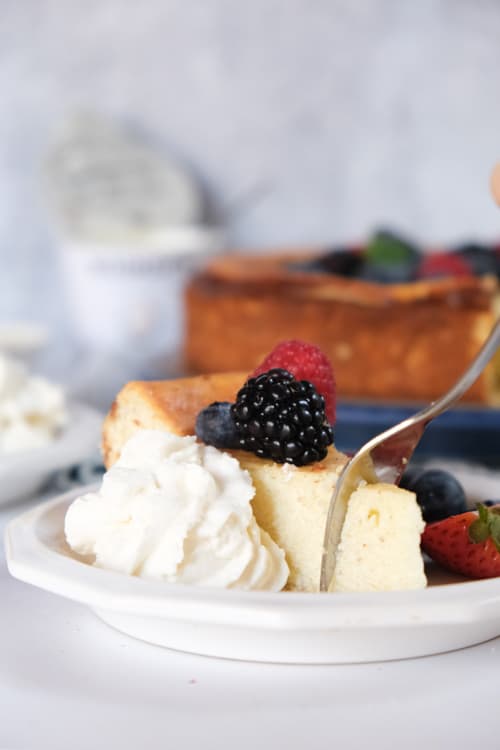 ?? Looking for More German Cake Recipes?
Big thanks to Wünder Creamery for sponsoring the update I made to this recipe to make it even more authentic.