This post contains affiliate links, meaning, if you click through and make a purchase or sign up for a program, I may earn small commission. This is at no additional cost to you.
Are you a cheesecake fan?
If so, give this delicious authentic German cheesecake a try!
This crustless German cheesecake is a quick and easy dessert that is full of flavor and has a lovely, creamy texture. It's delicious on it's own (my husband and I devoured it) or served with fresh berries, a side of whipped cream or even a drizzle of Rote Grütze or lemon curd.
German Cheesecake vs. American Cheesecake
If you've never had German cheesecake, you might be wondering how it differs from cheesecake you find in the US.
The main difference is that German cheesecake isn't made with cream cheese! Instead, it's made with quark soft cheese. What the heck is quark? It's a fresh, non-aged cheese similar in texture and thickness to Greek yogurt (it's not as sour or tangy, though). Like Greek yogurt, quark is high in protein.
So cheesecake with quark is almost healthy! 😉
Where to Buy Quark Cheese?
You can sometimes find quark cheese at Whole Foods or other stores in the US. You can also buy a tub of it on Amazon! Or you can make it at home if you've got milk and buttermilk on hand (click here for my homemade quark recipe).
What's a Good Quark Cheese Substitute?
Don't have quark in your fridge? No time to make a fresh batch? No problem, there are easy alternatives!
When I made this cheesecake, my quark hadn't quite set, so I used a mixture of cottage cheese and plain, full-fat Greek yogurt. I simply pureed the cottage cheese in a blender until smooth and then added the Greek yogurt and pureed it again. I didn't drain any liquid off the cottage cheese/greek yogurt mixture and the cheesecake still turned out well, if maybe a bit softer than if I'd used quark.
So, for this German style cheesecake you can use store bought or homemade quark, pureed cottage cheese or full-fat Greek yogurt. Or a combo of any of those three ingredients.
How to Make Quark Cheese
If you want to make an authentic baked quark cheesecake, you'll need quark – and quite a bit of it. That can get expensive if you're buying it at a store in the US (it may cost less if you find a good German deli).
So why not make quark from scratch at home? Using fresh quark will make this awesome cheesecake even better.
All you need is milk, buttermilk, and the patience to wait a day or two for it to set. It's so easy! Click here to get my homemade quark cheese recipe.
If you don't want to make quark, you can easily add a tub to your next Amazon order.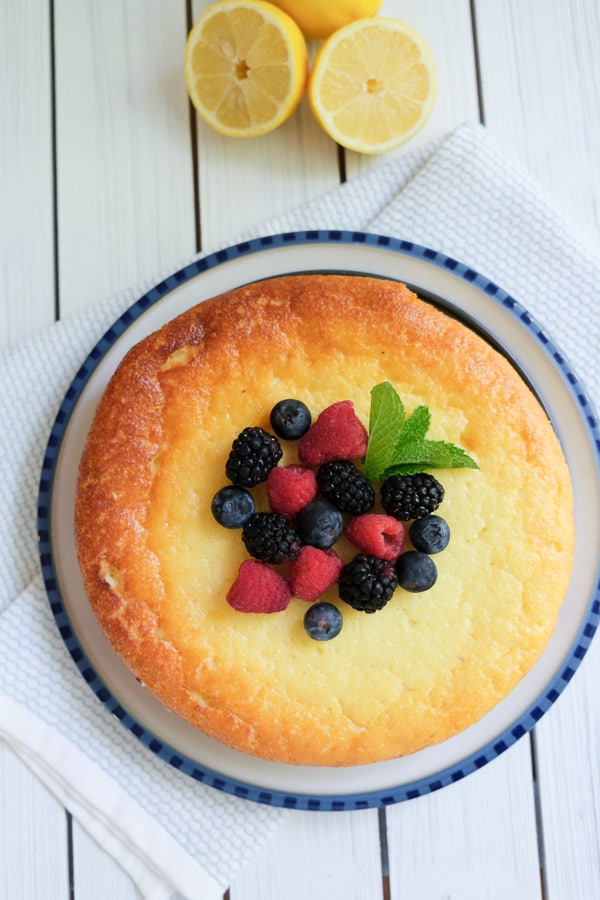 How D0 You Cut Your Cheesecake in Such Even Slices?
Great question! I love how bakery cakes in Germany have perfectly even slices, so I started using a simple cake marker that I got on Amazon. The one I bought looks like this:
All you do is press the marker lightly on the cake.
And then you have nice clean lines for cutting even slices!
I couldn't find the cake marker I bought on Amazon (I think it was an add-on item) but I found one that's even better! This cake marker is double-sided so you can slice your cake in either 14 or 18 portions. This one gives you 10 or 12 portions. There are a bunch of cake markers on Amazon – from plastic to metal, for cakes, brownies, and pies!
Crustless Cheesecake Recipe
Best German Cheesecake with Quark (Crustless Cheesecake Version)
Total Time:
1 hour
10 minutes
A delicious light German cheesecake made with quark cheese (or cottage cheese or Greek yogurt). 
Ingredients
1 cup sugar
1 1/2 tsp vanilla sugar
14 tbsp butter (room temperature)
6 eggs
3 3/4 cups quark, Greek yogurt or pureed cottage cheese
1/2 cup cream of wheat
juice of half of one lemon (optional)
Instructions
Beat sugar, vanilla sugar, and butter until light and fluffy (I use my stand mixer but a hand mixer works, too).
Add 6 eggs, two at a time. Mix on low.
Add quark, pureed cottage cheese or Greek yogurt. Mix on low until combined.
Add cream of wheat and mix on low until combined. Scrape down the sides of the bowl and stir a few times with a spatula to ensure everything is well blended.
Add juice of 1/2 lemon (optional) and mix one more time.
Prepare a springform pan by placing a sheet of parchment paper on the bottom and then grease the bottom and sides of pan.
Pour cheesecake batter into the buttered springform pan.
Bake at 325F for 60-70 minutes until the top is golden brown.
Let the cheesecake cool in the springform pan for a few minutes. Run a knife around the edge and then release the sides of the pan. Let the cheesecake cool for several hours to overnight in the fridge. The cheesecake will firm up as it cools. The middle of the cheesecake will fall but don't worry, it's supposed to!
Serve plain, with fresh fruit or a side of whipped cream.
Pin this for later!
What's Next?
—-
Disclaimer: The International Desserts Blog is a participant in the Amazon Services LLC Associates Program, an affiliate advertising program designed to provide a means for us to earn fees by linking to Amazon.com and affiliated sites. Thank you for supporting my site and helping me make it the best international desserts and travel resource on the internet!