Have you ever heard of vanilla sugar? It's a German kitchen staple. Well, probably a European kitchen staple, because I've seen it all over Europe. I make a jar of vanilla sugar every fall and use it throughout the year. Vanilla sugar makes a lovely gift, too!
This post contains affiliate links, meaning, if you click through and make a purchase or sign up for a program, I may earn small commission. This is at no additional cost to you.
What Can I Do with Vanilla Sugar?
You can use vanilla sugar in place of vanilla extract in cookies, pies, cakes, and other baked goods. Or you can add it to yogurt, quark, creme fraiche, oatmeal, cereal…anywhere you want a touch of sweet vanilla flavor.
Serving coffee? Offer guests a scoop of vanilla sugar. Berries for dessert? Sprinkle a little vanilla sugar on top. Making whipped cream? Substitute vanilla sugar for vanilla extract and watch your guests swoon. ​​
I like to sprinkle vanilla sugar on my oatmeal. Yuuuuum. You don't need very much. Even just a little bit elevates the flavor and makes everything taste so, so good.
Vanilla sugar also makes an easy and delightful holiday, birthday, teacher or host/ess gift!
Pour homemade vanilla sugar into cute jars, wrap it up, and you've got a delicious gift.

Here's what you need to make this gift:
What is Vanilla Sugar?
It's just as it sounds – vanilla flavored sugar. When it comes to vanilla sugar, you have four options:
I've tried all four options, so let me tell you a little more about each so you can decide which is the best option for you. I definitely have a a favorite – keep reading to find out which one it is. 🙂
Option 1 – Vanilla Sugar Packets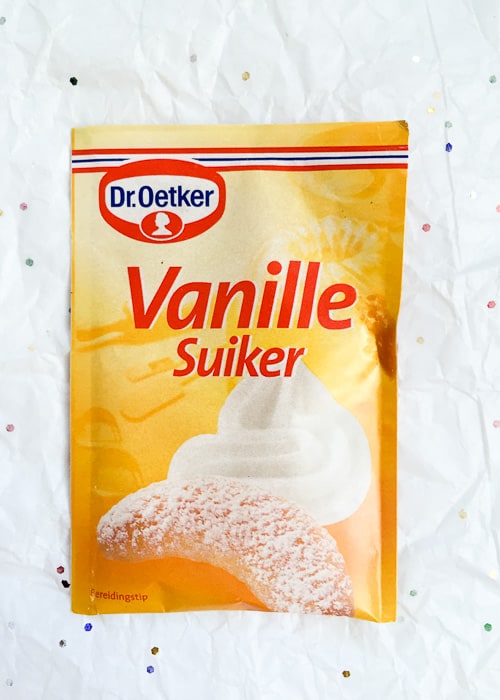 When I lived in Germany, I always used packets of Dr. Oetker vanilla sugar because I couldn't ever find vanilla extract. After moving back to the US, I'd bring packets home whenever I'd visit Europe (the photo above is the Dutch version). These packets are convenient but the vanilla flavor is artificial. If you want the vanilla sugar taste but no vanilla bean flecks, this could be a good option.
Where Can I Buy Vanilla Sugar?
It's super easy to find in Europe (just got to any grocery store) but in the US it's more difficult. Try looking at World Market, on Amazon or at a specialty food store. My recommendation, though, is to forgo the pre-made vanilla sugar packet and make your own at home!
Option 2 – Make Vanilla Sugar with Vanilla Extract
These days I make vanilla sugar at home. It's easy, I like knowing exactly what's in it, and I use way more than a packet or two throughout the year! The first time I made vanilla sugar I used high quality vanilla extract (see my how-to below). It worked fine and tasted good but for me there were two downsides: the sugar was no longer white and there were no vanilla bean flecks.
Option 3 – Vanilla Bean Paste
After finding a jar of vanilla paste at Trader Joe's I decided to try making vanilla sugar with it. It was easy to use, tasted good, and I like that you can see the vanilla bean flakes! The downside is that the paste changes the color of the sugar and makes it clumpy.
Option 4 – Use a Vanilla Bean
You've probably guessed by now my favorite way to make vanilla sugar is to use a fresh vanilla bean! You get the best flavor and those beautiful vanilla bean flecks, the sugar stays white (if you're using white sugar), and the texture remains sprinkle-able without running it through a food processor or coffee grinder. It's so pretty and delicious, you'll want to sprinkle it on everything!
How to Make Homemade Vanilla Sugar
Making vanilla sugar is super easy! I'm going to show you how to make fresh homemade vanilla sugar with vanilla extract, vanilla paste, and a vanilla bean.
What You Need to Make Vanilla Sugar
Sugar
High quality vanilla extract (like this one)
OR vanilla paste (like this one)
OR a vanilla bean
Measuring cup/spoons
Mixing bowl & spoon
Food processor or clean coffee grinder (optional)
Glass shaker jar (like this one)
1 – How to Make Vanilla Sugar with Vanilla Extract
Start with 1/2 cup sugar. (Yes, I'm using a measuring up for wet ingredients in the photo below! I was just using it as a small mixing bowl.) I like a strong vanilla flavor so I add 2 tablespoons vanilla extract to 1/2 cup sugar. You might prefer to start with 1 tablespoon and add more to taste. Be sure to stir it well after adding the extract.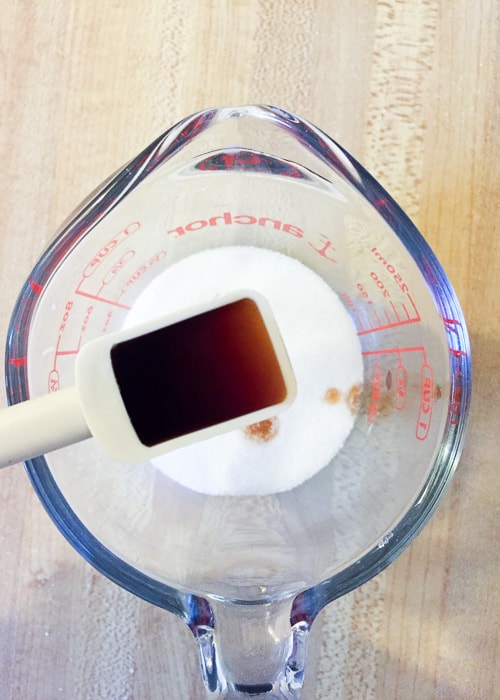 Your vanilla sugar will be wet and clumpy after adding the extract, so you'll want to spread the sugar on a piece of parchment paper to dry for 20-30 minutes.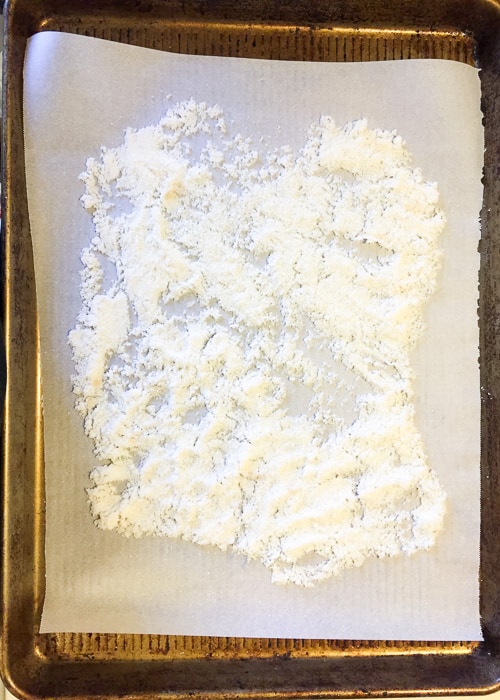 Once the vanilla sugar has dried, it will be clumpy and crunchy. Use a fork to break up the clumps or pulse it in a food processor or a clean coffee grinder to smooth it out.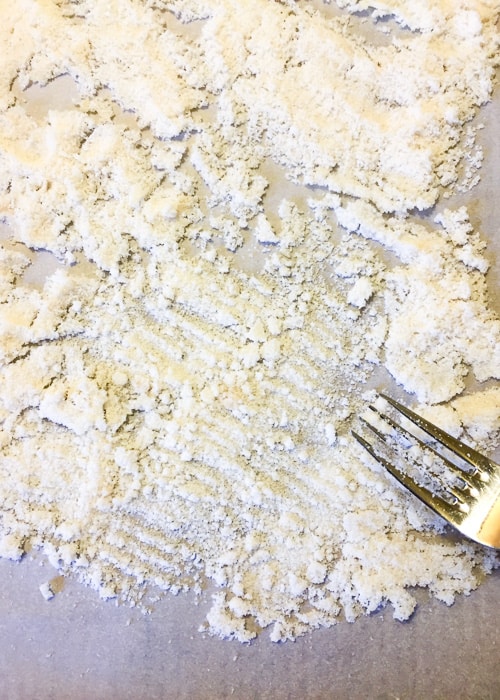 Then pour the vanilla sugar in a shaker jar or a glass jar with a good lid. Enjoy your vanilla sugar!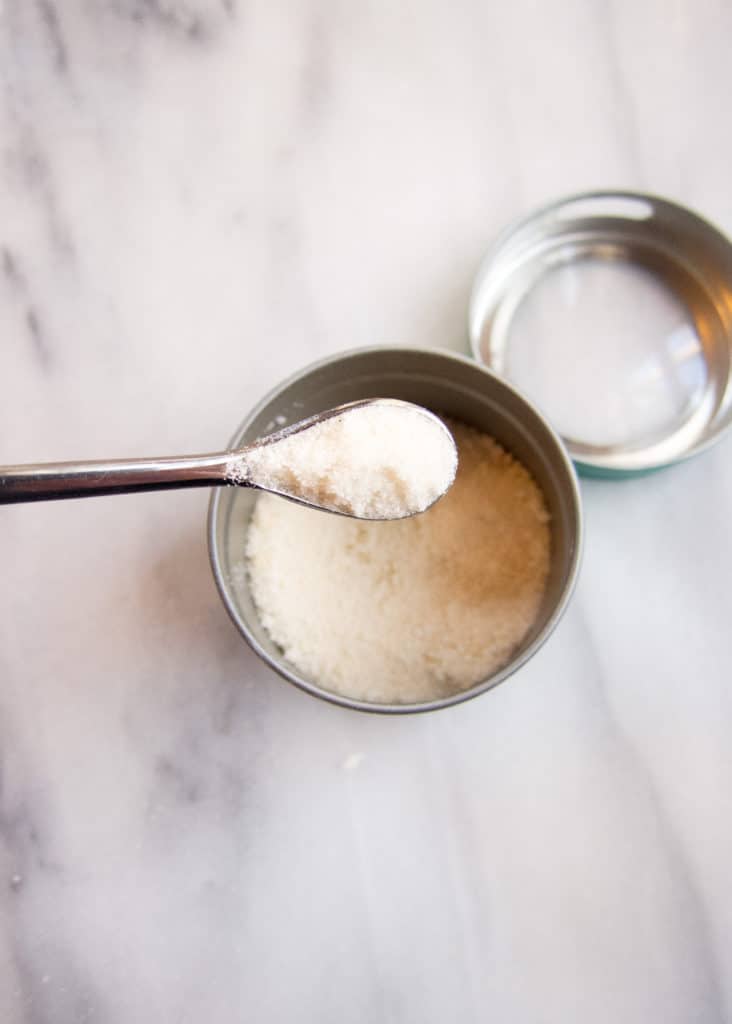 2 – How to Make Vanilla Sugar with Vanilla Bean Paste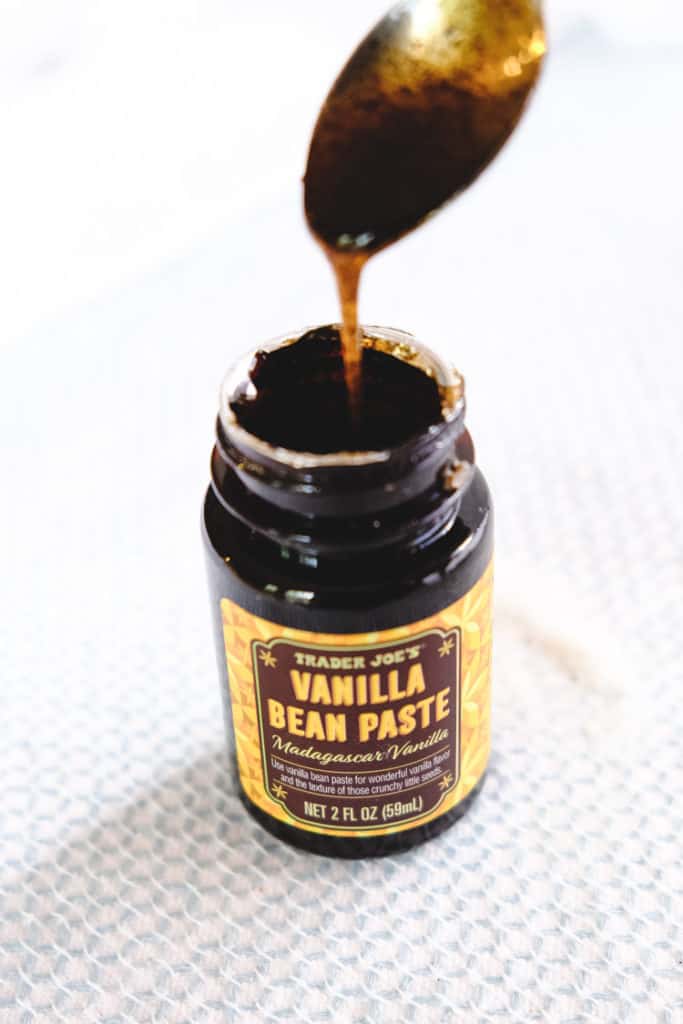 It's the same process as with the extract. Add 1-2 tablespoons vanilla bean paste to 1/2 cup sugar (add less if you want a lighter flavor). Stir well. If you don't mind it clumpy, leave as-is and store in a jar. If you prefer a smooth texture, run it through your food processor or clean coffee grinder before placing it in a jar.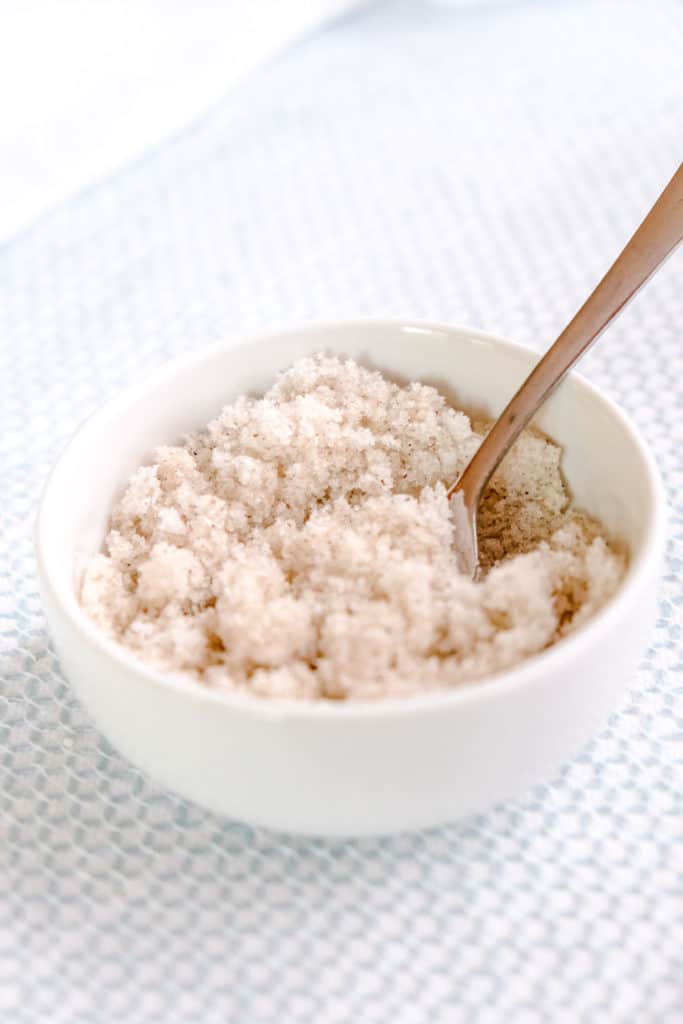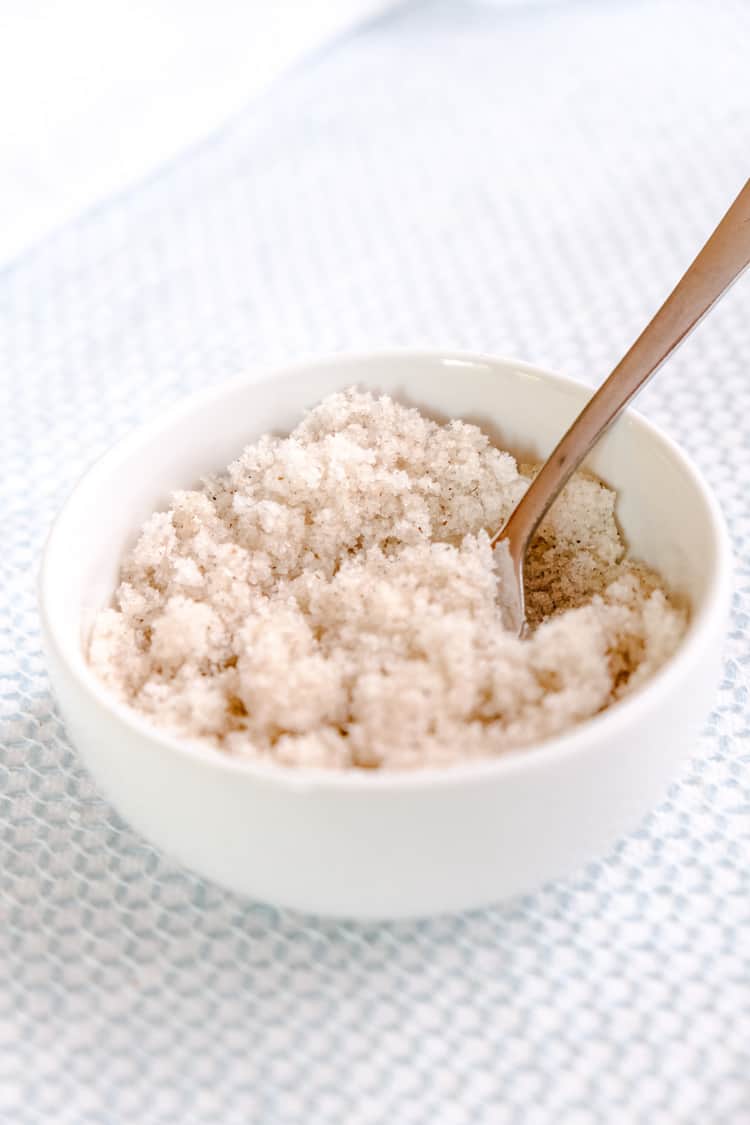 Option 4 – Make Vanilla Sugar with a Vanilla Bean
Pour 1/2 cup sugar into a bowl. Use a sharp knife to cut off the ends of the vanilla bean and then carefully slice the bean down the middle. Use the knife to scrape out the beautiful vanilla bean seeds, and then mix into the sugar. Congratulations, you've made delicious vanilla sugar!
You can use it right away or let the flavors mature for a few days. I usually cut up the used vanilla pod and place that in my jar of vanilla sugar for a little extra flavor.
Click here to see more delicious German dessert recipes!
Pin This for Later!
-- Disclaimer: The International Desserts Blog is a participant in the Amazon Services LLC Associates Program, an affiliate advertising program designed to provide a means for us to earn fees by linking to Amazon.com and affiliated sites. Thank you for supporting my site and helping me make it the best international desserts and travel resource on the internet!