How to Make Vanilla Sugar (with Vanilla Beans, Paste or Extract)
This article may contain affiliate links. See our disclosure link for more information.
Vanilla sugar is a German baking staple. Well, probably a European baking staple, because I've seen it all over Europe. It's super easy to make at home, and I highly recommend giving it a try.
I make a jar of vanilla sugar every fall and use it throughout the year. Vanilla sugar makes a lovely gift, too! In this article I show you how you can make vanilla sugar using vanilla beans, vanilla paste, and vanilla extract.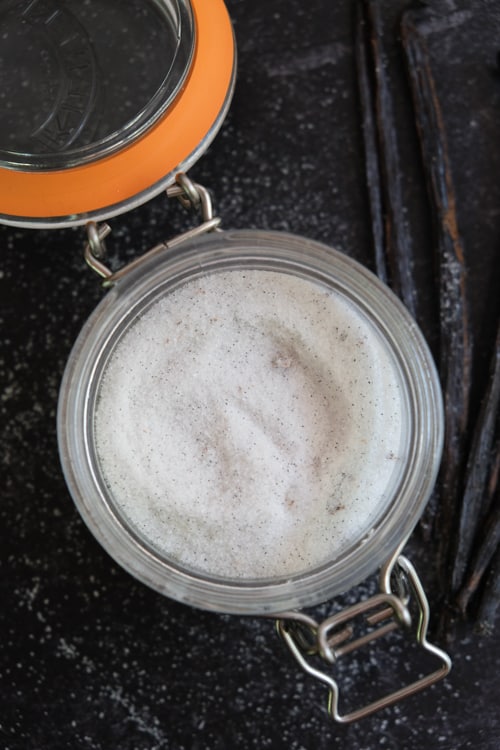 In this article I'm going show you different ways you can make homemade vanilla sugar. I've tried various methods and I now know what works and what doesn't work as well. I definitely have a favorite method! If you want to get right to my vanilla sugar recipe, scroll aaaaalll the way down. If you want to read about my vanilla sugar experiments, keep reading!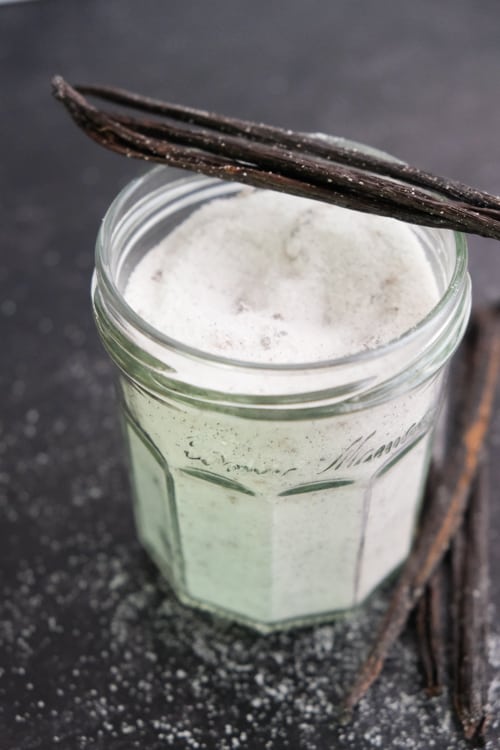 What Can I Do with Vanilla Sugar?
You can use vanilla sugar in place of vanilla extract in cookies, pies, cakes, and other baked goods. Or you can add it to yogurt, Quark, creme fraiche, oatmeal, cereal…anywhere you want a touch of sweet vanilla flavor.
Serving coffee? Offer guests a scoop of vanilla sugar. Berries for dessert? Sprinkle a little vanilla sugar on top. Making whipped cream? Substitute vanilla sugar for vanilla extract and watch your guests swoon. ​​
I like to sprinkle vanilla sugar on my oatmeal. Yuuuuum. You don't need very much. Even just a little bit elevates the flavor and makes everything taste so, so good.
Vanilla sugar also makes an easy and delightful holiday, birthday, teacher or host/ess gift!
Pour homemade vanilla sugar into cute jars, wrap it up, and you've got a delicious gift.

Here's what you need to make this gift:
Cute jars and lids (I love these magnetic shaker tins, these 4 oz jars with red and white lids, and these glass 4oz jars with a swirl design and gold lids)
Homemade vanilla sugar (see below)
Festive labels, washi tape (this is super cute), ribbon, or reusable gift bag (like this one)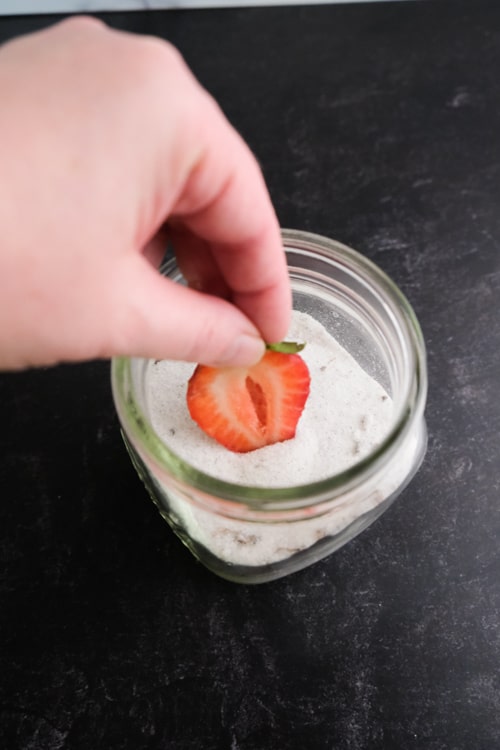 What is Vanilla Sugar?
It's just as it sounds – vanilla flavored sugar. When it comes to vanilla sugar, you have four options:
Make it from scratch using vanilla extract.
Or vanilla paste.
Or a vanilla bean.
Since I've tried all four options, let me tell you a little more about each so you can decide which is the best option for you. I definitely have a a favorite – keep reading to find out which one it is.
Option 1 – Buy Vanilla Sugar Packets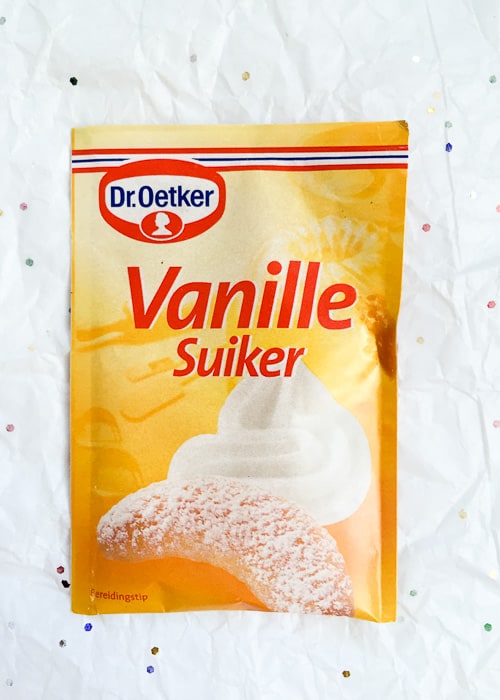 When I lived in Germany, I always used packets of Dr. Oetker vanilla sugar because I couldn't ever find vanilla extract. After moving back to the US, I'd bring packets home whenever I'd visit Europe (the photo above is the Dutch version). These packets are convenient but the vanilla flavor is artificial. If you want the vanilla sugar taste but no vanilla bean flecks, or if you don't want to make it yourself, this could be a good option.
Where Can I Buy Vanilla Sugar?
It's super easy to find in Europe (just got to any grocery store) but in the US it's more difficult. You can order it here from World Market, on Amazon or at a specialty food store. My recommendation, though, is to forgo the pre-made vanilla sugar packet and make your own at home!
Option 2 – Make Vanilla Sugar with Vanilla Extract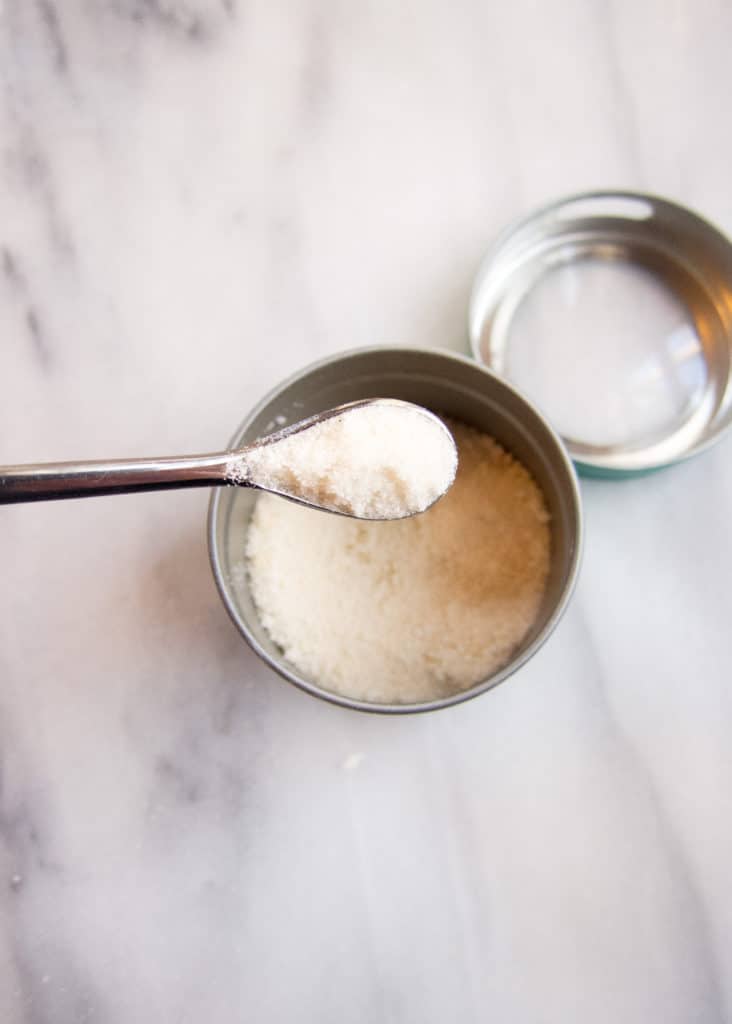 These days I always make vanilla sugar at home. It's easy, I like knowing exactly what's in it, and I use way more than a packet or two throughout the year! The first time I made vanilla sugar I used high quality vanilla extract (scroll down to my how-to). It worked fine and tasted good but for me there were two downsides: the sugar was no longer white and there were no vanilla bean flecks. So then I tried…
Option 3 – Vanilla Bean Paste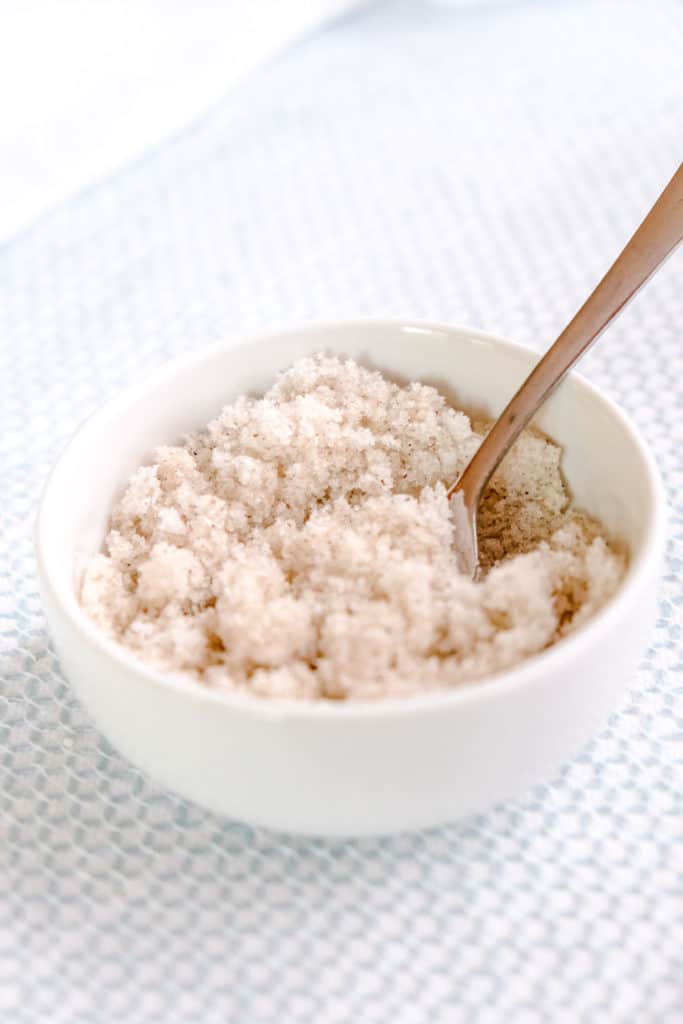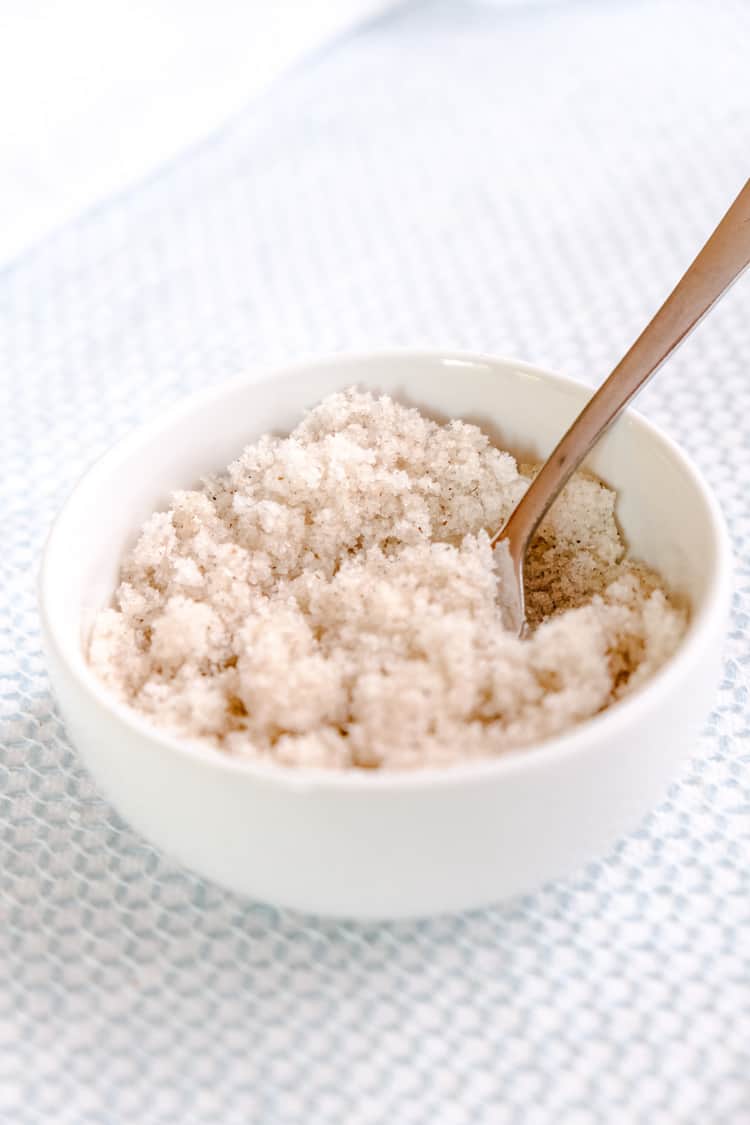 After finding a jar of vanilla paste at Trader Joe's I decided to try making vanilla sugar with it. It was easy to use, tasted good, and I like that you can see the vanilla bean flakes! The downside is that the paste changes the color of the sugar and makes it clumpy. The very best option is to….
Option 4 – Use a Vanilla Bean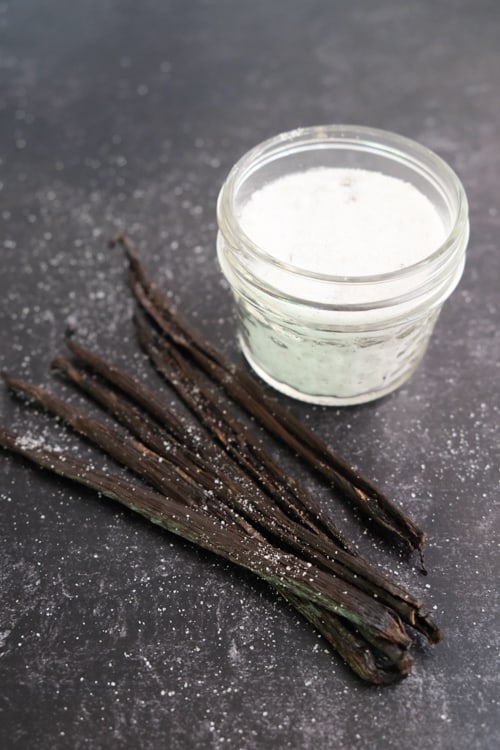 You've probably guessed by now my favorite way to make vanilla sugar is to use a fresh vanilla bean! You get the very best flavor and those beautiful vanilla bean flecks, the sugar stays white (if you're using white sugar), and the texture remains sprinkle-able without having to run it through a food processor or coffee grinder. It's so pretty and delicious, you'll want to sprinkle it on everything!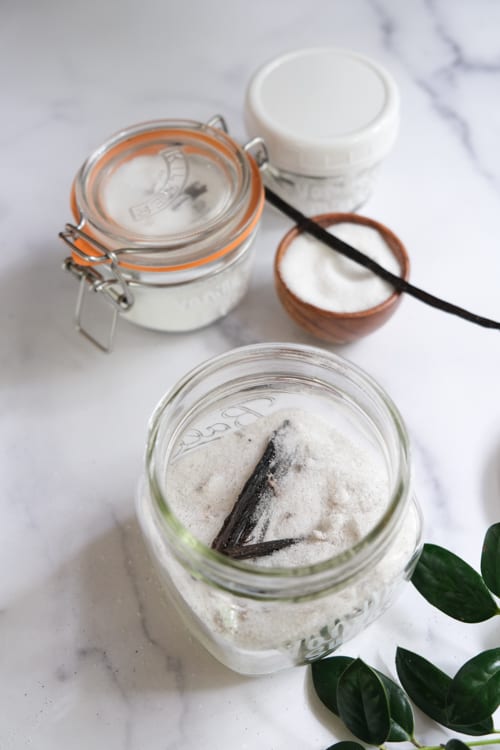 How to Make Homemade Vanilla Sugar
Making vanilla sugar is super easy! I'm going to show you how to make fresh homemade vanilla sugar with vanilla extract, vanilla paste, and a vanilla bean.
What You Need to Make Vanilla Sugar
Sugar
High quality vanilla extract (like this one)
OR vanilla paste (like this one)
OR a vanilla bean
Measuring cup/spoons or a scale
Mixing bowl & spoon or a Ziplock bag
Food processor or clean coffee grinder (optional)
Glass shaker jar (like this one) or any kind of jar with a tight-fitting lid
1 – How to Make Vanilla Sugar with Vanilla Extract
Start with 1/2 cup [100 g] sugar. (Yes, I'm using a measuring up for wet ingredients in the photo below! I was just using it as a small mixing bowl.) I like a strong vanilla flavor so I add 2 tablespoons vanilla extract to 1/2 cup [100 g] sugar. You might prefer to start with 1 tablespoon and add more to taste. Be sure to stir it well after adding the extract.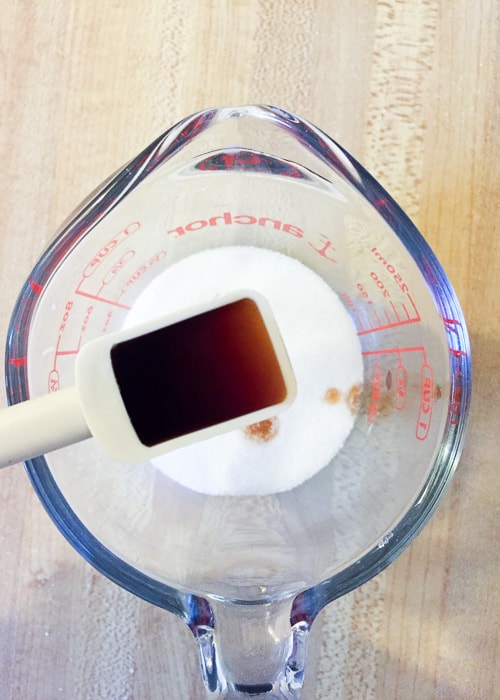 Your vanilla sugar will be wet and clumpy after adding the extract, so you'll want to spread the sugar on a piece of parchment paper and let it dry for 20-30 minutes.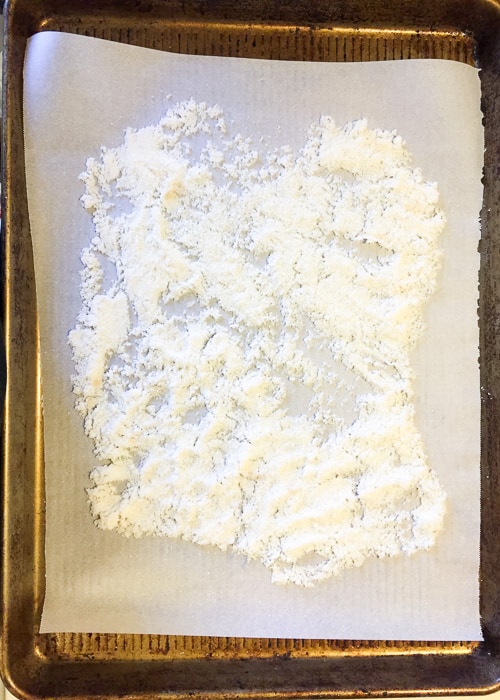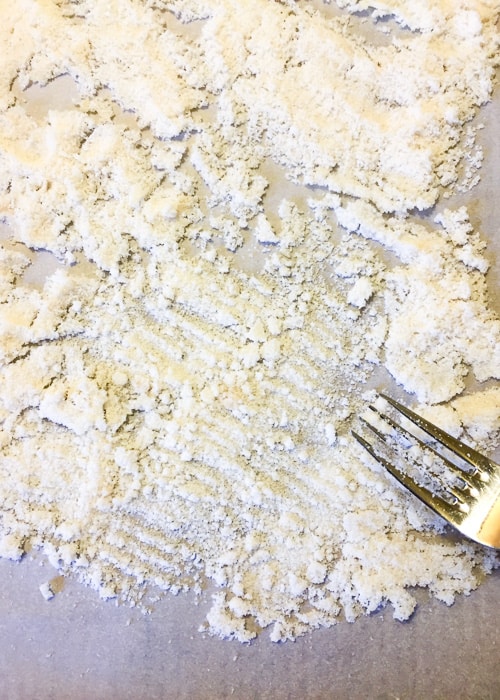 Once the vanilla extract sugar has dried, it will be clumpy and crunchy. Use a fork to break up the clumps or pulse it in a food processor or a clean coffee grinder to smooth it out. Then pour the vanilla sugar in a shaker jar or a glass jar with a good lid.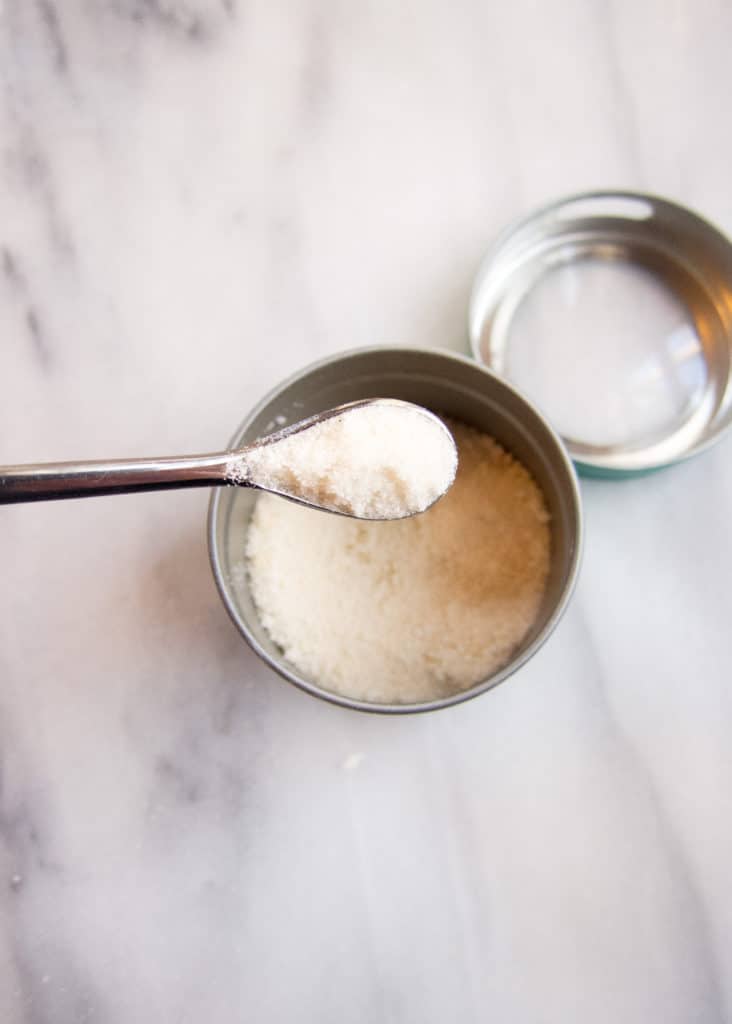 2 – How to Make Vanilla Sugar with Vanilla Bean Paste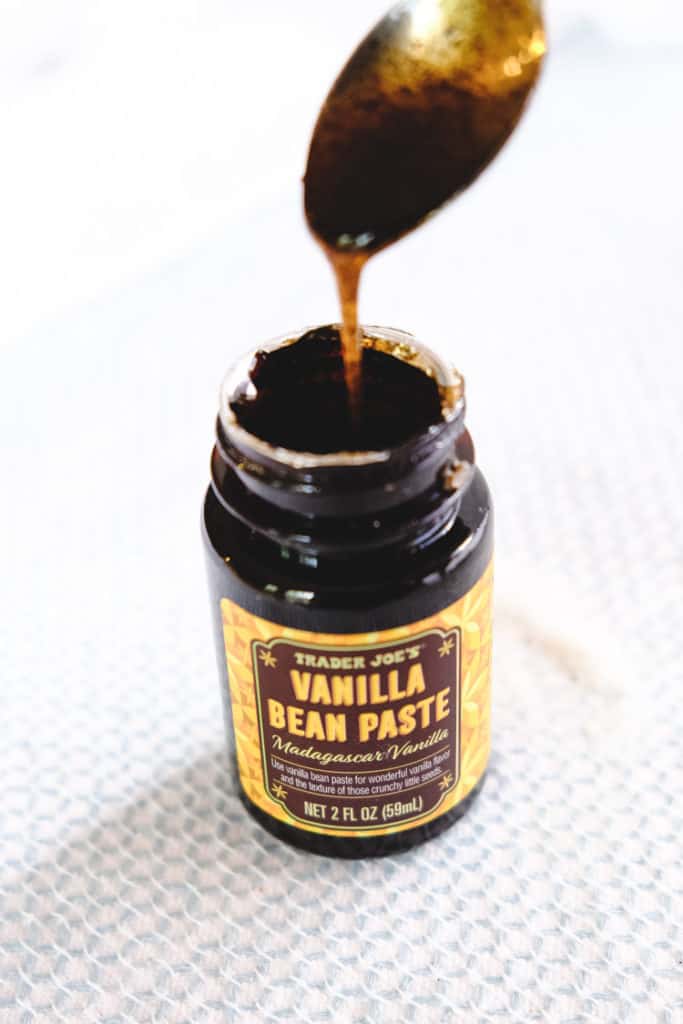 To make vanilla sugar with vanilla bean paste, add 1-2 tablespoons vanilla bean paste to 1/2 [100 g] cup sugar (add less paste if you want a lighter flavor). Stir well. If you don't mind it clumpy, leave as-is and store in a jar. If you prefer a smooth texture, run it through your food processor or clean coffee grinder before placing it in a jar.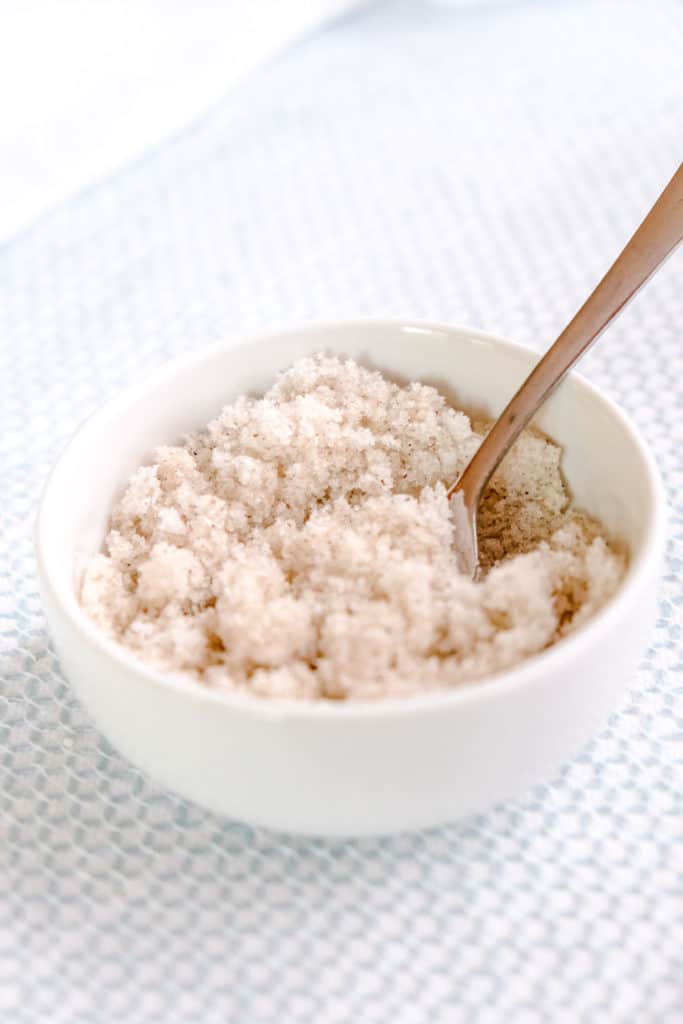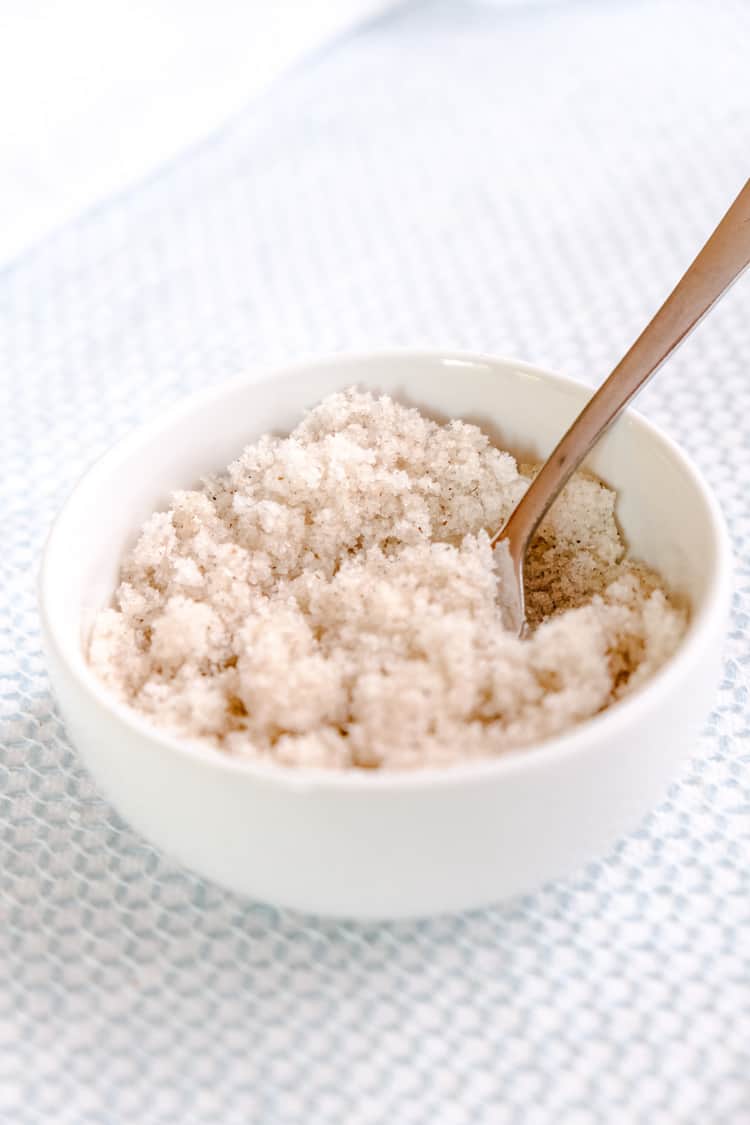 Option 4 – Make Vanilla Sugar with a Vanilla Bean (The BEST Option!)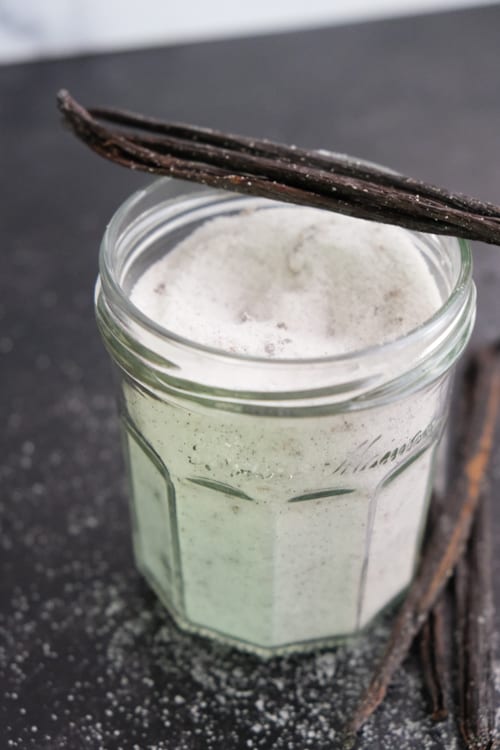 There are three ways you can make vanilla bean sugar. The first way is to pour sugar into a jar, stick a dried vanilla bean in it, place the lid on the jar, give it a shake, and let it sit in your cupboard for a few weeks to several months (giving it a shake every couple days). You can use the "caviar" (the seeds inside the vanilla pod) in a recipe, let the pod dry out for a day or two, and then stick it in the sugar.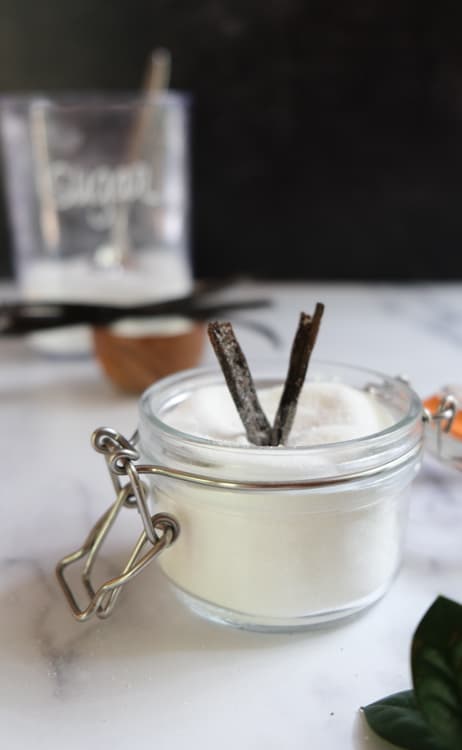 That's the easiest way to make vanilla bean sugar but it's not my favorite. I like a strong vanilla flavor and those vanilla bean flecks, so…
Here my favorite way to make vanilla bean sugar:
The second way is to pour 1/2 cup [100 g] sugar into a bowl, jar or a Ziplock bag. Then use a sharp knife to carefully slice the bean down the middle lengthwise. Use the knife to scrape out the beautiful vanilla bean seeds (the "caviar") and then mix into the sugar. Congratulations, you've made delicious vanilla bean sugar!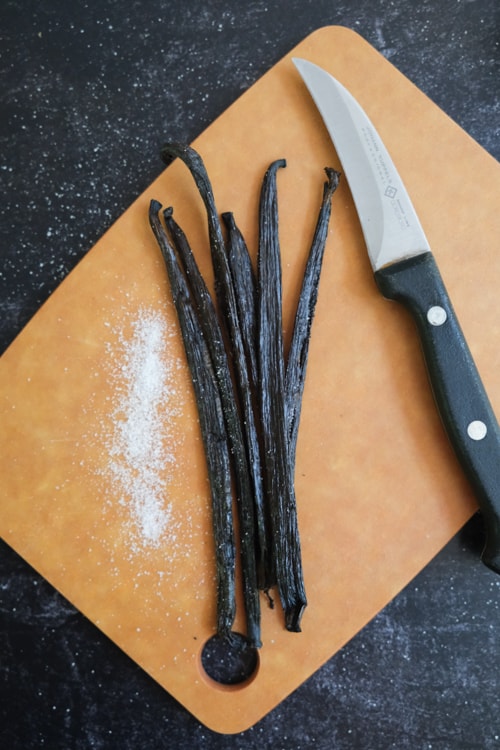 You can use it right away or let the flavors mature for a few days. I usually cut up the used vanilla pod and place that in my jar of vanilla sugar for a little extra flavor.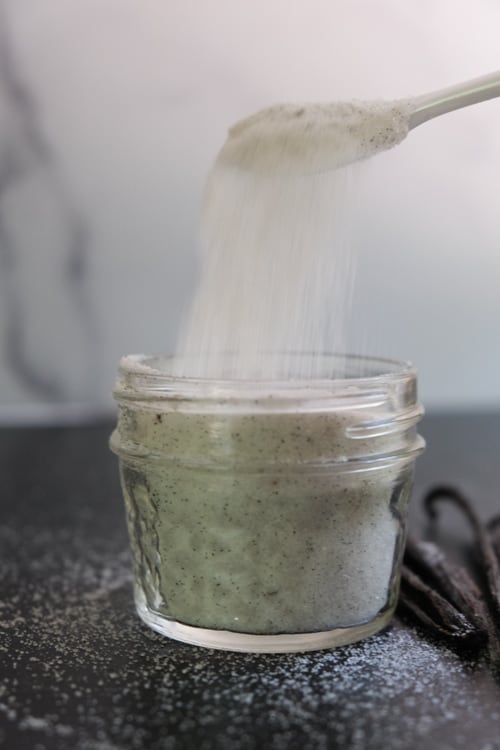 What's the third way to make vanilla bean sugar? You can dry your used vanilla pods, grind them up into vanilla powder, and then add them to sugar! I haven't tried this method yet but I plan to…once the vanilla extract I recently started has matured enough for me to use some of its beans! Ohhh…I can't wait to use this extract…and all those beans!!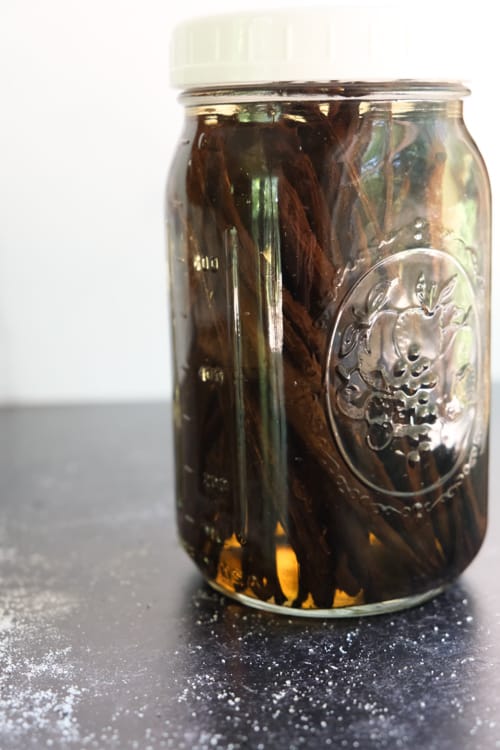 You might be wondering if you can use a sugar alternative to make vanilla sugar? I've been wondering that, too, so I'm currently trying out monk fruit vanilla sugar. I'll let you know how it turns out!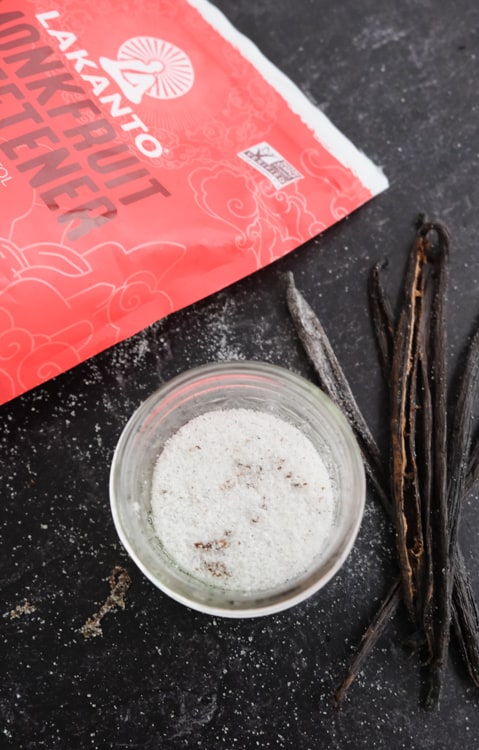 Here are the three jars of vanilla sugar I've got going right now: sugar with vanilla pod (bottom left), sugar with vanilla bean "caviar" and dried pod pieces (bottom right), and vanilla monk fruit "sugar."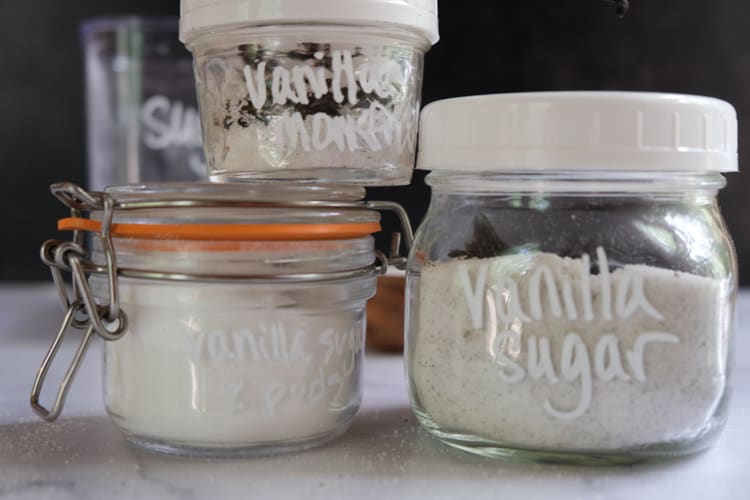 Readers Have Asked…
How to make vanilla sugar fast?
If you want homemade vanilla sugar in a flash, I recommend using a fresh vanilla bean. Slice it open, scrape out the seeds, and blend well with sugar.
How long does vanilla sugar last? Does vanilla sugar expire?
Vanilla sugar doesn't really expire! Store it in a jar with a tight-fitting lid at room temperature and it will last indefinitely. I don't recommend freezing or refrigerating it. Unless I'm doing a lot of baking or dessert-making with larger quantities of vanilla sugar, I usually make 1 jar a year and use here and there.
What's a good vanilla sugar substitute?
Just use white sugar and vanilla extract. This won't work if you want to sprinkle vanilla sugar on things like fruit but if you're making cookies or whipped cream, it will work.
Can I make vanilla sugar syrup for coffee and other drinks?
Yes! I use vanilla sugar to make vanilla simple syrup for bubble tea drinks, cocktails, a London Fog tea latte, etc. You can follow my brown sugar simple syrup recipe here and just use vanilla sugar instead of the brown sugar.
What about vanilla sugar cookies?
Instead of using plain old white sugar and vanilla extract, use vanilla sugar instead! You'll not only get a better vanilla flavor, you'll get those lovely vanilla bean flecks in the cookies.
Is it possible to use vanilla sugar to make a vanilla sugar scrub?
Yes, and it will smell absolutely delicious.