This article may contain affiliate links. See our disclosure link for more information.
Add these quick and Easy Quark Pancakes to your meal plan for a delicious breakfast, brunch or breakfast-for-dinner!
Serve with fresh whipped cream, berries, and a drizzle of maple syrup. Or top with your favorite flavored Quark!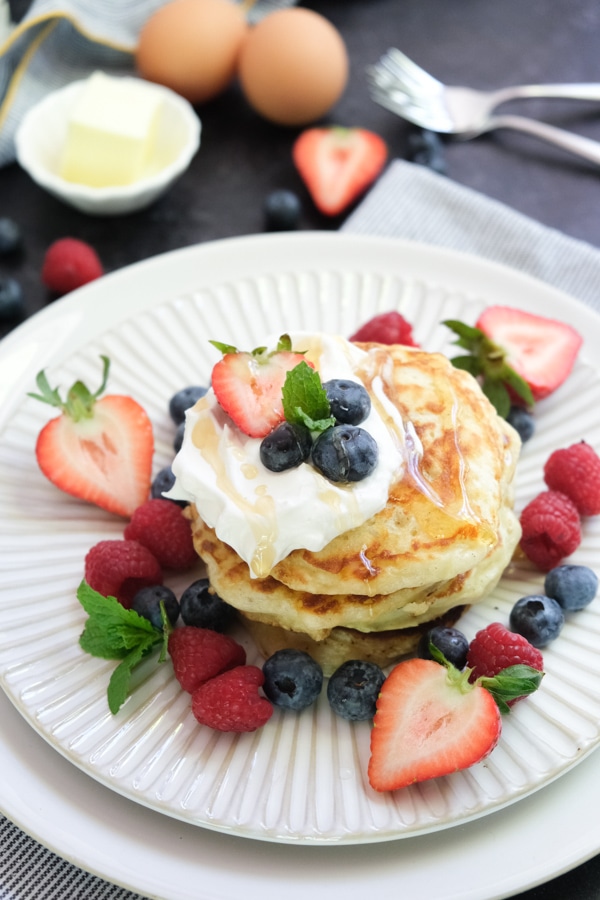 Thanks to Wünder Creamery for sponsoring this recipe.
Do you ever get a craving for pancakes? Wish you could make them just a bit healthier? These Quark pancakes are for you!
I often make Dutch pancakes when I get that pancake craving (that reminds me, I've got to share that recipe here!), and sometimes Swedish pancakes (when I happen to have enough eggs).
But these Quark pancakes have now become my go-to pancakes.
When I make waffles, I often add Greek yogurt to the batter to make them a little healthier. And I've made pancakes with sour cream before…so I decided to try Quark instead. It's the perfect swap!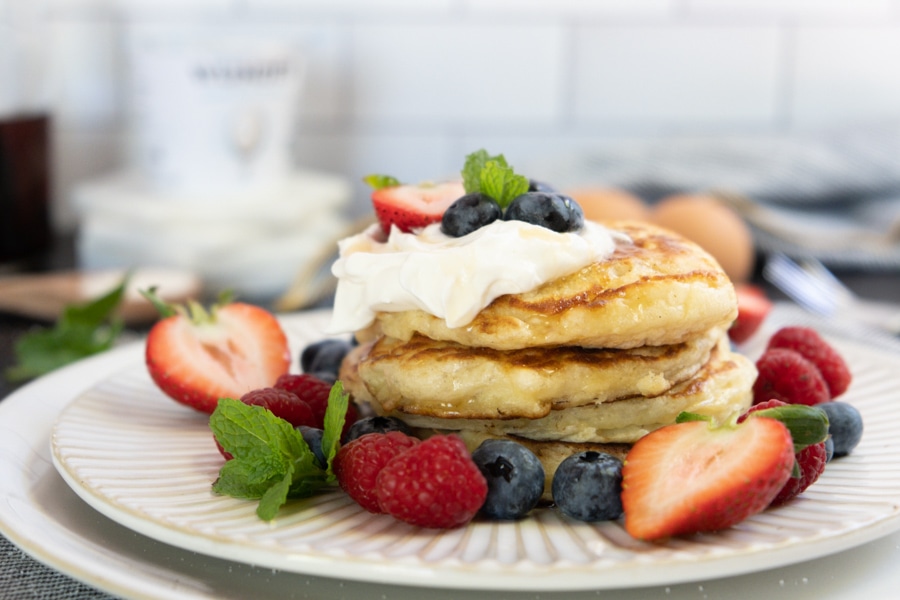 Why make pancakes with Quark? Added protein! They're fluffy yet filling, and you can make them in less than 10 minutes. Perfect for breakfast, brunch or breakfast-for-dinner.
I've made these pancakes many times and they're not only quick and easy, they're delicious. There's no milk required and the only butter you need is for frying the pancakes, and you can use an alternative for that if you'd like.
I like to top them with a little whipped cream, a bunch of fresh berries, and a drizzle of real maple syrup. If you're going for a healthier breakfast or snack, you could top your pancakes with flavored Quark.
If you've got German Plum Butter or Lemon Curd, they'd make a delicious topping, too. Next time I make a back of plum butter, I'm definitely spreading some on these pancakes!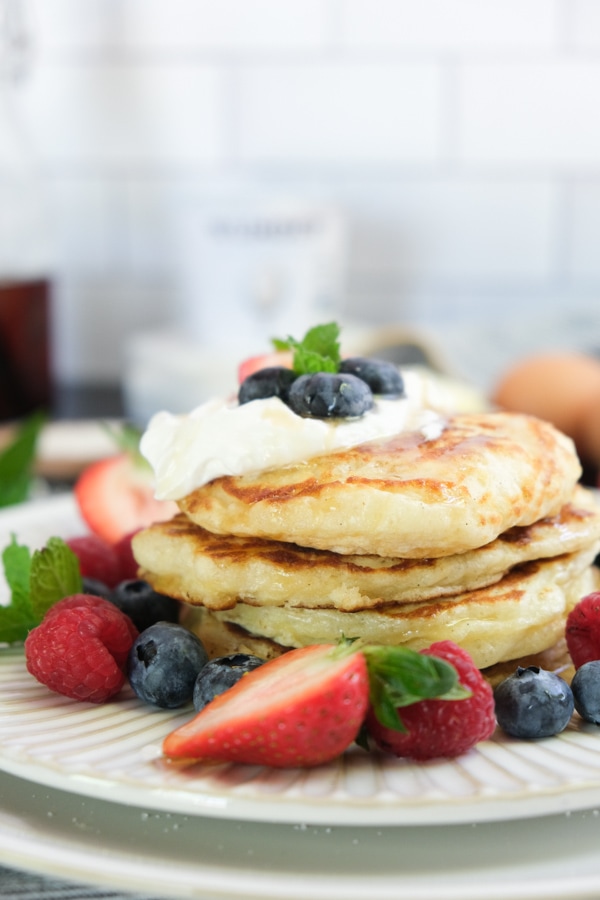 Are These German Pancakes?
No, not really. They have Quark in them, and Quark is a staple in German cooking and baking, but I wouldn't say these are German pancakes. I did find some somewhat similar Quark pancakes from Eastern Europe, though, which I found interesting.
Some people eat pancakes (Pfannkuchen or Eierkuchen) in Germany but traditionally they're not like pancakes in the US.
Maybe pancakes are more popular now than when I lived there but I actually can't remember ever eating pancakes in Germany!
I've noticed that what some people call a German pancake is actually more like what I've always known as a Dutch Baby oven pancake. From what I can tell, German pancakes are more like crepes than US pancakes.
You might be familiar with German or Austrian Kaiserschmarrn, which look like torn up pancakes.
Kaiserschmarrn is usually prepared by making one big fluffy pancake, tearing it into pieces, and then serving with a dusting of powdered sugar, rum-soaked raisins or fruit sauce/compote.
I've seen it served as a dessert and as a main dish.
Even though these pancakes aren't German, they are delicious, so give this Quark pancakes recipe a try!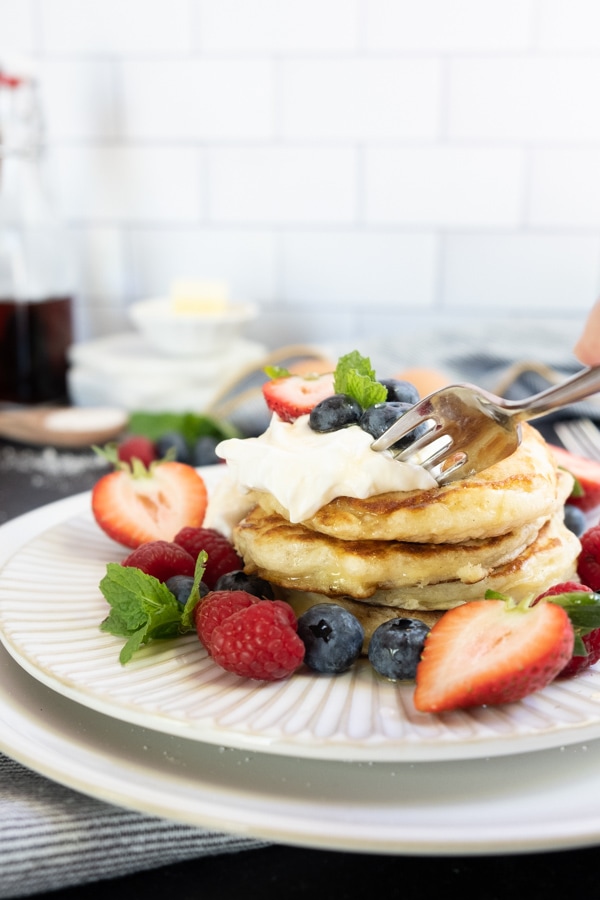 What's Quark? And Where Do I Buy It?
UPDATE: unfortunately, Wünder is no longer selling Quark so I have removed links to their online store.
If you're new to the IDB you're not yet familiar with my love for Quark! I've loved it since I was a teen living in Germany but for many years Quark was something I only ate in Germany because it was almost nearly impossible to find in the US.
I learned how to make a simple version of Quark at home and used that in my German cheesecakes and other Quark desserts. But the downside to making it yourself is that you have to plan ahead because it takes a few days to set.
Other times I used Greek yogurt in place of Quark, and that worked ok, but it's really best to use real Quark in recipes using Quark.
Last year I found Wünder Creamery's Quark at my local grocery store and bought a couple containers of their strawberry and blueberry Quark. I was so happy that it tasted like the Quark I ate in Germany!
Now they're my go-to for both plain and flavored Quark. I mostly cook and bake with plain Quark and enjoy eating the flavored Quark for breakfast, with lunch or as a snack (the coffee flavor is to die for).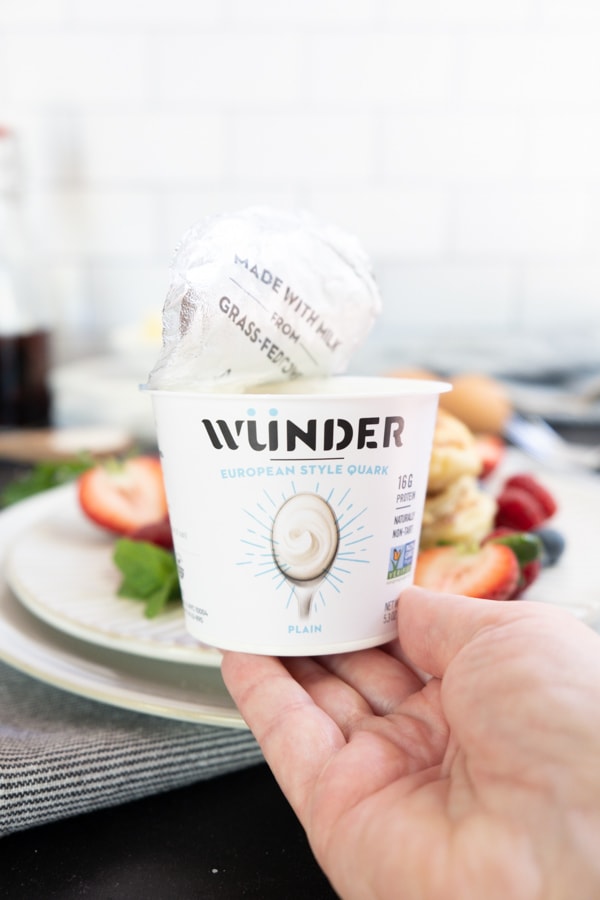 A few benefits of Wünder Quark? The 24oz [680g] Wünder Quark has 24 grams of protein per serving, no added sugar, and is made with whole milk from grass fed cows. It also contains probiotics from live active cultures, less than 5% lactose, and is Non-GMO product verified, gluten-free, Kosher certified, and vegetarian friendly.
Since making authentic international recipes is important to my international baking club members, and I have several recipes on the IDB that use Quark, I reached out to Wünder to see if we could work together. I've been a HUGE Quark fan for nearly 3 decades and am thrilled to be able to help Wünder get their Quark into more baker's hands!
You can check your local grocery store for Wünder (check their store locater here) or order it online and they'll ship it right to your doorstep! They sent me a box of Quark and it arrived perfectly cold and ready to use. Wünder Quark will stay fresh in your fridge for 1.5 months so you can stock up.
Click here to order Wünder Quark for your Quark pancakes (and other Quark recipes)! Be sure to use my special code IDB15 to get 15% off your first order.
UPDATE: unfortunately, Wünder is no longer selling Quark so I have removed links to their online store.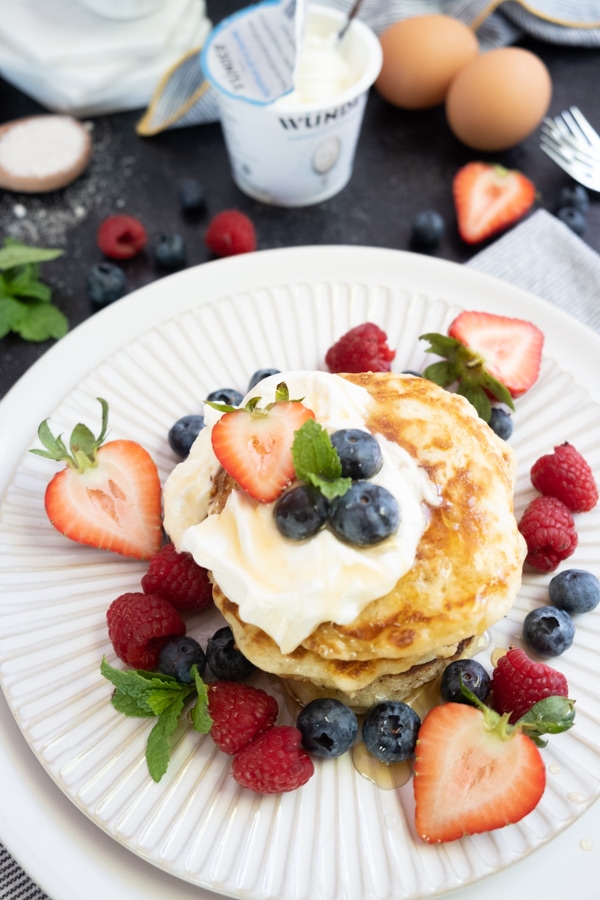 What You Need to Make Quark Pancakes
Ingredients:
Egg
Vanilla sugar (or sugar + vanilla extract)
Quark
Flour
Baking soda
Pinch of salt
Butter (for frying)
Fresh whipped cream, maple syrup, fresh berries (toppings, optional)
Kitchen Tools:
Small bowl
Fork, large spoon
Scale or measuring cups & spoons
Frying pan
Pancake flipper
How to Make Quark Pancakes
First, add egg, vanilla sugar (or sugar + vanilla extract), and Quark to a small bowl and mix with a fork until combined.
Then add the flour and mix again until just combined. Finally, add the baking soda and salt and mix until just combined. Don't over-mix. The batter will look light and fluffy (it's not pourable).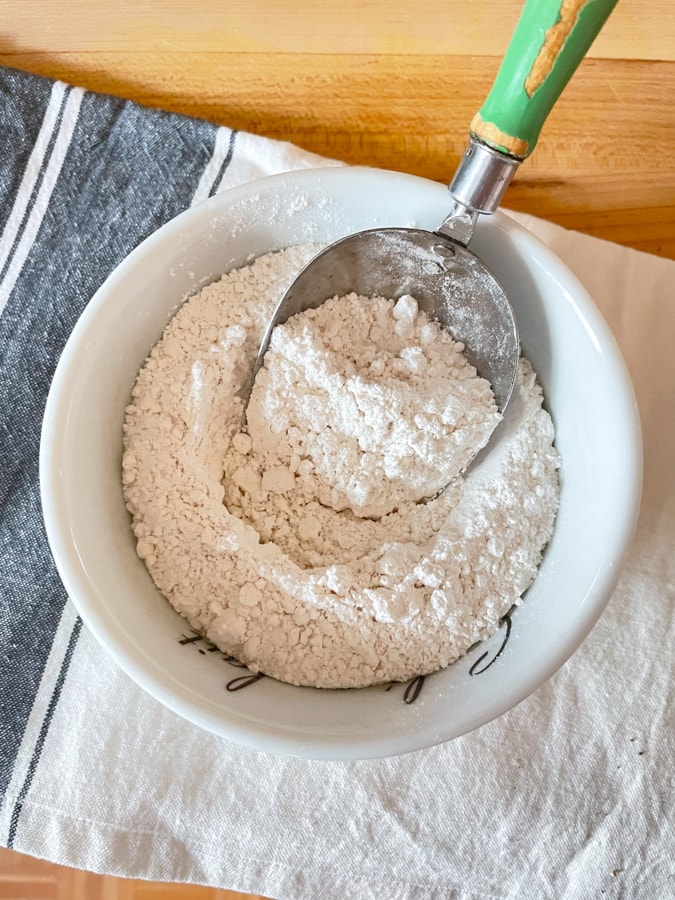 Melt butter in a frying pan (I used my non-stick pan) over medium to medium low heat. Drop batter into the pan using a spoon (about 1/4 cup batter for each pancake) and smooth them out a little. The pancakes will spread out a bit as they cook.
Flip each pancake when the top starts looking dry and there are a few bubbles. Cook until pancakes are golden brown on both sides.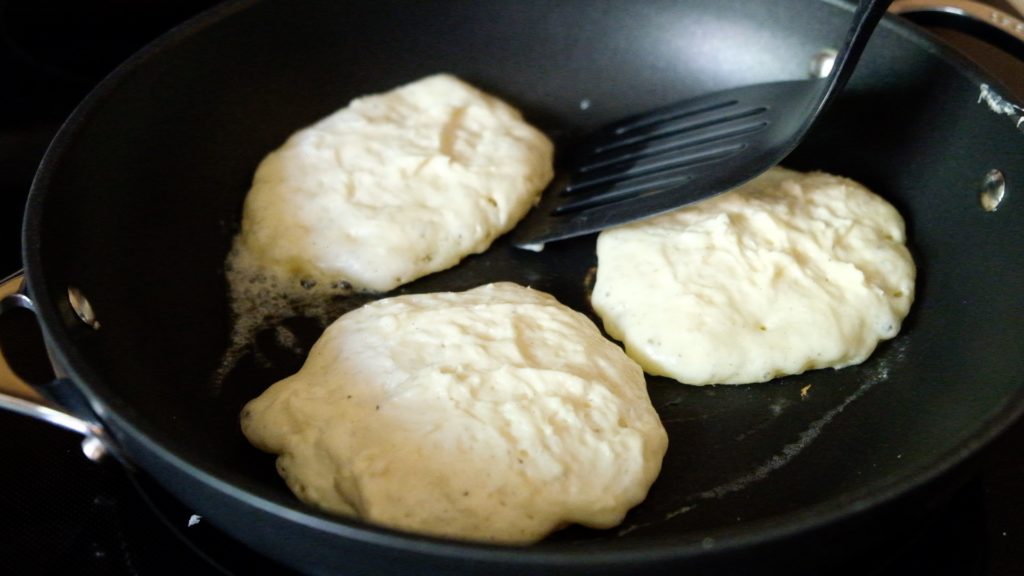 Serve immediately topped with your favorite flavored Quark or with fresh whipped cream, fresh berries, and real maple syrup (my favorite). Or try them with German Plum Butter (Pflaumenmus)!