Easy German Apple Turnovers (Apfeltaschen)
This article may contain affiliate links. See our disclosure link for more information.
These easy apple turnovers feature flaky pastry and a deliciously simple apple filling made with fresh apples.
Similar to German Apfeltaschen ("apple pockets"), these apple pastries are a great option for when you want an easy yet scrumptious snack or dessert that uses pantry ingredients.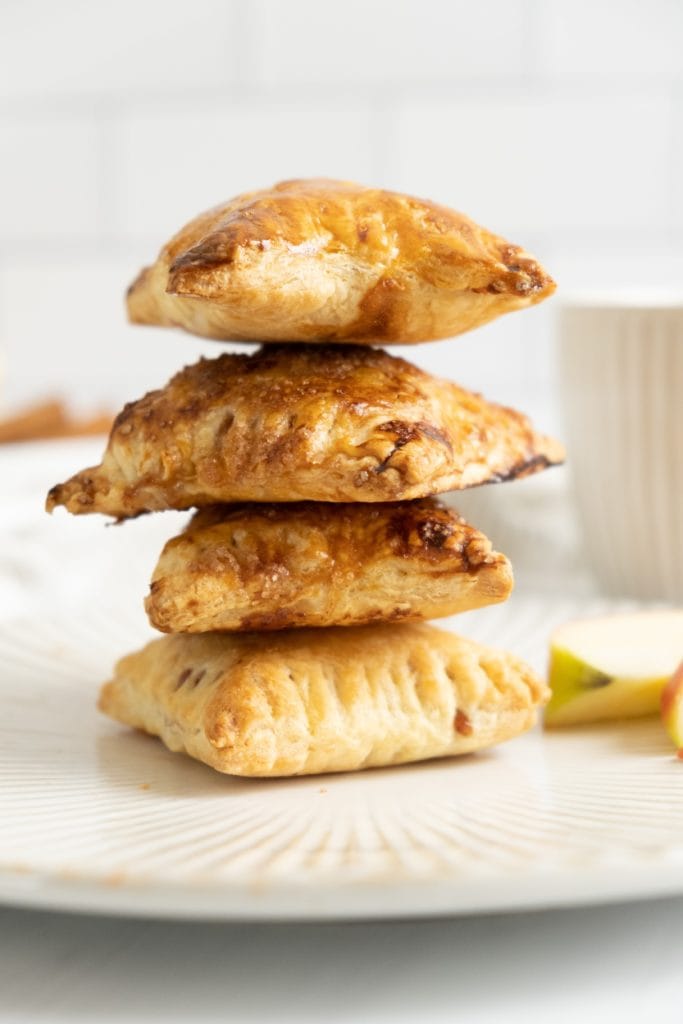 ? About This Recipe
Got lots of apples to use up? Want a sweet treat that's perfect for fall (or any time of year, really)? Craving that delicious apple pastry you enjoyed in Germany?
Look no further!
These puff pastry apple turnovers are so quick and easy, you'll love them.
When I lived in Germany I frequently picked up bakery Apfeltaschen ("apple pockets") as a treat when I was out and about. The flaky pastry and flavorful apple filling were to die for.
These pastries aren't exactly the same as what I used to buy in German bakeries but the pastry and flavorful apple filling do remind me of my favorite German Apfeltaschen.
You only need a few ingredients to whip up these delights:
puff pastry (store-bought or homemade)
fresh apples
cinnamon + sugar
egg yolk + water
That's it! That's all it takes to make the best apple turnovers. Keep reading for my more detailed step-by-step tutorial with tips and variations for this easy recipe. I also share the results of few things I experimented with.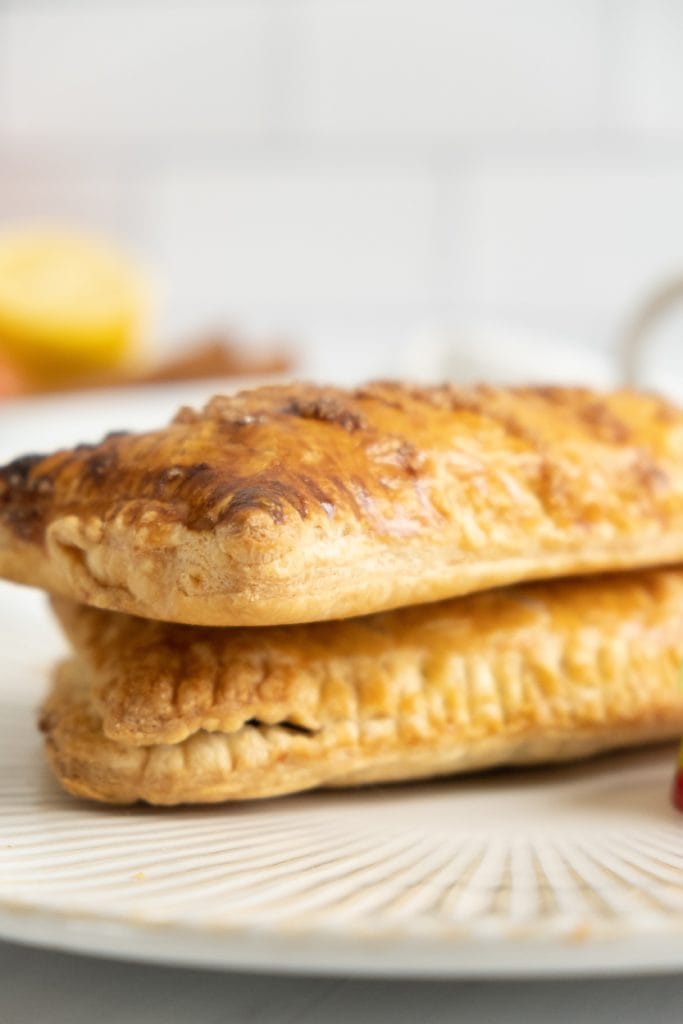 Why These Pastries Are So Easy
One reason is because you can use frozen puff pastry!
(Of course, you can make pastry from scratch — but you really don't have to.)
This is a great recipe for kids to make, for those who are new to baking or when you need a quick treat and don't want to spend hours in the kitchen.
Another reason? You don't need to cook the apples before assembling and baking the turnovers!
I've made these pastries with both fresh uncooked and cooked apples and if you chop the apples small enough, there's no big difference in taste or texture.
(See photos below – fresh apples are on the left and cooked are on the right.)
The apples become soft while baking when combined with the cinnamon and sugar are so satisfying and delicious. I've never had apple juice spill out of the ones with fresh apples. Just be sure to chop the apples into small pieces.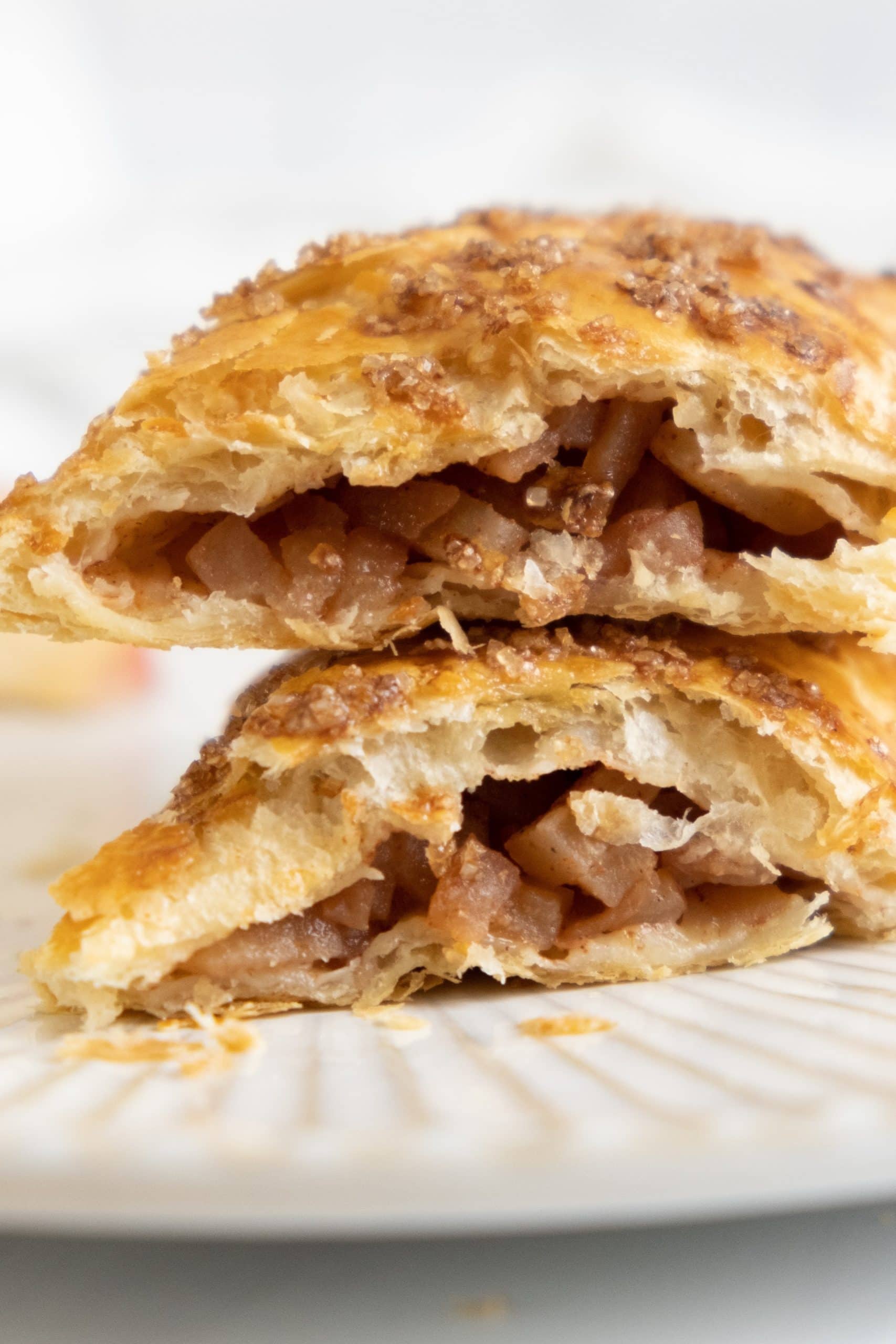 These pastries have always gotten rave reviews when I've made them, and I love having a quick option that works great every time. Nobody has ever been able to tell a difference between the turnovers with fresh vs. cooked apples!
Of course, if you prefer skillet caramelized apples, you can pre-cook them with a little butter before assembling and baking the pastries.
Either way, I think you'll declare them the easiest and best apple turnovers!
How to Serve These Apple Turnovers
I like to top the pastry with a sprinkle of coarse sugar before baking, and then serve them warm with coffee or tea. But you've got options! Here are some ideas for serving your turnovers:
Fresh out of the oven (careful, they're hot!)
At room temperature (serve the day they're made)
Topped with coarse sugar (sprinkle on the top of the pastry before baking)
Brushed with runny apricot preserves after baking (adds a nice light flavor)
Drizzled with caramel or salted caramel sauce after baking (decadent!)
Sprinkled with powdered sugar
Warm with a scoop of ice cream or fresh whipped cream sweetened and flavored with homemade vanilla sugar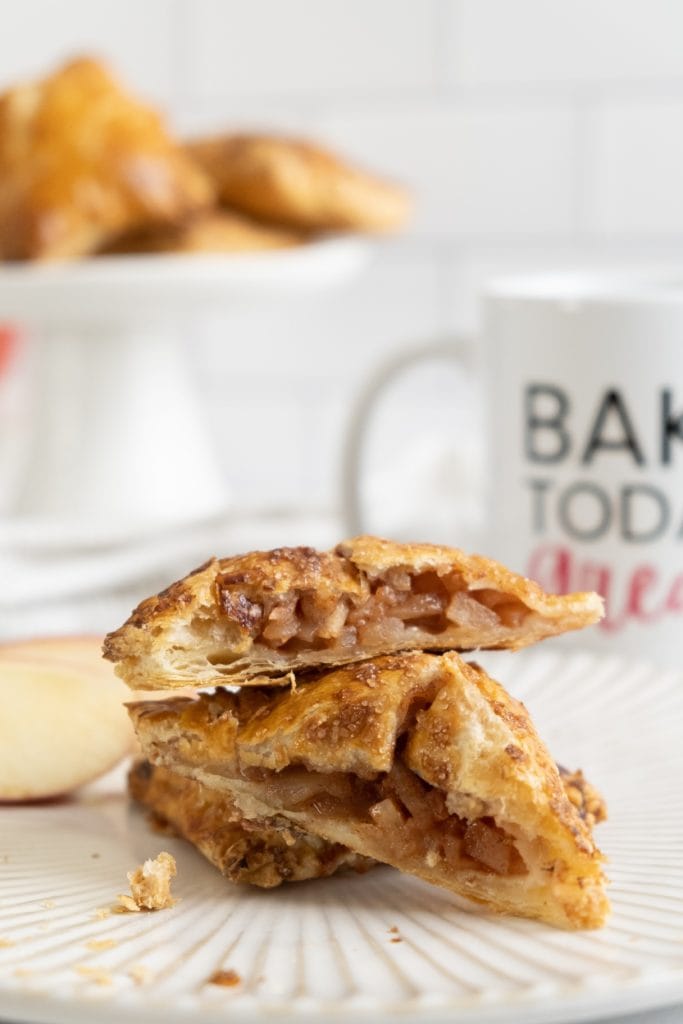 ❓FAQ
What kind of apples should I use?
The best apples for this recipe are Granny Smith apples or Pink Lady apples. However, I most often just use the apples I happen to have on hand (like Fuji and Gala). Use your favorite apples!
Can I use apple pie filling instead of fresh apples?
For best results, use fresh apples for this recipe.
What's the difference between apple turnovers and apple hand pies?
They're similar but not quite the same. Turnovers are typically made with puff pastry, whereas hand pies are made with pie crust.
Can I use store-bought puff pastry?
Yes! Doing so makes this recipe quick and easy. You can, however, use homemade puff pastry if you prefer.
Where will I find puff pastry?
You should be able to find puff pastry dough in the freezer section of your grocery store.
Do I need to cook the apples before baking the turnovers?
Nope! If you chop the apples into thin sliced and then those slices into small pieces there's no need to cook them. That said, you can pre-cook the apples with a little butter and the cinnamon sugar mixture, if you prefer.
Can I make apple tarts with this recipe?
If you'd rather make quick, easy, and delicious apple tarts click here for my French Apple Tart recipe. To make them you simply add fresh apple slices to puff pastry rounds and top with cinnamon and sugar. They're so good! If you've got 2 puff pastry sheets, use one to make apple turnovers and one to make apple tarts!
Do you have more German dessert recipes?
Yes! A few of my all-time favorites are Bee Sting Cake (a honey, almond & cream cake), Classic German Cheesecake (healthier than a typical US cheesecake), and Rote Grütze (an easy summer berry dessert). You can find more recipes for German desserts and German Christmas recipes here!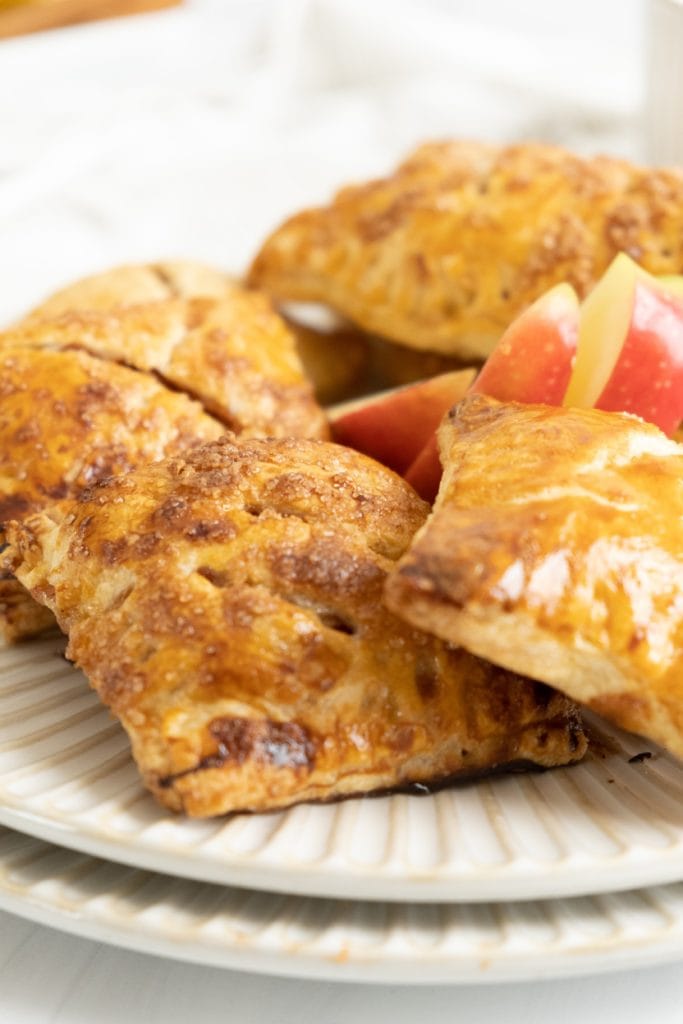 ? What You Need to Make This Recipe
Ingredients:
1 sheet of puff pastry (I used Pepperidge Farms)
sugar (white sugar, brown sugar or vanilla sugar)
cinnamon (optional)
pinch of salt
apples (peeled, sliced & chopped)
lemon juice
egg yolk
water
Kitchen Tools:
sharp knife
small bowl
rolling pin
pastry brush
fork
baking pan
parchment paper or Silpat baking mat
wire cooling rack
? Recipe Variations, Notes & Tips
Cut pastry into squares or rectangles
Use brown sugar or vanilla sugar instead of white sugar
Sprinkle coarse white or brown sugar on the top of the pastry before baking
Add toasted chopped pecans or walnuts or raisins to the apple filling
Top each turnover with a drizzle of caramel sauce, a sprinkle of powdered sugar or brush with runny apricot preserves after baking
Before we dive into the recipe, let me show you the results of a few experiments I ran when making these pastries so you can decide how you'd like to make them.
Cooked vs Uncooked Apples
I've made these pastries using both fresh apples and cooked apples. There was no big noticeable difference in taste or texture in the finished pastries. The recipe in the recipe card uses fresh apples but you can cook yours in a skillet before baking, if you'd like.
If you do use cooked apples, double the amount of fresh apples you use because they do cook down and you'll need more to fill your pastries.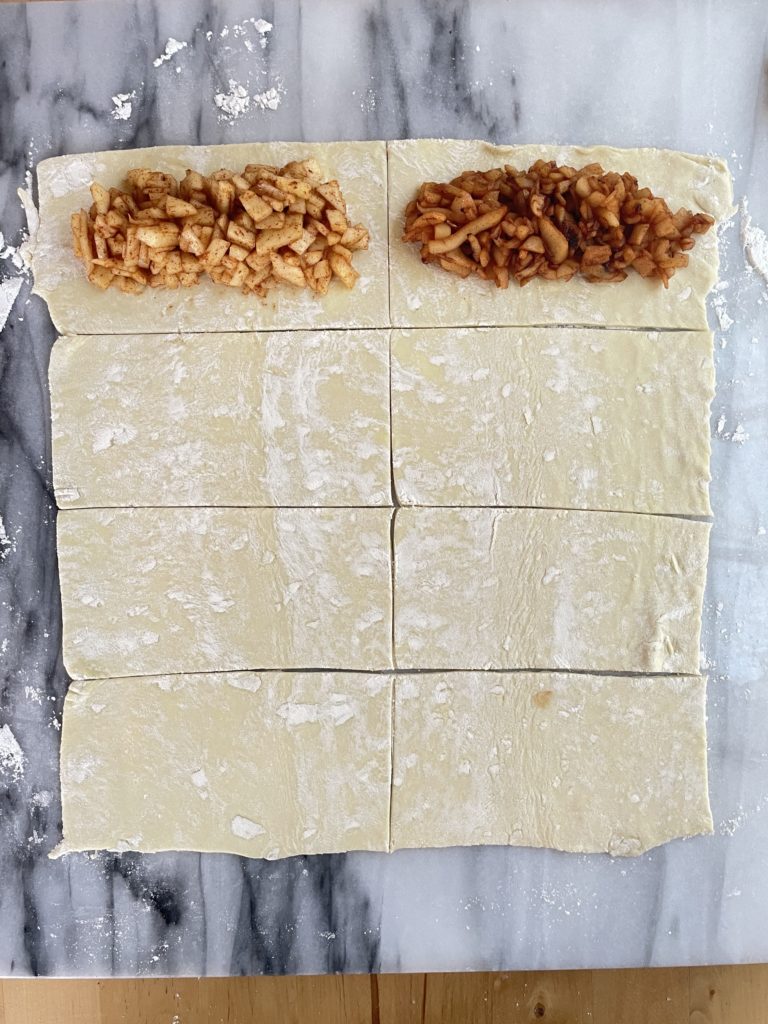 Egg Wash or No?
I also tried using egg wash vs water on the tops of the pastries before baking. The egg wash turned out the best.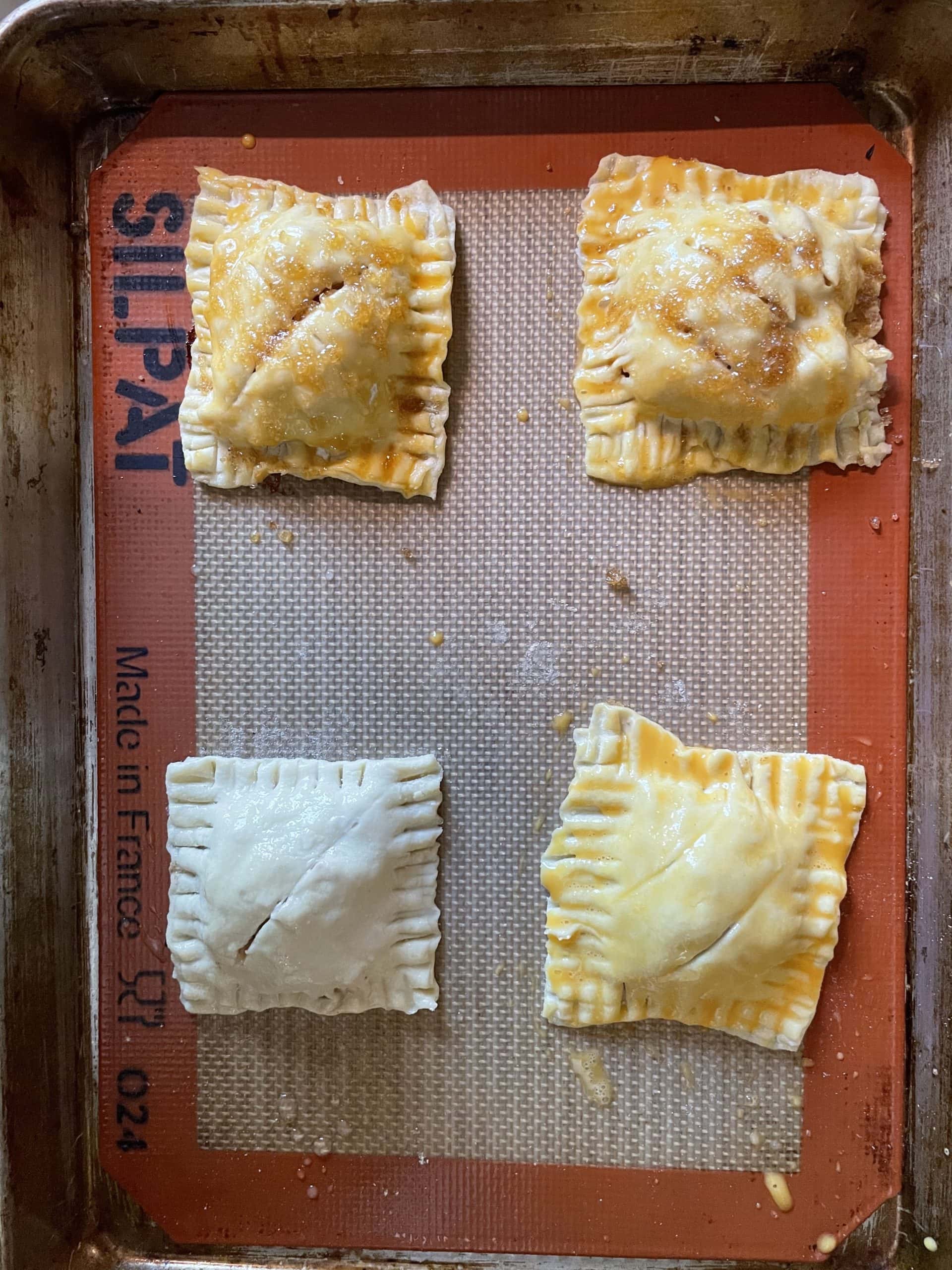 Coarse Sugar or No?
The third thing I tried was topping the pastries with coarse sugar vs. leaving them plain before baking. Both were delicious, so it just depends on what you prefer. You could also use regular sugar.
I don't have a photo of it here but I also tried brushing warmed runny apricot preserves on the tops of the baked pastries and that was also delicious.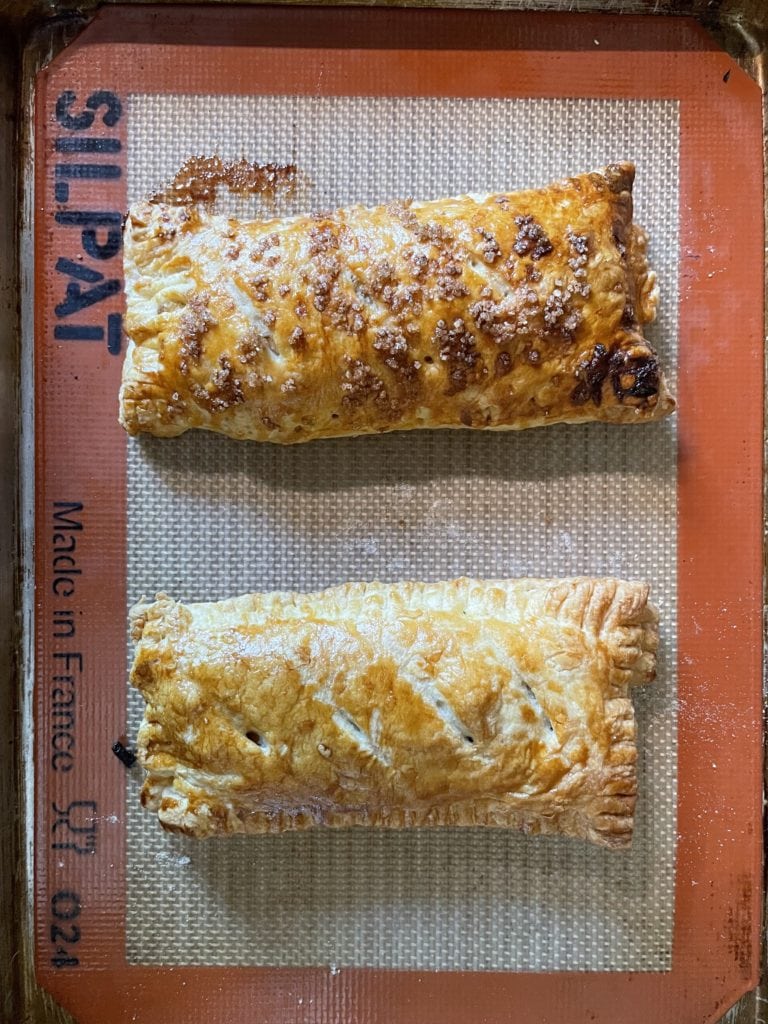 How to Make This Recipe
Pre-heat your oven to 400F/200C.
Defrost 1 sheet of puff pastry according to the directions on the box. I typically thaw puff pastry at room temperature for 25-40 minutes. You can use homemade puff pastry for this recipe if you prefer.
Next, peel, core, slice, and then chop apples into small pieces. If the pieces are small enough, you don't need to cook the apples before baking, unless you want to. If you cook the apples, double the amount of apples.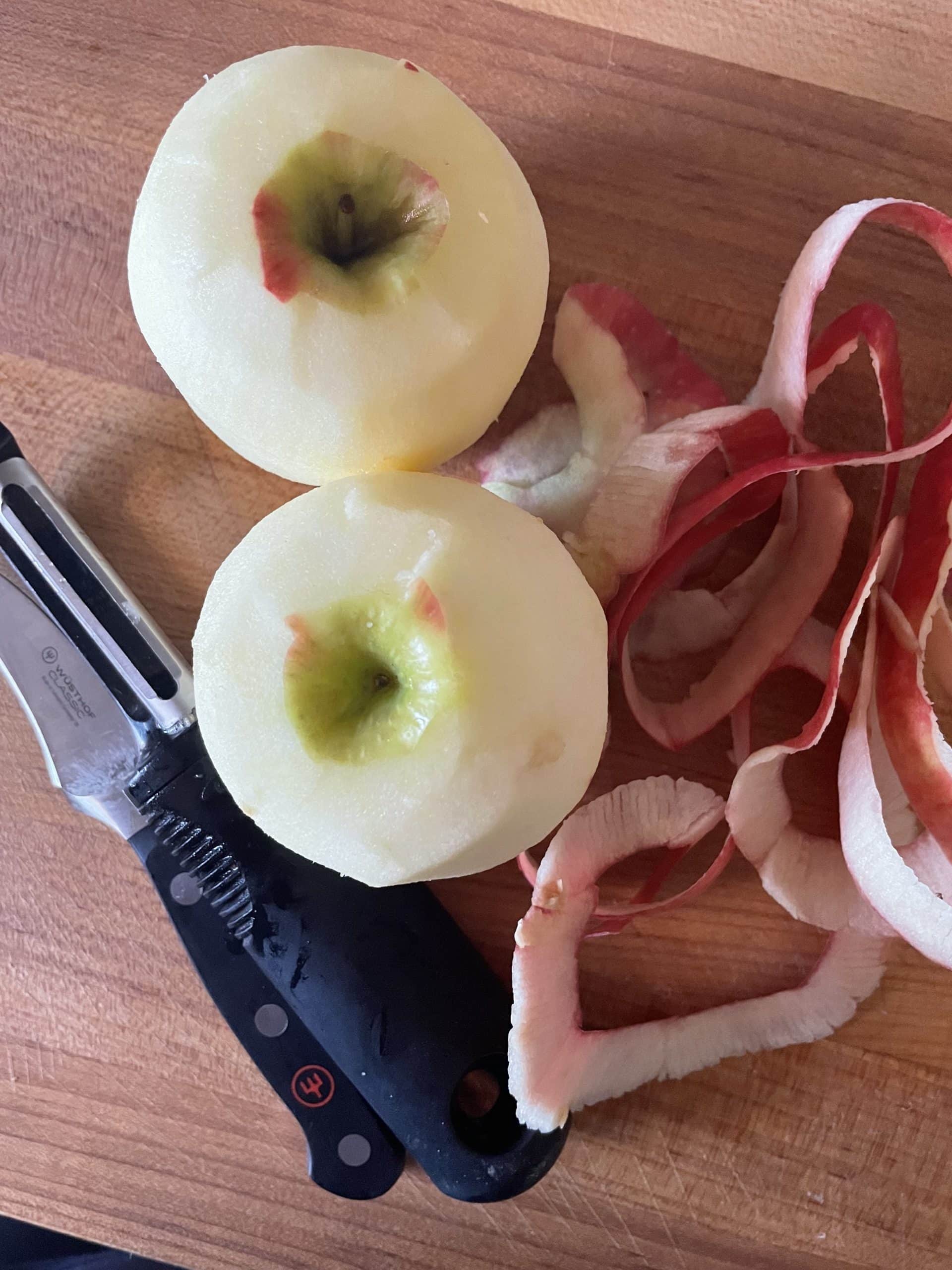 Add apples to a small bowl and toss with lemon juice to prevent browning.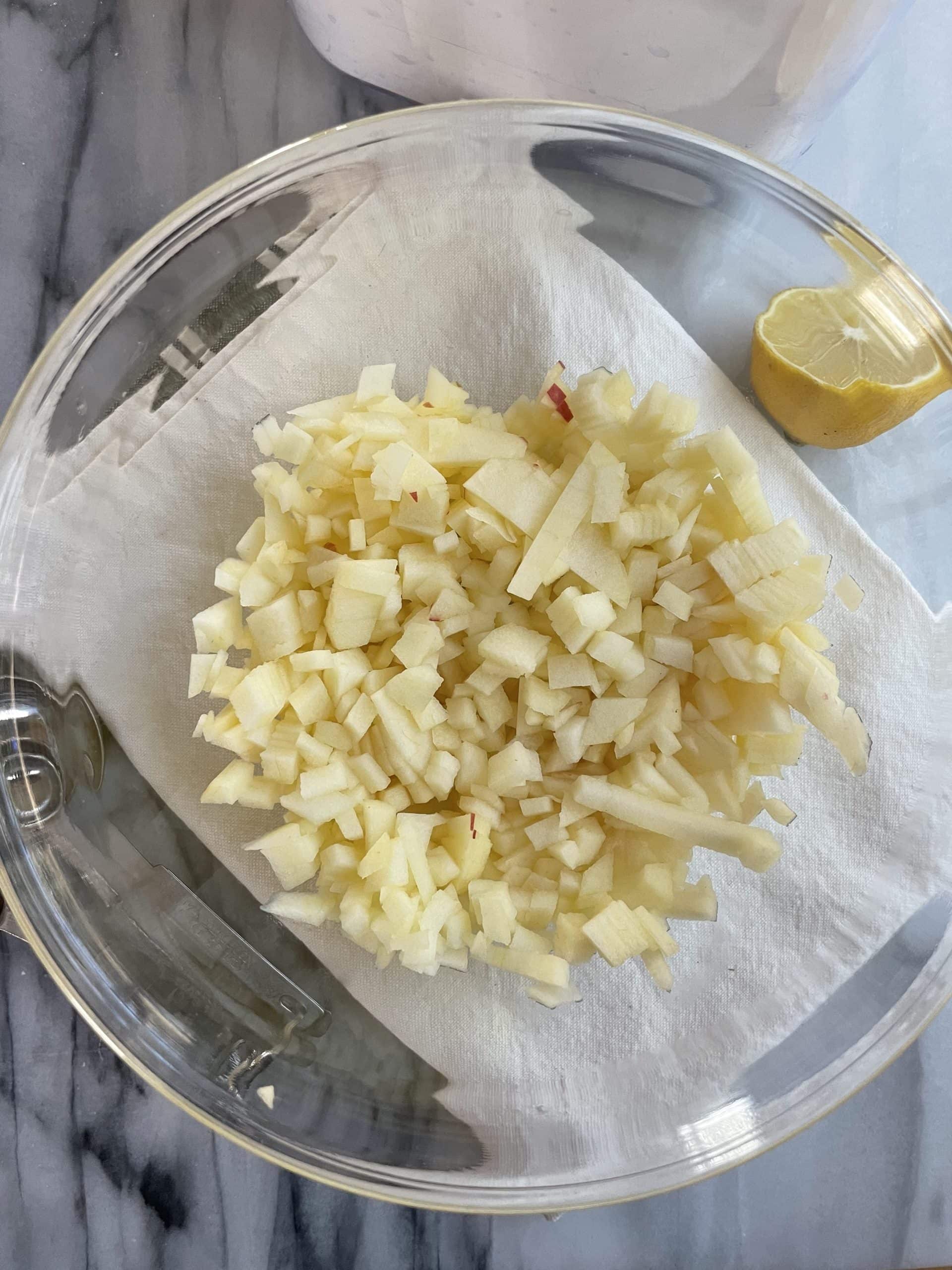 Then combine apples with sugar, cinnamon, and a pinch of salt and mix well. You can add more or less sugar and cinnamon to taste.
Cover with plastic wrap and set aside.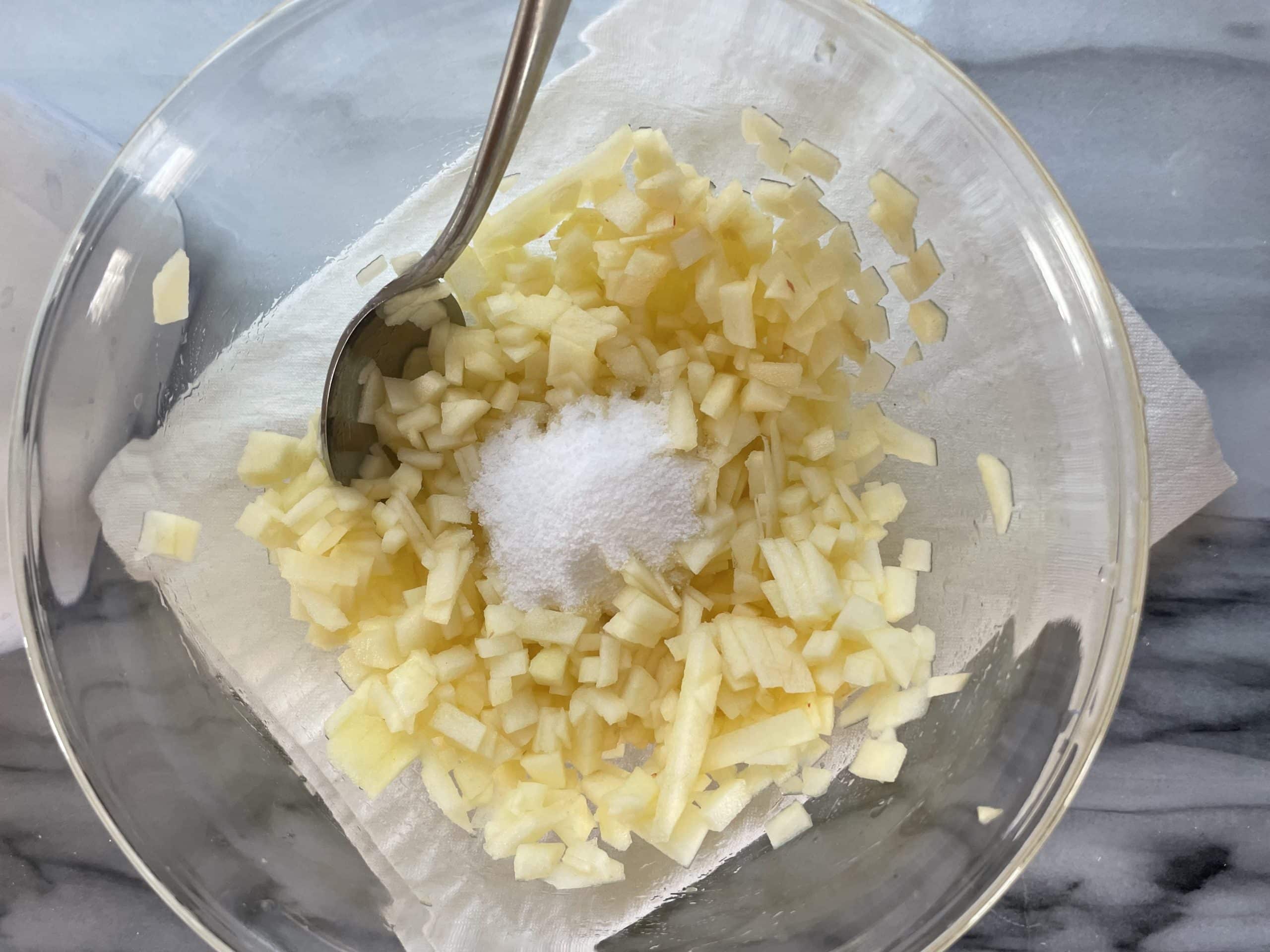 Once the puff pastry has thawed, unfold it, remove parchment, and place on a floured surface.
Use a rolling pin to gently roll it out a bit so the pastry is a bit larger and there are no more seams.
Then use a knife (or pizza cutter) to cut pastry into a rectangle. Remove excess pastry dough.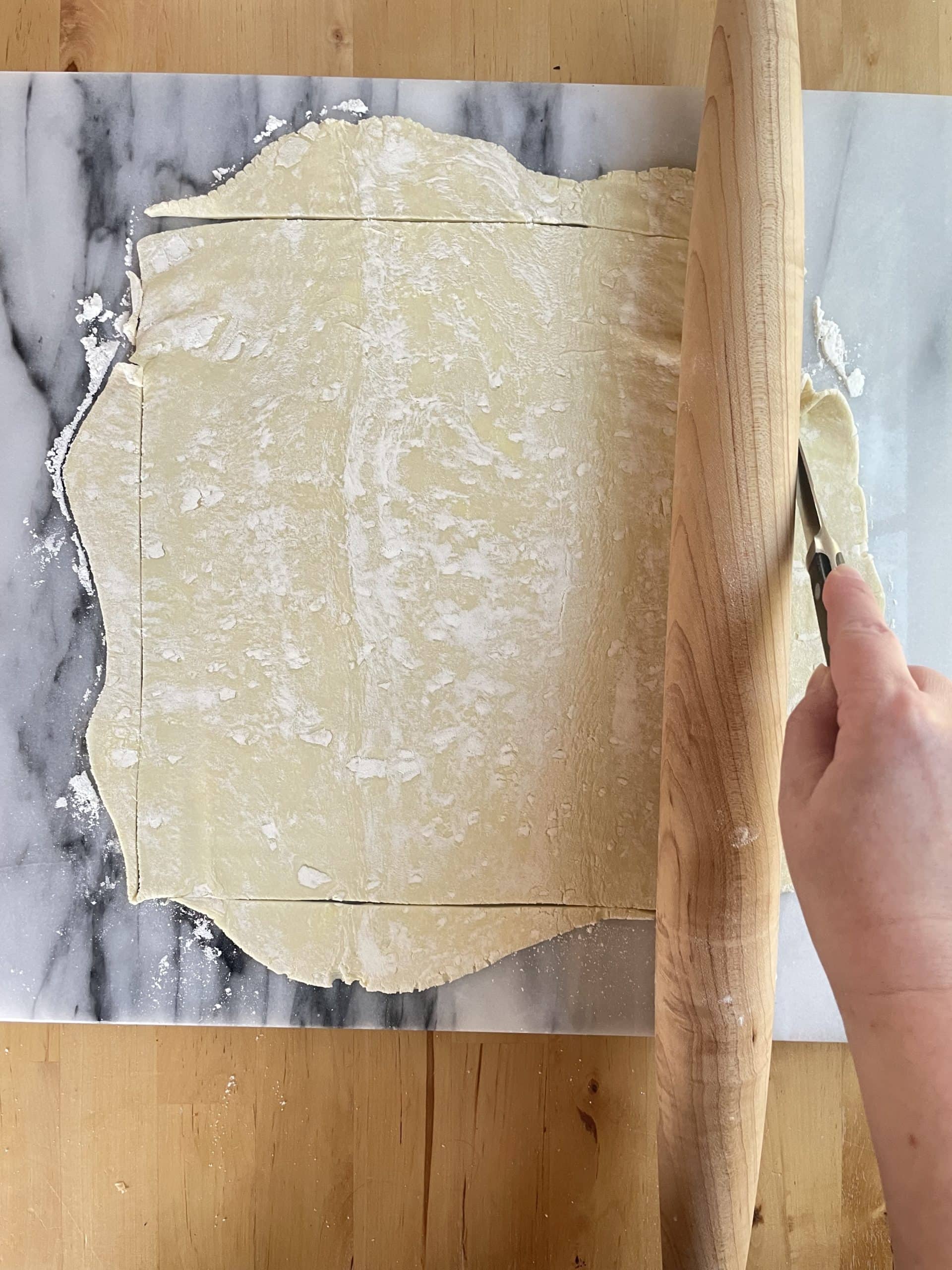 Then cut pastry into rectangles or squares of equal size.
For 4 large pastries, cut pastry into 8 rectangles (see photo below).
For 8 smaller square pastries, make 2 more cuts lengthwise so you have 16 squares.
If the puff pasty becomes sticky, cover with plastic wrap and place in the fridge to chill for 5-10 minutes.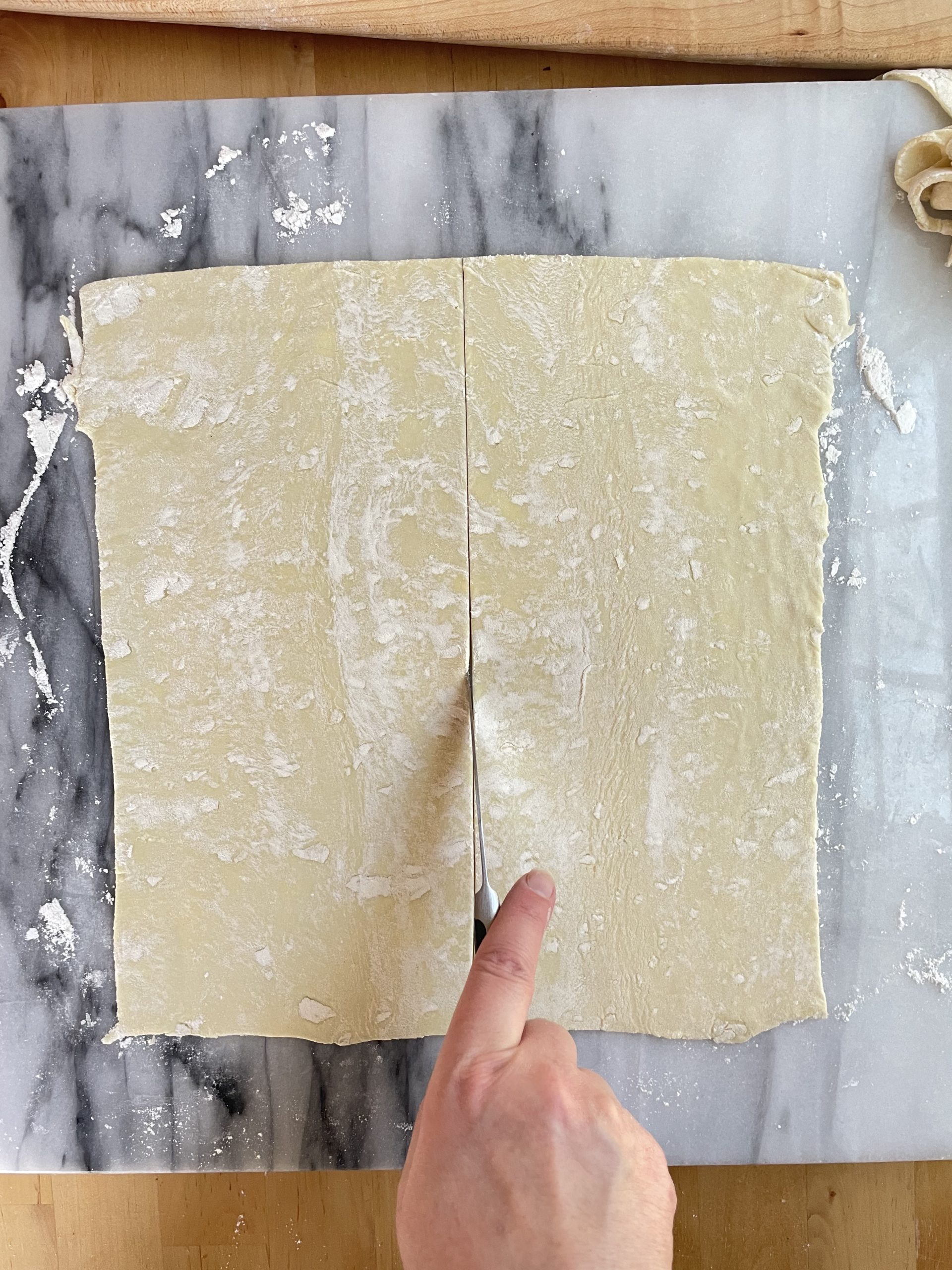 Now place the chopped apples in the center of half of the pastry pieces, leaving a little space around the edges of the dough so you have room to crimp the top and bottom pieces of pastry together.
I typically use 2-3 tablespoons of fresh apples for each large pastry and 1 1/2 tablespoons for each square pastry. It's ok if you eyeball it! If you run out of filling, you can easily chop up another apple. These pastries will turn out great, even if you're not perfectly exact with the filling!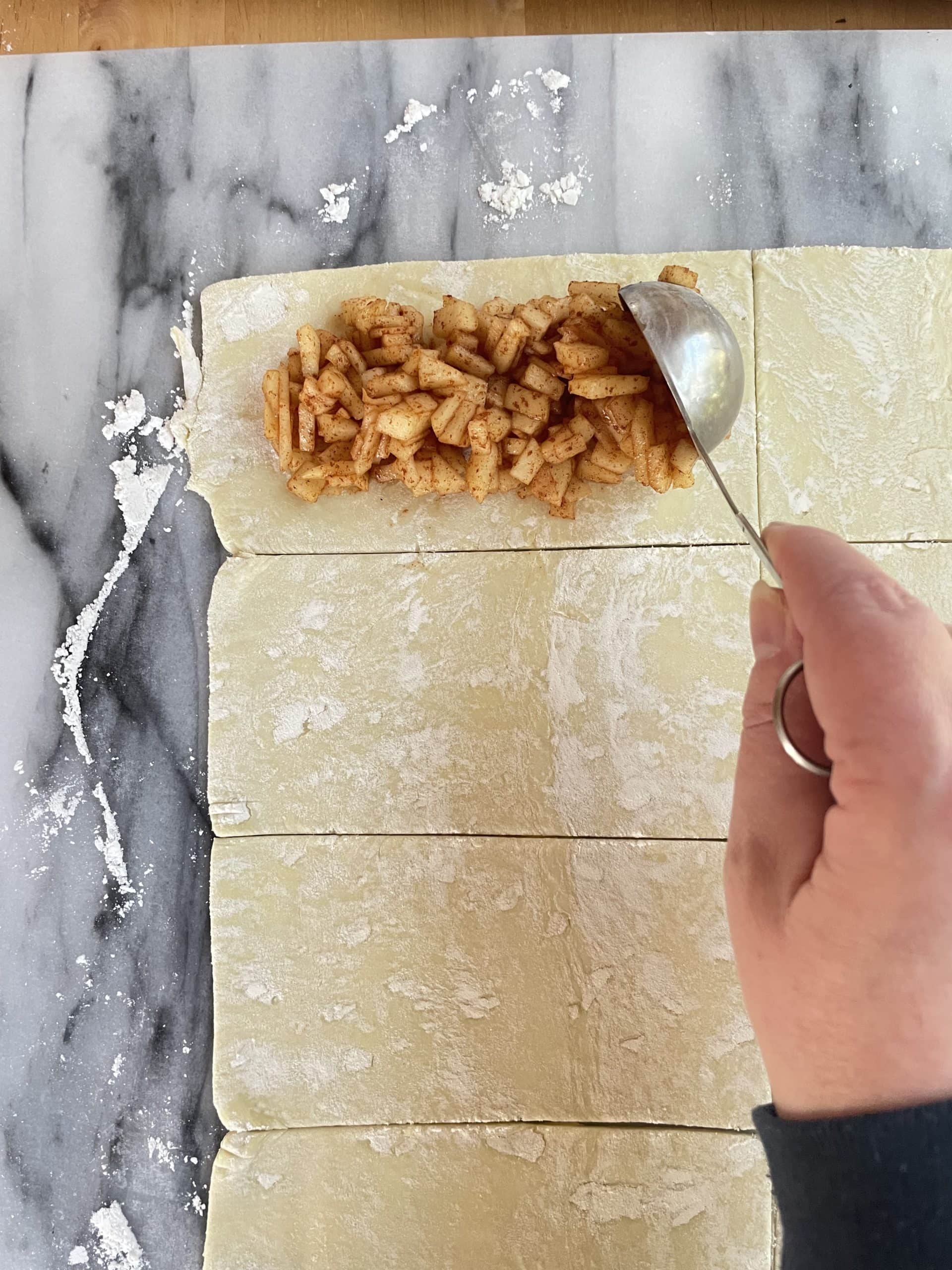 Place a second piece of pastry over the top of the apples.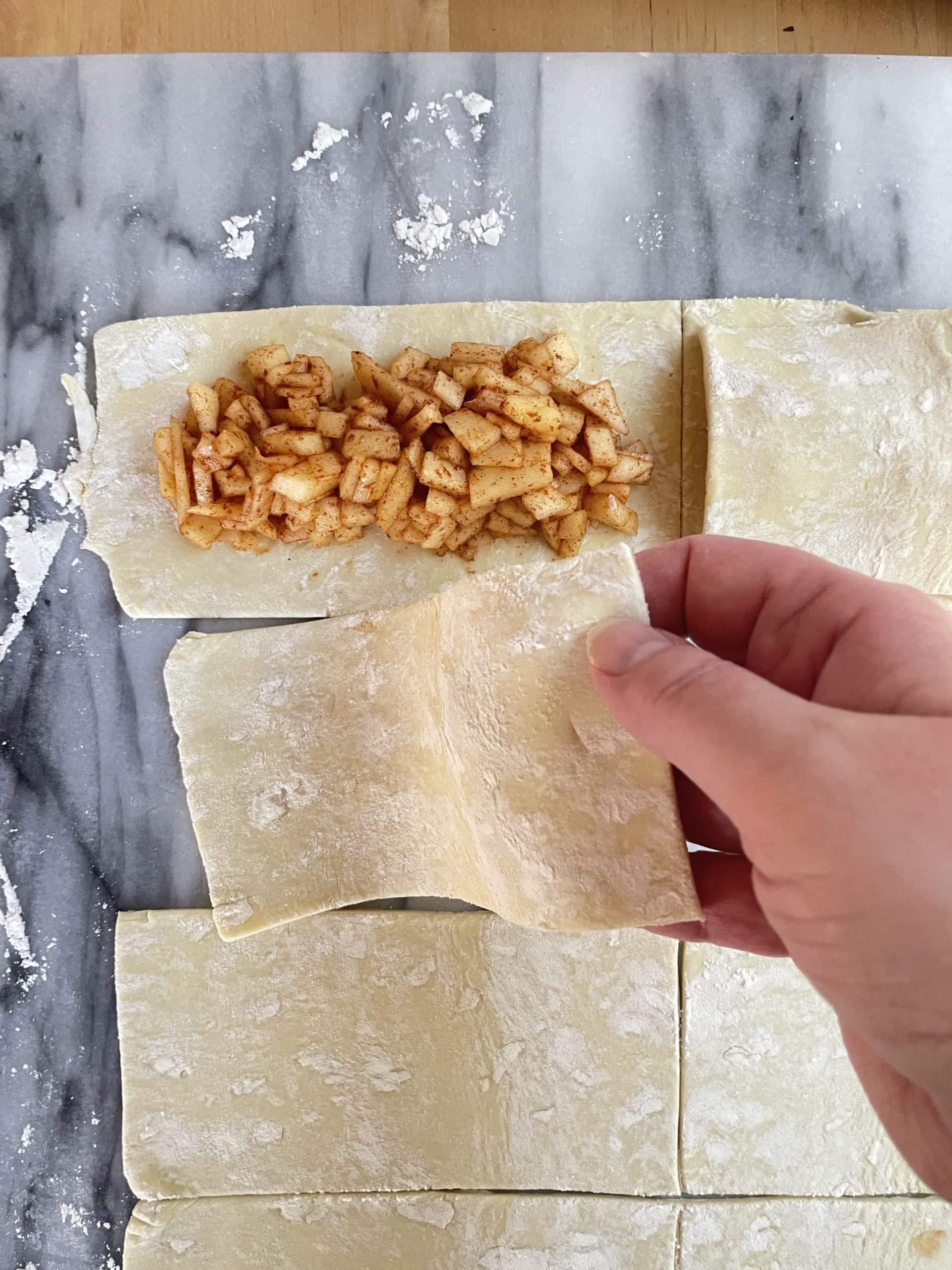 Use a fork to crimp and seal the edges. If you find that you can't easily crimp the edges together, remove a little of the apple filling.
Check the puff pastry again and if it's getting soft, pop it in the fridge for a few minutes. If the pastry gets too warm it will be more difficult to transfer to the baking sheet.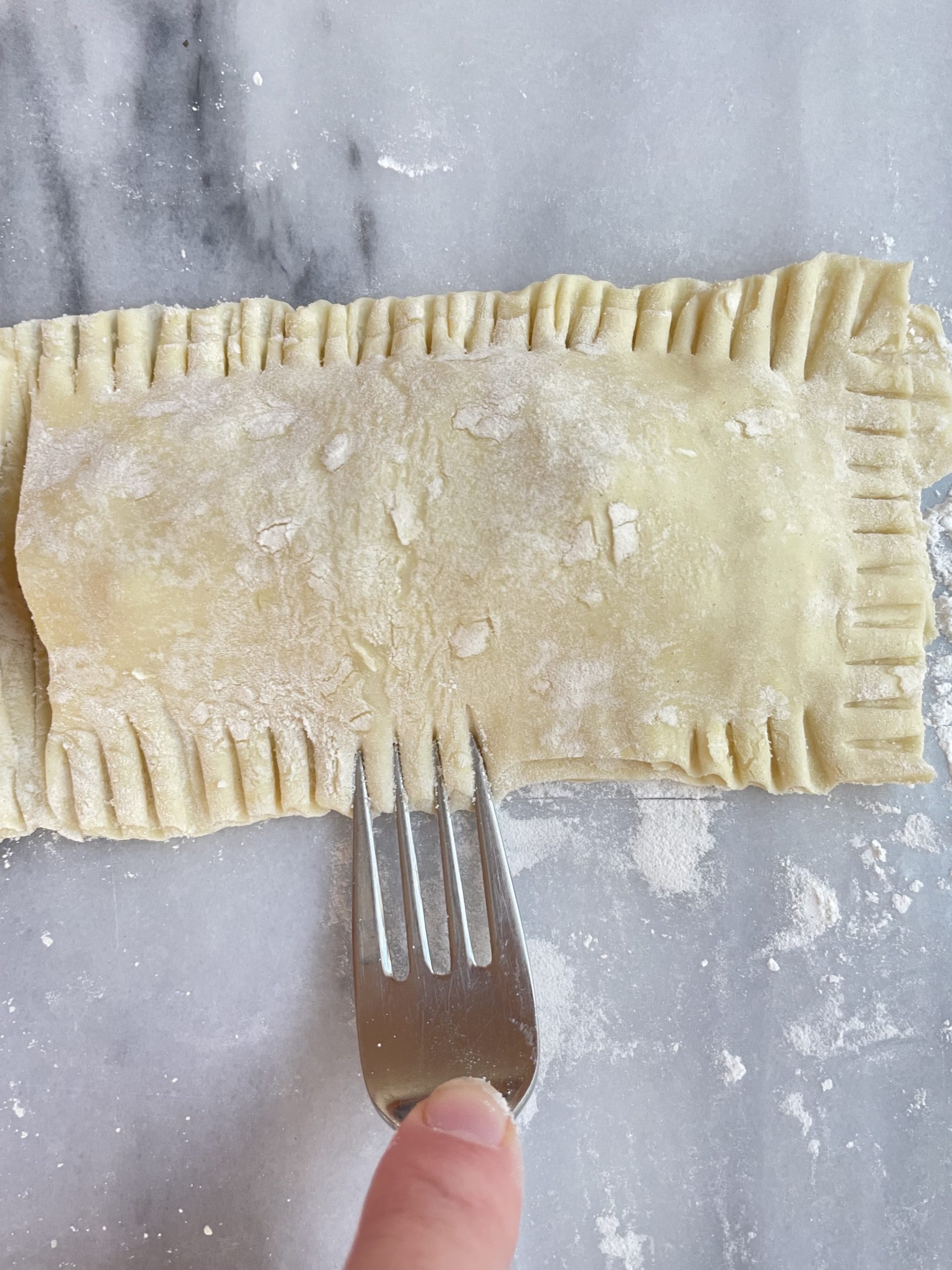 Use a sharp knife to make 1-4 small slits in the pastry so that steam can escape while baking.
Mix egg yolk and water in a small cup and brush onto the top of each pastry.
If you'd like, sprinkle coarse sugar (brown, white or vanilla sugar) on the top of each pastry.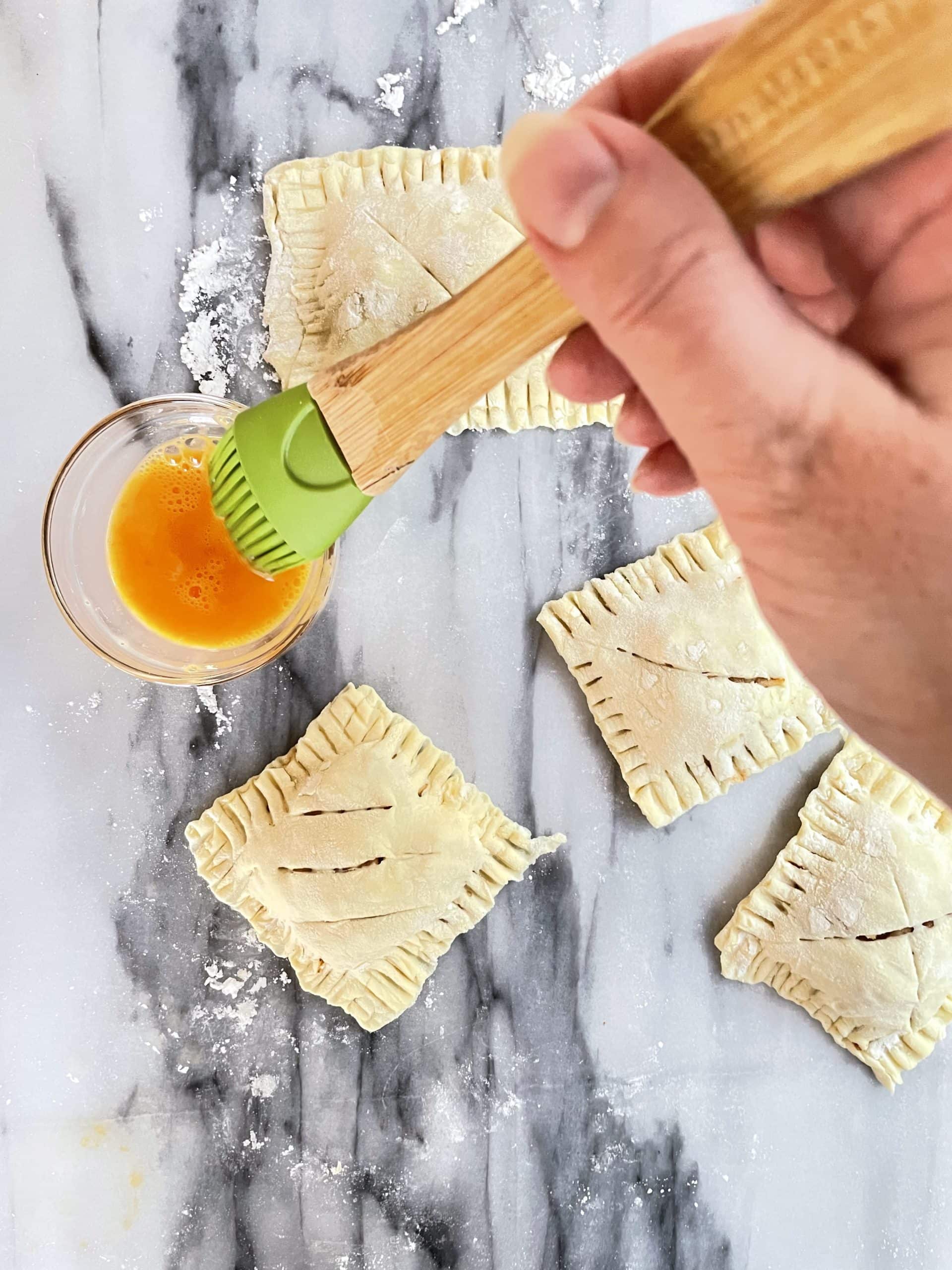 Place pastries on a lined baking sheet and bake at 400F/200C for 18-20 minutes or until golden brown.
Cool on a wire rack. Serve warm or at room temperature.
These pastries are best the day they're made.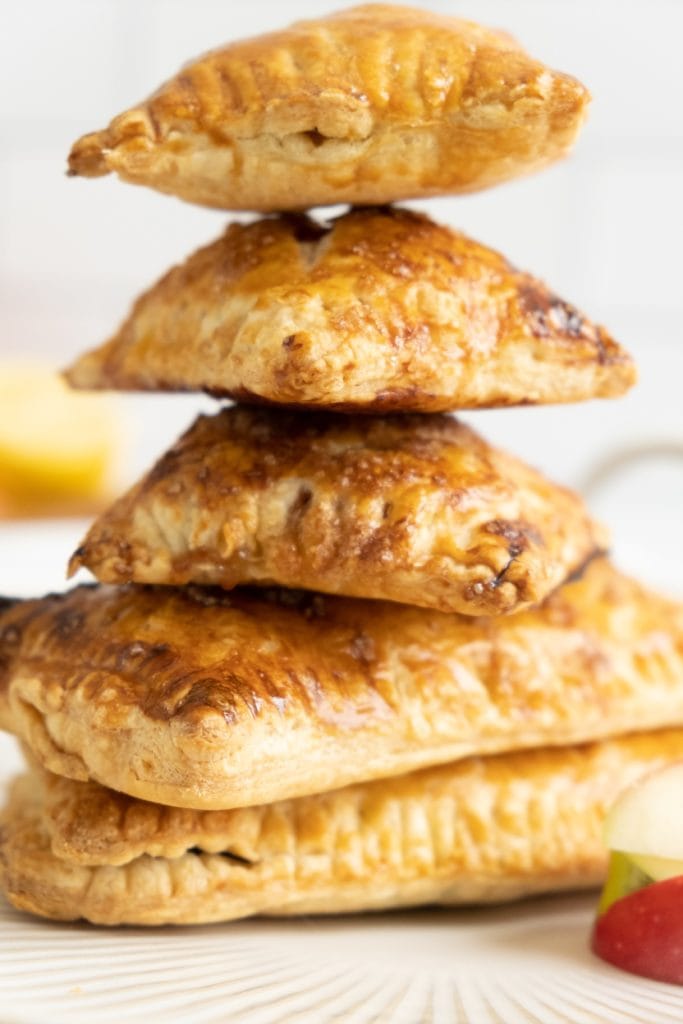 Want more apple recipes?