How to Make Homemade Golden Syrup
This article may contain affiliate links. See our disclosure link for more information.
Sugar, water, and a slice of lemon are all you need to make homemade Golden Syrup – a buttery caramel flavored syrup that's popular in the UK and elsewhere in the world. Use this recipe to make it at home!
This is a detailed tutorial where I share my golden syrup making experiments with you so you can learn from them and make perfect golden syrup the first time.
If you'd rather go right to the recipe, click the Jump to Recipe button above.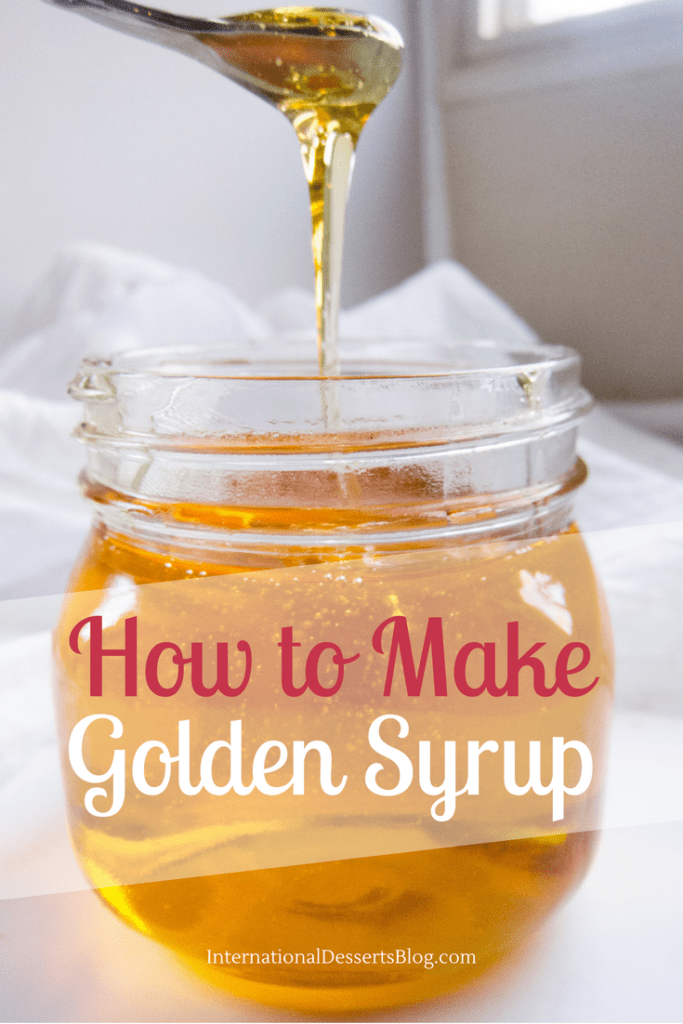 ? About This Recipe
Golden syrup is easy to make at home but a few things can go wrong so I've created this detailed recipe tutorial for you, as well as the downloadable cheatsheet below!
Golden syrup, where have you been all my life?!!
Golden syrup is a key ingredient in many dessert recipes (pecan pie, cookies, flapjacks, to name a few). You can also simply drizzle on oatmeal, yogurt, ice cream or add even to your BBQ sauce.
I had no idea what I was missing until I made a batch using this super easy golden syrup recipe (scroll all the way down or click on the "jump to recipe" button above).
It tastes just like Tate and Lyle's Golden Syrup (I did a taste test – homemade vs Lyle's) but it's so much cheaper.
If you live where you can't buy a bottle of Lyle's or if you need a large amount for a recipe, I highly recommend using this simple recipe for golden syrup to make a batch at home. It makes a great Lyle's Golden Syrup substitute.
If you're not sure what to do with this buttery syrup after you make it, check out this post about 5 easy international food gifts to (DIY or buy). Golden syrup in cute jars makes a great holiday, house-warming or host/hostess gift! And read on for several golden syrup dessert ideas.
Whenever I make an international dessert it usually means I miss being abroad…and yep, I was really missing the UK recently. Plus, I'd eaten all of the scones and clotted cream I'd made and was looking for a new delicious sweet treat to try.
I decided on English golden syrup because it's a key ingredient in treacle tarts (Harry Potter's favorite!), which I also recently made (and now I see why it's Harry's favorite).
Plus, I like that it doesn't go off quickly, so you can make up a batch, store it in a jar in your cupboard, and use it up slowly.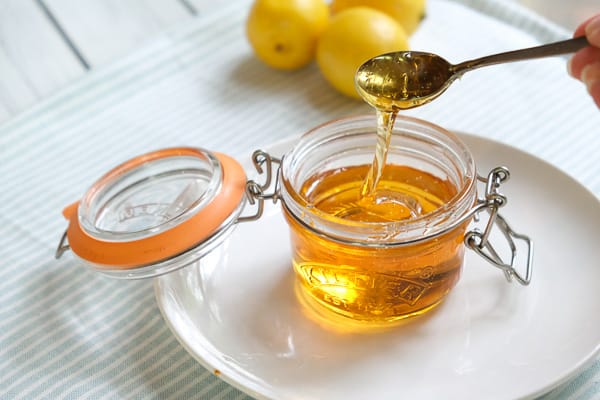 ❓FAQ
What is golden syrup?
It's a thick, smooth golden-colored syrup made from cane sugar that has a unique buttery scent and a light caramel flavor. It's less sweet than, say, corn syrup.
It's also called light treacle (not to be confused with dark treacle, which is similar to molasses). This syrup can be used to flavor things like porridge or you can use it for baking cookies, tarts, cakes, etc.
What is in golden syrup?
Golden syrup ingredients are a simple combination of sugar, water, and a slice of lemon.
Is golden syrup the same as Golden Eagle Syrup?
From what I can tell, no.
Golden eagle syrup (from the Golden Eagle Syrup Company in Alabama, USA) is a blend of corn syrup, high fructose corn syrup, cane sugar syrup, cane molasses, and honey. Golden syrup is made from sugar, water, and a slice of lemon.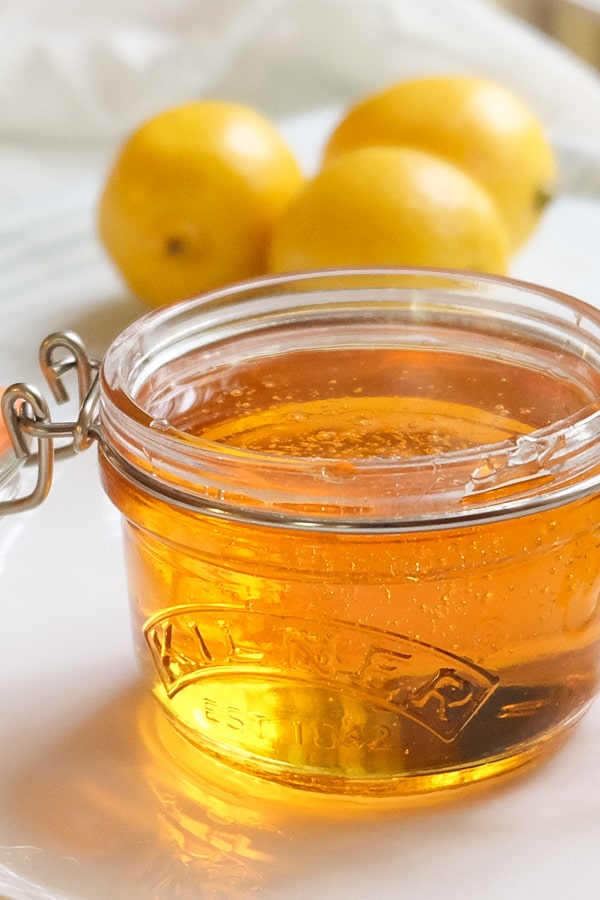 Is golden syrup vegan?
Yes! In fact, it seems to be a popular honey substitute.
Golden syrup vs corn syrup – is there a difference?
While both syrups are similar in color, they are very different items.
Corn syrup is made from corn(starch), whereas golden syrup is made from sugar. The flavor is also different.
Corn syrup has a very mild flavor, whereas golden syrup has a more pronounced buttery caramel flavor.
What about golden syrup vs maple syrup?
They're both syrups but they taste very different. Golden syrup has a buttery caramel flavor, whereas maple syrup is….well, maple flavored. Maple syrup may also be a bit runnier.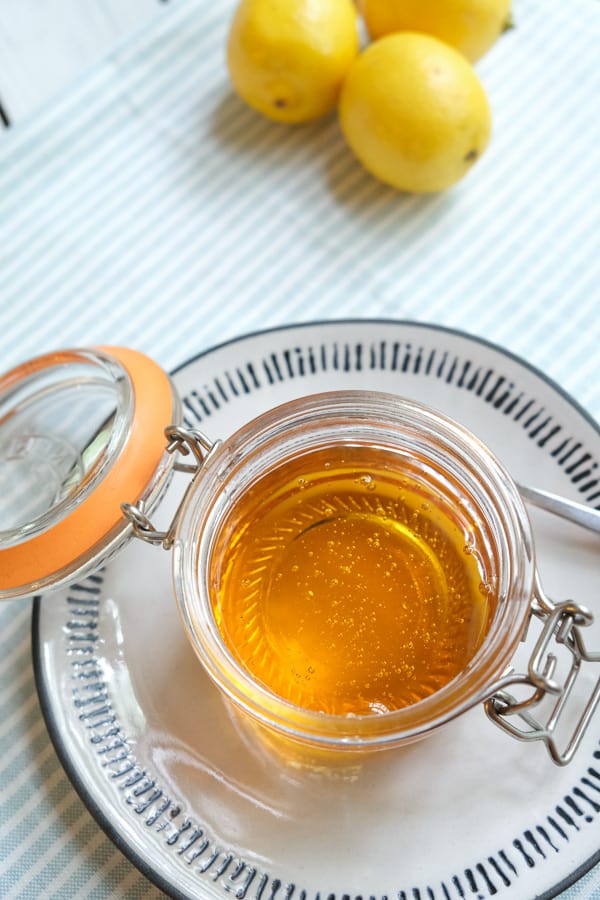 And golden syrup vs honey?
Golden syrup may look like honey in color and texture but they taste very different. That said, golden syrup can be a vegan substitute for honey, if you're ok with a different taste.
Where can I buy golden syrup in the USA?
While not as easy to find in the US as in the UK, I was able to buy a bottle of Lyle's at World Market.
From what I've read online, you might be able to find it at Trader Joe's, Whole Foods or Wegmanns. I've heard (but can't confirm) that you might even be able to find golden syrup at Walmart.
The easiest thing to do is add a bottle of Lyle's Golden Syrup to your next Amazon order (click here to get a bottle on Amazon).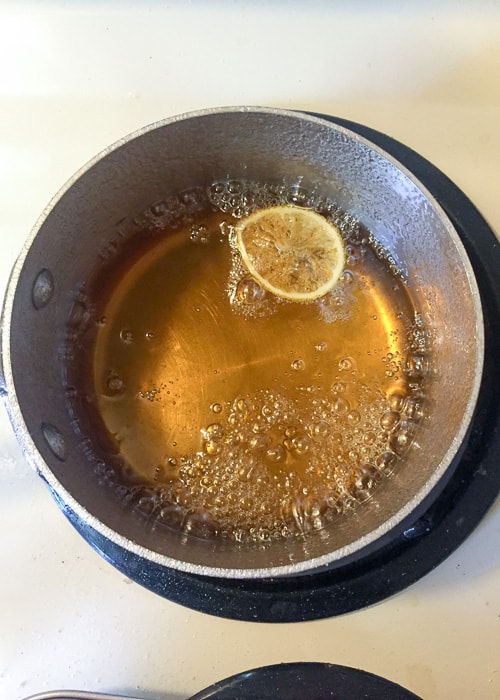 How can I use golden syrup?
There are SO many ways you can use this delicious syrup! Once you try it, you'll want to put it in an on everything. Trust me on that! 😉
You can drizzle golden syrup on:
pancakes
waffles
french toast
scones
ice cream
fruit salad
Greek yogurt
You can make porridge with golden syrup (yum!).
Or try adding a bit to your coffee, tea, smoothies, BBQ sauce – anywhere you want a bit of sweetness. I recently made BBQ sauce with golden syrup and it was outstanding.
You can also bake a great many tasty things with it! I've been compiling a list of recipes that use golden syrup so I can start baking my way though the list. Here are some ideas I've gathered so far…
Golden syrup cake (loaf cake with syrup in and on the cake – also chocolate and oat versions)
GS icing (I added a couple tablespoons of golden syrup to my brown butter mascarpone Swiss meringue icing and wow!!)
Golden syrup dumplings
Flapjacks (I've discovered that these are like cookie bars, not flapjack pancakes!)
Golden syrup cookies (check out my recipe for 3 different kinds of GS cookies)
Steamed GS pudding
GS cornflake cake (I'm really curious about this one)
GS cupcakes
Self-saucing pudding (you had me at self-saucing)
GS muffins
Oat slice, Mars bar slice, caramel slice
GS pecan pie (this would be good for Thanksgiving or Christmas)
Anzac biscuits
Golden syrup chex mix (so good!!)
GS sponge cake
GS ginger cake (also great for Christmas)
GS tart (I have a recipe for mini treacle tarts right here)
Quite a list, isn't it? Have you made any of these recipes? I'd love to hear how you use golden syrup in your baking!
Is there a good golden syrup substitute?
If you want to replace golden syrup in a baking recipe, use light corn syrup.
Do note, however, that they don't have the same flavor! So you'll lose the unique golden syrup flavor, which may impact your recipe.
But if you're just looking for a golden syrup alternative where the specific flavor isn't super important, corn syrup is a good substitute for golden syrup because they share the same properties and should therefore bake the same way.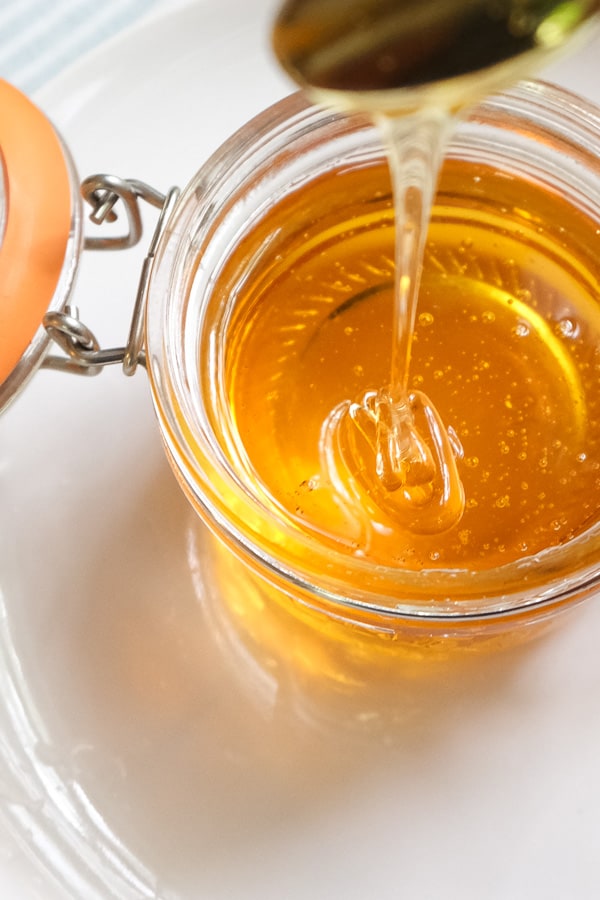 Does golden syrup expire?
If you store your fresh syrup in a sterilized glass jar in a dark and dry cupboard it should last a couple years — or even longer.
Over time, you might find some granulation in your syrup.
That said, I have a jar that's been in my cupboard for a year now and there's no granulation yet. You can still eat it that way, it's just not as smooth.
If you see mold or if it smells weird, I'd toss it out. It's is so cheap and easy to make, I wouldn't chance it.
Overall, properly stored, golden syrup preserves well and will keep for a long time.
Is golden syrup healthy?
Well, it's made from sugar but I'll let you decide if golden syrup is healthy within your diet. 🙂
? What You Need to Make This Recipe
What do you need to make golden syrup?
Not much in the way of ingredients or cooking tools!
Ingredients:
white sugar
water
slice of fresh lemon
Note – I've been asked whether you can use a slice of orange or lime instead of lemon. Oranges aren't acidic enough to work as well as a lemon, and limes will give your syrup a lime flavor. A little lemon juice, however, will probably work in place of a slice.
Kitchen tools:
saucepan
electric kettle to boil water in
measuring cup or kitchen scale
sterilized glass jar with tight fitting lid
Speaking of glass jars, I really like Ball glass canning jars and use them for everything. (Click here to grab a set of Ball wide-mouth canning jars.) BUT…I've been eyeing this set of super cute Weck Tulip glass jelly jars and these high quality French Le Parfait jars that a reader turned me on to.
BTW, here's an easy DIY holiday foodie gift: yummy golden syrup in a cute reusable jar!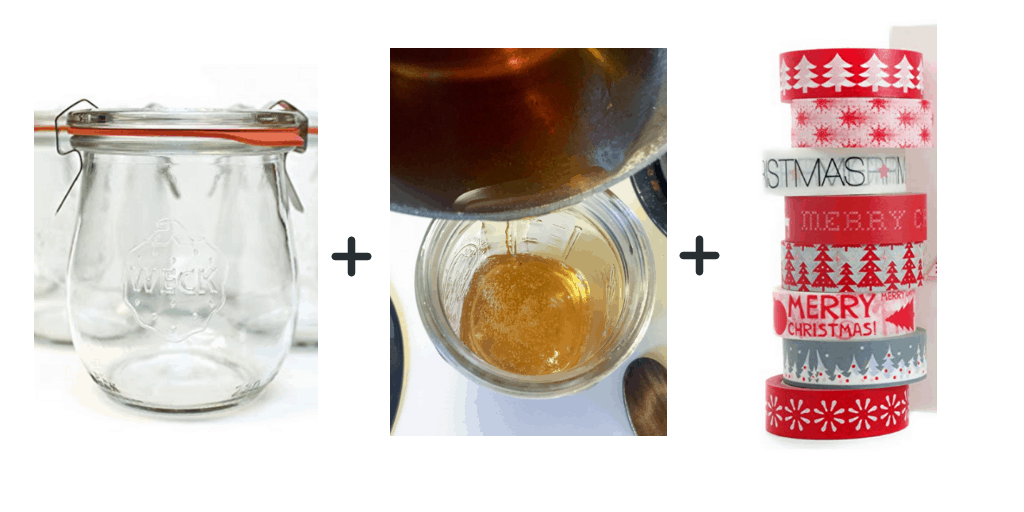 Make up an extra batch of syrup, pour into a cute jar, and decorate. Here's what you need:
Make your gift even better by adding this Lyle's Golden Syrup e-cookbook.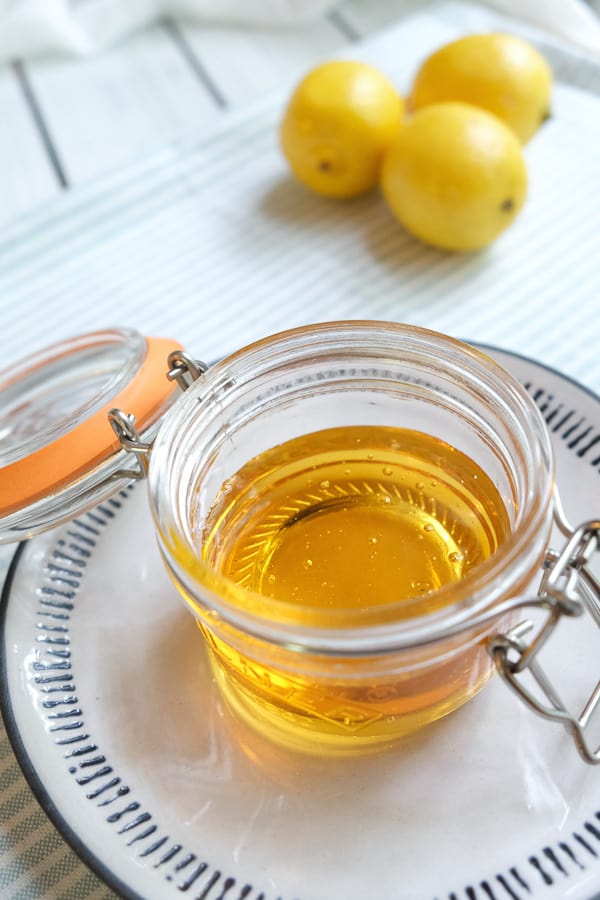 Swirl or stir? An experiment to help you make the best syrup the first time.
Golden syrup is one of the first international recipes I made after starting this blog.
I looked at a bunch of recipes and watched videos to make sure I was doing it correctly. The first time I made it, it turned out perfectly!
The second time it dried out. Arg.
The third and fourth times? Again, perfect.
Following the recipes I'd found, I stirred the syrup early in the simmering processes to help dissolve the sugar.
Then I made caramel for the first time, and you probably know that you swirl – but do not stir – caramel.
If you look through the comments for this recipe, you'll see that some people said their syrup dried out and wondered if the stirring had something to do with it?
Maybe swirling this syrup would be better, since you swirl caramel?
But…golden syrup isn't really caramel, it's syrup.
But…then again, the goal is to turn the syrup a nice caramel-y color and flavor.
So I conducted an experiment!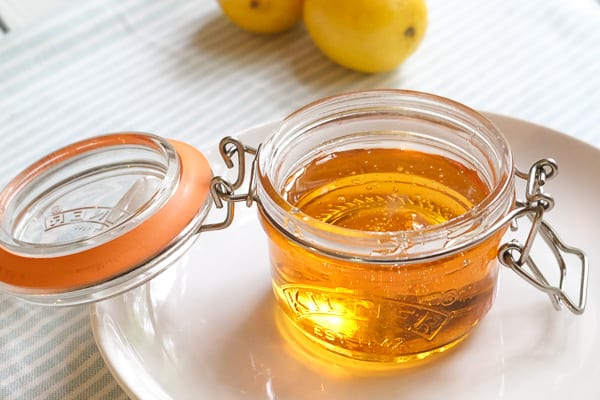 I used the same saucepan, the same burner, and the same temperature.
So that the only difference between three batches of golden syrup was swirling vs stirring.
Here are the results:
First, I made a batch using only the swirl method. There was some crystallization around the sides of the pan, but the syrup tuned out perfectly.
Then, I made a batch and stirred frequently during the first round of simmering. This batch dried out and I tossed it.
For the third batch I stirred just a few times just after adding the sugar. This batch also had some crystallization around the side but the syrup turned out perfectly.
So, I don't recommend a lot of stirring, especially once the syrup starts simmering, but a little stirring right after you add the sugar seems to be ok.
That said, if you prefer to stick to just swirling, do that!
How to Make Golden Syrup at Home The Easy Way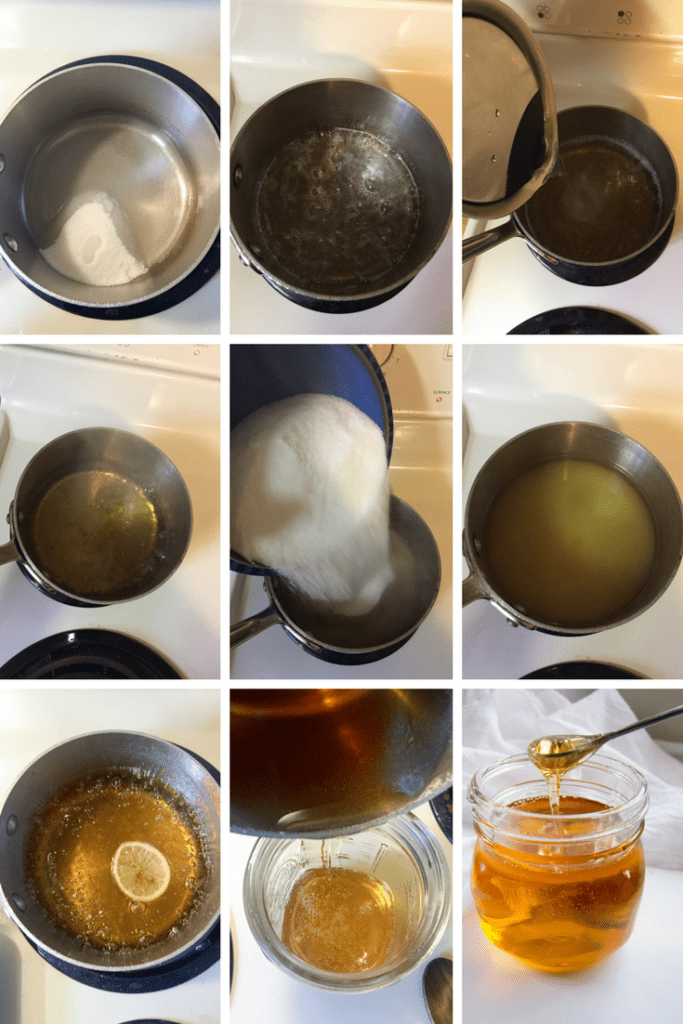 First, pour 3 Tbsp water and 1/2 cup [100g] sugar into a saucepan.
Carefully swirl the saucepan a couple times to combine the water and sugar.
Heat uncovered to a simmer over medium heat.
Ultimately you want to heat the syrup to about 350F/175C, which is the temperature at which it will caramelize.
Keep an eye on it as it simmers because it will look like it's not doing much of anything for 10, 15 or 20 minutes (maybe more), and then it will suddenly turn a golden caramel color!
(If your syrup dries out before it turns golden, the problem is that the water evaporated before it reached the caramelization temperature. You can try adding a tablespoon of water and turning up the heat a bit (it helps to have a thermometer to check the temp) or just start over.)
When the syrup is a nice caramel color, slowly add the boiling water (I pre-heat the water in my countertop water kettle).
BE CAREFUL when you pour the water into the syrup! The water will sputter and steam when it hits the syrup, so pour slowly and carefully.
Then add 2 1/2 cups [500g] of sugar and bring the syrup back to a simmer. You can swirl the pot a bit or stir it a couple times right after adding the sugar — or just leave it alone. The sugar will dissolve as it reheats to a simmer.
(In my video you'll notice I added the sugar before the water – it works fine in that order, too.)
Add a slice of lemon (it keeps the syrup from crystalizing as it simmers).
Turn the heat down to low and let the syrup lightly simmer uncovered for about 45 minutes.
Then take out the lemon slice and let the syrup cool for a few minutes.
Pour the syrup into a sterilized jar. The syrup will be thin at this point but will thicken up as it cools in the jar.
Now you have delicious golden syrup!
This recipe makes about 16oz of syrup. Store in a cool, dry place.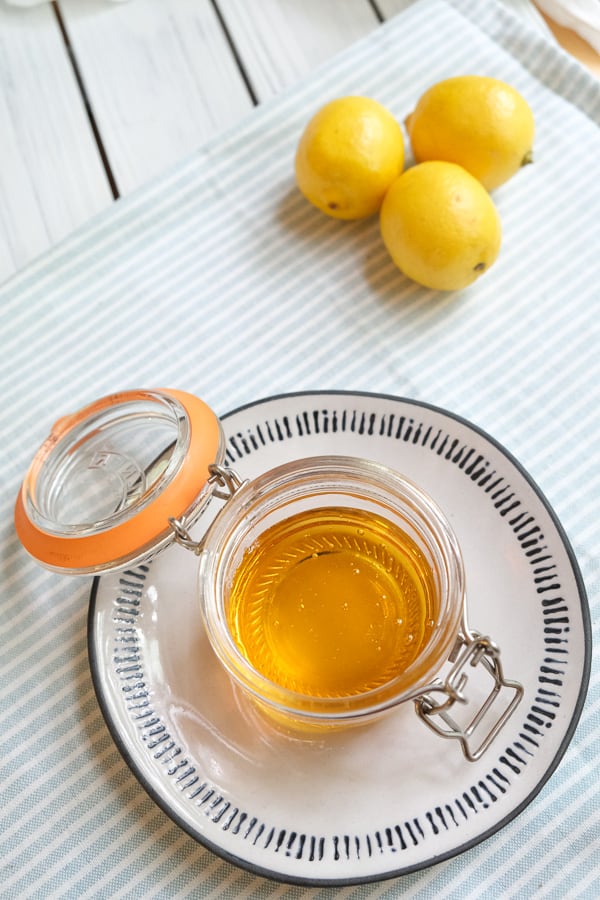 Looking for More Delicious British & Irish Recipes?
Easy Homemade Golden Syrup Recipe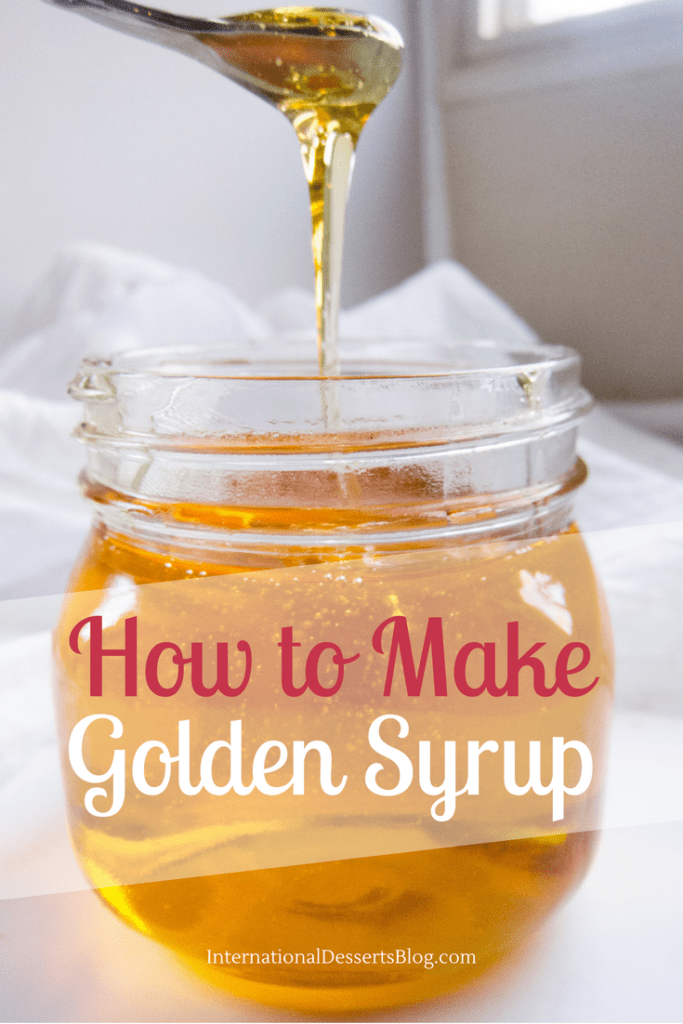 Golden Syrup Ice Cream
Looking for an easy summer treat? Try this golden syrup ice cream recipe! All you need is a jar and a spoon – no ice cream maker required. I've been enjoying these single-serve ice creams all summer long and this golden syrup version is one of my favorites.