Easy Clotted Cream Fudge Recipe
This article may contain affiliate links. See our disclosure link for more information.
This soft fudge recipe is quick and easy to make and has the best sweet and salty toffee flavor.
Clotted cream fudge is my new favorite fudge and after one bite, it's sure to become yours, too!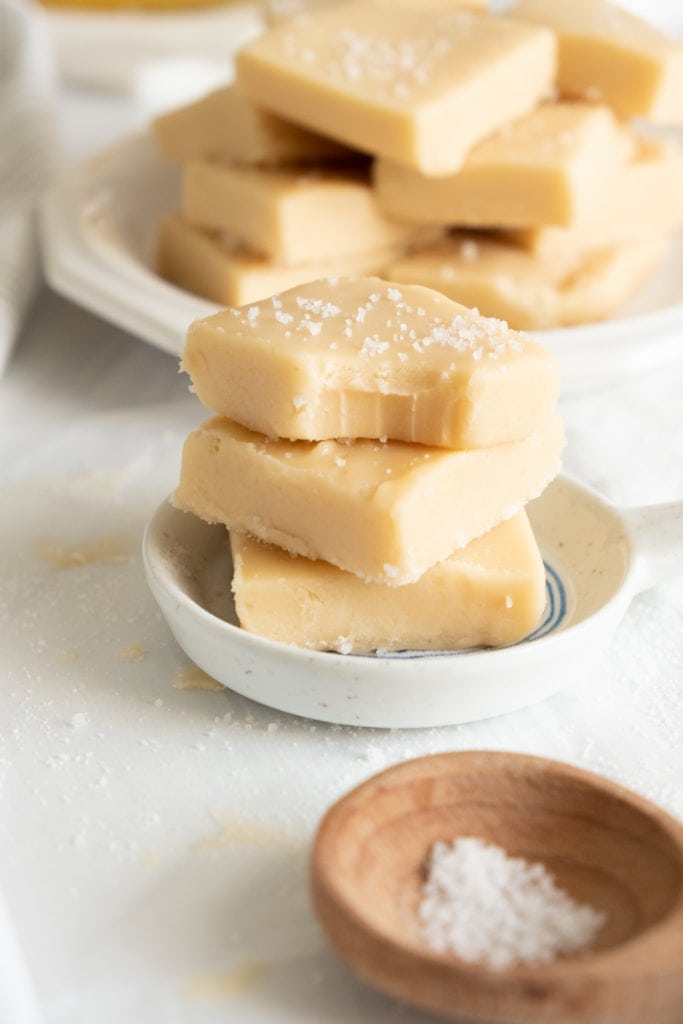 About This Recipe
Two of my favorite European ingredients are golden syrup and clotted cream, and together they create a delicious, sweet and salty soft fudge.
Clotted cream fudge is the perfect treat with afternoon coffee, an easy after dinner dessert (wrap each piece in parchment and you've got the perfect portion-controlled dessert!), tea with friends, or to bring to a pot-luck.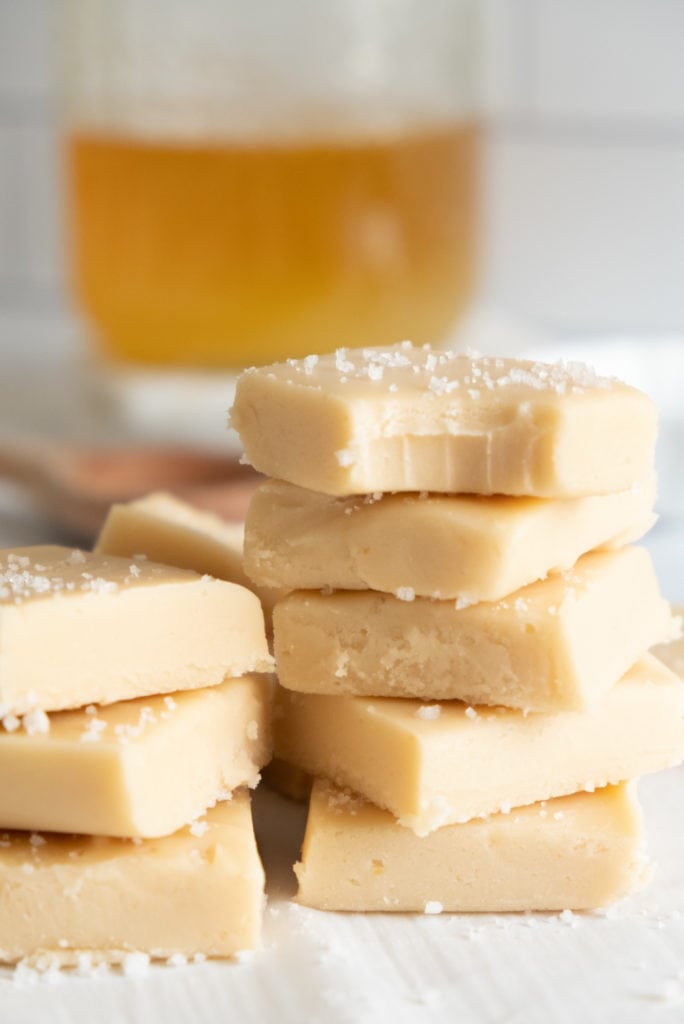 I grew up eating my grandma's chocolate fudge, and while I always enjoyed it, this buttery toffee version is now my favorite fudge recipe. The flavor is absolutely gorgeous and it melts in your mouth.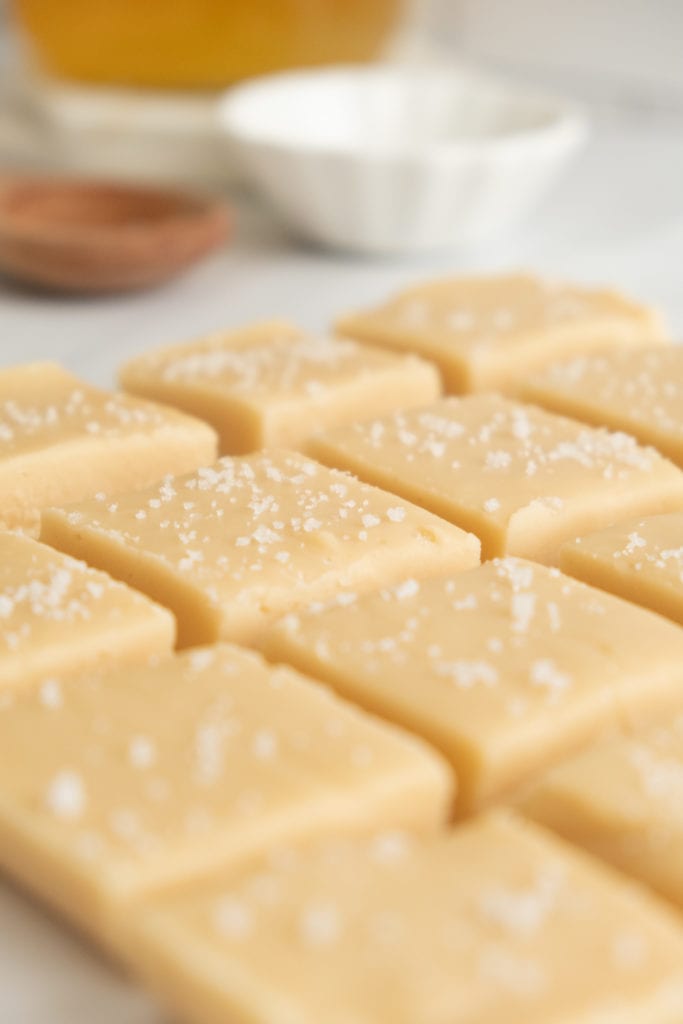 Why You'll Love It:
It's not your typical chocolate fudge – it's fudge without chocolate!
It's an easy fudge recipe without condensed milk.
Only 5 ingredients needed.
This soft fudge will melt in your mouth.
You can customize it to your tastes by adding nuts, chocolate or fleur-de-sel (my favorite).
You'll get lots of oohhs and aahhs from family and friends when you serve it (I sure did)!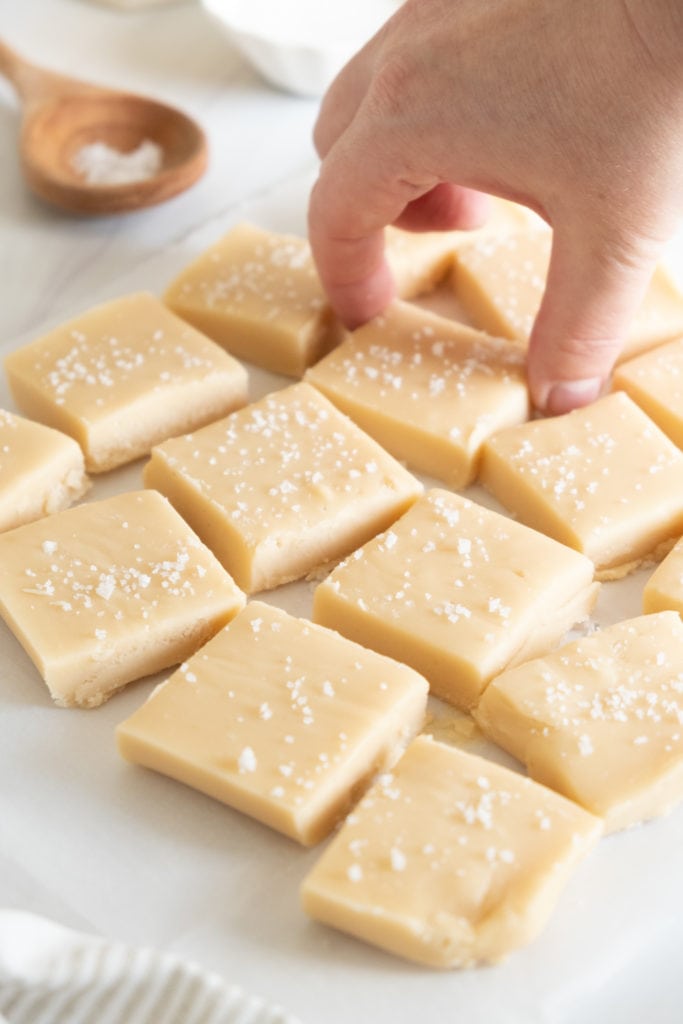 If you're wondering where to find golden syrup and clotted cream, don't worry, I've got you covered! I make both at home but depending on where you live you might be able to buy them.
GOLDEN SYRUP — I always keep a bottle of Lyle's Golden Syrup in my cupboard in case I don't have time to make a batch of homemade golden syrup. You can buy a bottle of Lyle's Golden Syrup here on Amazon.
CLOTTED CREAM – I nearly always make this at home. After a lot of experimenting, I figured out a process for making perfect homemade clotted cream. If you'd rather buy clotted cream, try a specialty foods store, a British food shop, World Market or buy a jar here on Amazon or here from Whole Foods on Amazon.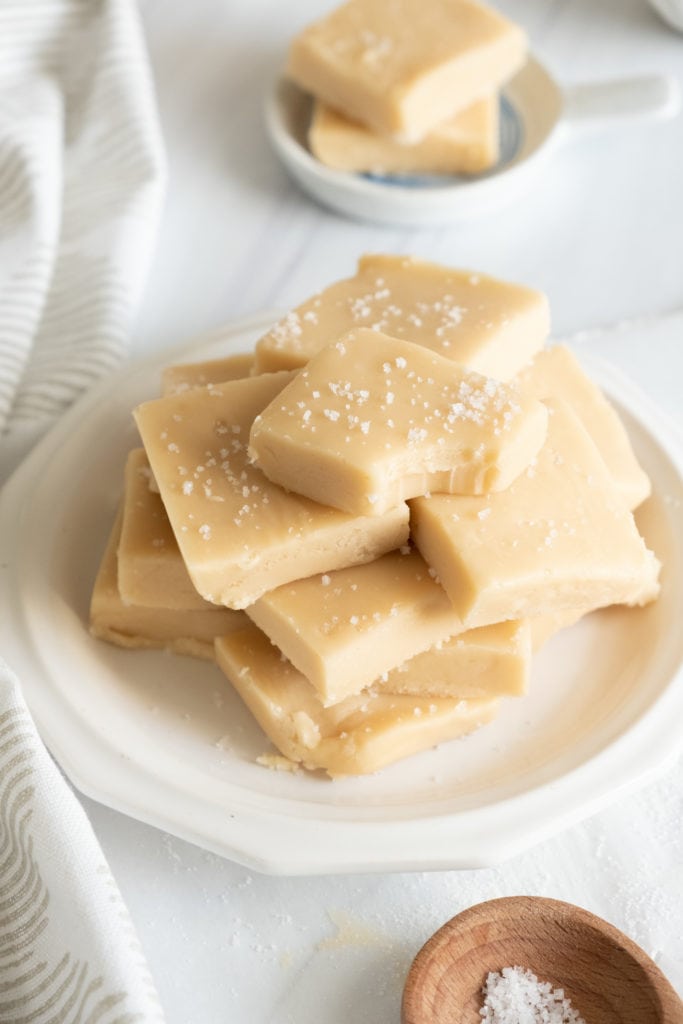 ❓FAQ
Is this fudge made with sweetened condensed milk?
Nope! If you're looking for fudge without condensed milk, this is your recipe!
Can I add ingredients to this fudge?
You can (see my ideas for variations below) but I'd make the basic fudge recipe first so you can decide what kind of additions you'd like to make.
Is this one of those 3 minute or 5 minute fudge recipes?
It's not one of those super quick recipes but it's worth the 20 or so minutes it takes to make!
Can I make this fudge in the microwave?
For the fudge to set you need to boil it to the soft ball stage, which I find easiest to do on the stove.

What is Golden Syrup?
It's a delicious buttery-caramel flavored syrup popular in the UK & Ireland (and elsewhere).
Can I make Golden Syrup at home?
Yes – click here for my recipe and tutorial! All you need is sugar, water, and lemon juice. Make the golden syrup a day or two ahead of when you want to make this fudge.
Where can I buy Golden Syrup?
Click here to buy a bottle of authentic Lyle's Golden Syrup.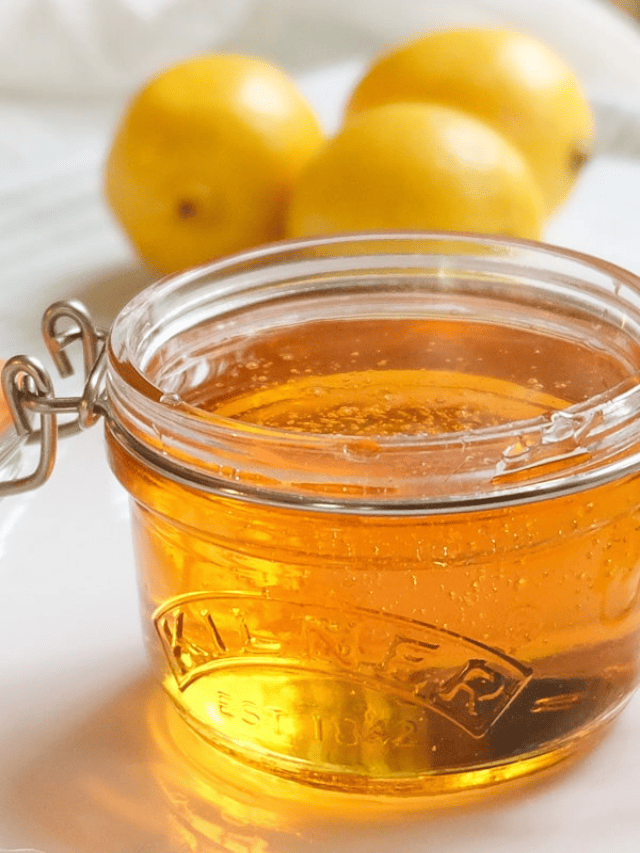 What Else Can You Make With Golden Syrup?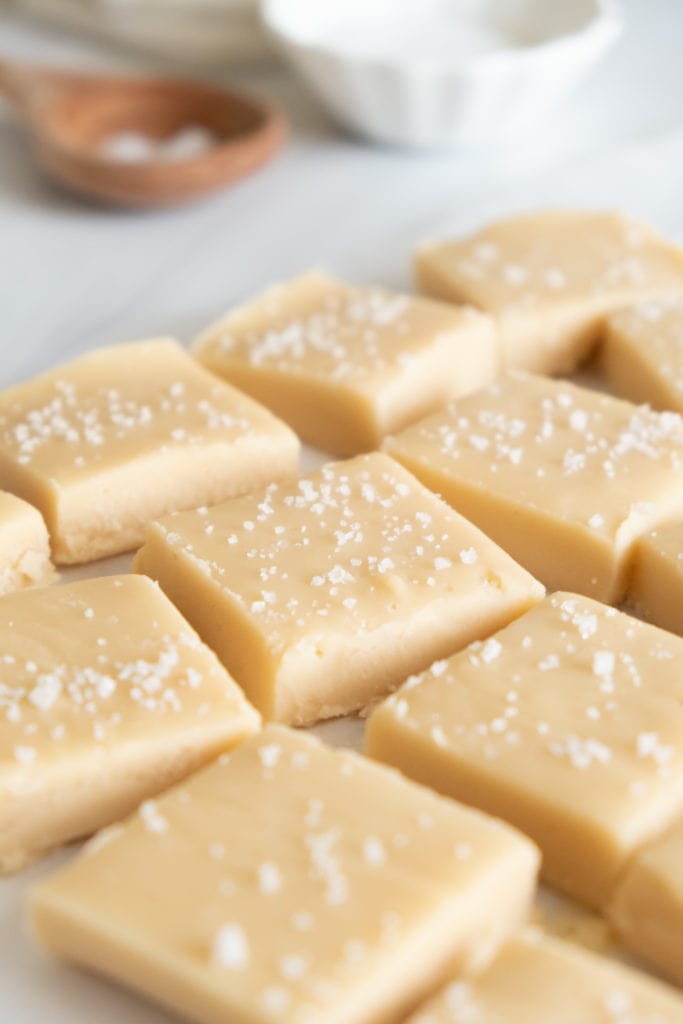 What is Clotted Cream?
Clotted cream is a thick cream that tastes like a cross between butter and whipped cream. To make clotted cream, you slowly heat heavy cream and then slowly cool it over a period of about 24 hours. This process allows the cream to separate and for the "clots" to rise to the surface.

Typically enjoyed on scones with jam, you can also use it to make clotted cream ice cream, baked goods, and enjoy it on pancakes, waffles, etc. It's heavenly!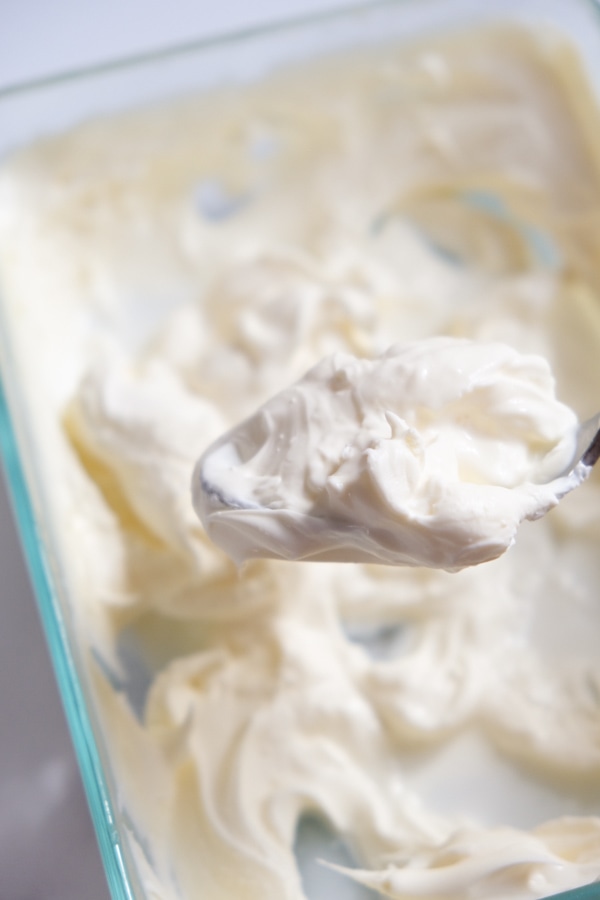 Can I make Clotted Cream at home?
Yes! Click here for my easy clotted cream recipe and tutorial. I experimented with several methods and types of cream to find the best way to make it and share both my successes and failures.

Note — make your homemade clotted cream a couple days before you want to make this fudge.
Can I make Clotted Cream in My Slow Cooker?
I've tried it but I've found using the oven creates the best results.
Can I make Clotted Cream in my Instant Pot?
I suppose you can but I don't (I don't use an Instant Pot). I recommend using the oven! I've had the best results using my oven, a baking dish, and foil. Plus, if you use your oven, you can use your Instant Pot for making dinner!
Where can I buy Clotted Cream?
Depending on where you live, you might find it at your local grocery store, Whole Foods, World Market, a British foods store or a specialty foods store. You can also order a jar on Amazon right here.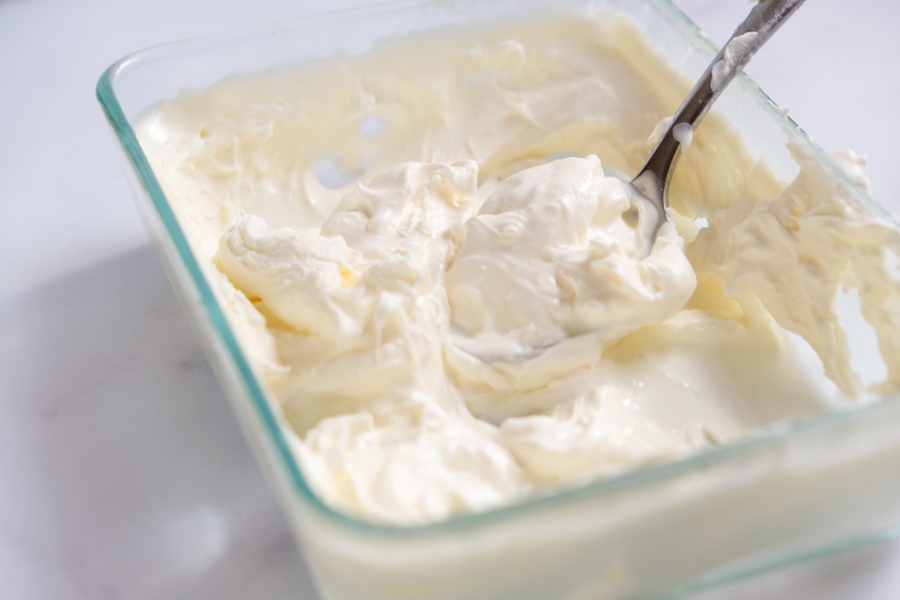 ? Recipe Variations, Notes & Tips
If you'd like thicker pieces of fudge, use a smaller baking dish with straight sides. Or double the recipe.
Add chopped pecans for flavor and texture.
Sprinkle a little fleur-de-sel on the top of the fudge for a salty crunch. So good!
Sprinkle mini chocolate chips on the top after the fudge is no longer warm (lightly press the mini chocolate chips into the fudge). I haven't tried this yet but I think crushed pretzels might be good, too.
Drizzle chocolate ganache over the top of the fudge after slicing.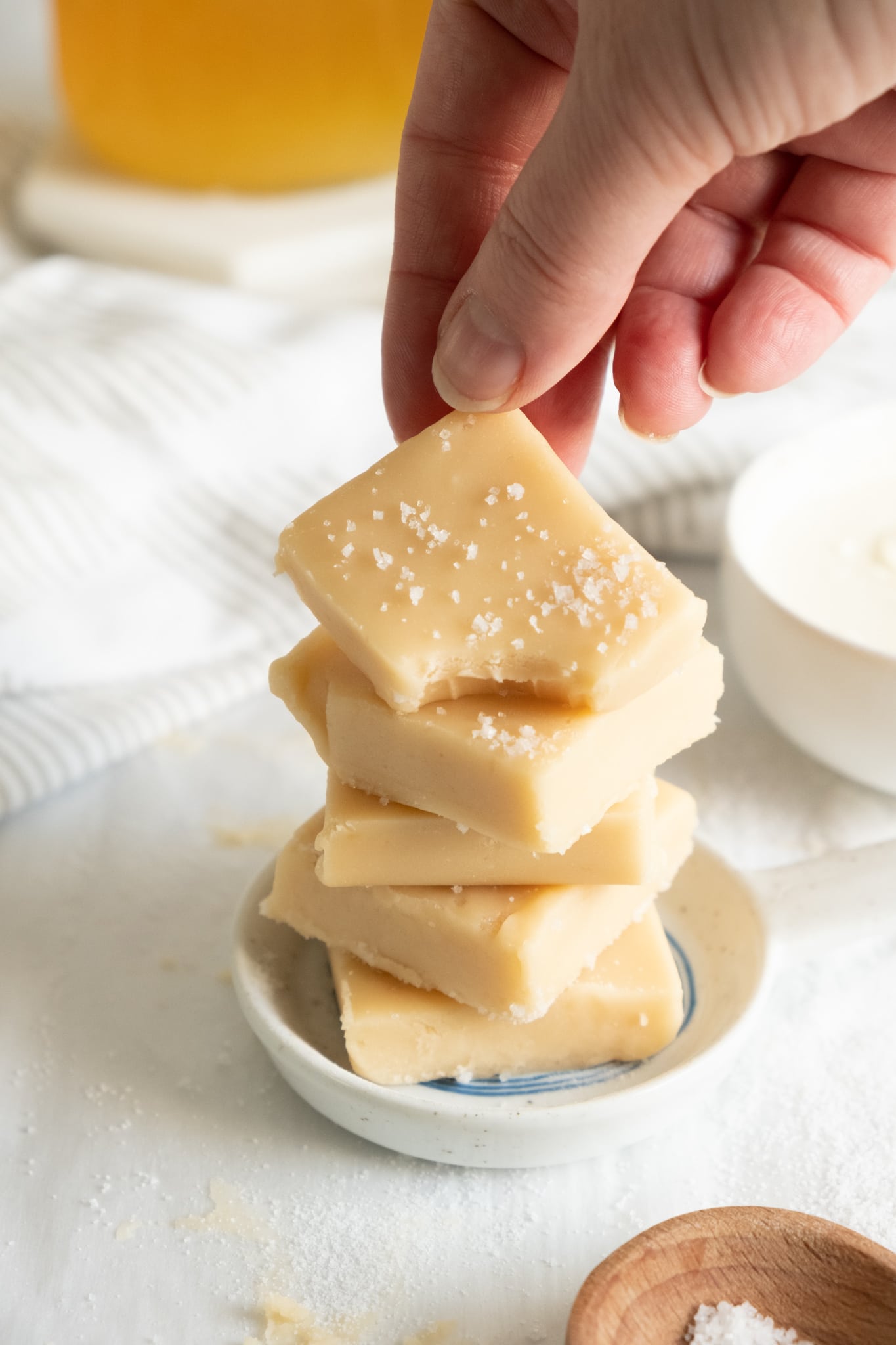 What You Need to Make Clotted Cream Fudge
Ingredients:
Kitchen Tools:
Medium saucepan
Measuring cups or scale
Whisk
8×8 (20x20cm) baking dish
Parchment paper
Candy thermometer
Knife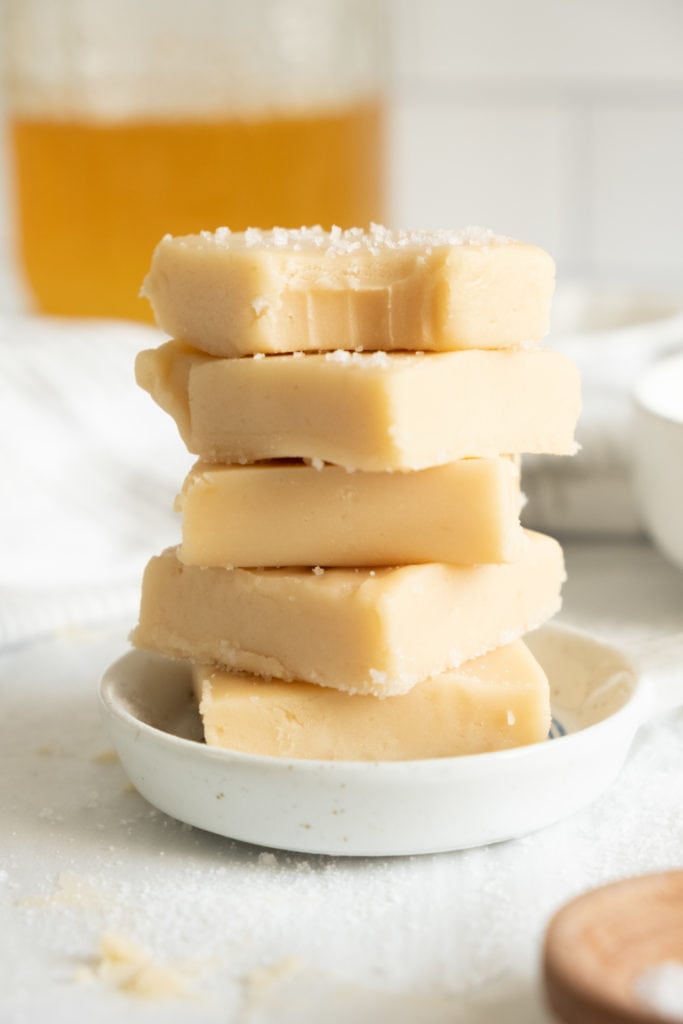 How to Make Clotted Cream Fudge
Note: if you plan to use homemade golden syrup and/or clotted cream, be sure to make them 1-2 days in advance.
First, line an 8x8in (20x20cm) baking pan with parchment paper.
Then add sugar, golden syrup, clotted cream, and pinch of salt to a medium sized saucepan.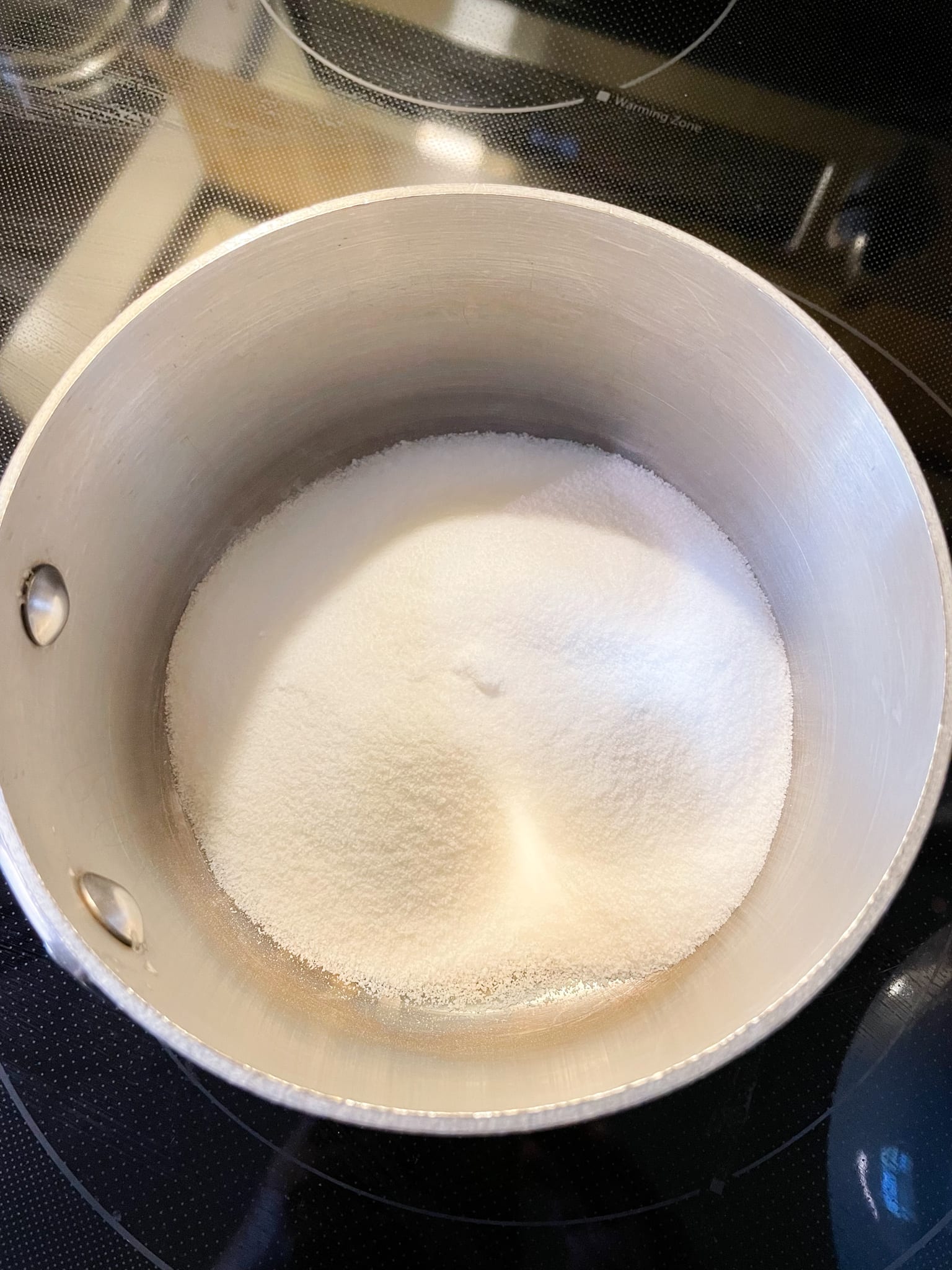 Turn the stove to medium heat and whisk or stir until everything is combined.
Bring to a boil. You might need to lower the heat a bit so it doesn't boil over.
Cover the saucepan with the lid (not pictured) and let the mixture boil for about 3 minutes. You might need to turn the heat down a bit so it doesn't boil over.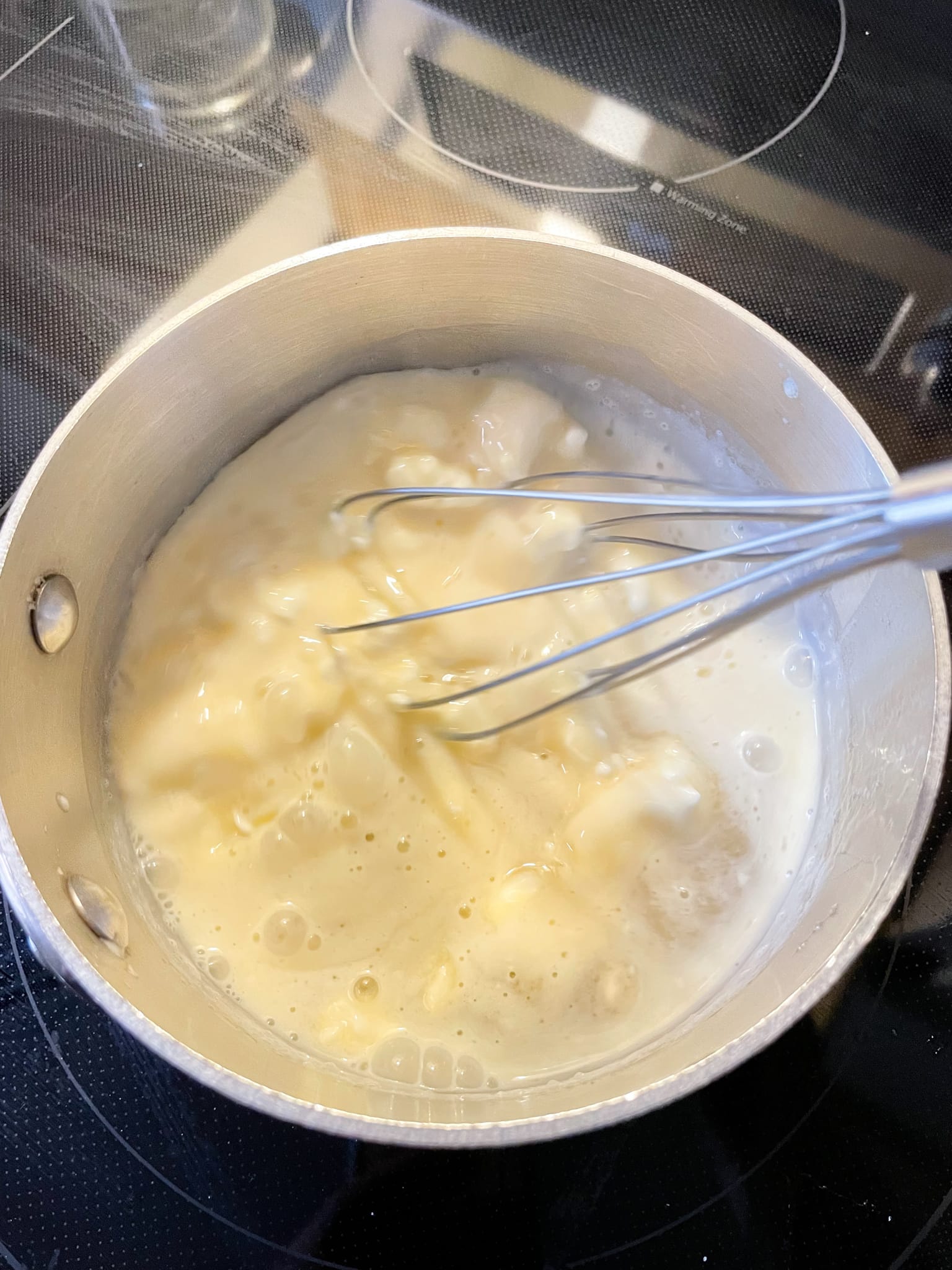 Take the lid off and let the mixture boil until it reaches between 234F / 112C — 245F / 118C (soft ball stage). It needs to reach this temperature so the fudge will set.
I highly recommend using a candy thermometer for this recipe, so you know how long to boil the fudge to the soft ball stage. But if you don't have one, you can use the soft ball test – drop a small spoonful of the syrup into a glass of very cold water. Reach into the glass and scoop up the syrup with your fingers. If it forms a ball in the water and then flattens out when taken out of the water, it's reached soft ball stage.
Take the saucepan off the heat and add the vanilla.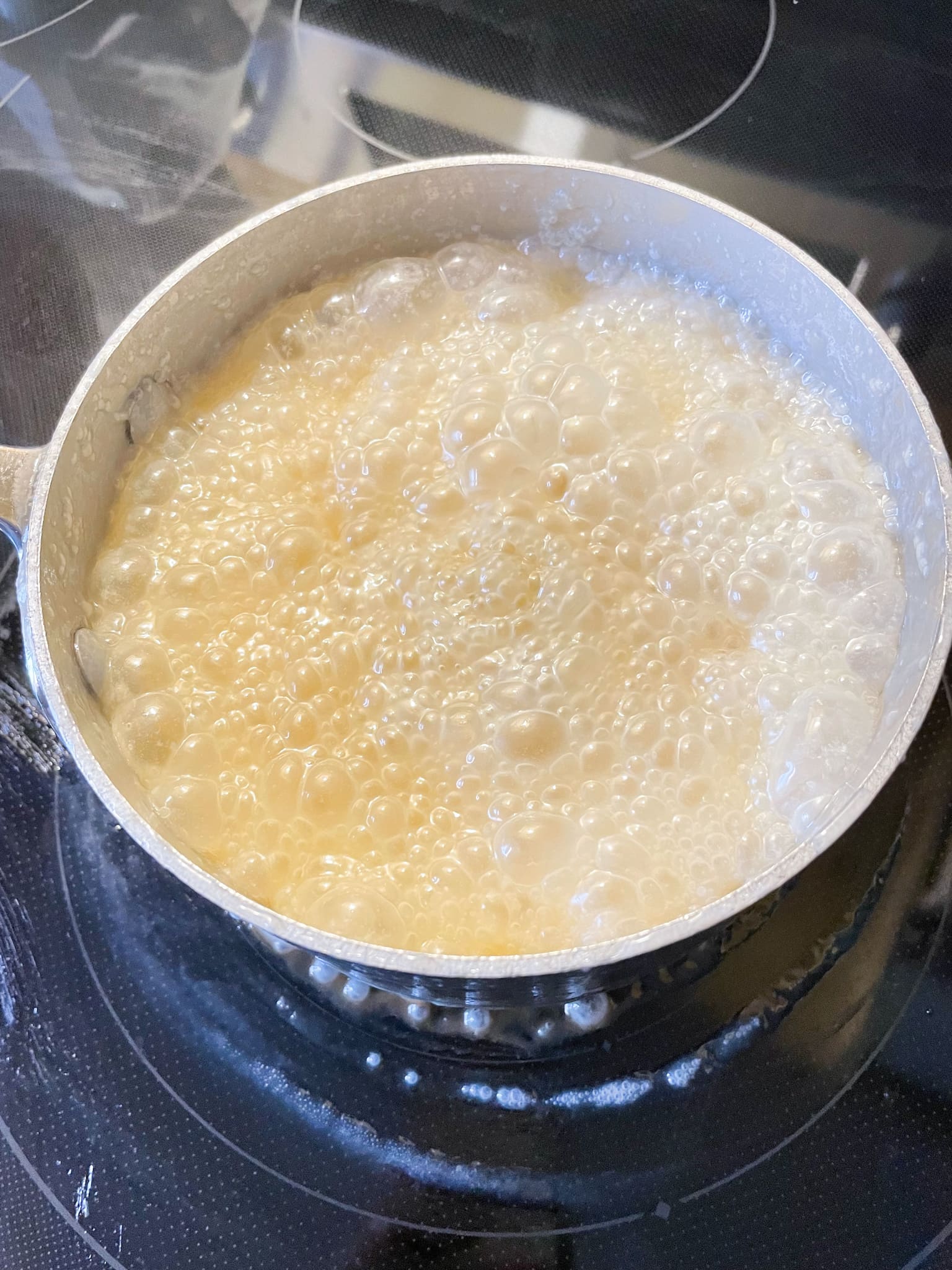 Then whisk until the fudge goes from shiny to matte. It will thicken as it cools. This typically takes about 10 minutes, maybe a little more.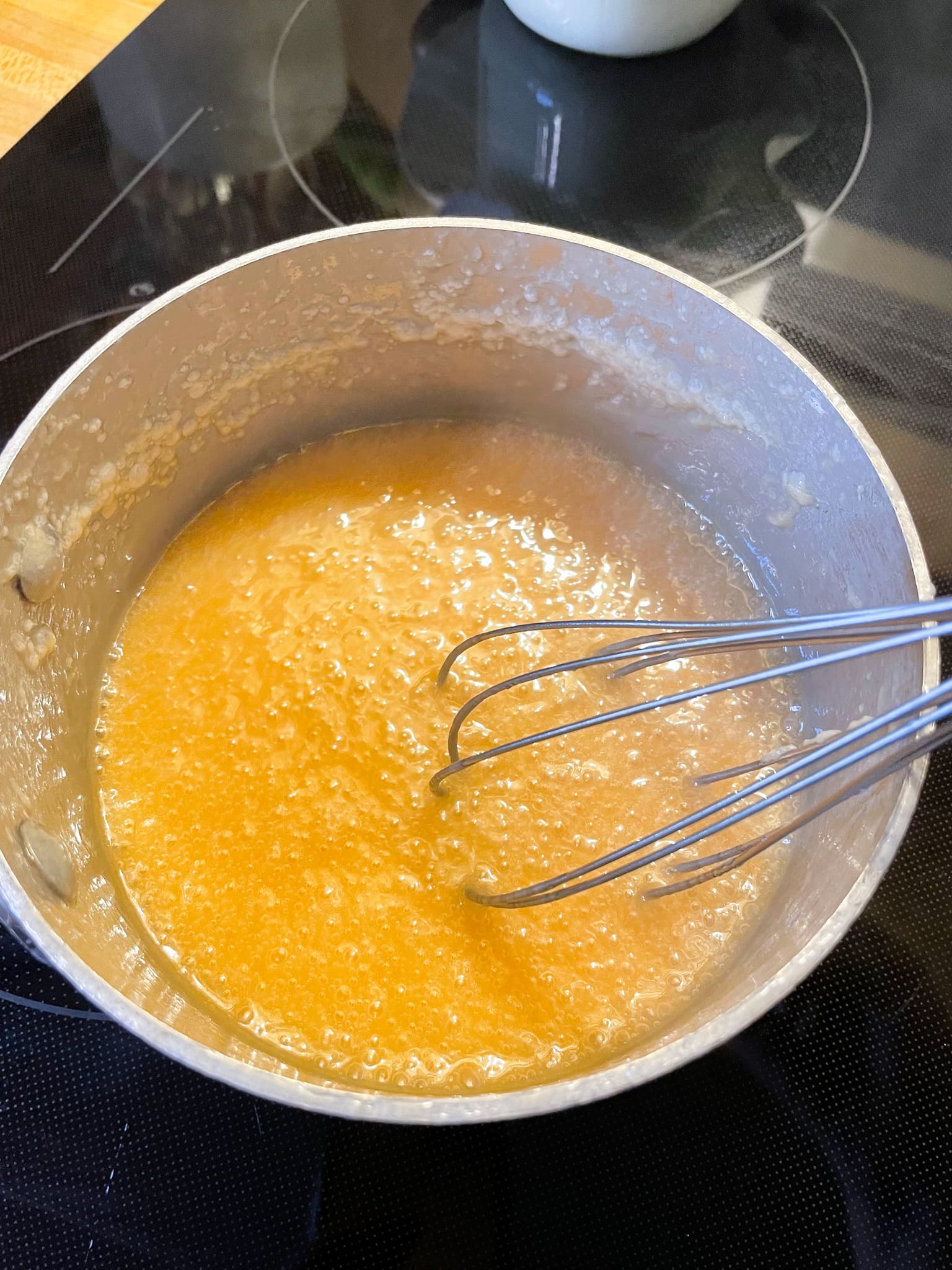 Pour the fudge into the lined baking dish, cover with plastic wrap, and let chill in the fridge until set (at least 60 minutes, maybe longer).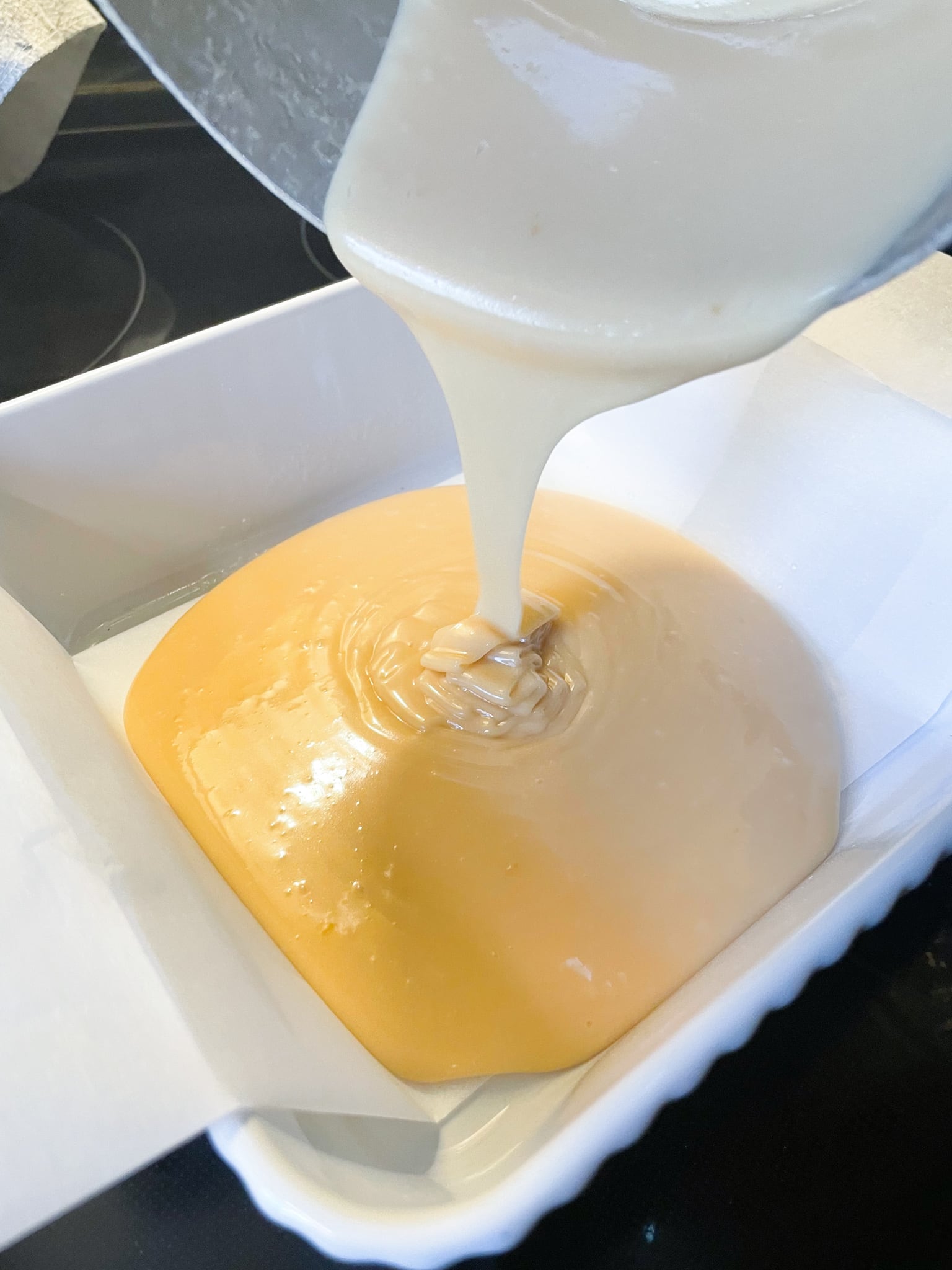 When the fudge has cooled, sprinkle with fleur-de-sel (optional but so good!).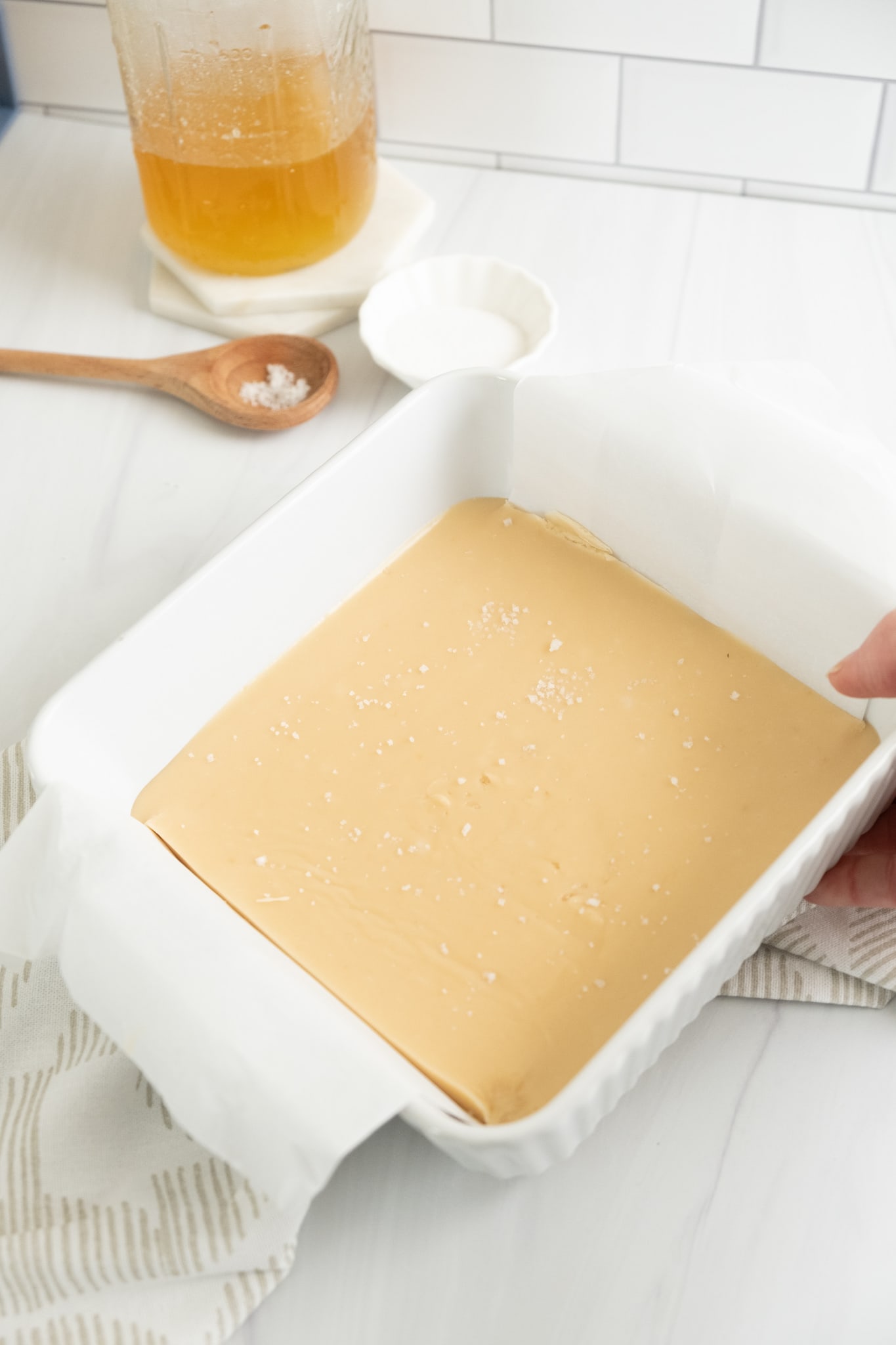 Take out of the baking dish and cut into 16 squares. The fudge will be easy to cut.
You can wrap each square in parchment, wax paper or plastic wrap or simply serve on a plate.
Store in an airtight container in the fridge.