Easy Australian Pavlova Dessert Recipe
This article may contain affiliate links. See our disclosure link for more information.
This Australian pavlova recipe is easy to make, looks beautiful, and is a delicious gluten-free dessert any time of year.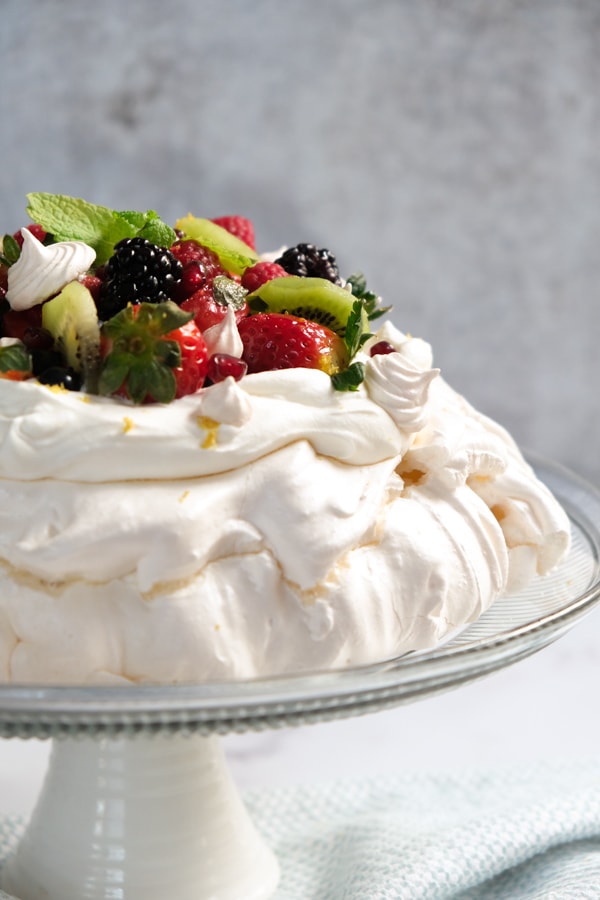 Why did I wait so long to make pavlova? I have no idea. As soon as I tasted this crunchy, creamy, fruity dessert I was kicking myself for not making it years ago.
Don't make the same mistake! I've made this pavlova recipe many times for holidays, birthdays, and just because. I'm sure you'll love it!
What's a Dessert Pavlova?
Pavlova is a meringue-based dessert popular in Australia and New Zealand, and supposedly named after the Russian ballet dancer, Anna Pavlova. The outer shell is delightfully crunchy, the inside soft and marshmallow-y.
The baked meringue is topped with fresh whipped cream and fruit. I like to add a sprinkle of lemon zest and drizzle of golden syrup. But you can customize your pavlova in so many ways – read on for ideas.
It's funny, whenever I describe pavlova to someone who hasn't tried pavlova, the reactions are get are lukewarm. But as soon as they try a bit, it's love at first site!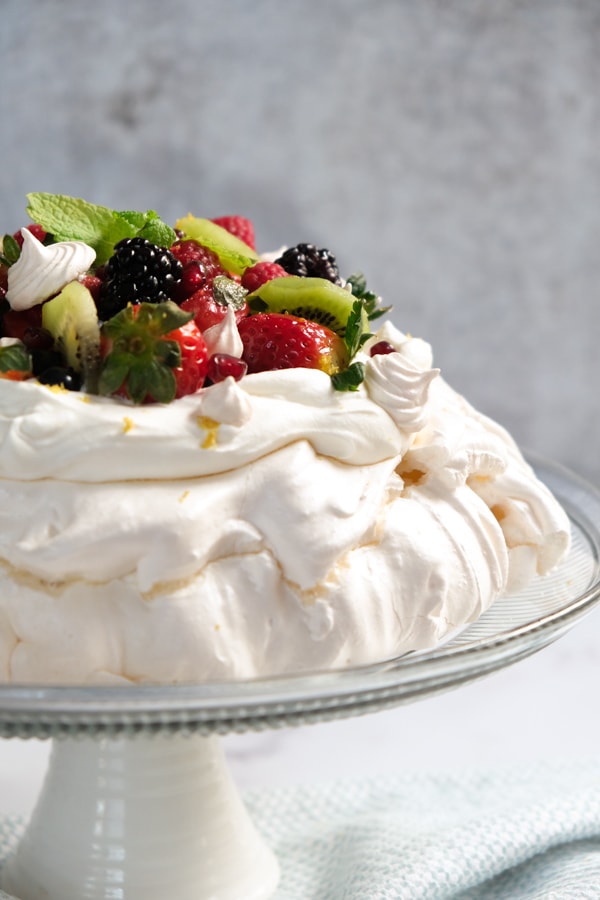 Not only is pavlova super easy to make, it's the perfect summer dessert. Pavlova is a popular addition to the Christmas dessert table in the southern hemisphere where Christmas = summer weather.
Since I live in the northern hemisphere, I often make pavlova in the spring and summer. When my husband requests a gluten-free birthday cake, I often make this berry-filled pavlova (he loves it).
I've also made a red-white-blue pavlova for the 4th of July using red and blue berries. Other times I stick to strawberries, blueberries, and add lemon curd.
And, of course, you can make pavlova any time of year. I sometimes make a red and green Pavlova Christmas Wreath during the holiday season.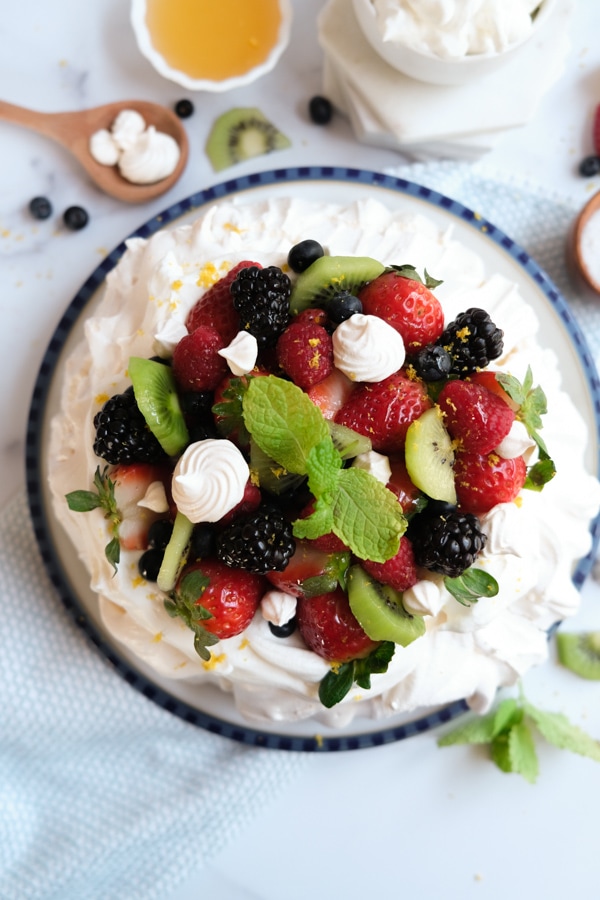 What You Need to Make the Best Pavlova Recipe Around
Ingredients:
Egg whites
Sugar (extra fine – see my notes below for how to make this if you can't buy it)
Cream of tartar
Salt
Vanilla extract (or vanilla sugar)
Heavy cream
Powdered sugar (if you want to sweeten your whipped cream)
Fresh fruit – strawberries, blueberries, blackberries, kiwi, pomegranate, etc.
A drizzle of golden syrup, a sprinkle of lemon zest, and fresh mint (optional)
Kitchen Tools:
Stand mixer with whisk attachment (you can use a hand mixer but a stand mixer is so much easier)
Food processor (to make extra fine sugar)
Plastic spatula
Large spoon
Off-set spatula
Knife & cutting board
Half-sheet baking pan (I use this one)
Parchment or Silpat (I use this one)
Piping bag and star tip (optional)
Serving plate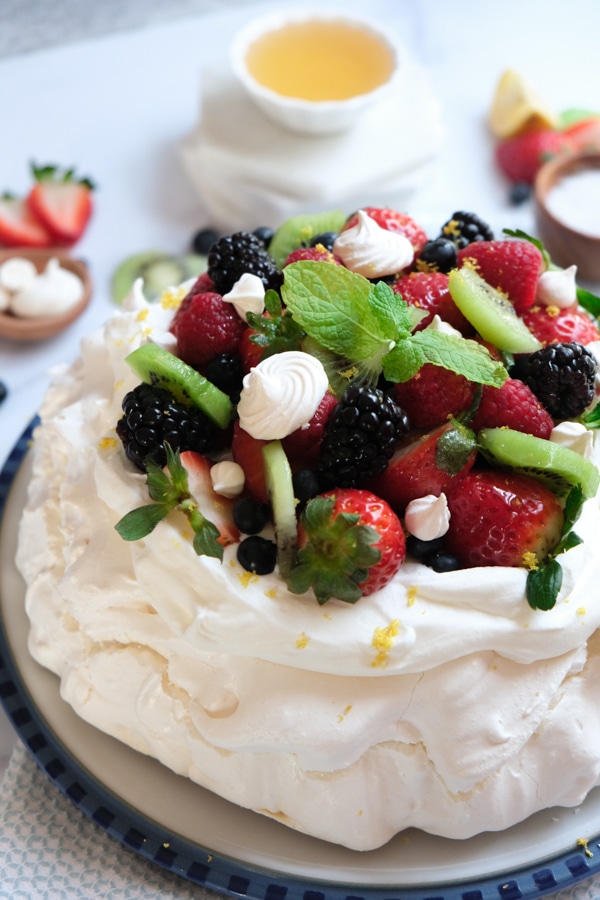 Tips for Making the Perfect Pavlova.
Make sure the mixing bowl and beaters you use to whip the egg whites are super clean and dry. Otherwise your egg whites won't whip up very well.
If you can't buy extra fine sugar, use a food processor to make it (see below). Extra fine sugar will dissolve more easily in the egg whites as you whip the meringue.
Handle the baked pavlova very carefully! The meringue cracks easily. If it does crack, don't worry, just smooth some whipped cream over it.
I love the sweet-tart flavor the lemon zest and golden syrup add to the pavlova but both are optional. Speaking of golden syrup, you can buy it or make it at home. Click here to get my super easy golden syrup recipe.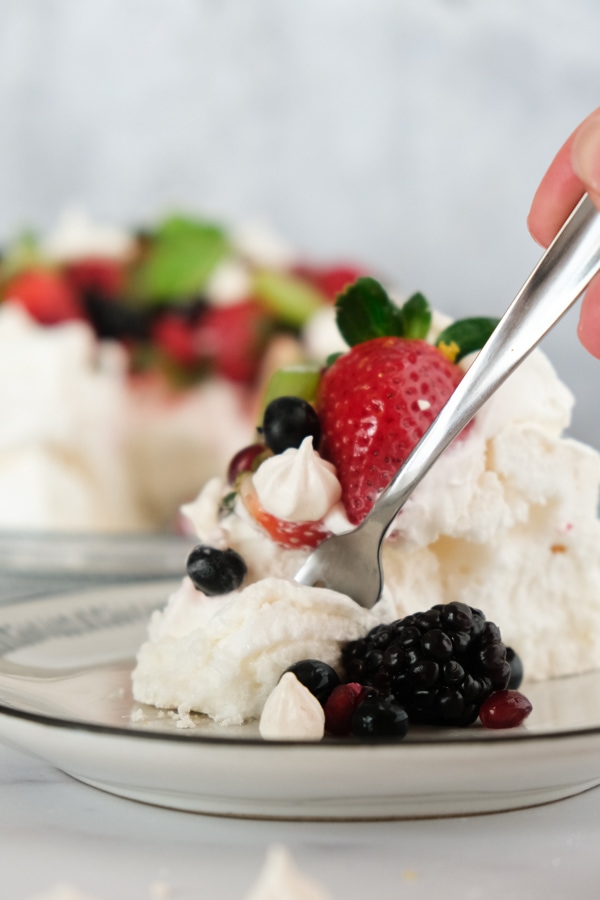 How to Make the Best Australian Pavlova
There are three primary steps:
Whip the meringue.
Bake the meringue.
Top the meringue.
The first step is to separate the egg whites and yolks, and let the egg whites come to room temperature.
Not sure what to do with the egg yolks? Make lemon curd!
While the egg whites are warming up, wash and dry your mixing bowl and whisk attachment. Make sure they are super clean and dry.
Then, if you don't have extra fine sugar, pour the sugar into a food processor and grind it in bursts for until it's very fine.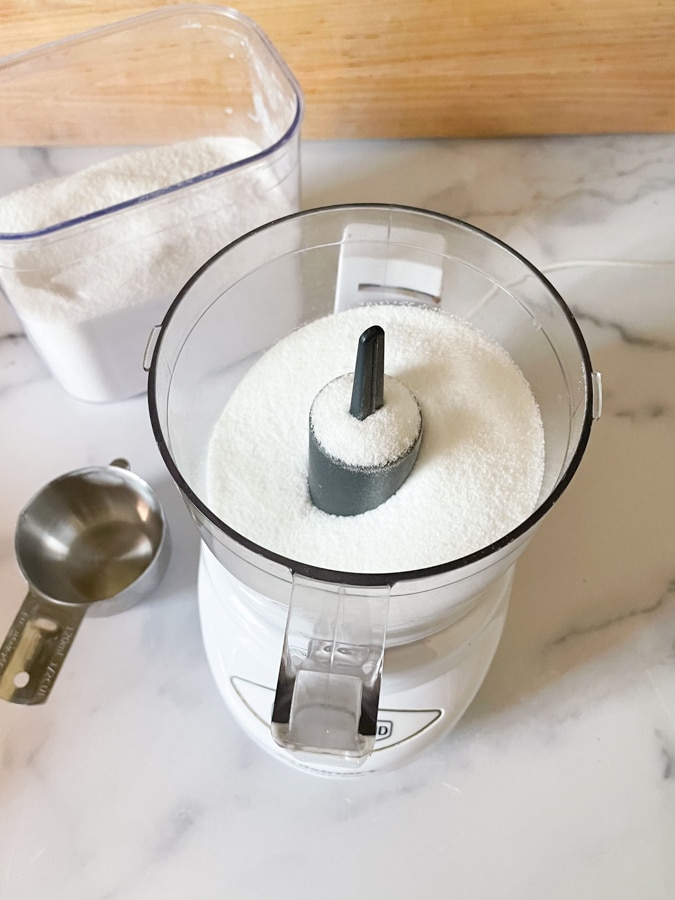 Turn the oven on to 250F/120C.
Pour the egg whites into your mixing bowl and turn the mixer on low.
When the egg whites start to look a little frothy, turn the mixer up to medium. Add a pinch of salt and vanilla extract. Then add the sugar one tablespoon at a time. Add the sugar slowly so it will dissolve in the egg whites.
Keep the mixer going until stiff peaks have formed. This will take several minutes.
Add the cream of tarter and beat again for about a minute. If you can turn your mixing bowl upside down without your meringue falling out, and if you don't feel any sugar between your fingers when you touch the meringue, it's ready to shape and bake.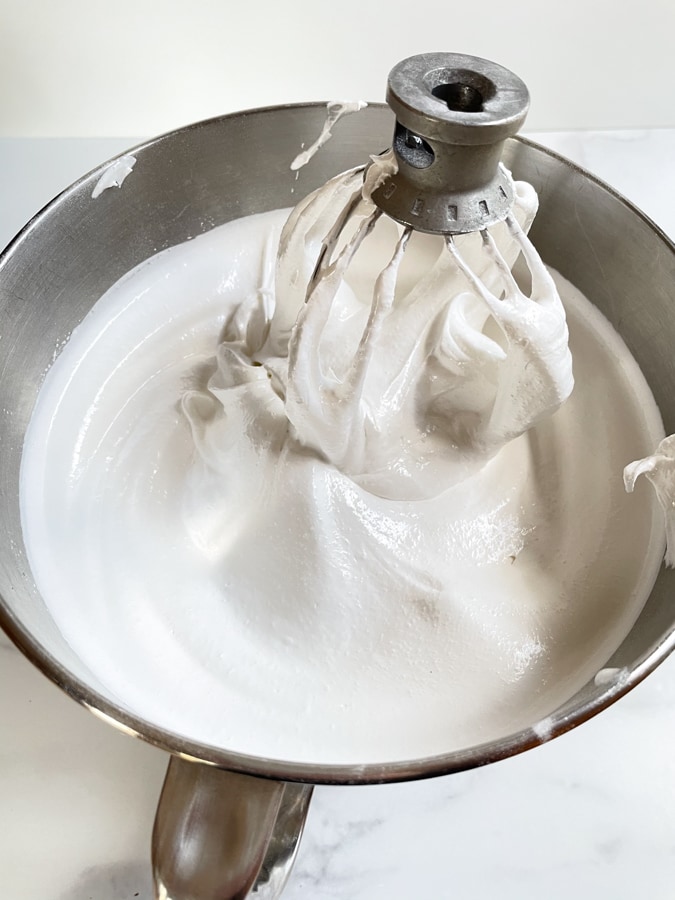 Place a Silpat mat or a piece of parchment on a baking tray. Spoon the meringue onto the Silpat or parchment and shape into a circle.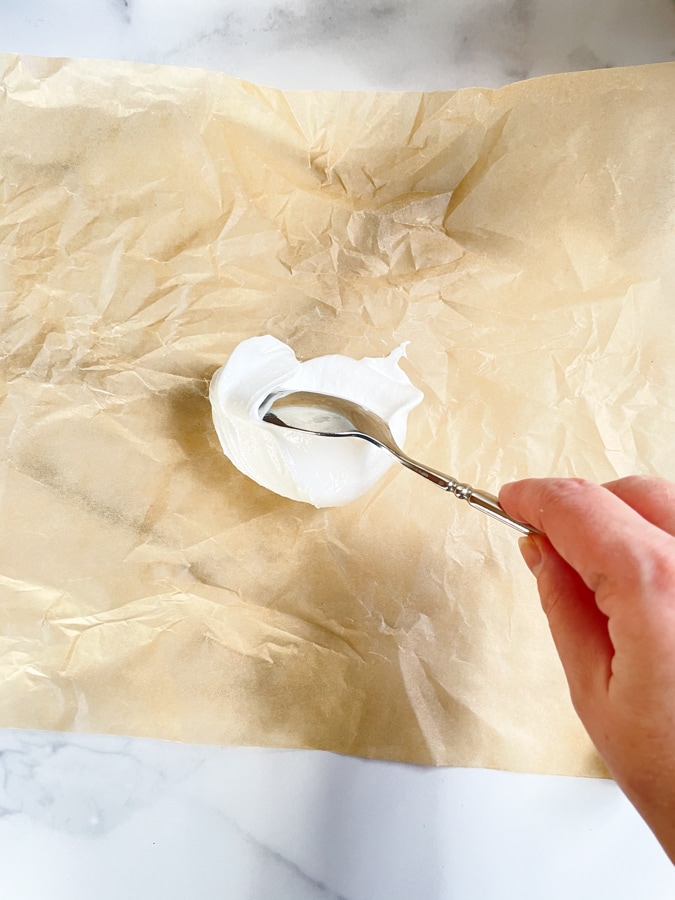 Use the back of a large spoon to create a crater in the middle for the whipped cream.
Then, use an off-set spatula to shape the sides of the meringue.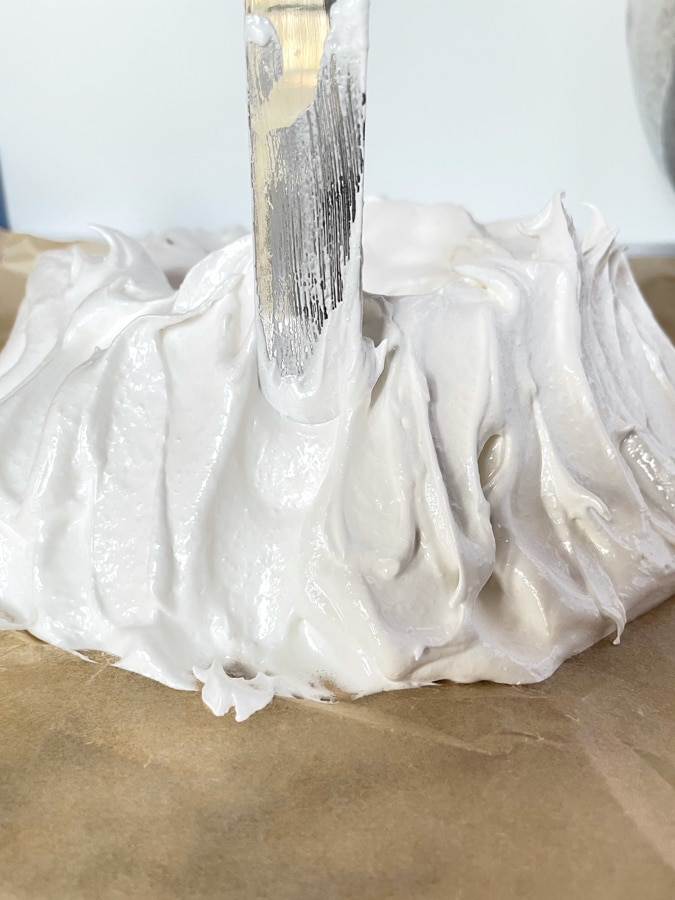 Note #1 – I used to purposefully make my pavlovas shorter and wider so I had the most amount of surface area for the whipped cream and fruit. That worked fine and was delicious…but pavlova is supposed to be tall, so if you want to be authentic, make your pavlova tall!
Note #2 – I often like to reserve some meringue to make little decorative meringues for my pavlova. To do this, I spoon meringue into a piping bag fitted with a star tip and then pipe little meringue stars of various sizes on a Silpat mat. I bake them at the same time as the pavlova.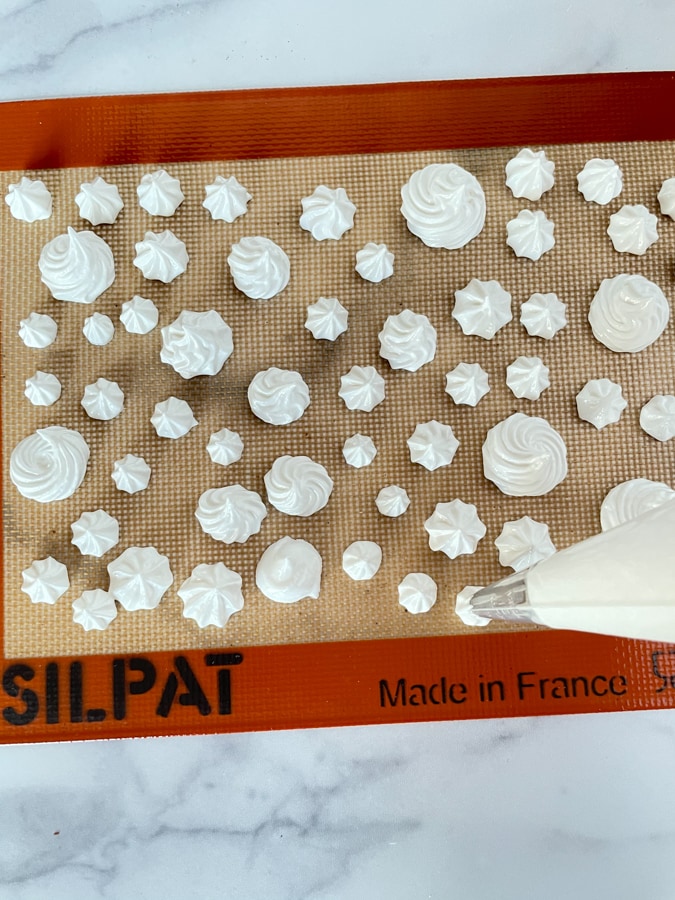 Bake the pavlova for about 1 hour.
Once baked, turn off the oven and open the door a bit, leaving the meringue in the oven as it cools.
While your meringue is cooling, whip the heavy cream. Since the meringue is very sweet, I don't like add sugar to my cream. I only add vanilla extract or the caviar from a vanilla bean. If you like sweetened cream or just want a sweeter dessert, add powdered sugar (or vanilla sugar) to taste.
Then wash and slice the fruit and zest a lemon.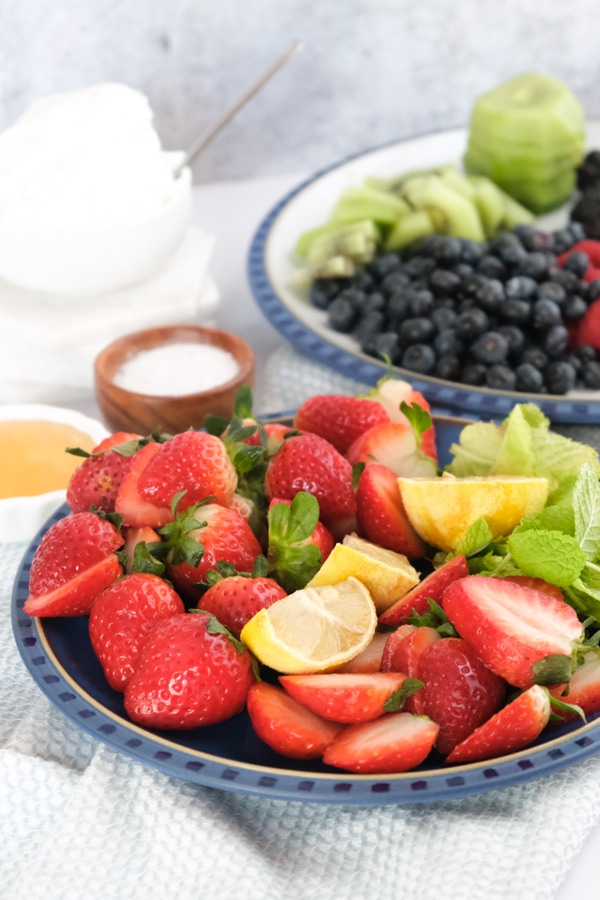 When the meringue has cooled, carefully lift it off the parchment or Silpat. Sometimes I find it easier to flip the meringue over and carefully peel off the parchment. Your pavlova might crack while doing this (you can see in the photo below that mine cracked a bit when I tried to lift if off the parchment) but don't worry too much about it. Just smooth some whipped cream over the cracks.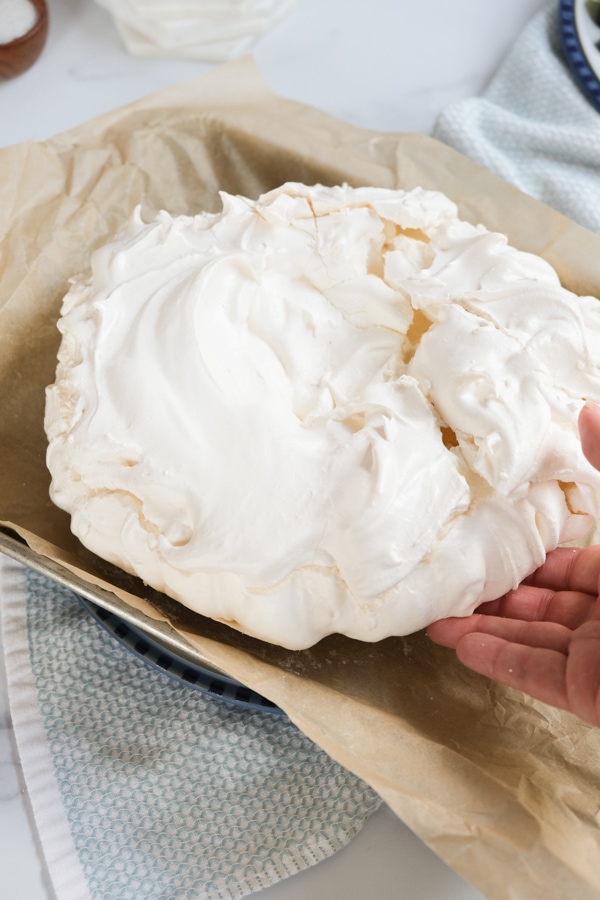 The next step is to spread freshly whipped cream over the top of the pavlova.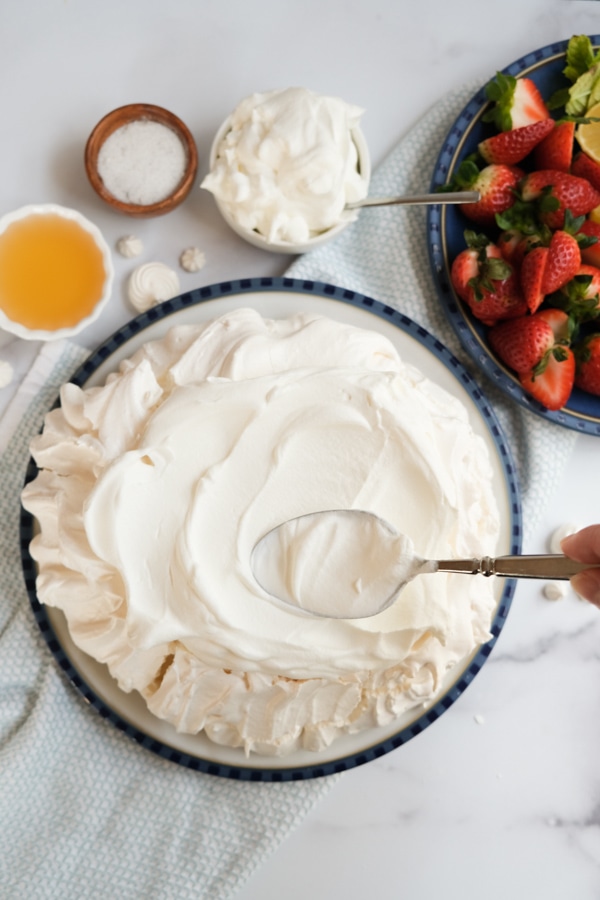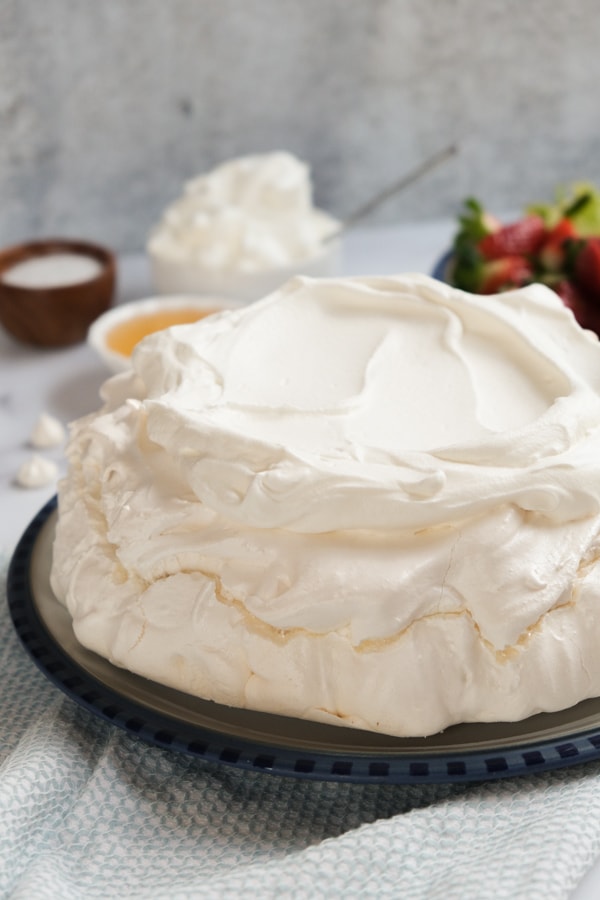 Then top with the cream with fresh fruit, a sprinkle of lemon zest, a drizzle of golden syrup, a few sprigs of fresh mint, and a handful of those little decorative meringue stars.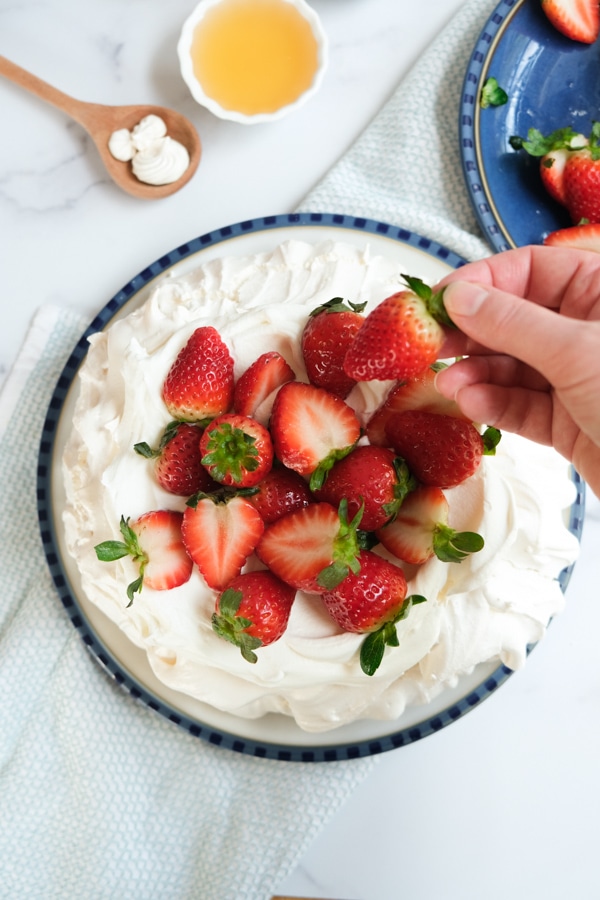 Pavlova is best enjoyed soon after you've made it.