Hello, everyone! Here's the second recipe in our July Baking Challenge!
Click here to save this for later!
We're making a red, white, and blue pavlova in celebration of US Independence Day (on July 4). Pavlova is actually more from Australia/New Zealand than the US but I made one last year on the 4th of July and it was a bit hit! The red, white, and blue combo is perfect for the holiday, and pavlova is a wonderful summer dessert.
If you make this Lemon Berry pavlova, I hope you'll share a photo with me on Instagram (tag me @internationaldessertsblog and use #idbholidaychallenge so I can find you!) or tell me how they turned out in the comments below. ?
You can read all about the July Baking Challenge here, and check out our first recipe in the challenge here.
—-
Why did I wait so long to make pavlova? I have no idea. As soon as I tasted this crunchy, creamy, fruity dessert I was kicking myself for not making it years ago.
Don't make the same mistake! This is the best pavlova recipe – you'll love it!
What's a Dessert Pavlova?
Pavlova is a meringue-based dessert popular in Australia and New Zealand, and supposedly named after the Russian ballet dancer, Anna Pavlova. The outer shell is delightfully crunchy, the inside sinfully gooey. The meringue is covered with fresh whipped cream, which is topped with berries, lemon zest, and golden syrup.
Not only is pavlova super easy to make, it's the perfect summer dessert. Pavlova is a popular addition to the Christmas dessert table in the southern hemisphere where Christmas = summer weather. Since I live in the northern hemisphere, I like to make this red, white, and blue pavlova on the 4th of July.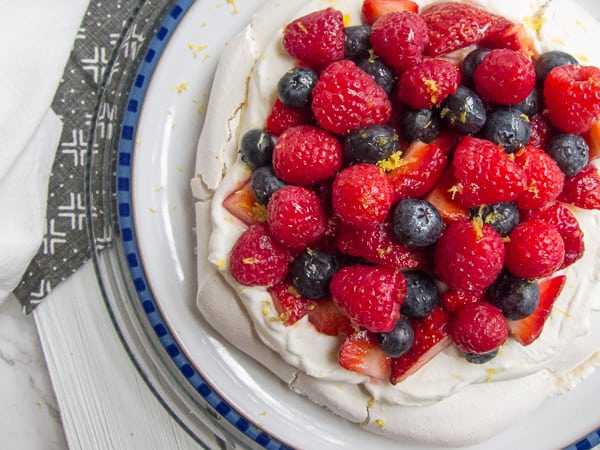 Tips for Making the Perfect Pavlova:
Make sure the bowl and beaters you use to whip the egg whites are super clean and dry. Otherwise your egg whites won't whip up very well.
Handle the baked pavlova very carefully! The meringue cracks easily. If it does crack, just smooth some whipped cream over it.
I love the sweet tart flavor the lemon zest and golden syrup add to the pavlova but both are optional. Speaking of golden syrup, you can buy it or make it at home. Click here to get my super easy golden syrup recipe.
How to Make Pavlova Dessert with Fresh Fruit
First you make the pavlova base, then you add the whipped cream, top with berries, then add the lemon zest and drizzle of golden syrup.
Click here to save this for later!
Click here for more Australian dessert recipes!
Or go right to the tutorial for Pavlova Fruit Wreath & Eaton Mess!