Strawberry Fool with Balsamic Roasted Strawberries
This article may contain affiliate links. See our disclosure link for more information.
Balsamic roasted strawberries take the standard light and creamy Strawberry Fool dessert up a delicious notch.
Quick and easy to prepare, Strawberry Fool with Balsamic Roasted Strawberries is the perfect no bake summer treat!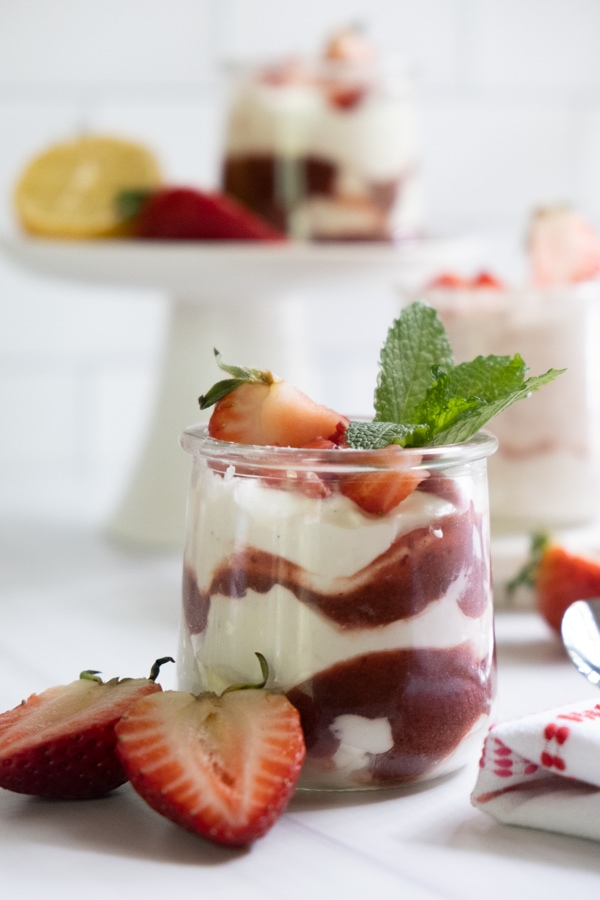 If you've never tried roasted strawberries with balsamic vinegar, you're missing out.
And if you've never tried those balsamic strawberries in Strawberry Fool, you're doubly missing out!

I'll be honest, I never thought the balsamic and strawberries combo sounded that good. Until I finally tried it! Now I'm kicking myself for not giving it a go sooner.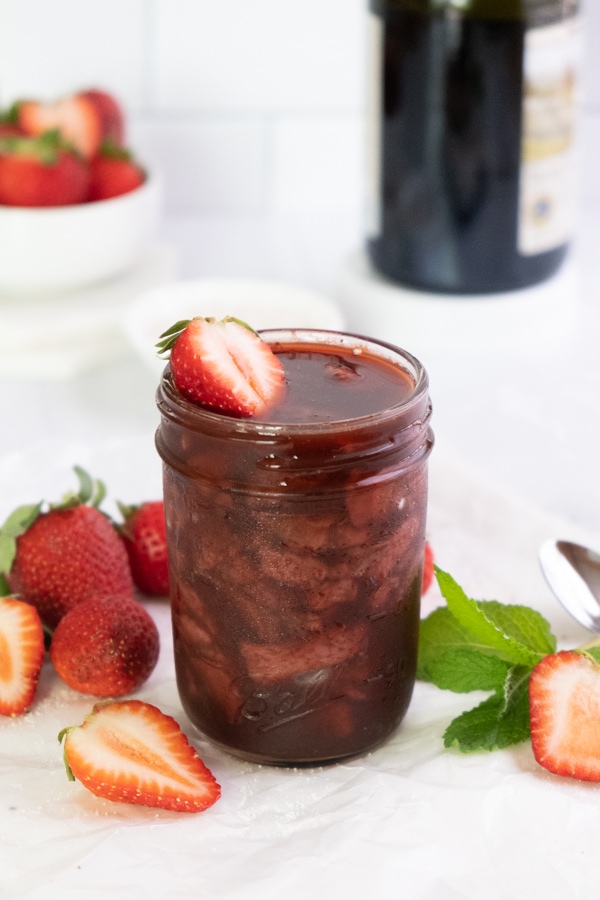 These oven roasted strawberries develop a deeper and more complex flavor from the balsamic vinegar but they don't have a strong vinegar flavor.
Roasting them with a little vanilla sugar creates a beautiful syrup that tastes amazing. You could also add a grind or two of black or pink peppercorns to the strawberries for more added flavor.
So if you've got older strawberries that need to be used up or don't look nice enough to serve, try roasting them. They'll keep in a sealed jar in the fridge for about a week.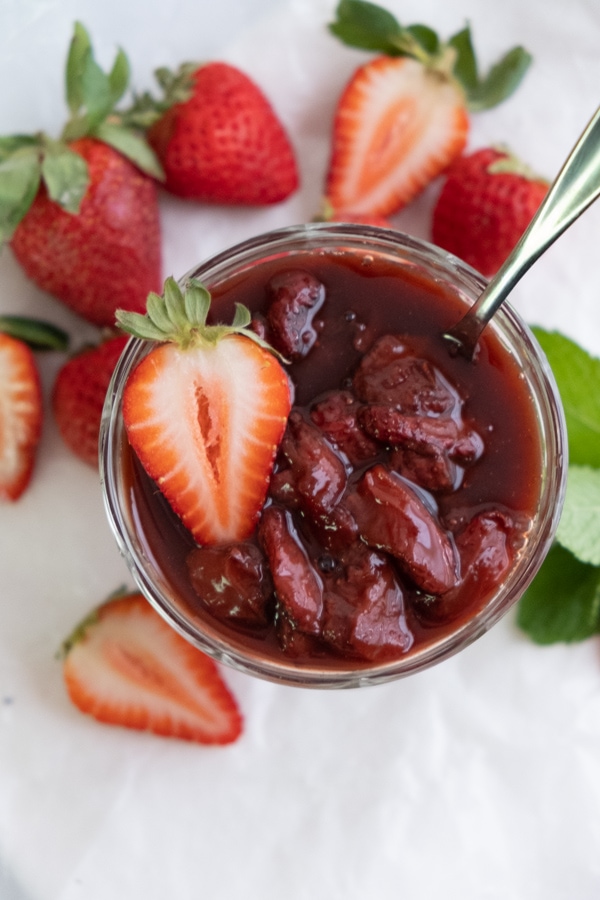 After making the roasted strawberries I wondered if fresh balsamic vinegar strawberries would be just as good?
Well…I tried making fresh balsamic macerated strawberries…but even using half as much balsamic vinegar on the strawberries, the vinegar flavor was way too strong for my taste.
Those strawberries might be good on a salad but I didn't like the flavor for dessert.
Maybe they'd be ok with much less balsamic (maybe a quarter of what's in the recipe below) and a little more vanilla sugar. For now, I'll keep roasting them!
What to Do With These Beautiful Roasted Strawberries
Whether pureed or whole, roasted strawberries are delicious as a topping on vanilla ice cream, Greek yogurt, Quark or vanilla pudding or custard.
I've also used them in a simple trifle, milkshakes, Strawberry Milk Tea, and in this super easy and super delicious Roasted Strawberry Fool.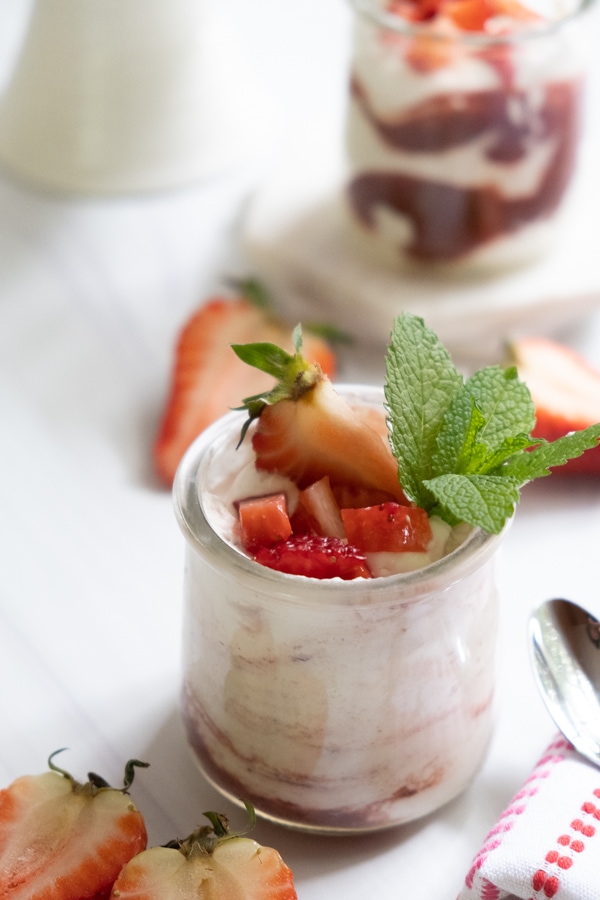 Fool (or Foole) is a traditional British dessert originally made with gooseberries and custard. Nowadays, most people combine fresh, stewed or roasted fruit with whipped cream.
I like to add a little Greek yogurt, Quark or mascarpone cheese to help stabilize the whipped cream and give it a little more heft.
One of the benefits of making Fool is that it's so flexible and adaptable! I like to puree my roasted strawberries for flavor and then add chopped fresh strawberries for texture.
Sometimes I fold the pureed and chopped strawberries into the whipped cream.
Other times I like to layer the whipped cream and pureed strawberries in individual glasses or jars (the jars in these photos are actually Yoplait Oui yogurt cups) and top with fresh chopped strawberries.
They'd also be delicious on my easy and authentic scones and clotted cream.
What You Need to Make Balsamic Roasted Strawberry Fool
Ingredients:
Ripe strawberries (fresh or frozen)
Vanilla sugar (or sugar + vanilla extract)
Salt (just a pinch)
Black or pink peppercorns (a couple grinds sprinkled over the strawberries, optional)
Balsamic vinegar (use the highest quality you can)
Heavy whipping cream
Greek yogurt (full fat), Quark or mascarpone cheese (for adding a little heft to the whipped cream)
Mint or crumbled cookies (topping/garnish, optional)
Kitchen Tools:
Mixing bowls
Scale/measuring cups & spoons
Baking pan and Silpat mat or parchment
Spoon
Spatula
Knife
Glasses or small bowls (for serving)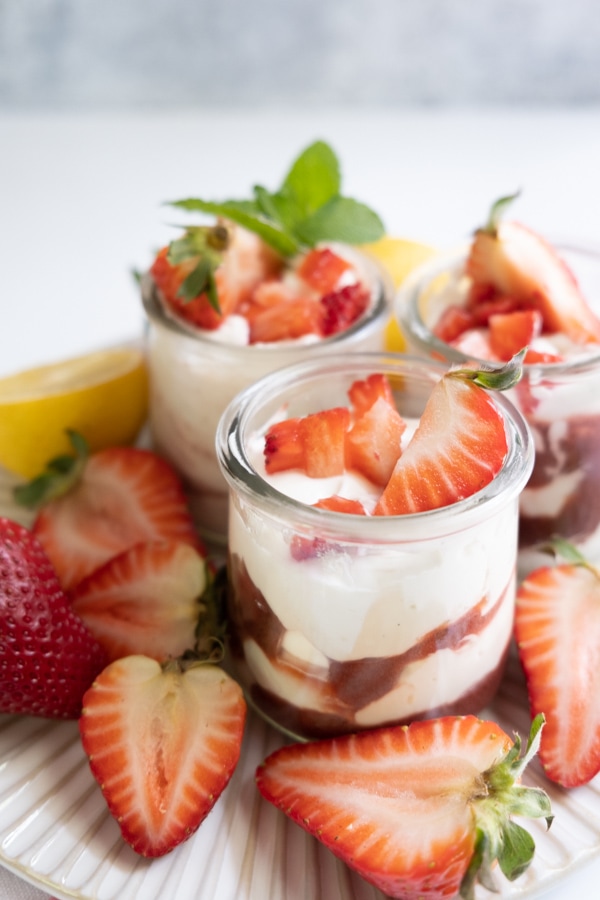 How to Make Strawberry Fool with Roasted Balsamic Strawberries
There are only a few steps in this easy recipe:
Roast the strawberries in the oven and let them cool. Set aside an hour or so for that.
Whip the heavy cream and add the Greek yogurt, Quark or mascarpone.
Puree the cooled balsamic strawberries.
Chop a few fresh strawberries and gather any toppings you want to add (e.g., fresh mint or crumbled cookies).
Fold the strawberry puree into the whipped cream or layer the cream and puree in glasses or small dishes and then top with chopped strawberries and any other toppings you wan to add.
You can make the roasted strawberries a day or two ahead and prepare the Fool several hours ahead. Keep the Strawberry Fool in the fridge until you're ready to serve.
You can store the balsamic strawberries in a jar in the fridge for up to a week. Note: when I first made these strawberries the vinegar flavor was slight but it got stronger the longer they sat in the fridge.
Recipe Notes and Variations
You can serve the Fool family-style in one large bowl or in individual glasses or cups.
You can use Quark or mascarpone cheese instead of Greek yogurt. Or just use all whipped cream.
You can fold the chopped strawberries into the whipped cream or use as a garnish on the top of the dessert.
If you want just a hint of balsamic flavor, add 1 TBSP of vinegar instead of 2 when roasting the strawberries.
If you want plain Strawberry Fool, you can roast the strawberries without the balsamic vinegar.
You can garnish your Fool with fresh mint, chopped nuts or crumbled cookie.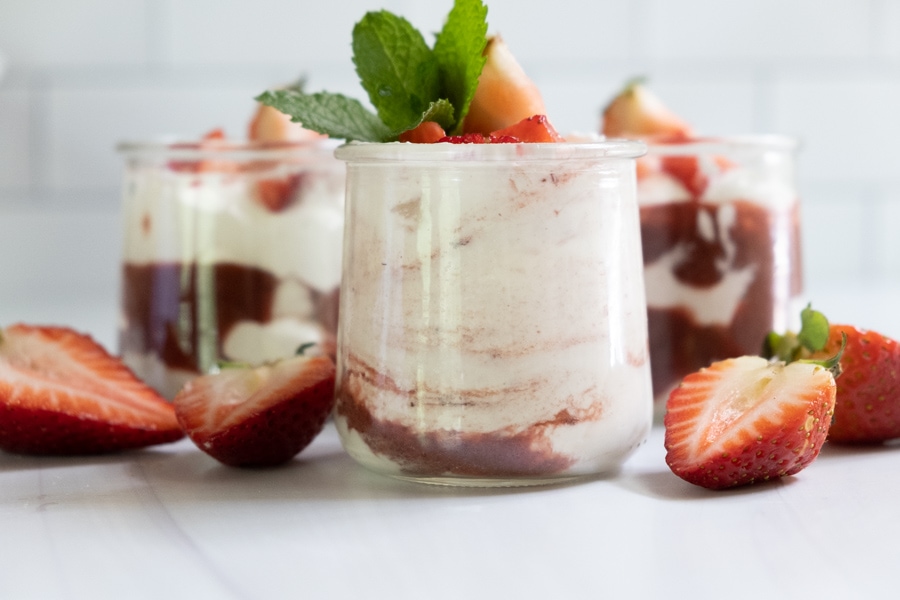 Strawberry Fool with Balsamic Roasted Strawberries
More Tips for Making and Serving Roasted Strawberries and Strawberry Fool
You can make homemade vanilla sugar for your roasted strawberries. Or use plain white sugar and then add a teaspoon of vanilla extract to the strawberries once they've cooled. You could also use brown sugar (skip the vanilla).
Roasted strawberries make a delicious topping for pancakes, French toast, waffles, a mille crepes cake, pavlova or cheesecake.
If you puree the roasted strawberries, you'll have a delicious strawberry sauce to use as a topping or in drinks like Strawberry Boba Tea (Bubble Tea).
If you're looking for a light yet decadent breakfast or brunch side-dish, serve Strawberry Fool. It's not something you'd want to indulge in every day, but it's a lovely treat.
You can also make a tasty Fool by adding homemade lemon curd or German plum butter.