Apple Spice Birthday Cake with Brown Butter, Golden Syrup, Mascarpone Swiss Meringue Buttercream
This article may contain affiliate links. See our disclosure link for more information.
I don't make too many layer cakes these days but I do make one each year on my birthday (and my husband's if he wants one). I dream up a flavor profile and then go search for recipes. This year, I craved apples and spice. The cake I made was SO incredibly good, I decided to snap a few quick photos and share it with you!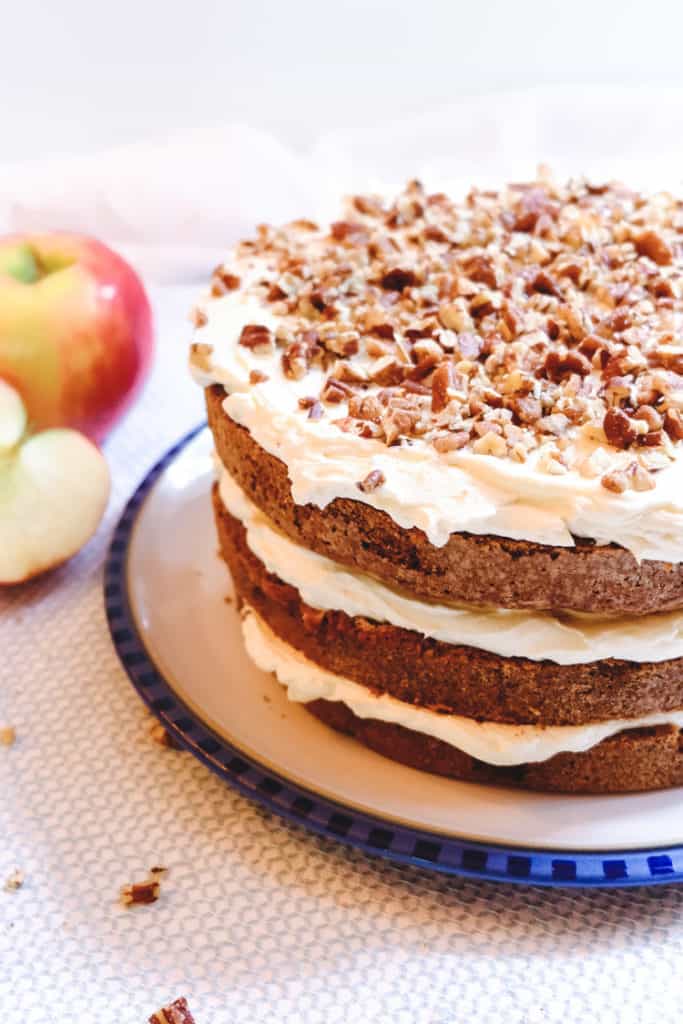 But first, a funny story. In college I had a boyfriend who made the BEST apple crisp and apple cake. Anytime he made either one, I devoured it. About a week after we broke up, I realized that I'd never gotten the recipe for either one. I was so bummed! We were no longer on speaking terms, though, so I had to let go of ever getting those delicious apple dessert recipes.
Womp womp. Sad face.
Over the years I learned how to make a killer apple crisp but could never get the apple cake right. Until now! This apple cake isn't exactly like my college boyfriend's (his was more of loaf cake or a bread, if I remember correctly…it's been a couple decades) but this cake tastes as good as I remember his cake tasting. Maybe even better. Regardless, I'm happy to finally have a good apple cake recipe after all these years of apple cake failure! Ha!
I ended up making this recipe twice because it was so good. First as a layer cake with icing for my birthday….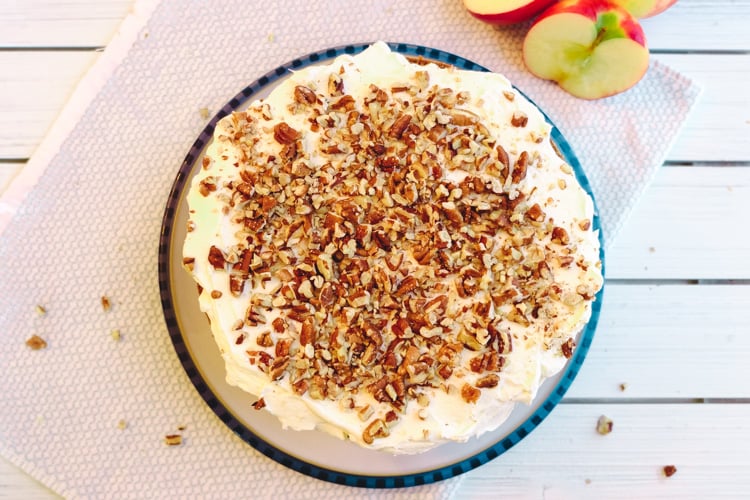 Then as a loaf cake with pecans sprinkled on top…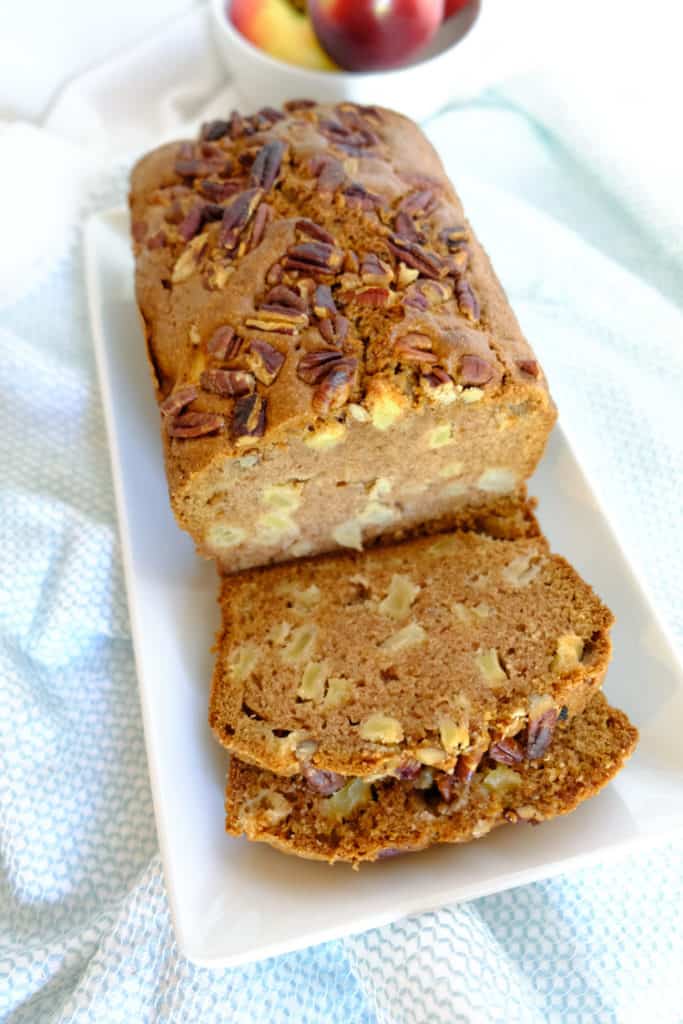 Whether you make this cake as a layer or loaf cake, with or without icing, I'm sure you'll love it!
About the Apple Spice Cake
The first cake I made was a 3-layer apple spice cake (I got the recipe from Preppy Kitchen and didn't change a thing the first time I made it). I wasn't sure the cake would turn out – the recipe called for yogurt, vegetable oil, and coconut oil (no butter), I baked all of the batter in one round baking pan (an 8 inch "double size" cake pan), and I guessed at the baking time (40 minutes).
Well, it did turn out! The cake was a little on the dense side but I thought it was a good texture with the apples (and I'm not a huge fan of airy cakes). The spice mix gave the cake such a delicious flavor. I'm much more of an icing over cake kind of person but I the cake flavorful enough to enjoy all by itself.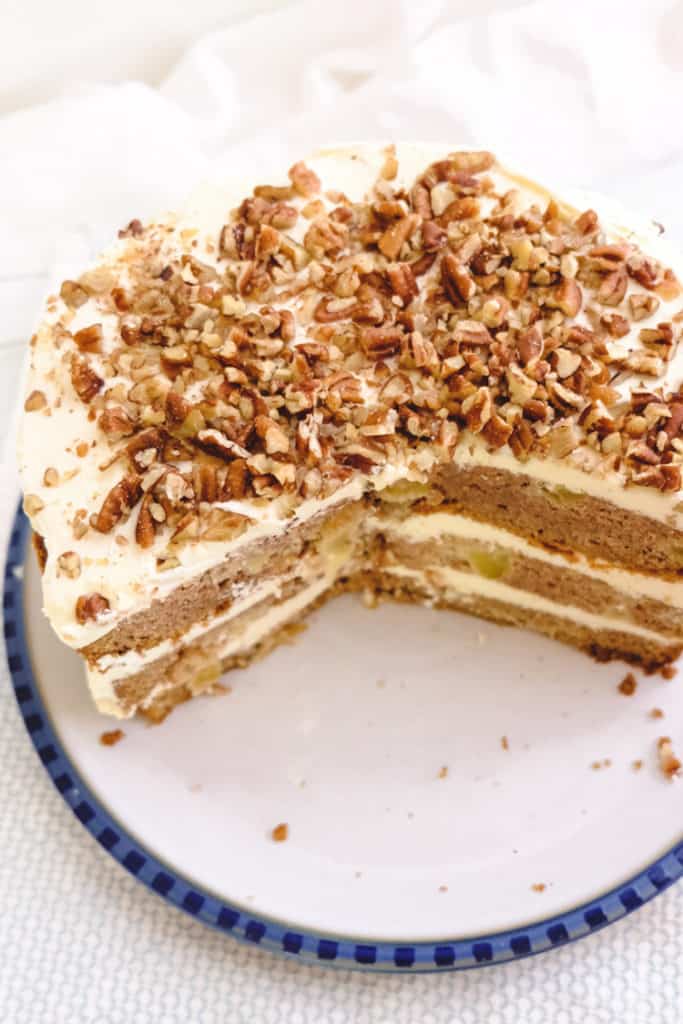 About the Swiss Meringue Buttercream
Since it was a birthday cake, I decided to add icing. Swiss meringue buttercream is my favorite type of icing so I opted for that over the American buttercream Preppy Kitchen used (I also left off the caramel sauce he poured over the top of his). But I did use his idea of adding brown butter. I also added golden syrup for a bit of flavor.
I debated between using cream cheese and mascarpone in the icing, and decided on mascarpone because I wanted the brown butter and golden syrup flavors to shine. It was a good choice, as I think the cream cheese flavor would have dominated, whereas the mascarpone toned down the sweetness a bit. Scroll down for the recipe.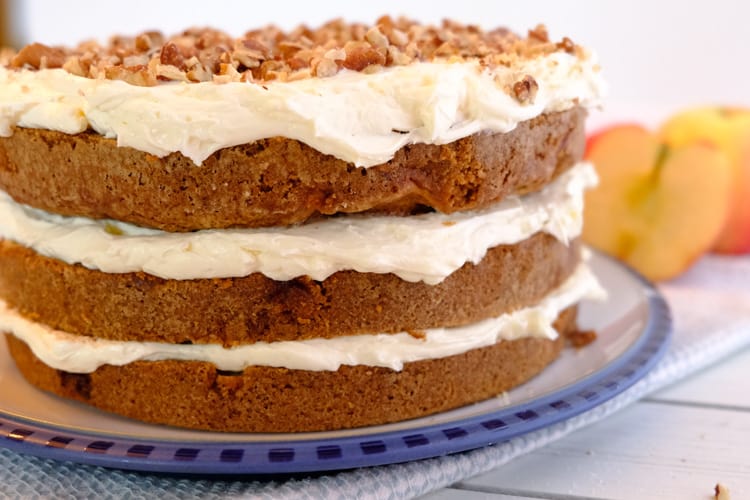 By the way, did you know that you can make homemade mascarpone with heavy cream and lemon juice? It's now on my list of things to make this month, so I'll let you know how it goes! (In the meantime, why not try your hand at making homemade creme fraiche, German quark, Icelandic skyr, European cultured butter or clotted cream?)
Icing, Assembling and Decorating the Layer Cake
I sliced the cake into 3 layers and filled each layer with the Swiss meringue buttercream. I had enough icing to cover the top and the sides but I decided to leave the sides unfrosted because I liked the look. That was a smart decision because three layers of icing was just right.
I added toasted chopped raw pecans (unsalted) to the top for decoration. I'd considered adding them to the cake batter or in-between the layers but I'm glad I left them just for the top of the cake. Not only did it add a little crunch, I only had 5 minutes to frost, decorate, and snap a few photos of the cake, and simply sprinkling pecans on the top as decoration made that possible! 🙂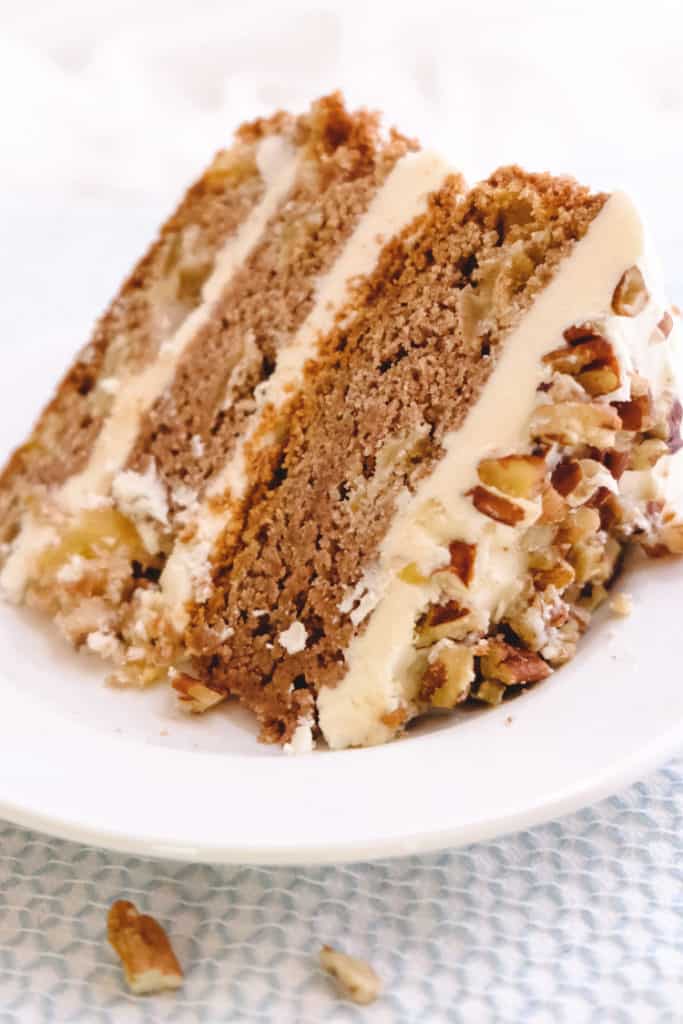 A Few Baking Notes & Tips
I made the layer cake over 2 days:
Day 1:
– Made cake, let it cool, wrapped it well and stored it in the fridge.
– Made brown butter, let it cool, stored it in the fridge.
Day 2:
– Made buttercream, let cake warm to room temperature, cut into 3 layers, iced, and decorated cake.
– Stored cake in the fridge but let it come to room temperature before serving.
You can make the icing a day or two in advance but you'll need to let it warm to room temperature and then rewhip it. To play it safe, I like to make Swiss meringue buttercream just before I want to ice the cake. Make sure your butter is soft (but not melted!) before making the icing. I leave mine on the counter until it's at room temperature. If it looks curdled once you put the butter in, keep whipping it, and it will come together. Be sure to let the cake and icing warm to room temperature before serving.
Apple Spice Loaf Cake
The second time I made this cake I altered the recipe a bit to experiment. This time I used brown butter instead of coconut oil, 1/2 cup of brown sugar + 1 cup white sugar, and baked it in a loaf pan. I also sprinkled pecans on top of the cake and didn't use any icing. It baked at 350F for about 60 minutes. OMG, so good! Highly recommended.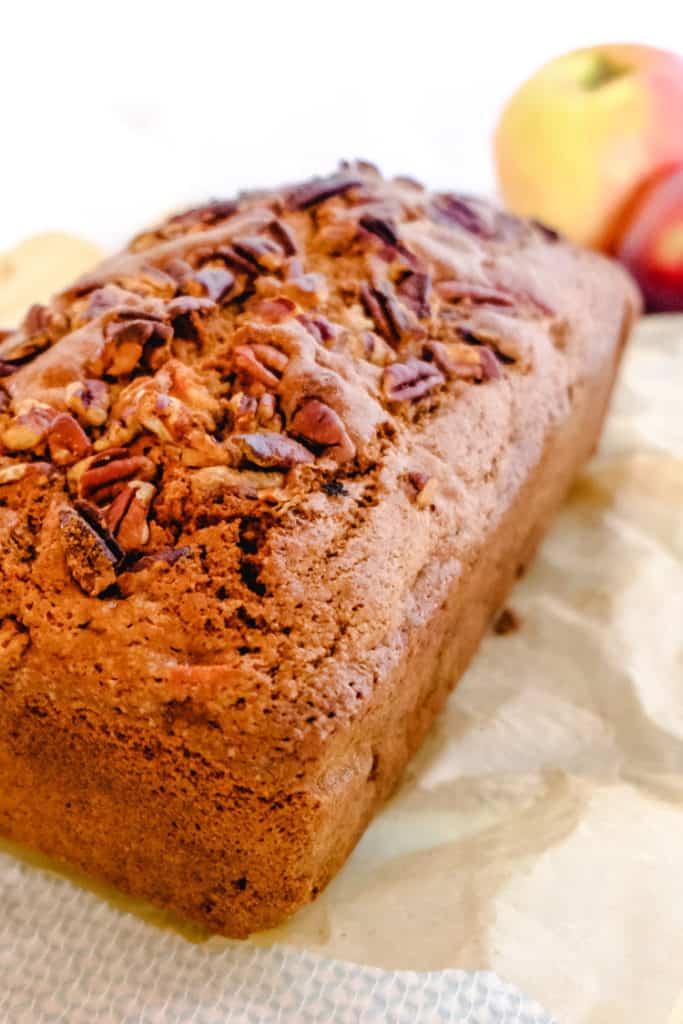 If you're looking for a delicious apple spice cake for fall, I highly recommend this one from Preppy Kitchen. Use my brown butter, golden syrup, mascarpone Swiss meringue buttercream with toasted pecans or go with his brown butter buttercream with caramel sauce. Or eat the cake all by itself! You really can't go wrong. Enjoy!