White Chocolate Christmas Chex Mix With Golden Syrup
This article may contain affiliate links. See our disclosure link for more information.
If you like snack mixes, you'll love this easy and delicious, sweet and salty Christmas chex mix with white chocolate, pretzels, pecans, and Golden Syrup!
It's both a great treat for the holiday season and the perfect dessert or snack any time of year.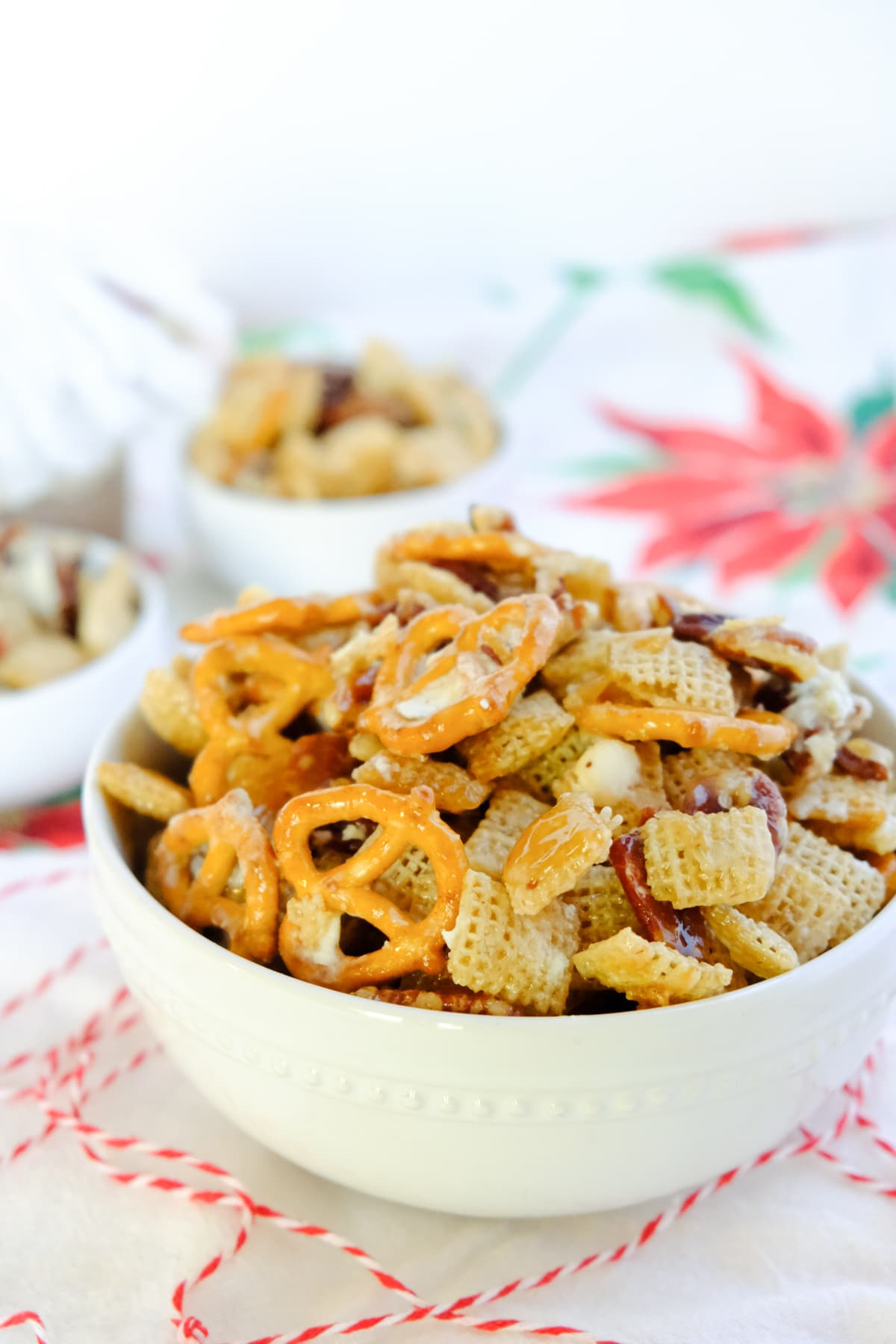 About This Recipe
When I discovered Golden Syrup several years ago, I wanted to use it on and in everything because it has such a gorgeous caramel toffee flavor. Then, when I started adding it to my holiday chex mix, I couldn't get enough of it!
The Golden Syrup in this chex mix takes this simple snack to a whole new level. If you like sweet and salty chex mixes but are looking for something new and a little different, give this one a try.
You can whip up this sweet treat in just a few minutes using a few simple ingredients. One of the best things about this mix is that it's perfect for both the holiday season and all year long.
You can also easily double or cut the recipe in half. I love the combo of pretzels, pecans, white chocolate, and rice chex with the Golden Syrup but you can adjust the ingredients to your tastes. I've included some ideas below.
I often make this sweet snack mix along side my Speculaas Spice Muddy Buddies mix (some people call this kind of chocolate covered chex mix puppy chow).
This version (see photo below) is another delicious Christmas mix made with homemade Dutch Speculaas Spice mix. Both mixes use the same "chex" cereal so you can easily make both recipes with just one box of cereal in about 30 minutes. This version is perfect for the holiday season because it uses holiday spices. It's also a great option if you're craving chocolate.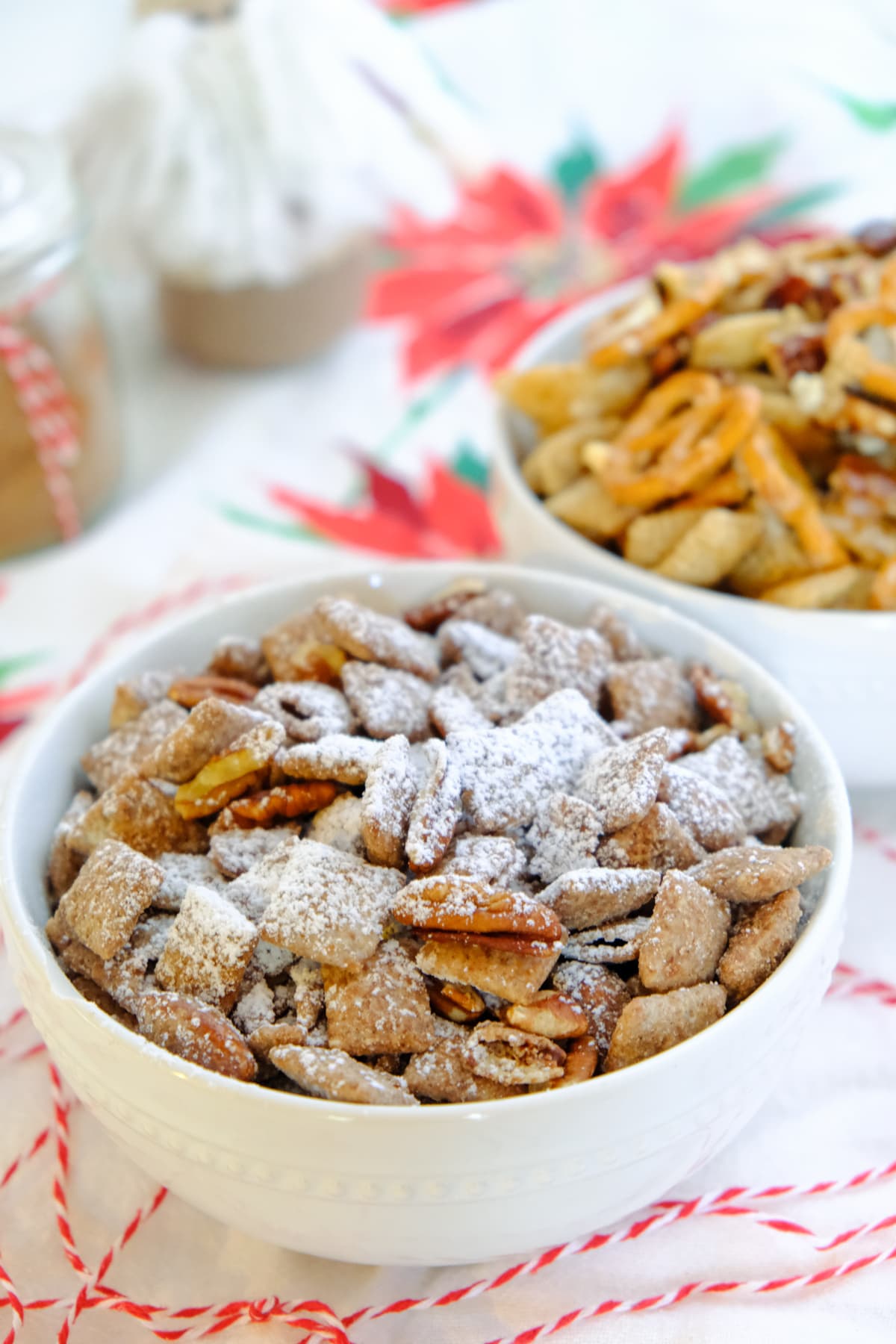 Why You'll Love This White Chocolate Party Mix Recipe
You can whip up batch in about 10 minutes.
This Christmas chex mix recipe is the perfect combination of sweet treat and salty snack.
This recipe uses simple ingredients, most of which are likely already in your pantry.
The one exception is probably Golden Syrup but that's easy to make at home or you can buy a bottle on Amazon. You've got to try it because it's so good!!
There are only a few steps to the recipe. And you don't need to melt or use melted chocolate – just a bag of white chocolate chips. That's one less thing to do!
It's the perfect snack for Christmas time. Bring a batch to holiday office parties, snack on it while watching cheesy holiday movies on Netflix or add it to you Christmas Eve or Christmas Day buffet. This mix is always a hit when I make it!
This white chocolate snack mix makes a great gift! Place in festive cellophane bags, call it your special Christmas Snack Mix, and add a cute ribbon or gift tag.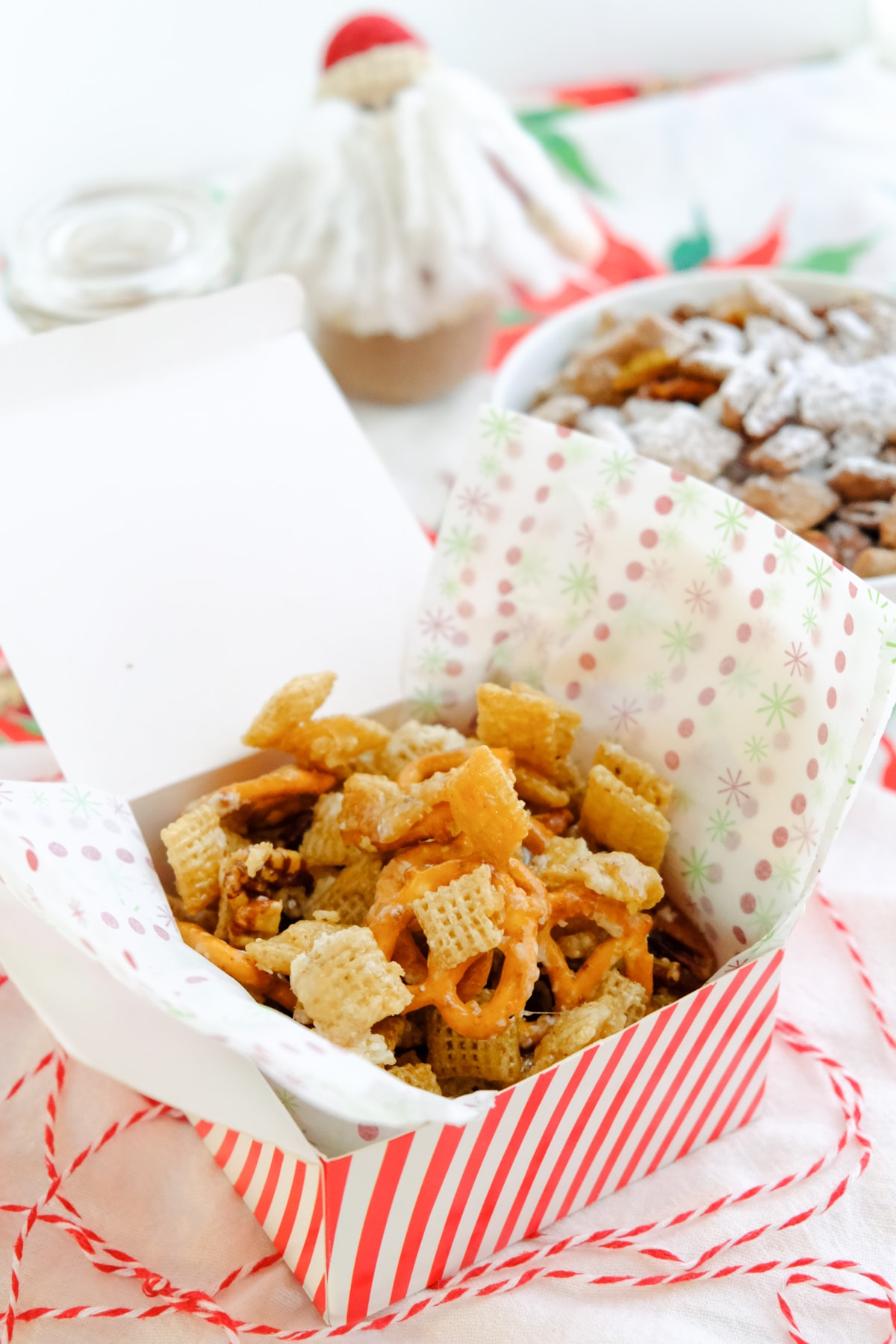 What You Need to Make Golden Syrup Chex Mix
Ingredient List
Rice, corn or wheat chex type cereal (doesn't matter which brand you use)
Golden syrup (make it at home with my easy recipe or buy a bottle of Lyle's here on Amazon)
Butter (if you use unsalted you might want to add a bit more salt to the mix)
Pecans (salted)
Mini pretzels (or break up regular pretzels into smaller pieces)
Bag of white chocolate chips
Brown sugar
Vanilla
Salt
Kitchen Tools:
Medium size saucepan (or separate microwave-safe bowl if you use the microwave instead of the stove)
Large bowl
Spatula
Baking pan or cookie sheet
Silicone mat or parchment paper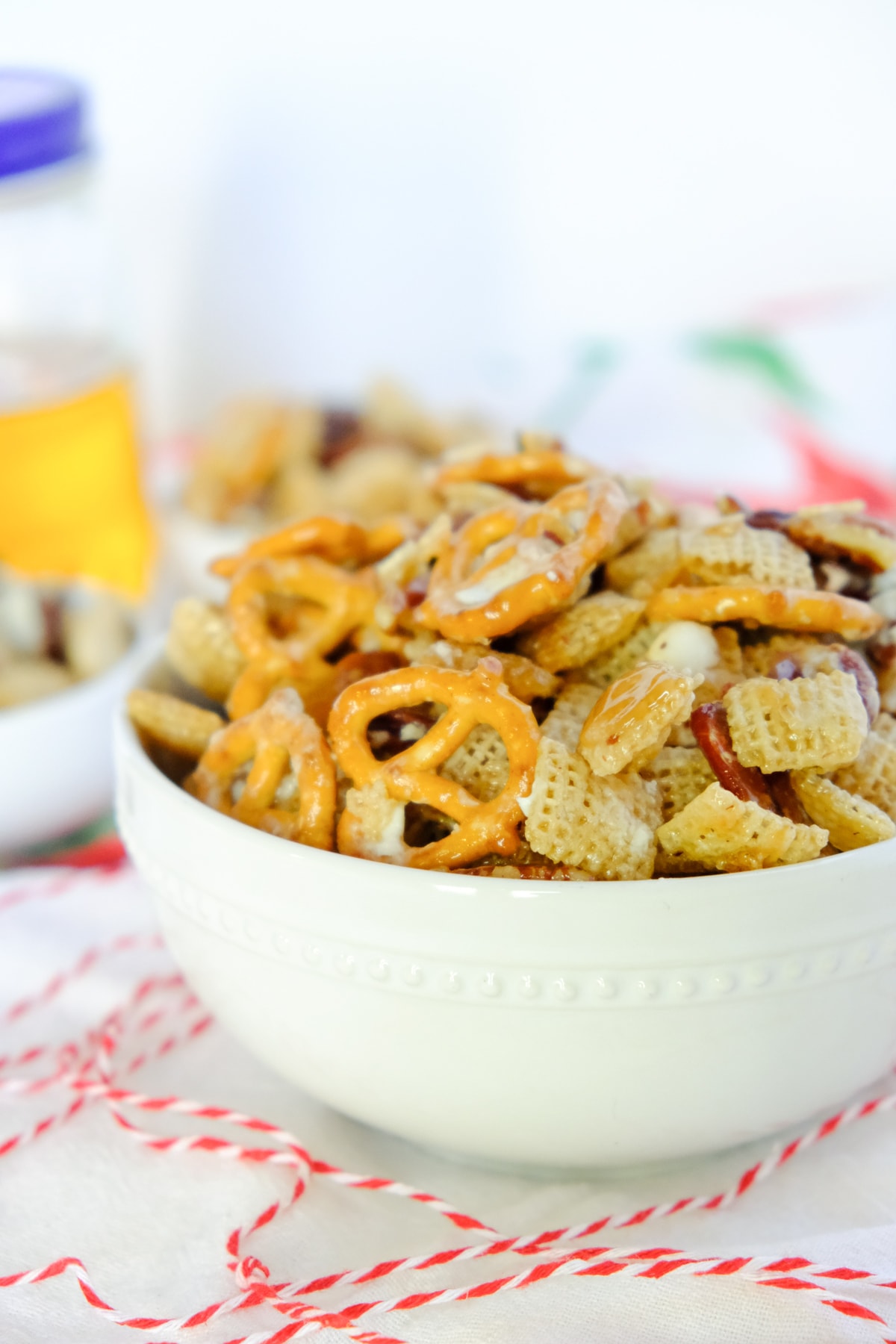 ❓FAQ
Can I make this chex mix in the microwave?
I prefer to make it on the stove but you can use the microwave if you prefer.
What kind of chex cereal do you use?
I picked up a large box of "chex" cereal at Aldi. You can use whatever brand you prefer. I used rice chex but corn chex or wheat chex works, too. Cinnamon flavored chex would add a lovely flavor.
Can I double the recipe? Or make half?
Yes! Just double all of the ingredients to make a double batch. Or make half a batch if you want a smaller amount.
Do I need a slow cooker or double boiler?
Nope – you don't need either one to make this white chocolate chex mix recipe! Your stove or a microwave will work just fine.
What is Golden Syrup?
It's a buttery, caramel, toffee flavored syrup popular in the UK and elsewhere (see photos below). It's SO good and adds a delicious flavor to anything you add it to.
It's often confused with honey, because they're similar colors and consistencies, but they have very different flavors (and Golden Syrup is vegan).
You can make Golden Syrup at home using sugar, water, and lemon juice or you can buy a bottle of it on Amazon. Once you try it, you'll want to use it in and on everything!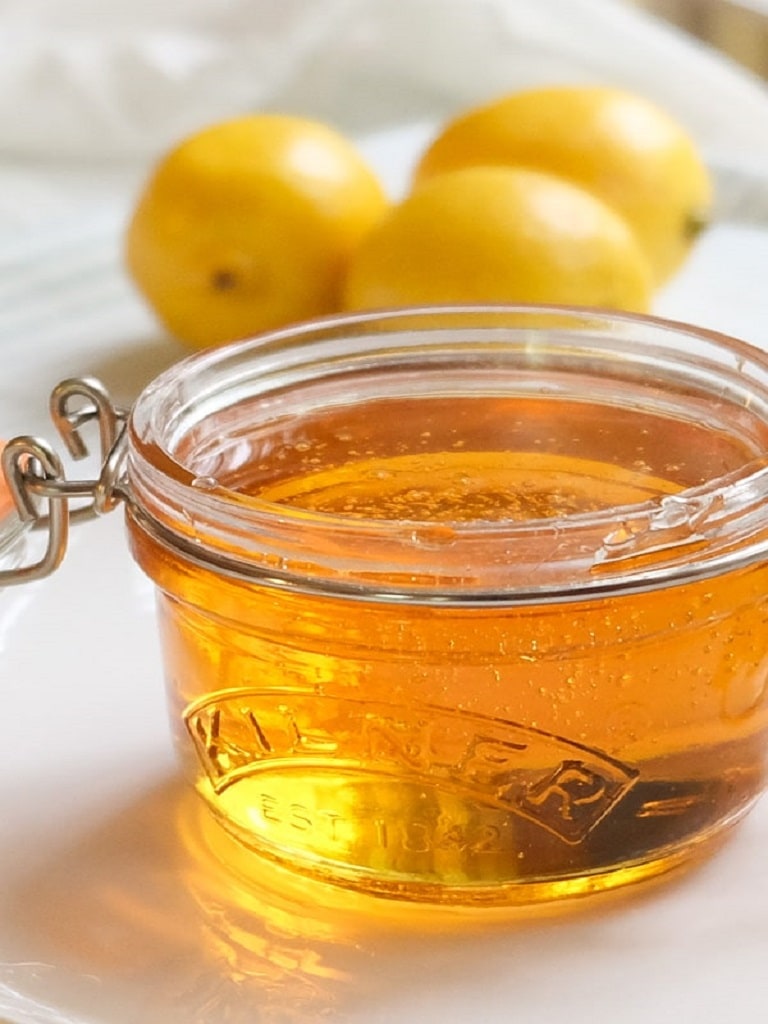 ? Recipe Variations, Notes & Tips
Use salted cocktail peanuts instead of pecans. Salted cashews or pistachios could be good, too.
This mix is on the sweet side. To make it less sweet you could add the pecans after you bake the mix. That way the pecans won't be quite as covered with the golden syrup mix. Make sure the pecans are already toasted and salted. Make sure you have enough salt in the mix, too. Use salted pretzels and salted nuts, and taste the Golden Syrup mix to see if you need a little more salt. If you've already mixed the everything together and you then realize it needs more salt, just sprinkle some on after you've spread the snack mix onto a baking pan but before you've put it in the oven to bake. Just taste-test as you make it and adjust as necessary. This is a very flexible and forgiving recipe!
Add red and green m&ms (milk chocolate m&ms….yum) during the holiday season instead of white chocolate chips.
Use wheat chex or cinnamon chex instead of rice or corn chex. Or use a combo of 2 or 3.
If you don't have mini pretzels, break regular sized pretzels into smaller pieces.
Place this snack mix in cute plastic bags or boxes and give as gifts to family members and friends.
What Else Can You Make With Golden Syrup?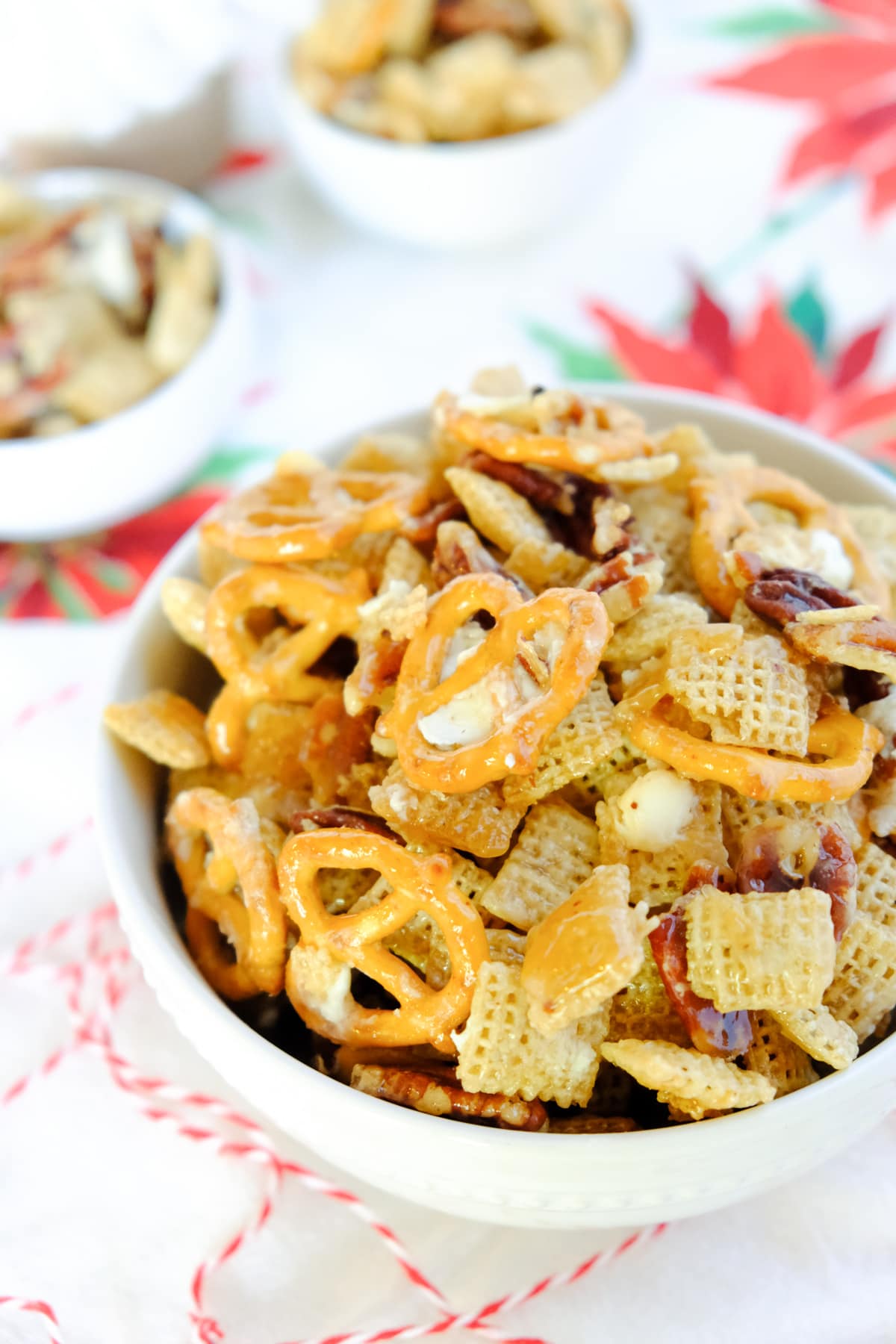 How to Make White Chocolate Christmas Chex Mix With Golden Syrup
Note: if you use homemade Golden Syrup, make it 1-2 days before you want to make this chex mix.
Preheat your oven to 350F/176C.
Place dry ingredients (chex cereal, pretzels, pecans, and white chocolate baking chips) in a large mixing bowl. Set aside.
Melt butter, Golden Syrup, and brown sugar in a saucepan over medium low heat (or in the microwave using a microwave safe bowl in 10-second increments). Stir until dissolved.
Take off heat, add vanilla and salt, and stir until well combined.
Pour Golden Syrup mixture over chex cereal mixture and mix well with a rubber spatula — do this carefully so you don't crush the cereal!
Spread chex mix on a lined sheet pan and bake at 350F/176C for about 5 minutes.
Take out of oven and let cool. You may need to break up the pieces a bit before serving.
Store homemade chex mix leftovers in an airtight container at room temperature.
Be sure to check out my Speculaas Spice Muddy Buddies recipe – it's perfect for the holiday season!