The 5 Best Sweets in Amsterdam
This article may contain affiliate links. See our disclosure link for more information.
Amsterdam is one of my favorite cities in Europe, with so many awesome Dutch sweet treats to try. So I created a sweet walking tour for you! Now you'll know where to find the best after dinner desserts and anytime of day sweet treats in Amsterdam while seeing the sights.
Click Here to Pin this for Later!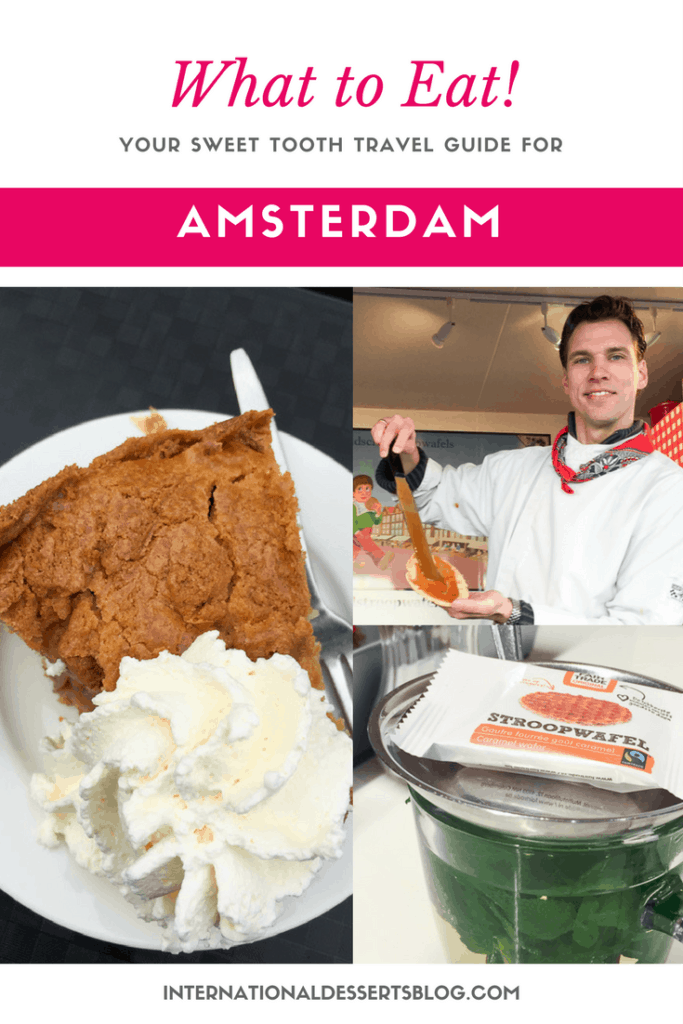 Amsterdam Dessert Guide
Sweets Tour Stop #1: Winkel 43 for the best appeltaart in Amsterdam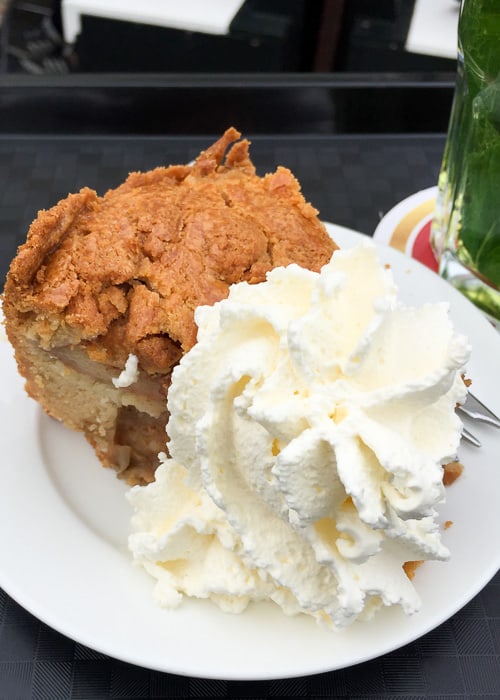 Let's start our tour today with a slice of seriously amazing Dutch appeltaart (go on, make it your breakfast, it is chock full of apples, after all)! Dutch appeltaart (apple pie) has a thick and buttery, tender yet crunchy almost cake-like crust and is uniquely flavored with a traditional Dutch spice mix called Speculaaskruiden (which includes flavors like cinnamon, clove, ginger, cardamom, anise, and more). Dutch appeltaart is nothing like American apple pie or even the Dutch apple pie you find in the US.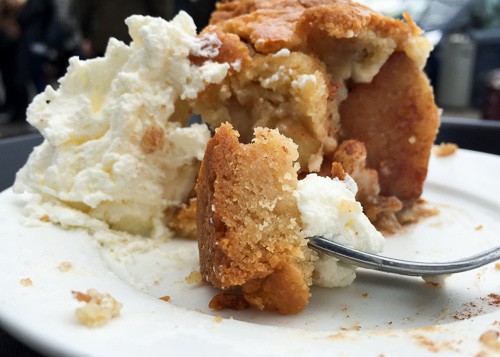 You can find appeltaart all over town but the appeltaart at Winkle 43 in the trendy Jordaan neighborhood is the best appeltaart in Amsterdam. Hand down. I went there a few months ago on the recommendation of a local friend and I instantly became a fan. It's so good!
I asked around to see how other travelers rate Winkel 43 and here's what Lia of Practical Wanderlust told me:
"By far the best apple pie in Amsterdam is Winkel 43. It's about 5x as large as a slice of apple pie in the States, with a thick, chewy crust and topped with a huge dollop of fresh, fluffy whipped cream. We've never had apple pie this good in our lives. From the first bite of deliciousness, we were hooked. We visited Amsterdam for a week and went back to Winkle 43 more times than I care to admit. It's that good!"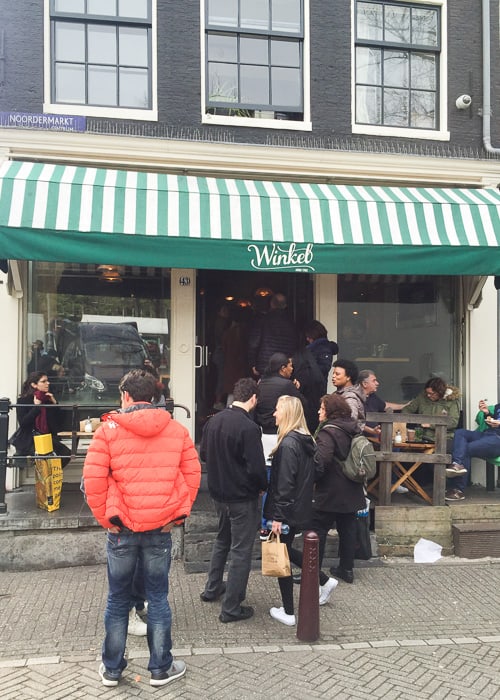 Winkel 43 is popular with both tourists and locals, so be prepared to wait in line for your appeltaart. But it's absolutely worth the short wait, and the line moves quickly. You can order coffee with your appeltaart but I recommend the fresh mint tea (see below).
Winkel 43 has both indoor and outdoor seating. The afternoon I was there it was super busy and not one table was open, so I stood eating off my tray for a few minutes. Fortunately, a nice family made space for me on a bench. If it's busy, ask to join a table and make some new friends!
Winkel 43
Location: Noordermarkt 43, 1015 NA Amsterdam (About 10 minutes from the Anne Frank House)
Tram: Take 3 or 10 and stop at Marnixbad
Hours: 8am – 3am
Phone: 31 20 623 0223
Sweets Tour Stop #2: Pannenkoeken (Pancakes)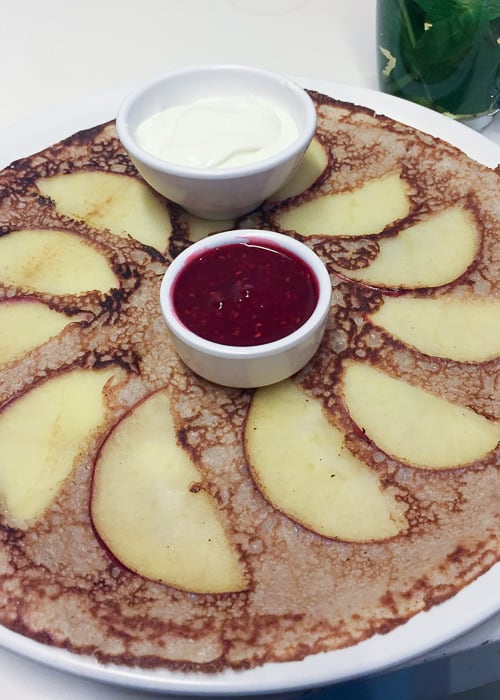 Somehow I managed to visit Amsterdam several times before ever trying a Dutch pancake. I don't want you to make the same mistake, so pancakes are our second stop on this dessert tour!
When I was in Amsterdam a few months ago I decided to make up for lost pancakes by stopping by the Pancake Bakery on my first day back in Amsterdam and Pancakes Amsterdam on my last day. The pancakes were delicious at both places.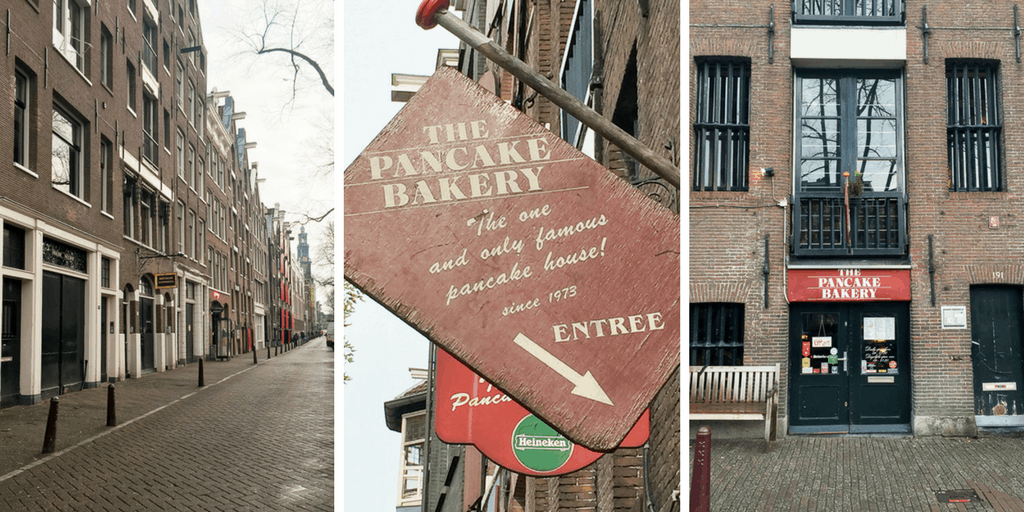 Dutch pancakes are large and come in both savory and sweet flavors. But they're not breakfast food! Pancakes are often eaten for lunch, dinner or dessert. Since I stopped by The Pancake Bakery on Prinsengracht at dinner time, I ordered a mushroom, turkey, and cheese pancake and it was amazing. It really hit the spot after nearly 24 hours of travel.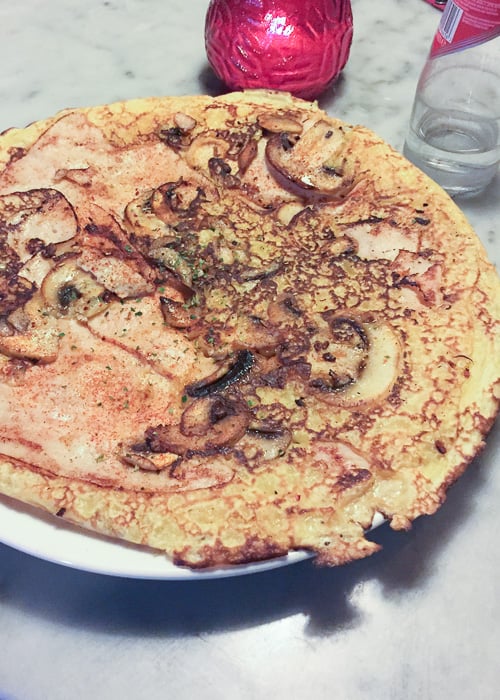 I know this is a dessert blog, but I just had to mention the savory pancake – do try one! And from what Dutch friends have told me, the best combo is a savory bacon pancake topped with sweet stroop syrup. If you like to combine your sweet and savory, definitely try that one!
The Pancake Bakery is on the touristy side but if you're visiting Amsterdam you are a tourist so why not embrace it and enjoy a delicious pancake at a restaurant that offers nearly unlimited pancake options. Plus, the restaurant is centrally located just down the street from the Anne Frank House.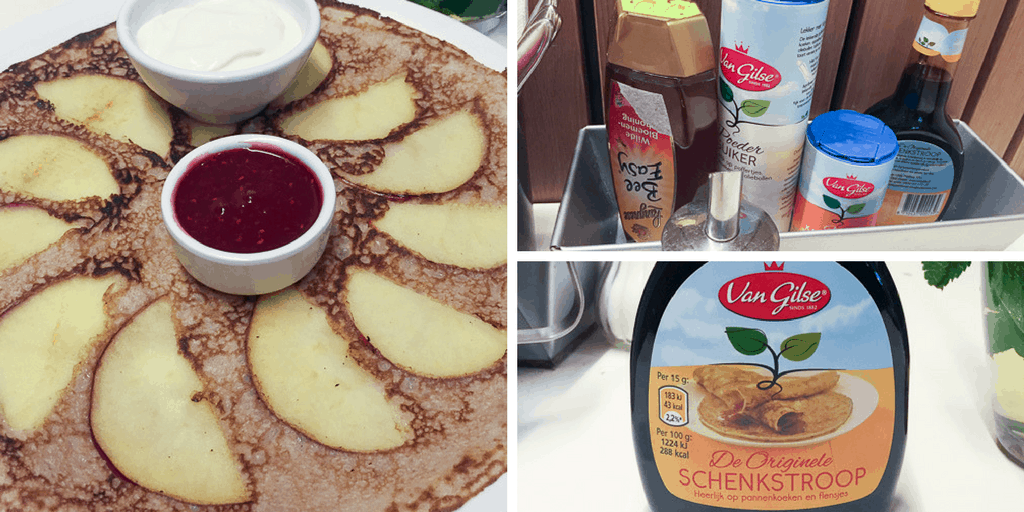 For my dessert pancake I went to Pancakes Amsterdam on Berenstraat (they also have locations on Prinsengracht and Prins Hendrikkade in the Red Light District). I had to wait a few minutes to get a table in their cute and cozy cafe but it was worth the short wait.
I ordered a pancake with apple, creme fraich, raspberry puree, and fresh lemon. I highly recommend that combination but they have so many options to choose from – or you can create your own. You can also order a plain pancake and smoother it in the toppings you'll find on your table – honey, powdered sugar, and the famous stroop syrup.
Have you ever tasted stroop? It has a kind of caramel molasses flavor. If you fall in love to stroop like I did, grab a bottle at your local Albert Heijn supermarket to bring home (just be sure to wrap it in a plastic or ziplock bag).
Both the Pancake Bakery and Pancakes Amsterdam are within a few blocks of each other. Why not have pancakes for lunch after visiting the Anne Frank House or Westerkerk?
The Pancake Bakery
Location: Prinsengracht 191 1015 DS Amsterdam
Tram: 13 or 17, Westermarkt stop
Tel. 31 20 625 13
Hours: Daily from 9:00am – 9:30pm
They offer gluten free Dutch pancakes.
Pancakes Amsterdam
Location: Berenstraat 38, 1016 GH Amsterdam (they also have a location next to the Anne Frank House and on in the Red Light District)
Tram: 13 or 17, Westermarkt stop
Tel: 31 (0)20 528 97 97
Hours: Daily from 9:00am – 6:00pm.
They have gluten free Dutch pancakes. Got an iAmsterdam card? You'll get 25% off their breakfast menu!
Sweets Tour Stop #3: Fresh Mint Tea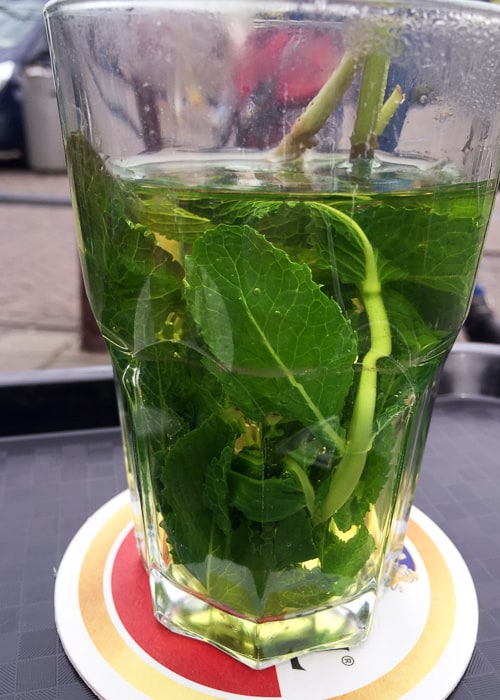 Fresh mint tea is a Dutch cafe staple! If you like mint, you've got to try it. It's the best. And it's so simple: fresh mint steeped in hot water (with honey if you like it sweetened). Just try it and you'll see why everyone raves about it.
Mint tea pairs very well with appeltaart and pancakes but it's also refreshingly satisfying on it's own. Especially on a chilly, rainy day. Where to find Dutch fresh mint tea in Amsterdam? Everywhere! You can find it in nearly every cafe and restaurant. So when you're ready to rest your feet, find a cute cafe and order yourself a glass. You might even get a mini stroopwafel to enjoy with your tea (always a plus)!
I love making a glass of mint tea at night while relaxing in my AirBnB. Click here to learn how to make the perfect Dutch Fresh Mint Tea.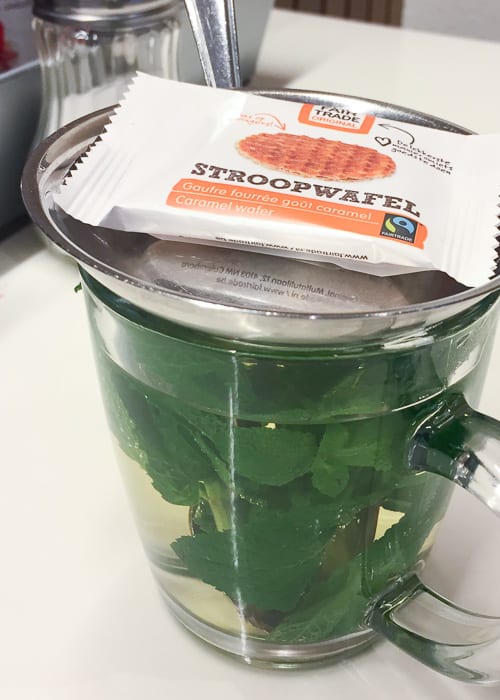 Sweets Tour Stop #4: Van Stapele Chocolate Cookies (aka, the BEST chocolate cookies ever)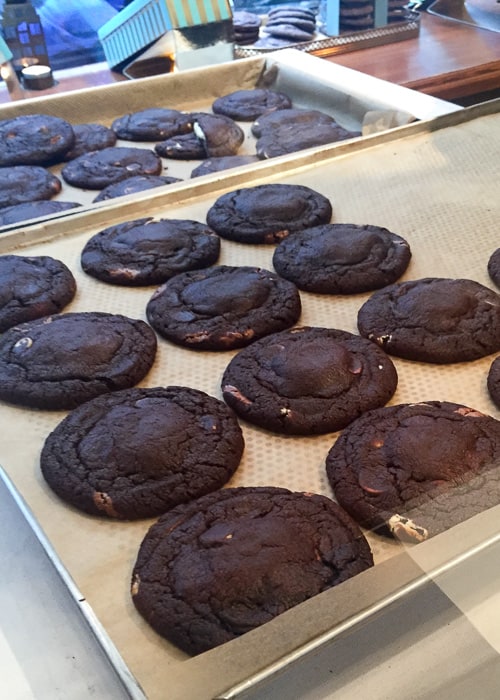 Like chocolate? Like cookies? Be sure to stop by Van Stapele Koekmakerij when you need a sweet pick-me-up!
Van Stapele only serves one thing: a Valrhona chocolate cookie with a gooey white chocolate center. You know how some cookies just taste sweet? What I love about their cookies is that they actually taste like chocolate. The white chocolate center sweetens them up and gives the cookie a nice texture.
You may have to wait in line for a cookie, but since they bake batches throughout the day, you're rewarded with hot chocolate cookie fresh out of the oven. Van Stapele cookies are absolutely worth the wait!
Van Stapele is a tiny shop in an alley off of Spuistraat. You can call ahead to make sure they still have cookies or to reserve some (see phone number below). If you order several cookies at one time, they'll pack them into a cute little box (what a great gift). I ordered three cookies and as soon as I tried one that evening I wished I'd ordered a box to bring home. I've learned my lesson!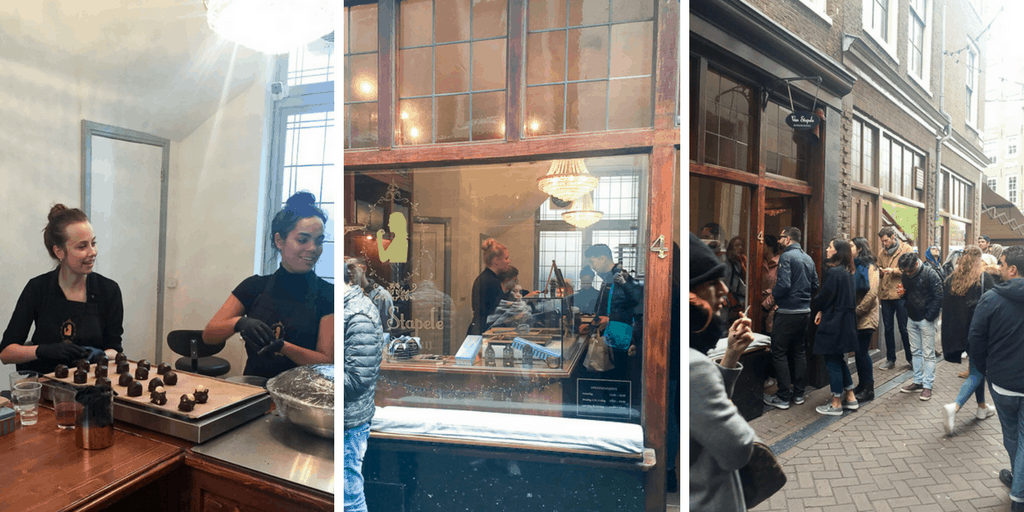 Van Stapele Koekmakerij
Location: Heisteeg 4 1012 WC Amsterdam
The tiny store is in an alley off of Spuistraat.
Tram: Take 1, 2 or 5 to Spui
Tel: 31 65 424 197
You can call ahead to reserve cookies for pick-up or to make sure they're still baking fresh cookies when you plan to stop by.
Hours: Monday 12:00pm – 6:00pm
Tuesday – Friday 10:00am – 6:00pm
Saturday & Sunday 11:00am – 6:00pm
Sweets Tour Stop #5: Fresh Stroopwafel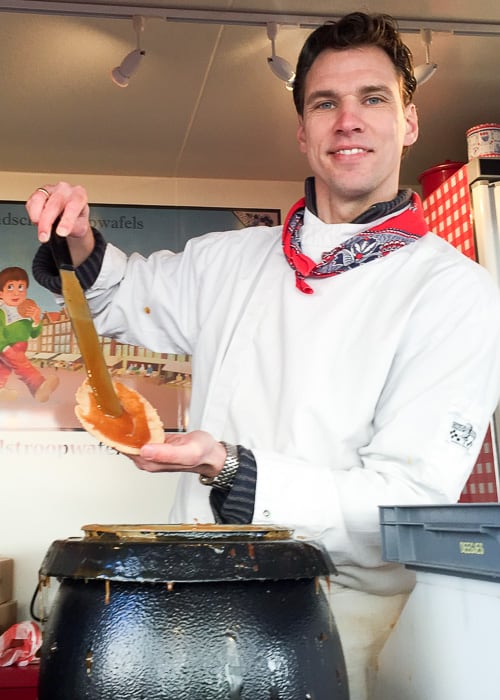 Our final stop on our DIY Amsterdam dessert tour is an absolutely must. You just can't visit Amsterdam without trying a Stroopwafel (pronounced: stropevafel)! Lia of Practical Wanderlust shared her first encounter with this popular Dutch snack:
"We actually tasted our first Stroopwafel from a vending machine in our hostel in Amsterdam. It was Daelman's, the kind you can find in the US, but we'd never had anything like it before: a thin, crunchy waffle filled with so much dense, sweet caramel that it was actually heavy. It smelled like fresh waffles & syrup, and we were instantly hooked.

We thought that vending machine waffles were as good as it gets until we tried our first fresh-baked, hot Stroopwafel from a stall at the Albert Cuyp street market. That was it: we were obsessed.

We went through a bag of fresh Stroopwafels a day during our trip. The worst part? The ones in the USA aren't anywhere near as good as the ones in Amsterdam! We've been craving the real thing ever since we left."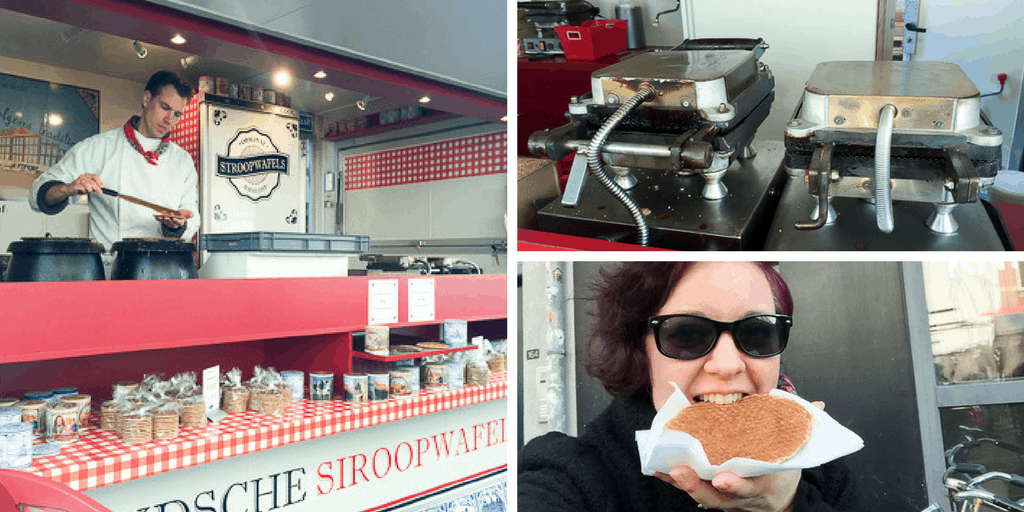 I feel you, Lia. I'm on the stroopwafel-a-day diet whenever I'm in Amsterdam (at least I mostly only eat the small ones – not the large one like the photo above)! Like Lia, I also tried pre-packaged stroopwafels before the freshly made kind. I like both, but if I see a stand making fresh stroopwafels, I have to stop. If you're wondering where to find the best fresh stroopwafels in Amsterdam, definitely try the Original Stroopwafels stand at the Albert Cuyp street market.
Original Stroopwafels
Location: Albert Cuyp Street in front of nr 182
Tram: Take 16 to the Albert Cuypstraat stop or the 4 to the Stadhouderskade stop
Tel: 612345678
Hours: Monday-Saturday 9:00am – 5:00pm
There you have it! The best desserts in Amsterdam. Let me know how you like them! If you have other must-try dessert or sweet treat recommendations, share them in the comments!
What to Read Next:
Pin this Guide For Later!