Salted Dark Chocolate Quark Mousse Recipe
This article may contain affiliate links. See our disclosure link for more information.
This easy to make chocolate mousse is rich, decadent, and so satisfying! If you love chocolate, you've got to try this quick mousse made with dark chocolate, whipping cream, and plain Quark cheese. You'll love it!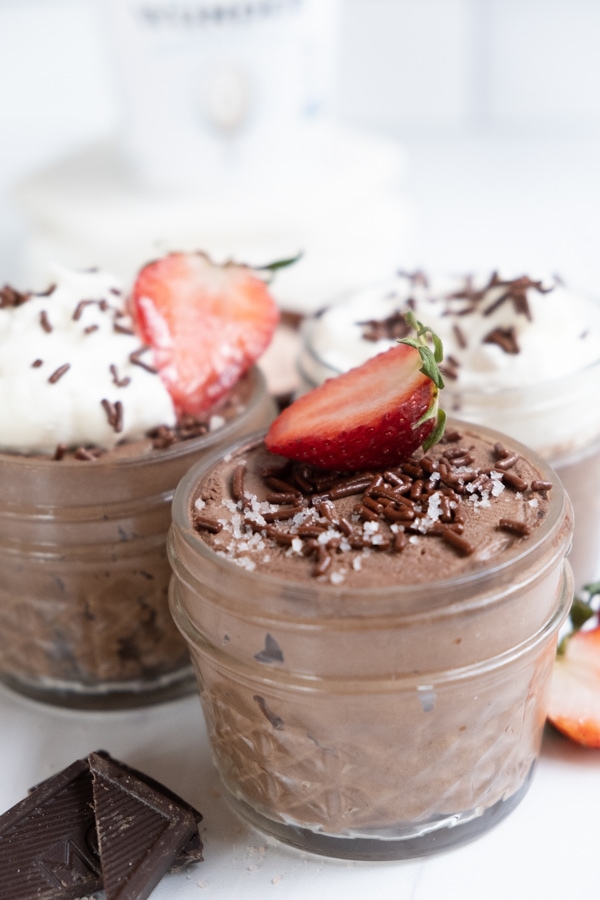 Thanks to Wünder Creamery for sponsoring this post.
About This Easy Mousse Recipe
This Salted Chocolate Quark Mousse is such an easy recipe and yields a decadent and satisfying flavor and texture. If you're not a fan of salted chocolate, you can reduce the amount of salt or leave it out all-together.
This mousse is a little different from others you may have tried. There are no eggs or butter and no gelatin is needed. And the only cooking you need to do is melting the chocolate.
If you've got a stand or hand mixer (or a whisk and a strong arm!), you can make this simple chocolate mousse in about 10 minutes.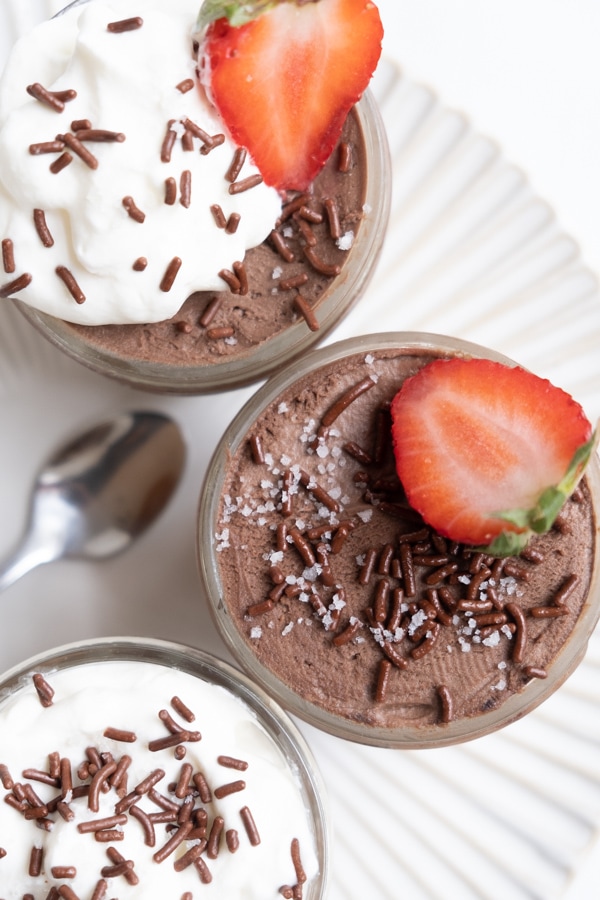 Is This Recipe More Like French Chocolate Mousse or Whipping Cream Mousse?
It's kinda in-between the two!
Traditional French Chocolate Mousse is made by folding melted chocolate into whipped egg whites (and a few other ingredients). It's delicious, but it uses raw eggs.
Whipping Cream Mousse, on the other hand, has no eggs. It's super light and fluffy but often lacks a rich, dark chocolate flavor because it's made with cocoa powder.
So if you're not a fan of eating raw eggs and want a rich chocolate flavor, this Chocolate Quark Mousse is a great alternative.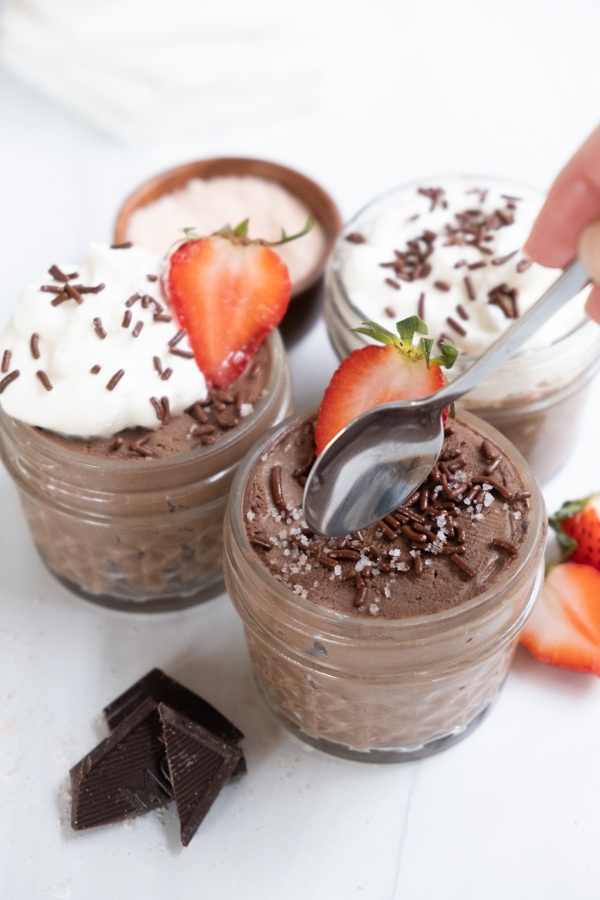 Why Quark Cheese in Chocolate Mousse?
Quark is a popular dairy staple in Germany and much of the rest of Europe. It's used in a wide variety of sweet (and savory) treats like German cheesecake, German Quarkbrötchen, Quark Cream, and so many other things.
I've been eating Quark since my very first stint in Germany as a teen! You can see some of the many ways I use Quark in cooking, backing, and snacking here.
What exactly is Quark? It's a super creamy, fresh, un-aged cheese! It might look like yogurt but it's actually a protein-rich, low lactose, low sugar cheese.
And it's not tart or sour like yogurt. I love adding Quark to all kinds of sweet treats because it makes them a little bit healthier.
The Quark in this mousse recipe adds protein and gives it a nice smooth texture and consistency.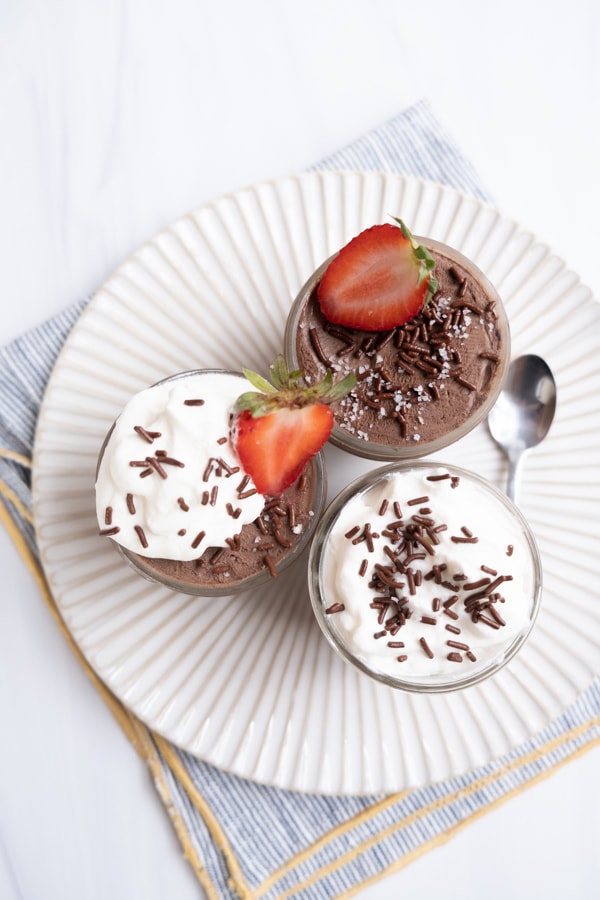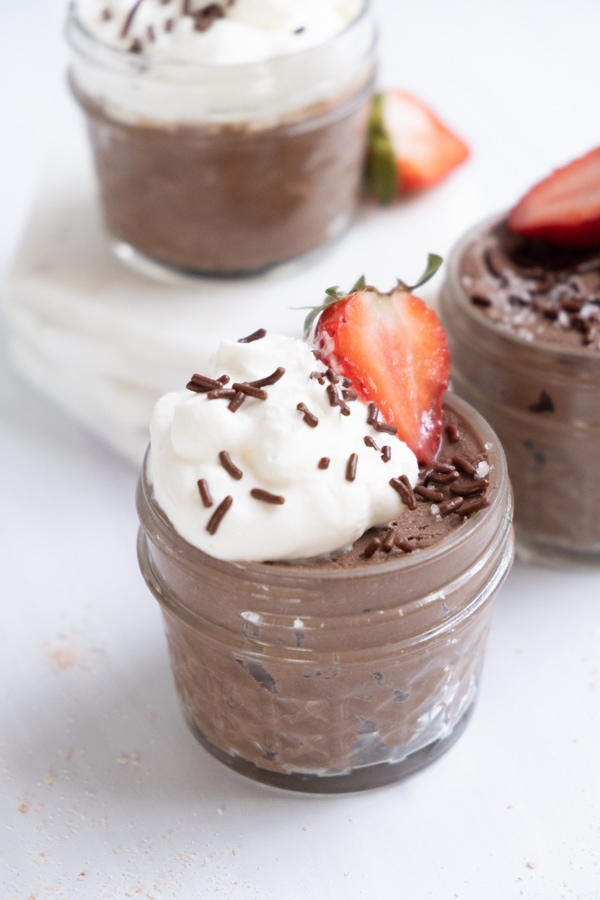 Where Can I Buy Quark?
UPDATE: unfortunately, Wünder is no longer selling Quark so I have removed links to their online store.
It used to be nearly impossible to buy Quark in the US but it's getting easier thanks to Wünder Creamery! I found Wünder Quark at my local grocery store last year and was amazed to find that the strawberry and blueberry Quark I bought tasted like German Quark.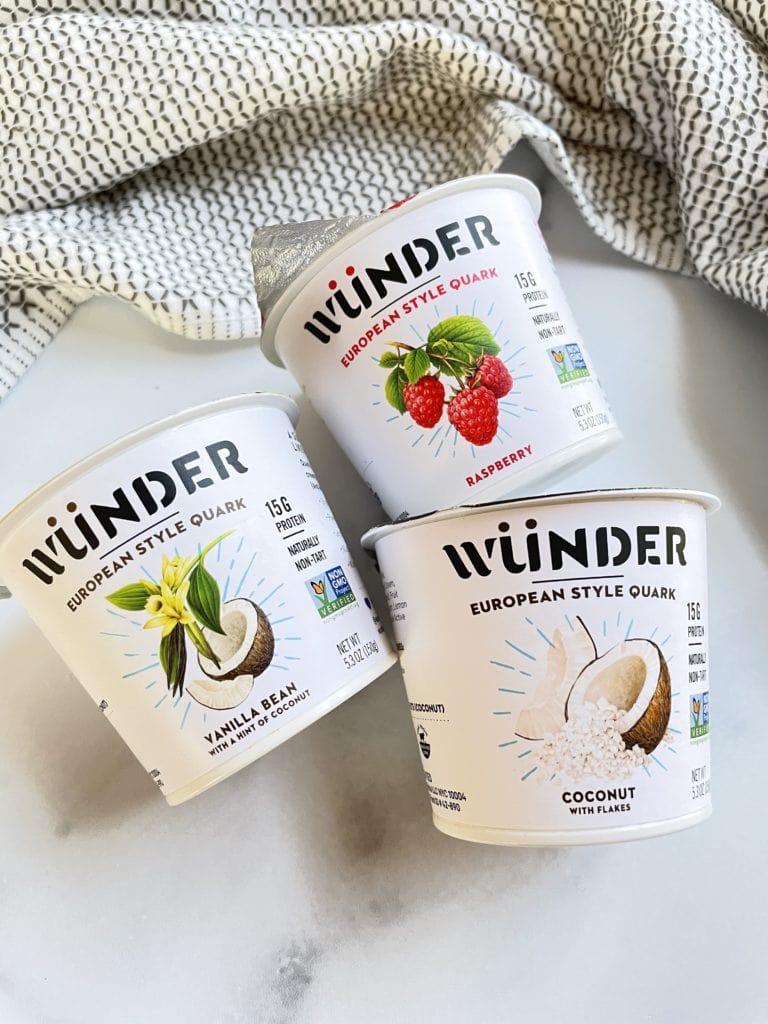 I love getting Wünder's large tubs of plain Quark for cooking and baking but their flavored Quark is absolutely delicious, too (tip: try their coffee Quark). You can get both flavored Quark in 5oz containers, and the plain in both 5oz and 24 oz.
You can use Wünder's store locator to see if your local grocery store carries it or you can order Quark online and Wünder will deliver it right to your doorstep in just a couple days!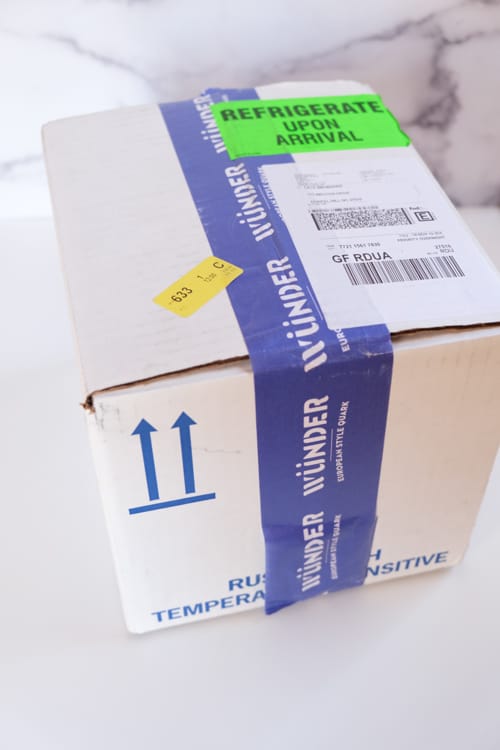 Wünder Quark will stay fresh in your fridge for 1.5 months so you can stock up. I've got plenty of Quark recipes for you to make…with more on the way. Be sure to join my free International Baking Club so you don't miss any!
Click here to order Wünder Quark for your Salted Chocolate Quark Mousse! Use my special code IDB15 to get 15% off your first order.
UPDATE: unfortunately, Wünder is no longer selling Quark so I have removed links to their online store.
Can I Make Quark at Home?
Yes! It's a simple process to make Quark cheese at home — but you do need to plan ahead so you have enough time to make it a few days before you make your Quark mousse. Click here to get my homemade Quark cheese recipe and tutorial.
What You Need to Make this Easy Chocolate Mousse Recipe
Ingredients for chocolate mousse:
Dark chocolate (use the highest quality you can)
Heavy cream
Plain Quark cheese
Salt
Coffee extract (or vanilla extract)
Honey or golden syrup (I've used and liked both!)
Toppings: whipped cream, fleur de sel, chocolate sprinkles (I use these Dutch chocolate sprinkles because they actually taste like chocolate! I use them in other recipes like German Rum Balls and Dutch Hagelslag. One box will last a long time.)
Kitchen tools:
Small mixing bowl (for melting the chocolate)
Spatula
Stand or hand mixer with whisk attachment (I highly recommend this Breville hand mixer – it comes with TWO whisk attachments!!)
Small serving dishes (I use these little jelly jars – they're the perfect size, super cute, and come with lids)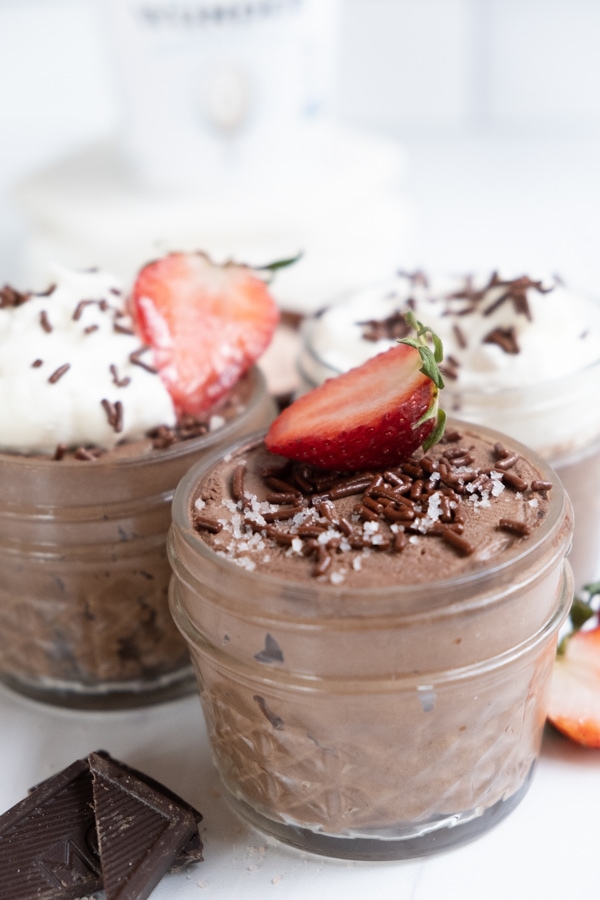 How to Make Quark Chocolate Mousse
Chop and then melt the dark chocolate in the microwave or in a glass bowl over simmering water. Once melted, set it aside to cool.
Using a stand or a hand mixer and medium sized bowl, whip the heavy cream to soft peaks.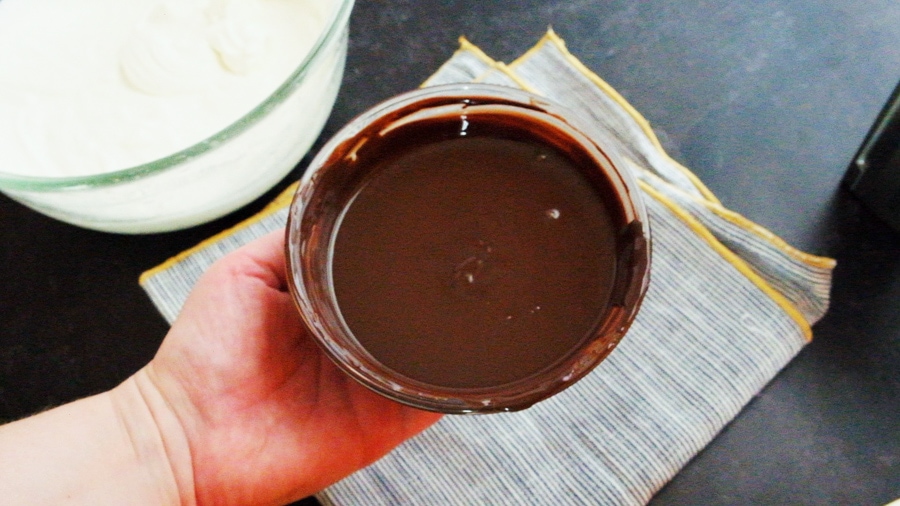 Add the plain Quark and whip about 30 seconds to combine.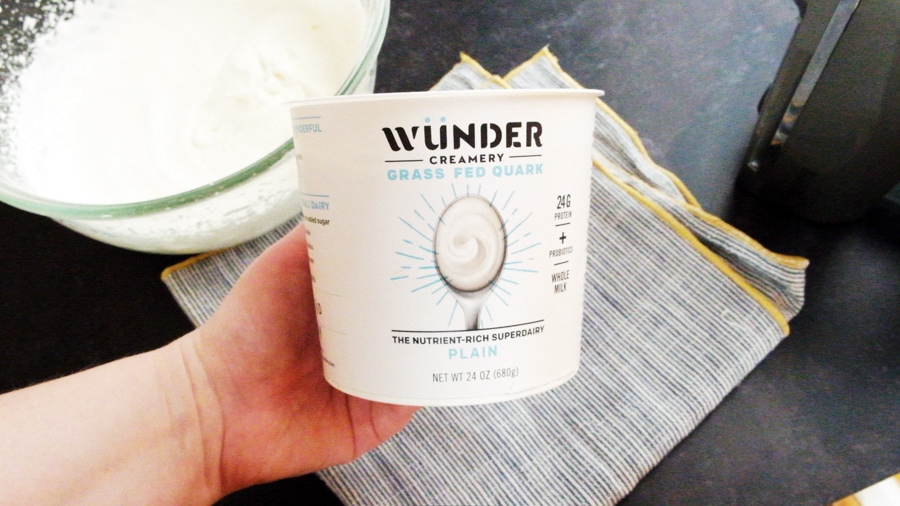 Add melted chocolate, salt, extract, and honey (or golden syrup) and whip until everything is well blended.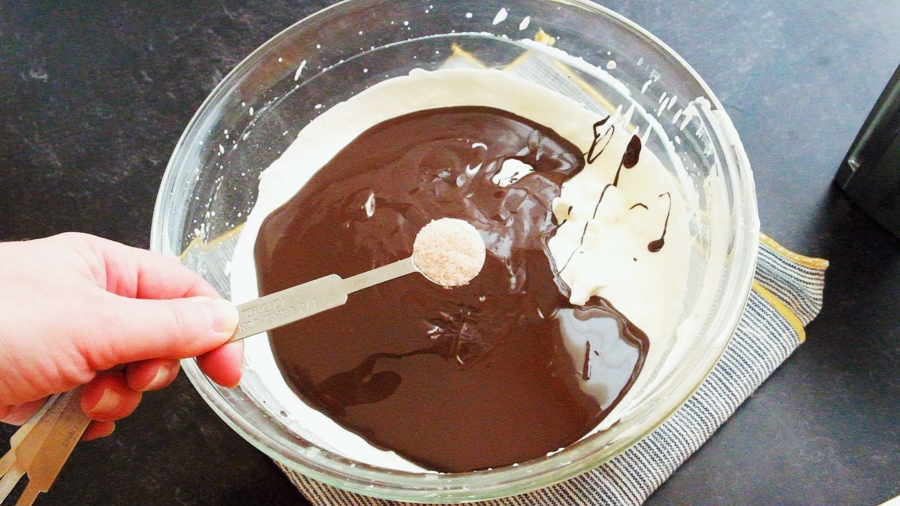 Use a spatula to scrape down the sides and make sure everything is well combined. The mousse should be light and fluffy.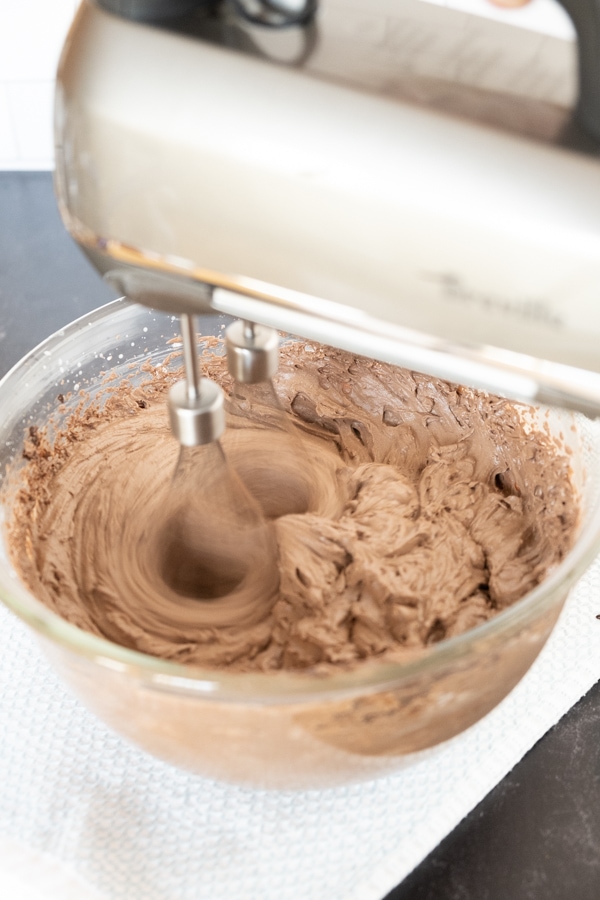 Spoon the mousse into 8 small jars, glasses, bowls or cups. You can serve the mousse immediately or chill it in the fridge. As it chills, the mousse will become firmer. Be sure to allow the mousse to warm to room temperature before serving.
Top with whipped cream, chocolate sprinkles, and fleur de sel.