Easy Homemade Mascarpone Cheese Recipe
This article may contain affiliate links. See our disclosure link for more information.
It couldn't be easier to make mascarpone cheese at home! All you need is heavy cream and lemon juice. You won't want to buy it ever again!

Back when I made that amazing apple spice cake with a mascarpone, brown butter, golden syrup, Swiss meringue buttercream icing, I went to a couple stores looking for mascarpone cheese.
I found it at my local coop, as well as Trader Joe's, but it was pricy. I bought a small tub to use that day, and on my way home from the store I started wondering if I could make it from scratch.
Turns out, I could. And I did. It's super easy. And now you can make your own mascarpone, too!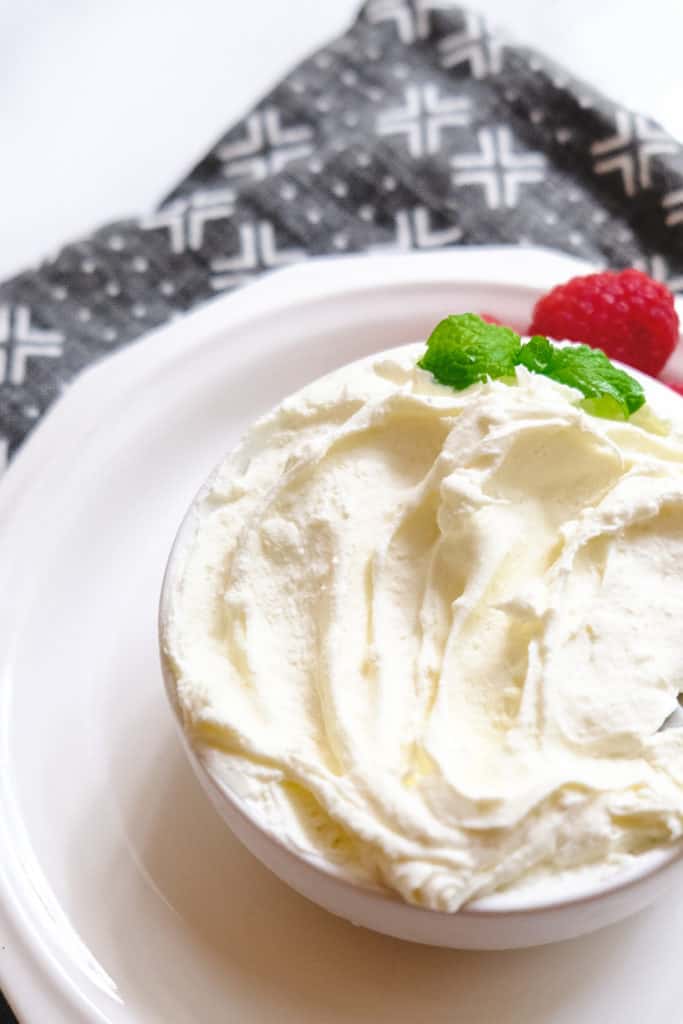 A reader once told me that they love these types of I didn't know I could make this at home! recipes because 1) they save money, and 2) they can make these delicious items using organic ingredients and without any additives.
I feel the same way! I love making things like homemade golden syrup, European cultured butter, Icelandic Skyr, German quark, clotted cream, and crème frâiche.
Making mascarpone at home is similar to making clotted cream, crème frâiche, and Quark. Start with fresh heavy cream, add something to coagulate the cream, and then strain out the liquid.
It's an easy process but it does take time – not active time, mostly just time in the fridge. You'll need about 10 minutes to prepare the mascarpone and 12 hours in fridge to let the liquid drain. I recommend making fresh mascarpone a day before you want to use it.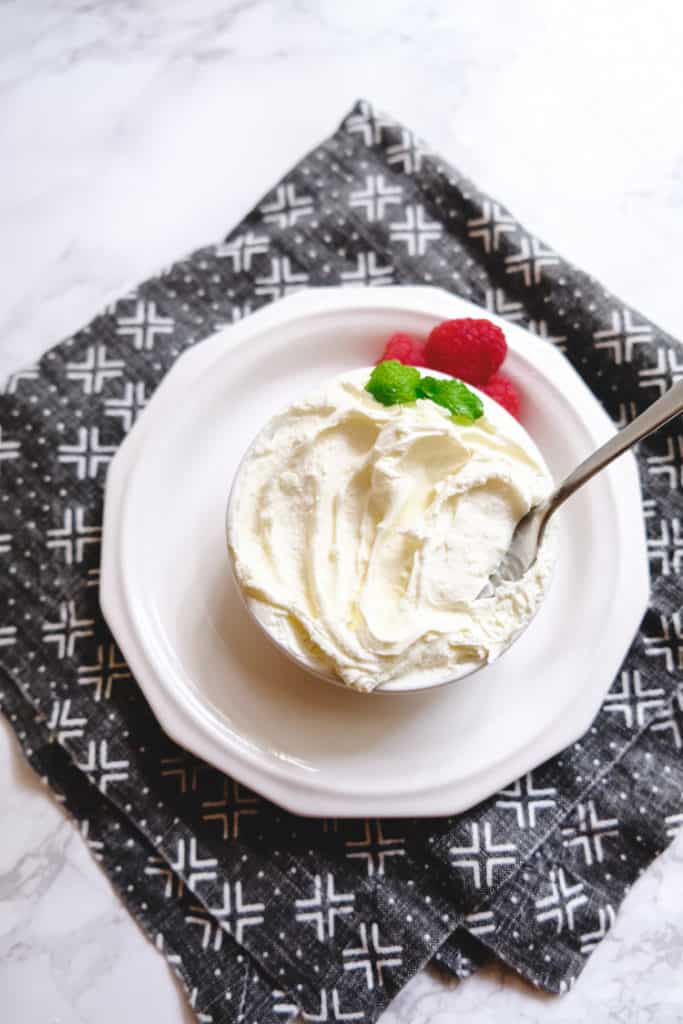 What is Mascarpone?
Mascarpone is a fresh, non-aged, spreadable Italian cheese made from cow's milk (cream). It's similar to cream cheese but has a much higher fat content and a lighter flavor. You could call it Italian cream cheese.
What is Mascarpone Cheese Made Of?
Mascarpone cheese ingredients include heavy cream and lemon juice. That's it!
What Does Mascarpone Taste Like?
The texture is similar to cream cheese but creamier. The flavor is like a lighter, slightly sweeter, richer version of cream cheese. Kind of a cross between cream cheese and clotted cream.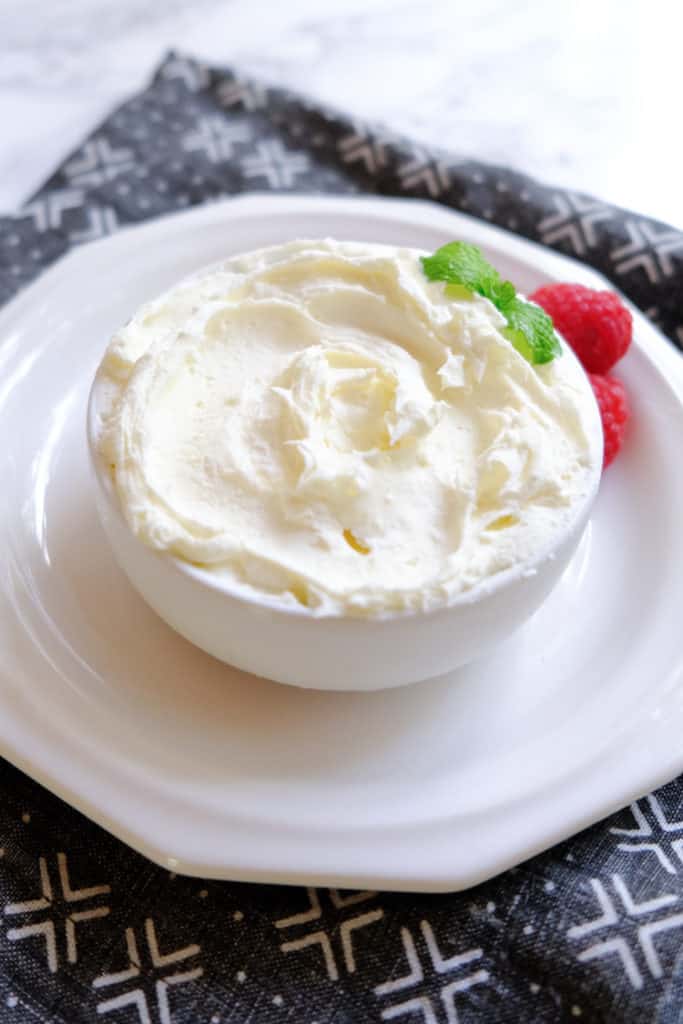 Is Mascarpone Pasteurized?
Yes, mascarpone is made with pasteurized cream.
How Can I Use Mascarpone?
Mascarpone is versatile because you can use it in both sweet and savory recipes. One of the most common ways to use mascarpone is in tiramisu, but you can also use it in pastries, tarts, mousse, this scrumptious icing, cannoli filling, mascarpone cheesecake, fruit pizza, to add depth and flavor to whipped cream, in pasta sauces, mashed potatoes, dips or even on crackers (with fig jam on top…yum) as an appetizer. The ideas are endless!
Where Can I Buy Mascarpone Cheese?
If you're wondering where to buy mascarpone cheese for tiramisu or another favorite dish, you're in luck because it's typically easy to find. I've bought it at Trader Joe's and I've seen in at Whole Foods, my local coop, and Harris Teeter. You can also add a tub to your Amazon order here or here.
Where Would Mascarpone Be in the Grocery Store?
I've always found it in the dairy or cheese section in small plastic tubs. If you don't see any there, check the international, specialty or gourmet section of the store.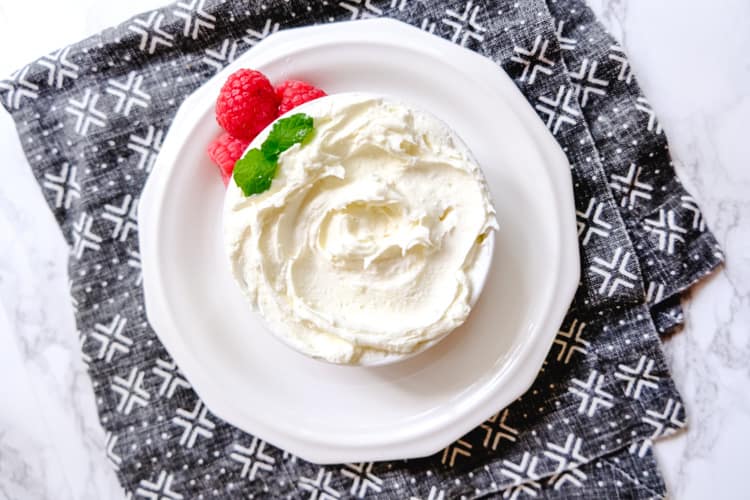 What Do I Need to Make Homemade Mascarpone?
Heavy cream (the best organic non ultra pasteurized cream you can buy)
Lemon juice (I used fresh lemon juice)
Saucepan
Wooden spoon
Candy thermometer (I use this one)
Mixing bowl
Strainer (one that will rest comfortably on the strainer)
Cheesecloth, a thin tea towel or a reusable drain cloth
Where Can I Get a Cheese Making Kit?
Do you absolutely need a cheese making kit in order to DIY mascarpone? It's not required (provided you have the needed items in your kitchen already) but it can be helpful, especially if you plan to make other kinds of cheese. This basic cheese making kit gives you what you need to make homemade mascarpone, mozzarella, burrata, chèvre, ricotta, and more. What I really like is that it includes a reusable drain cloth! If you really want to get your cheese making on, check out this deluxe kit!
Mascarpone…How Do You Pronounce It?
I had to add this in because I found out I'd been mispronouncing it for years! Ha! I'm dyslexic, though, so I misspell and mispronounce things wrong all the time. Anyway, it's pronounced mahs-car-POH-nay.
What Other Kinds of Fresh Cheese Can I Make with Heavy Cream?
If you like mascarpone, try making German Quark (another fresh cheese) or crème frâiche, clotted cream or Icelandic Skyr!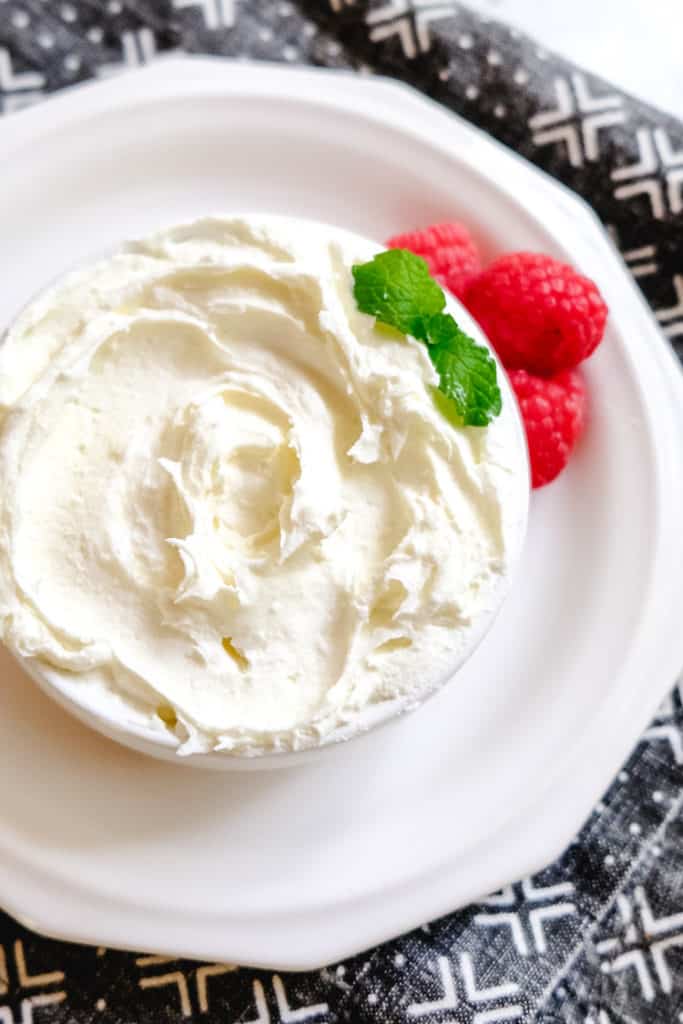 How to Make Homemade Mascarpone Cheese – a Super Easy Mascarpone Recipe
To make mascarpone you need non-ultra pasteurized heavy cream, ideally the best organic heavy cream you can buy. I buy organic non-ultra pasteurized heavy cream from my local coop or Whole Foods. If you cannot find non-ultra pasteurized cream you can try the ultra pasteurized cream found in most grocery stores — but be warned: it may not work as well.
Heat the cream in a saucepan over medium heat. You want to bring it to a low simmer or to about 190F / 87C. I used a thermometer to make sure I didn't heat it over that temperature. Heat the cream slowly and stir it frequently with a wooden spoon or whisk so it doesn't scald.
Once the temp is at 190F / 87C, add the lemon juice and keep stirring for about 5 minutes until it thickens up little. Take the cream off the stove and let it cool to room temperature. As it cools, the cream will thicken up a little more.
Then place a strainer over a mixing bowl and place a few layers of cheesecloth, a thin, clean tea towel lined with a paper towel or a reusable drain cloth, in the strainer. Pour the cream into the lined strainer. Cover the cream with the rest of the cheesecloth or towel, and place in the fridge for 12 hours to let the liquid drain off.
After about 12 hours your mascarpone should be thick but spreadable. Remove from the strainer and store in a sealed bowl or jar for up to 5 or so days.