Easy Korean Banana Milk Recipe
This article may contain affiliate links. See our disclosure link for more information.
If you're looking for a delicious, rich, and creamy beverage that's actually on the healthier side, you'll love this super easy Korean Banana Milk!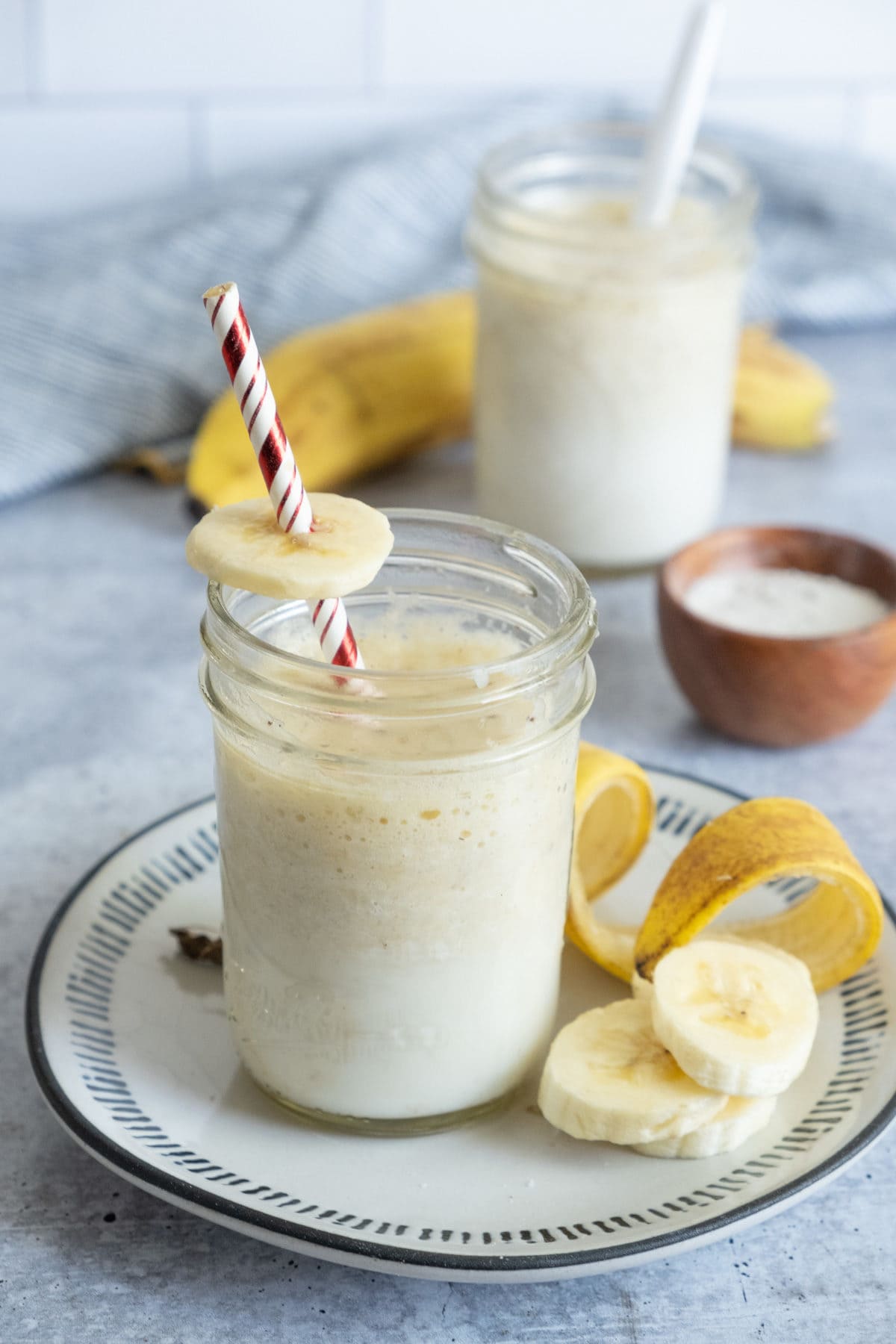 ? About This Recipe
My husband, Aaron, loves a good banana milkshake so we used to make them frequently as a summer treat.
Then we switched to making Korean Banana Milk because it's just as good and a much healthier treat!
Banana milk is pretty much what it sounds like — a banana flavored milk drink.
Blending a sweet, ripe banana with milk in a food processor creates a creamy shake made from natural ingredients that is so good.
To make this popular Korean Banana Milk, the ingredient list is short. You only need 2 simple ingredients – banana and milk!
If the banana is on the ripe side, the drink will be nicely sweet. But if you want a sweeter flavor you can add a bit of sugar, maple syrup, agave, etc. I use Vanilla Sugar but I think Golden Syrup would add a delicious flavor, too.
You can leave out the added sugar completely if you prefer – and if you use a super ripe banana, you might find that sweet enough.
The best part about making Banana Milk is that you can make it with cow's milk, water or your favorite non-dairy milk replacement. So it's the perfect treat for those on a vegan diet.
Korean Banana Milk is similar to a fruit-flavored milk product I used to buy in Germany.
But while Banana Milk is easy to find at Korean grocery stores (and something similar in German grocery stores), it's not as easy to find in the US.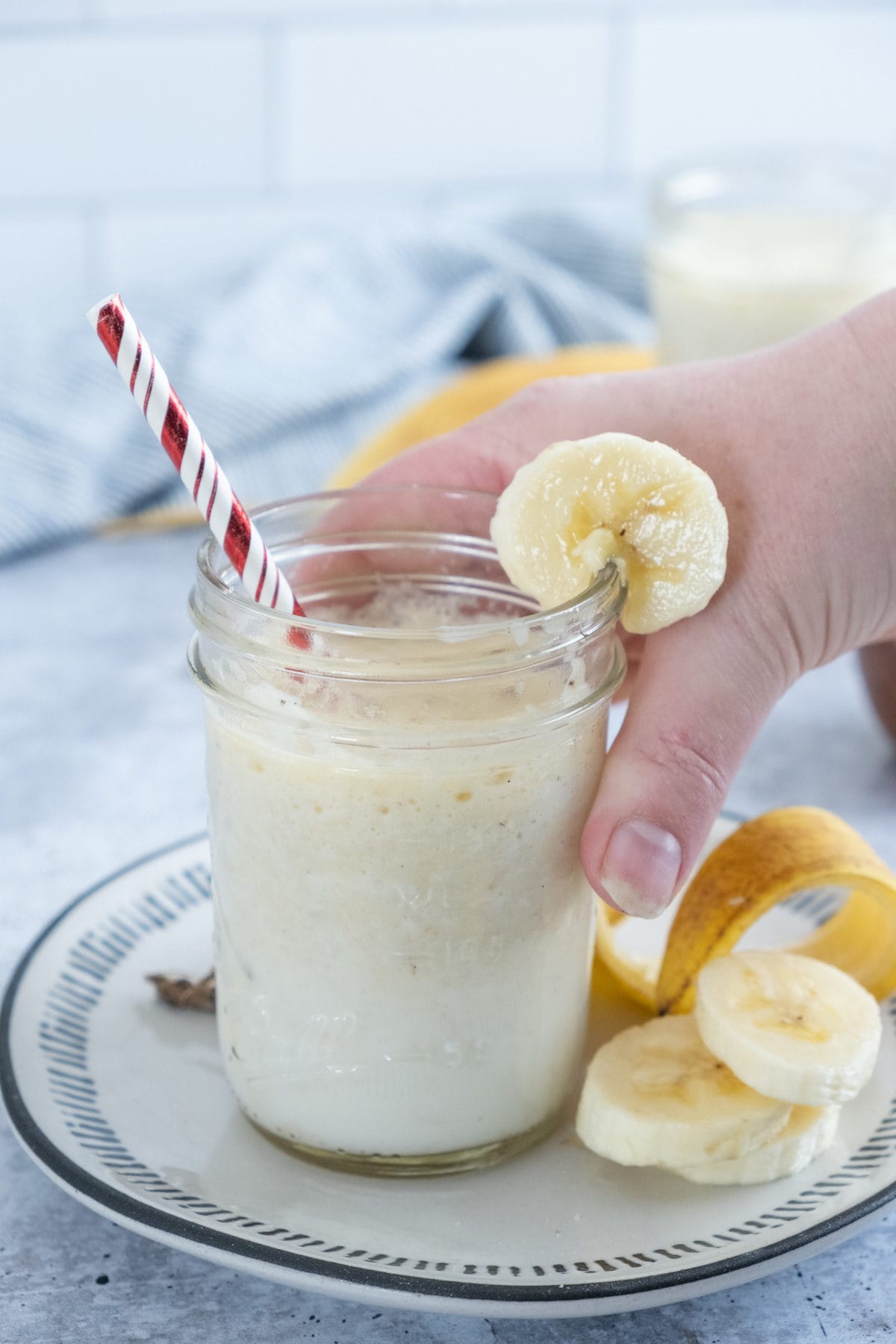 Fortunately, it's easy to make homemade Banana Milk.
And when you make it yourself, you can avoid artificial flavors and added sugars, and customize the flavor and texture to your tastes.
If you've got banana lovers in your family or among your friends, this recipe is sure to become one of your easy favorites!
Banana Milk is a favorite of ours because it hits that sweet spot (haha) between being on the healthier side while still tasting indulgent.
It's also a great way to use up over-ripe bananas (I toss mine in the freezer when they're too ripe to eat so I always have one ready for Banana Milk).
Banana Milk makes a great snack, easy light breakfast or even healthier dessert. Give it a try!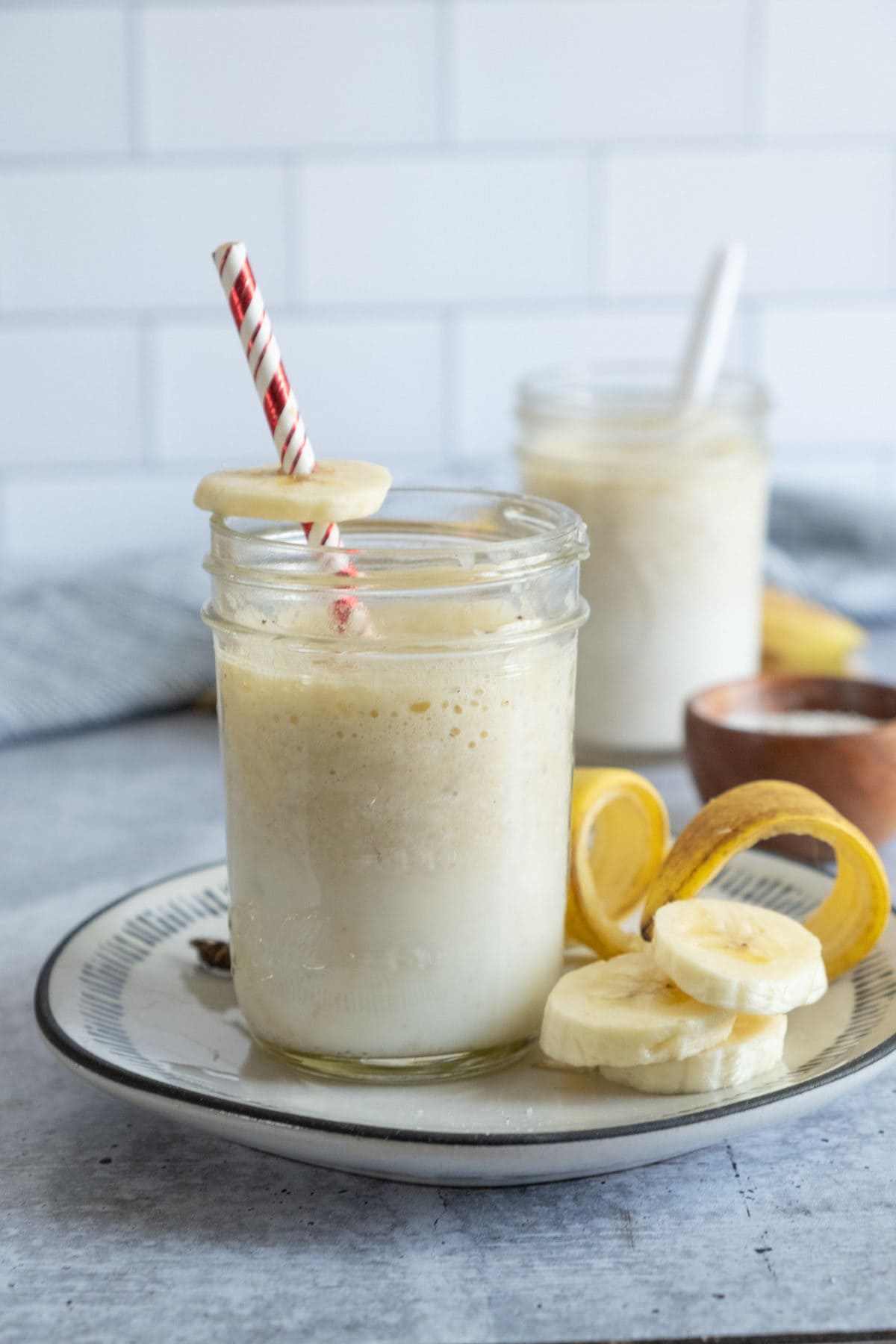 ❓FAQ
What is Korean Banana Milk?
It's milk flavored with fresh banana. Banana milk has been popular in Korea for over 40 years and can be purchased at the grocery stores in South Korea.
Do I need banana juice concentrate to make the homemade version?
Nope! To make it at home, all you need is a ripe banana and milk (or milk alternative).
Can I use a non-dairy milk?
Yes. You can use any of the non-dairy milks (e.g. almond milk, coconut milk, soy milk, oat milk, etc) instead of cow's milk. You can also use water.
Can I use a sugar substitute?
Yes. You can either adjust the amount of sugar in your homemade Banana Milk or use your favorite sugar substitute. You can also use another kind of sweetener – agave, maple syrup, Golden Syrup, honey, etc.
If you don't want to add sweetener, use a super ripe banana.
Can I use a frozen banana?
Yes – that's what I use. If you let the frozen banana defrost a bit before making the Banana Milk it will blend with the milk super fast (which is good if you don't have a high power blender).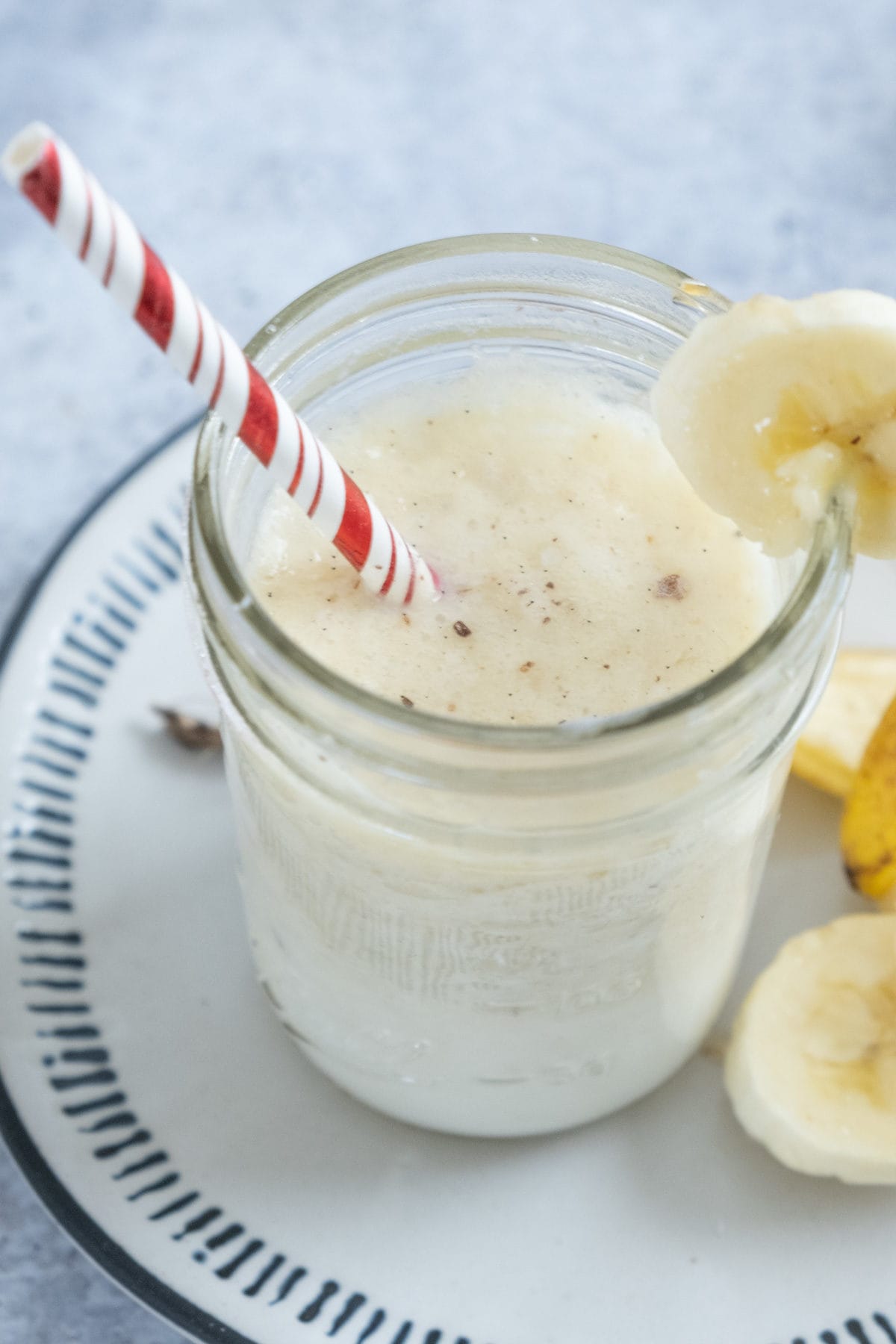 ? What You Need to Make This Recipe
Ingredients:
Kitchen Tools:
Tips & Variations
How to Make Korean Banana Milk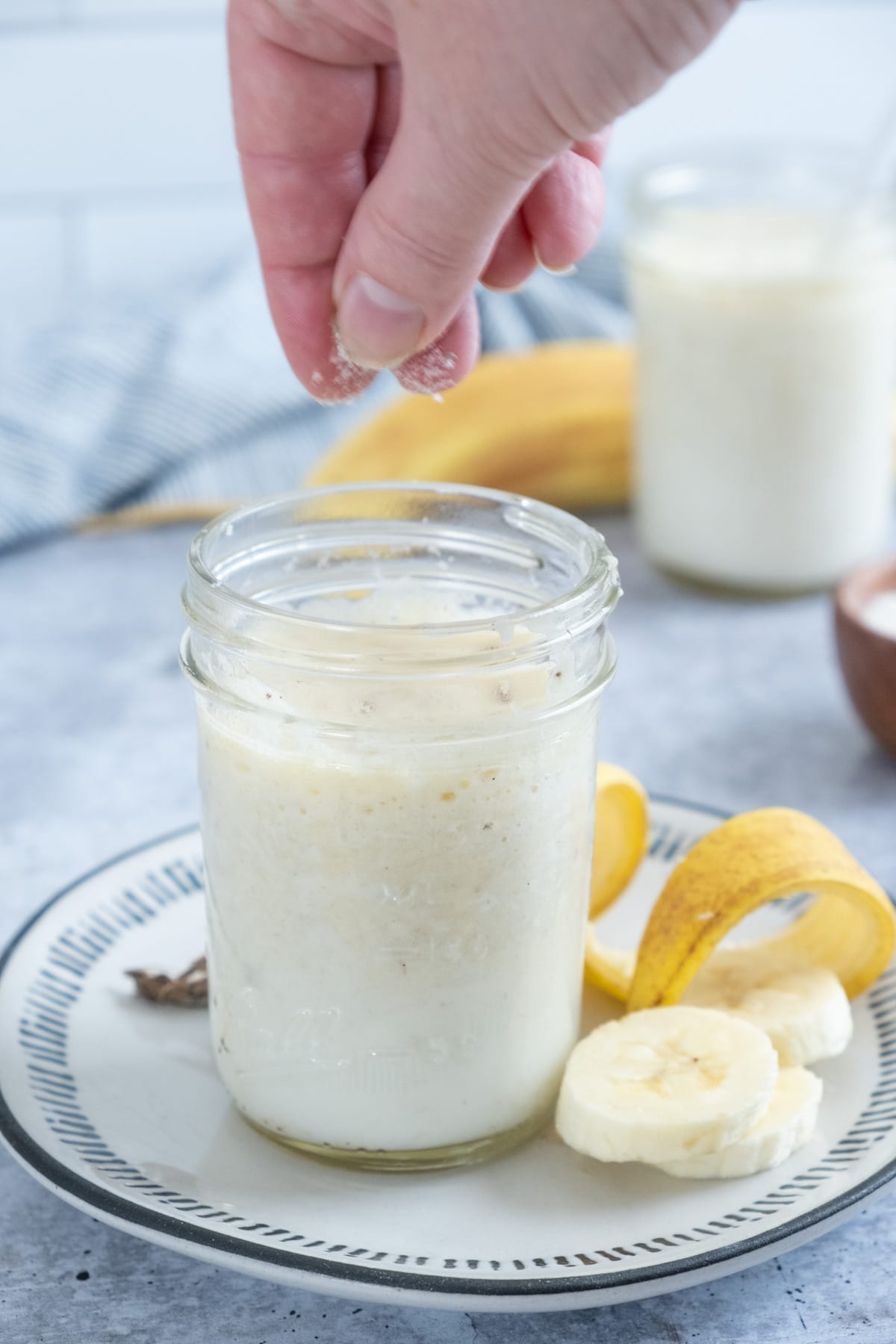 Defrost banana if using frozen.
Place banana and milk in a blender or food processor and blend until smooth and frothy.
Pour Banana Milk into an 8oz (236ml) glass.
Sprinkle a bit of vanilla sugar on top.
Serve immediately with a cute paper straw.
More Refreshing Drink Recipes