How to Make Homemade Cheese Foam For Milk Tea (Cheese Tea)
This article may contain affiliate links. See our disclosure link for more information.
The next time you make milk tea (bubble tea) at home, try adding this dreamy creamy cheese foam topping!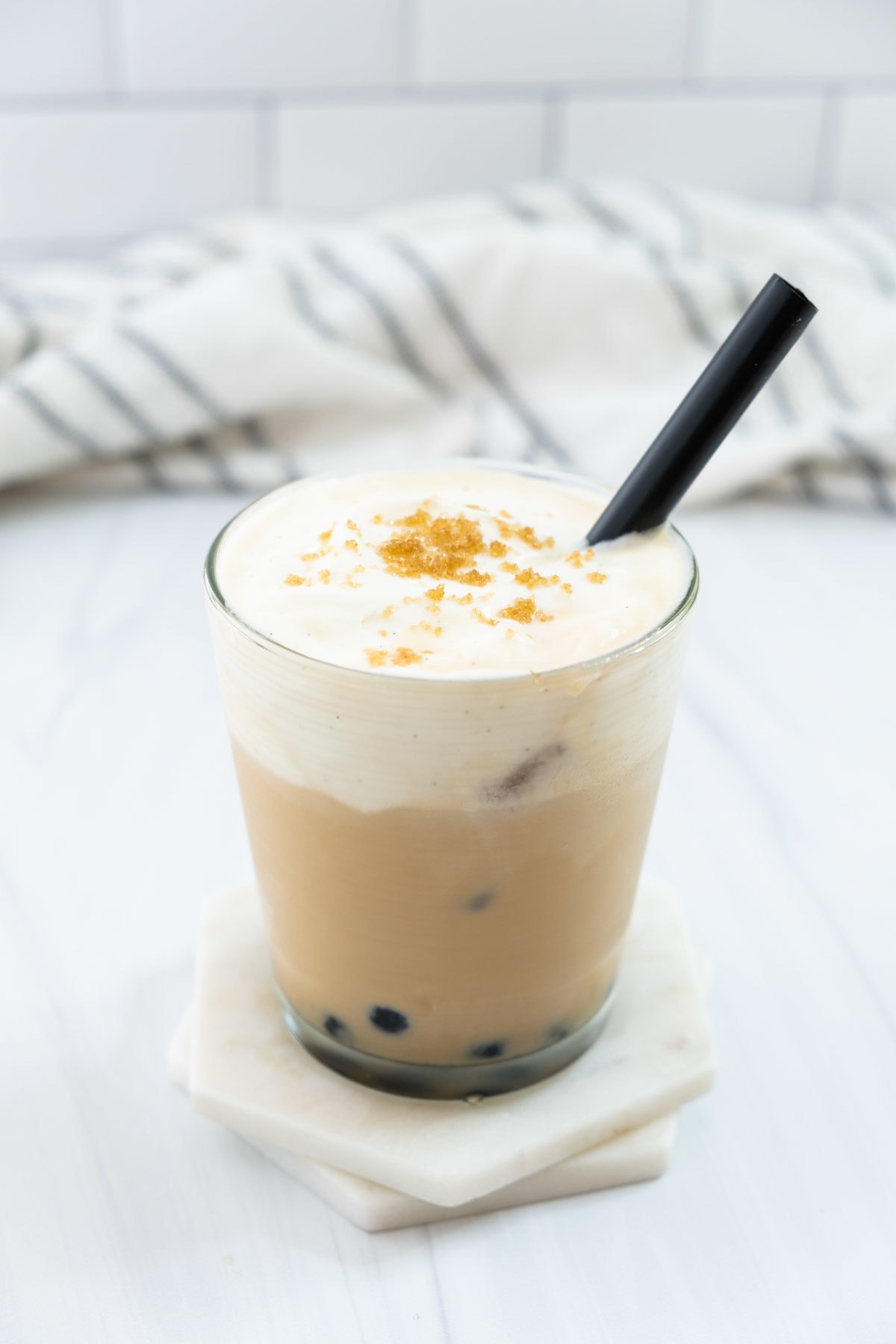 What Is Cheese Foam (Cheese Cap or Cheese Tea)?
If you like cream cheese and whipped cream, you'll love this popular topping for milk tea.
Sometimes called cheese foam, sometimes a cheese cap (or milk cap), this light and fluffy topping is kinda like adding a creamy foam layer of cream cheese mousse to your cup of tea.
It's delicious!
Milk tea is a popular drink in Asian countries that has made its way around the world. It's one of my favorite beverages and I've been drinking hot and iced milk tea for years.
I used to keep my homemade tea pretty simple and splurge on fancier boba milk tea drinks at tea shops. That's where I first saw the option of adding "cheese foam" or a "cheese cap" to my milk tea. I was intrigued and a little confused about how cheese and tea could possible go together.
As it turns out, It's a pourable milk tea topping made from a mixture of cream cheese, heavy cream, whole milk, and salt. This creamy cheese mouse-like topping has a delicious salty cheesecake flavor and is the perfect complement to all kinds of sweet milk tea.
I think cheese foam is mostly used to top iced milk tea but at home I've added it to hot milk tea and it was so satisfying!
I'm going to show you how to make a Cheese Foam Tea that rivals your favorite boba shops. This homemade version isn't exactly the same because evidently tea shops use powdered cream cheese to make their cheese foam but this homemade version is creamy and delicious.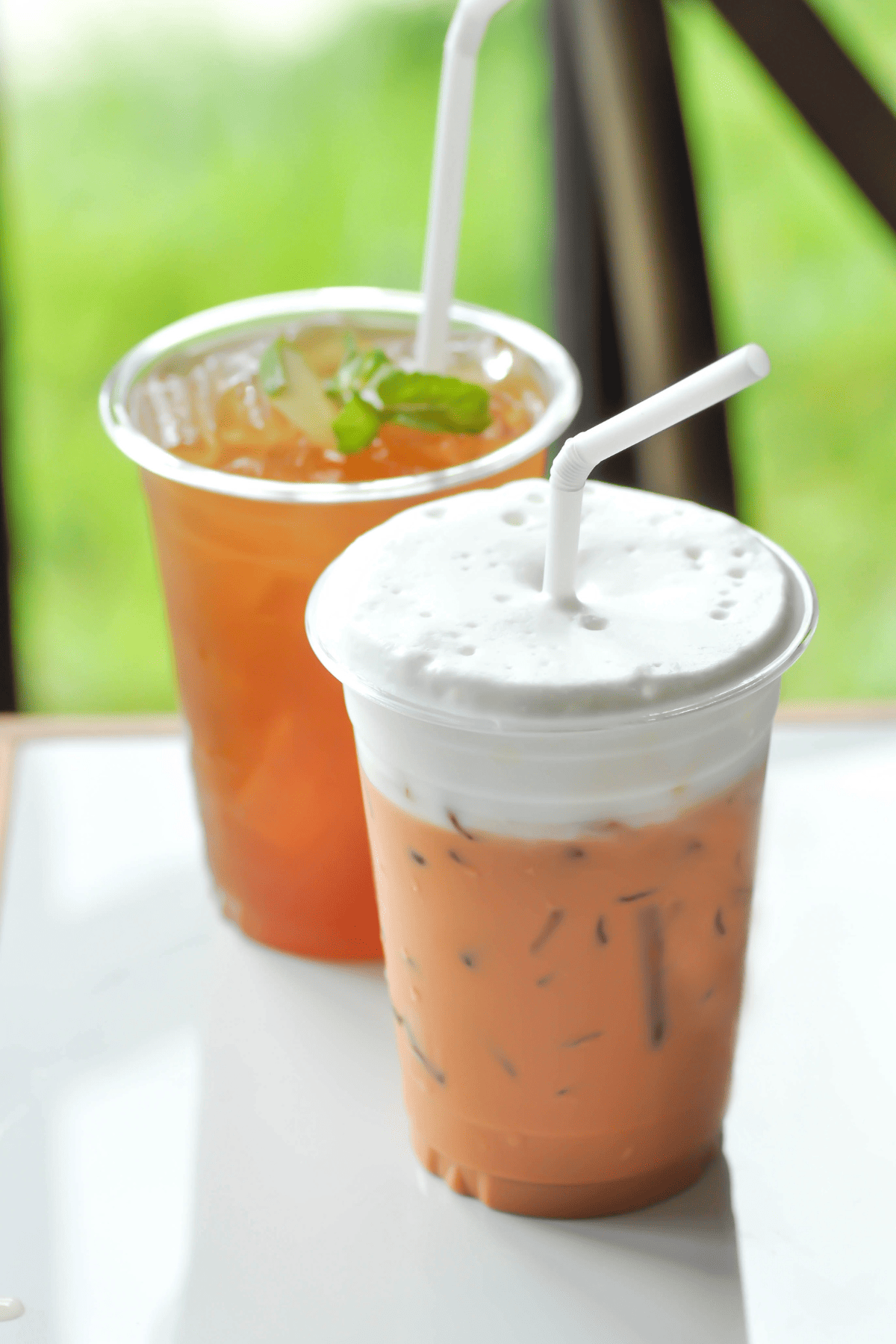 What You Need To Make This Cheese Foam Recipe For Milk Tea
Ingredients:
Kitchen Tools: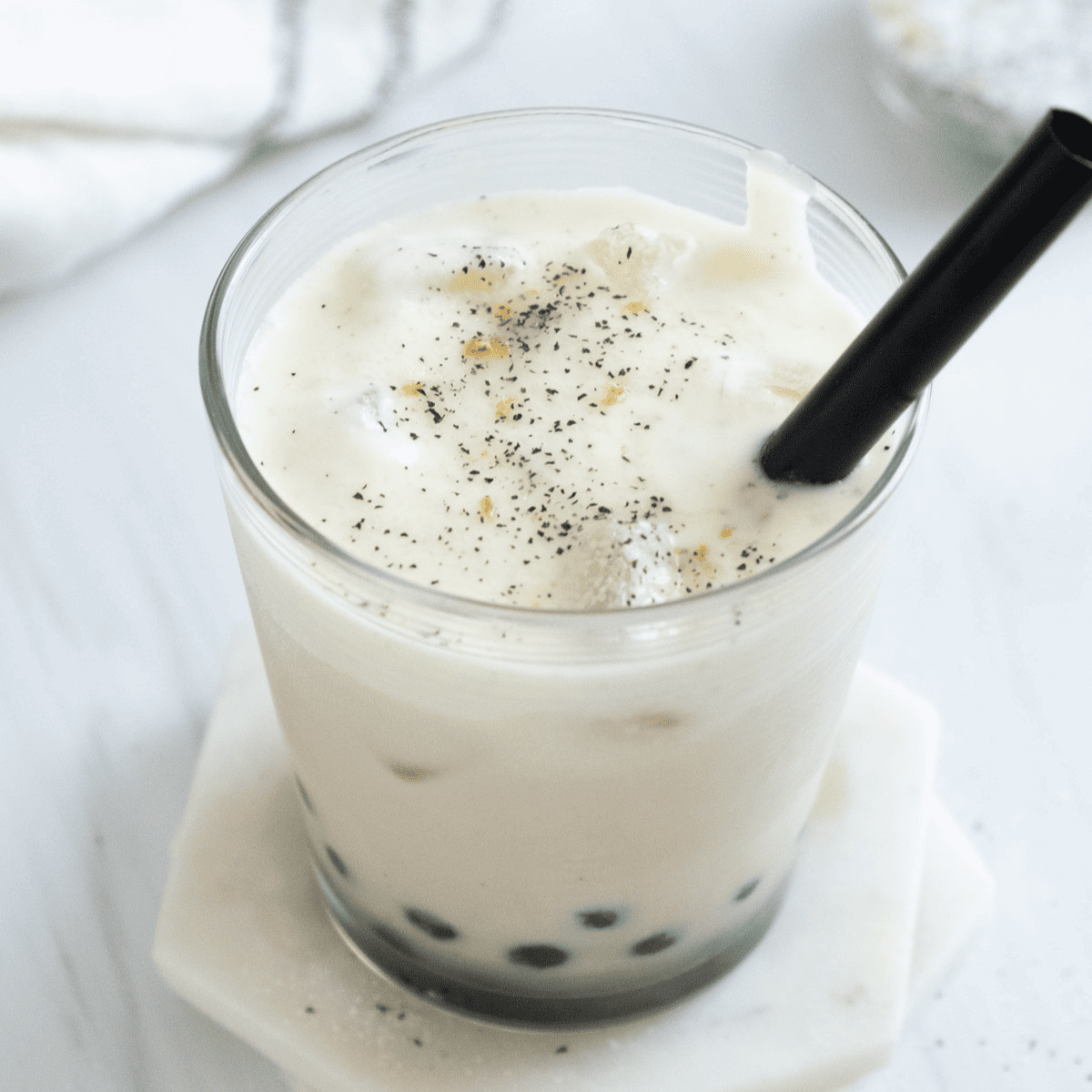 Tips & Variations: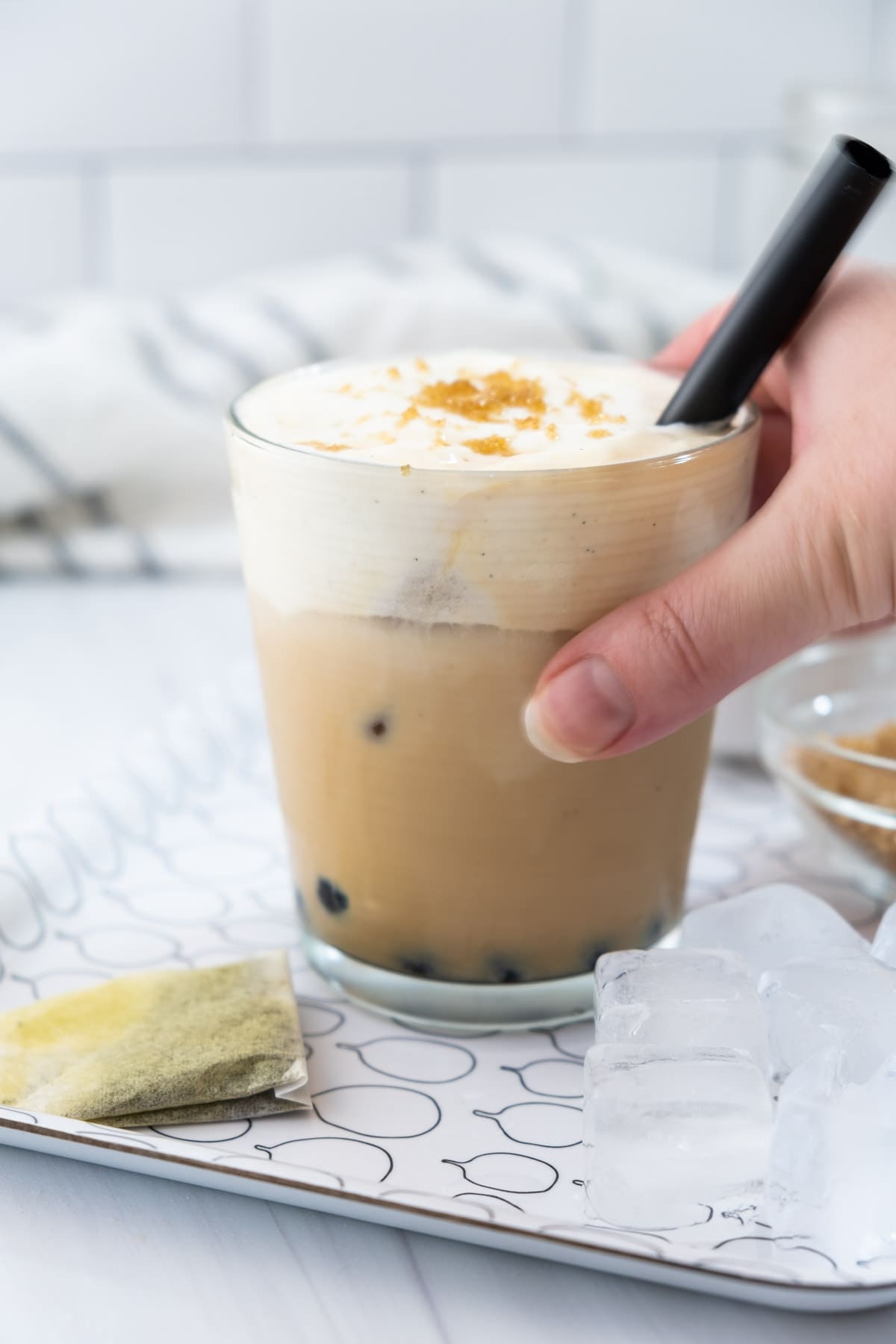 How to Make Cheese Foam
It's quick and easy to make this fluffy topping in just one bowl. Tip: make sure your cream cheese is at room temperature so it's easy to whip.
The first step is to place room temperature cream cheese in a small mixing bowl. Then add the vanilla sugar and salt (see tips above about sweetener and salt options).
Using a hand mixer with the whisk attachment, whip cream cheese on low and then on high until light and fluffy. Scrape down the sides of the bowl using a spatula.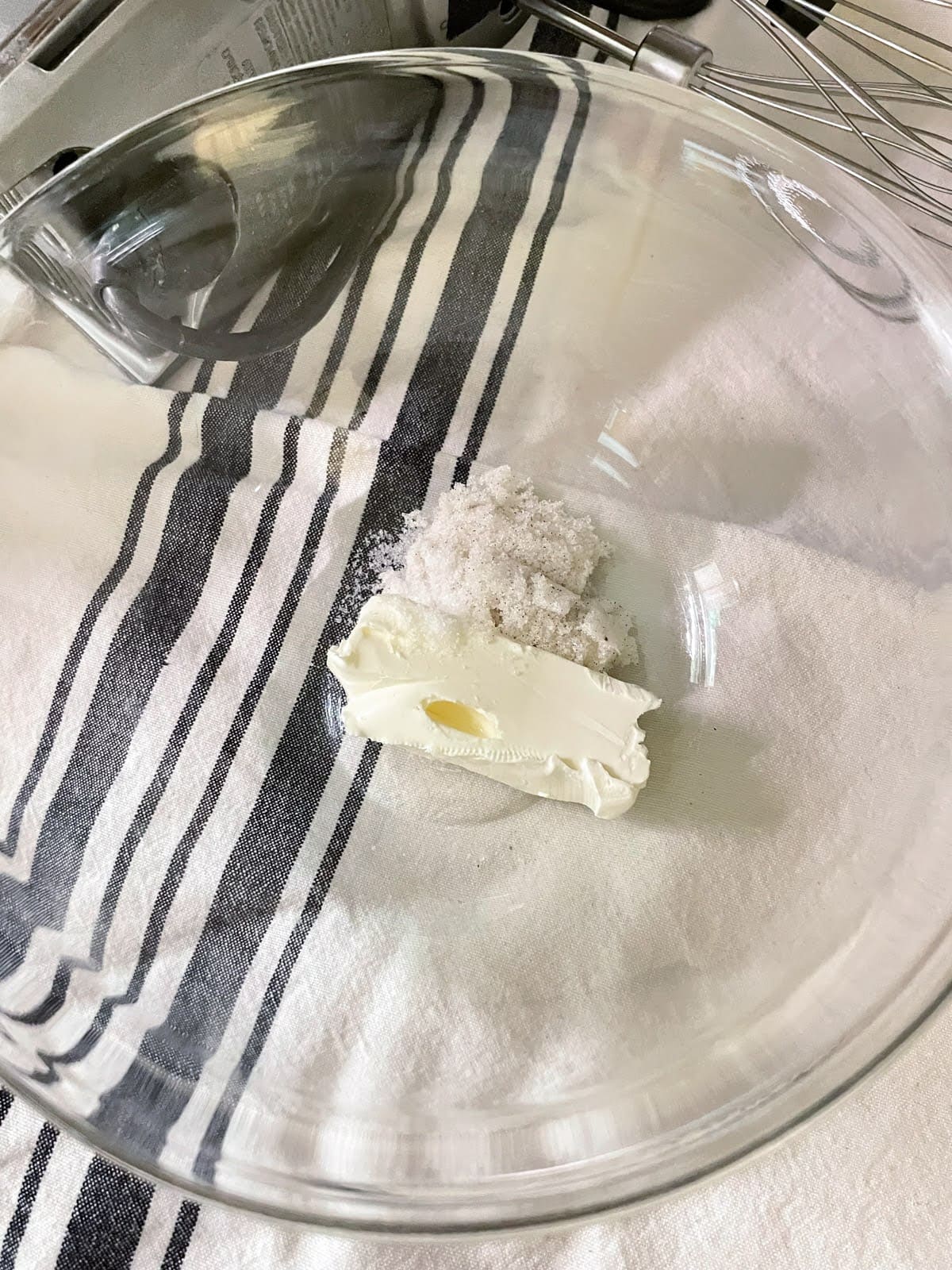 Add heavy cream to the cream cheese mixture and whip until mixture is light and fluffy.
Add milk a little at a time until you've reached the desired consistency. The topping should be light, fluffy, foamy, and pourable. If it isn't pourable, add a little more milk and whisk again.
You can easily adjust all of the ingredients to you taste and texture preferences.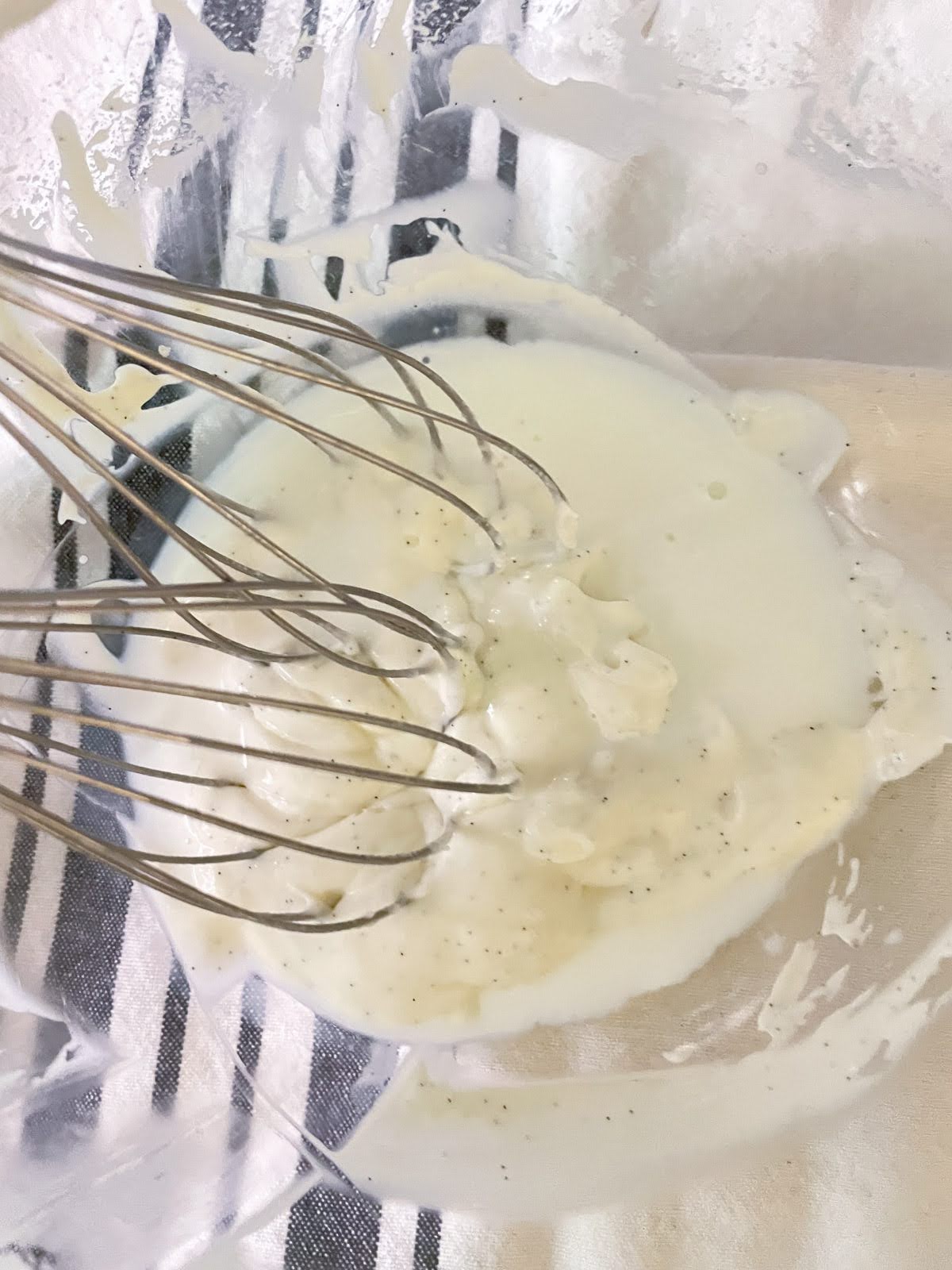 Use a spoon or ladle to top your your milk tea with cheese foam. Add a little or a lot!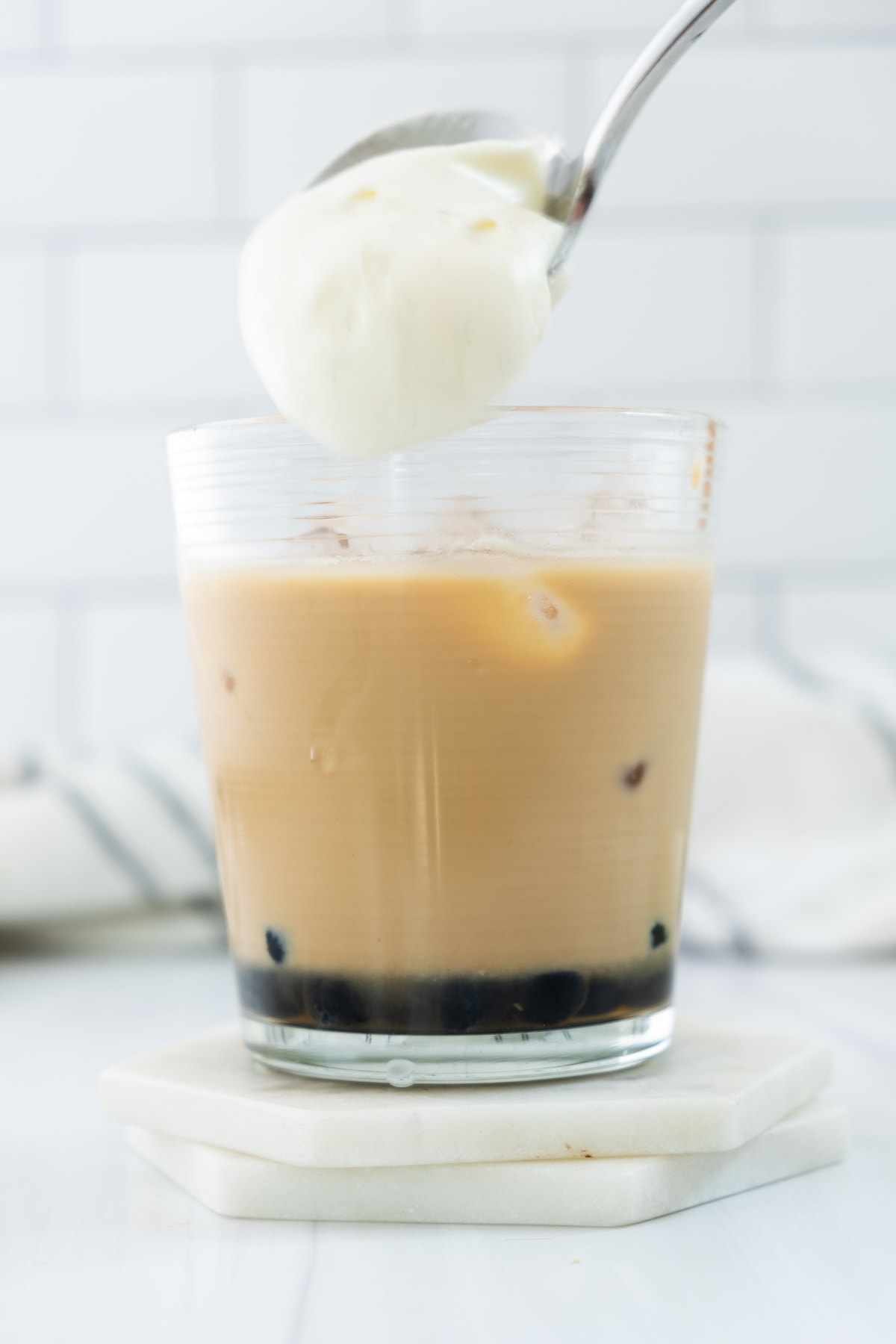 What Types of Tea Should I Use in Milk Tea?
Black tea is the most popular but you can use any kind of tea – Earl Grey is delicious (I use that a lot) but you can use green tea, oolong tea, or any other kind of tea you want to try. You can use tea bags, tea sachets or loose leaf tea.
Are There Different Kinds of Milk Tea?
Yes! So many different kinds. Depending on the kind of tea you use, there are all sorts of variations of milk tea — like Earl Grey Milk Tea, Hong Kong Milk Tea, Taro Milk Tea, Brown Sugar Milk Tea, and many more!
Can I Use Sour Cream To Make a Cheese Cap?
You could — although it will change the taste. I recommend using cream cheese, heavy cream, and milk.
What is Boba Tea?
It's hot or iced milk tea with sweetened tapioca pearls. If you want to add boba to homemade milk tea, it's easy! You can order a bag of boba pearls here (that's what I like and use), then boil them in hot water for about 5 minutes, and finally add them to simple syrup. The boba add a sweet taste to both iced and hot drinks and a delightfully chewy texture.
If you add delicious chewy tapioca balls (boba) to iced milk tea, be sure to use a wide straw (like this one) – just like when you order milk tea from a bubble tea shop!
Can I Make a Vegan Version of Cheese Tea?
To make vegan cheese tea you can use your favorite milk alternative to prepare your tea latte (e.g., soy milk, almond milk, coconut milk, etc).
To make the cheese foam you can replace the heavy cream with coconut cream, use a milk alternative instead of milk, and use a vegan cream cheese or silken tofu.
Cheese Tea Recipes