Mini Treacle Tart Recipe (Harry Potter's Favorite)
This article may contain affiliate links. See our disclosure link for more information.
Since golden syrup is one of the IDB's most popular recipes, I thought I'd share an easy dessert that uses golden syrup and is out of this world delicious: mini treacle tarts!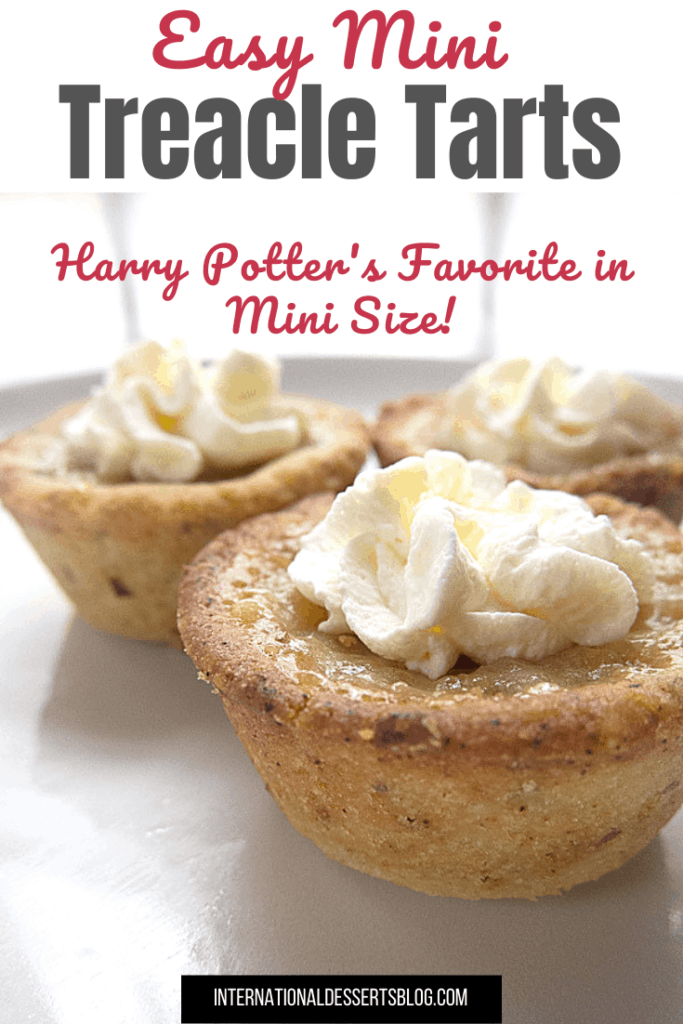 These individual treacle tarts are two bites of buttery, lemony deliciousness. The slightly salty almond shortbread crust pairs well with the sweet filling. They're perfect for bringing to an office party, potluck, afternoon tea or as a portion-controlled brown-bag lunch treat.
You may be thinking, treacle tart…Harry Potter? Yes, treacle tart is Harry's favorite dessert. After making these mini tarts, I can see why! I've made a regular sized treacle tart but to be honest, I like these mini tarts better. I think it's the ratio of crust to filling to topping that makes these tarts irresistible!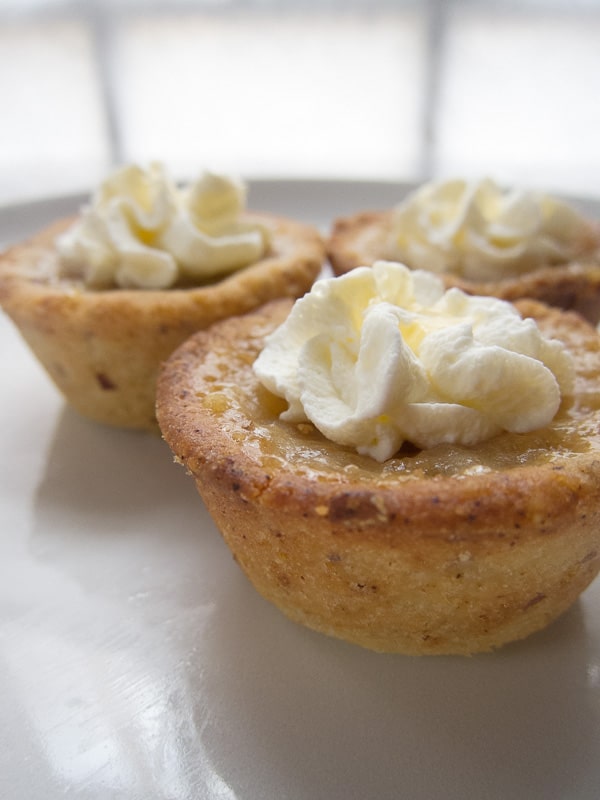 I made these tarts when I was writing my Mini Tarts ebook (which you can download for free right here). I had a bunch of golden syrup in my cupboard and was searching for ways to use it up. When I found a recipe for treacle tart I decided to make mini treacle tarts for my ebook.
I made 10 different tarts for my ebook and these treacle tarts were my favorite! There are many uses for golden syrup (like my golden syrup cookies) but this is my favorite so far.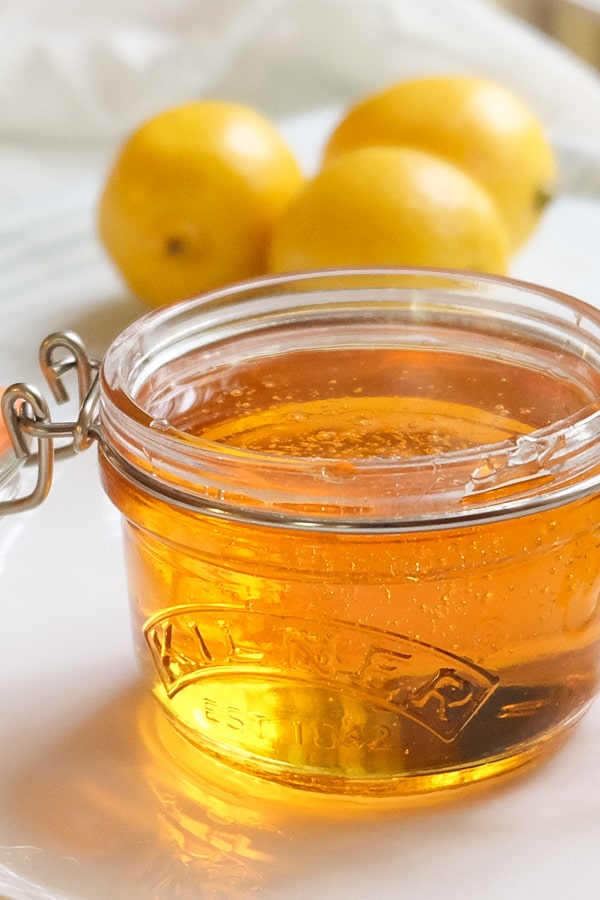 What is Treacle Syrup (Golden Syrup)?
Treacle syrup is a caramel flavored syrup that's super easy to make at home (click here to get the recipe). All you need to make it is sugar, water, and a slice of lemon. You can find (or make) light treacle – golden syrup – or a darker syrup, which is more like molasses. These tarts use the lighter version of this syrup. If you don't want to make golden syrup at home, you can buy it here on Amazon.
Can I Use Honey Instead of Golden Syrup?
You could…but then they'll be honey tarts rather than treacle tarts. 🙂 Honey, while delicious, has a different flavor than treacle or golden syrup.
What Kind of Pan Should I Use to Make these Mini Tarts?
I used a mini tart pan like this one. I really like that bottoms are removable, because it makes it so much easier to pop the tart shells out of the pan.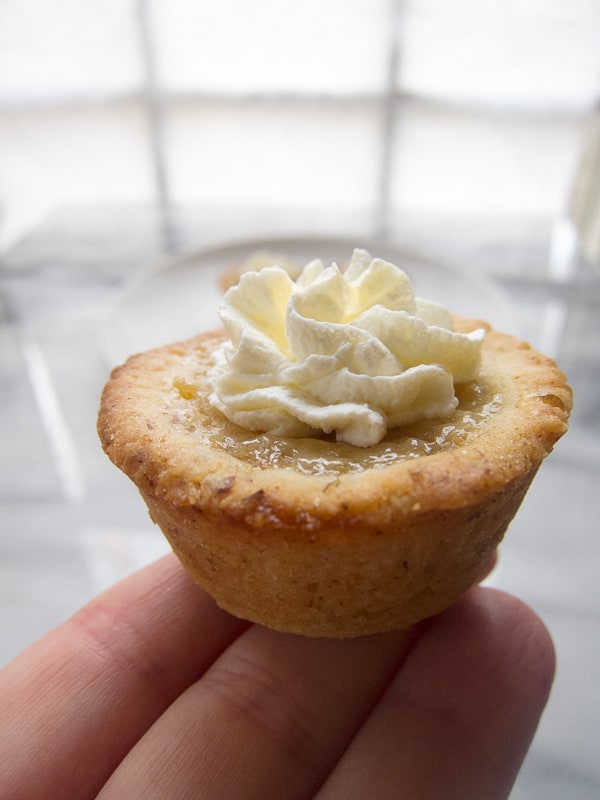 How to Make Mini Treacle Tarts
There are three steps to making these tarts.
First, make or buy the golden syrup. It's super easy to make it yourself but it does take time for the syrup to simmer and then cool. I recommend making the golden syrup a day or two in advance. If you don't have time or the desire to make golden syrup, you can easily buy it here on Amazon (golden syrup is not super easy to find in the US).
The second step is to make the mini tart shells. I love the almond shortbread crust for these tarts but if you have a go-to tart crust, go ahead and use it. The almond shortbread crust below is quick to mix up but it does need to chill for a couple hours before using it to make the tarts.
The third step is to make the filling. That comes together quickly and easily.
After that, assemble the tarts, bake them, let them cool, add a dollop of whipped cream spiked with vanilla sugar, and then try not to eat them all at once!
If you want to make everything from scratch, start a day or two before you want to serve the tarts. On day one make the golden syrup and the almond shortbread crust. On the second day, make the the filling, assemble, bake, and the decorate the tarts.
Enjoy!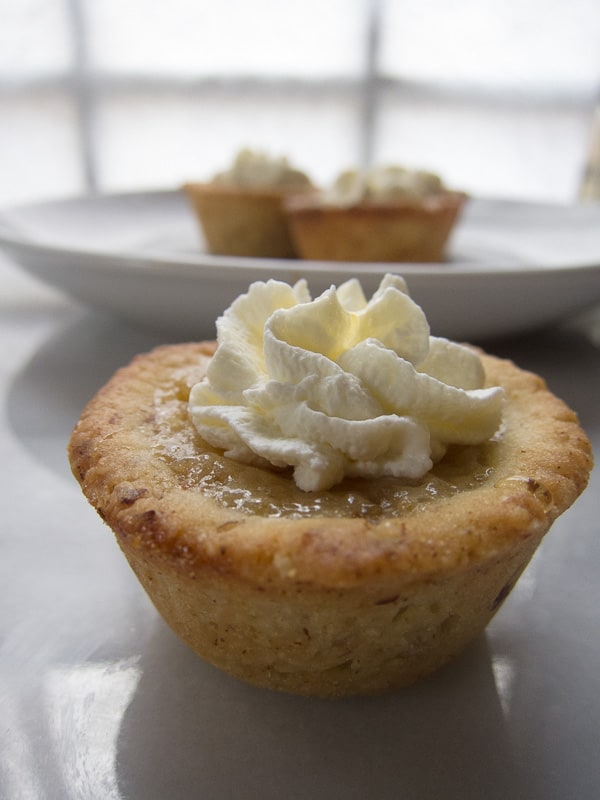 Mini Treacle Tart Recipe
Want More Mini Tarts?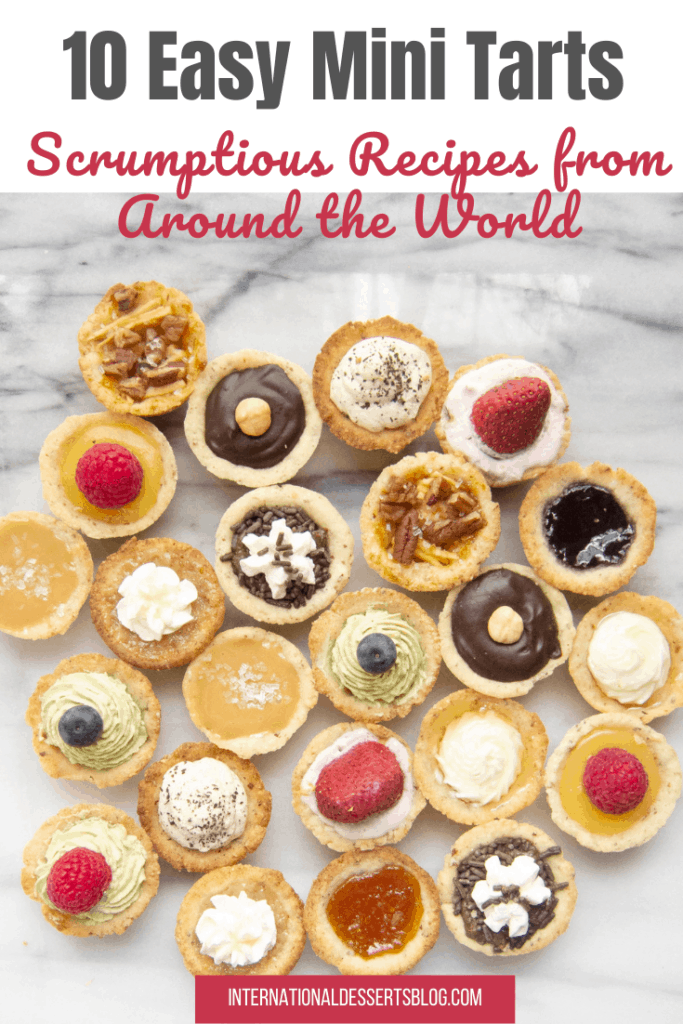 Looking for More British & Irish Recipes?