How to Use Quark Cheese in More than German Cheesecake
This article may contain affiliate links. See our disclosure link for more information.
If you've heard of Quark but don't know what it is or how to use this healthy and delicious soft cheese, this is the post for you! I share how you can use it in baking and beyond.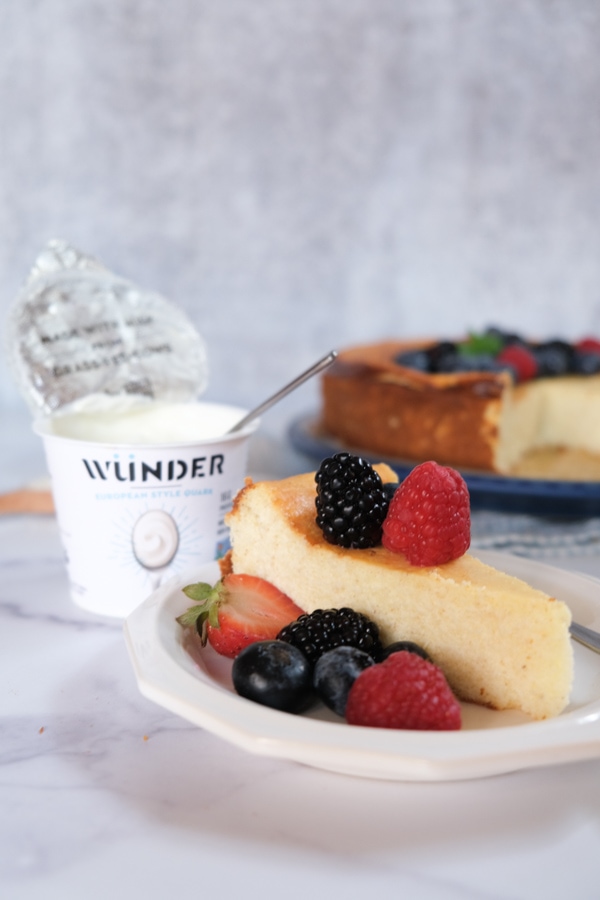 Thanks to Wünder Creamery for sponsoring this post.
If you're part of my International Baking Club you've heard me declare my love for German Quark.
And until I discovered Wünder Creamery's Quark in my local grocery store a few months ago, Quark was a treat I only enjoyed when visiting Germany and when I had enough time to make homemade Quark.
But now that Wünder not only sells Quark in grocery stores across the US and via their online store, I can enjoy Quark any time I want – and you can, too!
UPDATE: unfortunately, Wünder is no longer selling Quark so I have removed links to their online store.
Recipes with Quark
You might be familiar with some of my Quark recipes like German Quark Cheesecake, Crustless German Cheesecake, German Quark Bällchen, and Blackberry Quark Cream Dessert.
But I also use Quark in so many other ways!
So I thought I'd share seven ways I use Quark in both sweet and savory meals and snacks – often as a healthier substitute for things like mayo, sour cream, and cheese.
But First, What is Quark?
If you've seen or tasted Quark, you're probably wondering is Quark Yogurt or is Quark Cheese? Quark may look like and have the thickness of Greek yogurt but it's actually a soft cheese!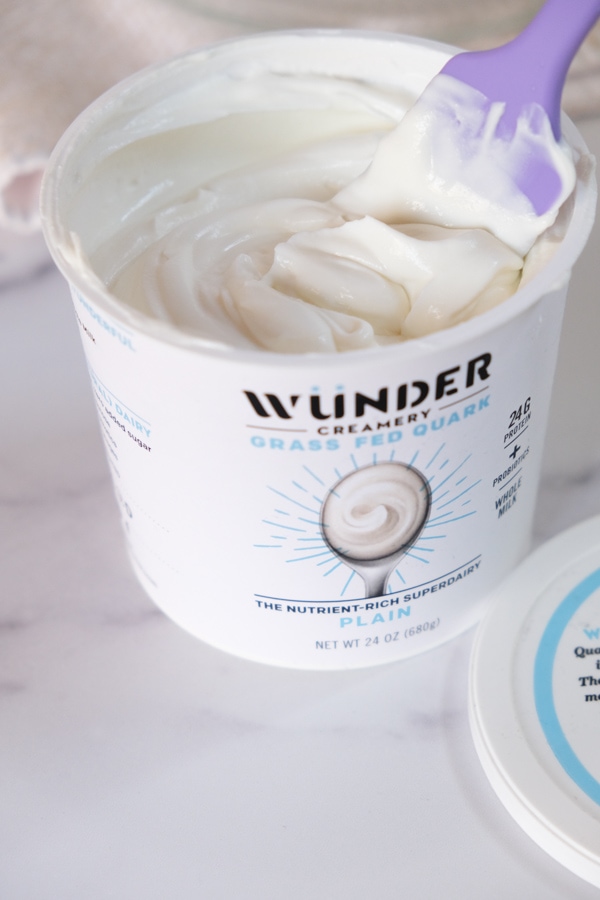 Why is Quark So Great?
There are a five reasons why I love Quark and use it frequently in cooking, baking:
Wünder Quark has 24 grams of protein per serving and is low in sugar and lactose.
It's Keto friendly with a low amount of net carbs.
Quark is versatile! You can use it in both sweet and savory dishes, you can cook and bake with it, and you eat it cold.
Quark has 89% less fat than cream cheese, three times more protein than sour cream, and 90% less sodium than cottage cheese.
Quark is thick and creamy but doesn't have a tart flavor. I love eating plain Quark it right out the container!
How to Eat Quark: 7 Ways I Use Quark Cheese in Cooking, Baking & Snacking
#1. I make an easy & healthy breakfast.
Protein-rich Quark makes an excellent breakfast! I like to top plain Quark with fruit, nuts, and a drizzle of honey or golden syrup. Since Quark isn't tart, sometimes I just eat plain Quark completely plain!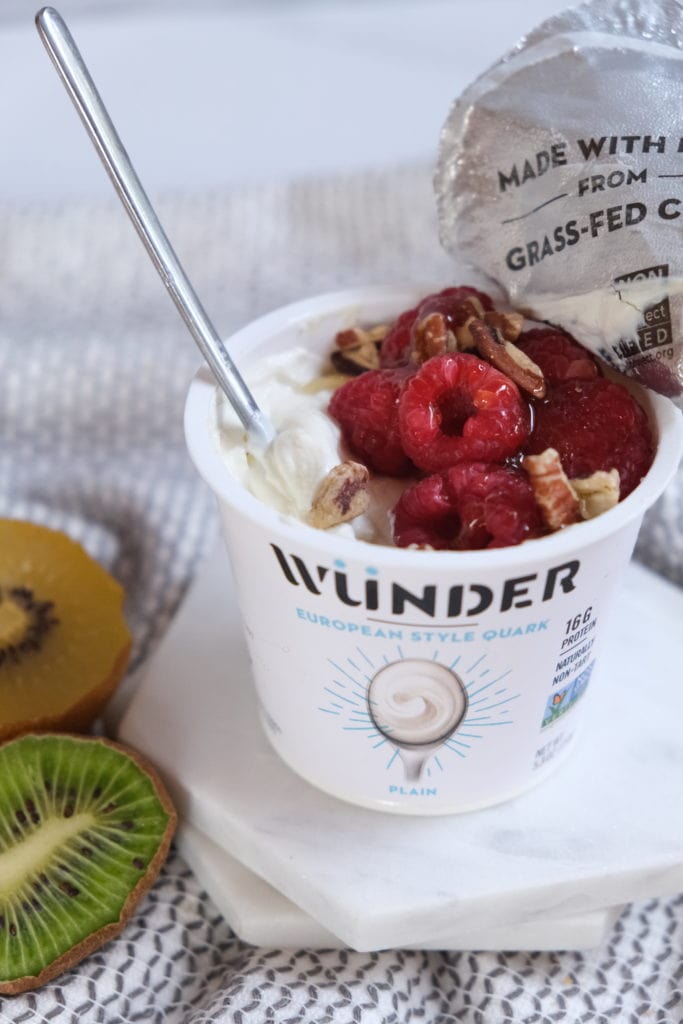 #2. I spread plain Quark on toast or crackers.
I also like to spread plain Quark on toast or Norwegian crisp bread and then top with sliced veggies and a little salt, pepper, and dill. It makes a tasty lunch and is much healthier than adding cheese slices or using flavored cream cheese.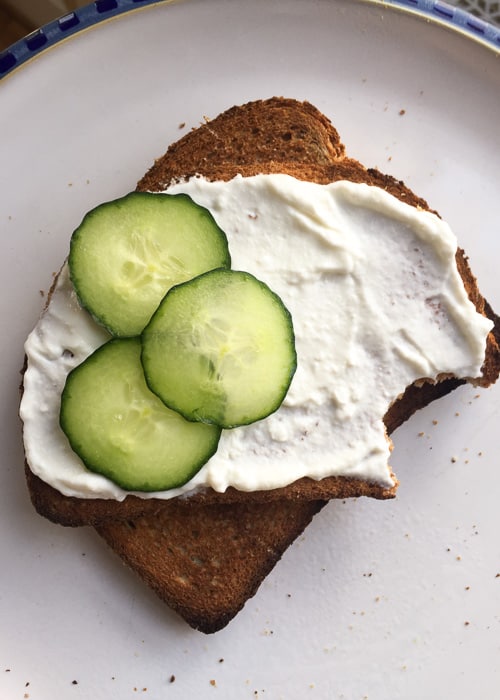 #3. I use plain Quark instead of mayo.
I always make a Turkey Cranberry Wreath after Thanksgiving and decided last year to swap out the mayo for plain Quark. I didn't miss the mayo at all and I liked knowing that the Quark made this dinner a little healthier.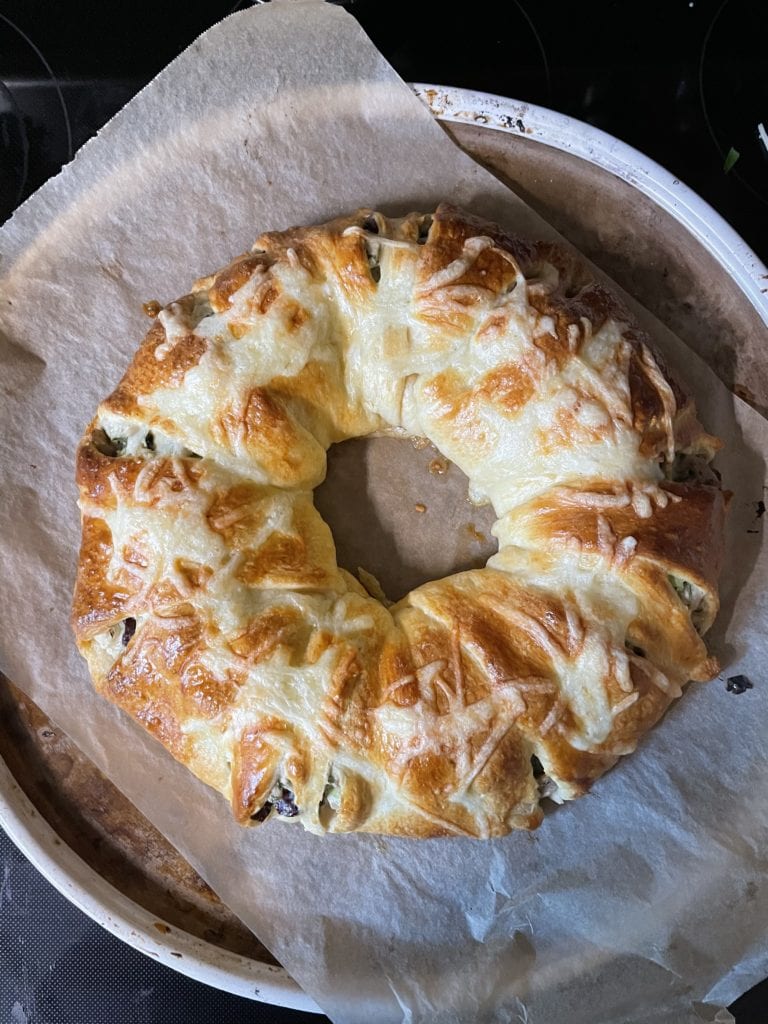 #4. I add flavored Quark instead of yogurt to my waffle batter.
When I'm craving waffles I often make SkinnyTaste's yogurt waffles. Now I make them with Quark!
But instead of using plain Quark, I use Wünder's Raspberry Quark. Not only do my waffles get a protein boost, they taste so good!
The waffles were crunchy on the outside, fluffy on the inside, and had a lovely hint of raspberry flavor that was delicious with the maple syrup I added after I snapped the photo below.
Aaron, who doesn't usually even like waffles, took a bite and then grabbed the leftovers before I could stick them in the freezer!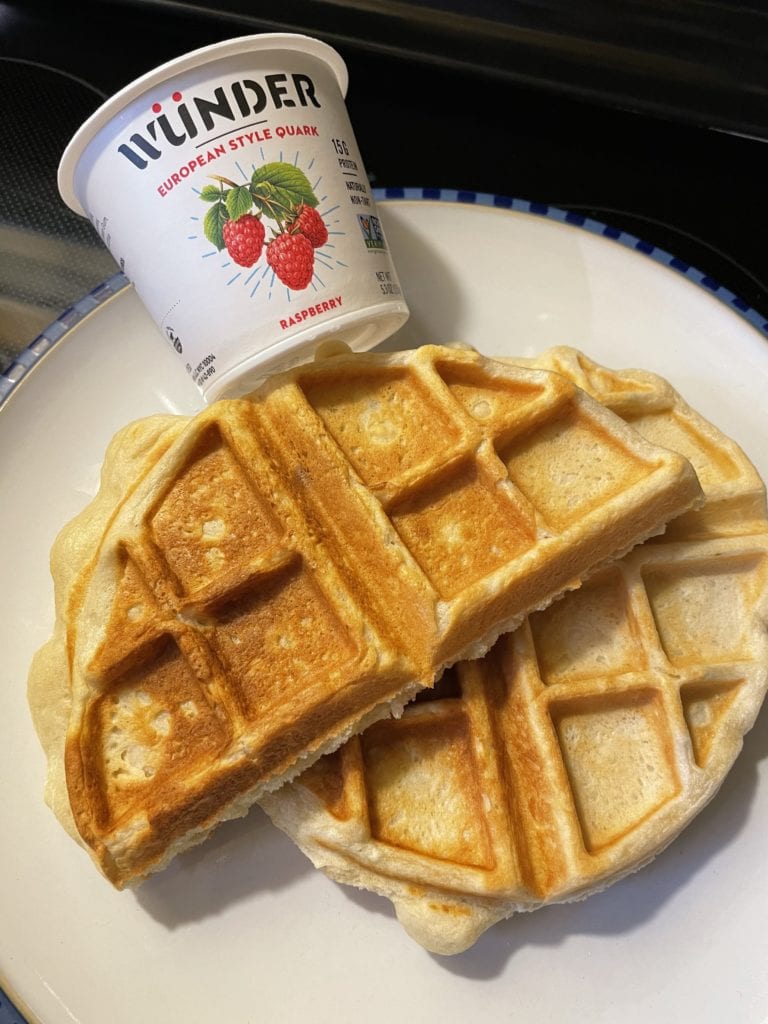 #5. I use fruit flavored Quark as a quick and easy dip.
When I made cinnamon sugar German Quark Bällchen during the holidays I was looking for something to dip them in that was lighter than melted chocolate or caramel.
I had Black Cherry Quark in the fridge, and so that's what I served with the Quark bites. It was a hit!
I also really love dipping apple sliced into Strawberry Quark. It's a healthy snack that makes you feel like you're indulging in mid-day dessert!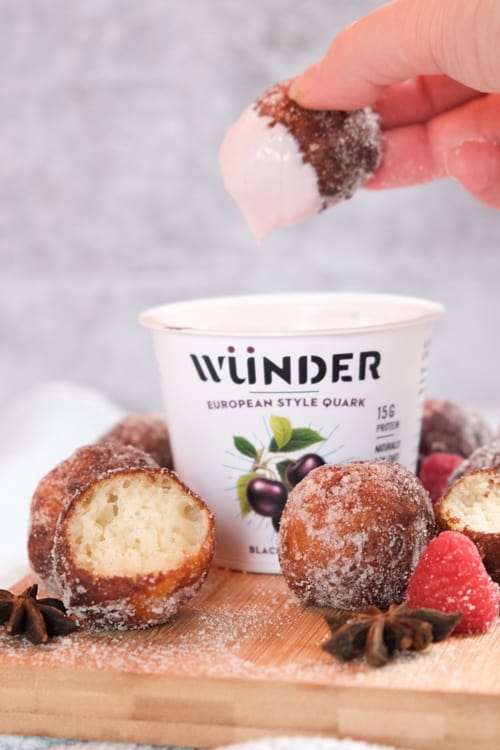 #6. I use Quark instead of sour cream in avocado cilantro cream.
When making avocado cilantro cream for tacos I use plain Quark instead of sour cream. No photo of this one because it was devoured before I could snap a photo!
#7. I use plain Quark instead of Crème Frâiche.
I didn't have time to make the homemade crème frâiche that my onion and cheese tart called for so I used plain Quark instead.
Just like with the Cranberry Turkey Wreath above, it turned out beautifully and I liked knowing that I'd make this indulgent dinner a little healthier!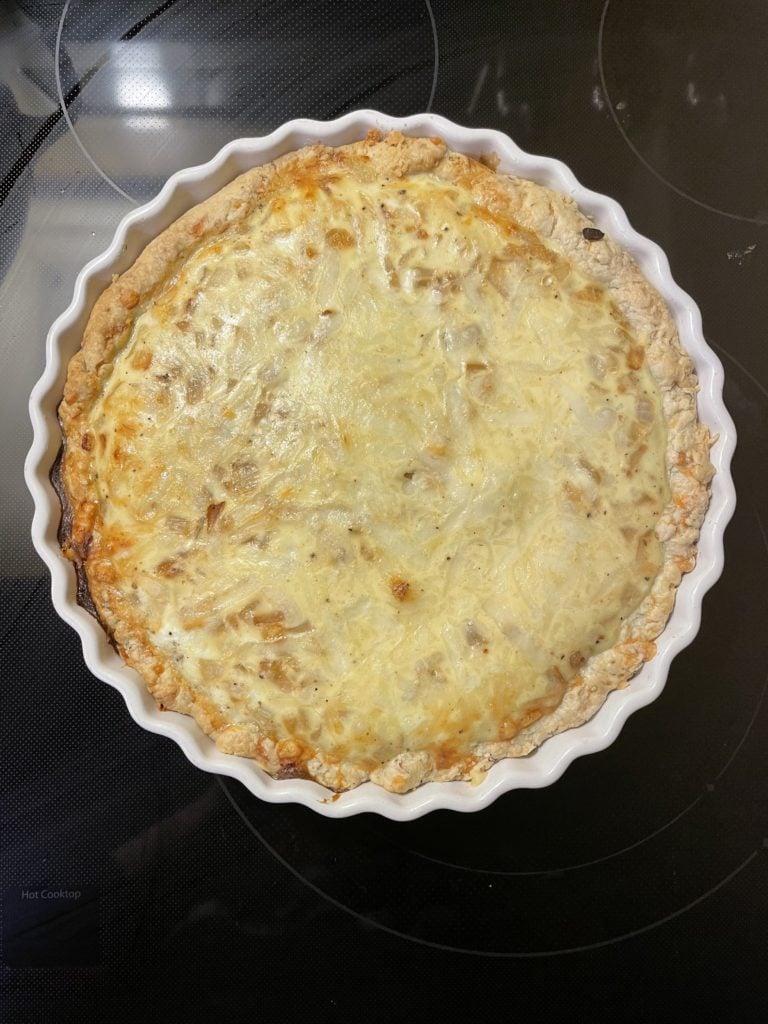 I know I said I'd share seven ways I use Quark but I have to add this last one.
If you're craving an afternoon coffee but don't want caffeine, try Wünder's Coffee Quark!!
I thought this would be my least favorite flavor because I've never been a fan of coffee flavored yogurt.
But as soon as I had one bite it became my absolute favorite! Aaron had a bite (I wasn't about to share the whole thing, haha!) and said "I could eat buckets of that."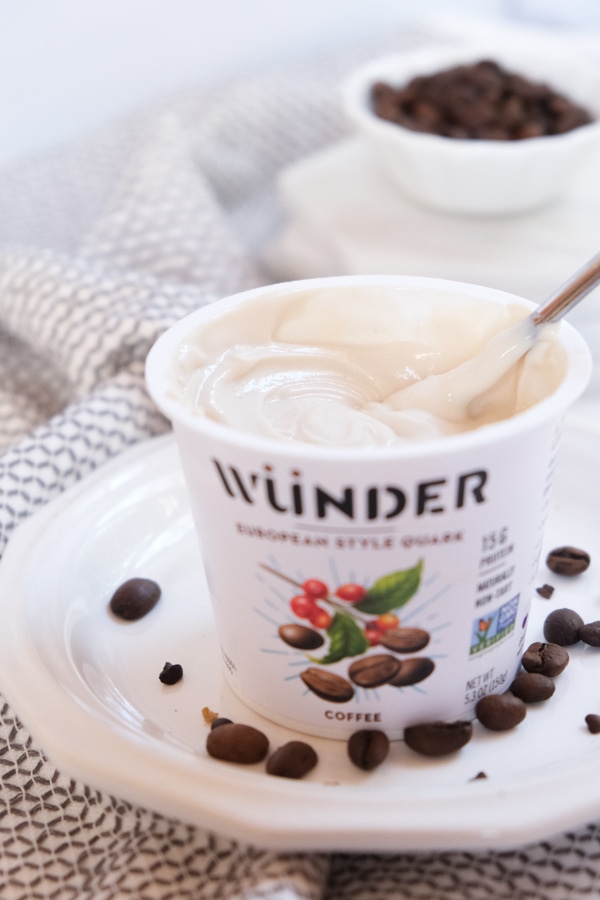 Where to Buy Quark in the US?
Quark is a staple in Germany and elsewhere in Europe but not (yet) in the US. That's why I recommend looking for Wünder Quark in your local grocery store (click here for their store locator) or ordering it online!
UPDATE: unfortunately, Wünder is no longer selling Quark so I have removed links to their online store.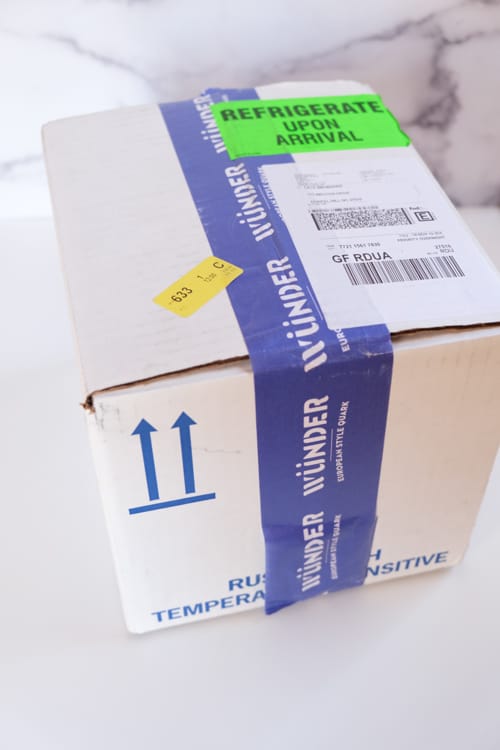 If you order online, Wünder will deliver your Quark right to your doorstep in just a couple days!
They sent me a box of Quark and it arrived perfectly cold and ready to use. Wünder Quark will stay fresh in your fridge for 1.5 months so you can stock up. You can order both plain and flavored Quark online.
UPDATE: unfortunately, Wünder is no longer selling Quark so I have removed links to their online store.