Authentic Bienenstich Kuchen (German Bee Sting Cake Recipe)
This article may contain affiliate links. See our disclosure link for more information.
If you love honey and almonds, you'll swoon over German Bee Sting Cake (Bienenstich).

This traditional German treat has two layers of yeast cake, a vanilla cream filling, and a crunchy gooey honey almond topping.
This easy authentic German dessert that will fly off your cake plate!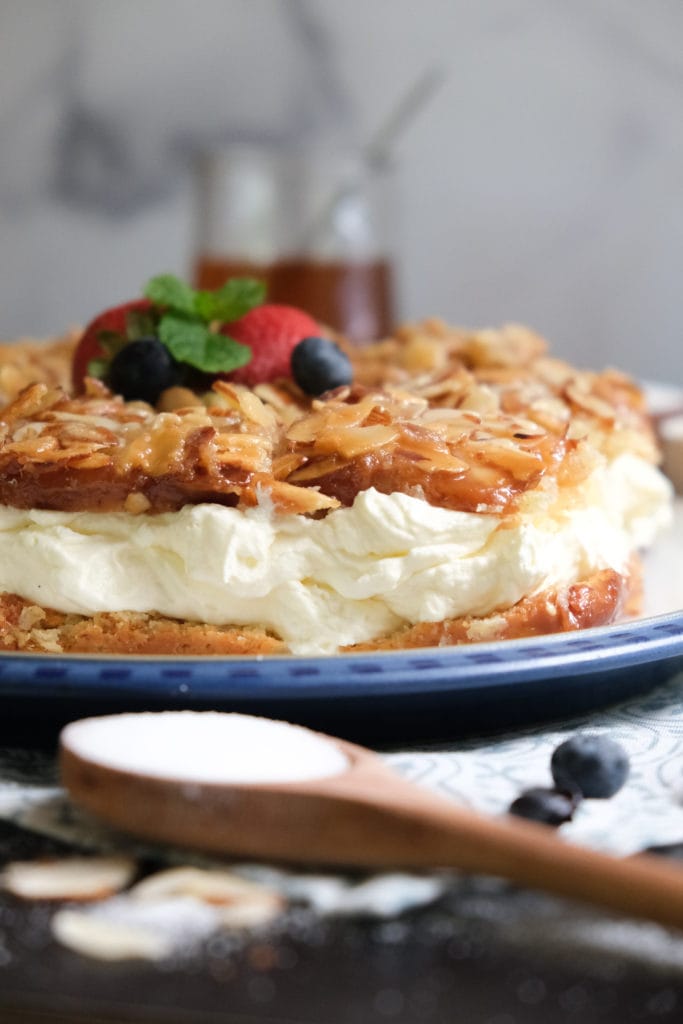 So a while back I said that Rote Grüetze is my favorite German dessert…but that's because I wasn't thinking about Bienenstich Kuchen!
German Bee Sting Cake is one of the best desserts in Germany.
That's saying something, because Germany is overflowing with amazing desserts and sweets!
Fortunately, you don't need to go to a German bakery to try Bee Sting Cake because you can easily make it at home. This is one of those German desserts that looks complicated and impressive but is actually very easy to prepare.
Everyone who tries this German Bee Sting Cake LOVES it. Whenever I make it, it disappears quickly. You're going to LOVE it!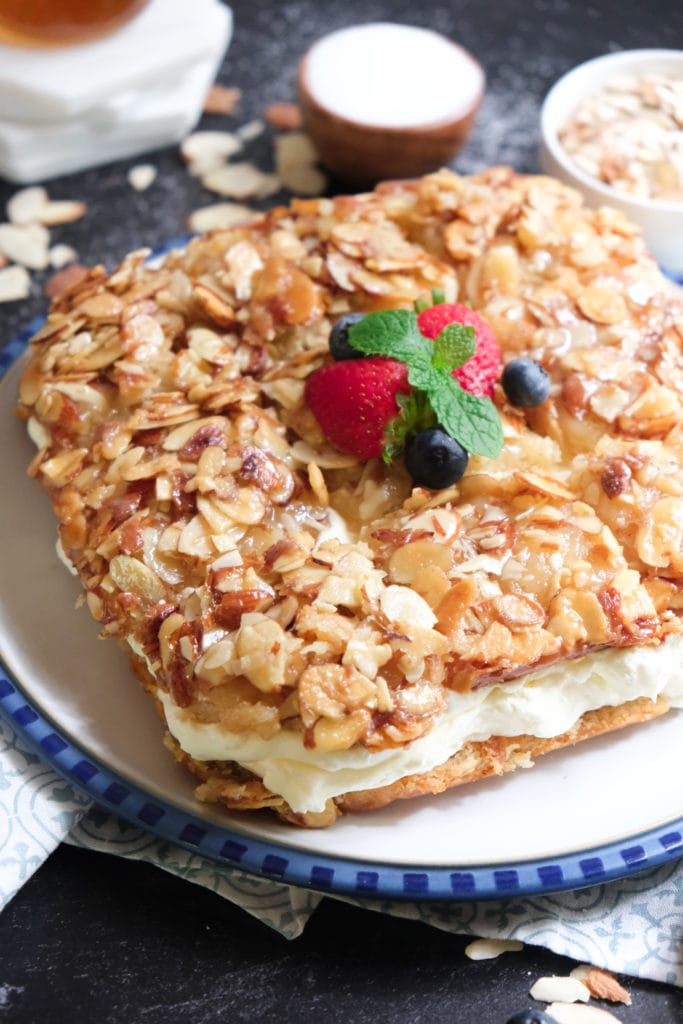 When I lived in Stuttgart, I walked by a little corner bakery ever day on my way to the university. More often than not, I couldn't resist stopping for a slice of Bienenstich Kuchen.
Funny story: last summer when I was back in Stuttgart, the hotel I booked ended up being almost right next door to that bakery!
I didn't plan it that way and only realized it as I walked past the bakery and thought, hey, this looks familiar… and then realized where I was.
I popped into the bakery but unfortunately, no Bienenstich that day. Fortunately, I had a slice elsewhere in Stuttgart(see below).
What is Bee Sting Cake?
Bienenstich Kuchen – or Bee Sting Cake – is a traditional German dessert comprised of two thin layers of yeast cake with a creamy filling, and a crunchy, buttery, honey-and-almond topping.
The yeast cake balances out the sweetness of the filling and topping.
When I was in Stuttgart last summer I ordered a slice of Bienenstich for Kaffee und Kuchen (coffee and cake) one afternoon after a hike, and here's what it looked like: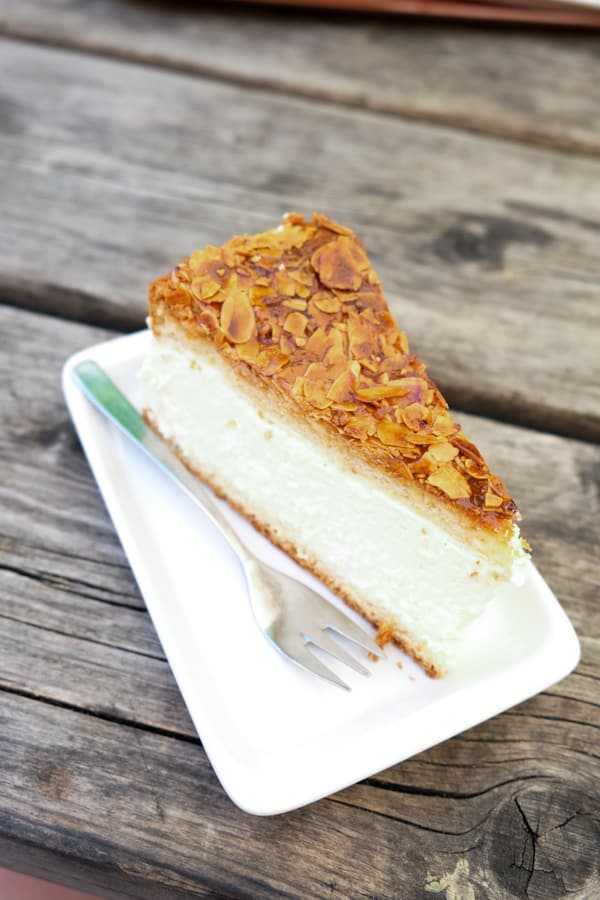 My version is a little different (there are several ways to make this delicious German cake).
First, I make mine in an 8×8 inch (20×20 cm) square baking pan (I love this one), rather than in a round pan, because I find it SO much easier to cut into slices (be sure to see my tips for cutting this cake below).
Another reason is because back when I lived in Stuttgart, I almost always got Bee Sting Cake from that local bakery I mentioned, and they always made it as a tray cake.
So using a square baking pan makes me think of Stuttgart. That said, you can absolutely make this cake using an 8 inch round springform pan or a cake ring, if you prefer.
The other difference is the amount of filling I use.
The cream filling in the Bienenstich I had last summer (see photo above) was very light in flavor and texture.
The bakery version I remember and loved from Stuttgart had a smaller amount of denser vanilla flavored filling, and that's my preferred version.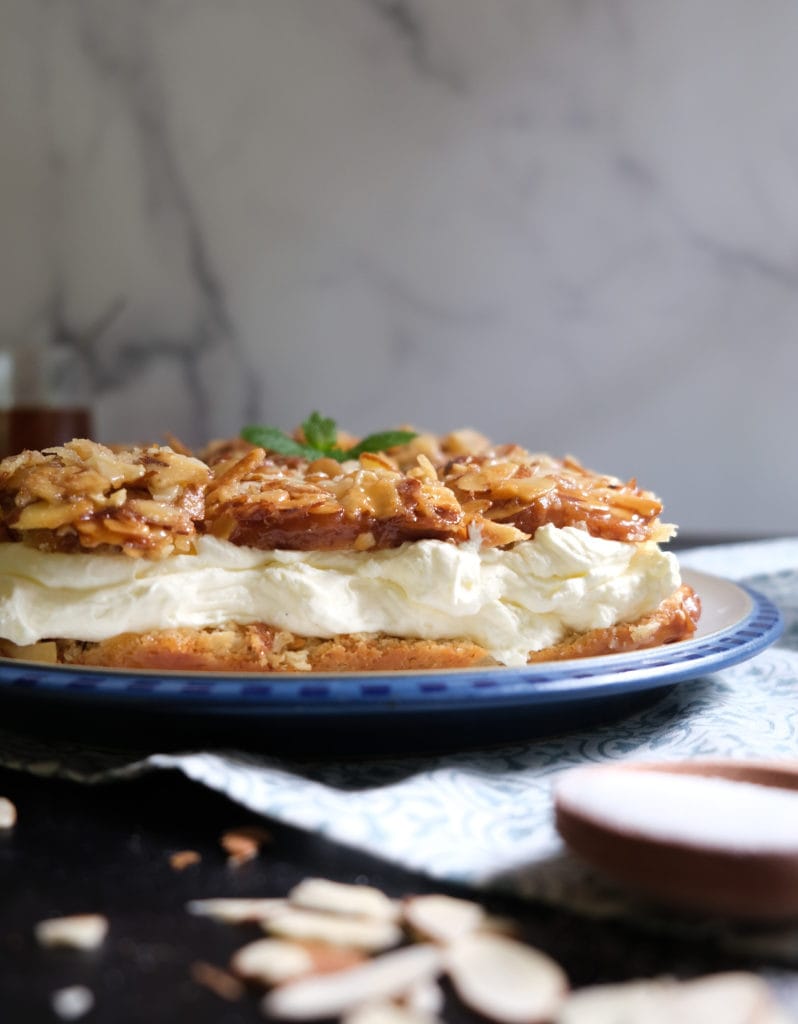 A while back I experimented with adding twice as much filling, and while it looked great in photos, it was waaaay too sweet with the honey topping.
I highly recommend the cake/filling/topping ratio in this recipe.
Don't be scared off by all of the steps in this recipe!
I've included step-by-step instructions in the recipe below. It's really quite easy to make.
First you make the dough, then the honey almond topping.
While the cake is baking, prepare the filling. After the cake has cooled a bit, assemble the cake, let it chill for an hour, and then enjoy!
Here's a big tip! After taking the cake out of the oven, let it cool in the cake pan for a few minutes and then on a wire rack for 10-20 minutes.
Just long enough so you can comfortably touch the cake.
Then slice the cake lengthwise into two layers, transfer the top layer (the part with the honey almond topping) to a cutting board, and cut that layer into 9 pieces.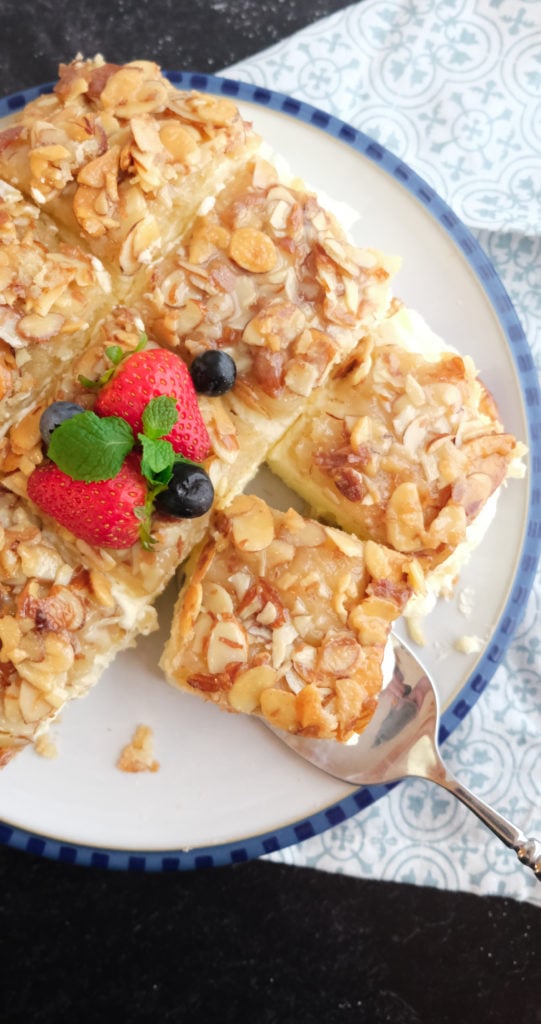 Why? Because this cake is SO much easier to cut while it's still warm.
If you wait to cut it until serving the cake, the almond topping will have hardened and the filling will ooze all over when you try to cut it. This beautiful cake will just end up a sloppy mess, so definitely cut it while it's still warm!
When you assemble the cake, spread the cream on the in-tact bottom layer and then place the 9 cake pieces on the cream.
That way, you shouldn't have too much trouble cutting through the bottom layer when you serve it. Just don't press down too hard on the top pieces as you cut.
The cream filling will firm up while the cake chills in the fridge, but it can still ooze out the sides.
Here's another tip!
Some vanilla pudding mixes will turn your filling yellow (Aldi pudding, for example).
Personally, I like the look of white filling with this cake, so if you do too, check that your pudding powder is white before adding it to the heavy whipping cream.
I recommend making this cake at home from scratch but if you don't have time or just don't want to make it from scratch, you can order a Bee Sting Cake mix.
All you do is add the butter, water, and heavy whipping cream, and then bake it. Click here to check it out!
My third tip: enjoy this cake the day you make it.
It will keep for a couple days in the fridge and it will taste ok but it's MUCH better eaten the day you bake it.
? Recipe Variations, Notes & Tips
There are a few variations you can make to customize this cake more to your tastes:
Honey. Add more honey to the topping if you prefer a stronger honey flavor.
Vanilla. Use vanilla sugar or vanilla extract (see my note in the recipe about amounts to use). You could also use a vanilla bean pod if you want more vanilla flavor.
Whipped cream. Whipped cream only. Leave the vanilla pudding powder out of the filling for a straight whipped cream filling (you'll want to stabilize the whipped cream if you do this).
Almonds. Use slivered almonds instead of sliced.
Taller cake. Use this yeast cake recipe if you want a taller cake (personally, I prefer the cake/filling/topping ratio in this recipe).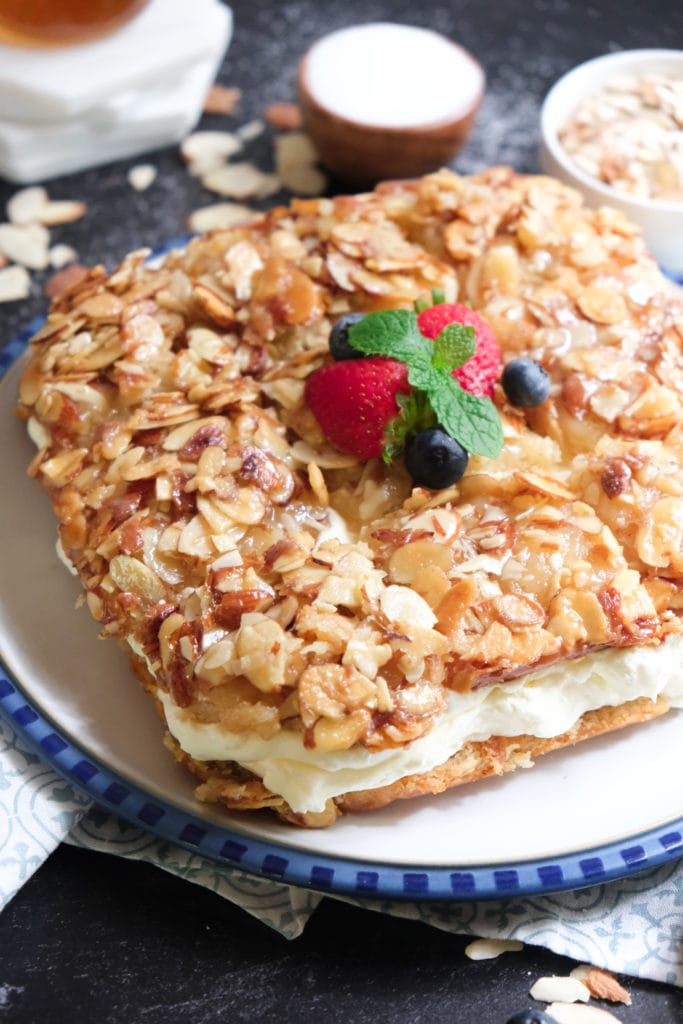 What You Need to Make Bee Sting Cake
Ingredients:
flour
sugar
yeast (I use fast-rising)
salt
butter
milk
vanilla sugar or extract (here's my vanilla sugar tutorial)
egg
honey
heavy cream
sliced almonds (I prefer using sliced but you can use slivered)
vanilla instant pudding mix
Kitchen Tools:
large mixing bowl
wooden spoon
medium saucepan
spatula
8×8 baking pan (20x20cm)
parchment paper
long serrated knife
cutting board
wire cooling rack
palette knife
scale or measuring cups/spoons
fork
cake plate
How to Make Authentic Bienenstich Kuchen (Traditional German Bee Sting Cake Recipe)
The first step is to make the sweet yeast dough. Mix the dry ingredients together – flour, sugar, yeast, and salt in a large mixing bowl.
Then add the melted butter, egg, and milk to the flour mixture.
Stir until dough forms a ball. If the dough is sticky, add a few sprinkles of flour until it no longer sticks to your hands.

The dough should be soft but not sticky.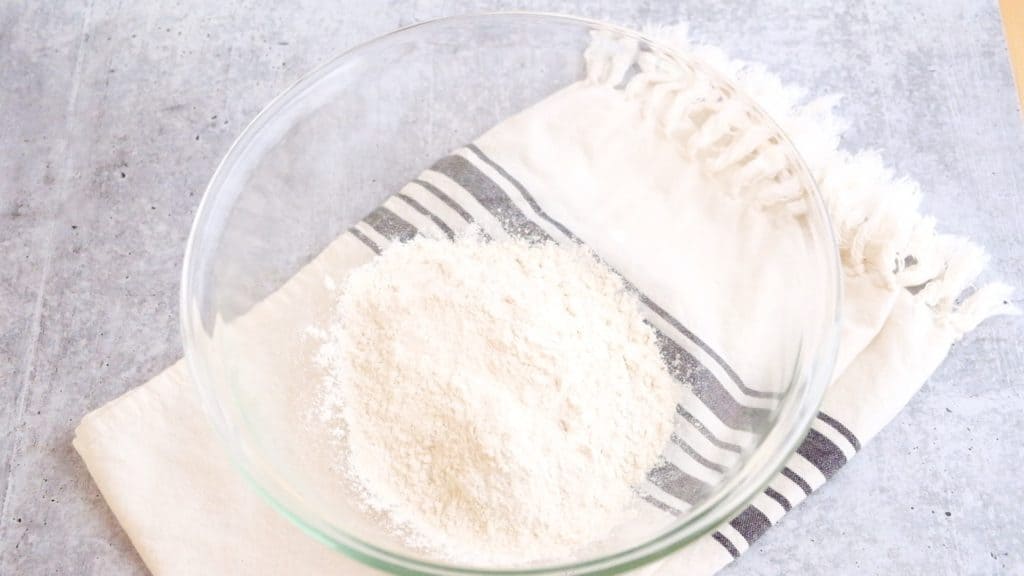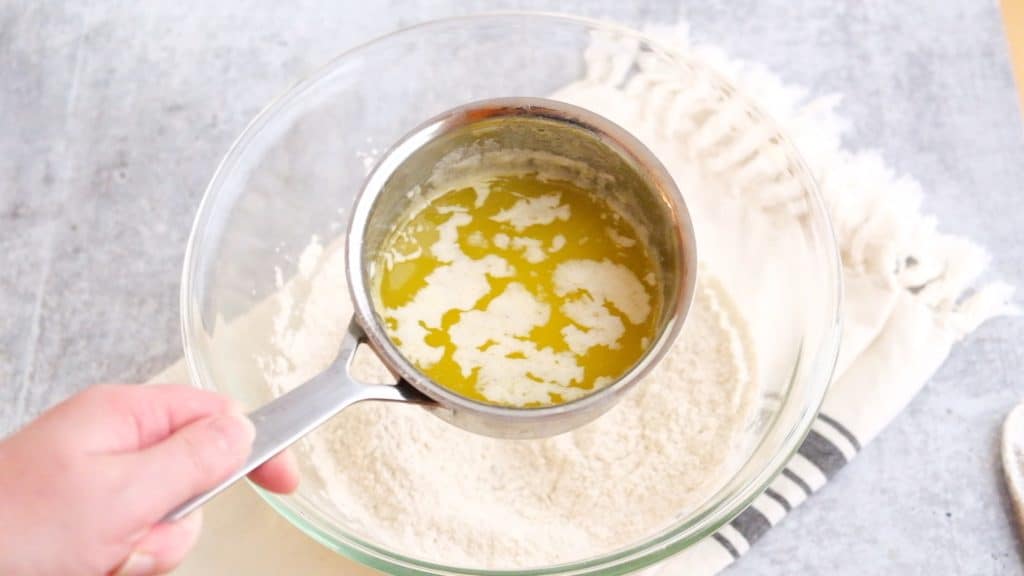 Knead the dough in the bowl 5-7 times or until the dough looks and feels smooth.

Cover the bowl with a towel and let the it rest in warm place for 30 minutes (the dough won't rise a whole lot).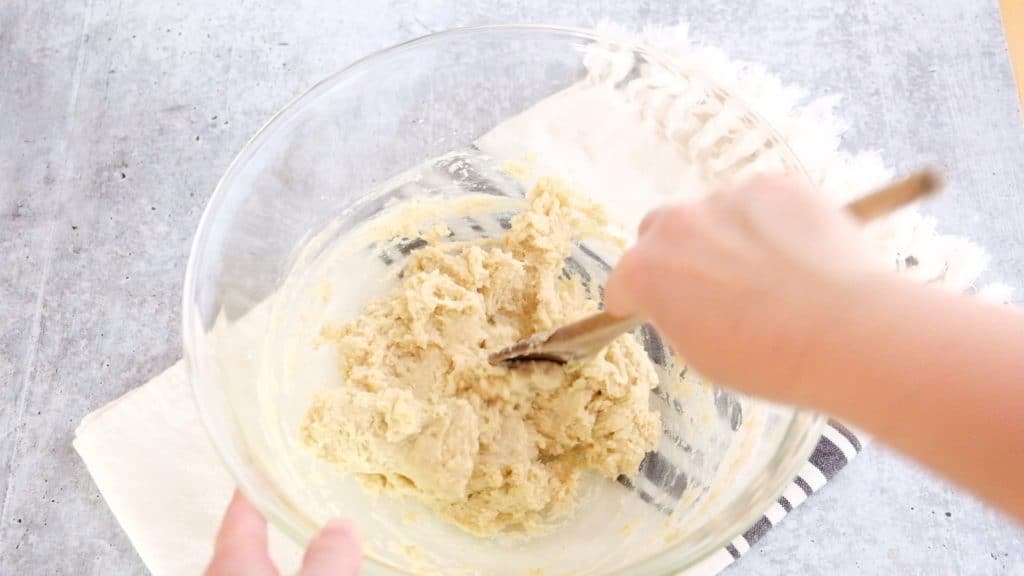 Enjoy a cup of coffee, tea, wine, whatever for 15 or so minutes then pre-heat the oven to 350F/176C.
While the oven is heating and the dough is resting, you can prepare the crunchy almond topping ingredients.
Melt butter in a saucepan over medium low heat.
Then add the honey, sugar and salt (add the vanilla sugar here if using – see my note in the recipe for how much to use).
Stir until sugar has dissolved.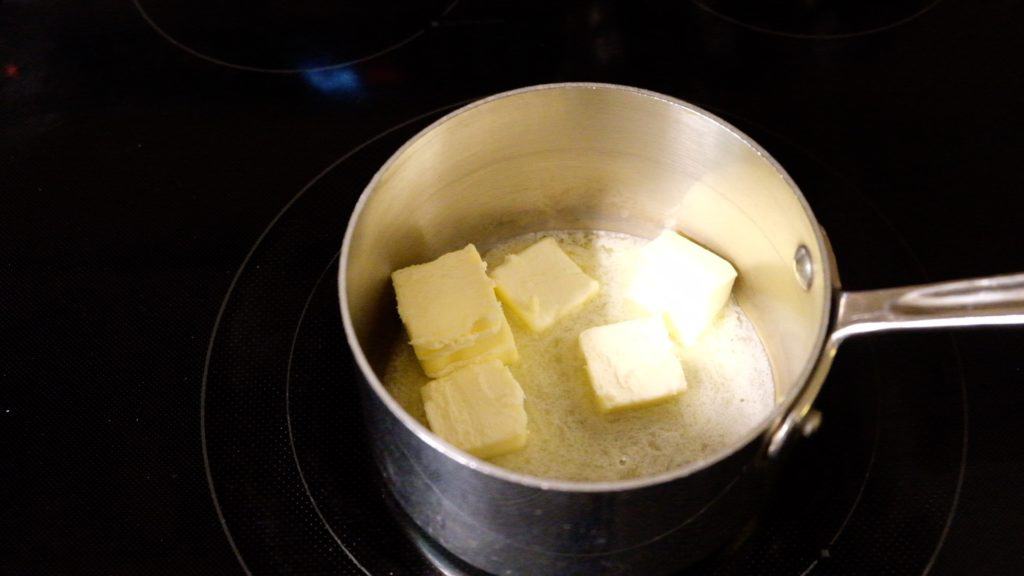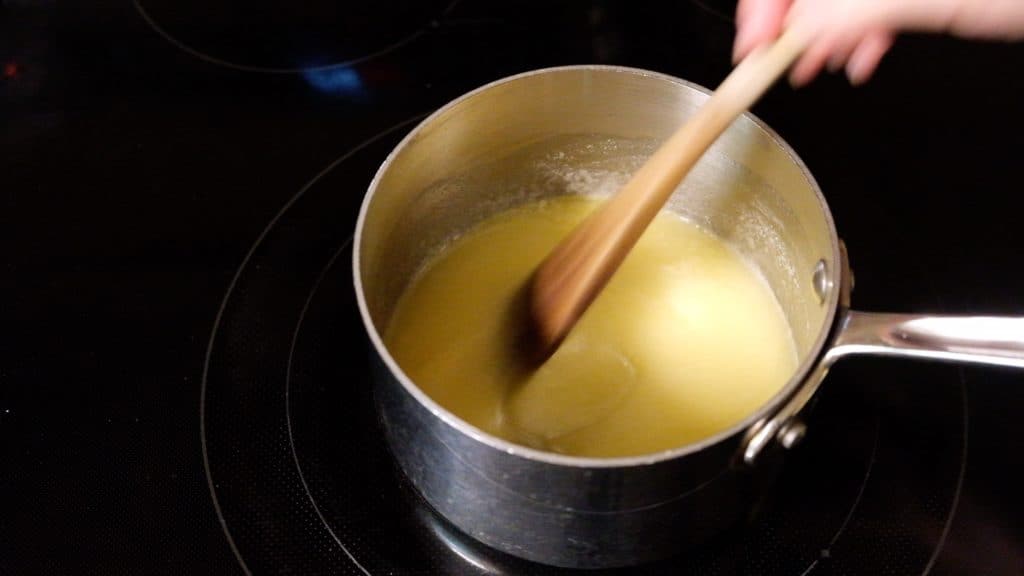 Remove the saucepan from the heat, add the sliced almonds (and vanilla extract, if you're using that instead of the vanilla sugar) and stir until well combined.
If you're not ready to pour the topping on your cake, just keep it warm on the stove for a few minutes (I use the "warm" setting/burner on my stove).
Place a piece of parchment paper in your 8x8in (20x20cm) baking pan so the edges hang over the sides (sometimes I rub a little butter or add cooking spray to the bottom to help the parchment stick to the pan).
Press the dough into the pan and use a fork to prick the dough several times (that will prevent the cake from puffing up too much while baking).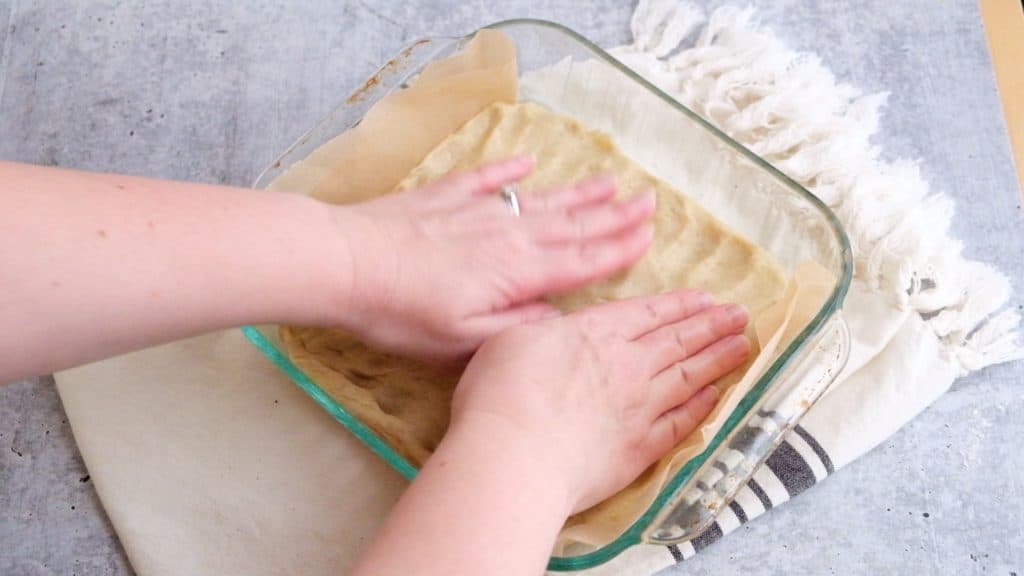 Pour the hot almond topping onto the dough and spread evenly.
Bake at 350F/176C for about 30 minutes or until the topping is a nice golden brown.
I always check my cake at 25 minutes and then continue baking for 5-7 minutes longer.
Keep an eye on it because the almond topping can over-bake and turn dark brown quickly.
While the cake is baking, prepare the cream filling.
Pour the heavy cream, pudding powder, and vanilla sugar (or vanilla extract) into the bowl of a stand mixer (or use a hand mixer) and first beat to soft peaks.
Taste the cream and, if desired, add more pudding powder or vanilla sugar (or extract) to taste.
Then beat to stiff peaks. Store the cream in the fridge until you're ready to use it.
When the cake is finished baking, take it out of the oven and let it cool for a few minutes in the cake pan.
Be careful – the topping is hot! Carefully pull the cake out of the pan using the parchment that's hanging over the sides.
Let the cake cool on a wire rack for 10-20 minutes.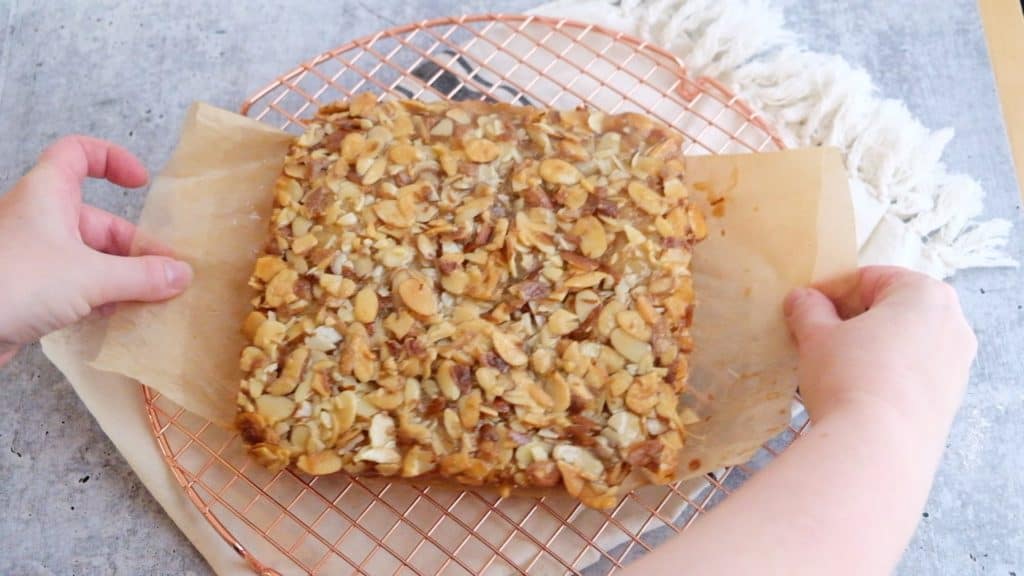 When you can comfortably touch the cake with your fingers, use a long serrated knife to cut the cake into 2 slices lengthwise (see middle photo above).
Carefully transfer the top slice (with the almond topping) to a cutting board and then carefully cut into 9 slices. Separate the slices a bit to let them cool.
Add any topping that came off during the slicing back to the top of the cake.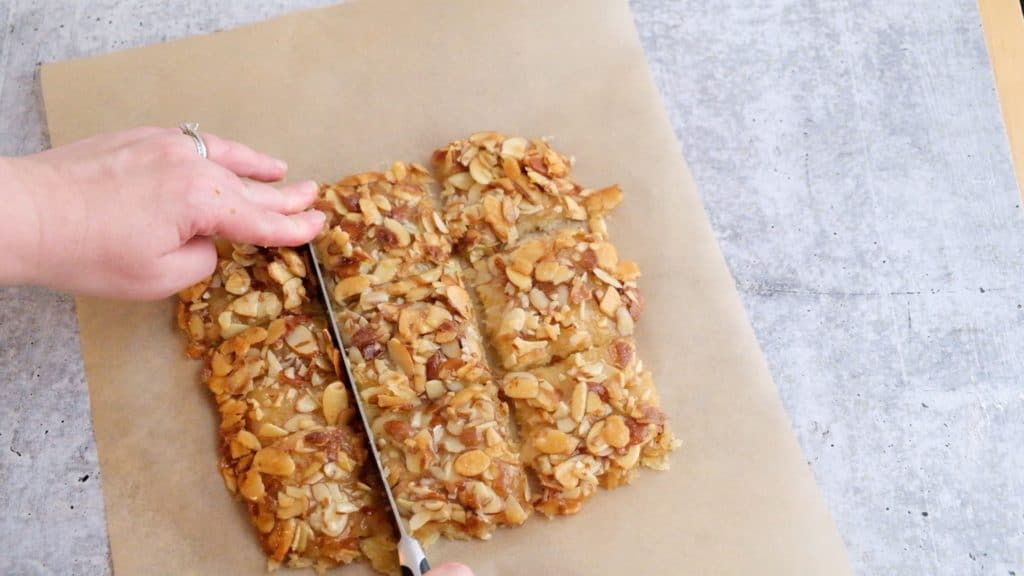 Don't wait too long to cut these cake slices!
It's SO much easier to cut the top layer at this stage, rather than waiting until the cake is assembled and has chilled in the fridge.
This way, when you serve the cake, all you have to do is cut through the cream and the bottom layer of the cake.
If you wait to cut the entire cake, the almond topping will be very difficult to slice and the filling will ooze out the sides and create a mess.
Next, place bottom layer cut side up on a (cake) plate.
Once the cake is cool to the touch, spread the filling evenly over the bottom layer.
Then, carefully place each of the 9 top slices on the cream.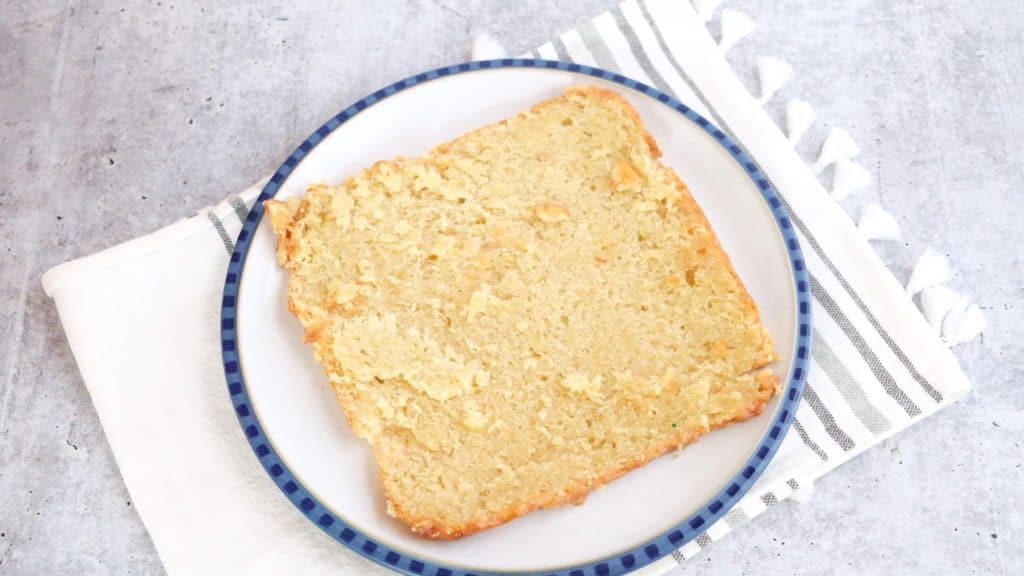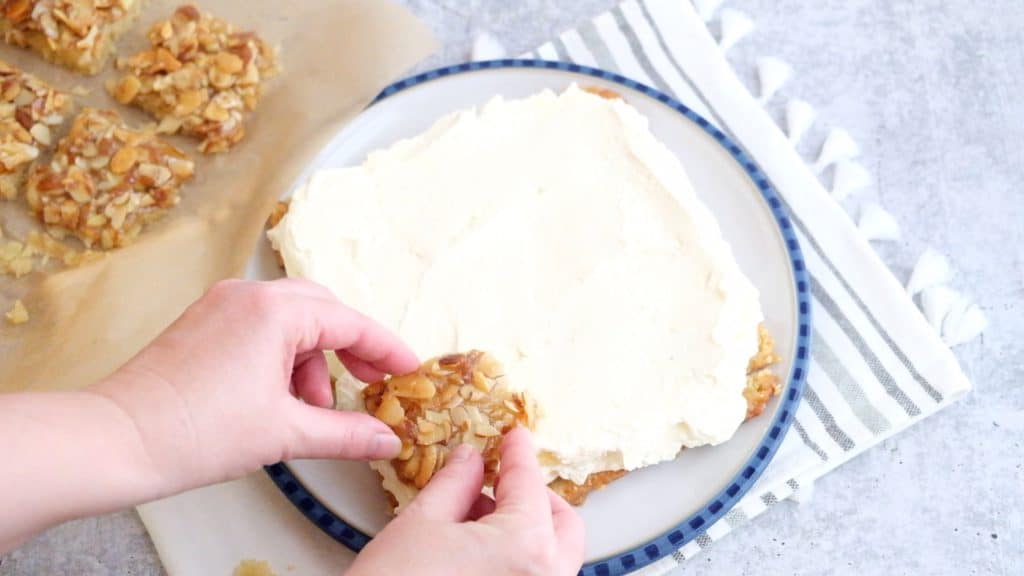 Finally, cover or wrap the cake in plastic wrap and chill the cake in the fridge for about an hour.
When serving the cake, be careful not to press down too hard on the top layer of the cake when you go to slice through the bottom layer.
The cream layer will firm up in the fridge but it can still ooze out the sides if you press down too hard.
Enjoy this delicious taste of Germany!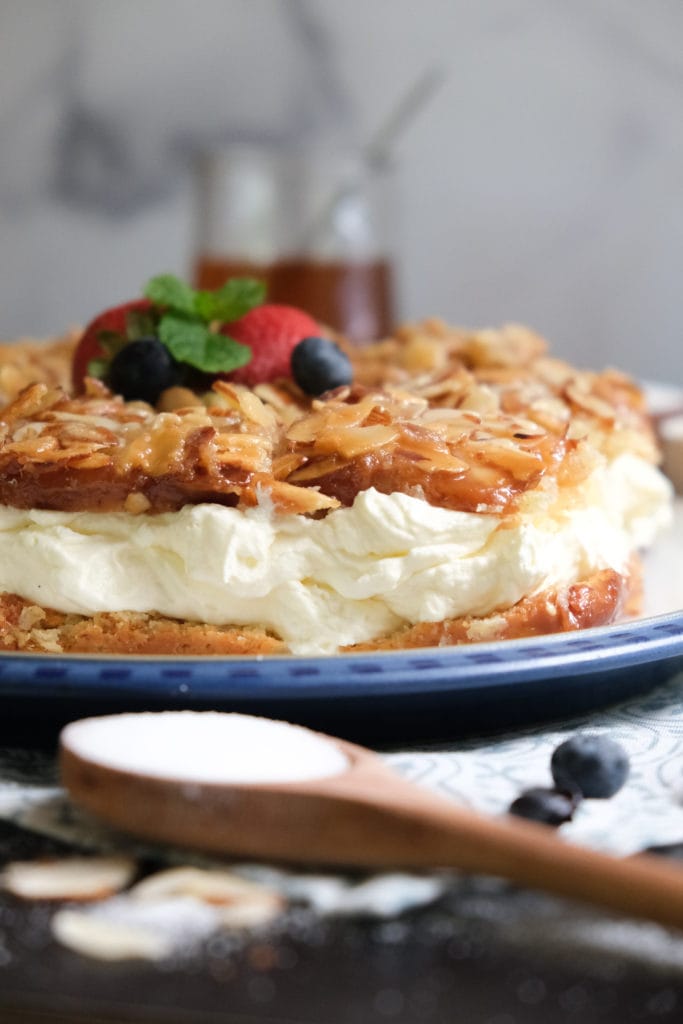 ?? Looking for More German Cake Recipes?
How to Make German Bee Sting Cake

No time to make German Bee Sting Cake from scratch?
No problem, you can order a mix! All you do is add the butter, water, and heavy whipping cream, and then bake it. Click here to check it out!





Bee Sting Cake Ice Cream
If you like the flavor of Bee Sting Cake, you'll love the Bee Sting Cake Ice Cream recipe below!
It's super easy to make and the only equipment you need is a jar and a spoon.
It's especially good when you want a portion-controlled treat or when you're craving Bee Sting Cake but don't want to make an entire cake. Enjoy!