This post contains affiliate links, meaning, if you click through and make a purchase or sign up for a program, I may earn small commission. This is at no additional cost to you.
A while back I said that Rote Grüetze is my favorite German dessert…but that's because I wasn't thinking about Bienenstich Torte (German Bee Sting Cake)!
It's one of the best desserts from Germany.
Years ago, when I lived in Stuttgart, Germany I walked by a little corner bakery every day on my way to the university. More often than not I couldn't resist stopping at that bakery for a slice of Bienenstich Kuchen (try saying that 10 times fast!).
Last year I decided to try making it at home and was thrilled with the results. I couldn't believe it was so easy to make at home. This is one of those easy German desserts that looks complicated and impressive. But it's much easier to make than it looks, so definitely give it a try.
Everyone who makes this German Bee Sting Cake loves it. Every time I make Bienenstich Torte, it disappears quickly!
What is Bee Sting Cake?
Bienenstich Torte – or Bee Sting Cake – is a traditional German dessert comprised of two layers of yeast cake with a creamy filling, and a crunchy, buttery, honey and almond topping. The yeast cake balances out the sweetness of the filling and topping.
Don't be scared off by all of the steps. It's not at all complicated and I've included step-by-step instructions in the recipe below. First you make the dough. While it's rising, make the honey almond topping. While the cake is baking, make the filling. Assemble the cake, let it chill for an hour, then enjoy!
Here's a big tip! After taking the cake out of the oven, let it cool for a few minutes. Just long enough so you can touch it. Slice the cake lengthwise (see photos below) and then cut the top part of the cake (the part with the honey almond topping) into 9 pieces.
It's SO much easier to cut while the cake is still warm. If you wait until serving the cake, the almond topping will have hardened and the filling will ooze all over when you try to cut it.
When you assemble the cake, spread the cream on the in-tact bottom layer and then place the 9 cake pieces on the cream. When you serve it, you shouldn't have too much trouble cutting through the bottom layer. Just don't press down too hard on the top layer as you cut. The cream filling will firm up while the cake chills in the fridge, but it can still ooze out the sides.
Here's another tip! Some vanilla pudding mixes will turn your filling yellow (Aldi pudding, for example). Personally, I like the look of white filling with this cake, so if you do too check that your pudding powder is white before adding it to the heavy whipping cream.
How to Make Bienenstich Torte (German Bee Sting Cake Recipe)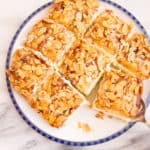 German Bienenstich (Bee Sting Cake)
Crunchy, honey-flavored almond topping, creamy filling, and 2 delicious yeast cake layers make this German favorite absolutely wunderbar!
Ingredients
Make the Cake
1 3/4

cup

flour

2

Tbsp

sugar

2 1/4

tsp

yeast (1 packet)

pinch of salt

1

egg

(at room temperature)

1/4

cup

melted butter

1/3

cup

milk

(at room temperature)

a few drops of oil
Make the Topping
1/4

cup

butter

1

Tbsp

honey

6

Tbsp

sugar

1 1/2

Tbsp

heavy whipping cream

3/4

cup

sliced almonds
Filling
2

cups

heavy whipping cream

1

packet

vanilla pudding mix (3.4 oz)
Instructions
Mix flour, sugar, yeast, salt, butter, egg, and milk together. Knead dough a few times until it becomes smooth.

Take dough out of the bowl, add a few drops of oil to the bottom of the bowl (spread it around with your fingers), and then put the dough back in the bowl. Cover with a towel and let it rise for 30 minutes.

While the cake dough is rising, make the topping. Melt butter, honey, and sugar in a saucepan over medium heat. When the butter has melted, add cream and then mix until sugar is dissolved. Remove saucepan from heat and stir in sliced almonds.

Butter an 8×8 baking dish and then place a sheet of parchment paper inside so edges hang over. Roll out dough and then press into pan. Prick dough several times with a fork. Pour almond topping onto dough and spread evenly. Bake for 35 minutes in 350F. The topping will be golden brown when done.

Let the cake cool for a few minutes. When you can touch the topping with your fingers, use a long serrated knife to cut the cake in two layers. Place the top layer on a sheet of parchment and use the same long serrated knife to cut the top layer into 9 pieces. It's much easier to cut the top layer when it's still a bit warm.

Add pudding powder to heavy cream and then whip to stiff peaks. Spread filling on bottom cake layer. Place top layer on the cream filling piece by piece. Chill in the fridge for 1 hour or until the filling is set.

When you're ready to serve the cake, be careful not to not press down too hard on the top layer when cutting the bottom layer because the filling will spill out. Enjoy!

No time to make German Bee Sting Cake from scratch?
No problem, you can order a mix! All you do is add the butter, water, and heavy whipping cream, and then bake it. Click here to check it out!
---
Want More Germany?
—
Disclaimer: The International Desserts Blog is a participant in the Amazon Services LLC Associates Program, an affiliate advertising program designed to provide a means for us to earn fees by linking to Amazon.com and affiliated sites. Thank you for supporting my site and helping me make it the best international desserts and travel resource on the internet!