Authentic Tres Leches Cake Recipe (Flaming Eye Ghost Cake)
This article may contain affiliate links. See our disclosure link for more information.
This tres leches ghost cake is an updated vintage cake recipe perfect for Halloween. Don't want the ghost shape? Make the tres leches cake in a rectangular pan. This cake is delicious, no matter what shape it's in!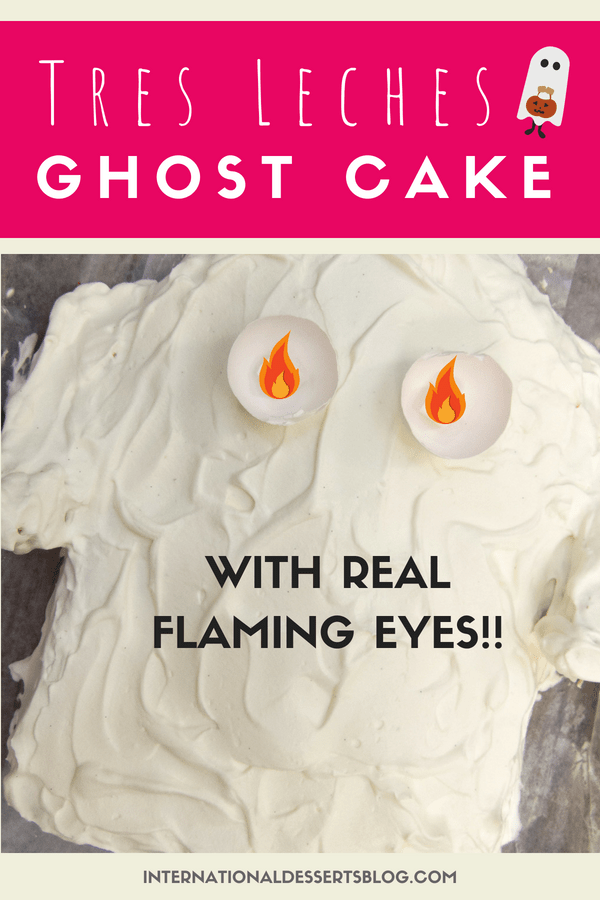 Raise your hand if you had the Betty Crocker Cookbook for Boys and Girls when you were a kid! I received a late-70s version as a gift when I was in Kindergarten and I loved it. I'm pretty sure I made every single recipe in it.
My very favorite was the flaming eye ghost cake, which was a vanilla cake with a marshmallow frosting and glowing eyes. As a kid with an October birthday, I thought having a flaming cake in the shape of ghost was the coolest thing ever. For several years I requested this flaming eye ghost cake for my Halloween-themed birthday parties.
The ghost shape is pretty basic and not an impressive Pinterest type of cake but it IS delicious and easy to make. I don't know about you, but I like cakes that I actually want to eat. If I spend an eternity making or decorating a cake I often don't want to ruin it by eating it. Ha!
This vintage ghost cake is perfect for kids (or nostalgic adults) who want to bake – and then eat – a fun Halloween cake!
If you're not interested in a Halloween cake, just use a rectangular cake pan to make this delicious tres leches cake.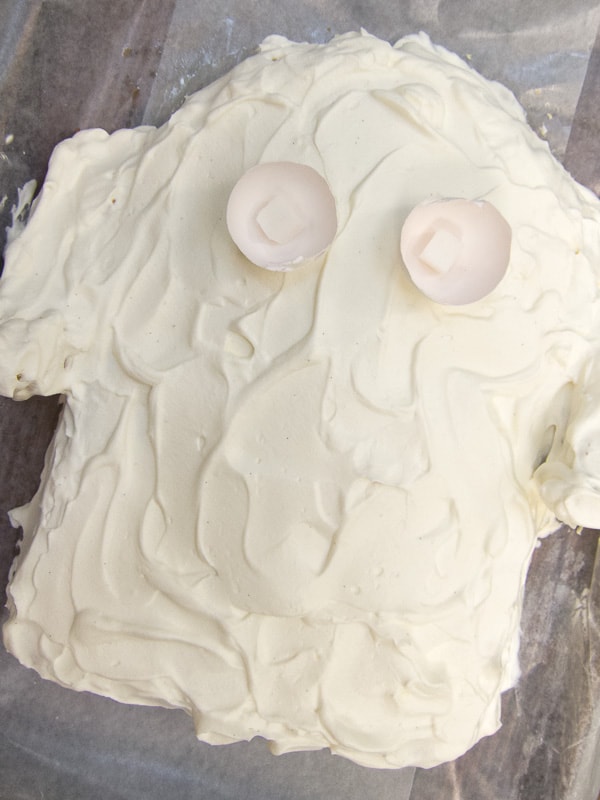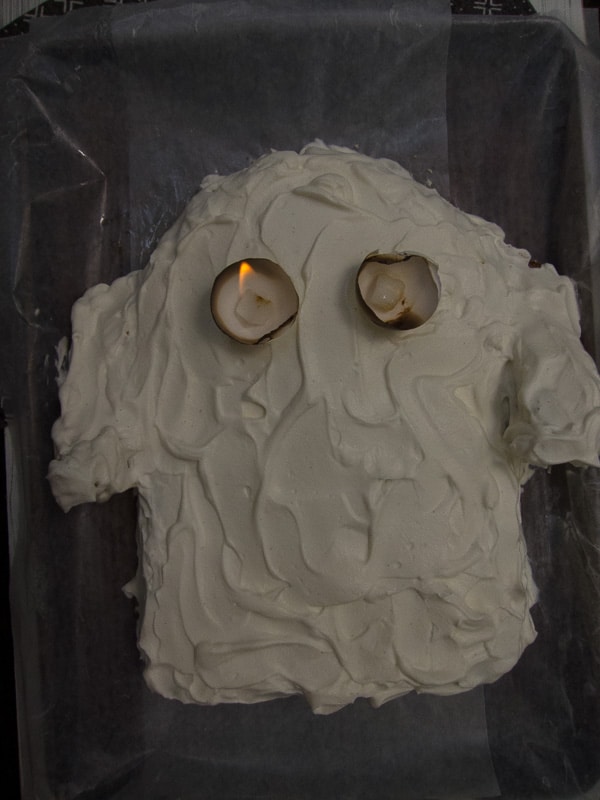 A few years ago I found my old Betty Crocker kid's cookbook in a box in my parent's garage and decided to make this vintage cake for a neighborhood Halloween party.
But I changed it up a bit!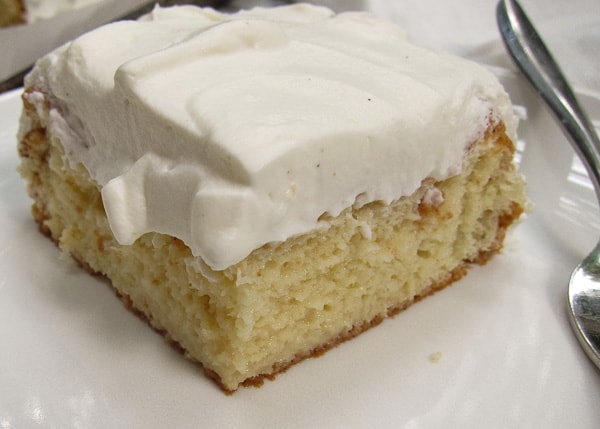 Instead of a vanilla cake I made a delicious tres leches cake, and instead of marshmallow frosting, I used whipped cream (what you typically find on a tres leches cake). The whipped cream actually creates the perfect ghost effect and the cake is so, so, so good.
Have you ever had tres leches cake?
I had it for the first time in Costa Rica several years ago when I had dinner at a colleague's house. I fell in love with the light and fluffy cake instantly.
Tres leches cake means "three milks cake" because after making a light and airy cake, you pour a mixture of cream, sweetened condensed milk, and evaporated milk over the top of the cake. Once that's soaked into the cake, you frost the cake with freshly whipped cream.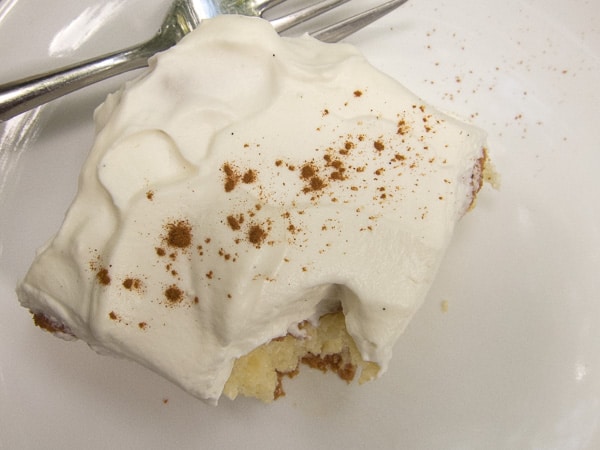 And then you try to not devour the entire cake.
(Seriously. I made this cake again recently and had planned to send most of it to my husband's office…but yeah, we ate it over the weekend. All of it. It's just so easy to eat!)
You can use the tres leches cake recipe below to make a simple sheet cake or you can turn it into one of the cutest Halloween cakes ever. 🙂 I cut my cake into the traditional (simple) ghost shape but you can get even more creative with how you cut out your ghost.
To make the flaming eyes all you need are two clean egg shell halves, two sugar cubes, and a bit of lemon extract (or 80+ proof liquor). When you make the cake, carefully break the eggs and then wash the shells well and let them dry. That way you can choose the two best shells for the eyes. If you don't have or don't want to use egg shells, you can set the sugar cubes right on the cake and light them.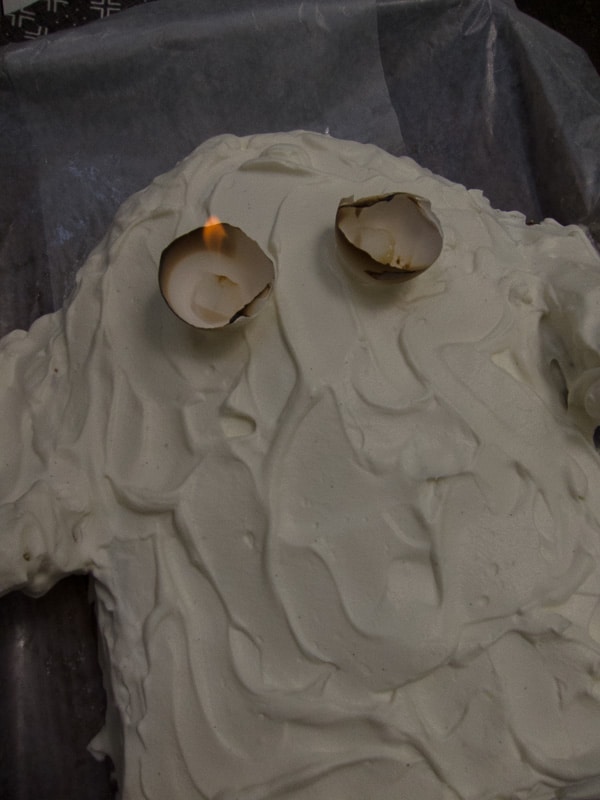 I recommend placing the cake on a large white serving tray. I didn't have one, unfortunately, so I had to get creative. I placed a couple sheets of wax paper on my USA pan half-sheet baking pan (I love and use this one all the time) and it worked fine. Not the prettiest, but it worked.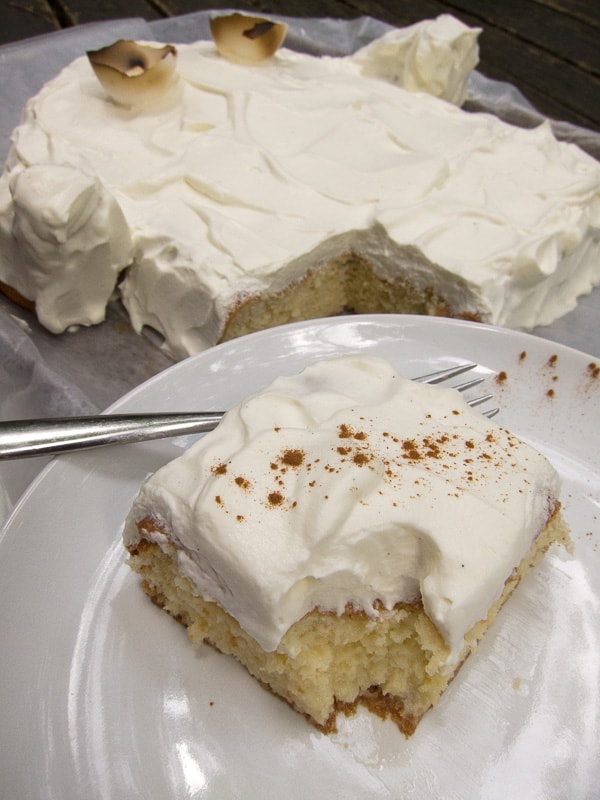 Whether for a kid's party, a neighborhood get-together, Halloween or fun office party, you'll not only love this homemade tres leches cake, you'll get lots of oohs and awes!
Easy Tres Leches Cake Recipe
Here's how to make the best traditional tres leches cake from scratch and then turn it into a flaming ghost cake (the cutest of ghost cakes, IMO)!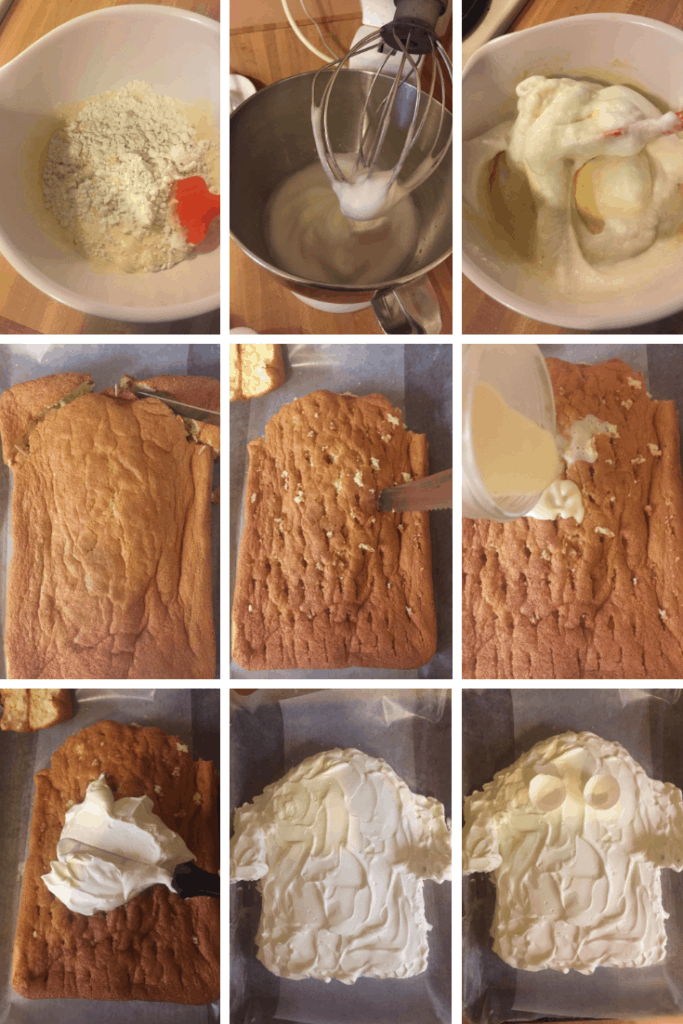 One More Thing!
If you like international travel, saving money while traveling, and creative cultural experiences, you'll love my friend and colleague's new book Unconventional Budget Accommodations: Creative Ways to Save Money on Transformational Travel.
Michelle is an expert at finding budget accommodations that also open doors to more meaningful, transformational experiences with locals while saving money and allowing you to travel longer and dig deeper in each place.
I thought I was good at finding creative, budget, culturally immersive accommodations and experiences but Michelle takes it to a whole new level! The best thing about Michelle's book is that her unconventional ideas are actually d0-able and not just recommendations for couchsurfing or staying in gross hostels with college students.
I read Michelle's book a few months ago (she asked if I'd like to review it) and I'm looking forward to implementing her ideas on my next trip. Michelle's book is currently on sale – click here to check it out!