This post contains affiliate links, meaning, if you click through and make a purchase or sign up for a program, I may earn small commission. This is at no additional cost to you.
First, I have to tell you about a new book I think you'll love! 
If you like international travel, saving money while traveling, and creative cultural experiences, you'll love my friend and colleague's new book Unconventional Budget Accommodations: Creative Ways to Save Money on Transformational Travel. 
Michelle is an expert at finding budget accommodations that also open doors to more meaningful, transformational experiences with locals while saving money and allowing you to travel longer and dig deeper in each place.
I thought I was good at finding creative, budget, culturally immersive accommodations and experiences but Michelle takes it to a whole new level! The best thing about Michelle's book is that her unconventional ideas are actually d0-able and not just recommendations for couchsurfing or staying in gross hostels with college students.
I read Michelle's book a few months ago (she asked if I'd like to review it) and I'm looking forward to implementing her ideas on my next trip. Michelle's book is currently on sale – click here to check it out!
Ok, now to the new recipe – Tres Leches Flaming Eye Ghost Cake
This is a vintage cake recipe!
Raise your hand if you had the Betty Crocker Cookbook for Boys and Girls when you were a kid. I received a late-70s version as a gift when I was in Kindergarten and I loved it. I'm pretty sure I made every single recipe in it.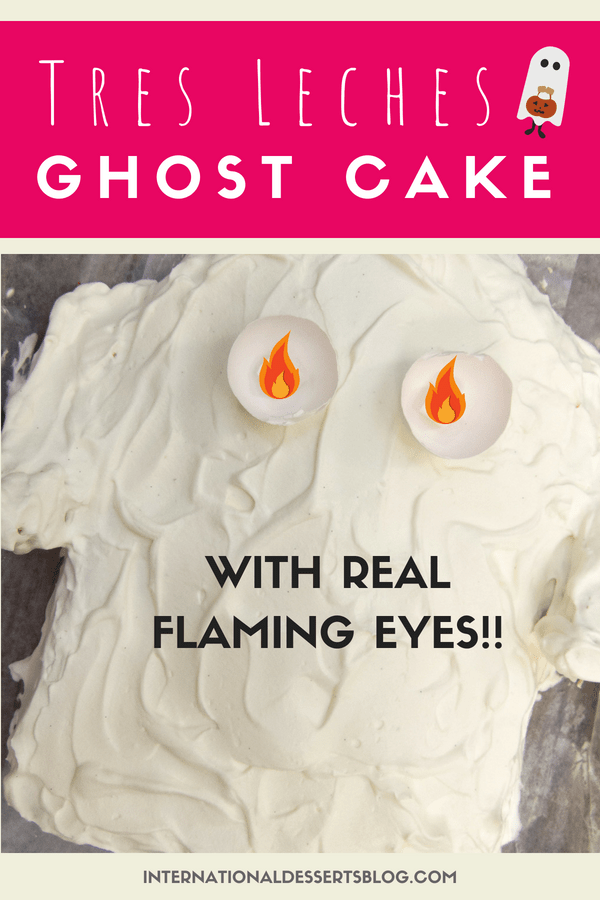 My very favorite was the flaming eye ghost cake, which was a vanilla cake with a marshmallow frosting and glowing eyes. As a kid with an October birthday, I thought having a flaming cake in the shape of ghost was the coolest thing ever. For several years I requested this flaming eye ghost cake for my Halloween-themed birthday parties.
The ghost shape is pretty basic and not an impressive Pinterest type of cake but it IS delicious and easy to make. I don't know about you but I like cakes that I actually want to eat. If I spend an eternity making or decorating a cake I often don't want to ruin it by eating it. Ha!
This vintage ghost cake is perfect for kids (or nostalgic adults) who want to bake – and then eat – a fun Halloween cake!
If you're not interested in a Halloween cake, just use a rectangular cake pan to make this delicious tres leches cake.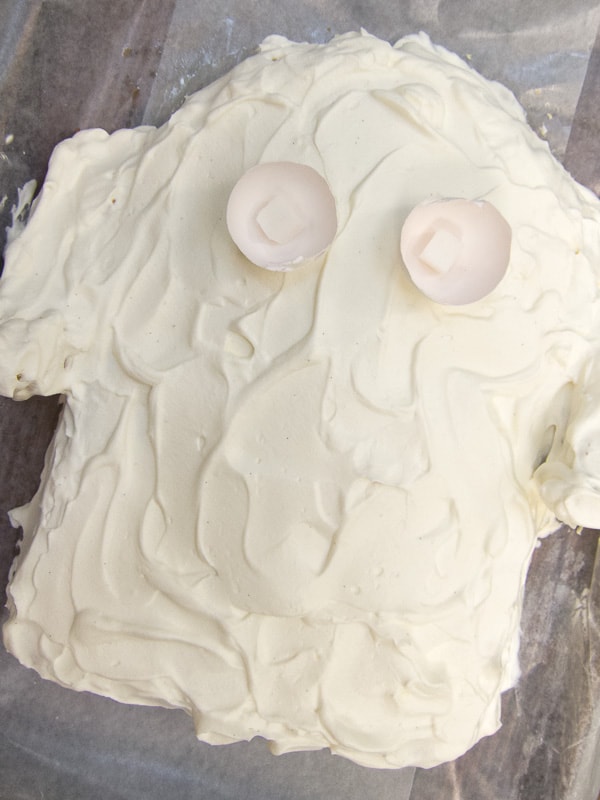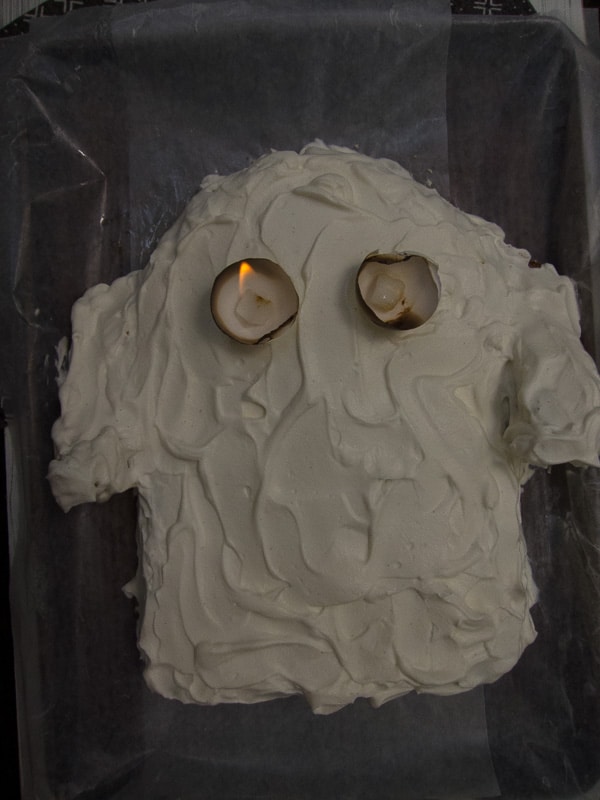 A few years ago I found my old Betty Crocker kid's cookbook in a box in my parent's garage and decided to make this vintage cake for a neighborhood Halloween party.
But I changed it up a bit!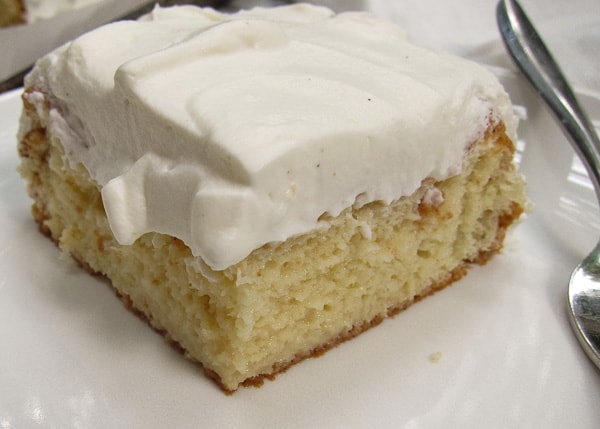 Instead of a vanilla cake I made a delicious tres leches cake. The whipped cream creates the perfect ghost effect and the cake is so, so, so good.
Have you ever had tres leches cake?
I had it for the first time in Costa Rica several years ago when I had dinner at a colleague's house. I fell in love with the light and fluffy cake instantly. Tres leches cake means "three milks cake" because after making a light and airy cake, you pour a mixture of cream, sweetened condensed milk, and evaporated milk over the top of the cake. Once that's soaked into the cake, you frost the cake with freshly whipped cream.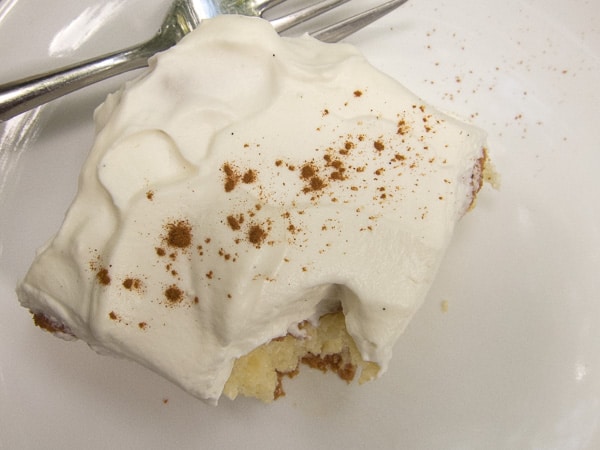 And then you try to not devour the entire cake.
(Seriously. I made this cake again recently and had planned to send most of it to my husband's office…but yeah, we ate it over the weekend. All of it.)
You can use the tres leches cake recipe below to make a simple sheet cake or you can easily turn it into one of the cutest Halloween cakes ever. 🙂 I cut my cake into the traditional (simple) ghost shape but you can get even more creative with how you cut out your ghost.
To make the flaming eyes all you need are two clean egg shell halves, two sugar cubes, and a bit of lemon extract (or 80+ proof liquor). When you make the cake, carefully break the eggs and then wash them well and let them dry. That way you can choose the two best shells for the eyes. If you don't have or don't want to use egg shells, you can set the sugar cubes right on the cake and light them.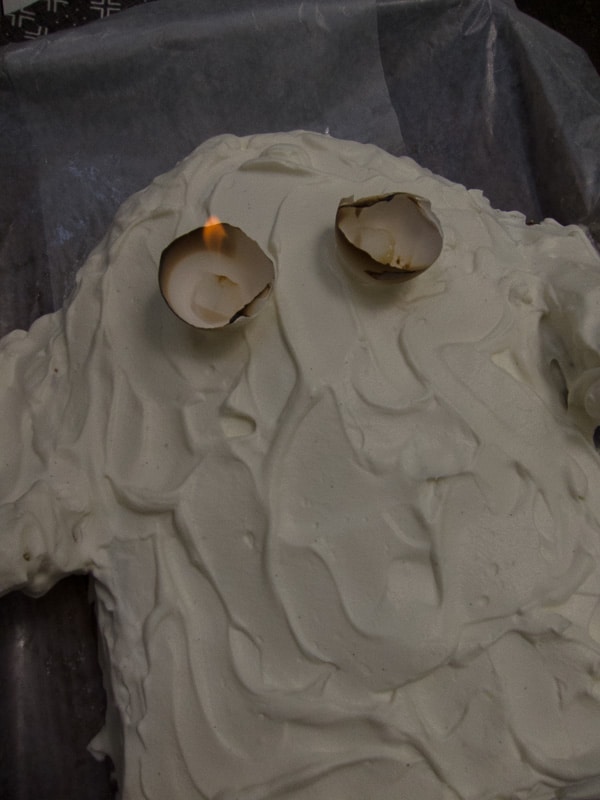 I recommend placing the cake on a large white serving tray. I didn't have one, unfortunately, so I had to get creative. I placed a couple sheets of wax paper on my USA pan half-sheet baking pan (I love and use this one all the time) and it worked fine. Not the prettiest, but it worked.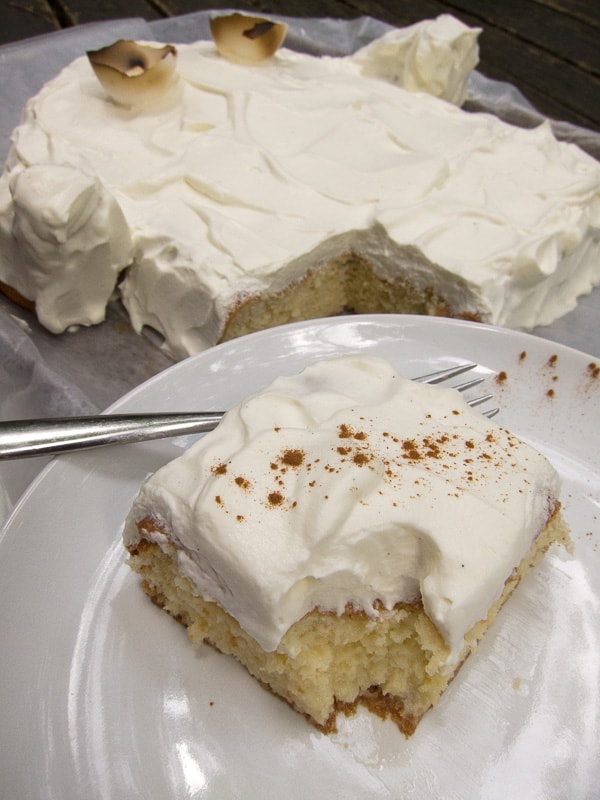 Whether for a kid's party, a neighborhood get-together, Halloween or fun office party, you'll not only love this homemade tres leches cake, you'll get lots of oohs and awes!
Easy Tres Leches Cake Recipe
How to make the best traditional tres leches cake from scratch and then turn it into a flaming ghost cake (the cutest of ghost cakes, IMO)!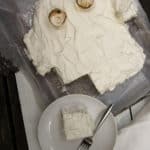 Authentic Tres Leches Cake Recipe (Flaming Eye Ghost Cake)
A delicious tres leches cake in the shape of ghost with flaming eyes. Perfect for Halloween!
Ingredients
Cake
1

cup

flour

all purpose

1 1/2

tsp

baking powder

1/4

tsp

salt

5

eggs

1

cup

sugar

divided

1

tsp

vanilla extract

1/3

cup

milk

1

can

evaporated milk

1

can

sweetened condensed milk

1/4

cup

heavy cream
Icing
1

pint

heavy cream

1

tsp

vanilla extract

1-2

Tbsp

powdered sugar

optional
Flaming Eyes
2

dashes

lemon extract

or 80%+ proof liquor
Instructions
Preheat oven to 350F. Grease and flour or spray a 9x13 pan.

In a large bowl, combine flour, baking powder and salt.

Separate eggs. Beat egg yolks with 3/4 cup sugar until color turns light yellow. Stir in milk and vanilla. Add to flour and stir carefully until combined.

Whip egg whites to soft peaks, adding 1/4 cup sugar while the mixer is still on. Continue whipping until egg whites form stiff peaks. Fold into batter until just combined.

Pour into prepared pan and bake for 25-35 minutes. (My cake was done at 25 minutes.) Stick a clean toothpick into the center to test doneness. If it comes out clean, it's done. Unmold cake from pan and place on a large tray. Let cool.

Mix together condensed milk, evaporated milk and 1/4 cup heavy cream.

Once cake is cool to the touch, you want to cut out a ghost shape from the rectangular cake. Place a toothpick in the center of the top short end of the cake. Measure four inches down and place toothpicks on both sides of the cake. Cut the cake from the top toothpick to the lower toothpicks so there's a curve shape on both sides. Place the two cut pieces on either side of the cake facing up so they look like arms.

Use a fork or knife to poke holes all over the body of the cake (not the arms). Pour 1 1/2-2 cups of the three milks mixture into a small pitcher and slowly pour over the body of the cake (not the arms). Make sure you cover the entire cake evenly, including the edges of the cake. Let the milk soak into the cake for 30 minutes.

Whip heavy cream, vanilla, and powdered sugar (optional) to stiff peaks. Frost entire cake (including arms) with whipped cream, swirling with a palate knife or spatula to create a ghost effect.

Select, clean, and dry two empty egg shell halves. Place on the cake for eyes. Add one sugar cube to each egg shell. If you'd like, add a mouth using a thin licorice rope, M & Ms, chocolate sprinkles, black icing or chocolate chips. (I usually just leave it off.)

When you're ready to serve the cake, pour a bit of lemon extract (or liquor) on each cube and light. Turn the lights off and enjoy your spooky cake!
Recipe Notes
I used a couple teaspoons of vanilla bean sugar instead of powdered sugar + vanilla extract.  
If you use 1 1/2-2 cups of the 3 milks mixture you'll have some left over. Use it in your coffee or tea!
I don't add any milk mixture to the arms of the ghost. I find the arms hold up better that way. 
Because the cake is so sweet, I often go light on the powdered sugar in the whipping cream or leave it out entirely. I recommend you add powdered sugar to your taste. 
Based on this recipe and the Betty Crocker Cookbook for Boys and Girls
—-
Disclaimer: The International Desserts Blog is a participant in the Amazon Services LLC Associates Program, an affiliate advertising program designed to provide a means for us to earn fees by linking to Amazon.com and affiliated sites. Thank you for supporting my site and helping me make it the best international desserts and travel resource on the internet!