German Apple Strudel with Puff Pastry Recipe (Apfelstrudel)
This article may contain affiliate links. See our disclosure link for more information.
Need a good German Apple Strudel recipe? You'll love this one with puff pastry dough. You get all of the delicious elements of a traditional apple strudel recipe in half the time!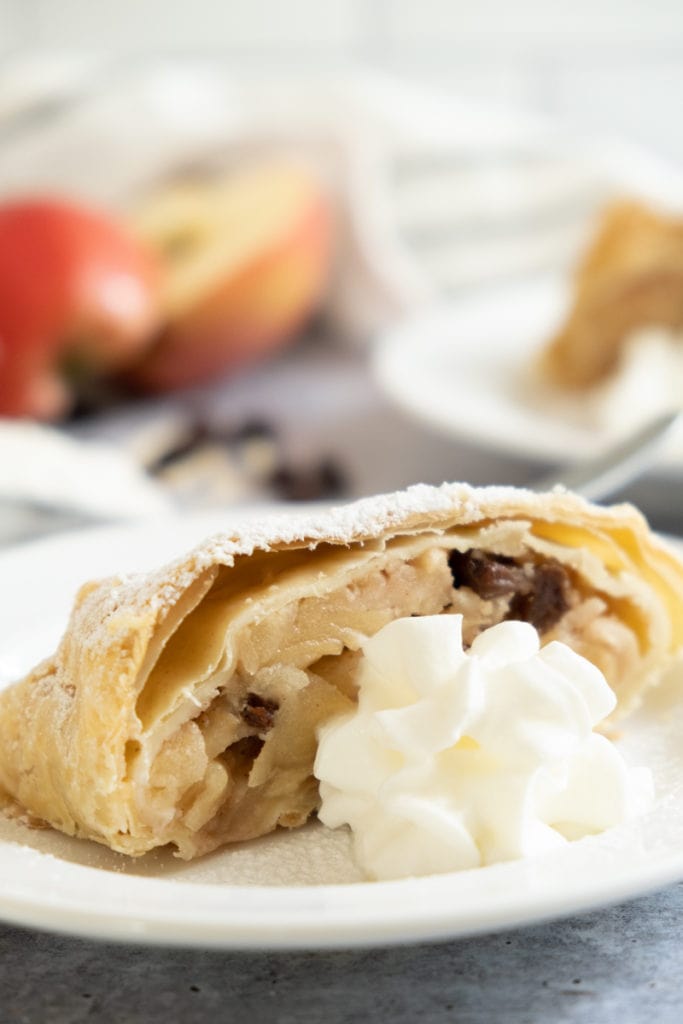 ? About This Recipe
If you've been to Germany (or even a German restaurant) you've probably enjoyed a slice of authentic German Apfelstrudel – that tasty classic dessert with a flaky crust, tender sliced apples, and plump raisins, served with vanilla ice cream, vanilla sauce or whipped cream.
Now you can make German Apple Strudel at home with this easy recipe.
This is one of those apple recipes that's perfect for the holiday season, fall apple season, afternoon Kaffee und Kuchen, or an after dinner dessert.
The best thing about this easy apple strudel recipe is that it's not only delicious, it's quick and easy to make.
While you can make strudel the traditional way using homemade strudel dough that you stretch, stretch, stretch until it's such a thin layer that you can see through it, this recipe gives you a short-cut that doesn't compromise on flavor or flakiness (serve the day you bake it for optimal flakiness).
It's perfect for apple strudel beginners or when you want to whip up a quick yet impressive traditional German dessert.
All you do is defrost puff pastry, combine apples with raisins, a little cinnamon and chopped almonds, and then roll it up and bake until golden brown. This simple apple strudel recipe sure to become one of your favorite desserts!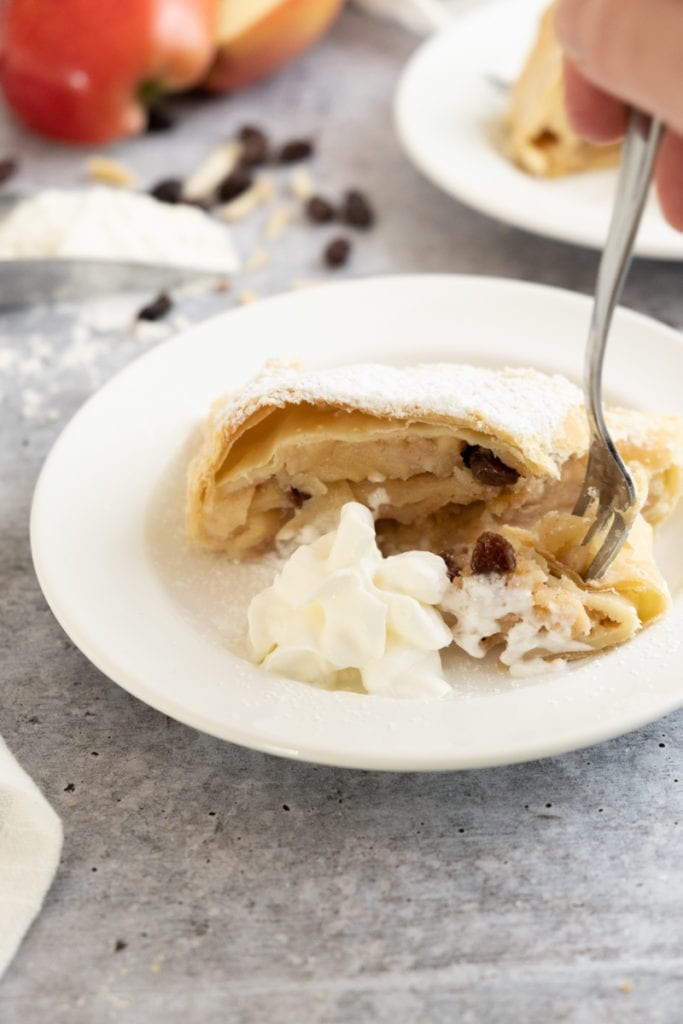 ❓FAQ
Is apple strudel German?
While popular in German cuisine (and in the Czech Republic!), its origins are actually Austrian. This recipe is very close to traditional Viennese Apple Strudel but uses puff pastry instead of homemade dough.
Is apple strudel like apple pie?
Not really. Apple pie uses pie crust and is baked in a round tin. Strudel is rolled in puff pastry or phyllo dough and sliced.
Can I use homemade strudel dough?
Yes! If you want to be completely authentic you can make the dough from scratch, then roll it out and stretch it until very thin. If you don't have time to do that, I recommend using ready-made puff pastry.
Do I need to stretch this dough?
Only if you make homemade strudel dough. I tried stretching defrosted puff pastry dough but it didn't yield any better results than simply placing the apple filling on slightly rolled out puff pastry.
Can I use phyllo dough?
Yes! I like using puff pastry dough but you can also use phyllo dough. You'll need to handle the phyllo sheets differently than puff pastry dough, though.
Do I need to cook the apples first?
I've seen it recommended to par-cook the apples before baking so their juices don't run and make the dough soggy. I've never had that problem, though, when making this apple strudel, so I don't par-cook them.
Can I soak the raisins in rum?
Yes! That will give them a nice flavor (I've used both rum and rum extract, depending on what I have on hand). Alternatively, you can also use orange juice or warm water. Truth be told, I've also made this recipe without soaking the raisins in anything before baking.
What kind of apples should I use?
The best kind of apple to use is a sweet yet tart variety that will stand up to baking. I often use Honeycrisp apples but you could also use Granny Smith, Braeburn, or Gala apples.
What's the German word for apple strudel?
As a former German instructor I couldn't leave this out! It's Apfelstrudel.
? What You Need to Make This Recipe
Ingredients:
Puff pastry sheet (defrosted so it's room temperature)
Fresh apples
Lemon juice
Melted butter
Breadcrumbs
Sugar (I used white but you can use a mix of white and brown sugar )
Raisins (regular or golden raisins)
Rum, orange juice or hot water (if you want to soak the raisins to plump and flavor them)
Ground cinnamon
Vanilla sugar (you can make it at home!)
Chopped almonds
Flour (for your work surface)
Powdered sugar (for dusting the top of the apple strudel)
Vanilla ice cream, homemade vanilla sauce or whipped cream (optional toppings)
Kitchen Tools:
Mixing bowl
Scale or measuring cups & spoons
Knife
Cutting board
Large spoon
Small bowl
Pastry brush
Rolling pin
Baking sheet or jelly roll pan
Piece of parchment paper or Silpat mat
? Recipe Variations, Notes & Tips
A traditional Apfelstrudel recipe will require the difficult process of stretching homemade dough until it's paper thin. It's a lot of work! I found that using puff pastry worked just as well to attain that beautiful flaky pastry. I usually just roll out the dough on all sides, add the apple filling, and then roll it up. That's the easiest way. I have, however, tried making homemade apple strudel by stretching the puff pastry (defrosted enough to be a very soft dough) until it's so thin you can see through it, placing it on a large tea towel, adding the apples, and then rolling it up. It worked fine but it wasn't necessary. If you want the experience of stretching the dough, give it a try. Otherwise, keep it simple with the recipe below.
I used panko breadcrumbs because that's what I had in my cupboard but you can use any kind of unflavored breadcrumbs.
I added chopped slivered almonds but you can leave them out (or add chopped pecans or walnuts if you prefer).
I was out of rum so I didn't soak my raisins. If you want more flavor, I recommend soaking them in rum for at least a couple hours. Alternatively, you can soak them in orange juice or warm water to plump them up. If you're not a fan of raisins, you can leave them out.
I like to brush the top of the strudel with melted butter but you can brush egg wash on the pastry if you prefer.
For optimal flakiness serve your strudel while it's still warm on the day you bake it. See the difference in the photos below? The one on the left was taken after it had cooled down a bit. The one on the right was taken the next day. Both were delicious but the the strudel had lost some flakiness by the next day.
? How to Make German Apple Strudel with Puff Pastry
Defrost one sheet of puff pastry. If you want to soak the raisins in rum, orange juice or warm water, do this at least a couple hours ahead of time.
When you're ready to make the apple strudel, cut the apples into thin slices and add to a medium bowl. I like to add a squeeze of lemon on the apple slices so they don't turn brown.
Melt 2 tablespoons of the butter in the microwave or on the stove over medium low heat. Take it off the heat and let it cool for a few minutes.
Add raisins, bread crumbs, cinnamon, vanilla sugar, chopped almonds, and melted butter to the apples. Stir until everything is well combined. Set aside.
Place defrosted puff pastry on a floured surface and gently roll dough out on all sides.
Spoon apple mixture along the short side of one end of the puff pastry. Roll up the pastry.
Pinch the bottom seam together and tuck the ends under to seal the strudel. Place seam side down on a lined baking sheet
Brush 1 tablespoon melted butter on the strudel and then bake at 350F/180C for 30-35 minutes or until golden brown.
Take the strudel out of the oven and let cool. Dust with powdered sugar.
German apple strudel is best served warm and will be the flakiest the day it's made (it will taste good the next day, it just won't be as flakey). Serve with vanilla sauce, ice cream or whipped cream.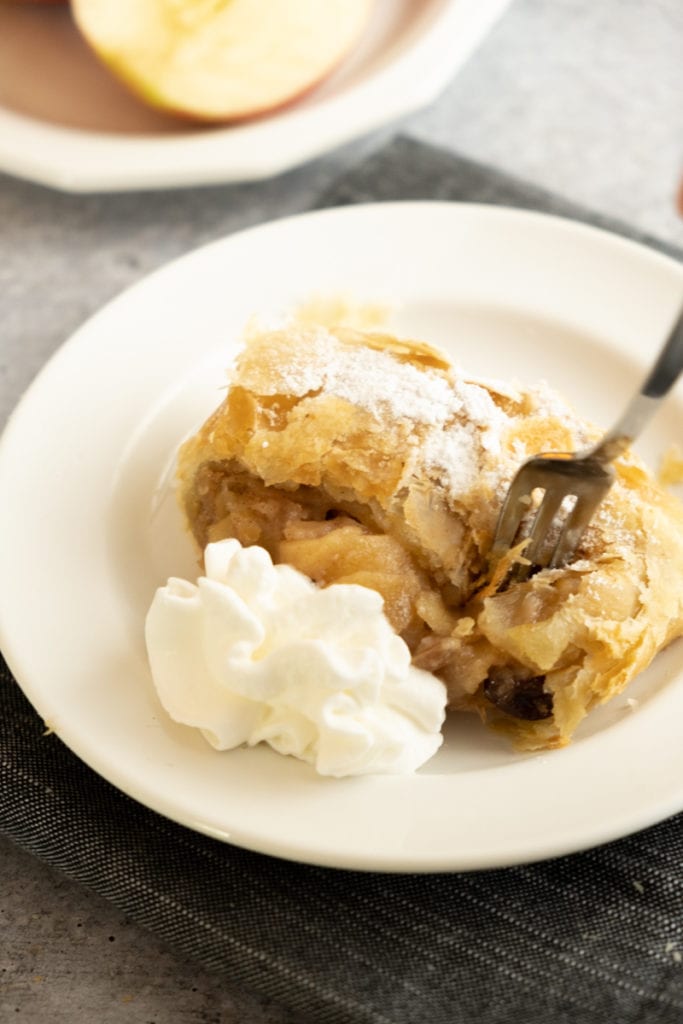 ❤️ Looking For More Apple Recipes?