How to Make Dutch Fresh Mint Hot Tea
This article may contain affiliate links. See our disclosure link for more information.
I became a hot tea lover while living in Germany, and often enjoyed a cup of Pfefferminztee in the evenings. So when I was in the Netherlands a few years ago, I happily ordered a mint tea with my apple cake after dinner, expecting a cup of hot water and the typical mint tea bag.
I sure was surprised when I received a handful of fresh mint leaves steeping in a glass of hot water!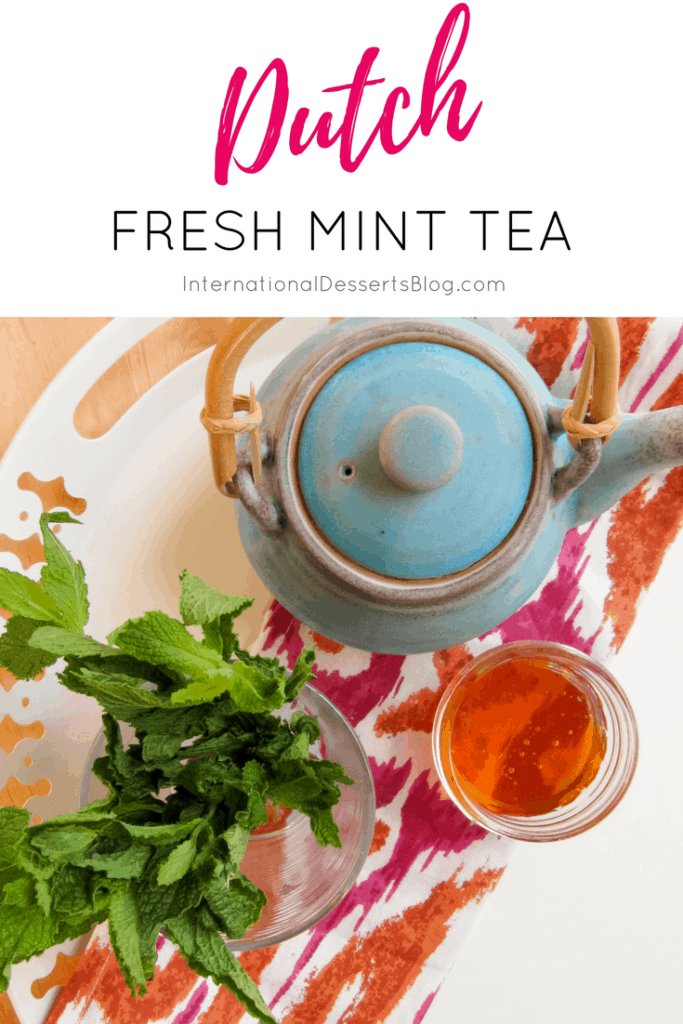 Turns out, fresh mint tea is a cafe staple in the Netherlands. And for good reason – it's excellent!
Seriously, it's the best mint tea. It's one of those refreshingly healthy drinks that actually tastes good. If you're looking for a low calorie drink, try this Dutch tea.
I often enjoy a mug of mint tea at night when I crave a little dessert after dinner but don't want anything sugary. Since it's a naturally decaffeinated tea, I can drink it right before I head off to bed. It's so relaxing and soothing.
That said, this hot mint tea does pair well with dessert! In the Netherlands I've had it most often with Dutch Apple Cake or Stroopwafels – two delicious authentic Dutch foods. At home, I typically stick to Stroopwafels when I want a sweet accompaniment (easier portion control).
By the way, did you know that you can get Stroopwafels – those delicious caramel syrup filled wafers – in the US? I've been bringing them back from the Netherlands all these years but I've recently found them at World Market and Trader Joe's.
The easiest way to enjoy authentic Dutch Stroopwafels is to add them to your Amazon order! 🙂 Here are the three I recommend:
Two packages of Daelmans Originals – because one pack just isn't enough. These Stroopwafels are the perfect size to set on your tea cup (the heat warms up the caramel inside!). Click here to get some.
I love that this box contains 50 individually wrapped mini-waffles! Perfect portion control. This would make an awesome gift for a globetrotting friend, too! Click here to order some.
This bag of mini waffles also make a great gift…or a great mid-day snack. Click here to get one.
How to Make Tea With Tea Leaves (Well, Mint Leaves!)
It couldn't be easier. All you need to make this Dutch tea is a glass, hot water, and fresh mint (use organic and if you want organic mint tea).
Place a handful of fresh mint in a glass or mug. Pour hot water over the leaves and let it steep for a few minutes. Add honey if you like your tea on the sweet side.
Doesn't get simpler than that!
Ahhh….I always feel more relaxed and happy after drinking a cup of fresh mint tea. Ok, I'm off to make a cup right now. 🙂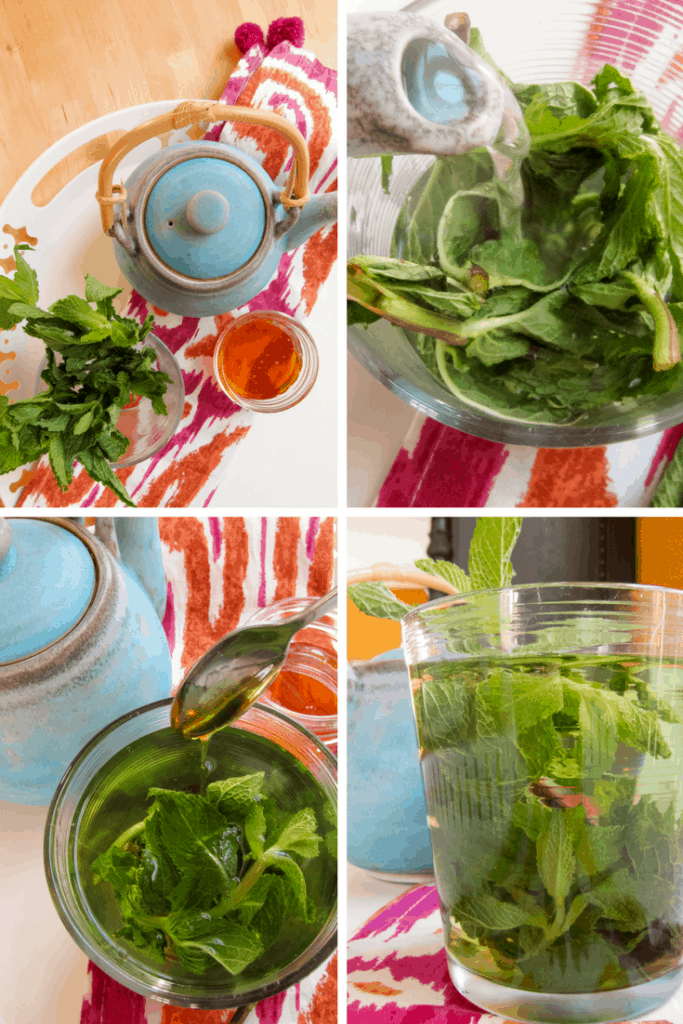 How to Serve Dutch Mint Tea
In the Netherlands I've always been served hot mint tea in a clear glass or mug, so that's how I serve it at home, too. It's so pretty to see the green mint leaves, isn't it? If you're serving tea to several people, give each person their own glass full of mint leaves. Keep the mint leaves in the glass as you drink the tea – it smells so good!