Easy French Hot Chocolate Recipe (Chocolat Chaud)
This article may contain affiliate links. See our disclosure link for more information.
Craving hot chocolate? You'll love this super easy, rich, silky French hot chocolate! All you need is 2 ingredients and about 5 minutes to feel like you're in a Parisian cafe.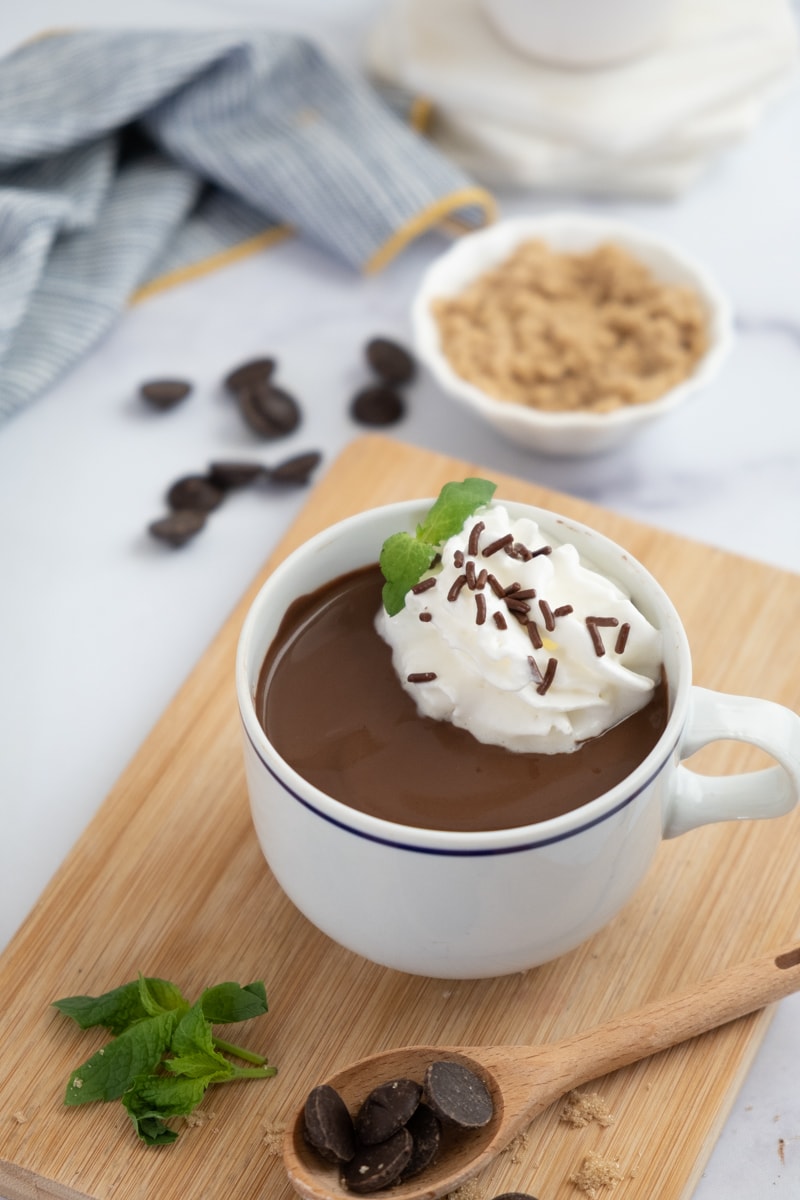 A few days ago I got a huge chocolate craving — but a piece of chocolate just wasn't going to do it. And I wanted something warm and comforting.
I usually make tea in the afternoons (Dutch fresh mint tea, London Fog, and this German lemon, ginger, mint tea are 3 of my favorites) but I decided to splash out and make French style hot chocolate for one instead – the kind made from a real bittersweet chocolate bar.
This creamy hot chocolate is for true chocolate lovers! It's quick and easy to make and way better than hot cocoa made with cocoa powder.
This is one of my favorite recipes because one little cup of le chocolat chaud makes a dreary day SO much better!
My tip: keep chocolate in your pantry at all times so you can make this easy recipe any time you want a hot, satisfying cup of sipping chocolate during the holiday season or just to get you through the middle of winter.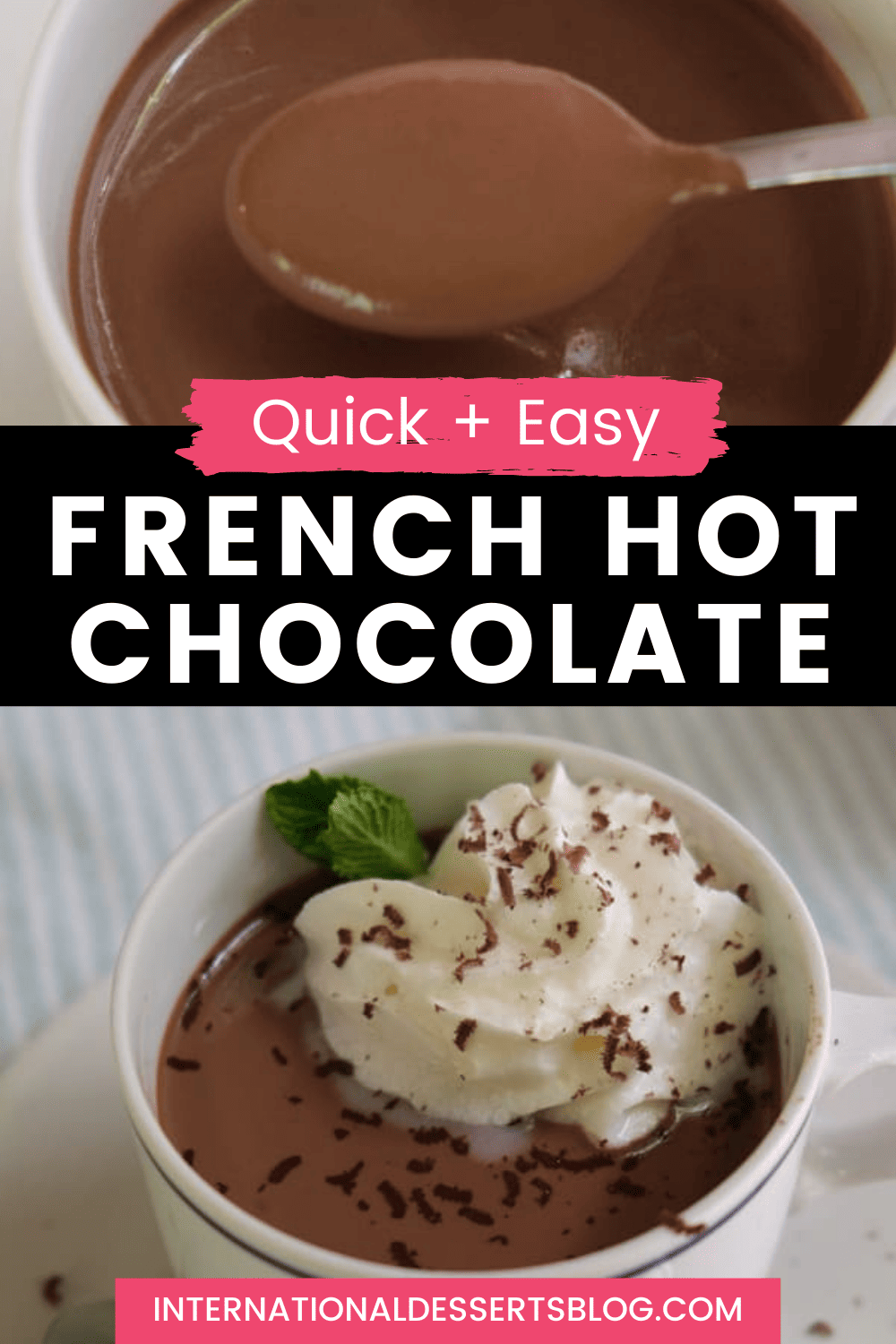 If you're looking for an easy yet luxurious chocolate treat, I highly recommend this rich, velvety French Hot Chocolate.
It only takes a few minutes to make and tastes a thousand times better than anything out of a packet. Seriously, it's the best hot chocolate.
One taste and you'll say, this is not the typical hot chocolate I grew up with…no this is real hot chocolate!
All you need is chocolate and milk. That's it! You can add a spoonful of brown sugar or a dash of vanilla extract if you want. Or top it with fresh whipped cream and chocolate sprinkles.
But you don't need anything else. Not even corn starch!
It even tastes amazing at room temperature or chilled — by then it's like a silky chocolate pudding. You can even turn it into creamy chocolate ice pops. Scroll all the way down for that recipe.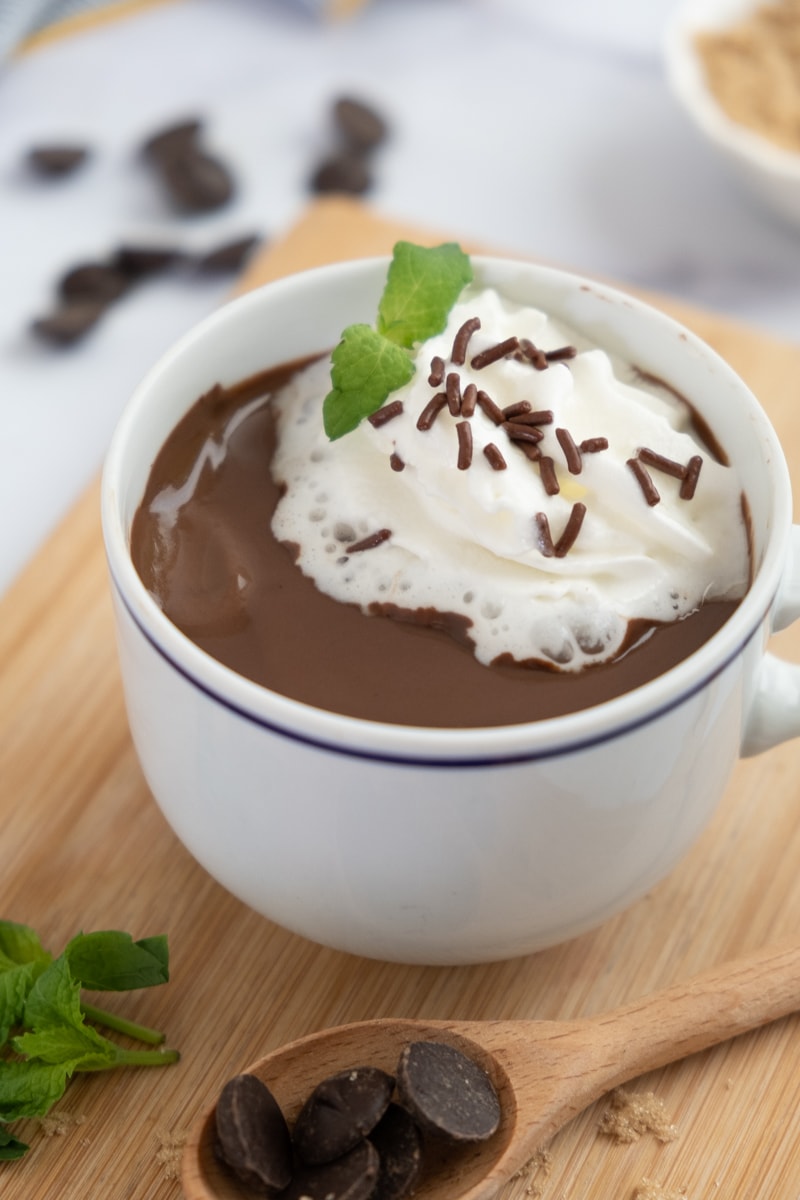 This recipe is for one serving of hot chocolate (because I usually make it just for myself, as my husband doesn't like it as much as I do) but you can easily double, triple or quadruple the recipe.
This French Hot Chocolate drink is best served in a small cup–it's so thick and rich that you don't need more than a small amount to satisfy your chocolate craving!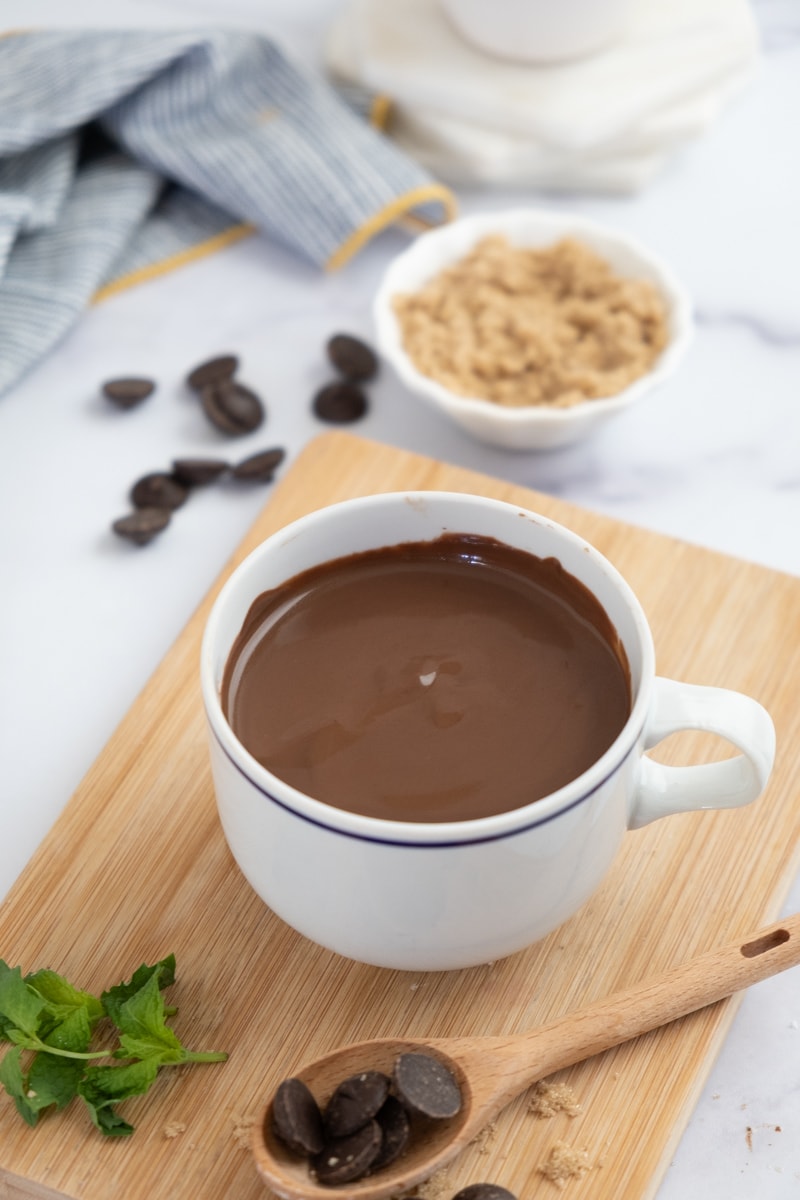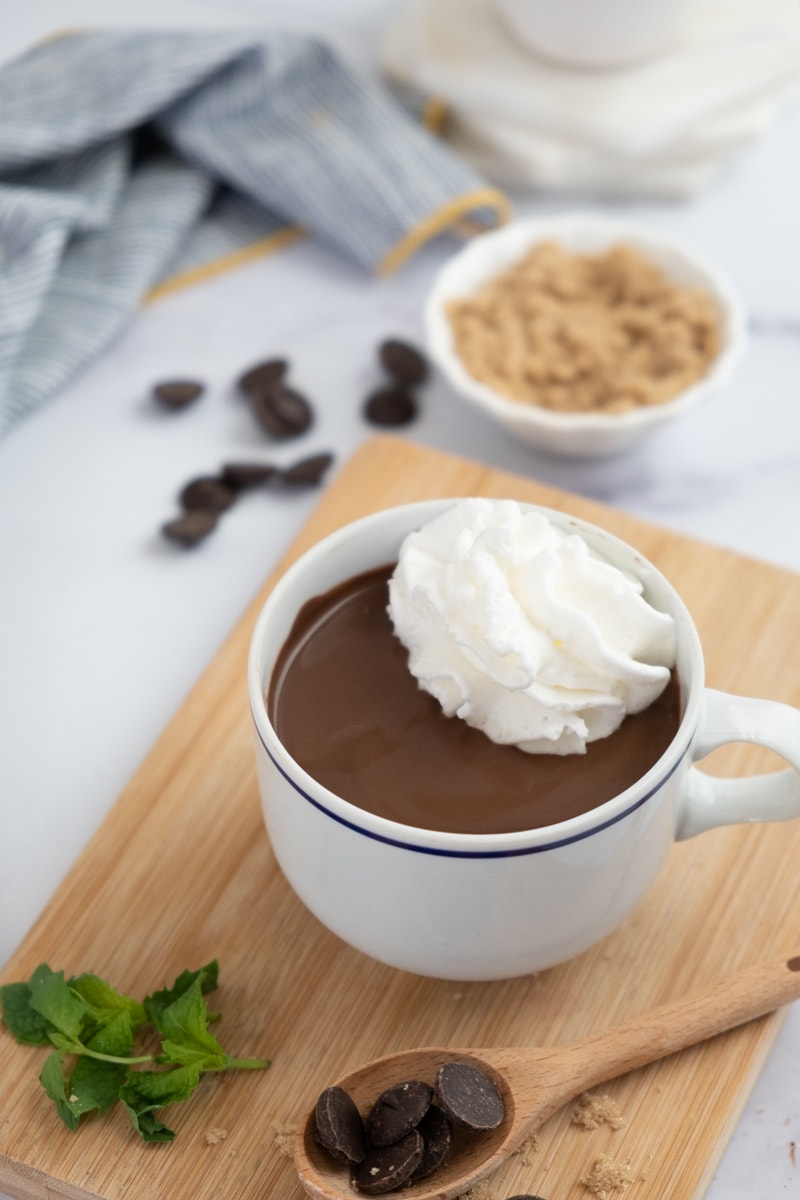 I like to top my hot chocolate with a spoonful of whipped cream and either these chocolate sprinkles or chocolate curls. If I'm serving it to guests I like to add a sprig of mint.
But it's also delicious on its own without any toppings at all.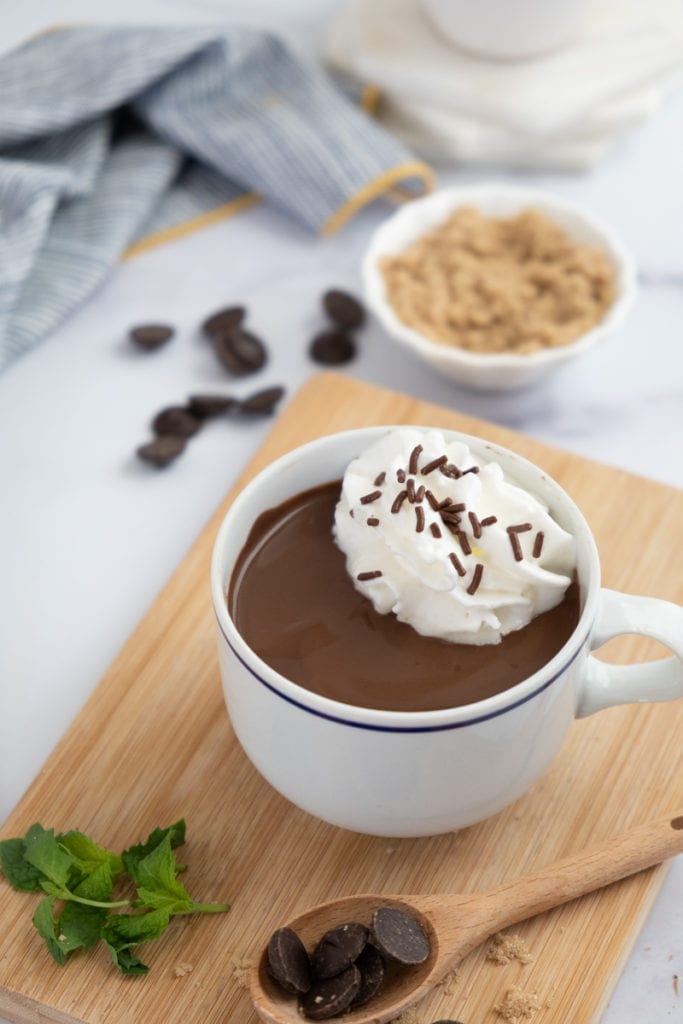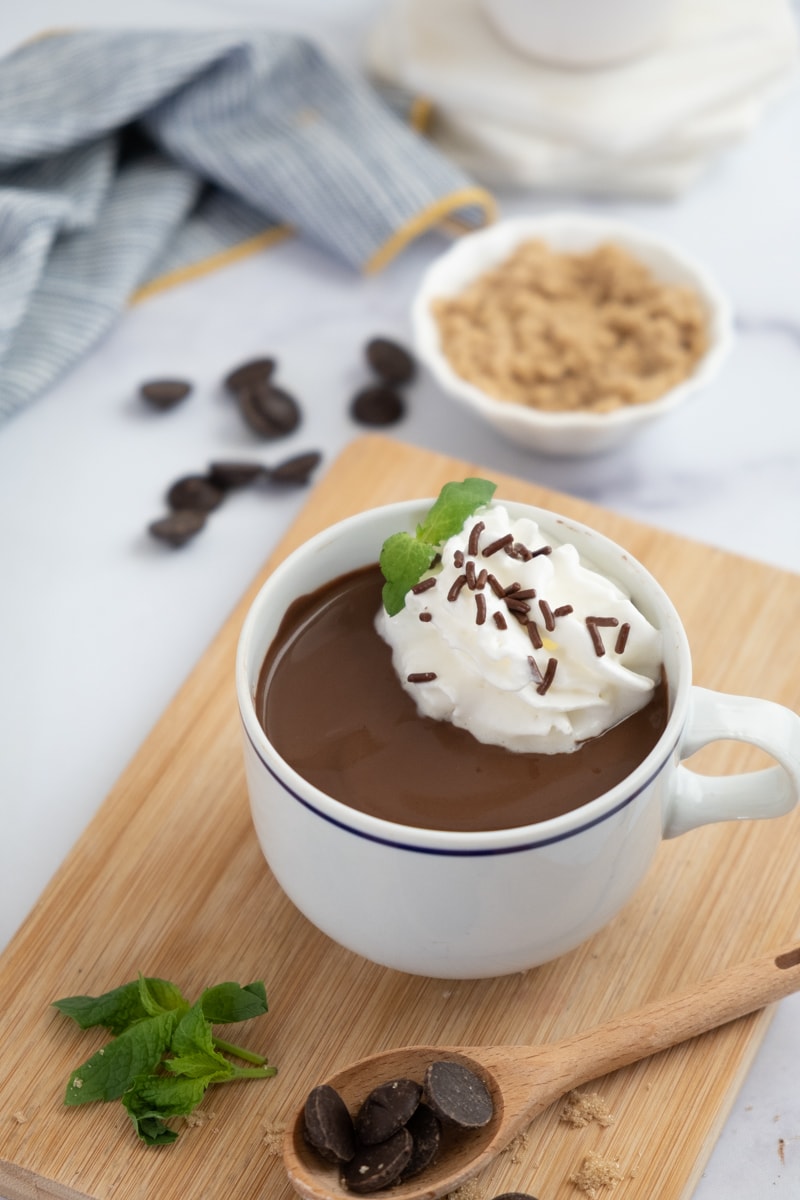 What You Need to Make French Hot Chocolate
Main Ingredients:
Dark chocolate (at least 70% dark, use good quality chocolate)
Milk (I use 2% or whole milk)
Brown sugar (optional, sometimes I make it without)
Vanilla extract (optional)
Heavy cream (to make whipped cream, an optional topping)
Chocolate curls, chocolate sprinkles, mint (optional)
Note: I alway use cow's milk but you can make this with a milk alternative like coconut milk or almond milk.
Kitchen Tools:
Knife
Cutting board
Small to medium saucepan
Spoon (or whisk)
Scale or measuring cups/spoons
Small cup for serving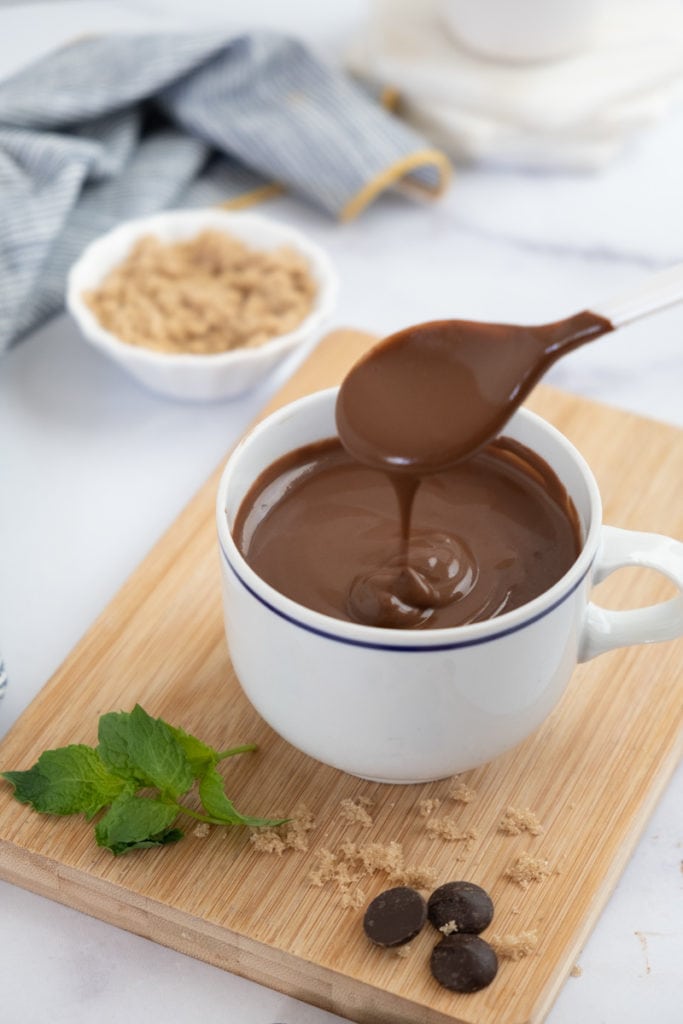 How to Make Hot Chocolate
Heat the milk over medium low heat. Don't let it boil.
Chop the dark chocolate into small pieces. Add chopped chocolate to the warmed milk and stir.
Add the brown sugar, if using. Stir or whisk until the sugar is dissolved and the chocolate is melted and well combined with the milk.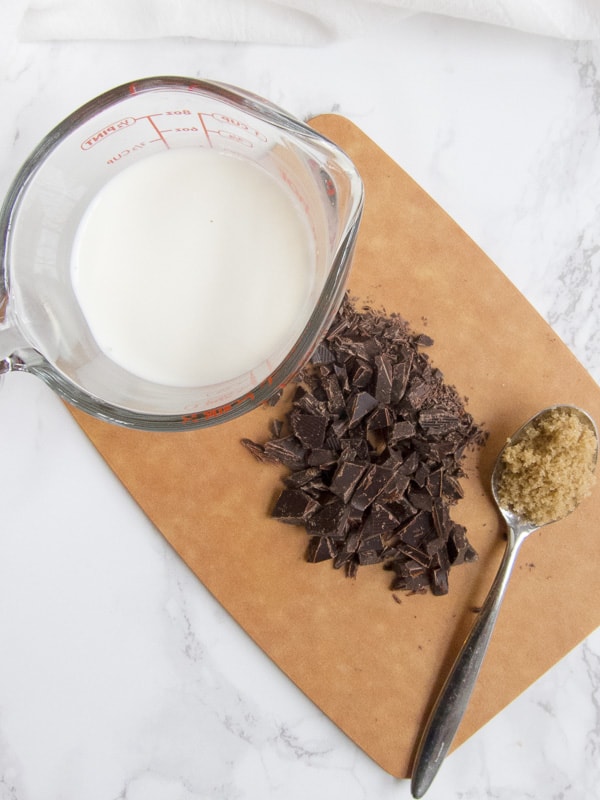 Bring the hot chocolate to a low and slow simmer and stir continuously for 2-3 minutes or until the hot chocolate thickens.
Give your hot chocolate a taste. If you'd like it sweeter, add more brown sugar. If it's good as-is, pour the hot chocolate into a cup and add a generous dollop of whipped cream. Top with chocolate curls or sprinkles.
Ahhh, such a delicious treat!
French Hot Chocolate Recipe for One
Looking for another easy and delicious French recipe? Try my French Milles Crepes cake!
Too Hot for Hot Chocolate?
Make rich and creamy French Hot Chocolate Paletas!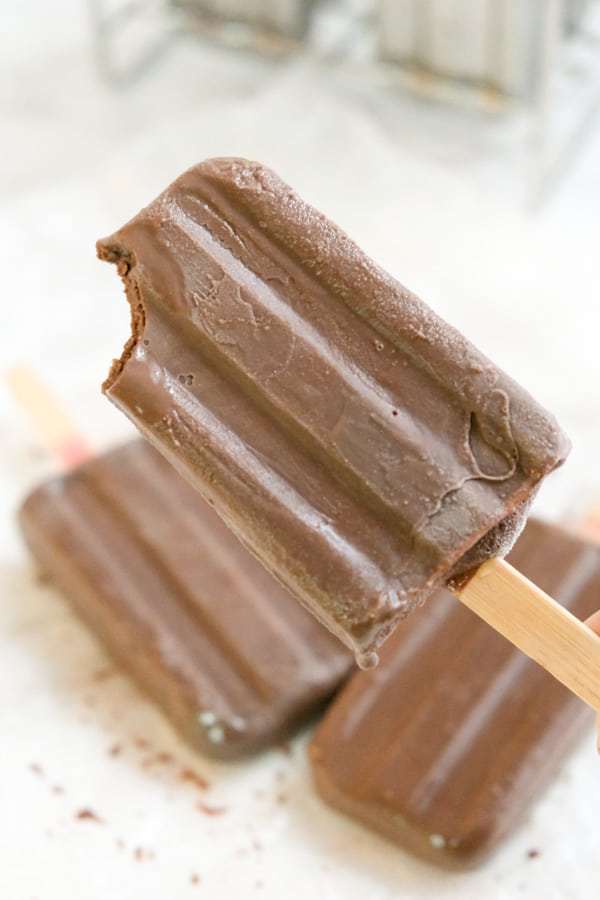 I've been on a paletas (ice pops) kick lately, and after making strawberry cream, lemon curd, and Rote Grütze paletas, I was looking at the French Hot Chocolate I'd just made and I thought, I bet this would make excellent paletas!
So I let the hot chocolate cool a bit and then poured it into my my favorite popsicle molds and stuck them in the freezer for a couple hours.
I was right! So good!
These paletas are creamy and super chocolatey. The perfect dessert on a hot summer night.
My husband and I each had one tonight and I'm exercising extreme restraint right now in not going to the freezer to have another!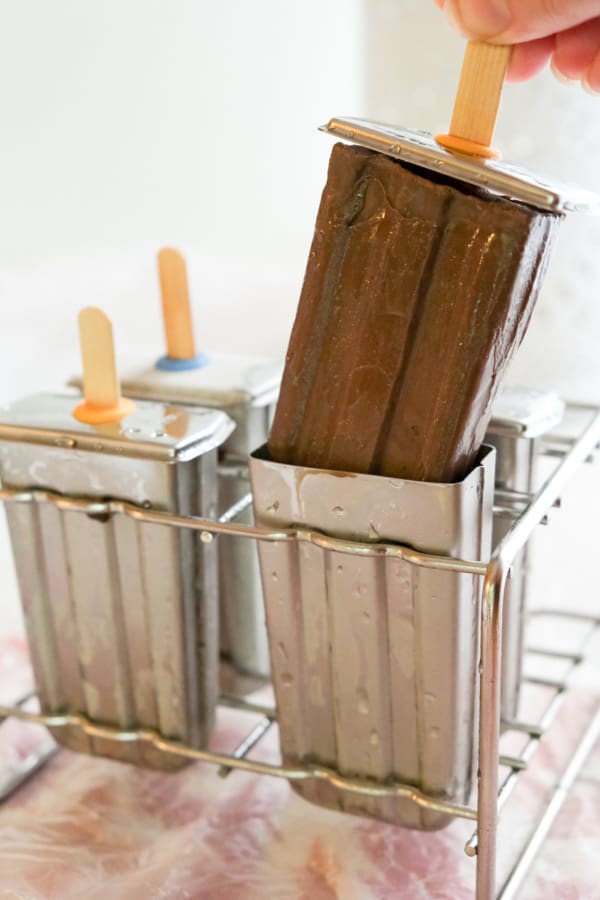 To make French Hot Chocolate paletas, simply make the French Hot Chocolate recipe outlined above. After it's cooled a bit, pour into a popsicle mold and freeze until set.
And then try not to eat them all in one night. 🙂
The French Hot Chocolate recipe above makes 1 portion of hot chocolate, which equals one ice pop using my my popsicle molds. Yours might be a little different. If you want to make multiple ice pops, simply double, triple, quadruple (you get the idea) the hot chocolate recipe.
Whether you enjoy your French Hot Chocolate hot or cold, enjoy this rich velvety treat!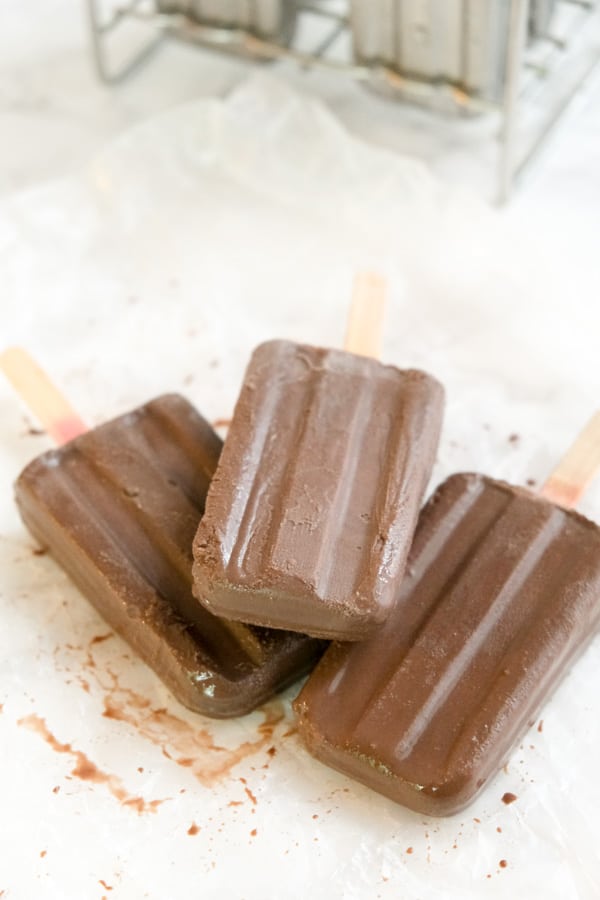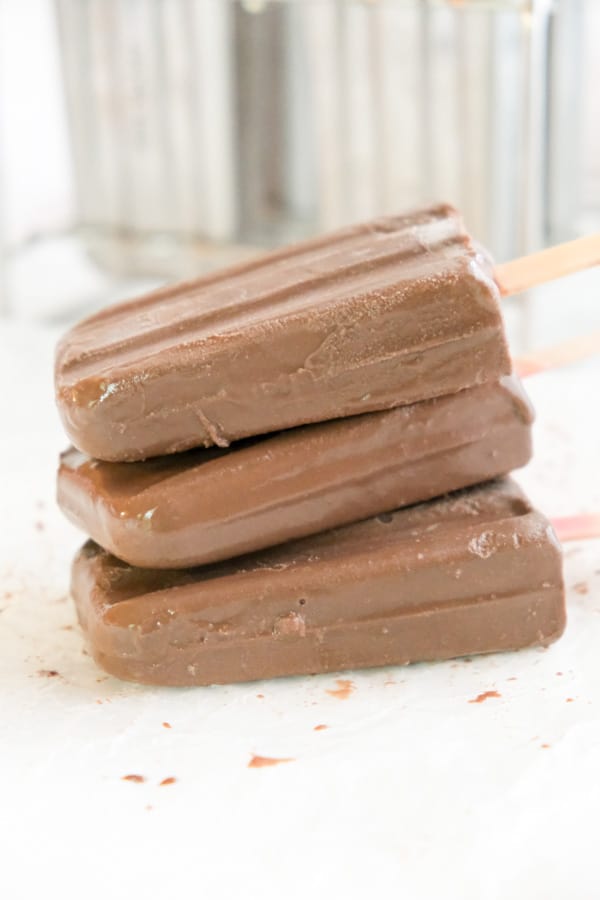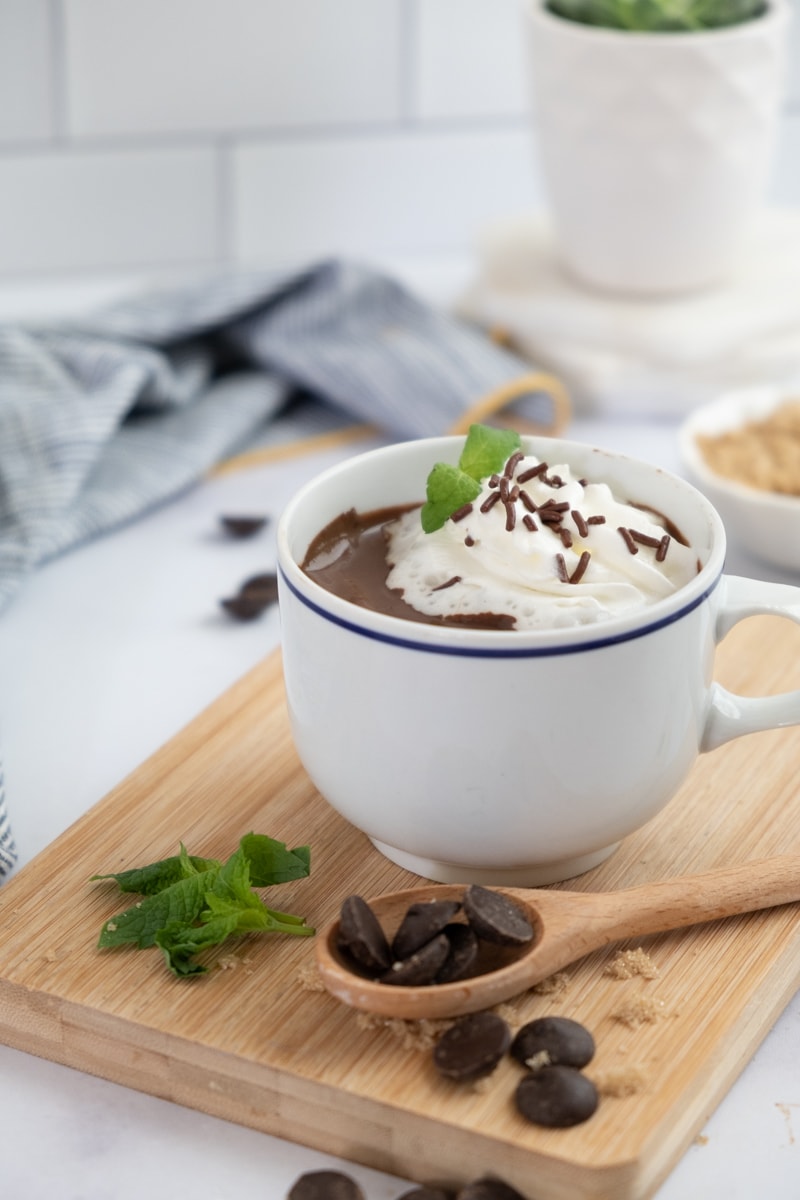 Readers have asked…
What kind of chocolate works best to make this delicious hot chocolate? Milk chocolate? Chocolate chips? What about chocolate melts?
For the best rich flavor and creamy texture, I highly recommend using the best chocolate you can. I've used a high quality chocolate bar and I've used dark chocolate chips. Both worked but top-quality ingredients typically create the best results. The best chocolate to use is dark chocolate. I wouldn't use chocolate or candy melts.

How is this french-style hot chocolate different from American hot chocolate?
Wheres hot chocolate in the US is usually made with cocoa powder, this version gets its rich chocolate taste from real chocolate. If you've ever had Spanish hot chocolate with churros, it's similar to that. Looking at a cup of French-style hot chocolate you might even think it's chocolate fondue!
Can I add a flavor to this hot chocolate?
Why not? You could include a pinch of cinnamon, a pinch of sea salt, peppermint extract, cayenne pepper, espresso powder, more vanilla extract, etc. They all sound good, don't they?