Yes, you can make homemade crème frâiche! My easy homemade crème frâiche recipe is effortless — all you need is milk, buttermilk, and a jar.
After making crème frâiche at home you'll never want to buy it again!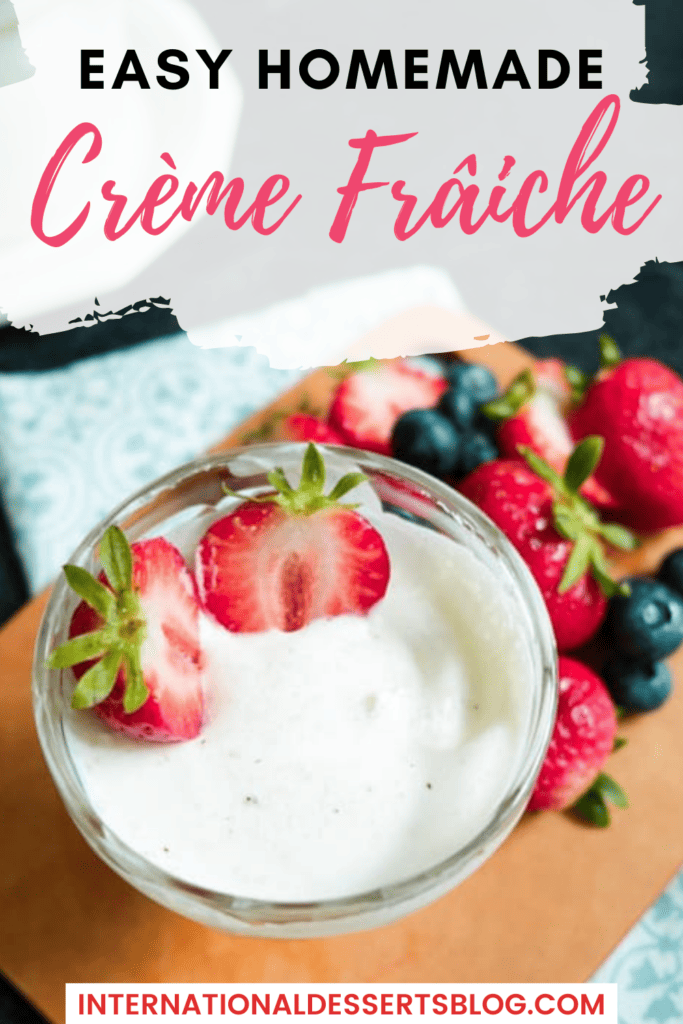 Wondering What to Do with Crème Frâiche?
I'd never heard of crème frâiche until I moved to Germany as a teen. (In case you're wondering, you pronounce it like "creme fresh.")
That year, I lived with a German family and noticed that while they rarely ate sour cream, they did often have a small container of crème frâiche in the fridge.
I grew to love crème frâiche that year because there are so many sweet and savory ways to use it. Here are a few examples:
Savory:
Add it to pasta to create a simple creamy sauce
Mix with herbs and serve as a dip for potatoes or veggies
Use it on pizza instead of tomato sauce or in savory tarts like my German Zwiebelkuchen (Savory Onion Tart)
Sweet:
Crème frâiche is something I always missed when living in the US — until I learned how to make it at home. Now you can make it at home, too!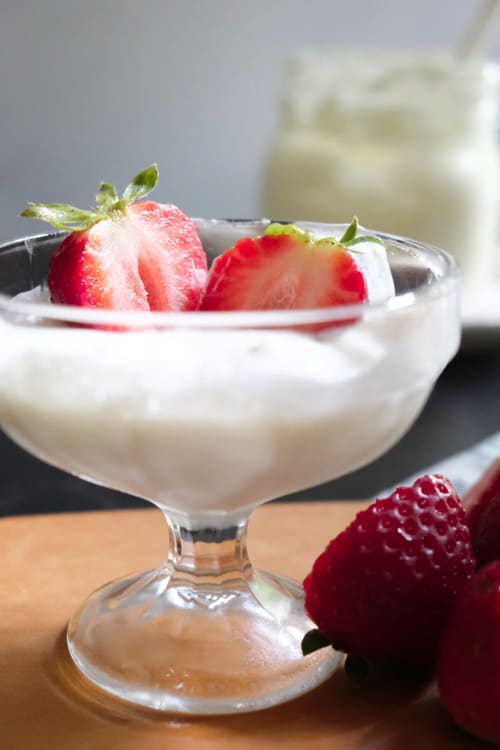 What is Crème Frâiche?
Crème frâiche is a "soured cream" that originated in France but is commonly found all over Europe.
What Does Crème Frâiche Taste Like? Is Crème Frâiche Like Sour Cream?
While it does have a bit of a sour tang to it, crème frâiche is more deeply flavored, richer, thicker, and smoother than sour cream. It also has a higher fat content.
One benefit of cooking with crème frâiche is that it won't curdle at high temperatures, so it's great to use in sauces. It's seriously good with pasta, on pizza and in quiches, tarts, etc.
I wouldn't use it as a topping on things like tacos, though. Sour cream is better for that.
Where Can I Buy Crème Frâiche?
If you're wondering where to buy crème frâiche, try Whole Foods, Wegmans or Trader Joe's.
I've bought crème frâiche but it tends to be expensive. So, I decided to learn how to make it myself!
As it turns out, it's incredibly easy to make it at home. Plus, you can choose your ingredients so you know exactly what's in your crème frâiche.
I'm kicking myself for going all these years in the US without crème frâiche!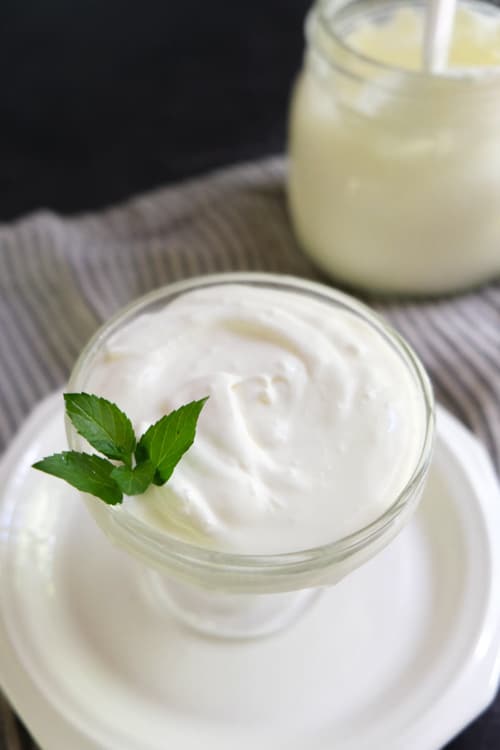 What's a Good Crème Frâiche Substitute?
You can use sour cream instead of crème frâiche but do note that sour cream is more sour, it doesn't have the same flavor, and the texture is a little different – it's not as thick or rich.
You can also use Greek yogurt, but again, it doesn't have the same flavor as crème frâiche.
So, while you can use these two substitutes, they won't add the same flavor or texture. If a recipe calls for crème frâiche, I highly recommend using crème frâiche!
What You Need to Make Crème Frâiche at Home
You only need two ingredients to make crème frâiche at home:
And you only need two pieces of equipment:
A jar or small bowl (I use these jars)
Cheese cloth or a towel
👋 New to International Baking & Dessert Making?
Click here to download my FREE 9-Page Starter Kit so you can begin making delicious treats from Europe and beyond with confidence and ease! Or start with my 25 European Favorites cookbook. It's filled with easy and delicious recipes that are perfect for beginners.
How to Make Homemade Crème Frâiche
I have hard time saying this is my crème frâiche recipe because it's just so simple!
The first step is to pour the heavy cream into a jar or small bowl. Then add 2-3 tablespoons of buttermilk. Finally, stir to combine the cream and buttermilk.
Note – I used organic pasteurized cream (not the ultra pasteurized kind) and found that 3 tablespoons buttermilk worked better than 2. The first time I made crème frâiche I only used 2 tablespoons and it didn't thicken up enough.
Cover the jar loosely with cheese cloth or a clean tea towel and leave the jar on the counter in a warm room for 12-36 hours.
Once the crème frâiche has thickened, put a lid on the jar and let it chill in the fridge (it will thicken up a little more as it chills).
Notes:
I left my jar of crème frâiche next to my stove for a couple hours, then set the jar on the warm stovetop after I'd used the oven.
Doing so seemed to help speed up the process a bit compared to the first time I made crème frâiche, when I just left it on the counter.
The warmer your kitchen, the faster your crème frâiche will thicken up.
I checked my crème frâiche every 6-12 hours. It took more than 24 hours for my crème frâiche to thicken, so don't worry if yours is still liquid after several hours. Just keep it in a warm place and let it sit out longer.
My first batch of homemade crème frâiche wasn't quite as thick as I remember crème frâiche being in Europe but it tasted spot on. The batches I've made since have been thicker but still not quite as thick as what I used to buy in Europe. But it still tastes amazing and has worked perfectly in recipes.
One thing to note is that it tends to take longer and come out thinner when I make it in the winter (colder kitchen) than in the summer.
You can see the difference below (winter is on the left, summer is on the right):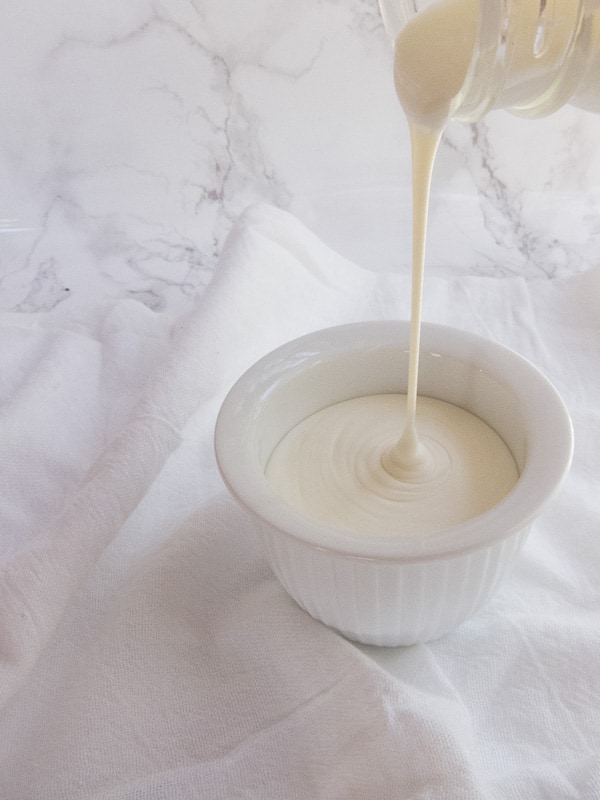 If you've never had crème frâiche, I highly recommend making some just to try it. You can use it to make the strawberry crème frâiche mini tarts in my free ebook!
😍 Look What Else You Can Make At Home!
Now Make Easy No Churn Crème Frâiche Ice Cream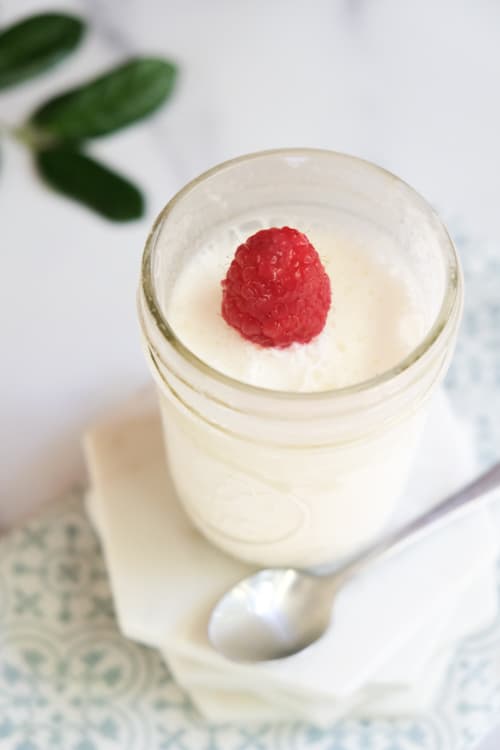 Craving a quick and easy cold treat that's a step up from vanilla? Try this no churn crème frâiche ice cream made in mini mason jars! It's delicious eaten right out of the jar or topped with fresh berries. Yum!
Click here to see my other easy no churn ice cream recipes featuring international flavors.