Easy German Plum Cake With No Yeast (aka Zwetschgenkuchen or Pflaumenkuchen)
This article may contain affiliate links. See our disclosure link for more information.
This easy German Plum Cake is a popular dessert in Germany (it's called Zwetschgenkuchen or Pflaumenkuchen in German).
Filled with fresh plums and topped with streusel, it's the perfect summer treat.
To make it extra delicious, serve with whipped cream or even a scoop of vanilla ice cream.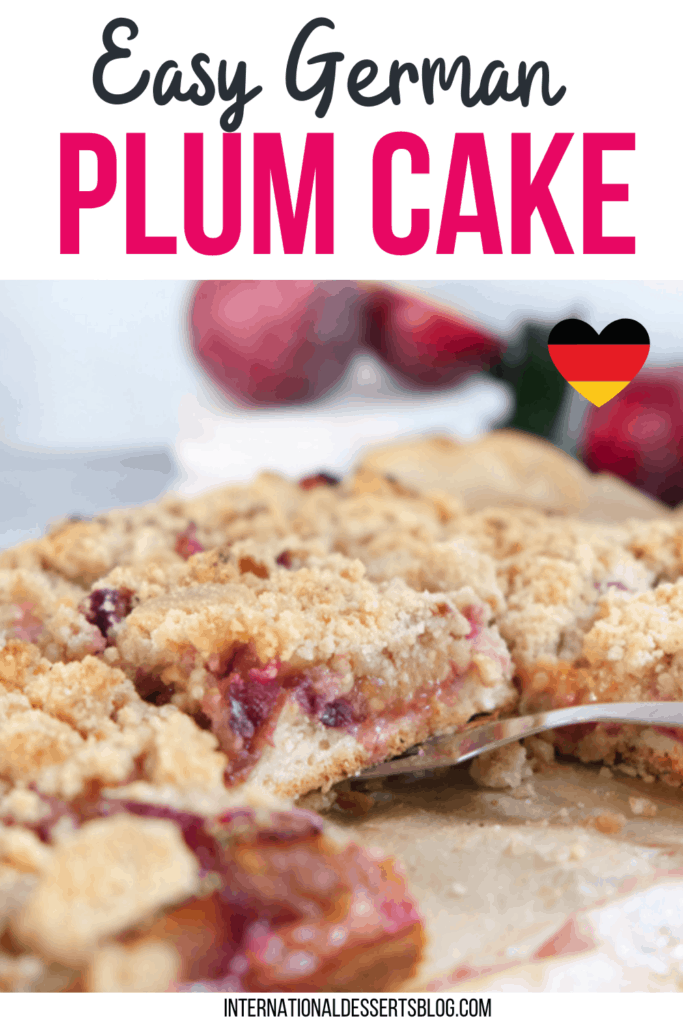 Do you like plums? Not being a fan of fresh plums myself, I balked at making German Plum Cake. For years. But it's popular in Germany,so I finally decided to give it a try.
The result?
I loved it so much I made it twice in two weeks! It's now one of my favorite traditional German cakes, and I make it at least once a summer when plums are in season.
Each bite of this easy German cake is a delicious combination of tender cake, melt-in-your-mouth sweet plum, and buttery streusel.
How to make it even better? Add a dollop of fresh whipped cream or vanilla ice cream and a sprinkle of cinnamon.
You can replace the plums with another stone fruit (like peaches) but I highly recommend using fresh plums. As they bake, they become soft and sweet and taste so good with the crunchy streusel. Plums really are perfect for this cake.
Oh, and in case you want to look for it while traveling in Germany, plum cake in German is Zwetschgenkuchen or Pflaumenkuchen (and cake in German is Kuchen).
If plums are in season, it'll be easy to find at bakeries and cafes all over Germany. Some versions are baked in a tray and are served in square slices, while others are baked in a round spring form pan.
German plum cake is the perfect treat to bring to your next work potluck or family dinner. Or just enjoy a slice of this easy plum cake in the afternoon with a cup of coffee or tea.
Fortunately, this plum cake is super easy to make! I had the entire cake prepared and in the oven in less than 10 minutes. Whip the cream while the cake is baking and you've got a delicious dessert in no time.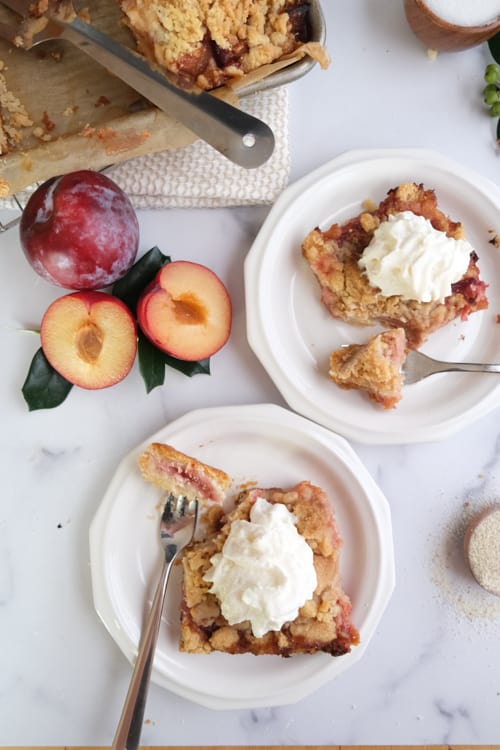 What You Need to Make This Traditional German Plum Cake Recipe
Ingredients:
For the no yeast dough:
Quark or Greek yogurt
Milk
White sugar
Canola oil
Vanilla extract (or vanilla sugar)
All purpose flour
Baking powder
Pinch of salt
For the plum and streusel topping:
Ripe plums (If you can find fresh Italian plums, use those. If not, just use American plums or another type of European-style plums. I use what I find in my local grocery store and the cake always turns out great. It's ok if you can't use the same type of plum Germans would use!)
Cream of wheat (optional)
Butter
All purpose flour
Cinnamon (optional)
Cold unsalted butter
Kitchen Tools:
Large bowls or stand mixer
Mixing spoon
Baking tray or sheet pan
Silicone baking mat or parchment
Paring knife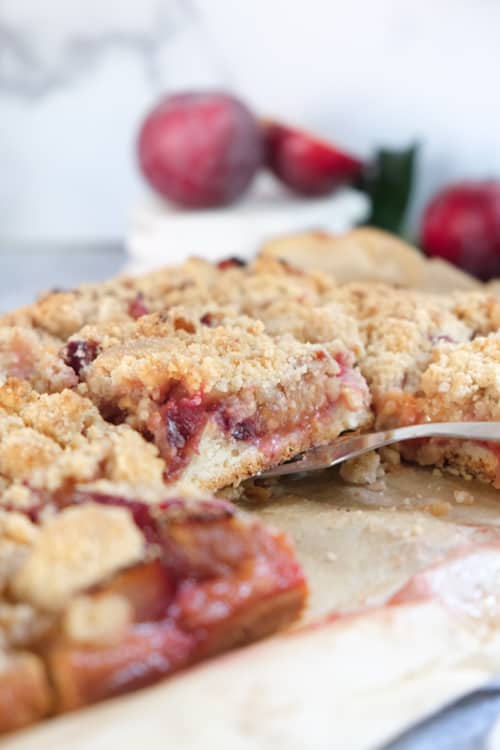 ? How to Make German Plum Cake
There are three layers in this cake: the bottom cake layer, the middle plum layer, and the top streusel layer.
The first step is to make the cake. Some German plum cake recipes use a yeast dough (like the version of yeast cake I use in my Bee Sting Cake) but I opted for the simpler Quark-oil-dough (Quark-Öl-Teig), or rather Greek yogurt-oil-dough, since I didn't have any Quark on hand (if you want to be authentic, get my quick and easy Quark recipe here).
This cake dough (it's definitely a dough rather than a batter) comes together quickly and, once baked, tastes delicious with the plums. It's not a thick cake so it doesn't overpower the plums and you get a nice ratio of cake to plums to streusel.
So, add Quark (or Greek yogurt), milk, sugar, oil, vanilla (you can use either vanilla sugar or vanilla extract), flour, baking powder, and salt to a medium sized mixing bowl. Stir until a dough forms, scraping down the sides of the bowl a few times. The dough will probably feel sticky and a bit wet.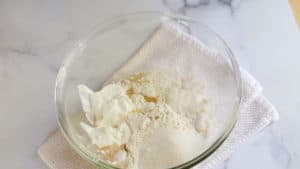 Turn it out onto a lightly floured surface and gently knead it a few times until it becomes smooth (or knead it right in the bowl if it's big enough!). The flour added will make the dough less sticky. If the dough remains sticky, keep sprinkling flour onto the dough a little at a time.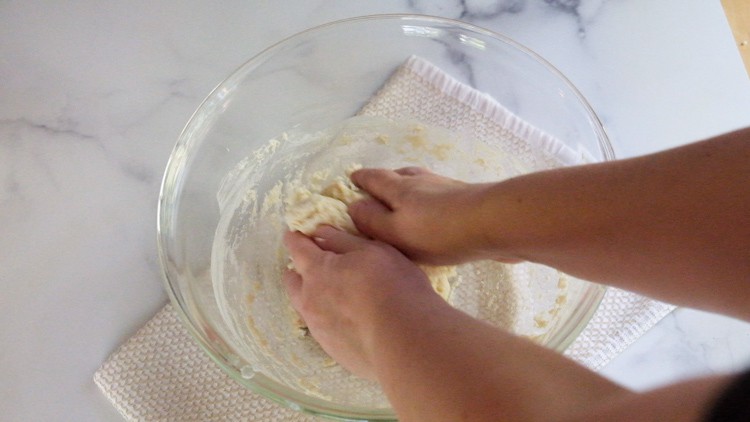 Gently press the dough into a quarter sheet pan (that's a 13 x 9 x 1 in pan – I use this USA pan) lined with either a Silpat mat or parchment paper. I've used both and they both work great.
It might initially look like there's not enough dough for the pan. Just keep gently pressing the dough into the pan to spread it evenly. It will fit! Tip: dip your fingers in water before you press and spread the dough – that will prevent them from sticking.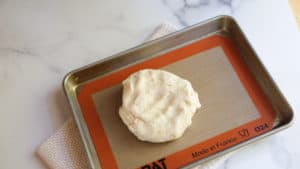 I should say here that I always make my plum cake using a sheet pan (I do the same with my German Bienenstich cake) because that's how I often at it in Germany. If you prefer a round plum cake, use a springform pan.
At this point I like to sprinkle a little cream of wheat on the dough, but you can leave this out if you want.
The next step is to prepare the plums. After washing the plums, cut them in half, take out the pit, and then slice into 4-8 pieces (depending on the size of the plums).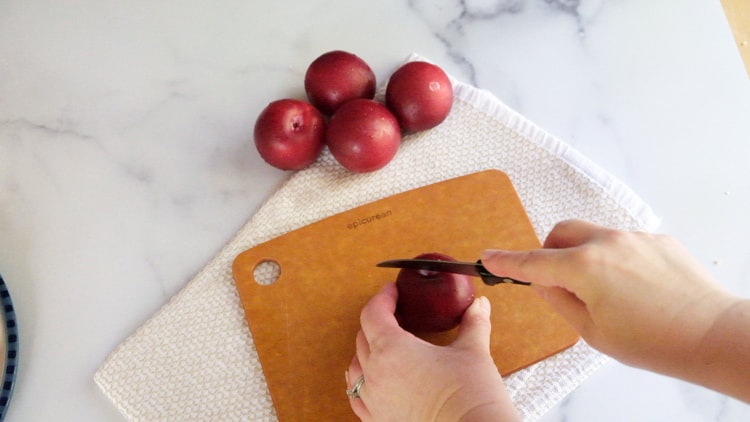 Then place the plum wedges in rows on the cake dough, skin side down. If you have enough plums you can place them so they overlap. The plums bake down so you really can't have too many! If you'd like the plums to taste a little sweeter, sprinkle a little extra sugar on them now.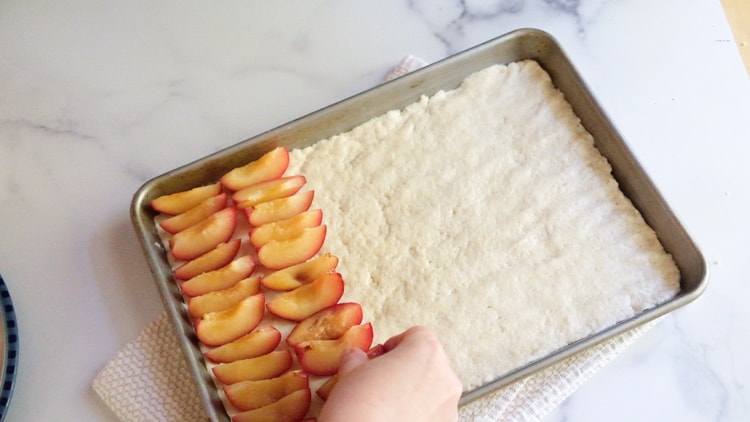 The final step is to prepare the 3rd layer: the crumbly streusel! Add the flour, sugar, vanilla sugar (optional), cinnamon (optional), and salt to a medium sized mixing bowl. Stir with a spoon or a whisk until combined.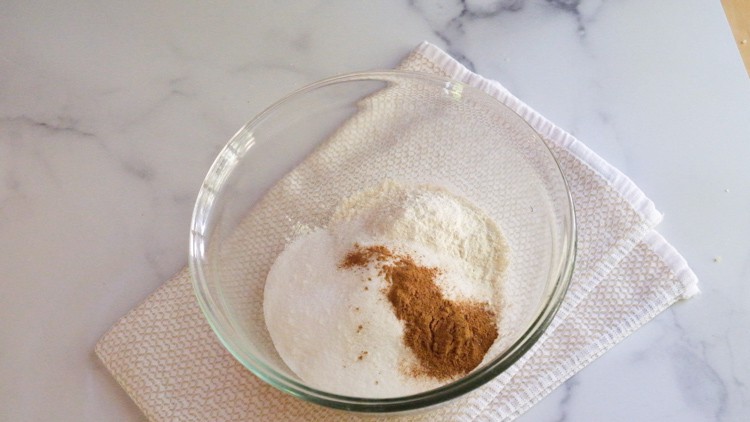 Then add the butter and work it into the flour with your fingers.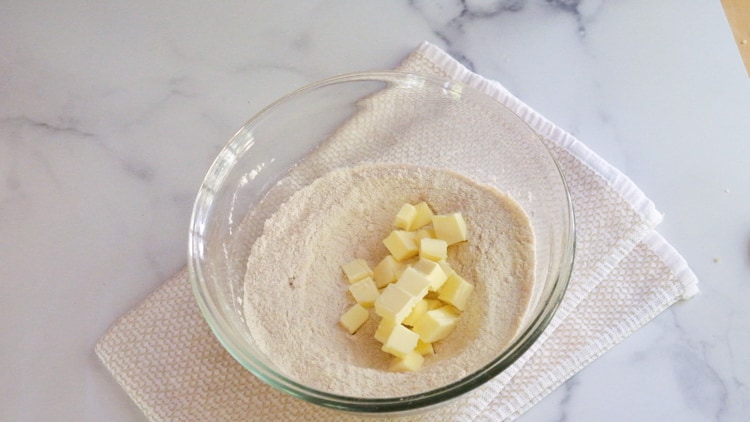 Sprinkle the streusel over the plums. I've made the this cake with fewer streusel "chunks" (below, left) and with more (below, right). Both ways are good, so make it how you prefer.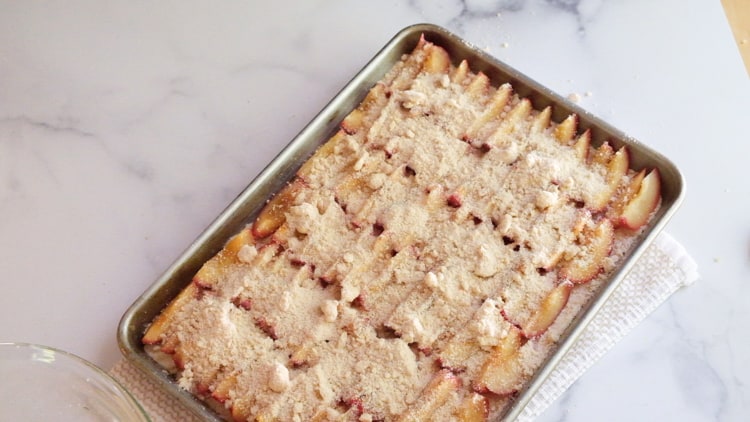 Pop the cake into the oven and bake at 350F/177C for 45-55 minutes. Bake until the plums are bubbly and the streusel is golden brown. If the streusel browns before the plums are bubbly, place a sheet of foil over the streusel. I always set the timer for 40 minutes and check it every 5 or so minutes until it's done.
Once the plum cake is finished baking, let it cool. Then cut into 12-15 portions.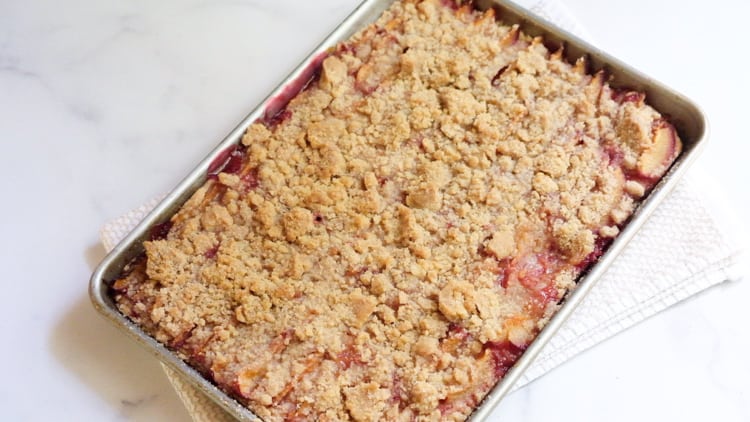 You can eat this cake warm, cold or at room temperature. It's delicious solo and even better with fresh whipped cream or a scoop of vanilla ice cream (or my homemade no churn clotted cream ice cream). Enjoy this popular cake with a cup of coffee for a tasty afternoon Kaffee und Kuchen!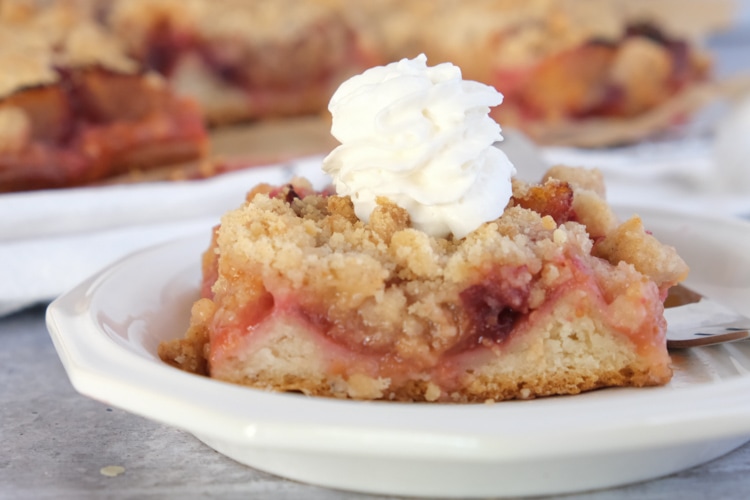 How to Make Plum Cake: Easy Traditional German Plum Cake Recipe
Plum Cake FAQ
Can you make German Plum Cake without yeast?
Yes! You can make a quick and easy "Quark-oil-dough" (use Greek yogurt if you can't get Quark). You don't need any yeast to make this dough and it's delicious, not to mention healthier with the added Quark or Greek yogurt. To make it, you simply add the dry ingredients to Quark or Greek yogurt, oil, and milk, and then mix it into a dough. You can use it right away – no need to let it rise.
When is plum season?
Generally from May through October. That said, I only tend to see them in my local grocery stores at the end of August.
Are there different versions of plum Kuchen?
Yes! As with all German recipes and popular cakes, there are many different versions. Some use Italian plums (Italian prune plums), others use American plums or a different type of plum. Some use a yeasted dough. Some are more like a plum crumble. Some are made in a round pan, others in a sheet pan. Some add cinnamon, others add lemon zest. Some are sweet, others more tart. All are delicious!