German Apple Cake with Streusel Topping
This article may contain affiliate links. See our disclosure link for more information.
This 3-layer German Apple Streusel Cake is easy, beautiful, and absolutely delicious! If you've got apples, you've got to make this German cake.
Serve with a side of freshly whipped cream and you've got an impressive fall apple dessert!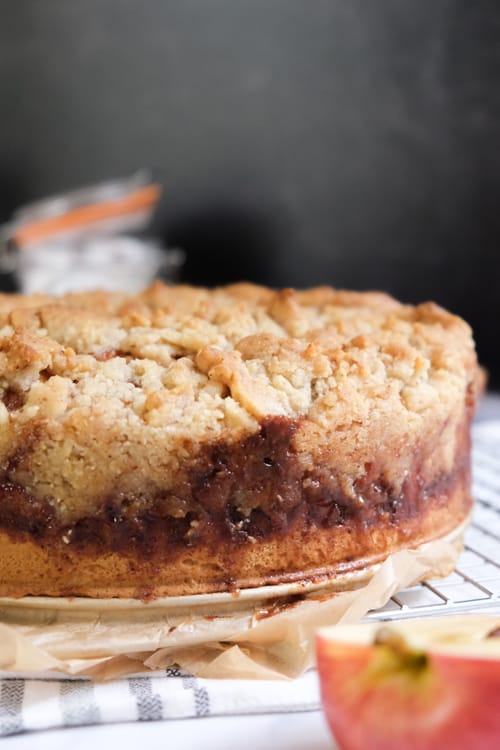 ? About This Recipe
Apple cake (Apfelkuchen in German) is popular traditional German dessert. You'll find different versions in bakeries, cafes, and on kitchen tables for afternoon Kaffee und Kuchen.
There are different ways to make German Apple Cake. If you like streusel, you'll love this variation. If you're looking for an apple cake without streusel topping, try my German Apple Custard Cake.
This German Apple Cake has three tasty layers:
Tender yeast cake base on the bottom
Cinnamon sugar apples in the middle
Almond streusel topping on the top of the cake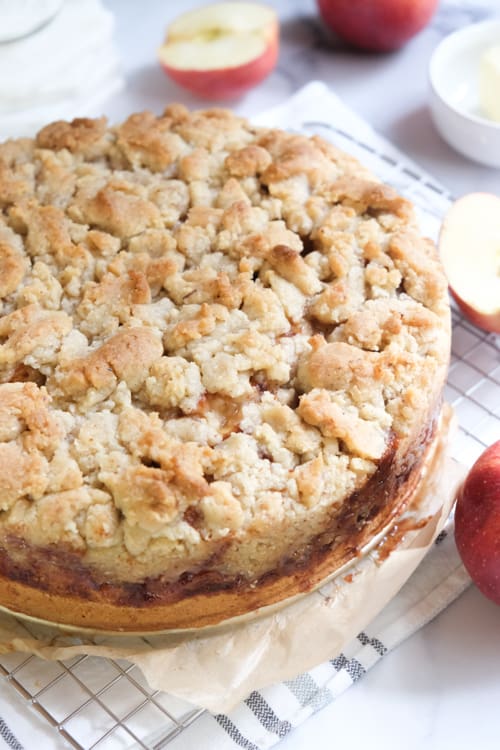 Like many German cakes, this one is not overly sweet. The yeast cake balances the sweetness of the apples and streusel topping. (If you're looking for another type of yeast cake recipe, try my German Bee Sting Cake).
I used about five apples in my cake but you can add more if you'd like. The streusel on top is a little different compared to the streusel I use in my German Plum Cake – this streusel has ground almonds.
The three layers – yeast cake, apples, and streusel – combine to create a super tasty dessert!
❓FAQ
How is this German apple cake recipe different from Versunkener Apfelkuchen (sunken apple cake) or Gedeckter Apfelkuchen (covered apple cake)?
While both are classic German apple cakes, they're a little different from this recipe and each other. Versunkener Apfelkuchen has two layers (buttery cake and apples) and is more like a coffee cake with apples on top.
Gedeckter Apfelkuchen looks more like an apple pie because it has a bottom and top layer with a filling made of chunks of sweet apples.
Both of these traditional German apple cakes are scrumptious but if you like streusel, you'll love this recipe.
What kind of apples should I use?
Tart apples like Granny Smith or Pink Lady apples are generally recommended for recipes like this because they hold up well in baked desserts. That said, I've used other kinds of apples (whatever I happen to have in my kitchen) with good success.
Can I bake this cake in a tart pan?
I recommend using a springform pan. This cake is too tall for a tart pan.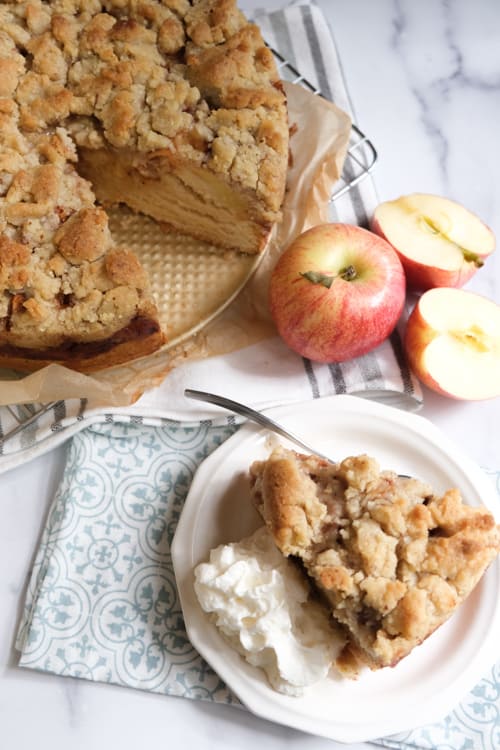 ? What You Need to Make This Recipe
Here are the ingredients:
All purpose flour
Instant yeast
White sugar
Vanilla sugar (or vanilla extract)
Milk (room temperature)
Butter
Salt
Apples (peeled and cut into slices or small pieces)
Lemon juice & zest
Cinnamon
Nutmeg
Ground almonds (I buy this at Trader Joe's but you can grind almonds in a food processor if you prefer – just make sure to stop before it becomes almond butter!)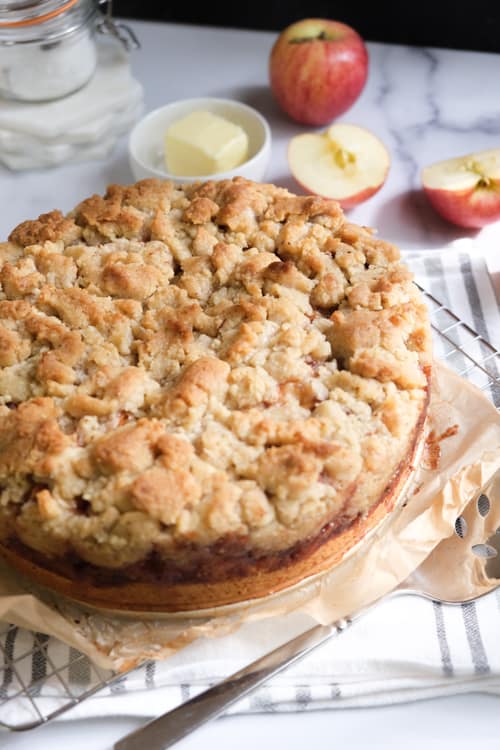 Here are the baking tools you need:
Mixing bowls
Wooden spoon or rubber spatula
Paring knife (to slice apples)
Cutting board
9-inch Springform pan
Circle of parchment paper or round Silpat mat
Wire rack
Plastic wrap (for storing)
?? Looking for More German Cake Recipes?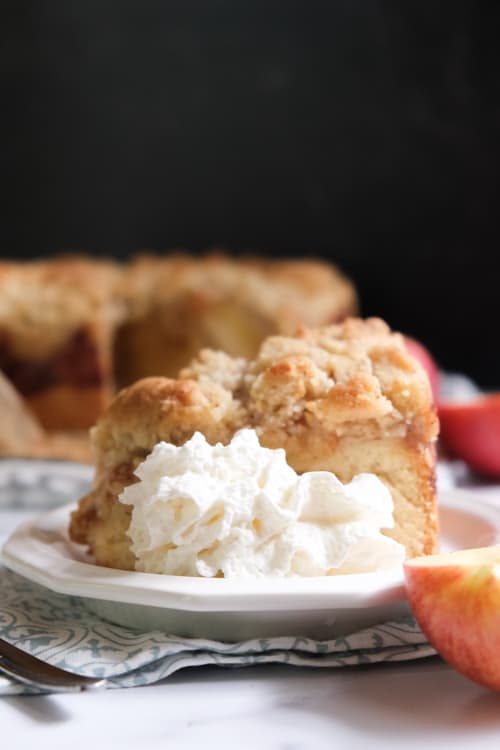 ? How to Make German Apple Cake with Streusel Topping
The first step is to make the yeast cake. Add flour, yeast, sugar, vanilla sugar (or extract), milk (room temperature), melted butter, and salt to a large bowl. Mix until it forms a dough.
Turn the dough onto a floured surface and knead until it's smooth and no longer sticky. Don't add too much extra flour. If you don't want to do this by hand you can add the dough to the bowl of a stand mixer and use a dough hook attachment.
Place the dough back in the mixing bowl and cover with a towel. Let the dough stand for 30 minutes.
Meanwhile, pre-heat the oven to to 350F/180C.
Wash, peel, and slice the apples into thin slices. Place apple slices in a large mixing bowl and toss with lemon juice and lemon zest.
In a small bowl, mix together cinnamon, nutmeg, vanilla sugar, and a pinch of salt.
Next, prepare the streusel topping. Add ground almonds, flour, sugar, vanilla sugar (or extract), and salt to a medium-sized mixing bowl. Mix with a whisk or wooden spoon until well combined.
Dice the butter and add it to the flour. Use your fingers to work the butter into the flour until it goes from being dry to sticking together in clumps.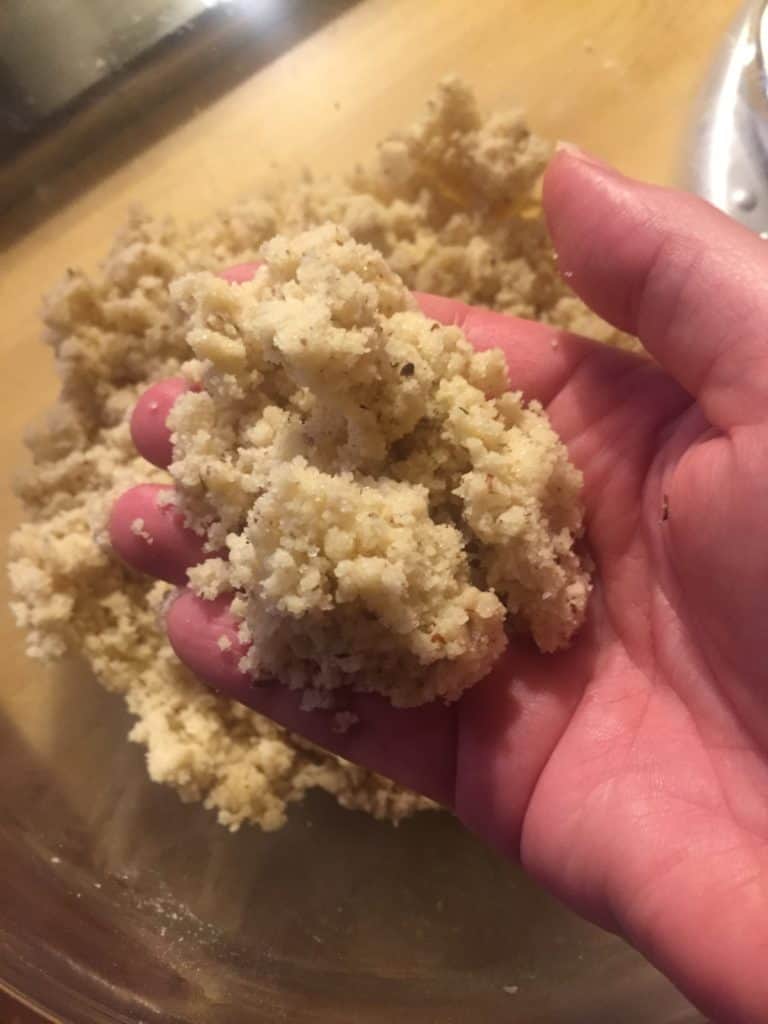 Line your springform pan with parchment or a round Silpat mat (I usually grease the bottom of the pan so the parchment will stick better) and then press the yeast dough into the pan.
Place the apples on the yeast cake. You don't need to be exact with your placement because the streusel topping will cover most of the apples. If you like a lot of apples, you can add more than my recipe suggests.
Sprinkle the cinnamon sugar evenly over the apples. Then top the apples with the streusel.
Bake the cake on a rack in the middle position of the oven at 350F/180C for about 45 minutes. The streusel should be golden brown.
When the cake is finished, let it cool for a few minutes in the springform pan on a wire rack. Then release and remove the springform pan. Once the cake has cooled a bit, slice and serve the warm cake with fresh whipped cream.
Store in an airtight container or wrap tightly in plastic wrap in a cool place for 3-5 days.
Enjoy this delicious apple cake!
❤️ Looking For More Apple Recipes?