This article may contain affiliate links. See our disclosure link for more information.
When visiting Germany, sometimes you just don't want to take an hour out of your sight-seeing to sit in a stuffy restaurant for a long lunch.
Sometimes you've got a few more hours until dinner and just need a quick snack to keep you going.
And sometimes you just want to try something new!
Germany has an abundance of delicious street food options to choose from for lunch, dinner or a mid-day snack.
You'll find both sweet and savory delights, warm and cold German snacks, traditional German dishes and new takes on old favorites – all at an affordable price.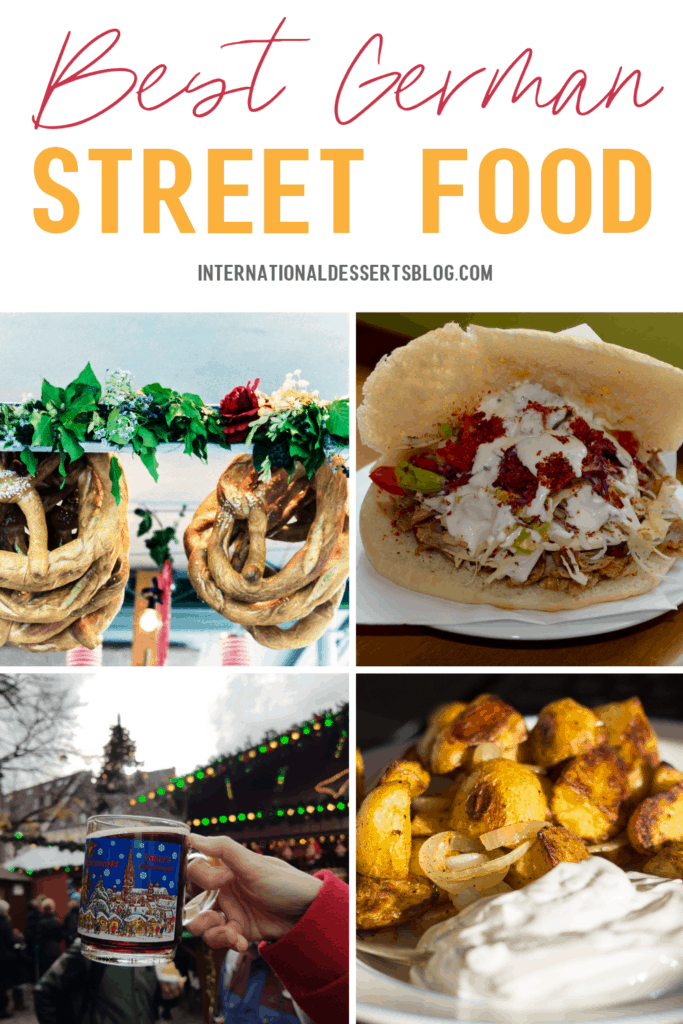 Where Can I Find the Best German Street Food?
Food carts (called an Imbiss or Schnellimbiss) abound in Germany and are great places to pick up a tasty lunch or snack.
While technically not street food per se, bakeries are another good place to look, especially if you also want a sweet treat, sandwich or a cup of coffee or tea. Festivals, Christmas markets, and weekly farmer's markets are also great places to look.
They're also perfect for finding traditional German food.
When I lived in Germany I ate street food all the time. It was just so easy to pick up a Bratwurst or pop into a bakery for a Brötchen sandwich or pastry while on the go. Street food is some of the best German food around!
Germany is a very green country and most places serve food on biodegradable or even edible plates and use environmentally-friendly utensils. But you can be even more green by packing your own flatware and straws.
This awesome set includes flatware, chopsticks, two straws, and a sleek carrying case!
Ok, now onto the German street food you must try when in Germany!
1. Bratkartoffeln (Fried Potatoes)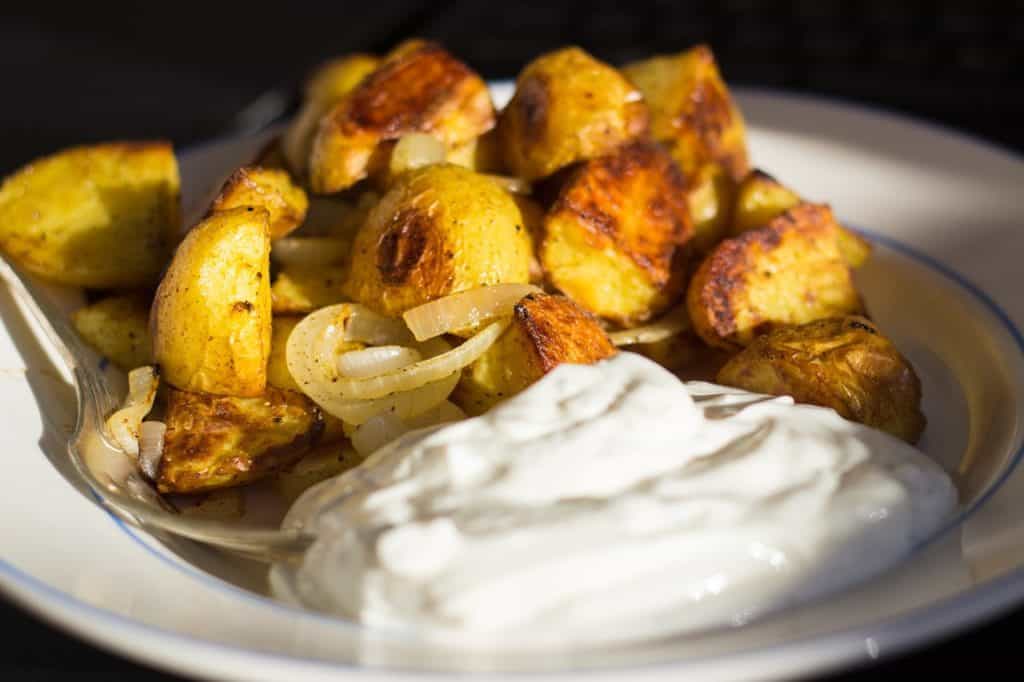 Most German festivals and markets will have at least one stand featuring a giant cast iron skillet full of Bratkartoffeln – fried potatoes.
They are SO good!
Typically fried with onions and sometimes Spek (a type of bacon), Bratkartofflen make a delicious and filling meal.
My favorite is when the potatoes are crispy on the outside and soft and tender on the inside. Y
ou can usually add ketchup or order them with a side of garlic sauce or Quark (yum).
Some stands also offer fried whole mushrooms, which are also delicious. I'm definitely eating both when I go to Germany this summer!
2. Currywurst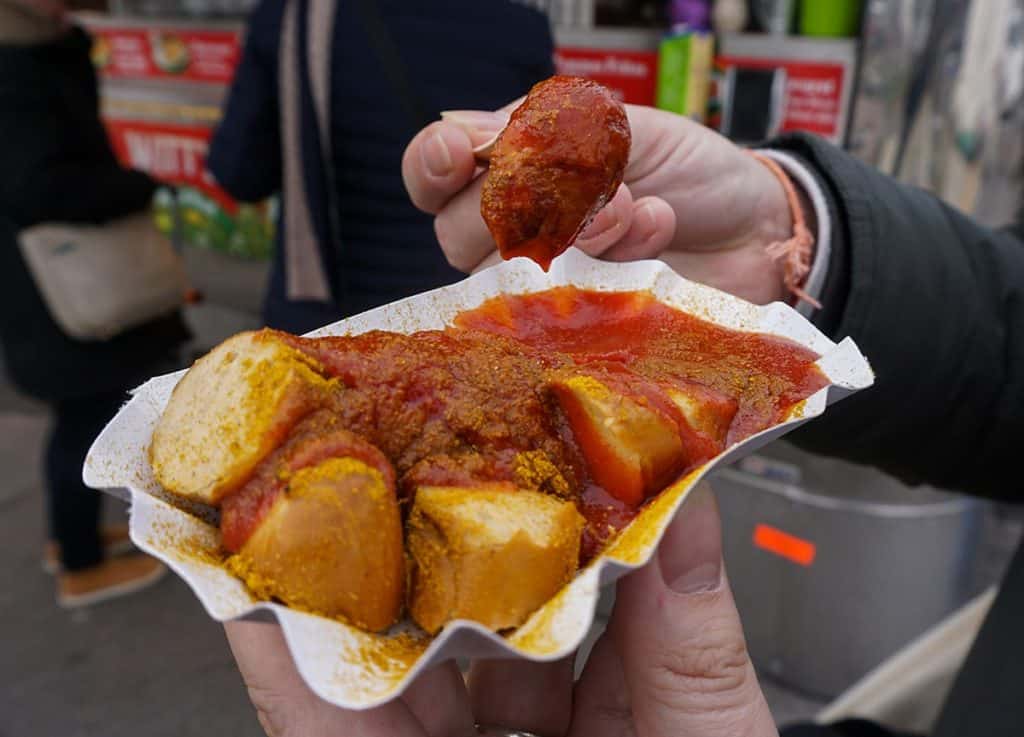 At times it can be tricky to track down traditional foods in the major cities of Germany, where "local" cuisine is often hidden behind modern multiculturalism, kebab shops, and the fast food favourite of Currywurst.
Currywurst is a fusion dish, of sorts, where it takes the humble steamed Bratwurst, and fries it, before serving it, cut into pieces, with a tomato sauce laced with curry.
And while it traditionally comes with a quick topping of ketchup with a curry powder sprinkled on top, many shops these days fuse their own curry sauce using variations of other flavours and spices.
As a street food, it is then served on a disposable paper plate, with a plastic fork to eat on the go. To make a meal of it, add some fries on the side.
Currywurst is no doubt a quintessential street food in Germany, where its origins in Berlin started at a humble Schnellimbiss (snack stand), where a lady named Herta Heuwer created the recipe from ketchup and curry powder she had sourced from British soldiers in Germany at the time.
And now, 70 plus years later, many consider it to be one of the country's national dishes.
From Allan at It's Sometime Sunny in Bangor
3. Bratwurst with Sauerkraut, Mustard and Curry Sauce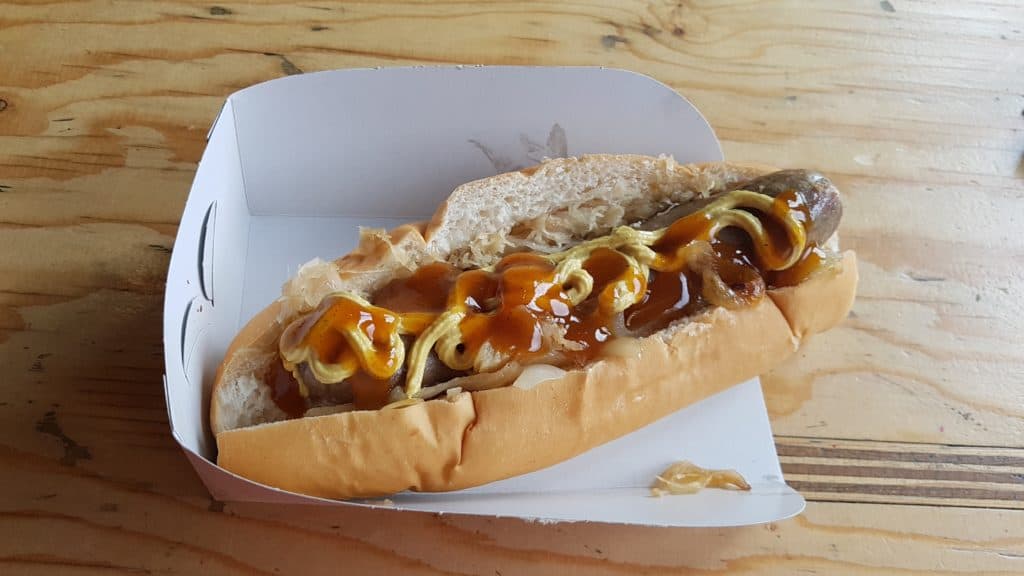 Living in South Africa often makes me crave the different local European cuisines so I'm very pleased that once in a while we can indulge in a real German Bratwurst with Sauerkraut.
We add some mustard and Curry Sauce. The combination of the sausage, sauerkraut and sauces make the perfect blend of spicy, sweet and sour flavors to fill you up for a hearty lunch or a late afternoon snack, many times enjoyed together with a nice German beer.
A Bratwurst is made out of beef, veal or more commonly pork. The origin of the Bratwurst is debated between the people of Thüringen and those of Franconia, 2 different regions in Germany. Both claim to have invented the bratwurst.
In Thüringen, the oldest evidence of the bratwurst is from 1404; in Franconia, the oldest record is from 1313. The city of Nuremberg, located in Franconia, is still an internationally renowned centre for the production of different types of sausages.
The version in the picture is a Bratwurst served on a roll with Sauerkraut and fried onion. It is left up to the customer to add the preferred sauces.
Essen Sie Lecker!
From Jessy at PlanetPilgrams
4. Glühwein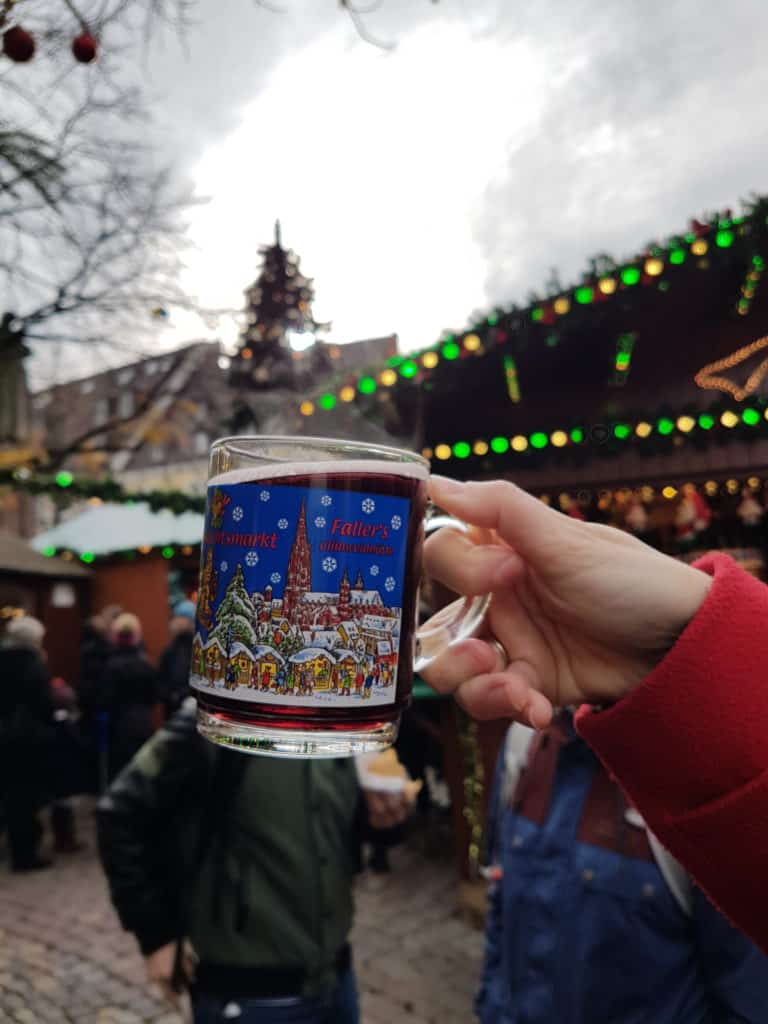 Glühwein is a quintessential winter drink in Germany with thousands of visitors flocking to the Christmas Markets every year to drink Glühwein, eat sausages, and shop for local handicrafts!
Glühwein (also known as mulled wine elsewhere in Europe) is a spiced red wine that is served hot during the long, cold winter months.
The warming cup of Glühwein is tastily spiced with a variety of flavours such as orange, cinnamon, star anise, cloves and sometimes vanilla – although each cup you try is likely to taste slightly different depending on the makers personal recipe.
While Glühwein can be served as a non-alcoholic drink, it's usually alcoholic and is a great thing to lift your spirits during dark winter days. You can even add a shot of rum or brandy to liven it up even more!
The name Glühwein – literally translating as glow wine – comes from the old tradition of heading the wine with red hot irons that needed to glow in order to create the delicious, warming drink in years gone by.
You can find Glühwein at every Christmas Market in Germany (usually served in kitsch glass Christmas mugs), in pre-prepared bottles in the supermarket, or make your own at home!
From Chrysoula from TravelPassionate
Click here to for my easy German Glühwein recipe!
5. Spätzle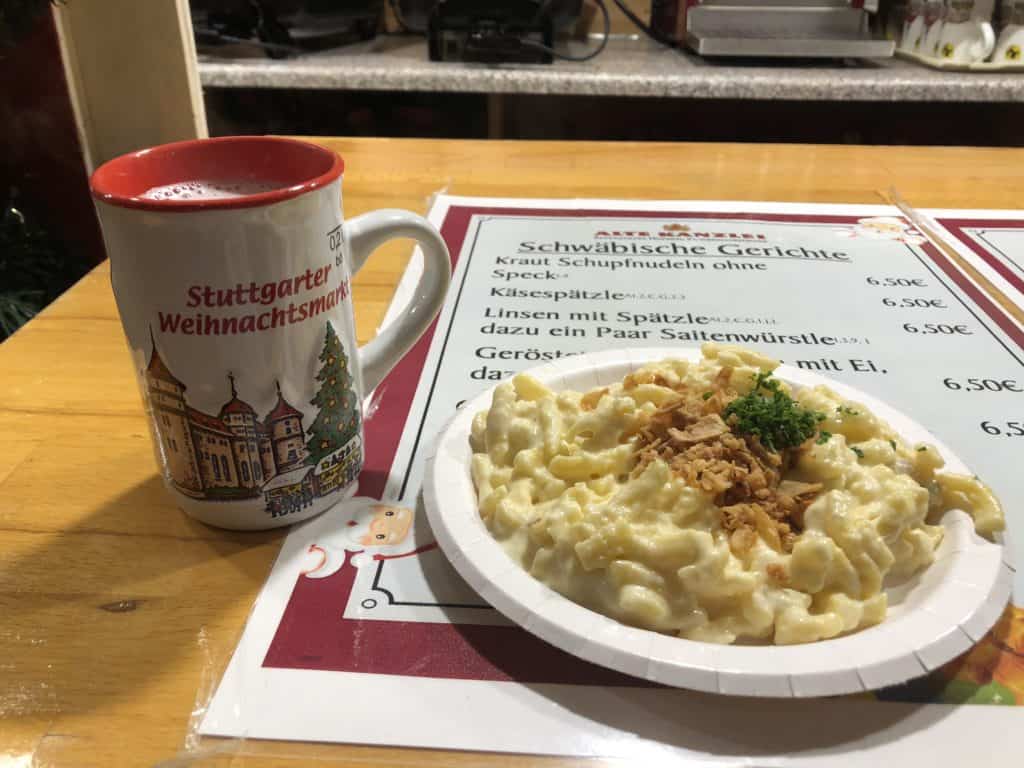 Spätzle is a common German street food found at festivals and markets throughout the year in southern Germany.
A well-known Swabian dish, it is made from flour, eggs and salt. The soft noodle-dough like dish is dropped into a boiling pot for a few minutes, taken out and served in a variety of ways.
One of the most common ways is to add cheese for Käsespätzle or to add onions. Kasespätzle is a popular dish for kids and can usually be seen as an item on kids' menus.
The history of Spätzle is a fascinating one, as it is a deep-rooted part of Swabian culture. A brief glimpse into its historical context shows the popularity of Spätzle in Germany as knights and Swabians referenced it in a number of poems and songs.
Spätzle has traditionally been made using hands. Today a variety of tools are available including Spätzle presses and slicers, making the creation of the popular weave like noodle very easy.
Spätzle is a typical dish at outdoor Easter and Christmas markets as well as large festivals such as the beer festivals in Munich and Stuttgart.
From Diana at The Elusive Family
6. Döner Kebab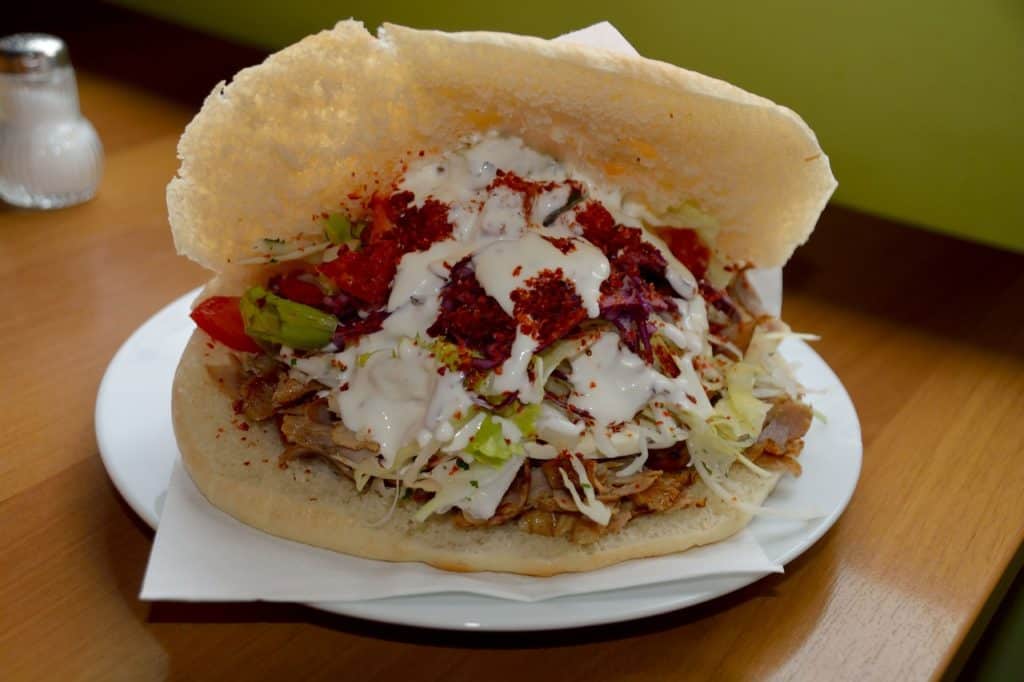 Döner Kebab, although originated from Turkey, has made its way across the Eurasia continent to Germany in the mid-1900s.
Unlike the kebabs I've had in Turkey, the Döner in Germany are a heavenly hybrid of East and West.
In addition to the savory meats and salads that's added to the pita bread, the German twist includes a number of sauces that amplifies the flavor of this delicious treat.
This meal is not only delightful, but also points to the millions of Turkish people that reside in the country.
It is in fact a beautiful symbol of sociocultural unification.
Having visited Germany twice, this is one of the first foods I'd get when I'm in any major city.
They aren't just a good bite during a walk in Berlin, but also a great snack after a night out in Hamburg. Since it is so common in the country, almost every other street corner would have a Döner shop awaiting your order.
Imagine yourself at a much-better tasting Subway-simply look through the menu and decide on the kind of meat (or veg) you'd like, tell the clerk the toppings and sauces you'd like to include, then sit back and relax!
From Daisy at Beyond my Border
7. Leberkäse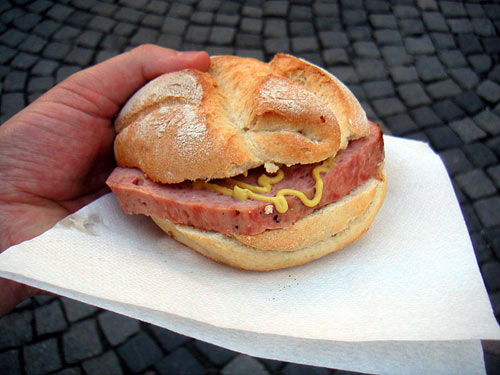 Leberkäse is literally translated from German as "liver cheese" and, surprisingly enough, is not made nor of liver neither of cheese. This confusing name is derived from the word "Laib" which means loaf or body, not liver.
In some regions, Leberkäse is also called Fleischkäse and it is essentially a meatloaf.
The meat part consists of finely grounded beef or/and pork, bacon, onions and spices. Then this pate-like paste is baked as a loaf in a bread pan till the crust is crispy. The texture of the meat is really fine, like a hot dog, and it tastes like spicy sausage.
As a street food, a super thick piece of Leberkäse is usually served in a crispy bun cut in half.
It can be served hot on a bread roll and seasoned with mustard. Or cold in a sandwich, usually seasoned with pickled cucumbers.
This dish was invented in Bavaria and is popular everywhere in Germany, so I believe it's a must try!
From Inna from the Executive Thrillseeker
8. Fischbrötchen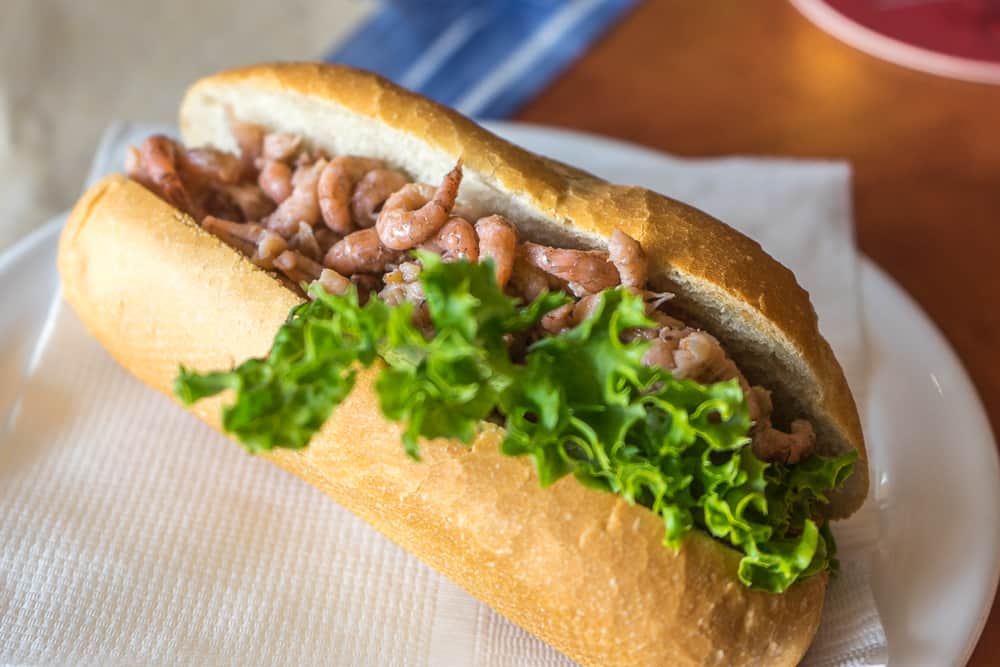 If you are looking for fast food in Northern Germany, you'll be hard pressed to find anything better than a traditional Fischbrötchen.
In essence, a Fischbrötchen is simply a fish sandwich. However, due to Northern Germany's close proximity to both, the North Sea and the Baltic Sea, it is also an important part of local culture.
The sandwich is made of a simple wheat bun, onions, pickles, a dressing (often horseradish or remoulade), and, of course, fish.
Travelers are usually spoilt for choice, as varieties available are, for example, prawns, salmon, and most commonly, herring. Bismarck herring and soused herring are the most popular options.
You can find Fischbrötchen all over Northern Germany, but especially in the Hanseatic city of Hamburg. The best place to grab one is without a doubt at the harbor (Landundsbrücken) where several vendors sell their goods day and night.
You can either pick one up on-the-go or sit down in a restaurant by the water and enjoy a cozy meal with a great view!
From Jacky at Nomad Epicureans
9. Pretzels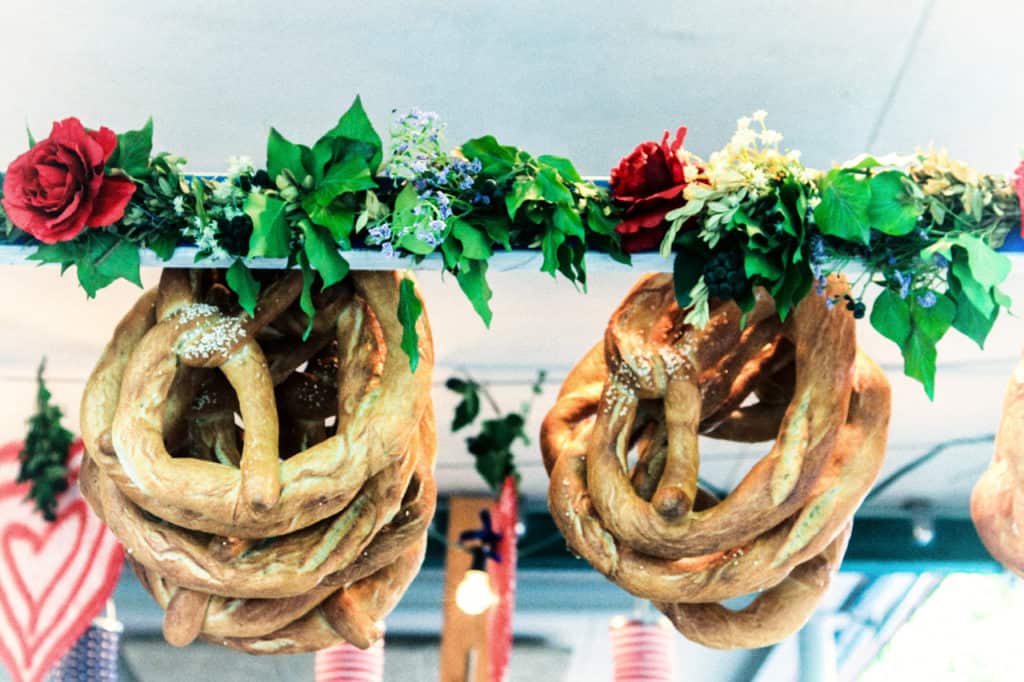 If you think of Germany, you must think of pretzels and beer.
Pretzels are the one thing you can get in every grocery store, bakery, festival, and even gas station. Children know, before they even go to the fest, that a pretzel is in their future. It is a given.
For lunch you can have a pretzel sandwich with various toppings. Some like it with butter, others with salami. My favorite is ham and cheese heated up to make it nice and gooey. Germany = pretzels.
Do not leave without having at least one…per day!
From Corinne at Reflections en Route
10. Schneeball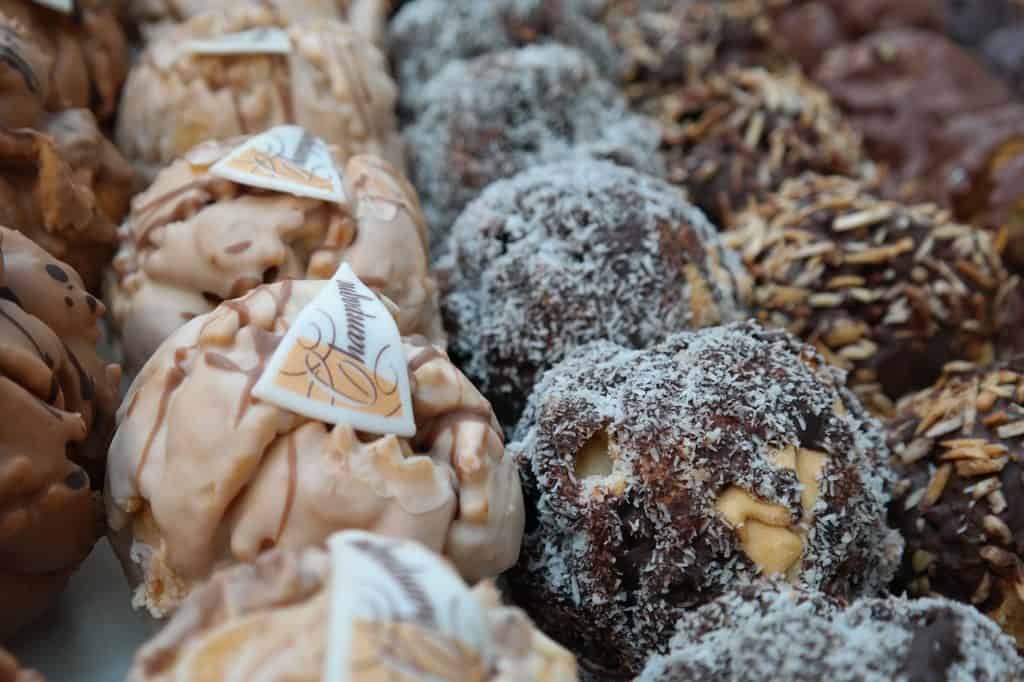 I first discovered the delicious Schneeball when I was on a trip to Füssen in Bavaria to visit the iconic Neuschwanstein Castle.
I was walking along the cobbled streets and in front of a German bakery there were lots of these strange pastry balls, in lots of different colours.
They looked delicious and intriguing, so I absolutely had to try one! I bought a chocolate flavoured Schneeball and I was not disappointed.
The Schneeball is a pastry made from shortcrust pastry and is popular in the area of Rothenburg ob der Tauber. It's name comes from the round, ball shape.
It's traditional decoration is with white sugar, but you can now find them with all of different flavours and decorations. They taste quite crunchy when you first bite, and the flavour comes from the sugar or sauce that's added throughout, so in my case, chocolate.
Actually, these were once considered quite a special food and only served on special occasions such as weddings. But, not anymore, you can find them on street bakeries, cafes and more. They're the perfect snack to have when sightseeing, and I think they're wonderful during the Christmas season.
From Cazzy at Dream Big, Travel Far