Zwiebelkuchen vom Blech (Savory German Onion Cake)
This article may contain affiliate links. See our disclosure link for more information.
This savory classic German Onion Cake (Zwiebelkuchen vom Blech) is a delicious pizza alternative! It's simple to make and always a crowd-pleaser.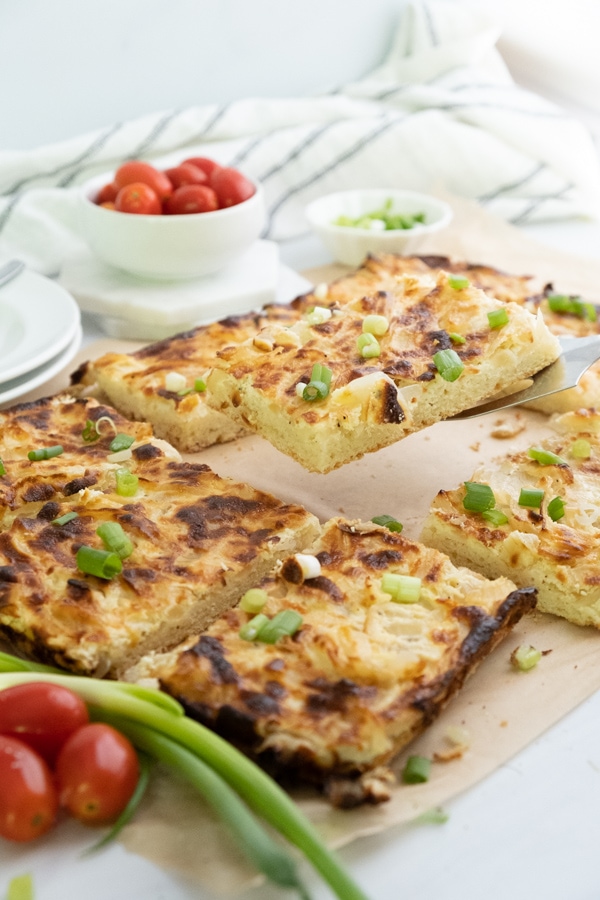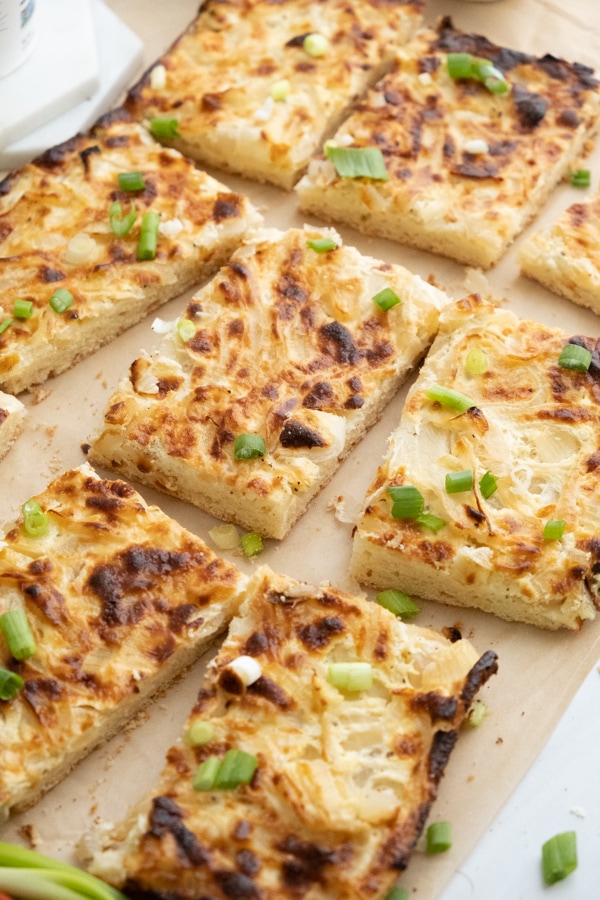 Thanks to Wünder Creamery for sponsoring this recipe.
What is Zwiebelkuchen vom Blech (German Onion Cake)?
Zwiebelkuchen is an easy and delicious traditional dish I learned to make when I lived in Stuttgart (in southern Germany, north of the Black Forest) many years ago.
As with all recipes, there are lots of Zwiebelkuchen variations. You'll find some that look more like quiche with a pie- or pastry-like crust (those are typically translated as German Onion Pie), while others look more like a tart, tray bake or pizza. Some are thick with crust all the way up the sides, others are thin with crust just on the bottom.
All are delicious!!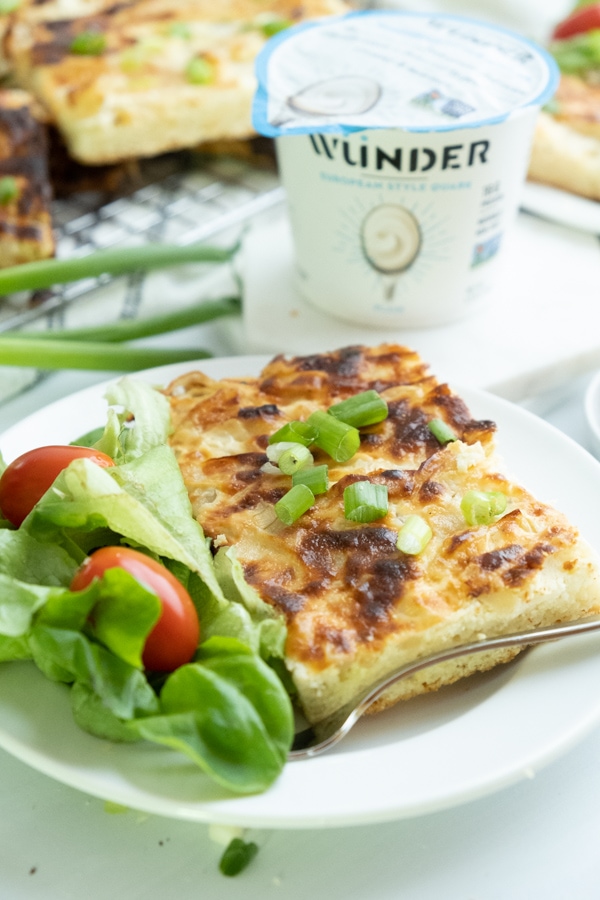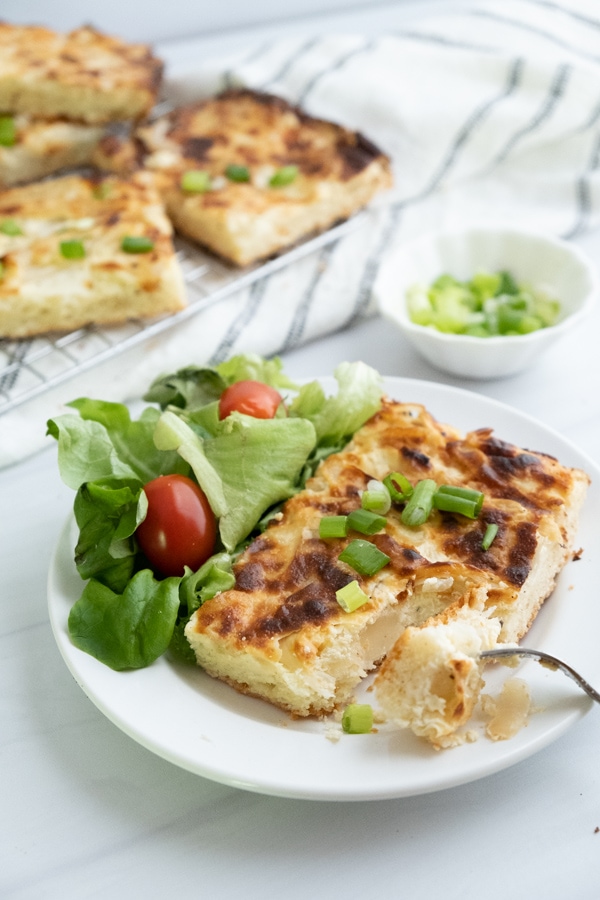 My favorite variety is Zwiebelkuchen vom Blech, which would be translated as German Onion Cake…although it's kinda a cross between German Onion Tart or even German Onion Pizza.

You'll also find some Zwiebelkuchen topped with bacon (or Speck if you're in Germany) and some without. I like bacon but I actually prefer my Zwiebelkuchen without it. If you want to add bacon to this recipe, go ahead and add it!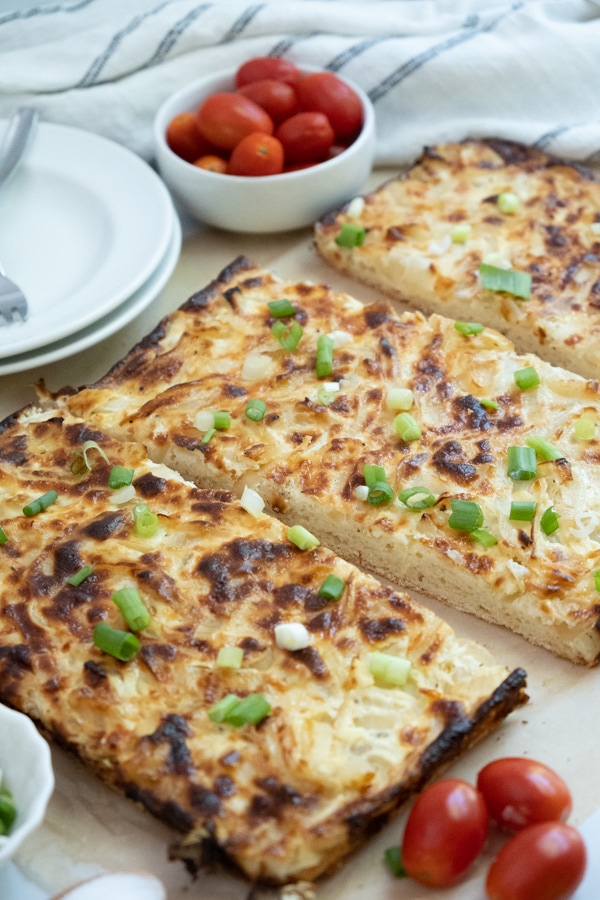 This is a great recipe to make for:
Pizza night
Family dinner (serve with a big green salad)
Friends get-together (have your friends slice the onions, haha)
A party (cut into bite-sized pieces)
Date night (make it together!)
I like to eat Zwiebelkuchen right out of the oven but it's actually good cold (well, room temp), too. We usually eat some of it for dinner and then wrap up the leftovers for lunch the next day. Serve with a big green salad or even a cucumber salad and you've got a delicious dinner.
If you're looking for a good German dessert to accompany your Zwiebelkuchen, try Classic German Cheesecake, Rote Grütze, German Apple Cream Cake or German Plum Cake (which uses the same type of dough as this onion cake).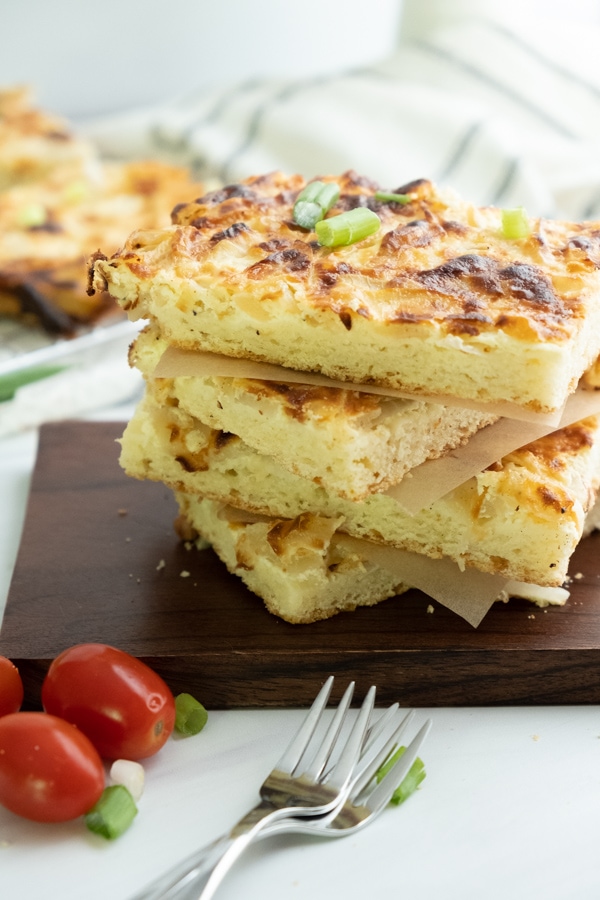 What You Need to Make German Zwiebelkuchen
There are two layers to this German Onion Cake: the crust and the onion topping.
For the crust I use a Quark-Öl-Teich — a Quark-oil-dough. This dough is so easy to make and you can use it as the base for many sweet and savory recipes (I use it in my German Plum Cake).
There's no yeast in this dough, so if you're looking for a pizza dough without yeast, this is a good one. It doesn't need to rise and you don't have to knead it. Win-win!
For the onion topping, I cook my onions in a non-stick pan. You want them to get soft but not browned. I use white or yellow onions.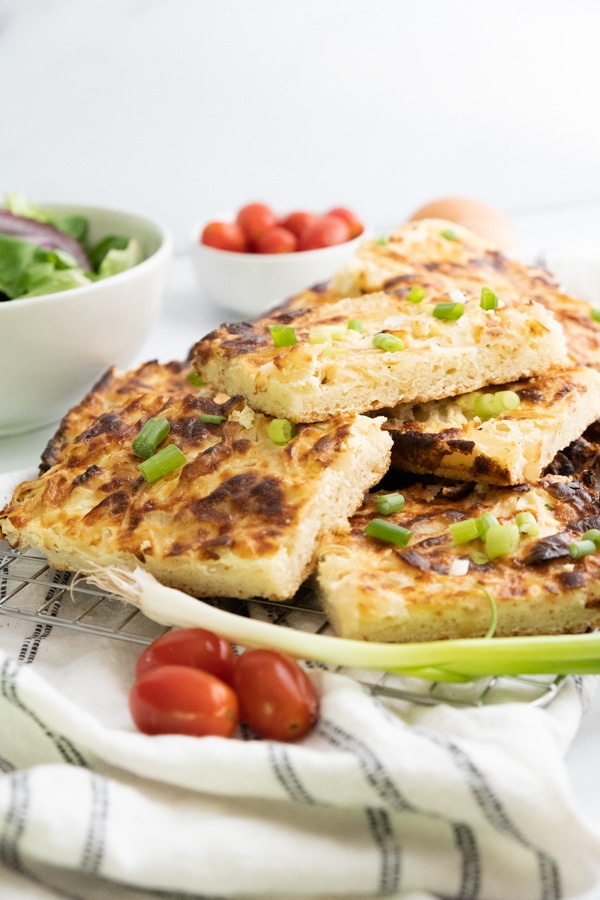 No Schmand? No Problem.
This kind of Zwiebelkuchen is often made with Schmand, which is a type of sour cream and has a fat content somewhere between sour cream and crème fraîche.
I've never found Schmand in the US, and while I've used plain sour cream in my Zwiebelkuchen, I always found the flavor to be a little lacking.
That's why I use a combo of plain Quark and crème fraîche in this recipe.
Quark because it's healthier than sour cream and I already use it in the Quark-oil-dough. Crème fraîche because it gives the Zwiebelkuch such a good flavor!
You can make or buy both Quark and crème fraîche. See below for more info on how to do both.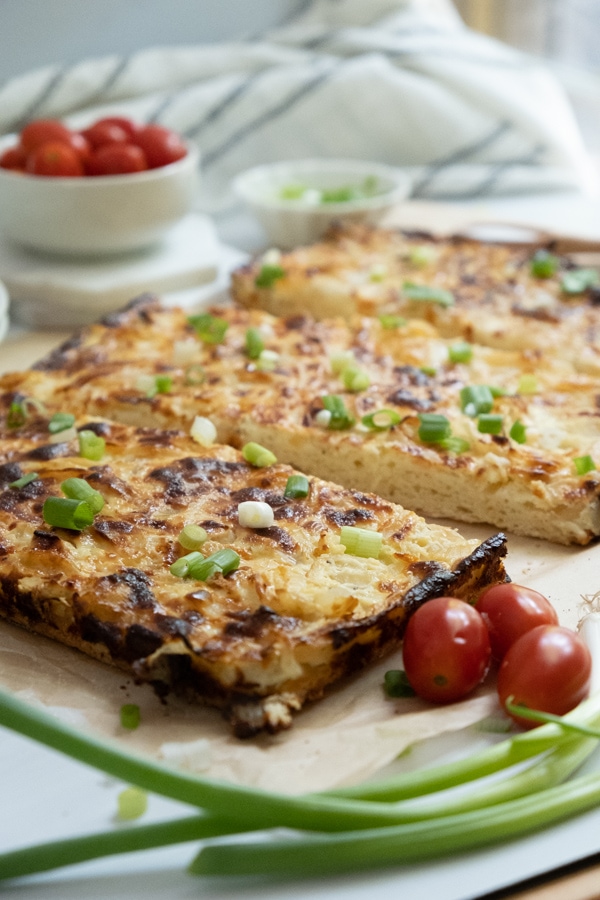 Ingredients:
flour
baking powder
salt & black pepper
eggs
Quark (plain) (If you buy Quark, I recommend Wünder Creamery (see below for details and for my code to get 15% off!) or use my recipe to make plain Quark at home)
oil
onions
butter
crème fraîche (If you want to buy crème fraîche look at Whole Foods, Trader Joe's, etc or use my easy recipe to make it at home — and alternative is to use full fat sour cream…but use crème fraîche if at all possible!)
Note: if you make Quark or crème fraîche at home, be sure to get them both started a couple days before you make the Zwiebelkuchen)
Kitchen Tools:
mixing bowls
whisk
spatula
large frying pan or deep skillet
quarter sheet baking pan or jelly-roll pan (I love this one)
Silpat mat or parchment (I use this Silpat and this generic mat)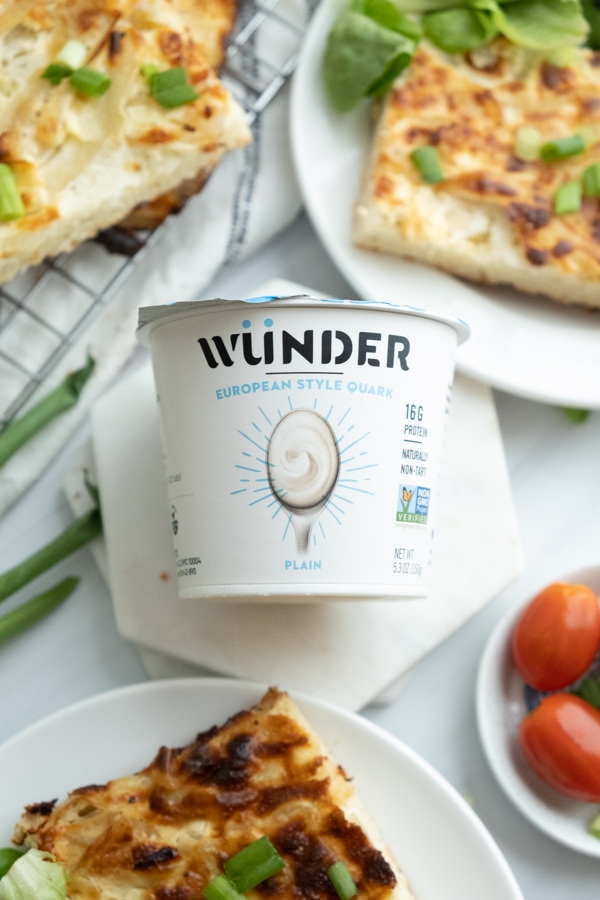 What is Quark? Where Can I Buy Quark?
Quark is an un-aged, fresh cheese that's popular in Germany and elsewhere in Europe. When I lived there I ate Quark for breakfast, snacks, dessert, and in a wide variety of sweet and savory dishes.
While Quark is easy to find in Germany and elsewhere in Europe, it hasn't been easy to find in the US. Until now!
A while back I came across Wünder Quark at my local grocery store here in North Carolina, and I swooned when I tried it because it tastes just like the Quark I ate in Germany. I reached out to Wünder to see if we could work together because I'm always looking for authentic ingredients you can use in the recipes here on the IDB.
UPDATE: unfortunately, Wünder is no longer selling Quark so I have removed links to their online store.
So I'm super excited to share Wünder Quark with you! They make both plain and flavored Quark. Their plain Quark comes in larger 24oz tubs (perfect for baking German recipes) and both the plain and flavored are available in the smaller 5oz cups.
I've mostly been using the plain Quark in my recipes but I have sampling their flavored Quark…and OMG, it's heavenly. So far, my favorite is coffee.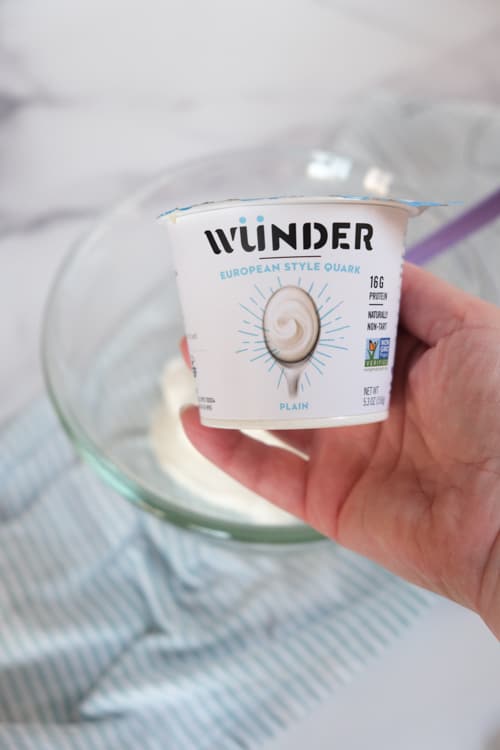 Quark is high in protein — and Wünder plain Quark also has no added sugar and is made with whole milk from grass fed cows. Wünder also contains probiotics from live active cultures, less than 5% lactose, and is Non-GMO product verified, gluten-free, Kosher certified, and vegetarian friendly.
Where can you buy Wünder? Look for it at your local grocery store (if you're in the US) — or use their store locator to find a store close to you.
UPDATE: unfortunately, Wünder is no longer selling Quark so I have removed links to their online store.
You can also now order Wünder Quark online! It's super easy and Wünder will deliver it right to your doorstep in just a couple days! They package the Quark well so it arrives cold and in perfect condition. You can even re-use the ice packs. Wünder Quark will stay fresh in your fridge for 1.5 months so you can stock up.
Click here to order Wünder Quark to make your Zwiebelkuchen and other German recipes with Quark cheese even more authentic and delicious! Use my special code IDB15 to get 15% off your first order.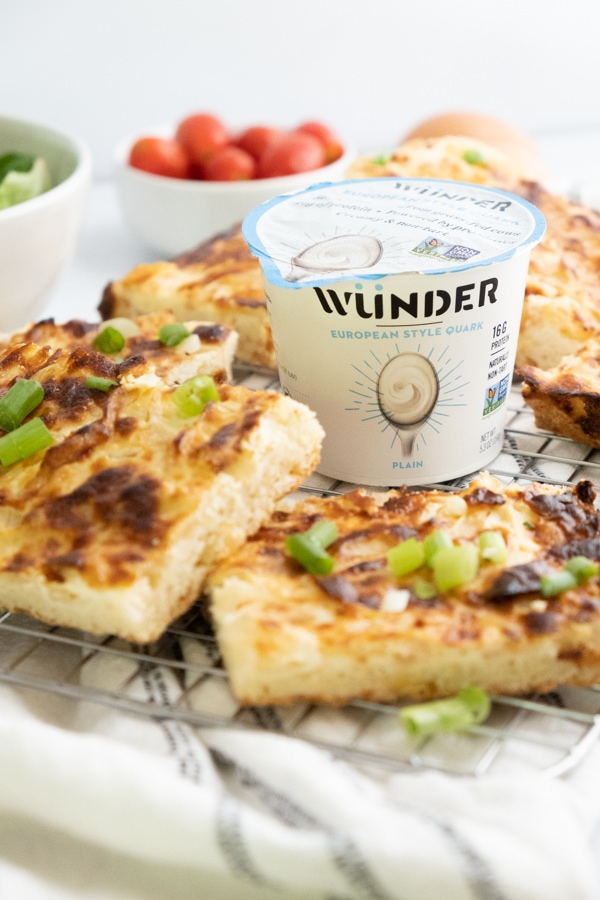 How to make German Zwiebelkuchen vom Blech
Note: if you want to use homemade crème fraîche or Quark, be sure to start making both a couple days before you want to make the Zwiebelkuchen.
First, slice the onions. You can do this ahead of time, if you'd like. Then add butter to a non-stick pan over medium to medium-low heat. Add onions and cook until soft but not browned (about 20-25 minutes). Stir frequently.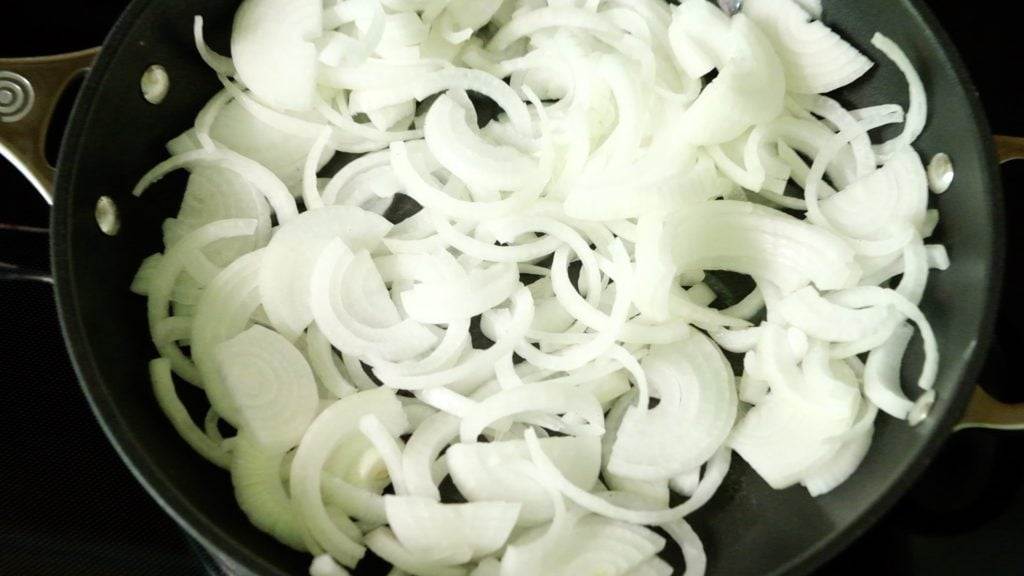 Meanwhile, prepare the dough by adding flour, baking powder, and salt to a medium-sized mixing bowl. Whisk to combine.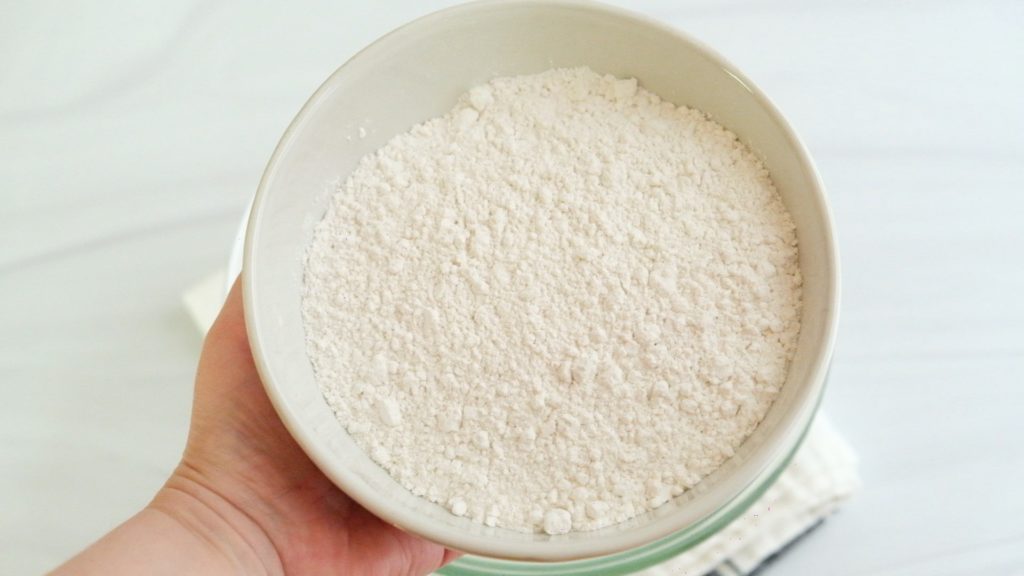 Add the egg, oil, and plain Quark. Stir until it forms a dough. Sometimes I knead it a few times in the bowl just to make sure all ingredients are well combined.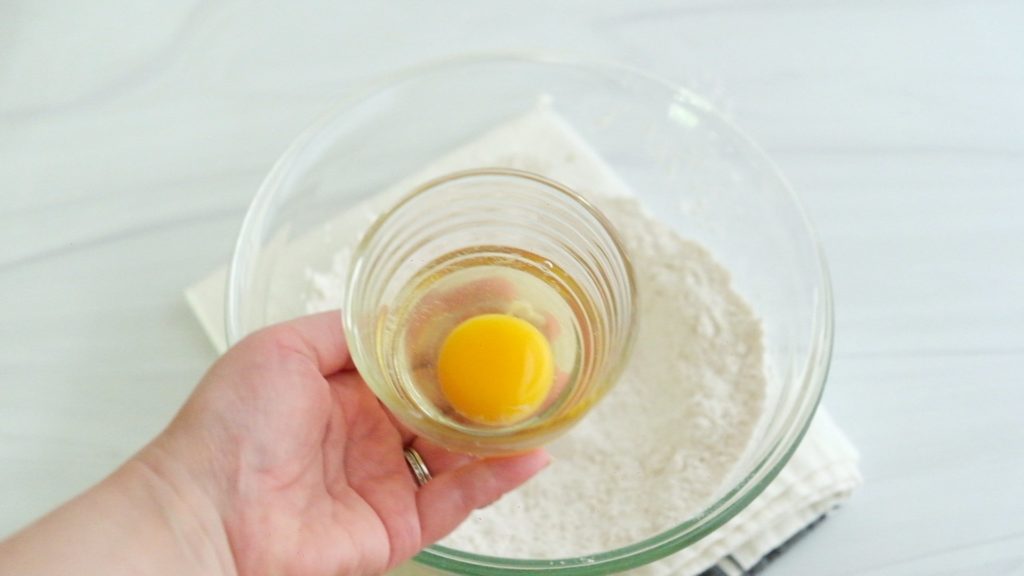 Press the dough into a prepared quarter sheet baking pan. It might look like there's not enough dough but there is! Dipping your fingertips in a bit of oil will make pressing the soft dough into the baking pan easier.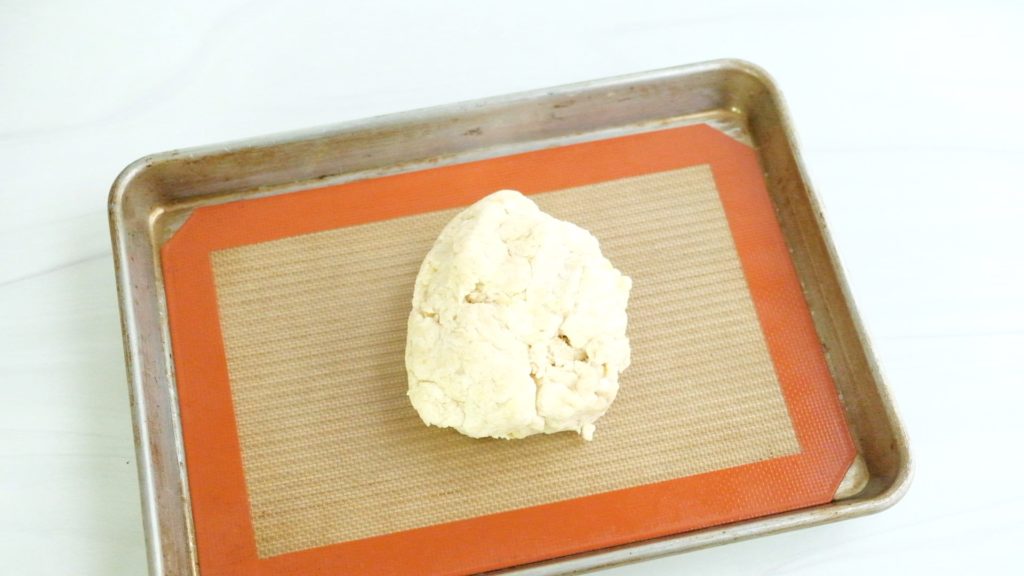 Once you've pressed the dough into the pan, set it aside. Be sure to give the onions another stir so they don't brown!
Next, prepare the custard filling in a large bowl by adding plain Quark, crème fraîche, egg, salt, and pepper to a medium-sized mixing bowl. Whisk to combine.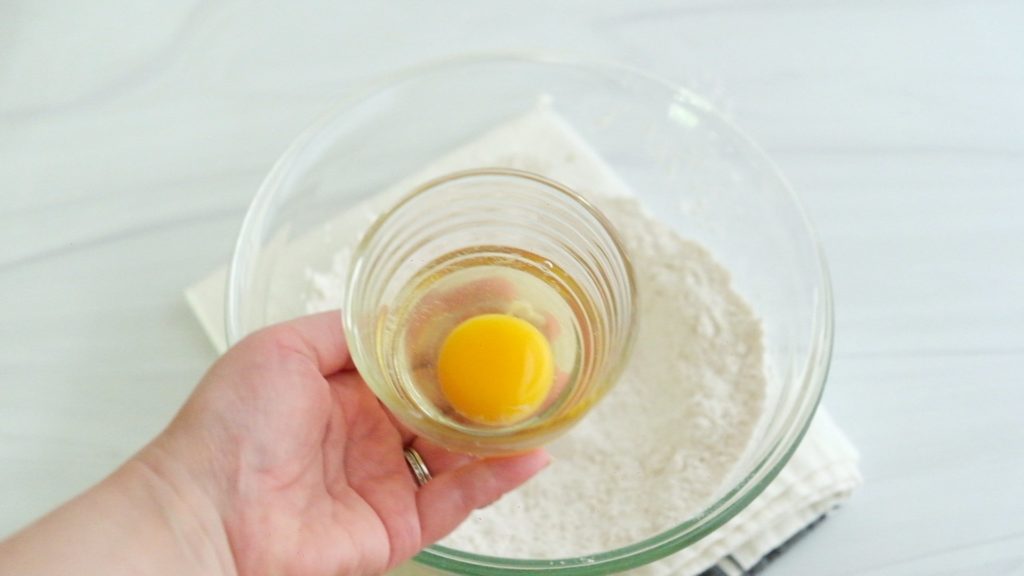 When the sautéed onions are nice and soft, add them the custard and mix well. Pour the onion mixture onto the dough and spread evenly.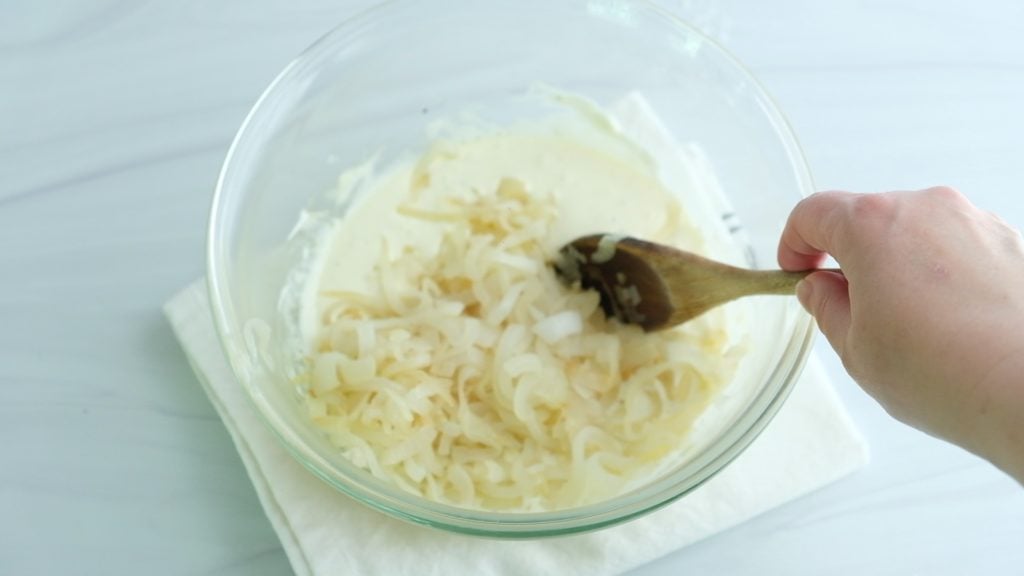 Bake at 400F/200C for about 35 minutes or until golden brown. Cut into slices and serve. Enjoy!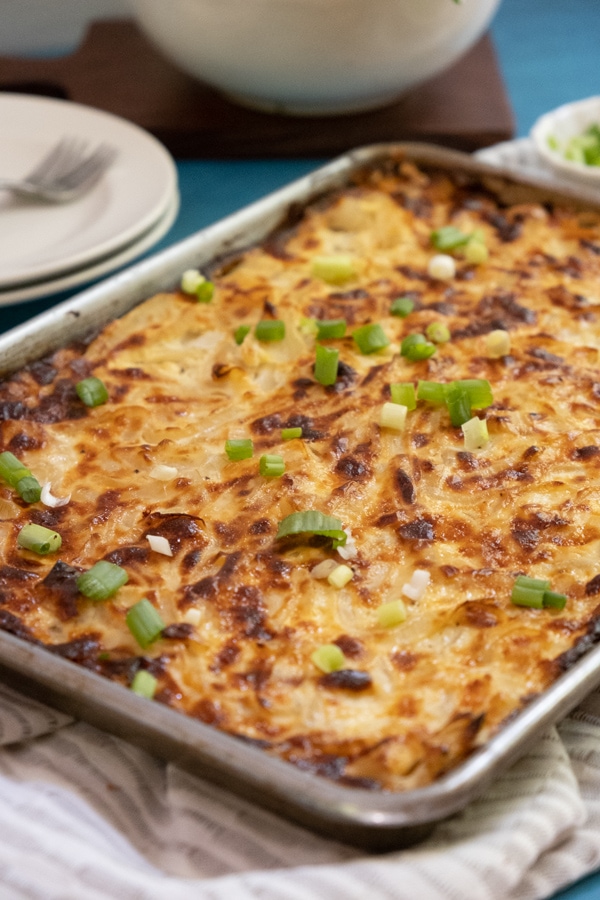 ?? Looking for More German Cake Recipes?
Tips & Variations
Sprinkle caraway seeds or chopped green onion over the top of your Zwiebelkuchen for extra flavor
Instead of a Quark-oil-dough, you can make yeast dough. (I highly recommend a Quark-oil-dough, though, because then you don't have to mix the yeast with warm water before making the dough, then let it sit in a warm place, wait for the dough to rise, etc!)
There are other varieties of Zwiebelkuchen that are different from this one. Others fry bacon, add it to the egg and onion mixture, and bake it in a round springform pan. These varieties are more deep dish pie-like, with a thin, rich yeast dough crust and a thicker filling. Both variations are savory pies and the main ingredient is onion so you really can't go wrong either way.
Enjoy a glass of wine with your Zwiebelkuchen! After all, this comes from one of Germany's beautiful wine regions!