10+ Must-Try German Desserts & Sweet Treats
This article may contain affiliate links. See our disclosure link for more information.
Wondering what kind of desserts and sweet treats to enjoy on your next trip to Germany? Looking for delicious and authentic German recipes to make at home?
You're in the right place! In this guide I share 10+ must-try German desserts and sweet treats that are also easy recipes to make at home.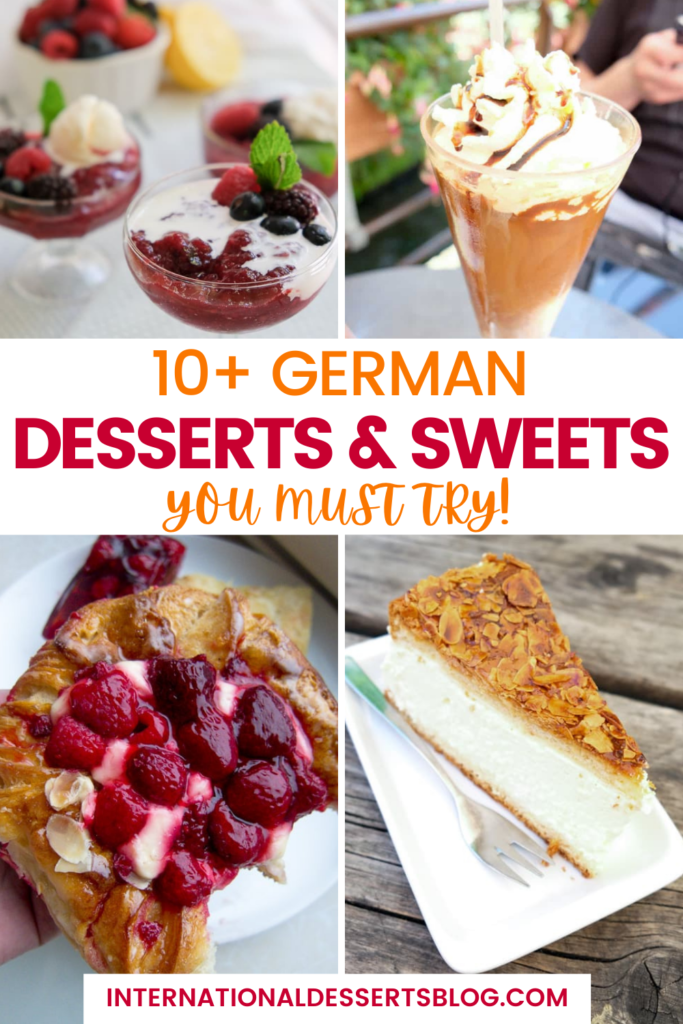 Germany is known for its bounty of delicious desserts and sweet treats.
How to choose which authentic German dessert recipes to try when you go to Germany?
It's tough because everywhere you turn, there are just so many tantalizing options! You could spend your entire visit to Germany just eating dessert and still never try all of them.
Fortunately, I got to know a lot of Germany's awesome sweets during the years I lived there.
Here's are 10+ traditional German desserts and sweet treats I recommend trying on your next trip to Germany.
I've linked to several of the recipes so you can make these delicious desserts from Germany in your own kitchen.
Spoiler alert: they might look complicated but they're actually quite easy to make!
Must-Try German Desserts and Sweets
1. Bienenstich (Bee Sting Cake)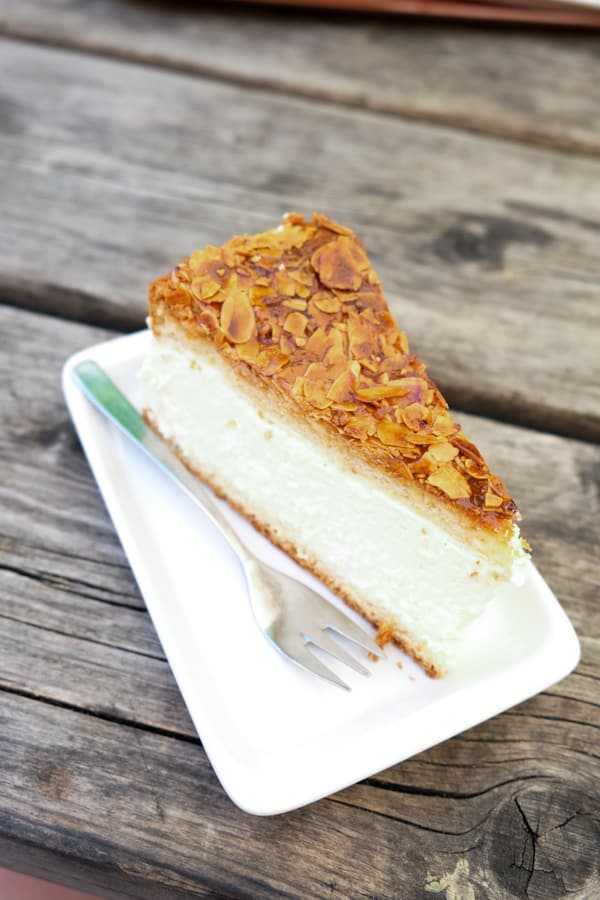 If you like honey and almonds, you'll love Bienenstich "Bee Sting Cake"! There are four layers in this cake:
Sweet yeast cake
Vanilla cream
Second layer of cake
Crunchy, honey-flavored, caramelized almond topping
OMG – so good! Seriously one of the best German cakes! The yeast cake with the creamy center combined with the crunchy topping? Out of this world.
When I was studying in Stuttgart years ago I walked past a little corner bakery every day on my way to the university.
More often than not I'd stop and pick up a slice of Bienenstich cake (oh, to be 19 again with the ability to eat cake every day).
And do you know what?
When I was in Stuttgart last summer I unknowingly booked a hotel that was almost right next to that bakery! Ha!
Unfortunately, they didn't have any Bienenstich when I stopped by. (I did find some later at a cafe…whew.)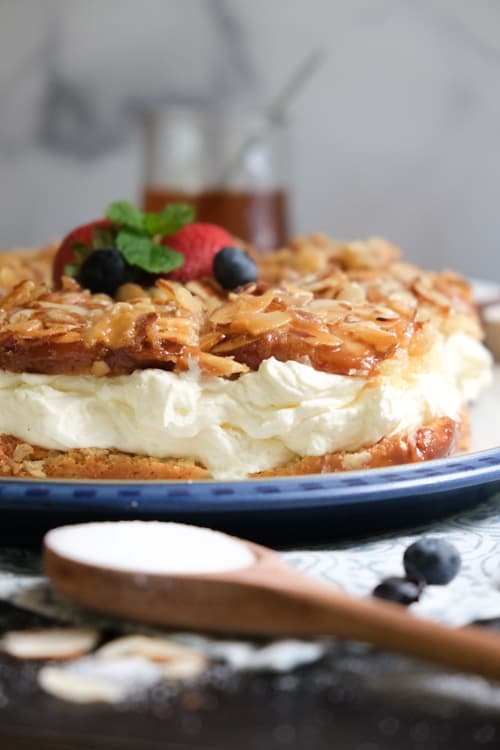 I still eat German Bee Sting Cake whenever I'm in Germany but these days I also make it at home. Y
ou, too, can make this amazing German cake using my easy Bienenstich cake recipe!
Don't want to make Bienenstich from scratch? No problem, you can order the Kathi Bee Sting Cake mix! All you do is add the butter, water, and heavy whipping cream, and then bake it. Click here to check it out!
2. Rote Grütze (Red Berry "Pudding")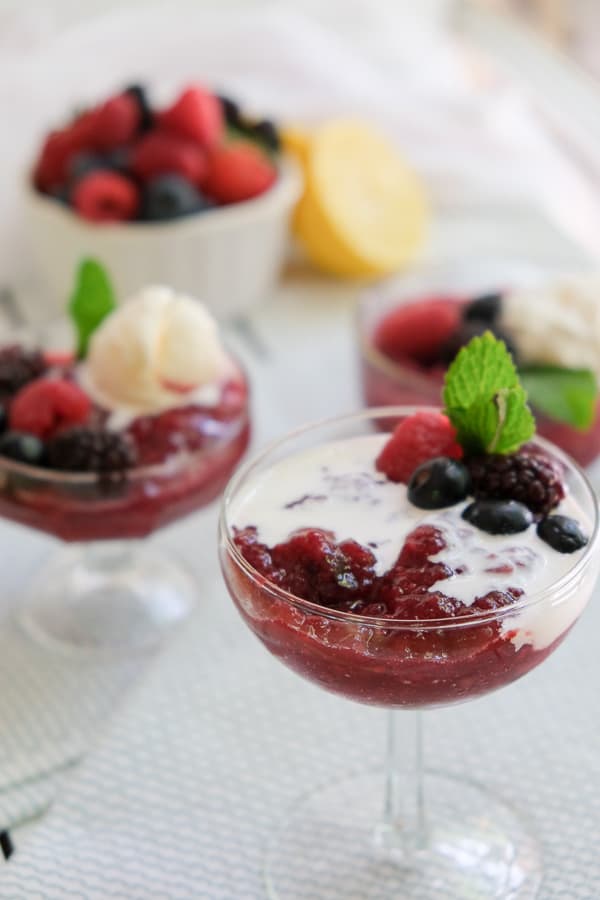 Are you a fan of berries? If so, you'll love this traditional northern German dessert.
Rote Grütze is basically a "pudding" made from raspberries, strawberries, blueberries, blackberries, cherries, and red currants, and then topped with cold fresh cream (my favorite), vanilla sauce, whipped cream or ice cream.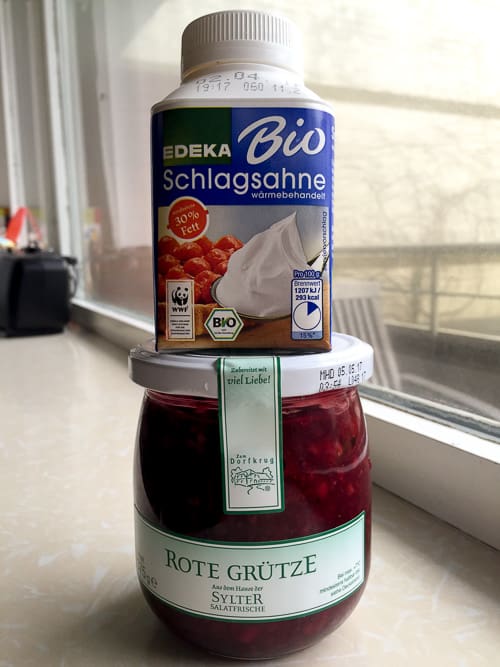 I tried Rote Grütze for the first time when I visited a friend in Hamburg after moving to Germany in high school and it's still one of my all-time favorite desserts. I make it all the time in summer.
And if you have any left over, Rote Grütze is delicious on cheesecake, mixed into yogurt or even made into popsicles or ice cream.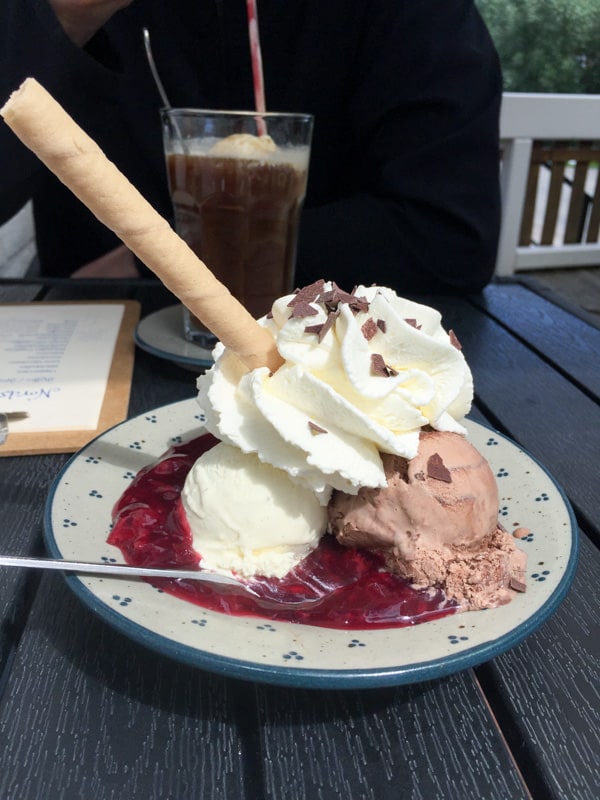 If you're visiting northern Germany you may find Rote Grütze on the menu at a restaurant or cafe (like my Rote Grütze + ice cream dessert in the above photo) but if you don't, you can pick up a jar at nearly any German grocery store.
I always warm it up just a bit — because the first time I tried it, it was served to me by a German family a bit warm topped with cold fresh cream, so I still eat it that way! — but it's typically enjoyed at room temperature or chilled and then topped with heavy cream, vanilla sauce, whipped cream or ice cream.
It is a summer dessert, after all, meant to be enjoyed cold on a hot day.
It's the perfect dessert to make in your German AirBnB.
As I mentioned, you can make Rote Grütze from scratch at home in about 10 minutes using fresh berries or frozen if you prefer.
Click here to get my homemade Rote Grütze recipe!
And if you like tea, you can try Rote Grütze flavored tea.
3. German Chocolate Bars
Who doesn't think chocolate when they think of Germany?
You could spend your entire visit to Germany just sampling chocolate after chocolate after chocolate!
Confession: I spent five weeks in Germany just before getting married and brought an extra bag with me just for chocolate!
It's true, I filled an entire carry-on size bag with Milka chocolate bars to give away to our wedding guests. Back then it wasn't that easy to get Milka in the US so the German chocolate made a unique addition to our gift bags.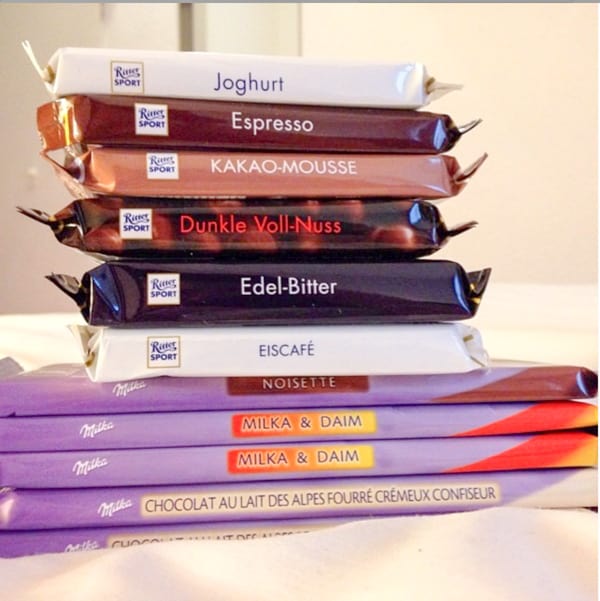 Two of the most popular brands of chocolate are Milka and Ritter Sport. You may already be familiar with them, as you can find both in the US these days.
Germany, however, offers a much better selection for a much better price.
They even have seasonal flavors! For the best selection, visit a department store (such as Kaufhof, Karstadt or Hertie) or one of the larger grocery stores.
My favorites?
For Milka I'd say it's Sahne Creme, Diam, and Caramel.
For Ritter Sport it's Hazelnut, Espresso, Cocoa Mousse, Joghurt, and Cornflakes.
When I visit Germany I almost never eat chocolate (when I live there, that's a different story).
Instead, I bring my favorite German chocolate bars home to the US so that when I'm in Germany I can allocate my dessert calories to things I can't bring home (cake, pastries, ice cream…).
And then I get to enjoy delicious German chocolates for a few weeks after I return home.
If you can't go to Germany tomorrow to get Milka and Ritter Sport, head over to Amazon, where they have all kinds of flavors like Cocoa Mousse, Dark Chocolate with Whole Hazelnuts, Cornflakes, and a variety pack of mini Ritter Sport or a variety pack of Milka.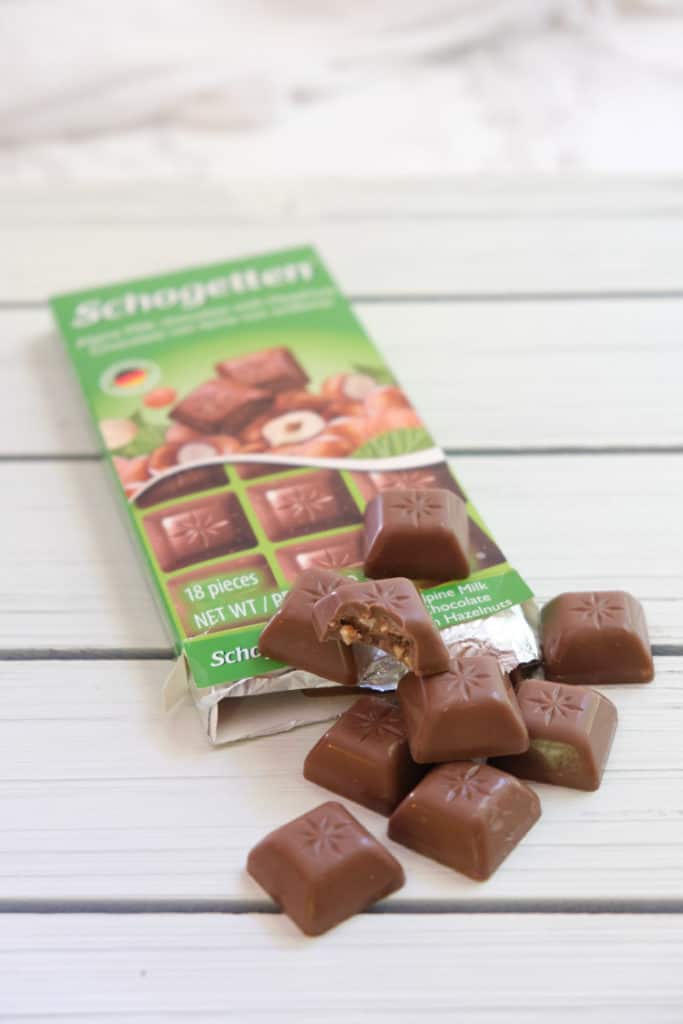 Another kind of chocolate I always buy in Germany is called Schogetten.
I like that their chocolate comes in little individual square pieces, so it's easy to just eat one or two squares at a time. I like the Hazelnut and the Yogurt-Strawberry the best.
Unfortunately, they no longer make my favorite flavor: coffee. It was SO good. The bottom layer was chocolate, the top layer was a creamy white chocolate with coffee bean flakes.
I was heartbroken when they discontinued this flavor. Schogetten – bring it back, please! In the US, you can find a few Schogetten flavors at Aldi, hazelnut for one. You can also order a variety pack on Amazon.
Oh, one more chocolate to try is Kinderschokolade! Yep, "kids chocolate." Kinderschokolade always touted their chocolate as having "an extra portion of milk" in the creamy filling. I don't eat this as often as I used to but I still enjoy a bar once in a while.
That creamy milky center…yum. And I like the chocolate sticks are small and individually wrapped so that I have built in portion control.
I'm now thinking I need to do a separate post just on chocolate because I could list at least 10 types of chocolate to try. 😉
If you're craving German chocolate right now, check out my article on where to buy German food online. You can have delicious German chocolate – and more! – delivered to your door.
4. Fruit and Quark Pastries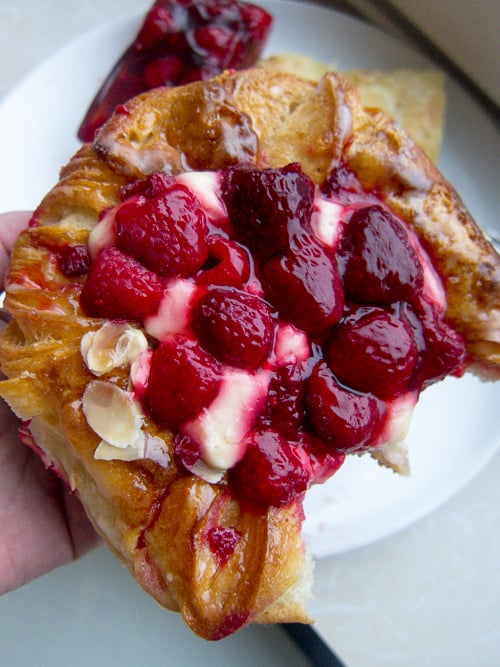 If you're looking for a quick sweet breakfast or an afternoon pick-me-up that you can eat on your way to your next activity, pop into any bakery for a fruit and Quark pastry!
Raspberry, cherry, peach…they're all so good.
The pastry in the photo above was ah-mazing…flaky sweet pastry, thick Quark, raspberries, and almonds. The Quark really balances out the sweetness from the fruit and glaze. So, so, so good!
With bakeries on every corner in Germany, it's super easy to find a pastry to suit your tastes, even if fruit and quark isn't your thing. Click here to read my review of the best pastries in Germany.
And if you want to try making quick Quark from scratch or delicious German desserts made with Quark, click here to check out my easy Quark recipes.
5. Schwarzwälder Kirschtorte (Black Forest Cake)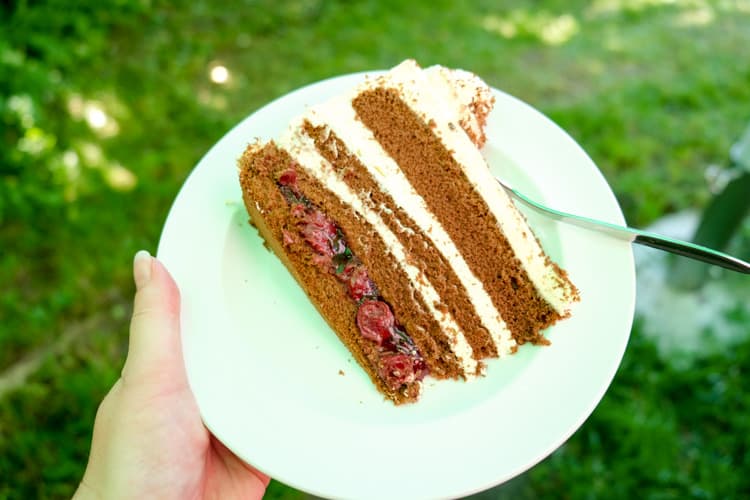 Probably the most popular German cake in the US (because, as I'm sure you know, as popular as German chocolate cake is, it isn't actually German), I recommend giving authentic Black Forest Cake in Germany a try.
While the main ingredients are generally the same with both the German and US versions – layers of chocolate cake, sour cherries, whipped cream, and chocolate shavings – the German version typically has far more Kirsch liqueur in it.
Like, a lot more!
I once had a slice of German Black Forest Cake (Schwarzwälder Kirschtorte) in a little cafe in the Black Forest when I was teaching in Freiburg and, wow, I don't think I could have eaten two pieces of that cake (and that's not something I say very often).
If you like boozy cakes, definitely give Germany's famous Black Forest Cake a try. Or make it at home the easy way and enjoy with a cup of coffee!
6. Käsekuchen (German Cheesecake)
Here's another traditional German dessert recipe — German cheesecake. It's different from cheesecake in the US. Traditional German cheesecake is made with Quark instead of cream cheese.
Never heard of Quark? It looks like thick Greek yogurt but is actually a fresh non-aged cheese that's high in protein.
In Germany, Quark is super easy to find at any grocery store and it's inexpensive.
Not so in the US (not yet, anyway)! When I make German cheesecake at home, I either make homemade Quark or I use pureed cottage cheese or Greek yogurt.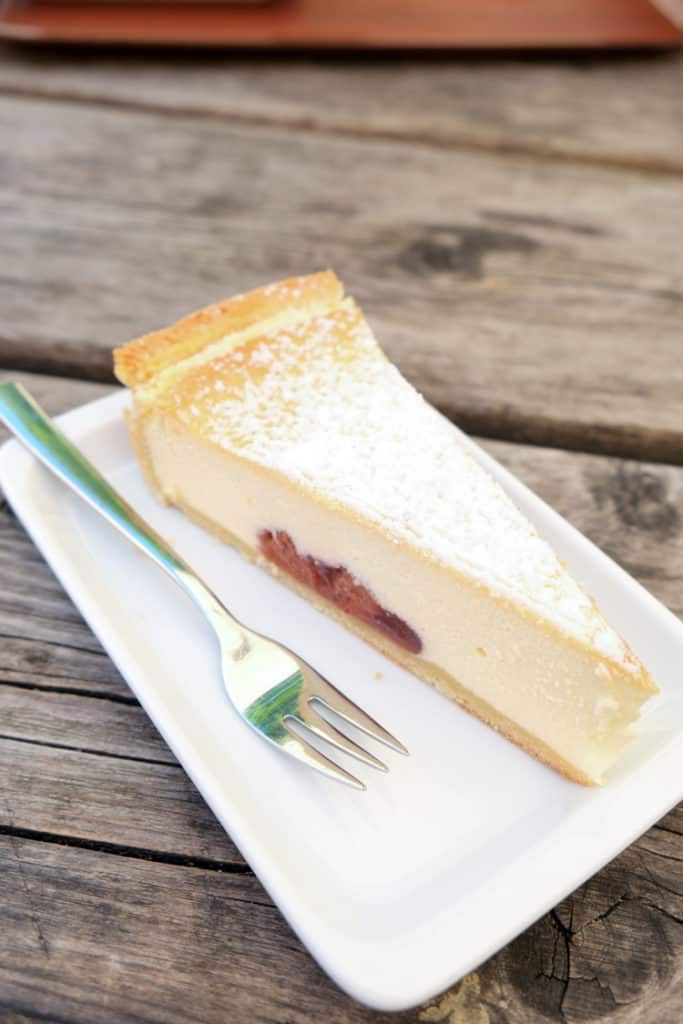 The crust on a traditional German cheesecake is different, too.
Instead of a cookie or graham cracker crust, which you'll find in most cheesecakes in the US, German cheesecakes have a sweet short-crust. Or no crust at all! I often make my German-style cheesecakes with no crust (and I never miss it).
While you can find dense little squares of Käsekuchen (cheesecake) in bakeries, I prefer to order it in cafes, where you're more likely to get a taller, fluffier wedge of cake, often served with a mound of fresh whipped cream, usually on the side of the cheesecake, rather than on top.
German cheesecake is often plain but you may also find it with cherries, raisins, peaches or Mandarin oranges mixed in.
German cheesecake is another easy German recipe that you can easily make at home. Perfect for afternoon coffee and cake.
I have three Käsekuchen recipes for you to try: a classic crustless German cheesecake, an authentic German Cheesecake with a crust, and an older, more rare version of crustless German cheesecake.
All are delicious!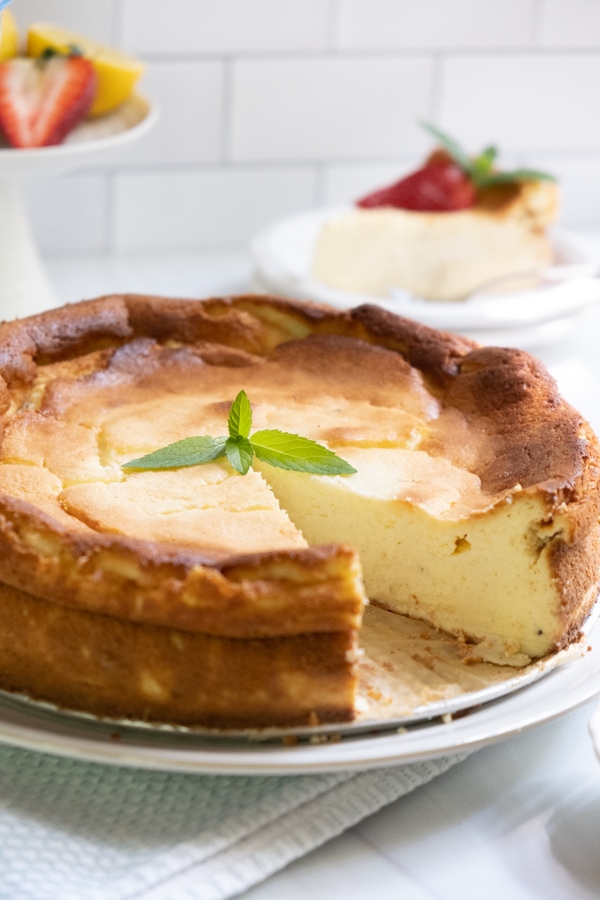 7. Dampfnudeln mit Vanillesauce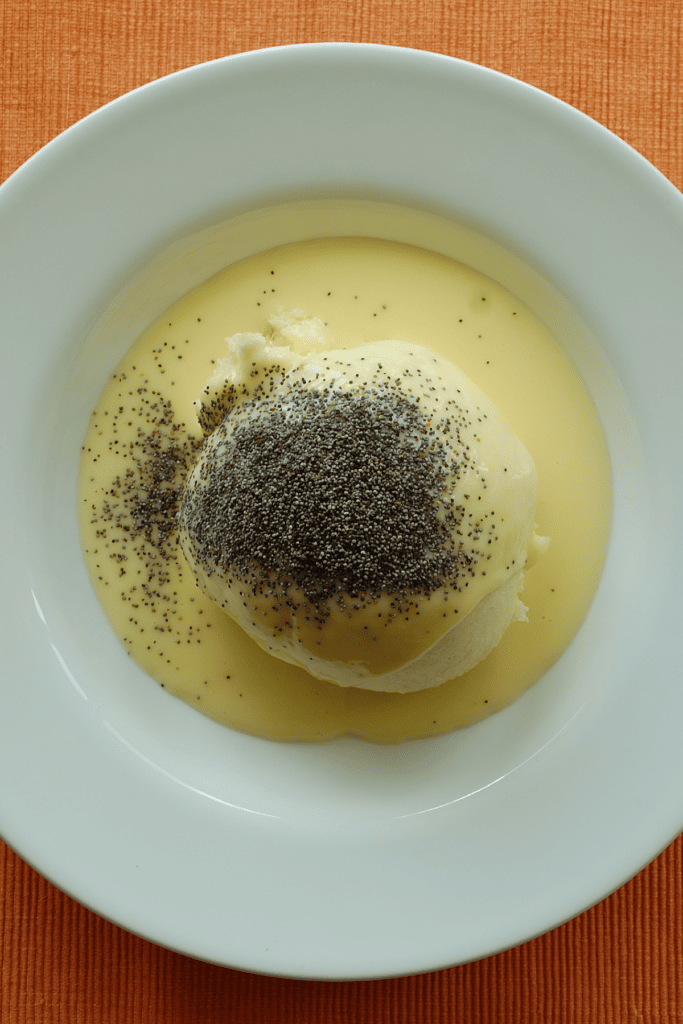 When I was in high school I lived with a German family near Hamburg for a year. Over spring break, my host mom took me to visit relatives in southern Germany.
On our day trip to Munich we stopped at the Hofbräuhaus and my host mom ordered Dampfnudel mit Vanillesauce because she said I had to try this traditional Bavarian dessert while in Munich.
I advise you to try one, too!
Dampfnudel is a steamed yeast dumpling smothered in vanilla sauce. Whether you eat yours with a beer at the Hofbräuhaus or elsewhere in up to you!
8. Spaghettieis (Spaghetti Ice Cream)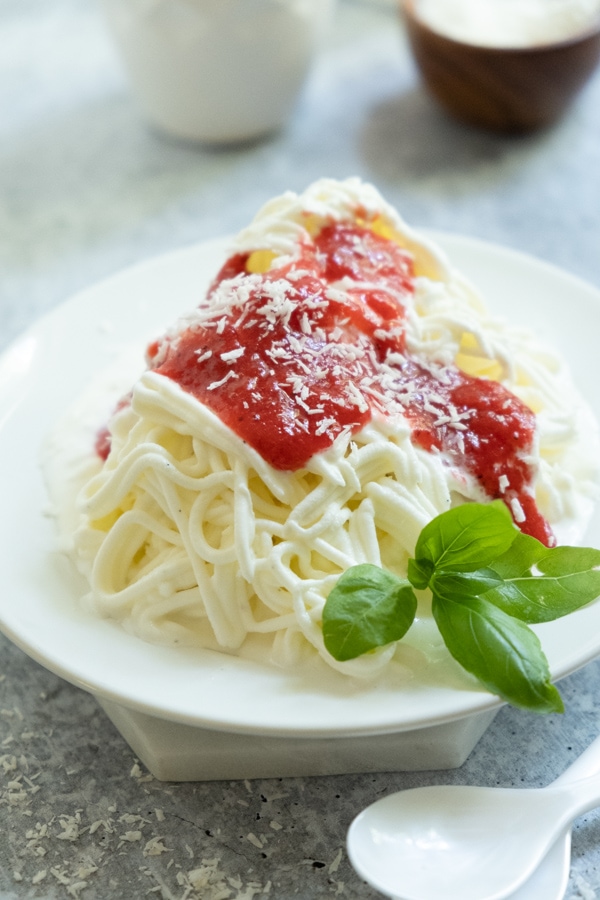 Spaghetti ice cream! Can you imagine? Spaghettieis is a must-try dessert in Germany.
Nearly every sit-down ice cream parlor will have Spaghettieis the menu.
And it's not just for kids – adults order it, too.
It might just look like vanilla ice cream but there's something about the vanilla ice cream + fresh strawberry sauce + whipped cream under the ice cream that is so delicious and satisfying.
If you have a potato ricer (or a Spätzle maker) you can make Spaghettieis at home using my tutorial.
You only need a few basic ingredients like whipped cream, vanilla ice cream, and strawberries. It's easy a lot of fun to make.
9. Eiskaffee (German Iced Coffee)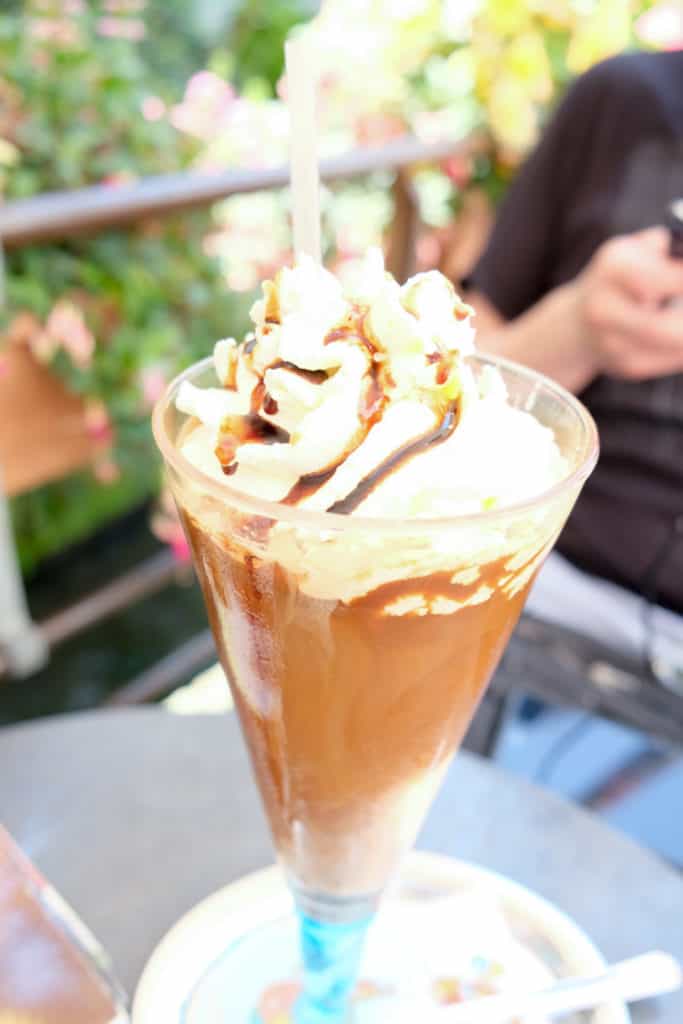 If you're heading to an ice cream shop but Spaghettieis isn't your thing, try a refreshing, invigorating Eiskaffee.
Germany's take on iced coffee is a little more decadent than the basic iced coffee you'll find in the US.
In Germany you'll get a glass of cold coffee (which will be strong and delicious) poured over a couple scoops of vanilla ice cream and then often topped with a thick layer of fresh whipped cream.
Sometimes iced coffee comes in fancy glass and other times it's a simpler affair. But it's always good!
I love Eiskaffee and make it at home in the US all the time.
And now you can too! Click here to get my easy German iced coffee recipe.
Summer is so much better with German Eiskaffee!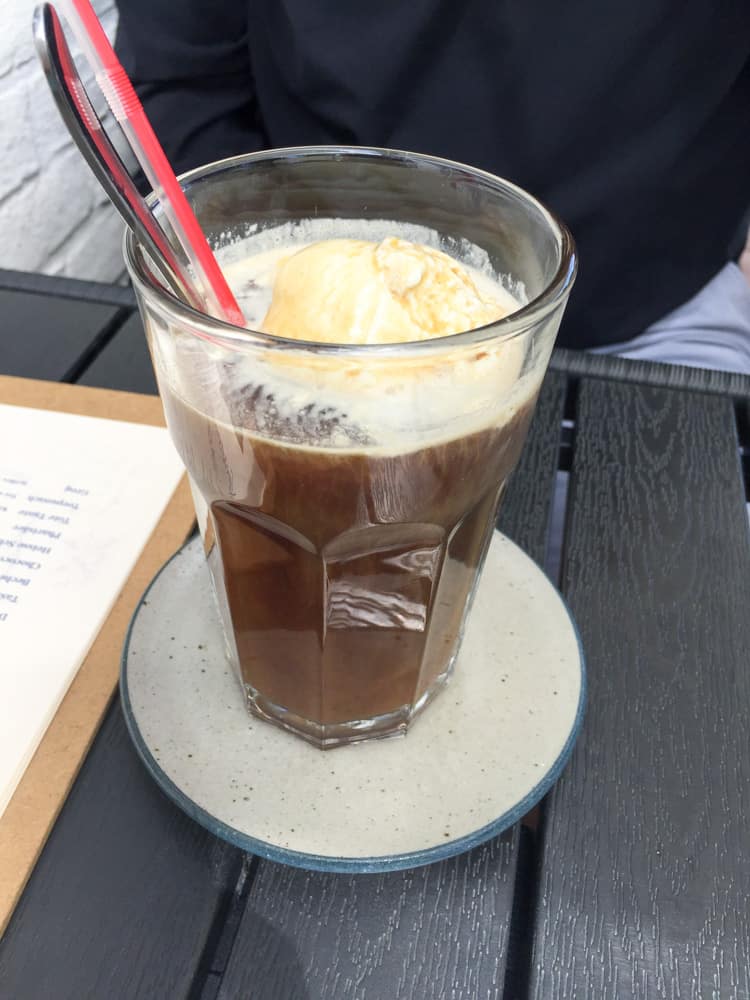 10. Zwetchenkuchen (German Plum Cake)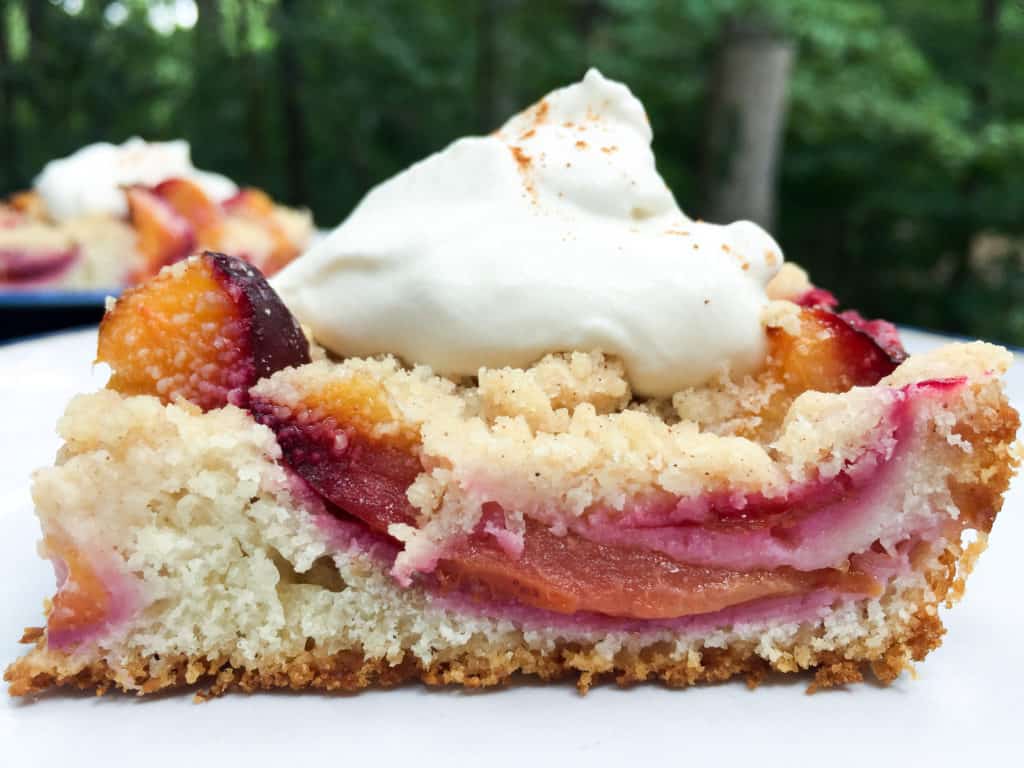 When I think of German cake, I think of Zwetchenkuchen – fresh plum cake!
The funny thing is that I don't like fresh plums at all but I love Zwetchenkuchen (also called Pflaumenkuchen).
Especially with a large dollop of fresh whipped cream and a cup of strong coffee.
Perfect for afternoon of traditional German Kaffee und Kuchen!
You can usually find slices of Zwetchenkuchen in bakeries all over Germany, especially during plum season.
If you're invited to Kaffee und Kuchen at someone's home, don't be surprised if Zwetchenkuchen is served. It's an easy and popular cake to make in Germany.
You can make Zwetchenkuchen at home, too. Here's my easy recipe for German plum cake!
11. German Apple Strudel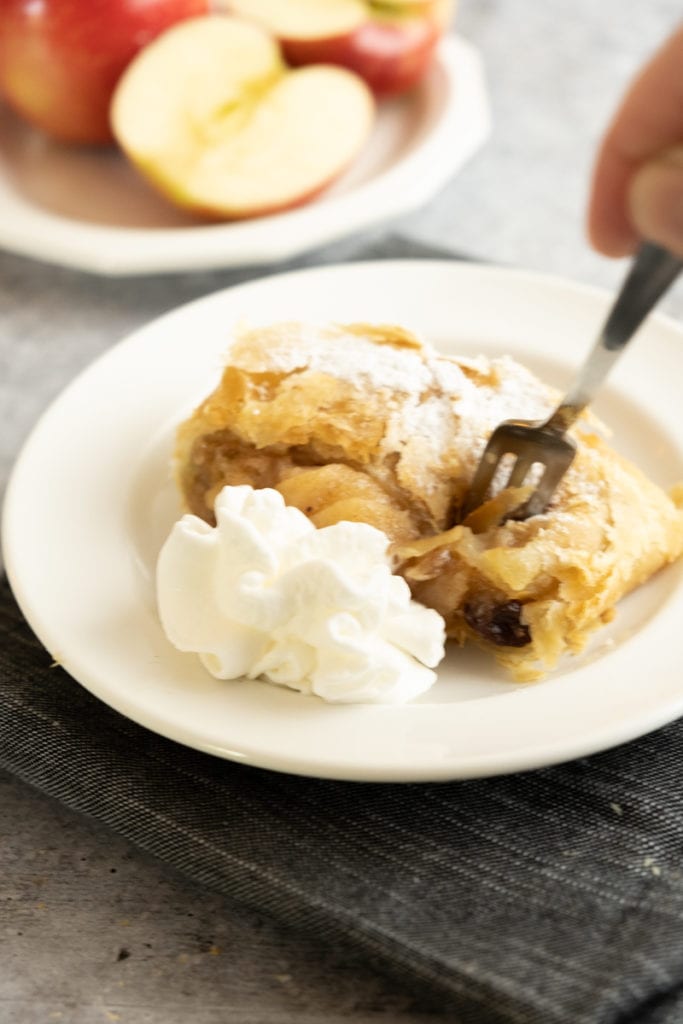 A real treat for the holiday season, Apple Strudel is delicious and quite easy to make at home.
Originally from Austria, it's one of the most popular desserts in Germany, especially in the south.
With its flaky crust and tender sliced apple filling, you'll enjoy the cinnamon, apple, raisin goodness, especially when paired with vanilla ice cream or whipped cream.
Traditionally, strudel is made by stretching homemade dough until it's paper thin and covers the top of an entire table. After adding the delicious apple filling it's rolled up and baked until golden brown.
Strudel is another German dessert you can easily make at home. My recipe uses prepared puff pastry to make it quick, easy, and super delicious.
Try my easy recipe with puff pastry!
12. Lebkuchen Cookies & Lebkuchenherzen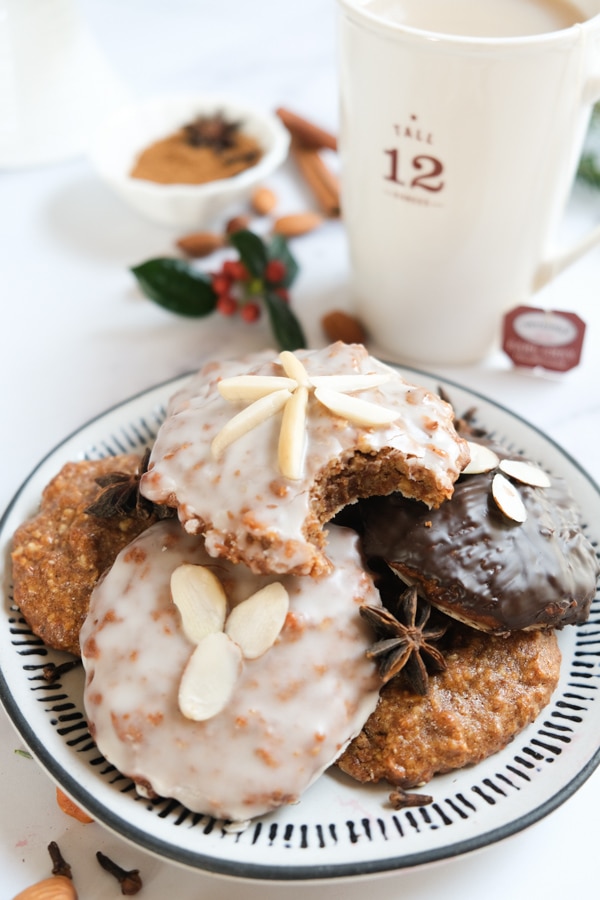 Lebkuchen, often called German gingerbread (even though it's different than American gingerbread), is enjoyed on a few special occasions during the year and comes in different flavors, sizes, shapes, and textures.
Lebkuchen cookies, for example, are a staple treat in nearly every German home during the Christmas season and will satisfy your holiday sweet tooth.
Nürnberger Elisenlebkuchen is a flourless Lebkuchen cookie that is soft, is baked on special round Oblaten (wafers), and is dipped in chocolate or sugar glaze (see above photo). These cookies are enjoyed during the Christmas season.
Click here for my easy Nürnberger Elisenlebkuchen recipe!
Other kinds of Lebkuchen cookies have flour in them and are often dipped in chocolate or decorated with almonds.
You'll also find a layer of Lebkuchen in treats like Dominosteine Chirstmas cookies (middle photo below).
While you can make these cookies at home, you can also find them at Aldi, World Market, and sometimes other stores in the US.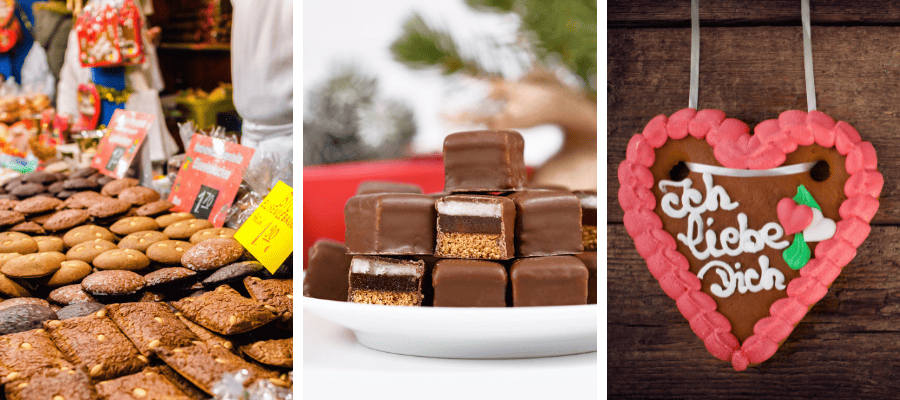 Another variation are Lebkuchenherzen.
These are a little different from the other Lebkuchen variations.
First, you'll find them throughout the year at festivals, Oktoberfest, and Christmas markets, rather than just at Christmas.
Second, they're cut into the shape of a heart and decorated with royal icing. While these can be eaten, they're often given as gifts (you can, for example, get the saying on the Lebkuchenherz customized) or displayed as decorations.
A German guy I was seeing when I first moved to Germany as a teen bought one for me at a festival that had "Ich liebe dich" (I love you) written on it and I kept that thing for years haha!
13. German Crumb Cakes & Streusel Cakes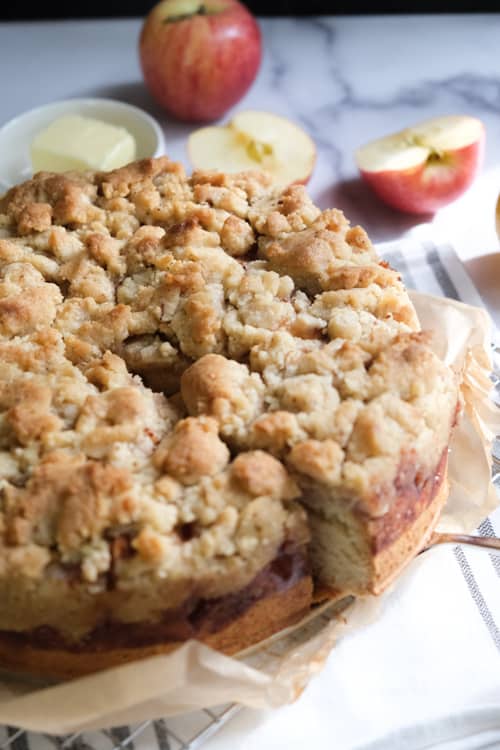 Streuselkuchen is a classic German cake that is known for having rich crumb topping.
It's so good, you'll want to eat the Streusel all by itself.
Traditional recipes for these cakes are simple, so you can easily make them for your guests or yourself! Pairing these with coffee or tea is pure perfection.
Apple Streusel Cake, for example, is a popular variant with sweet and buttery crumbs on top of cinnamon apples and tender yeast cake. Don't let the 3 layers fool you – this is an easy cake to make at home!
Click here for my German Apple Cake with Streusel Topping recipe.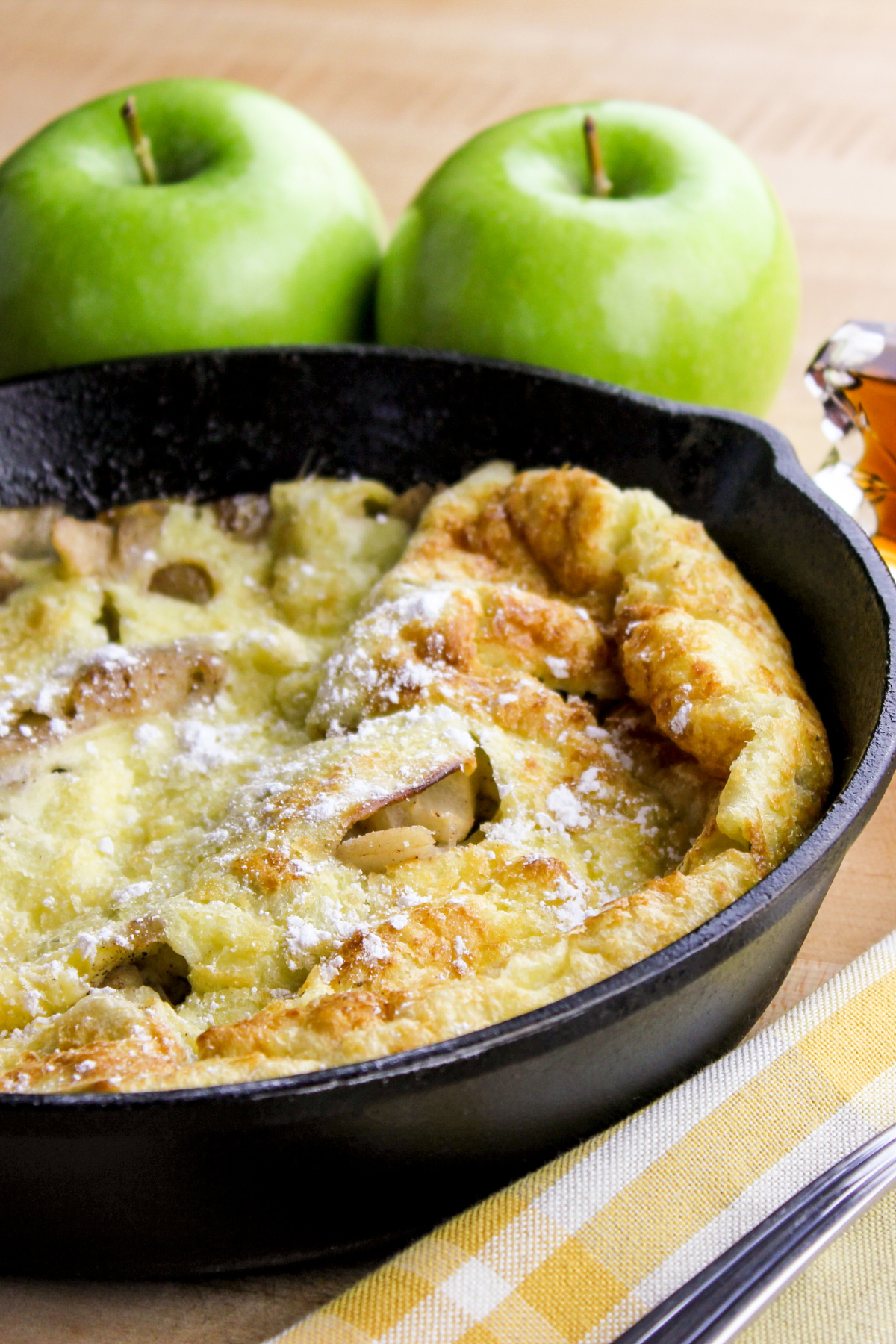 14. German Apple Pancake (Apfelpfannkuchen)
Apfelpfannkuchen is not only easy and quick to make, but also ideal to serve if you want to impress your guests with a delicious fall dessert. You might find this dessert at a restaurant in Germany but you can also make it at home if you have a blender, a mixer or a whisk and bowl. Since it is baked in the oven, there is no need to make one after the other on top of a stove. Mmmm….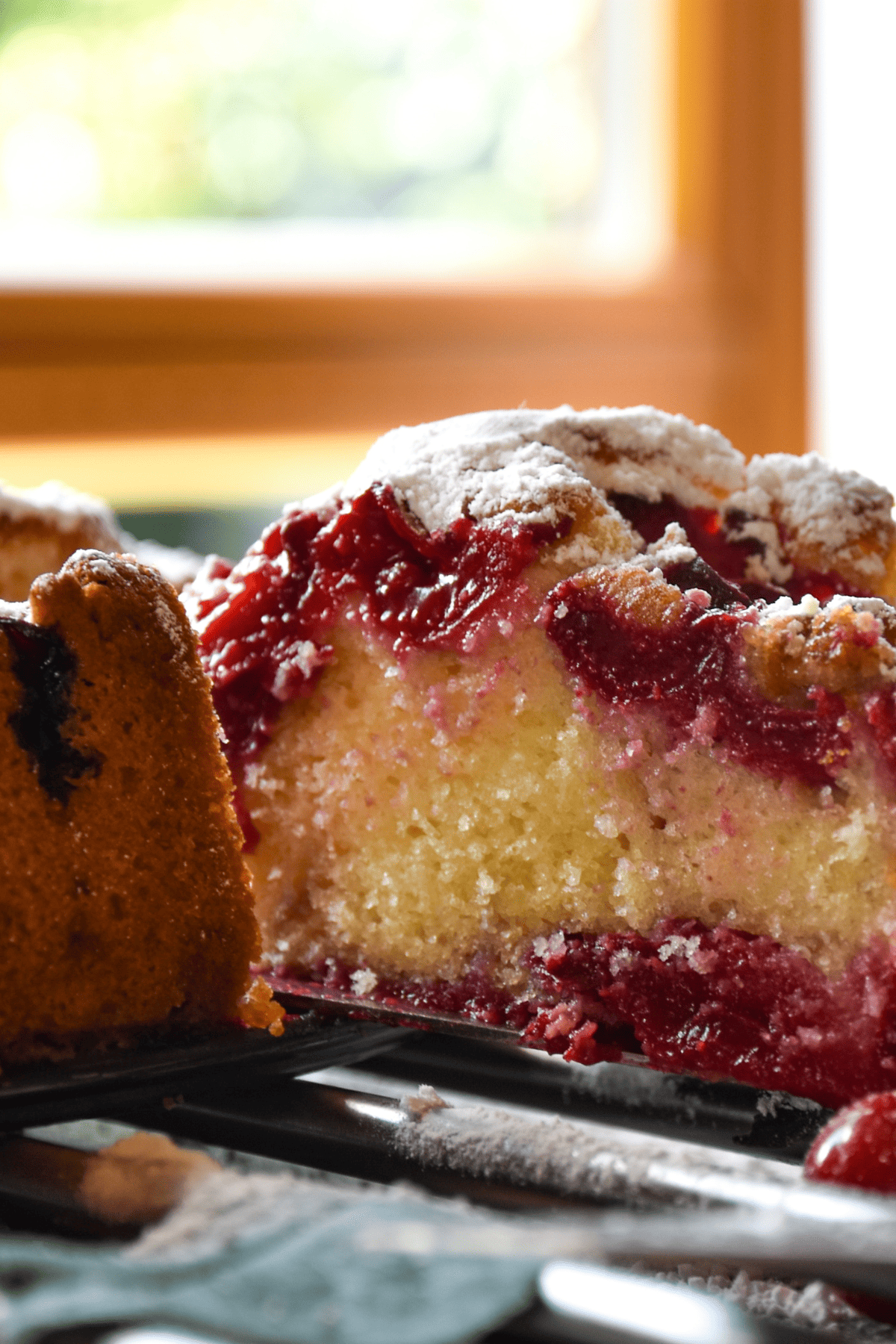 15. German Cake With Cherries
If fruity cakes are your thing, you'll love this German cake! You'll find all kinds of cake at German cafes and bakeries, so finding a version with cherries will be easy. You'll probably find a similar version with apples or other fruit. There's no frosting or decoration, except for a dusting of powdered sugar. Perfect with a cup of hot coffee!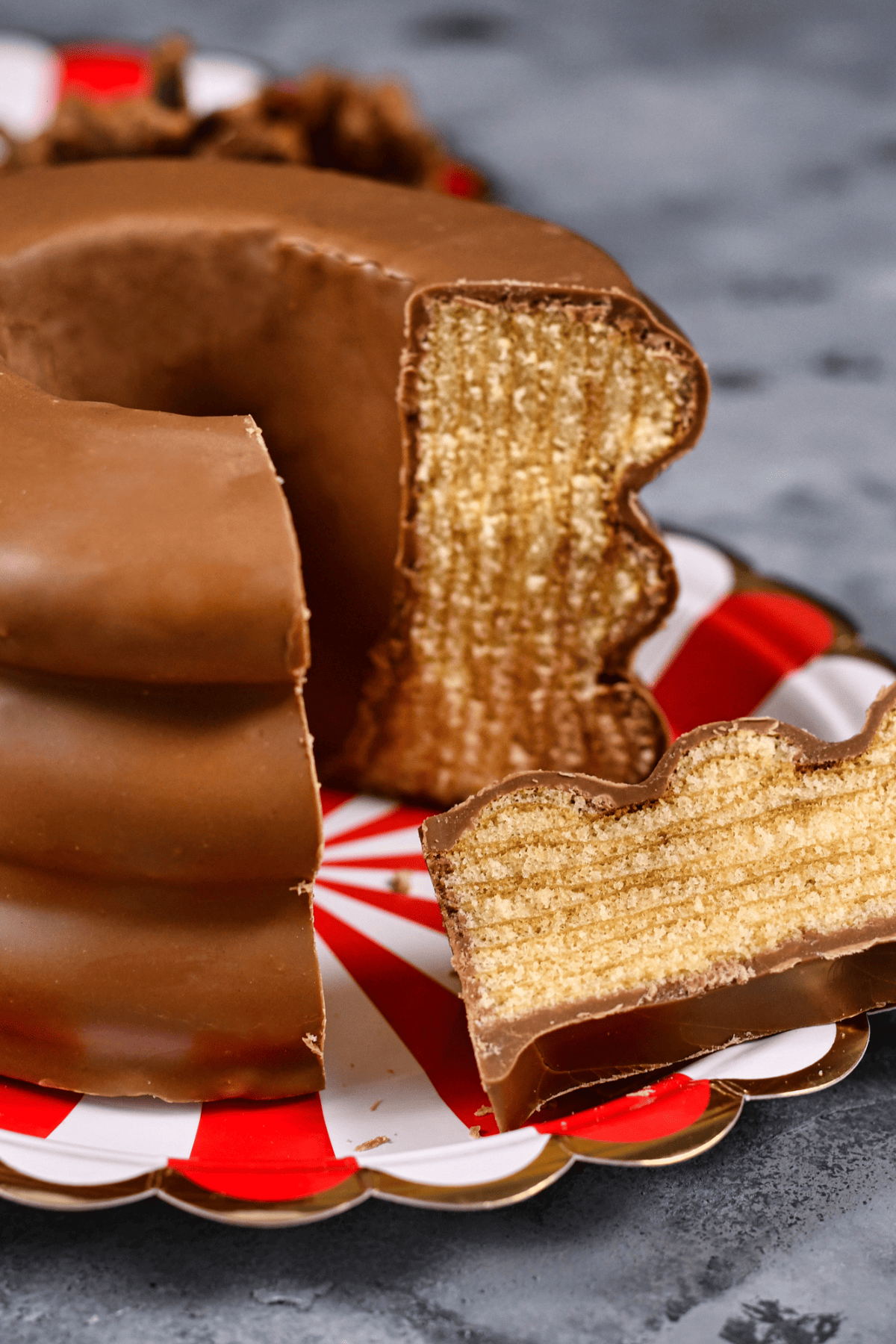 16. German "Tree Cake" (Baumkuchen)
Usually served during the Christmas holiday season, this masterpiece of a cake is made of multiple layers of caramelized cake batter and then it's often covered with luscious chocolate. The layers are brushed on and create the look of the rings of a tree! If you visit Germany during the winter, you might be able to see it being made.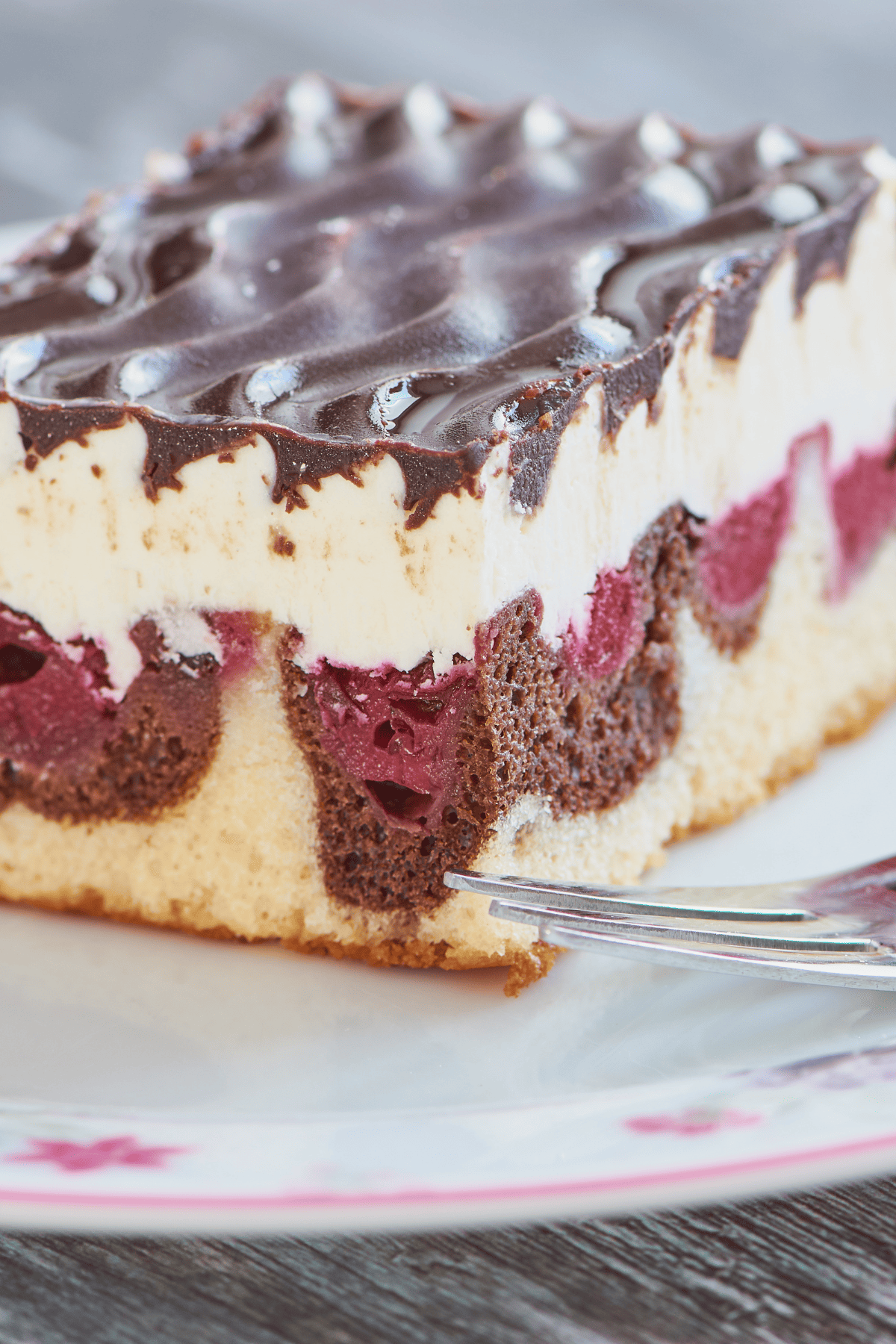 17. Danube Wave Cake (Donauwelle)
Donauwelle is a scrumptious German cake that looks like a piece of art. This cake impresses with its layers of chocolate and vanilla cake, German buttercream, cherries, and chocolate glaze.
When it bakes, the batter creates a wave-like effect that is reminiscent of the Danube river waves. This is another cake perfect for afternoon Kaffee und Kuchen. Chocolate, cherry, cream – what's not to love, right?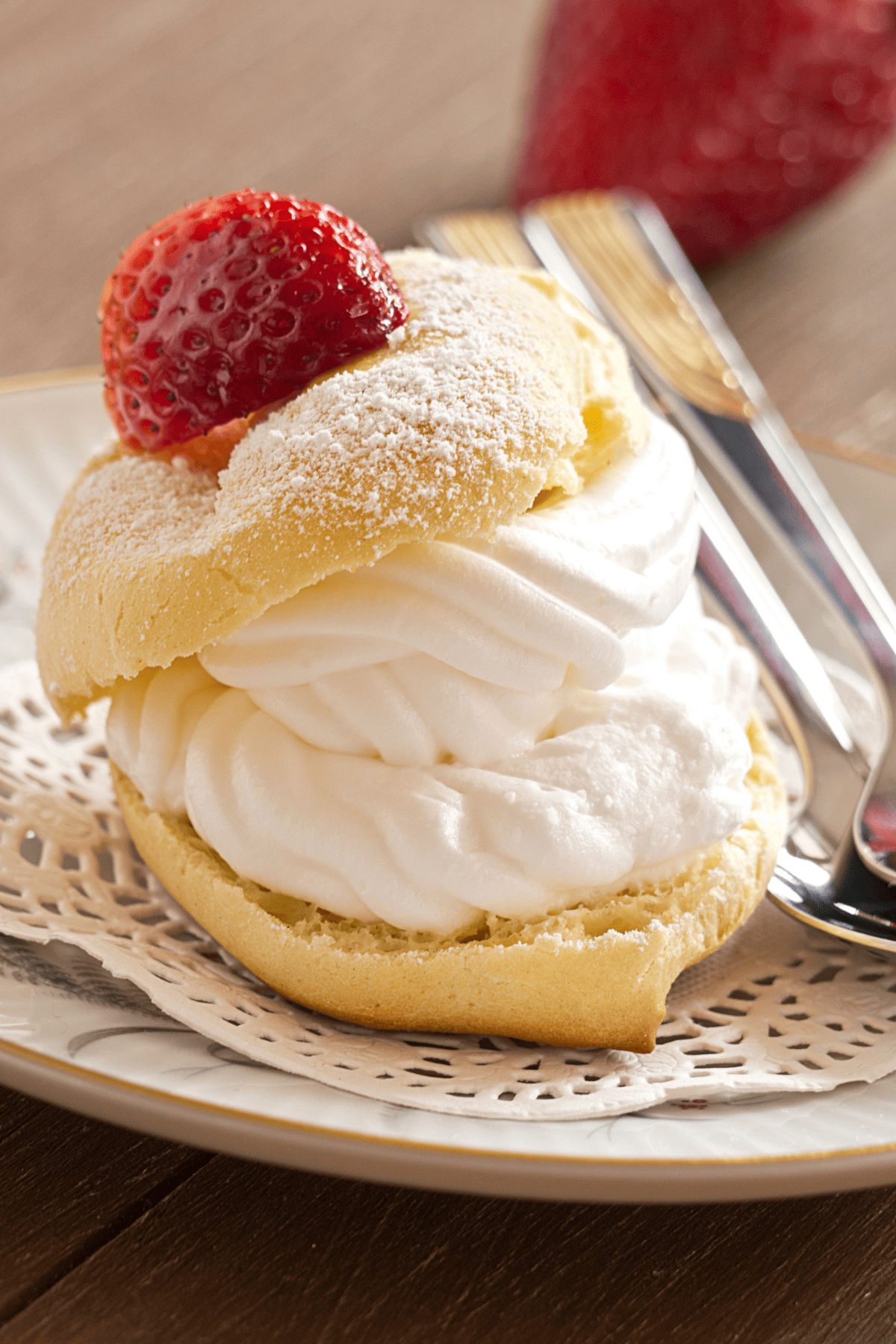 18. German Cream Puffs (Windbeutel)
My mouth waters just thinking about Windbeutel (which literally means "wind bags")! These cream puffs are filled with whipped cream and are so delightful when you crave a light and tasty bakery treat. These used to be one of my favorite splurges (ok, who am I kidding, they still are) whenever I'd see them in a bakery. They taste so decadent but are a quite light dessert.