Best German Pastries: What to Eat on Your Trip to Germany
This article may contain affiliate links. See our disclosure link for more information.
Germany is the land of castles, half-timber houses, and mouthwatering pastries!
You could visit a new bakery every day and never run out of German baked goods to try.
You could seriously plan an entire Germany culinary vacation around sampling cakes, pies, tarts, cookies, and pastries…just imagine how delicious that would be!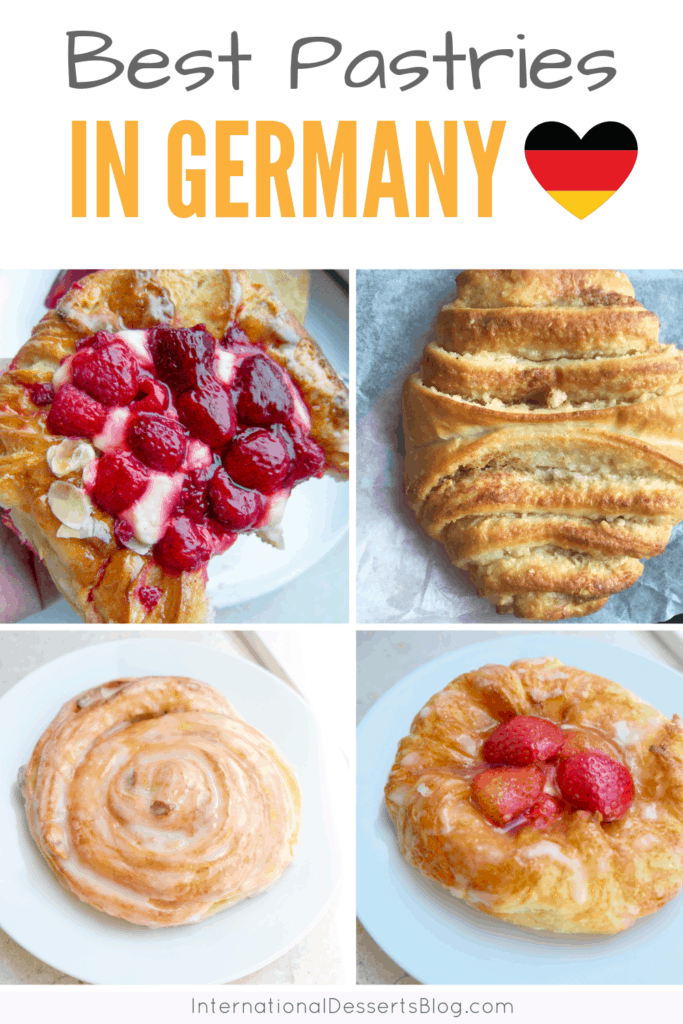 Pastries are plentiful, creative, and inexpensive in Germany.
You'll find a bakery on nearly every corner in every city, town or village.
For just a couple Euros you can pick up a sweet breakfast, a mid-day snack or a quick German dessert. Many bakeries also serve tea, coffee, and cold drinks to enjoy with your sweet treat.
To give you a preview of what deliciousness awaits you in Germany, I thought I'd introduce you to some of my recent favorites.
You may not be able to find all of these in every bakery you visit, but that's part of the beauty of German bakeries…you never know what you'll discover.
In general, though, you'll find these types of pastries:
Fruit – raspberries, strawberries, rhubarb, peach, cherries, currants, raisins, etc.
Nuts & seeds – hazelnuts are popular but you'll also frequently find almonds and poppyseeds
Cheese(cake) – sweetened quark cheese(cake) filling is so delicious
Cream – usually vanilla, sometimes boozy
Glazed – some pastries have a light clear glaze on top, others have a more icing-type of glaze
Filled – some "pocket" pastries are filled with fruit, cheese or nuts
Cinnamon and sugar – makes "simple" pastries amazing
No matter your taste, you're sure to find a pastry to fall in love with.
One thing to note is that most pastries in Germany are not overly sugary sweet, so the flavors shine through.
If you prefer your pastries on the sweeter side, opt for one with a glaze (like the raisin danish below – that was one of the sweetest German pastries I've ever had).
What about gluten free German pastries?
That's a good question.
While I've noticed a fair amount of gluten free foods popping up in German stores, I haven't noticed many gluten free pastries in the average German bakery. I recommend locating a gluten free bakery if you're specifically looking for gluten free pastries.
When you come across a bakery, feel free to pop in and see what they have on offer!
If they don't have what you're looking for, it's ok to leave without buying something.
If you do find something you want, just point to it and say bitte (please). Many people speak at least some English in Germany, and most bakery staff are happy to answer your questions about the pastries (unless it's busy).
Some bakeries will have tables you can sit down at, others will have tall standing tables, and some are take-out only. If you order coffee or tea with your pastry, be sure to specify if you want it zum Mitnehmen (to go) or hier trinken (to stay).
Best German Pastries
Fruit & Cheese Plunder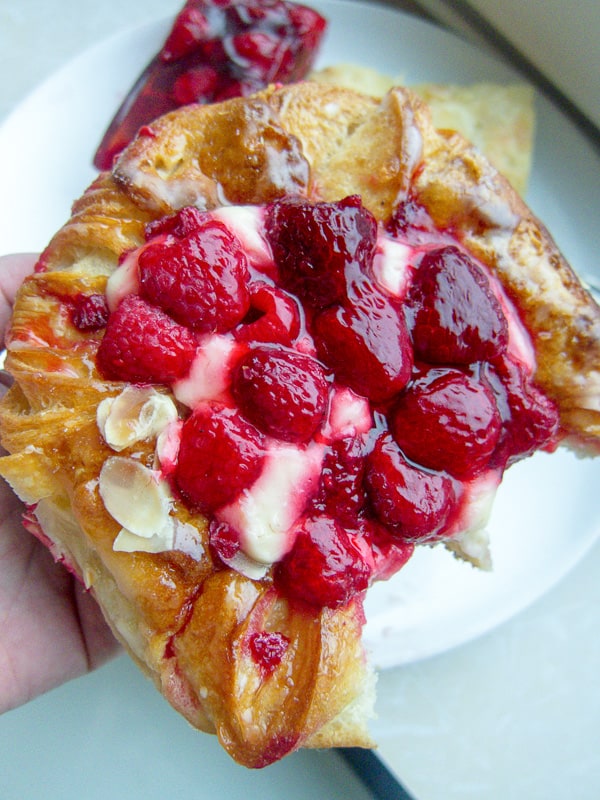 This raspberry cheese and almond Plunder is one of my all time favorites! The combo of sweetened quark cheese and tart raspberries…omg, so good.
Click here to learn how to make Quark at home!
2. Franzbrötchen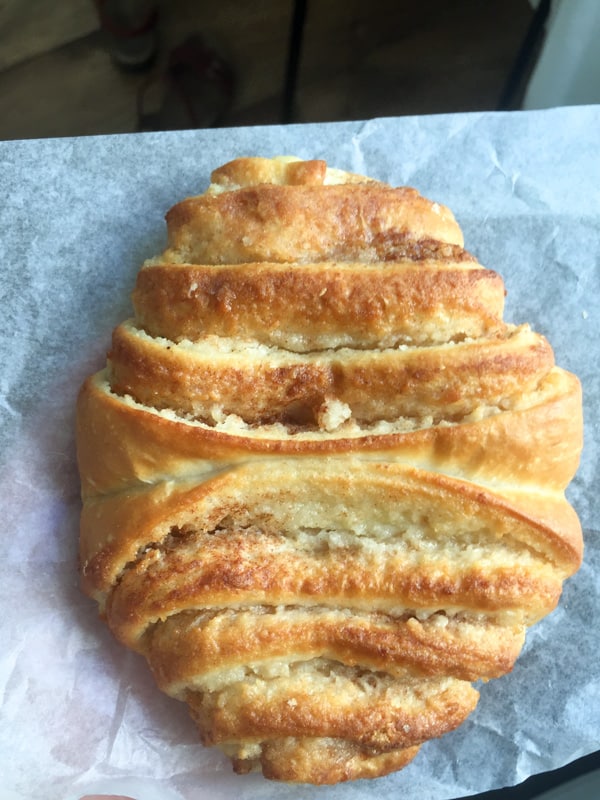 This is an original Franzbrötchen from Hamburg.
Traditionally it has a cinnamon sugar filling but you can also find them filled with other things like raisins or chocolate chips (also good). I loved the light buttery flavor and texture.
Here's a photo of a chocolate chip Franzbrötchen…so good!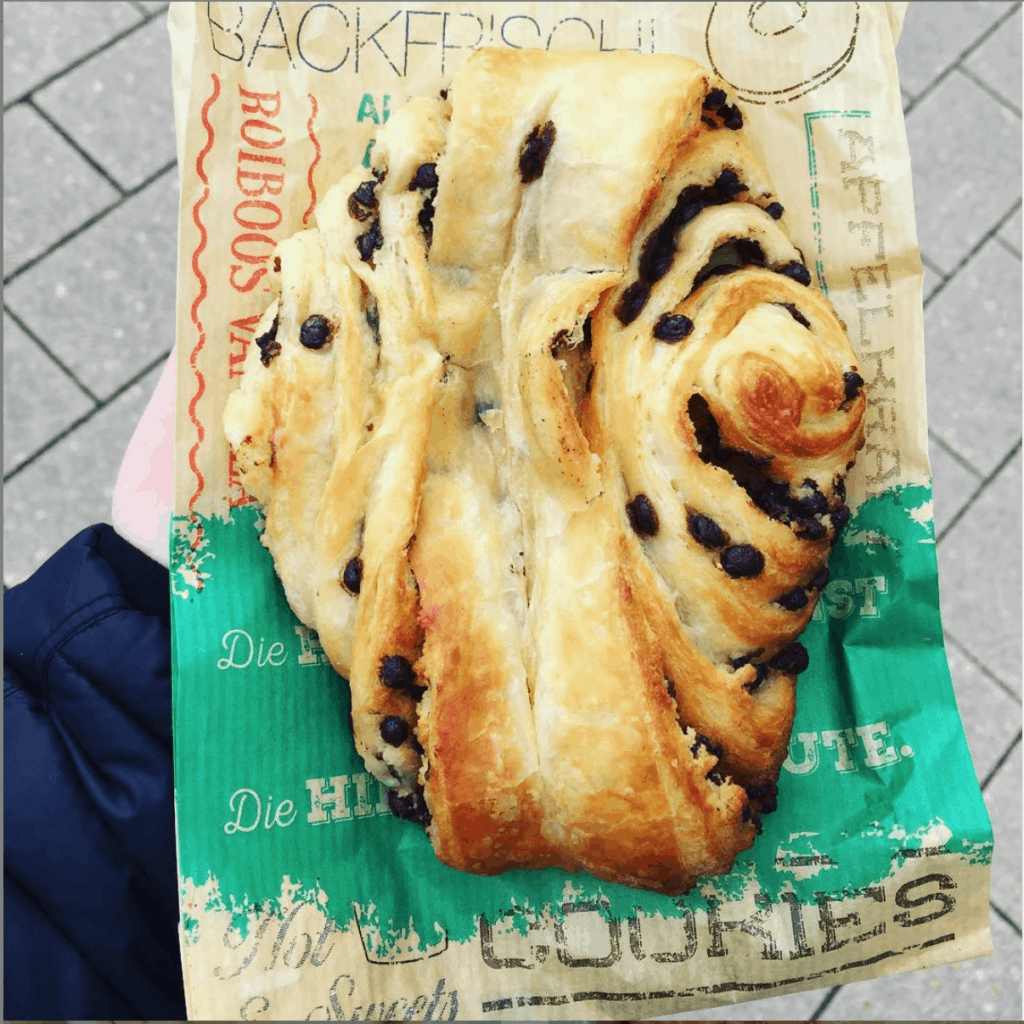 3. Raisin Schnecke (Raisin "Snail")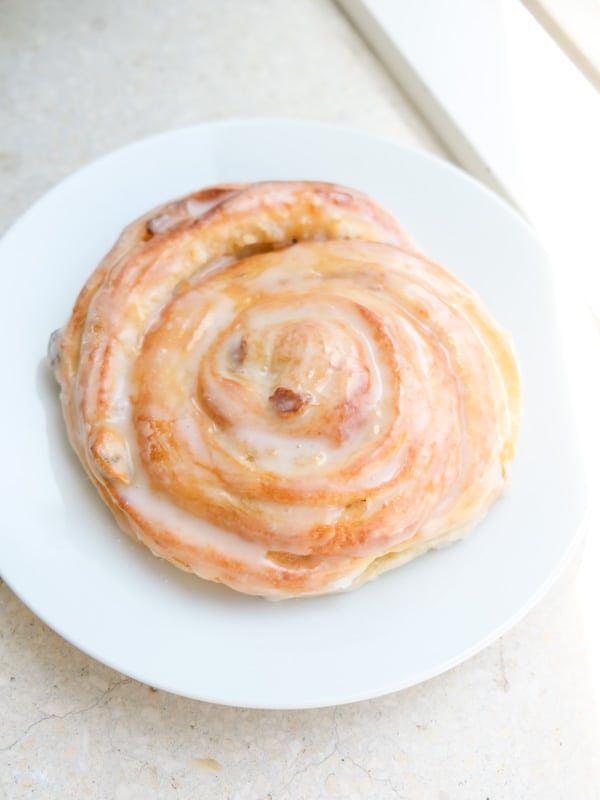 This German danish was definitely on the sugary sweet side.
It's a simple rolled danish with raisins and a delicious icing with a touch of lemon.
The pastry was tender but slightly crunchy in bits. Out of the plate of pastries we bought to taste-test, this is the one I chose to finish.
4. Quarkbällchen (Quark Balls)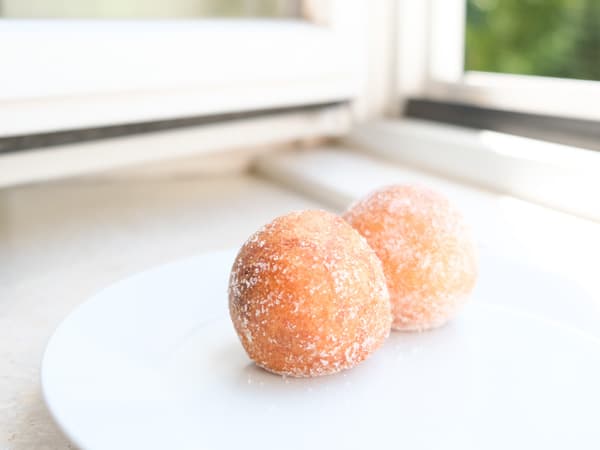 I don't think I'd ever tried Quarkbällchen before my last trip to Germany! And if I did, they didn't make an impression. Probably because they look like donut holes, which I'm not a huge fan of.
I am, however, a fan of Quarkbällchen!
Richer, denser, and moister, Quarkbällchen are a definite step up from your typical donut hole. These had a lovely soft and flavorful interior and were covered in cinnamon sugar.
Way better than a donut hole. They're perfect portion control, too.
Even better? You can make them at home and they're delicious. Get my easy Quark balls recipe here!
5. Boozy Strawberry Plunder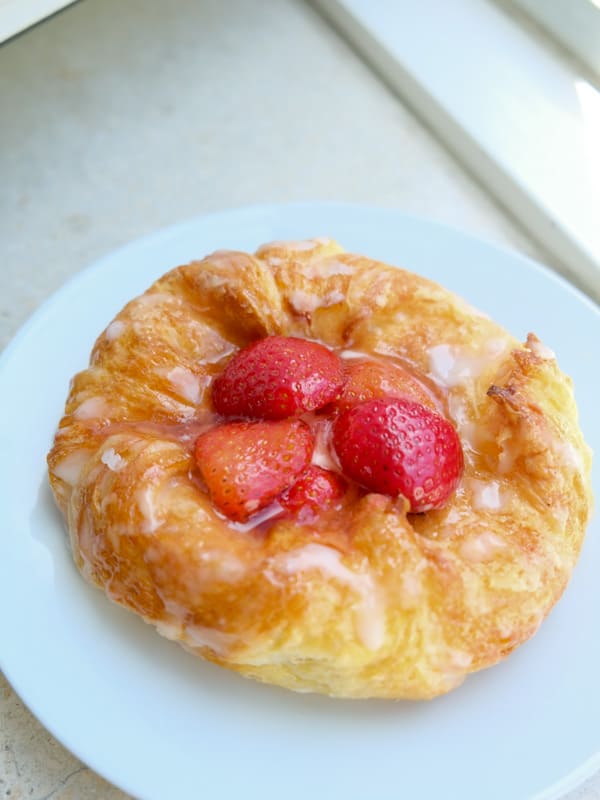 I almost didn't buy this pastry because I thought it looked kinda boring. But the woman helping me at the bakery swooned over it and said it was her favorite.
So I decided to give it a shot. After one bite I could see why she loves it!
The filling was a boozy vanilla cream topped with fresh strawberries and a light glaze. That filling is what made this pastry extra delicious. I only got one bite of this one because my husband downed it!
6. Hazelnut Bar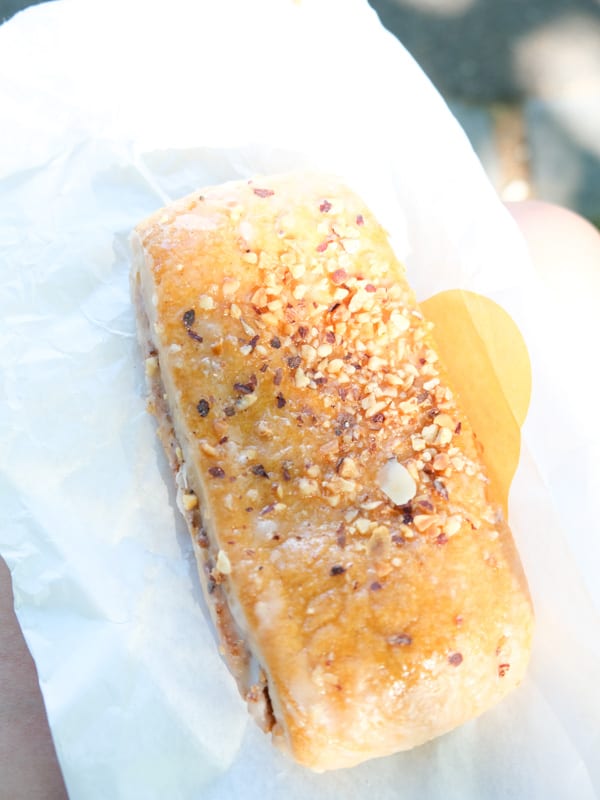 I found this nutty pastry at a self-serve bakery I've been seeing around in Germany.
It kinda looks like a maple bar but it's all hazelnuts – inside and on top – with a light glaze. Nut pastries aren't my favorites but this one was good as a mid-morning snack.
Like hazelnuts? Check out my easy chocolate hazelnut truffle recipe or my homemade hazelnut spread (copycat Nutella)!
7. Schweineohr (Pig Ear)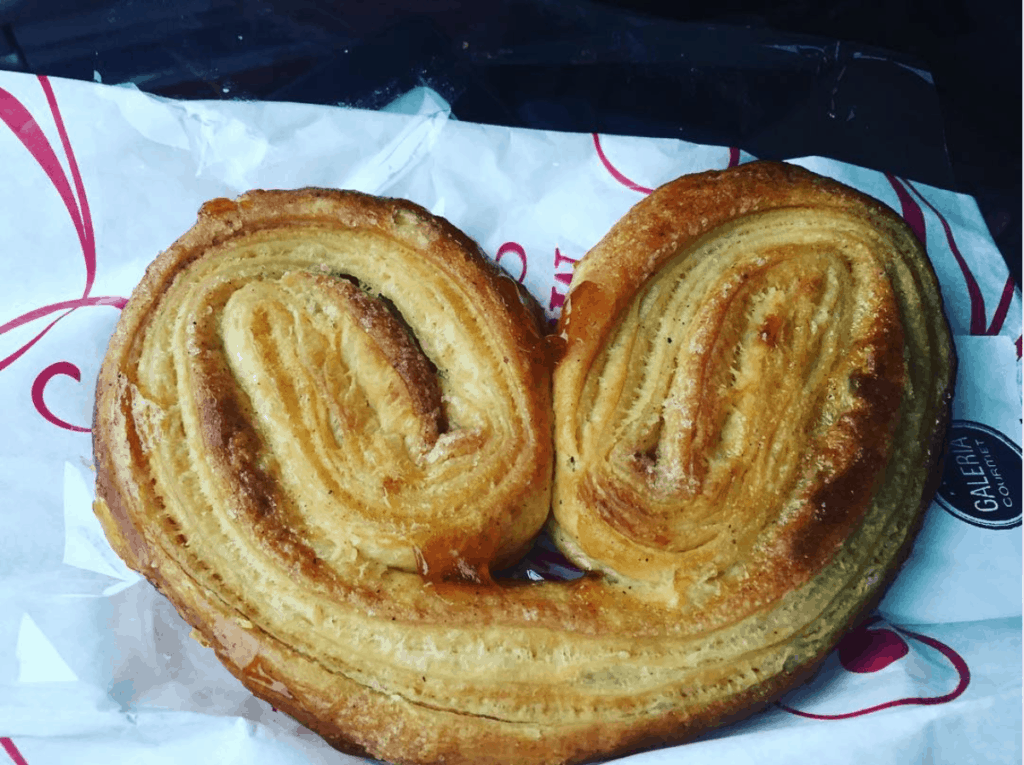 One of my favorites! I love how crunchy these treats are.
In Germany, Schweineohren are pretty big (like bigger than your hand), and you can find them plain or dipped in sugar.
You may find small pre-packaged Schweineohren at the grocery store but I highly recommend getting one fresh from a bakery.
8. Pretzel Roll with Cheese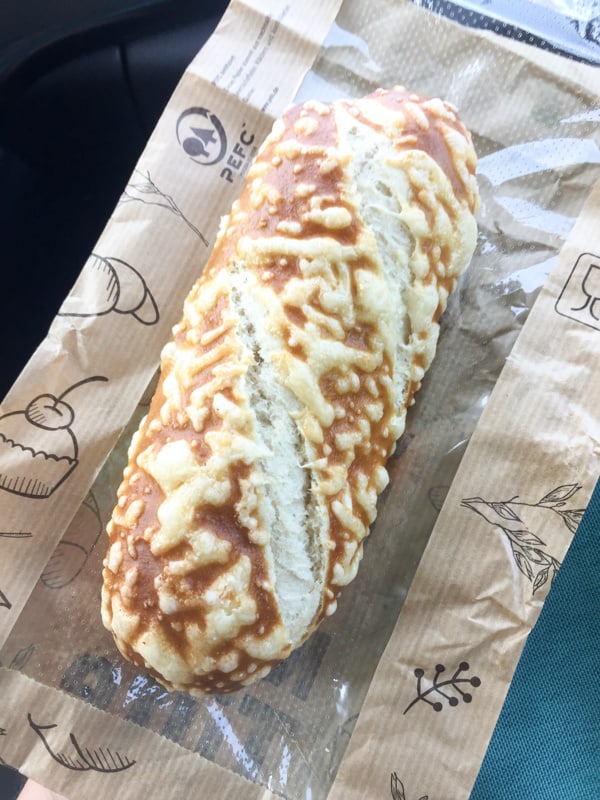 Ok, so this isn't a pastry per se but it was so good and I did get it at a bakery. It's a cheese-covered pretzel roll.
I picked it up at Lidl to eat with a cup of yogurt for breakfast. It was fresh baked, so soft on the inside, and surprisingly cheap. I enjoyed this roll as-is but they're also delicious sliced open and filled with meat and cheese.
They make great sandwiches!
9. Bretzeln (Soft Pretzels)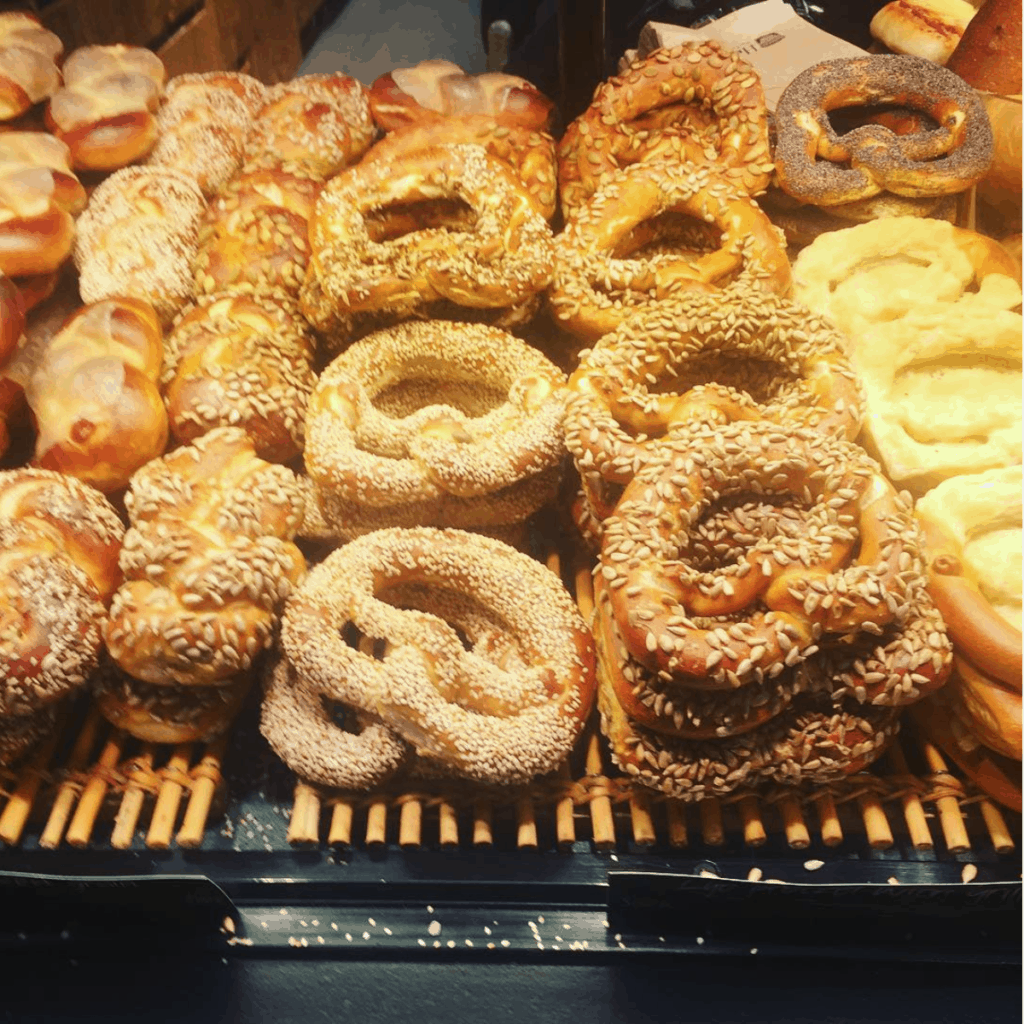 Ok, so also not really a pastry. But German soft pretzels are SO good, so I had to includ them in this list.
You can often find pretzels in bakeries but you might also see pretzel stands at festivals, farmer's markets, Christmas markets, train stations, and around downtown.
I snapped the above photo while waiting for my flight to Hamburg at the Frankfurt airport. I just couldn't walk by and not pick up a pretzel!
You'll find the plain ones with salt but you'll also find them covered in all kinds of nuts, seeds, and cheese. My favorites are the ones that are filled with butter or Frischkäse (a fresh cheese) and herbs.
Now that I've shown you some of Germany's best pastries, check out some of the best cakes in Germany!